I'm in Better Homes and Gardens magazine this month! My upcycled play kitchen is in the August 2016 issue. This is my first time ever being featured in a national magazine and it all still feels a bit unreal. Ever wondered what a photo shoot for a major magazine is like? Me too so I'm going to share all the behind the scenes details.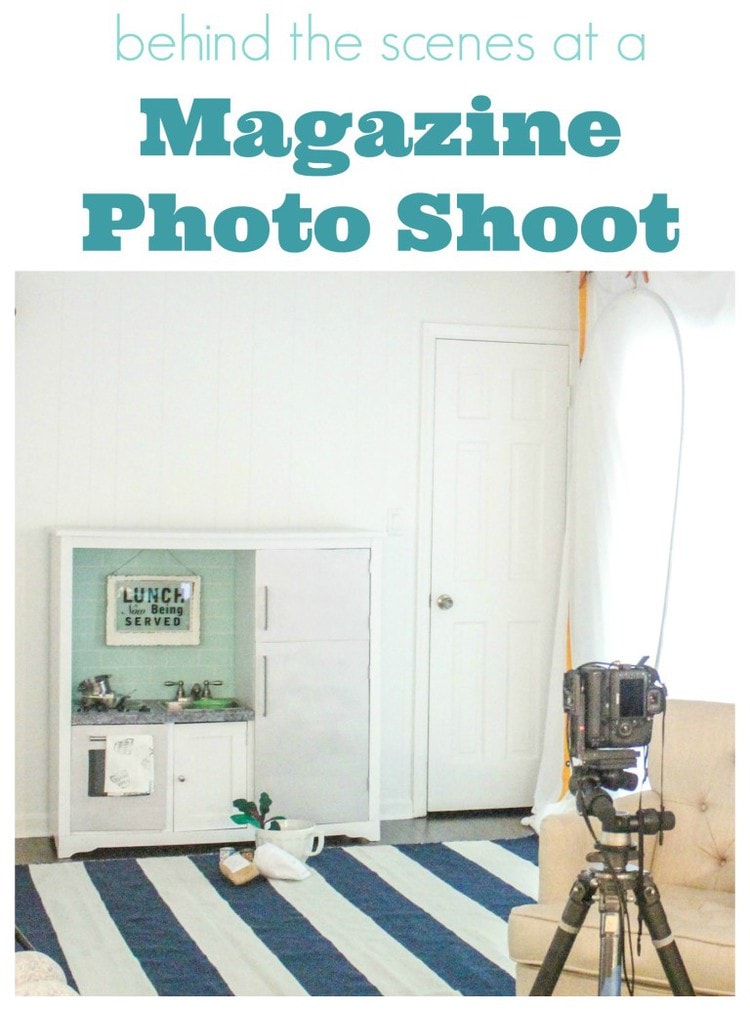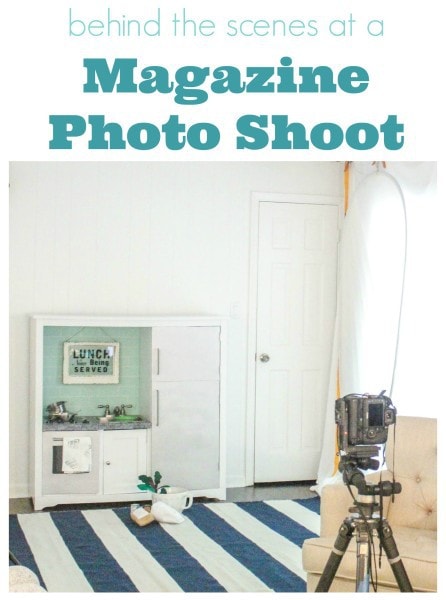 The whole thing started with an email four months ago from an editor at BHG asking if I might be interested in being featured in the magazine. Um, yes! This led to a phone call and before I knew it a photo shoot at our home was scheduled for three weeks later.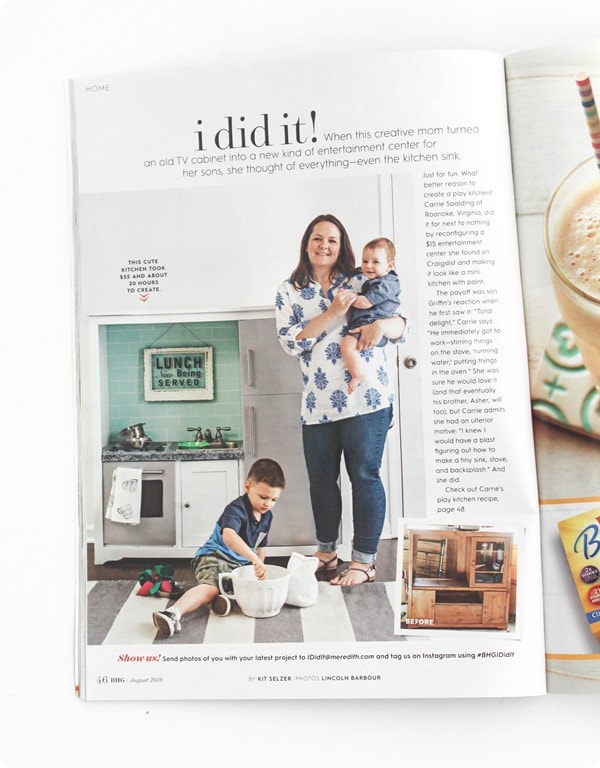 I'm going to be honest. I may have freaked out a bit. I was unbelievably excited…but I was also in a bit of a panic thinking about all of the things I needed to do to get ready! I needed a haircut; I needed new clothes; I needed to lose 30 lbs of baby weight. (Spolier alert: only two of those things happened.) Plus, my boys were also going to be in the magazine – so they also needed haircuts and clothes.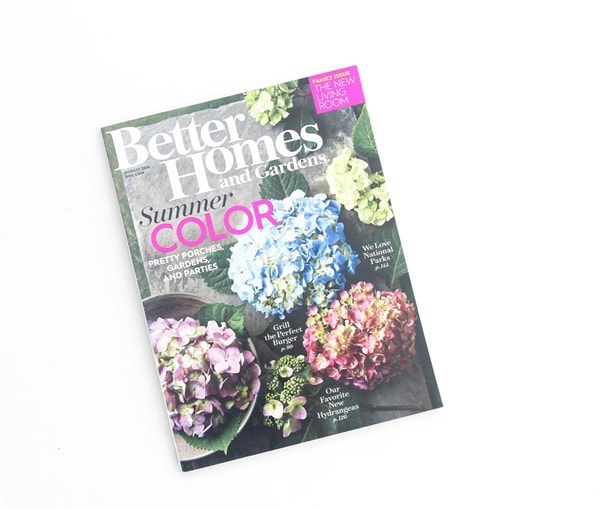 And to add to it all, I had just ripped off someof the paneling in the family room where the shoot would be taking place, finding some nasty water damage that needed to be addressed. So when all of this was set into motion, the living room looked like this.
Not pretty.
We managed to get the wall repaired and I finished painting the fireplace and repainted the rest of the room.
I bought new makeup and got a mani/pedi for the first time since before I got pregnant. (And my baby was 9 months old!) Let me tell you, those three weeks flew by.
The day of the photo shoot, my husband had to work, so my sister and grandmother came over to help with the boys while I got ready. A photo stylist showed up around nine that morning loaded down with all kinds of fun props to style the play kitchen as well as some possible outfits for the boys and I. She got to work pulling out rugs, dishes, play food, even an adorable chef's hat, while I unsuccessfully tried to get Asher to nap. He could definitely tell something was happening that he did not want to miss!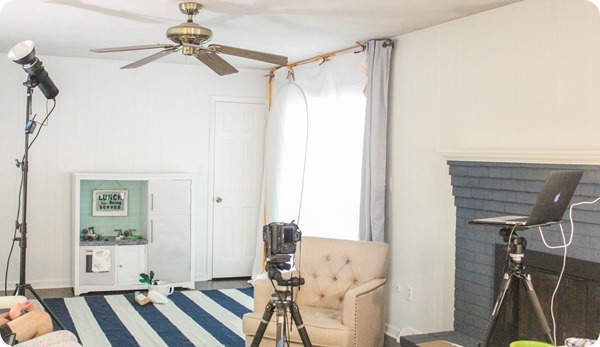 Next we talked about what I was going to wear. I tried on several potential outfits she'd brought and a few of my own before we agreed on what I would wear. Then we chose outfits for the boys (which was much faster!)
Around that time the photographer and his assistant showed up. They were extremely nice and very professional. They got right to work setting up lighting to brighten up my perpetually dark house. It was fascinating watching how they got the perfect lighting for their shot. They put a light on the adjoining screened porch and then covered the sliding glass doors to diffuse the light coming in. Another light went in the hallway facing away from the doorway so the light would reflect off the ceiling. And a third light went in the family room facing away from the play kitchen. They took several test shots and then did a test shot of the boys and I in front of the kitchen to get approval from BHG.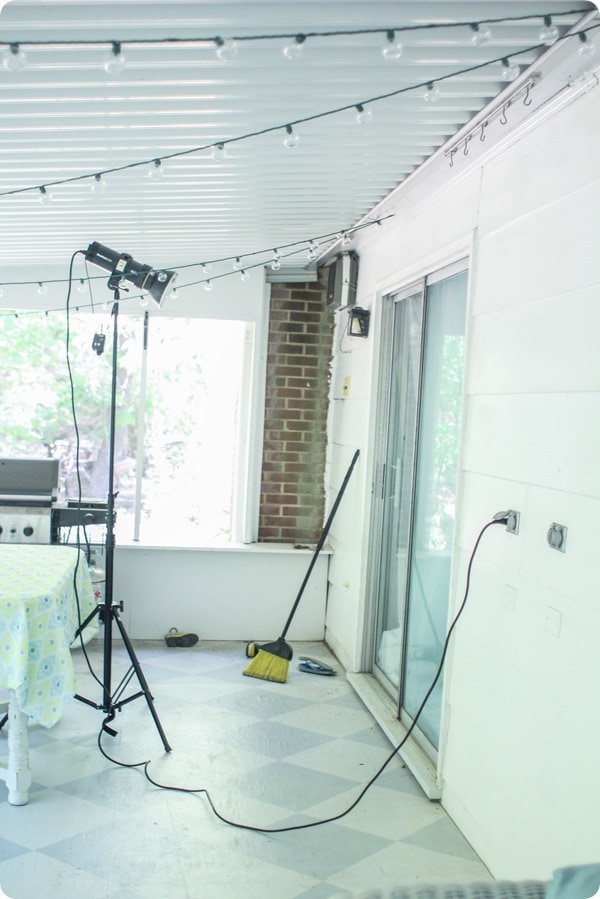 The photo shoot went so much more smoothly than I imagined. Basically I held Asher while Griffin (my three year old) played in front of the kitchen. He adores pretending to cook so he was happy as a clam. My main job was to keep smiling at the camera no matter what Asher and Griffin were doing, which is a lot harder than it sounds. When your baby is squirming in your arms and your preschooler is crawling around the floor, it is so hard to not to be able to look and see exactly what they are doing.
They probably took a couple hundred shots of the three of us and also of Griffin playing with the kitchen.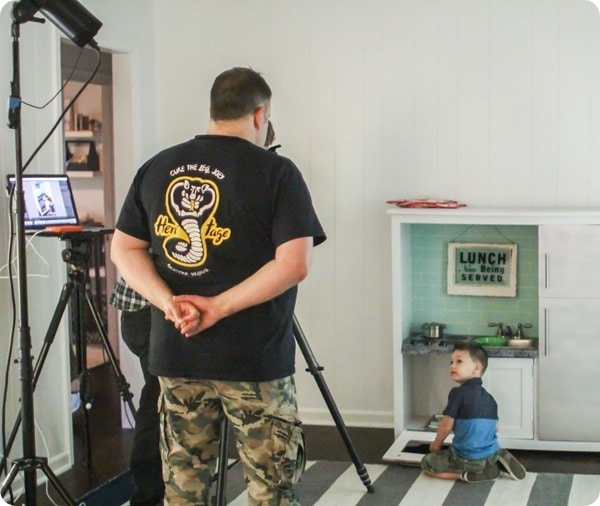 Then we took a break and I changed clothes so they could take a profile picture of me. By this time Asher was passed out in my grandmother's lap and Griffin was snacking away. Once we had a profile picture we were all happy with, it was after one o'clock. Everyone packed up their equipment and props and headed out. (And the boys crashed in their beds.)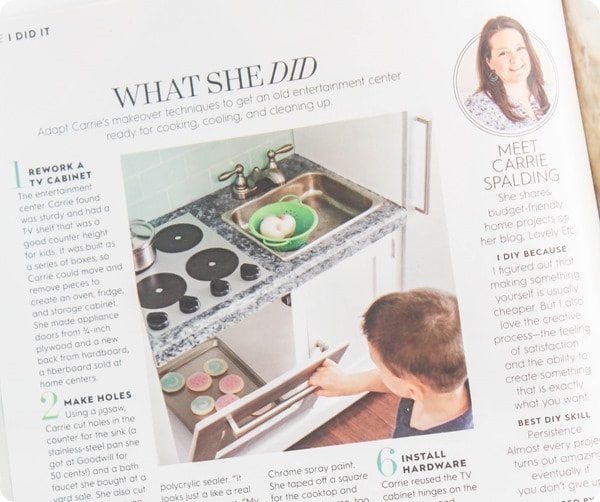 It was eye-opening seeing just how much planning and work went into getting those three photos for the magazine. I can't imagine how much work it takes to do a whole house spread!
I was also blown away by how great everyone with Better Homes and Gardens was. Obviously as a magazine newbie, I had no idea what I was doing. But everyone from the BHG editor to the photo stylist to the photographer were incredibly nice and fantastic to work with. The whole experience was wonderful…and I hope I get to repeat is some day!