These easy DIY wall shelves include a huge range of budget-friendly ideas. From simple floating shelves to upcycled shelves to DIY shelf brackets, there are ideas here for every room in the house.
Wall shelves are one of the quickest and easiest ways to add both style and functional storage to almost any space. Shelves look beautiful in kitchens, bathrooms, living rooms, bedroom, small rooms, large rooms – basically anywhere.
They're also the perfect DIY project, even if you're a woodworking beginner, since most DIY shelves are incredibly easy to make.
You'll also save a lot of money by making your own wall shelves. And even better, when you make your own shelves, you can completely customize the size and finish to work in your space.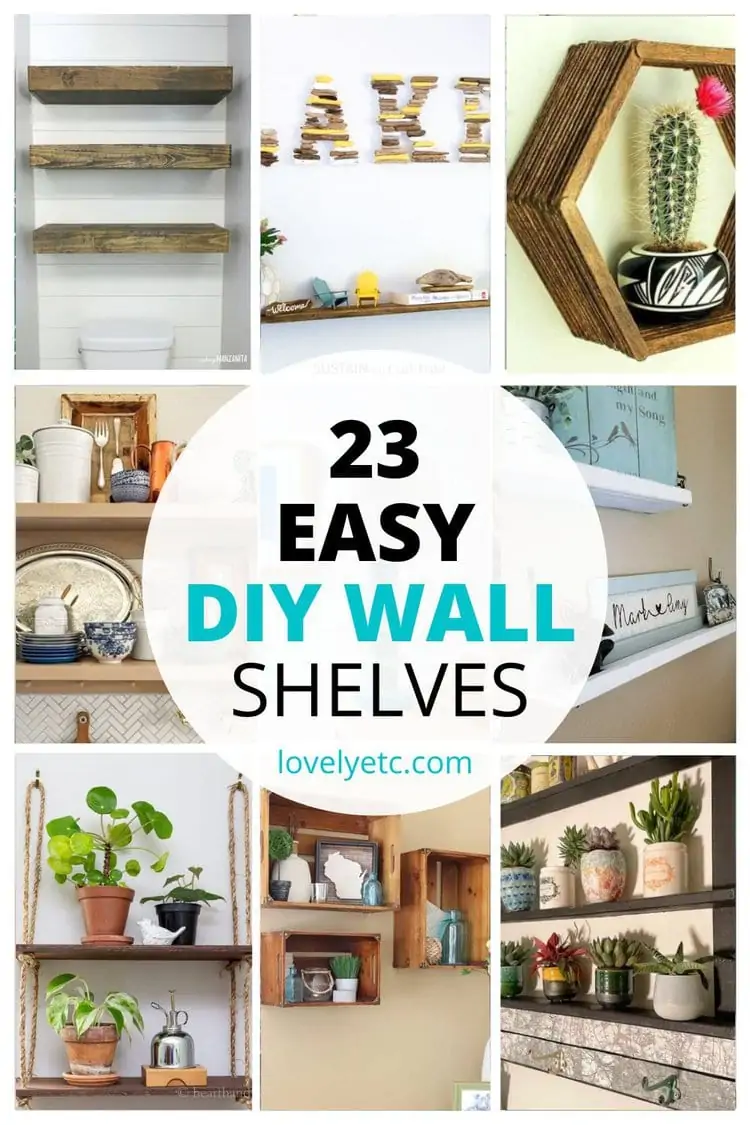 DIY Wall Shelves
There are actually many different styles of wall shelves; here are 6 popular types of wall shelves that will add style and function to any room in your home:
Floating Shelves: Floating shelves don't have visible shelf brackets, so they look as if they are floating on the wall. These airy shelves are perfect for small spaces or as accents in larger rooms.
Fixed Bracket Shelves: These are what many of us picture when we think about wall shelves – wooden shelves with visible brackets supporting them. What really sets these shelves apart is how you can completely change the look and feel just by changing out the brackets.
Pipe Shelves: Pipe shelves can give any space an industrial-chic look with their metal pipe shelf brackets. You can see how I used a similar idea with pipe to make

industrial curtain rods.

Wall Shelf with Hooks: Small shelves are often combined with hooks to make a one-stop storage center. This type of shelf is perfect for entryways or mudrooms, as it provides a place to hang coats and store hats, gloves, and other outdoor gear.
Hanging Shelves: Hanging shelves are usually suspended from above by rope or chain.
Picture Frame Shelf: Often called a picture ledge, these shelves are a great way to display artwork that you plan to change regularly.
The 23 DIY shelves below include tutorials for each of these styles of shelves plus many more.
23 DIY Wall Shelves
These DIY wall shelves are all budget-friendly and easy to make. Just click the link below each picture for the full tutorial.
More DIY home organization ideas I think you'll like:
I'd love for you to pin this post on Pinterest!