This personalized photo map is my absolute favorite kind of project. It's beautiful, fun to make, and it celebrates one of my family's favorite things: a good old-fashioned road trip!
I shared once before that my husband and I have a goal to visit every national park in the US; I would also really love to eventually visit every state.
I'm not big on collecting souvenirs on vacation – usually, they just end up adding to the clutter.
But I absolutely love to take photos to remember our trips and I am always looking for new ways to display vacation photos and celebrate our favorite memories once we are home.
A few years ago I came across this photo map at Cut, Craft, Create blog and I immediately knew I wanted to create my own version.
The basic idea is to make a map using photos of yourself in every state.
As you continue to travel to more places, you can add more photos until the whole map is filled.
I tried to make my own photo map last summer but I really didn't like how it was coming together.
As soon as I put more than one or two photos near each other on the map, it started to look cluttered and chaotic.
So I started thinking of ways to make a travel photo map that would look more like an actual piece of art.
I wanted it to look good when it was only half-filled with photos and I also wanted it to look just as good once it was completely filled.
I finally came up with a plan and it worked beautifully!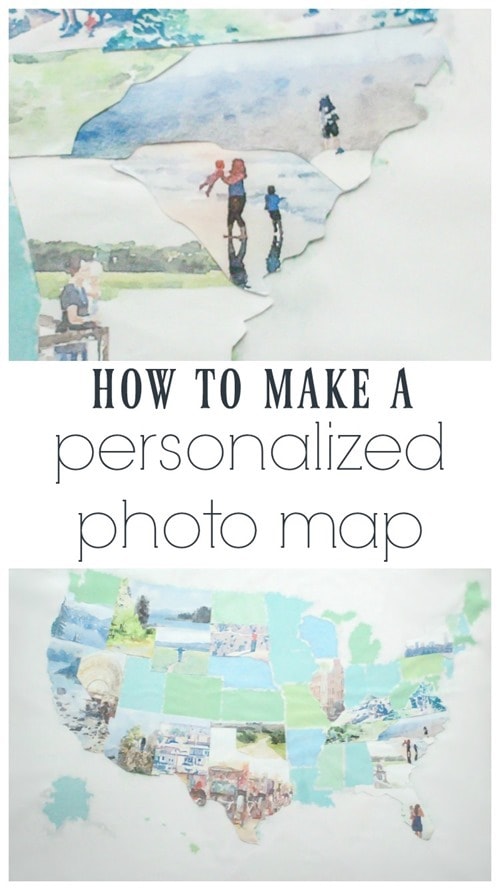 Materials for Photo Map
photos from your travels
Waterlogue app
large color printout of U.S. map
large black and white printout of U.S. map
scissors, tape, pencil
frame
How to Make a Personalized Photo Map
Making your own photo map is pretty simple; it only requires a few supplies and is very inexpensive.
First, is the map itself. After a bit of experimenting, I decided I wanted my map to look a bit more artsy than your typical classroom wall map.
So I designed my own U.S. map in blues and greens with a painted feel to it.
I printed it as a 24" x 36" engineer print from Staples. (Did you know you can engineer prints in color too? My 24" x 36" color print was less than $6. The downside of this printing method is the paper is very thin so it does wrinkle much more easily than I would like.)
I also printed a plain outline of the United States in the same size to help with tracing the state shapes for my photo cut outs.
And in case you want to make your own versions, I am sharing both maps.
Download your copy of the blue and green painted map here.
Download your copy of the black and white outline map here.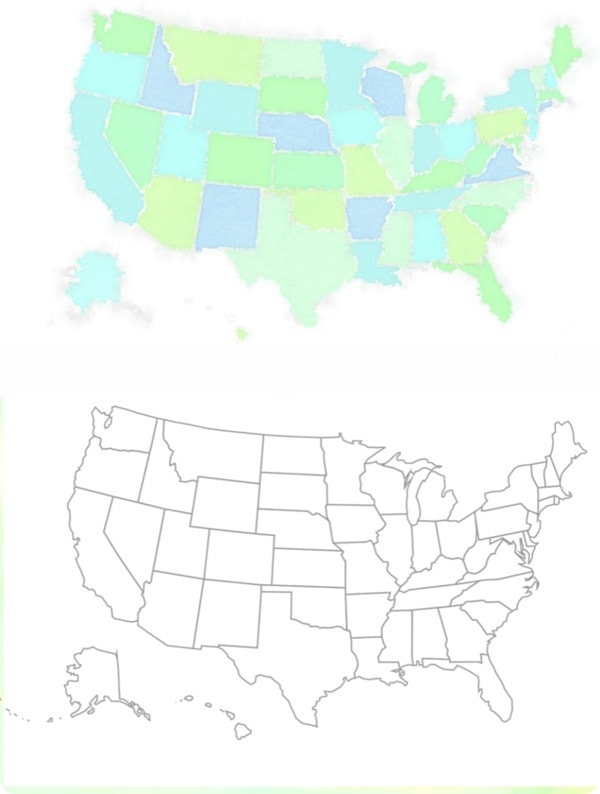 Then it was time for my favorite part: choosing the photos. I love looking through old photos so this part was really fun.
I kept a few things in mind when choosing photos. I want my map to display our favorite family memories in each state, but I also want it to show the beauty of our country.
So instead of choosing close-up photos of us, I chose photos that show the beauty of the places we have visited – gorgeous lakes, city skylines, pretty beaches.
And whenever possible, I chose photos that showed us in the scene as well – my husband walking through a meadow or me and my sons dancing on the beach.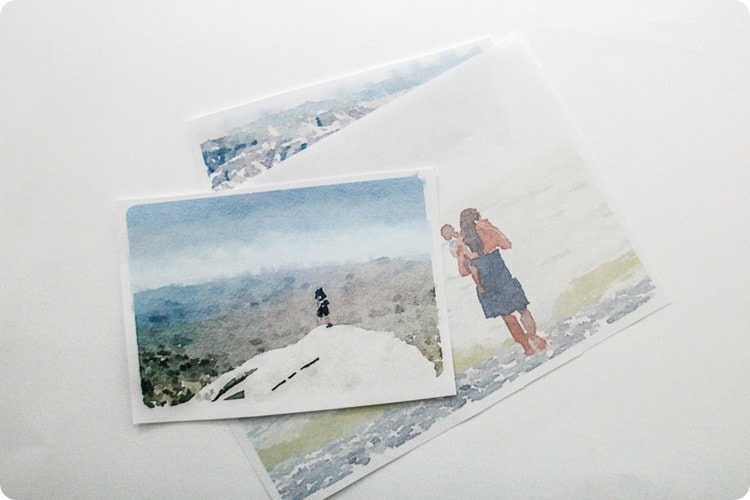 I found that putting a lot of photos right next to each other looked really chaotic and made it hard to know where to rest your eyes.
So I decided to soften the whole thing and turn it into more of a piece of art.
I did this by using the Waterlogue app to give each photo the look of a watercolor painting. (The waterlogue app is an app for iPhones and iPads. All you do is upload a photo and the app transforms it into a watercolor.)
This is so easy to do and is a bit addicting. Not every photo turned out great, but most of them looked amazing.
I printed all of my watercolor photos and then cut them into the shapes of the states they're meant to represent.
The blank U.S. outline map I printed made this really easy. If your photos are light enough, you can simply trace the state shape onto your photo and then cut it out.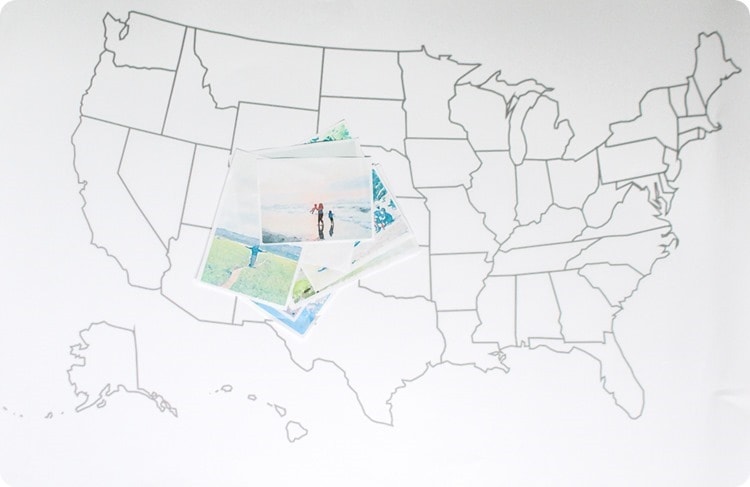 I found that some photos with darker colors were too hard to see through and I wasn't able to trace them.
In those cases, I used this simple pencil transfer trick. Color the area on the back of the map outline with a pencil.
Place your photo behind the map and then trace around the edges of the state with a pencil or other sharp object.
The outline will be transferred to the photo beneath and you can then cut along the lines.
Then all that's left is attaching your photos to the map. I chose to use tape to attach mine because I want to be able to switch photos out later as we travel more.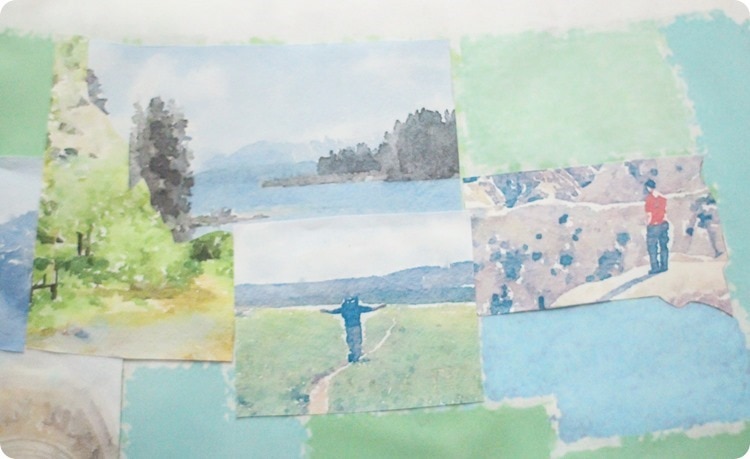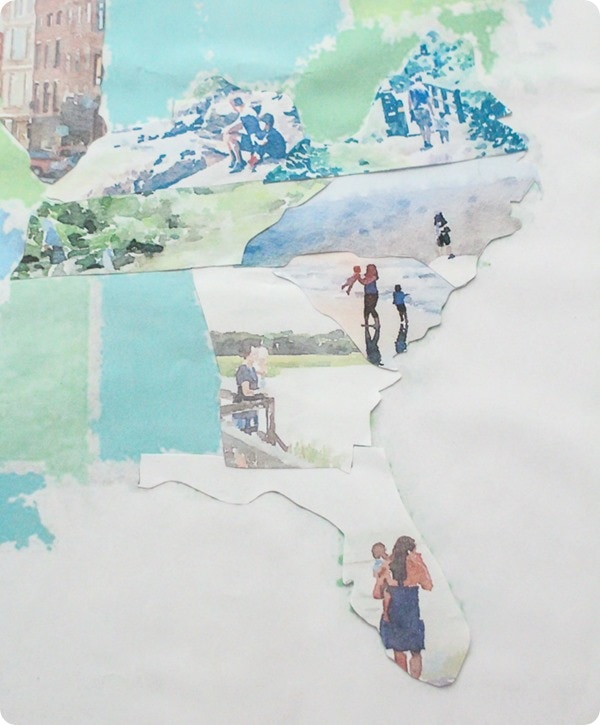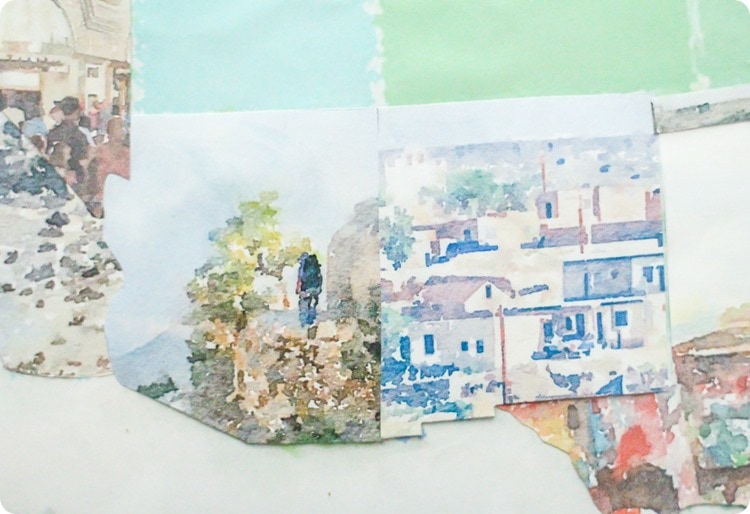 A simple poster frame finished it off.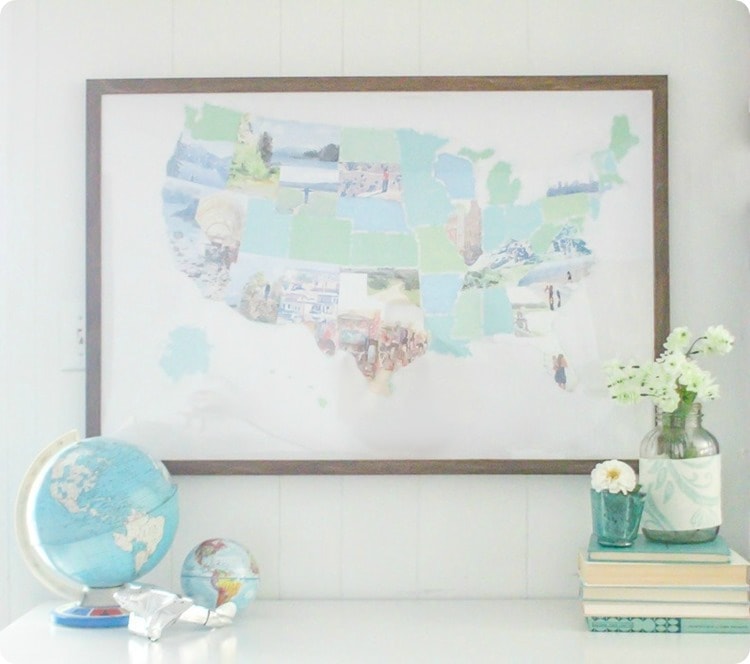 I absolutely love this map. I'm really not sure my pictures do it justice, in person, it is just so pretty.
I love looking at it and seeing where we've been and dreaming about all the places we have yet to go.
And I'm so excited to fill the entire map up one day and have a gorgeous watercolor map of the United States.
And for those of you who'd rather buy than DIY, here are a few other personalized map options that are pretty cool
In case you missed them, here are some other posts I think you're going to love: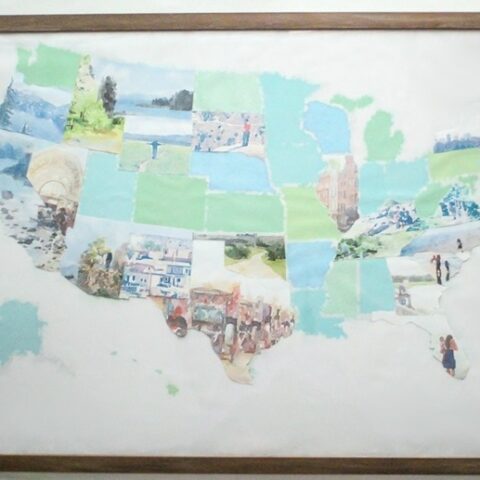 How to make a personalized photo map
Total Time:
1 hour
15 minutes
Make your own DIY personalized photo map using your favorite photos from family trips. It's a great way to display vacation photos and celebrate your favorite memories.
Materials
photos from your travels
Waterlogue app
large color printout of U.S. map
large black and white printout of U.S. map
scissors, tape, pencil
frame
Instructions
Print your downloaded photo map as a 24" x 36" engineer print from Staples.
Choose your photos and use the waterlogue app to give them the appearane of watercolors (optional).
Print all of your photos. You will need to experiment to find the best size to print each photo so it corresponds with the size of the state it represents.
Cut the photos into the shapes of the states they're meant to represent.
Tape the photos to the map.
Frame your map to protect it.