Ok, so I have to be honest. When I found this tray at a yard sale, I had no idea what it was.
But it was a dollar and there was something I loved about it. Plus I'm a sucker for anything this color.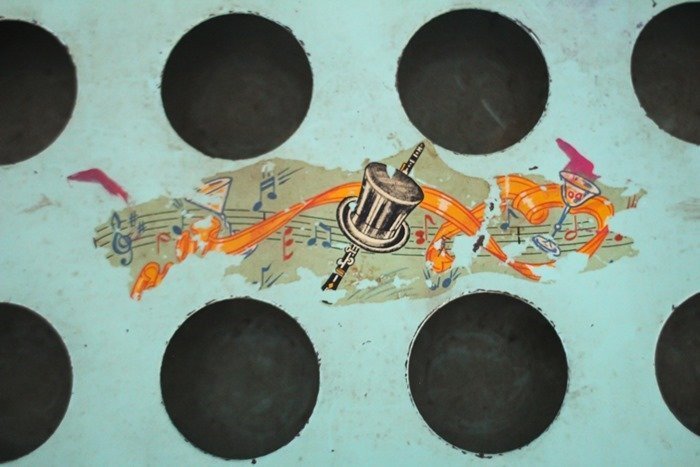 Based on the graphics on the front, I was thinking it was something related to music. Thankfully, when I asked on my Facebook page, you guys came through for me and let me know it was a vintage drinks tray. Good to know!
As soon as I heard that the theme of this month's Upcycle Sharin Challenge was green upcycles, I knew it was time to figure out a plan for my cute green tray. (Stay tuned for more info on the challenge and how you can join in at the bottom of this post.)
I don't actually have need of a drinks tray. I'm not exactly having cocktail parties every weekend and I have to laugh trying to picture myself using it to pass out my kids' sippy cups!
So I started thinking about what else I could make from my drinks tray. I thought about turning it into some kind of centerpiece with cute little vases full of flowers. But then I came up with a better idea. I upcycled my little tray into a fantastic succulent wall garden.
This was such a quick and easy project. No tools, no paint, no glue.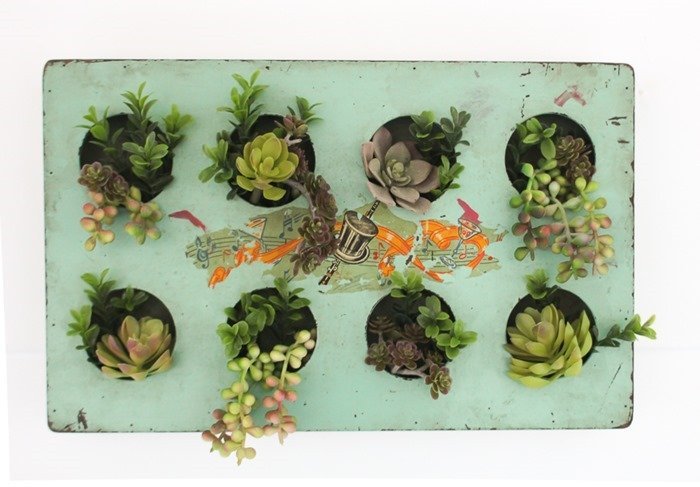 You really only need three things to make this cute succulent wall decor:
Faux succulents. You can find faux succulents pretty much anywhere, even the dollar store. I've found lots of realistic ones at Michaels and try to stock up whenever they have a good sale. I also noticed that they have some really good looking faux succulents in the Target Dollar Spot this week for only a buck each so I snapped up a couple of those as well. Of course, if you are a much better gardener than me, you could also plant real succulents instead of faux ones. But I've found that keeping real succulents alive is much harder than you might think.
Something to plant them in. If you don't have a vintage tray like mine to use, you could also do something very similar with a muffin tin. With a muffin tin, you will just need to use some glue to help hold your faux succulents in place.
Scissors. These are simply for trimming the succulents and cutting bigger bunches apart.
Assembling the hanging succulent garden is super easy. My tray was pretty filthy so I cleaned off the grime first. Then I just started sticking succulents in the holes. I cut some of the bigger bunches of succulents into smaller parts and just played with the arrangement until I liked it.
My little tray already had a lip on the back that hung neatly on a nail, but if you need to, you can add a simple sawtooth picture hanger to the back for hanging. And if you are using a metal muffin pan, you can glue your picture hanger on with a strong glue.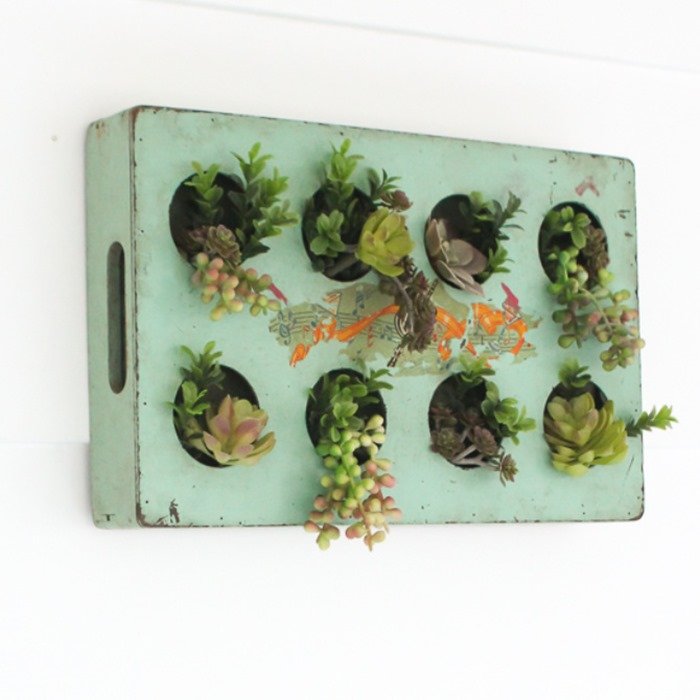 I love how it's working in this little gallery wall I'm putting together in our bedroom.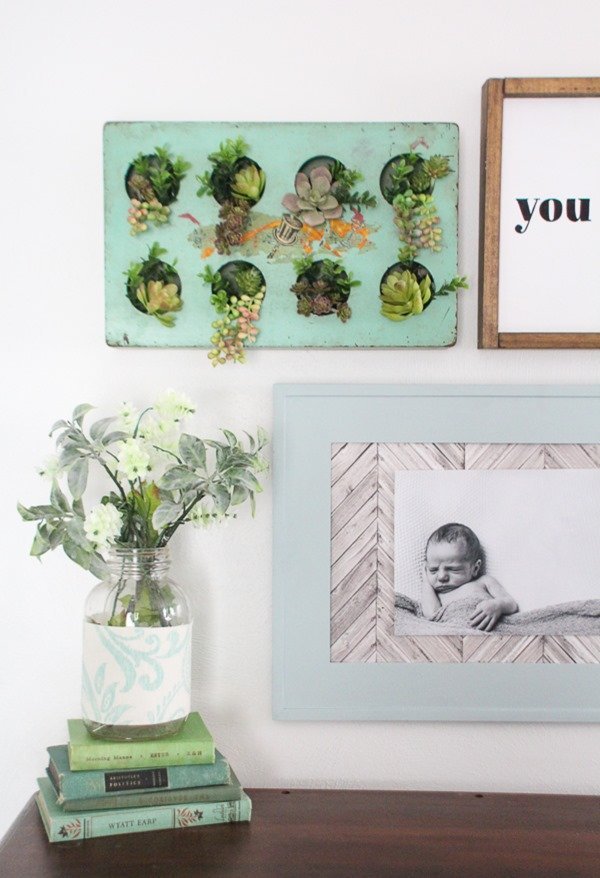 Today also kicks off the March Upcycle Sharin Challenge! You can see the rest of the fantastic hosts' green upcycled projects at the links below and then keep reading to see how you can also join in.


Lovely Etc | Salvage Sister & Mister | Dukes and Duchesses | My Sweet Things | A Crafty Mix
This month's challenge sponsor is the fabulous Dixie Belle Paint Company. If you aren't familiar with Dixie Belle, they sell a wonderful line of chalk mineral paints that are perfect for painting furniture. This month's winner will win $100 worth of Dixie Belle products.

How to Participate in the Upcycle Sharin Challenge
Scroll to the bottom of this post and click add link. From there you can add your upcycle project that will feature this months theme –GREEN. It must involve the color green to be eligible. Note – You don't need to have a blog to enter your project.
You have until March 15th to add your project. After that, voting begins. People can come back to this post and vote for their favorite project. Time to gather friends and family to help vote for yours, see more info on this post if needed.
The person with the most votes wins and will be announced on April 1st.
Good luck! I can't wait to see what you create!
Don't forget to pin it!