Every year I love to make a few new handmade Christmas ornaments to add to our tree. My favorites are ornaments that are beautiful, easy to make, and also meaningful.
Today I am really excited to share my first handmade Christmas ornament of the year as well as fantastic ornament ideas from a whole group of other talented bloggers.
One thing I really want to focus on this Christmas is keeping the birth of Jesus front and center in our Christmas celebration. As my boys grow older, it becomes easier and easier to get swept up in a wave of Santa Claus, Christmas wish lists, and fun decorating.
And while I absolutely love those things, I don't want that to be all our Christmas is about. For me the true heart of Christmas is the story of Jesus' birth, and that is what this ornament is all about.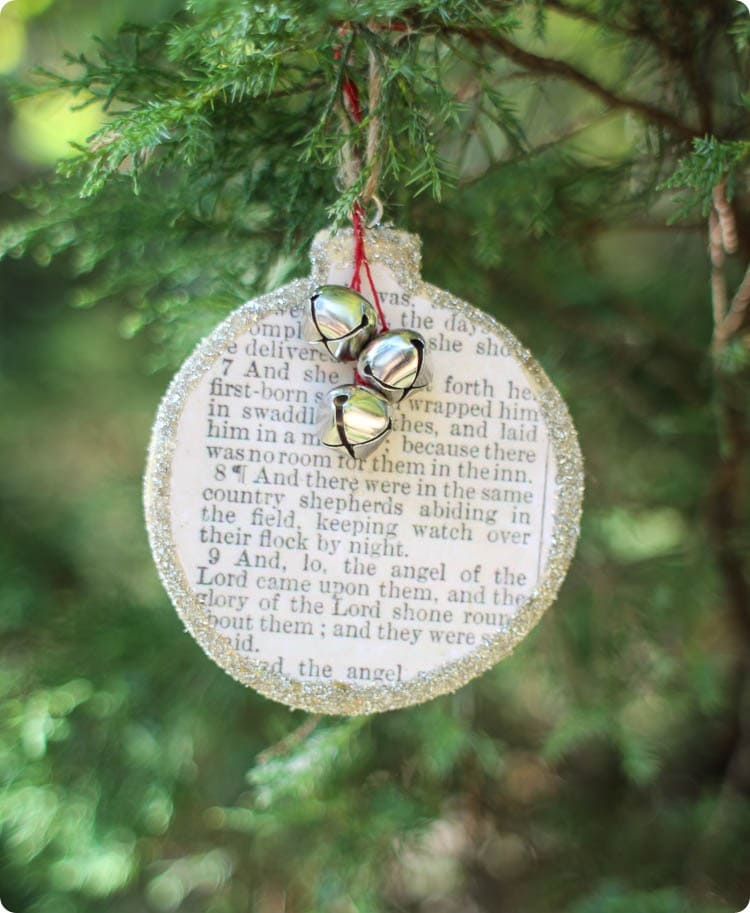 A couple of years ago I found this awesome little New Testament at an estate sale. It is dated 1911 and has several names written inside the cover.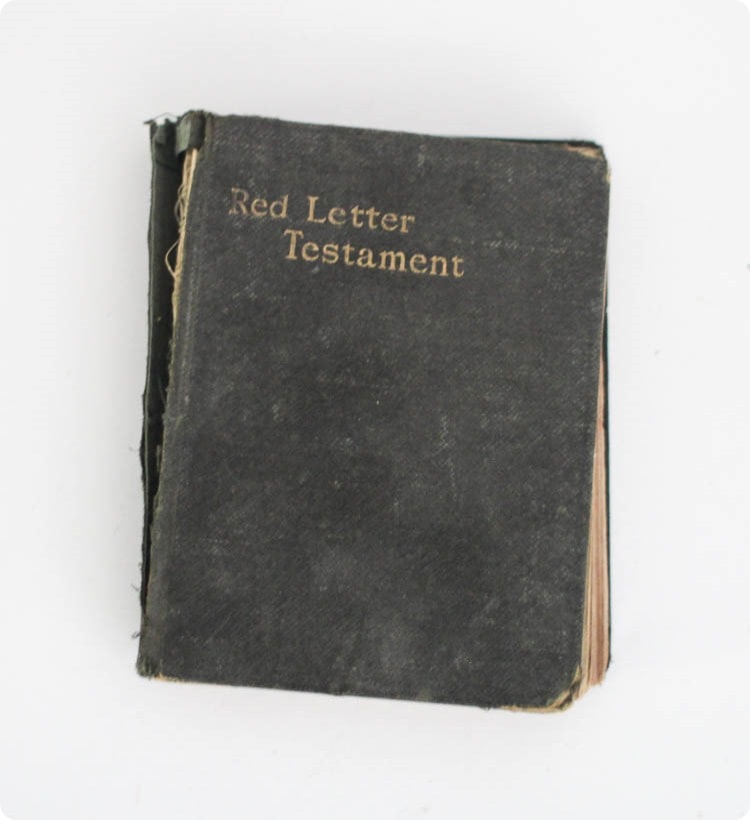 It may be a little worse for wear, but that's what I love most about it – thinking about all of the hands that have held it and all the places it has been.
So I turned to the Christmas story in Luke in this little book and that's where my ornament started. Don't worry – I did not cut up my little Bible to make this ornament.
I scanned the page and then printed a copy to cut.
And since I realize not everyone has an old Bible available, I also created a free printable from mine for you to use.
This post contains affiliate links which means if you make a purchase after clicking a link I will earn a small commission but it won't cost you a penny more. Click here to see my full disclosure policy.
Materials
Blank wood ornament– mine is from Michaels, but you can also grab a pack from Amazon
Printable of the Bible story (found below)
Matte Mod Podge – for attaching the Bible story to the ornament, you could also use glossy, but matte gives a great vintage look
Paint brush
Silver Glitter – I used German Glass Glitter which is gorgeous but any glitter will work
Red string – baker's twine would also look beautiful
Jingle bells – the 1/2″ size works well
How to make a Birth of Christ Ornament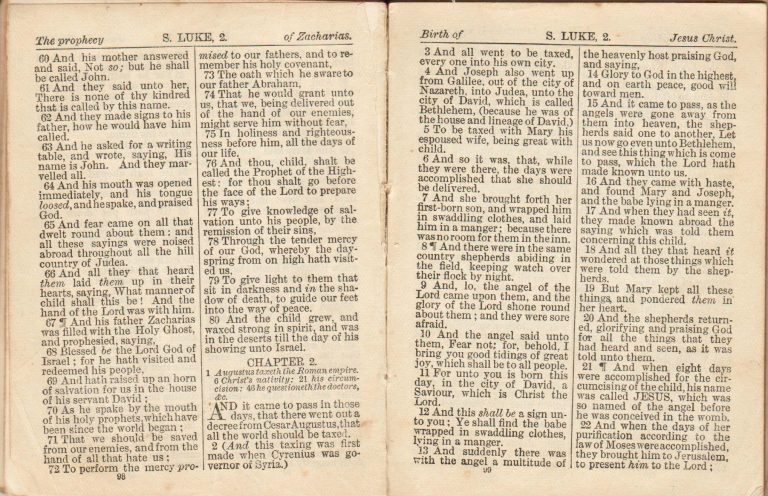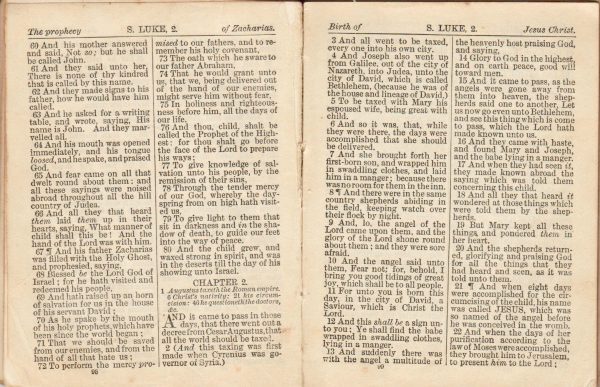 First, download and print out the verses from Luke 2.
I have two versions you can choose from. The first version (shown above) shows the full two page spread from my little Bible and the second version (shown below) is the close up on Luke 2: 6-11 that I used for my own ornament.
To download, just click the photo you want; then you can download and print it.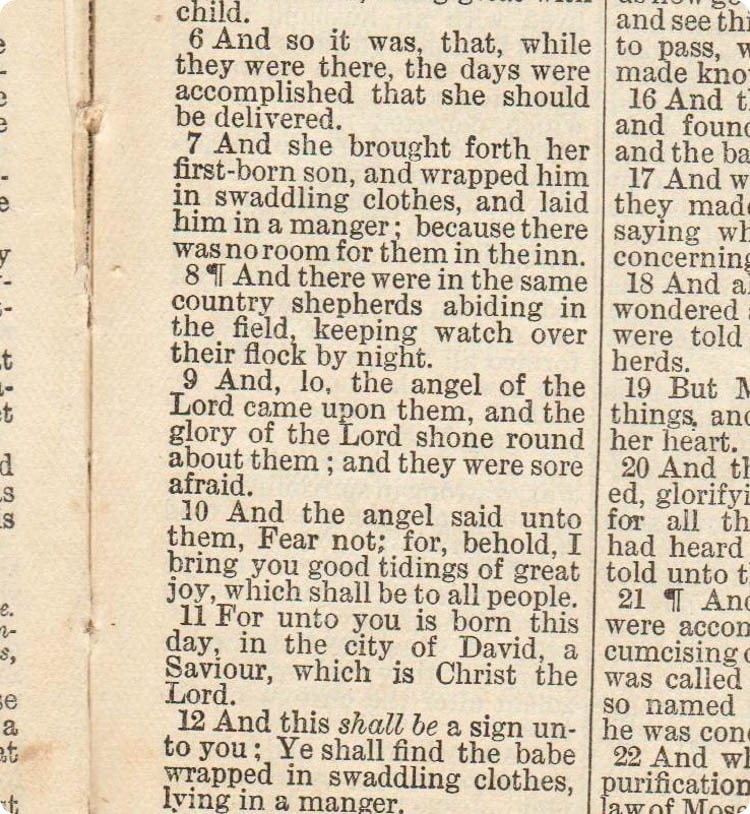 Trace your ornament shape onto the printout and cut it out.
I cut mine a little smaller than the ornament shape to leave a bit of a border.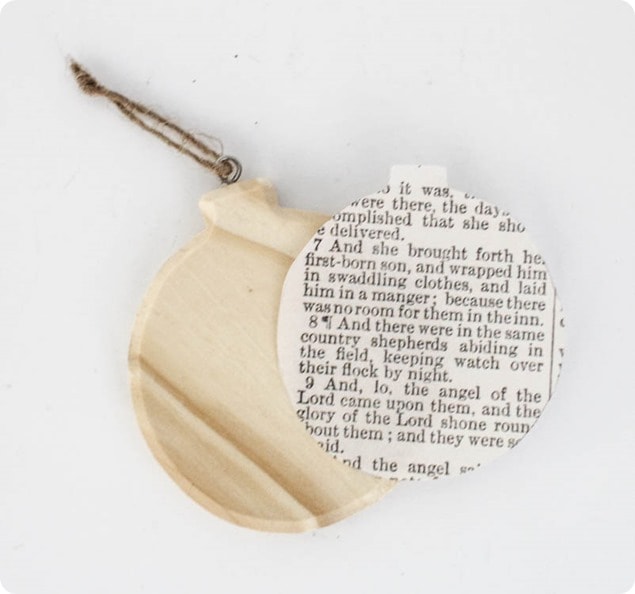 Brush matte Mod Podge all over the surface of the wooden ornament and smooth the paper onto it. This first layer of Mod Podge serves as the glue to hold the paper in place.
Once that dries, brush another layer of Mod Podge onto the top of the paper to seal everything down.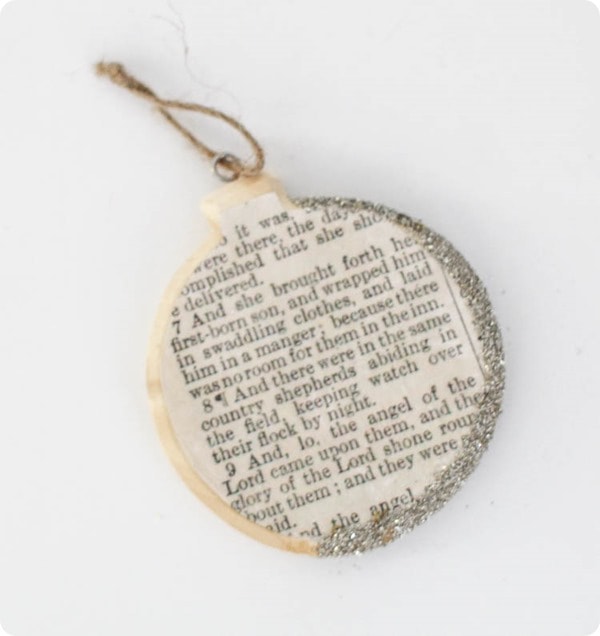 When that has dried, brush Mod Podge over all of the exposed wood surfaces and sprinkle silver glitter on.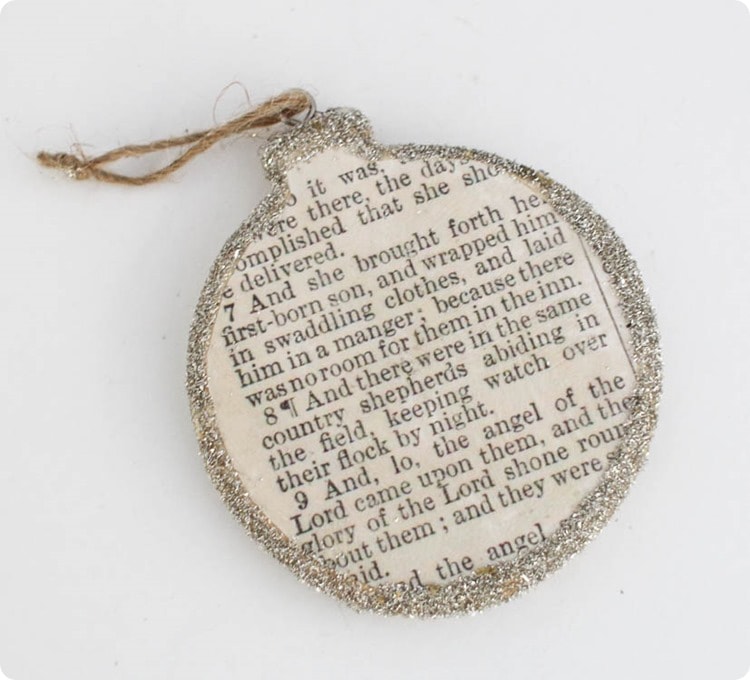 I loved the simplicity of the ornament just like this.
But I didn't want it to get totally lost on the tree, so I added three little jingle bells hanging from simple red string.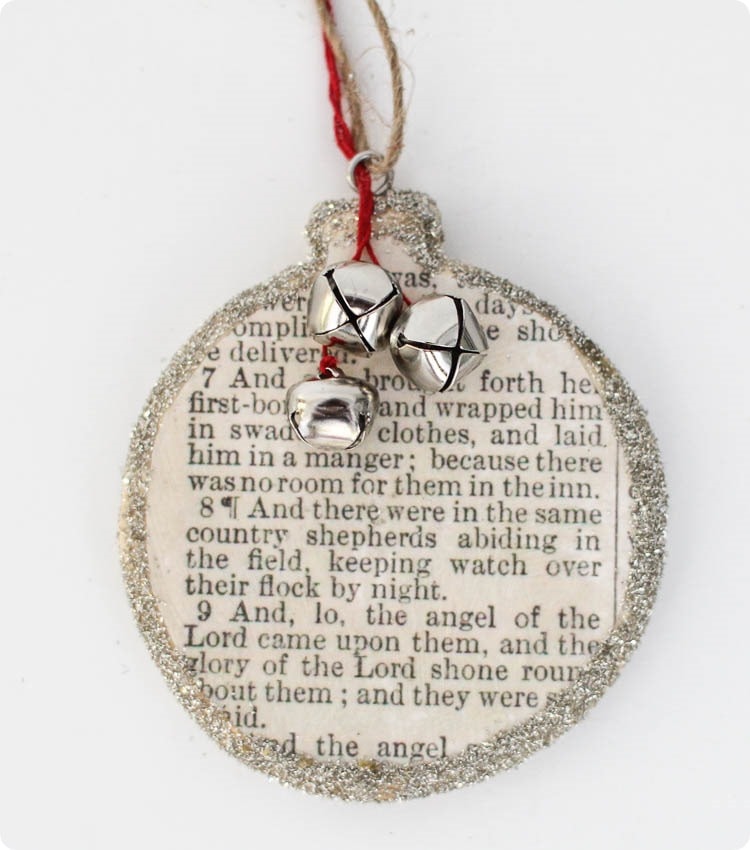 And that is it – pretty simple!
I can't wait to hang this on our Christmas tree this year!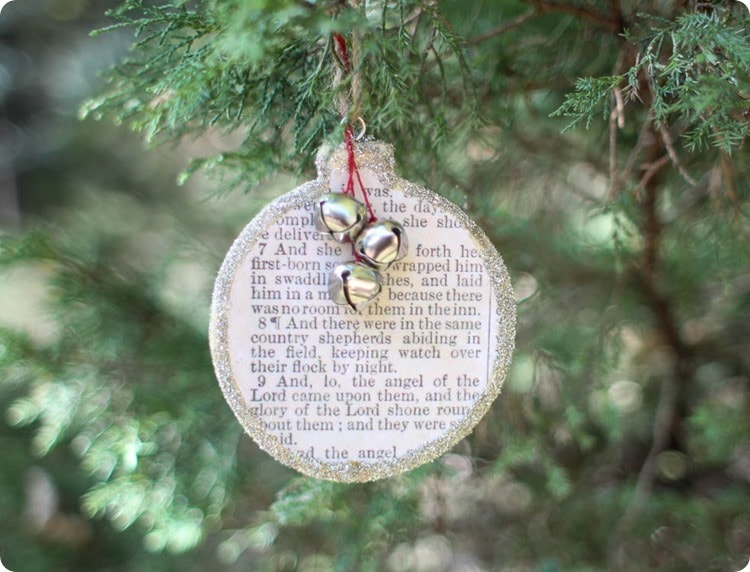 Below is a simplified, printable version of this tutorial for your convenience.
DIY Birth of Jesus Christmas Ornament
This DIY Birth of Jesus Christmas ornament is a great way to celebrate the true meaning of Christmas. It is fast and easy to make and makes a fantastic gift as well.
Materials
Printable of Bible Story
Red string
Instructions
Print the free printable of Luke 2. Trace your ornament shape onto the Bible story printout.
Cut out the ornament shape, cutting it slightly smaller than the wood ornament.
Use a paintbrush to brush Mod Podge all over the front of your wood ornament. Smooth the paper ornament shape onto the front of the ornament.
Once the paper is fully dry, brush another layer of Mod Podge over top of the paper to seal it.
Brush Mod Podge all over the exposed wood on the sides of the ornament and sprinkle glitter onto the Mod Podge. If any bare spots remain, add more Mod Podge and more glitter.
Tie on three jingle bells with red string.
Recommended Products
As an Amazon Associate and member of other affiliate programs, I earn from qualifying purchases.
I'd love for you to share this post on Pinterest!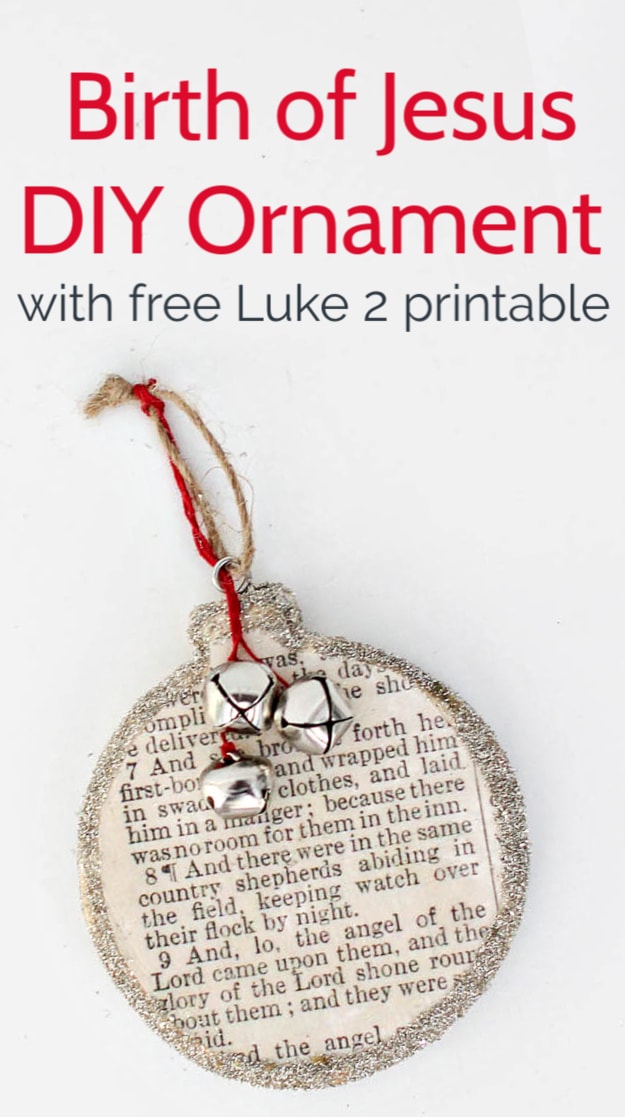 Ready for some more fantastic Christmas ornament ideas? You can see all of my Christmas ornaments from past years right here.
And then you are definitely going to want to check out all of the fabulous creations from the 31 Days of Handmade Christmas ornaments. There are some really fantastic ideas in her that I would love to make myself.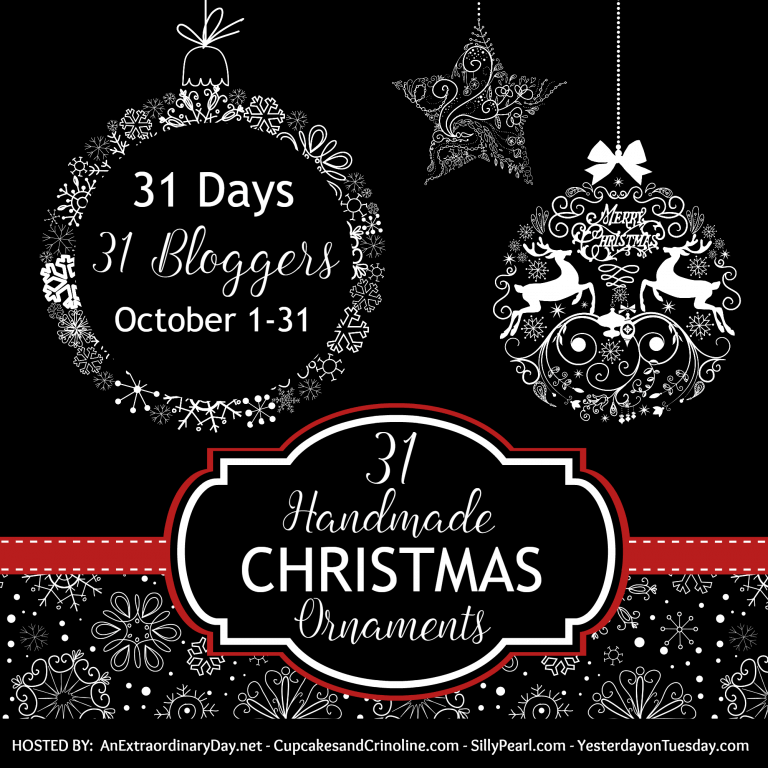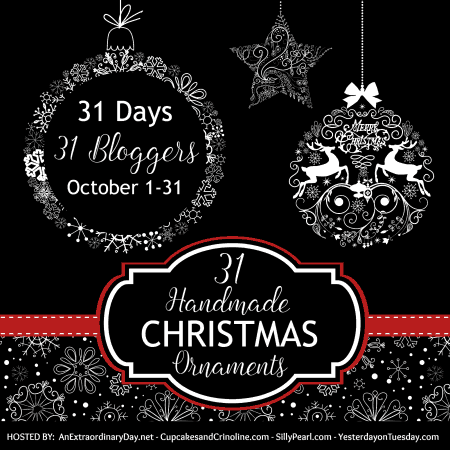 And here are all 31 Bloggers in order of their appearance:
Day 1 – The Silly Pearl :: Day 2 –Yesterday on Tuesday
Day 3 – Cupcakes and Crinoline :: Day 4 – An Extraordinary Day
Day 5 – Knick of Time :: Day 6 – Pet Scribbles :: Day 7 – Simply Kelly Designs
Day 8 – Town and Country Living :: Day 9 – Petticoat JUNKtion
Day 10 – The Everyday Home :: Day 11 – Up on Tippy Toes
Day 12 – Remodelando la Casa :: Day 13 – DIY 180 :: Day 14 – 504 Main
Day 15 – Sum of their Stories :: Day 16 – At Home with Jemma
Day 17 – The Kim Six Fix :: Day 18 – Shabby Art Boutique
Day 19 – Morena's Corner :: Day 20 – My Uncommon Slice of Suburbia
Day 21 – Our Southern Home :: Day 22 – Domestically Speaking
Day 23 – The Crafting Nook :: Day 24 – Sweet Pea
Day 25 – Dukes and Duchesses :: Day 26 – Heathered Nest
Day 27 – Lovely Etc. Day 28 – Stone Gable Blog :: Day 29 – Mod Podge Rocks
Day 30 – Running with a Glue Gun :: Day 31 – All Things Heart and Home

Google Web Story: DIY Christmas Ornament – Birth of Christ