A few weeks ago I shared my photo canvas failure – it basically looked like a photo stuck to the front of a canvas. And done poorly at that! Well, I was determined to make another DIY photo canvas and get it right this time.
I read many of the DIY photo canvas tutorials already out there, but I found two factors that kept most of them from looking like the real thing.
The photos were simply glued to the front of the canvas; they didn't wrap around the canvas which is one of the most awesome parts.
The photos did not have that authentic canvas texture.
These two things really kept most of the DIY versions I saw from looking like the real thing. The photo canvases you can buy look amazing – like genuine works of art.
They just happen to be way out of my budget. Even when you find an awesome deal, once you factor in shipping they cost a ton. And of course who wants to get just one? Which means the money adds up even more.
I am super excited to tell you I figured out how to make a DIY photo canvas that is both wrapped and textured like the real thing for only ten bucks each!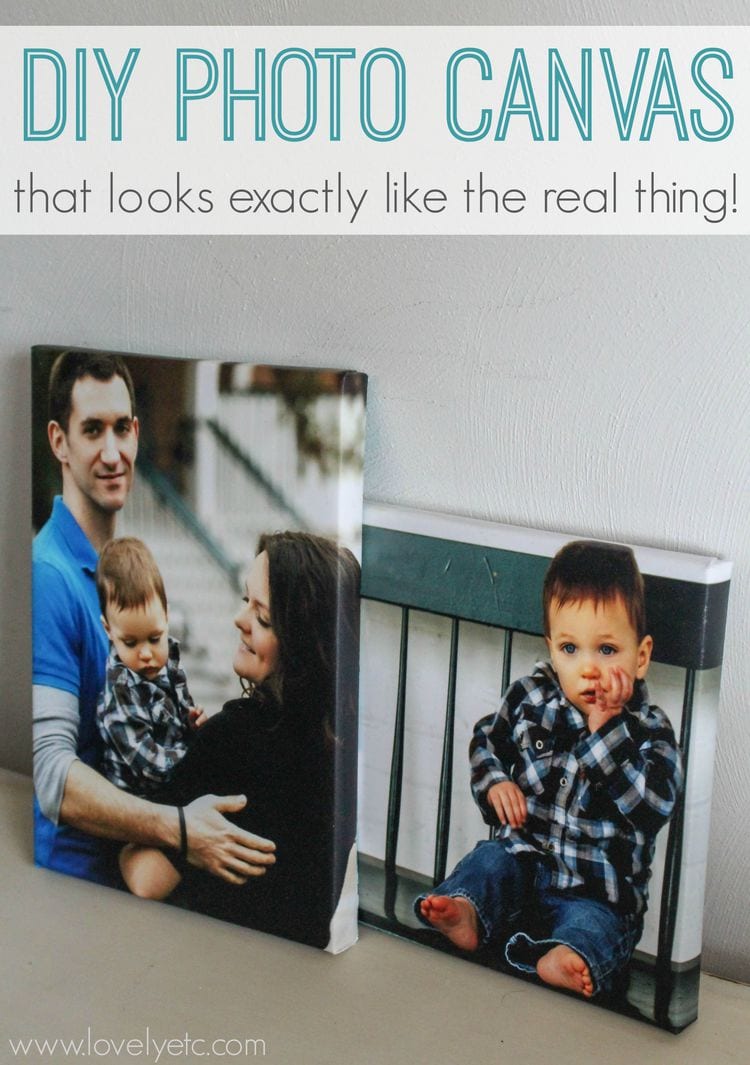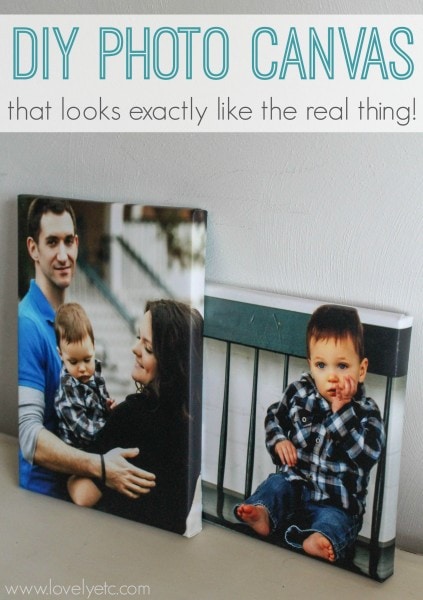 This post contains affiliate links. See my full disclosure here.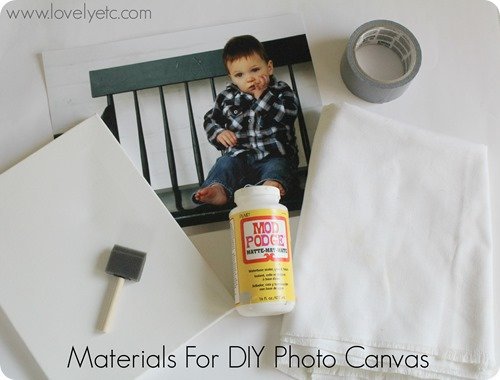 Materials for DIY Photo Canvas
A Poster Print of your photo – make sure to get a poster print, not a photo enlargement. If given the choice between matte and glossy finish, choose matte. Your photo needs to be at least two inches longer and two inches wider than your canvas.
A canvas. Amazon has some great deals on packs of blank canvases or you can always use an old painted canvas that you no longer want.
A Foam Brush
Duct Tape
Scrap of Canvas Fabric
Optional – a brayer (This is a helpful little roller for smoothing things you mod-podge).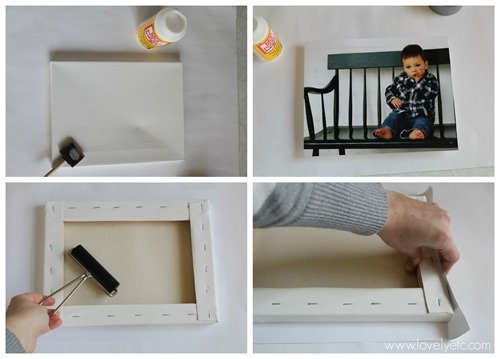 With your foam brush, spread a layer of Mod-podge all over the front of your canvas. Center your photo on top of the canvas and press it to the canvas with your fingers (or if you have one with the brayer. It turns out this little tool comes in handy way more often than I would have thought – especially for anything involving mod podge.)
Turn the canvas over and press along the underside of the canvas to make sure the photo is adhered. Let the mod podge dry thoroughly and then use your fingers to wrap your photo around the edges of the canvas. Sharpen the creases with your fingers.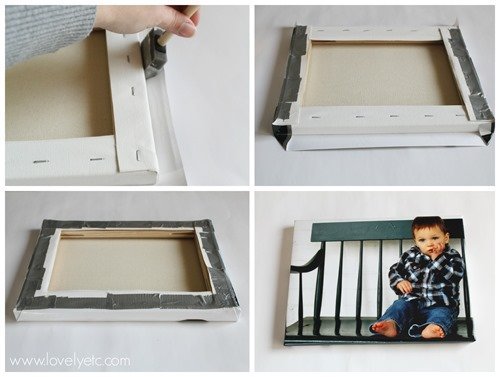 With your foam brush, brush mod podge onto one of the canvas sides. Fold the photo up and duct tape it to the back of the canvas one side at a time.
When you come to the corners, simply fold the corner in similar to if you were wrapping a present. You now have your wrapped photo canvas. Phase one complete!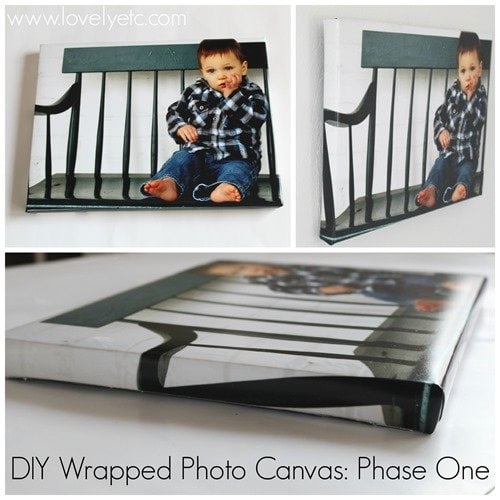 Now if you choose, you can stop right here. It actually looks pretty cool just like this and I almost stopped at this point myself. My canvas was looking really good and I was afraid of messing it up.
But, since my goal for the year is to not be afraid of failure, I decided to go for it and add texture.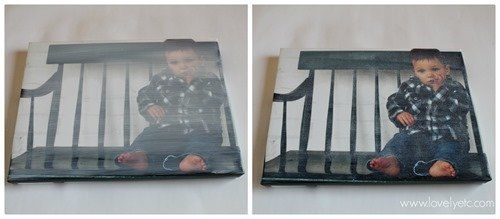 To add real canvas texture to your photo canvas: use your foam brush to brush a thin layer of mod podge onto the front of your canvas. As quickly as possible, press your fabric onto the top of your canvas. Either smooth it with your brayer or your fingers for a few seconds and then remove the fabric.
I used a scrap of canvas fabric; drop cloth would also work well. Just know, that once your fabric has been in the mod podge, you won't be able to use it for anything else. Once you remove the fabric, if there are any little fuzzies or threads on your photo canvas, carefully remove them with tweezers.
I found it to be easiest to allow the front of the photo to dry and then do each of the sides separately.
Once the mod podge has fully dried, if you aren't really happy with how it looks, you can simply brush on another thin layer of mod podge and repeat the process. I am a total perfectionist so I ended up redoing this part about three times. The first two times, I missed a few areas when pressing the fabric.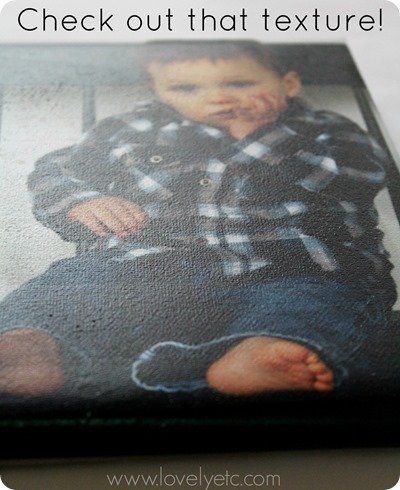 And now you have a just-like-the-real-thing, fool-your-own-mama knock-off wrapped photo canvas!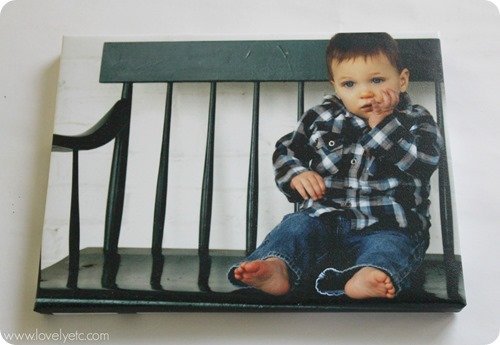 And if you aren't sure if you want to go for the texture or not, here is a comparison of two canvases. One that has already been textured and one that hasn't.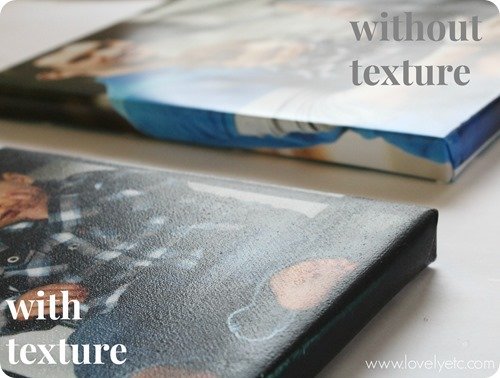 I made these canvases to fit in a particular spot so I used 11 x 14 poster prints and 9 x 12 canvases. I can't wait to make a really huge canvas using this method.
If you are really looking to get some bang for your buck, you can save money by reusing the canvas from an old painting you no longer want (like I did on my first failed attempt at this). And be sure to look for deals on your poster prints – online photo printing stores often run sales up to 50% off. I've gotten all of my poster prints from the Walgreens photo lab and had great results.
I am so excited I was able to turn my failure into a resounding success! If you are thinking about giving this a try, be sure to check out my failure too for lots of tips on what not to do and this update for answers to frequently asked questions and more tips for making your own DIY photo canvas.
Want to remember this project? Pin it to Pinterest so you can find it later: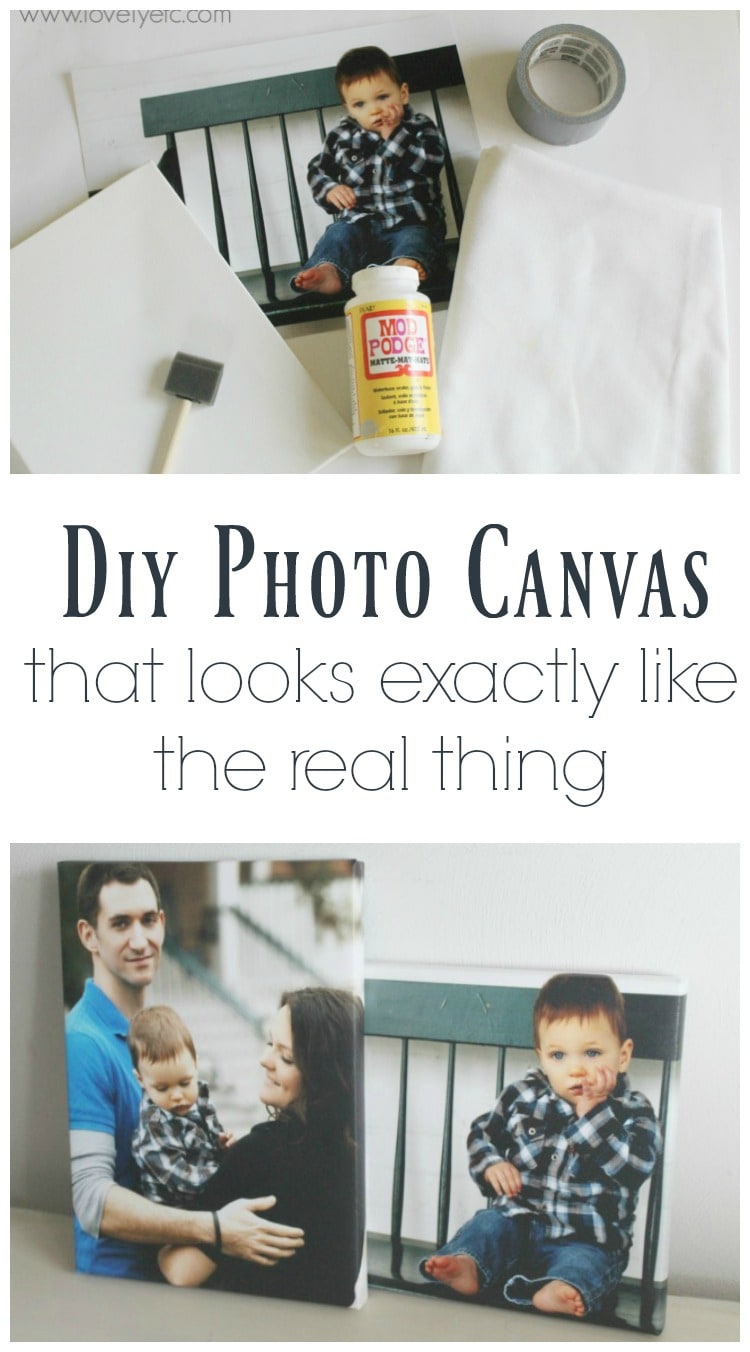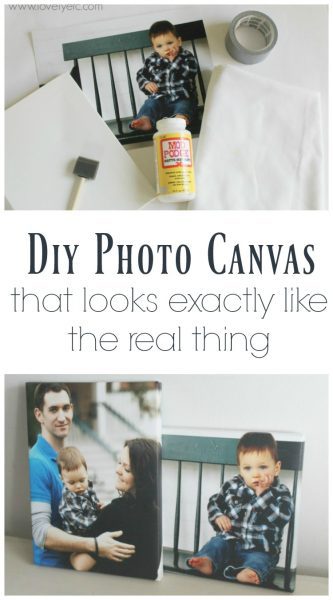 Want more ideas for displaying your family photos? Here are a few of my favorites:
How to transfer photos to wood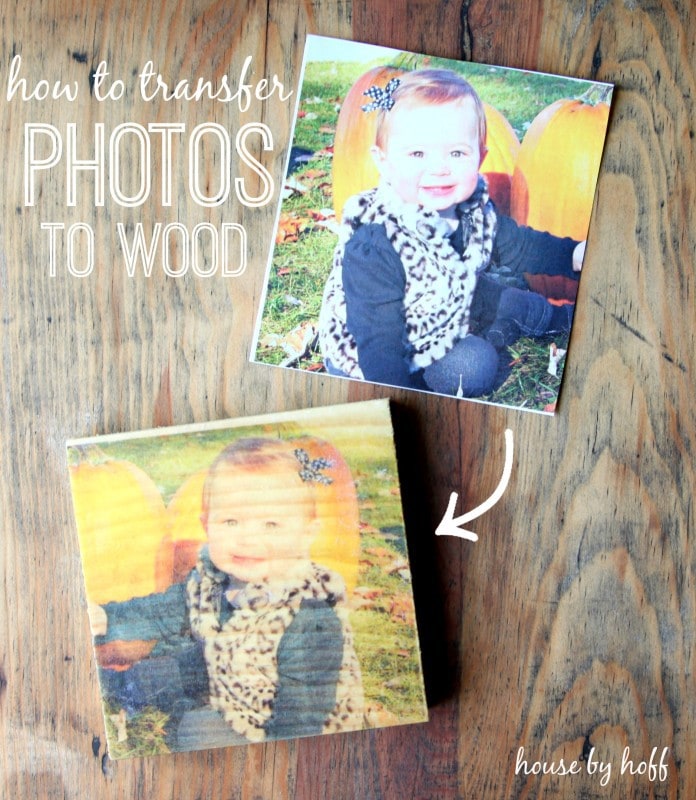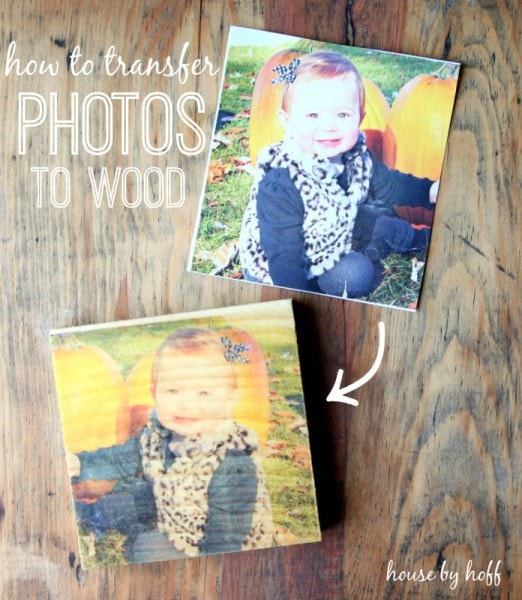 Cheap Wall Art: 7 Ideas that Cost less than $10