I don't know about you guys, but I love to show off my favorite family photos where I can see them every single day. Because I tend to take some of my most favorite photos on vacations, I am determined to make sure those awesome vacation photos do not languish away on my hard drive when they could be bringing a smile to my face each day!
I've found seven amazingly creative vacation photo displays that I cannot wait to share with you guys. Each one is gorgeous, meaningful, and completely doable.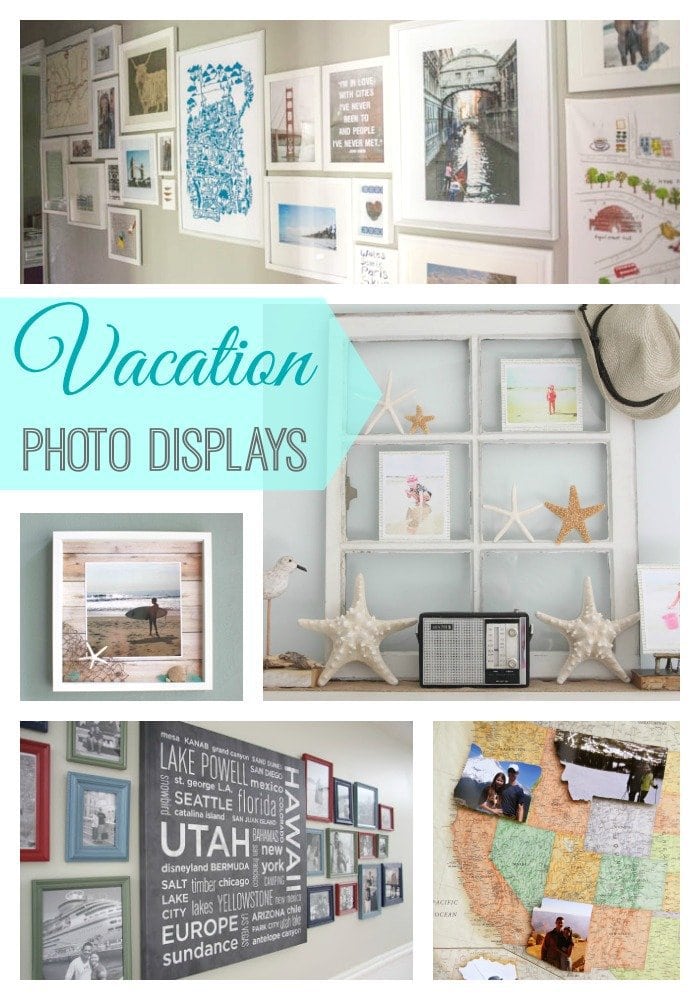 This post contains affiliate links. See my full disclosure here.
Vacation Souvenir Shadowbox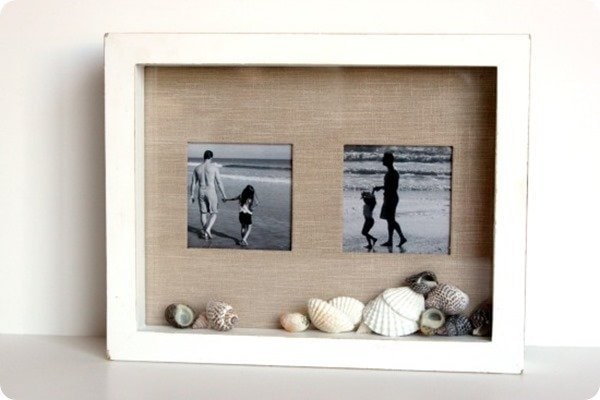 Do you have one or two vacation photos that are extra special to you? Display them in a simple shadowbox along with some of the seashells, driftwood, or stones that you gathered on your trip.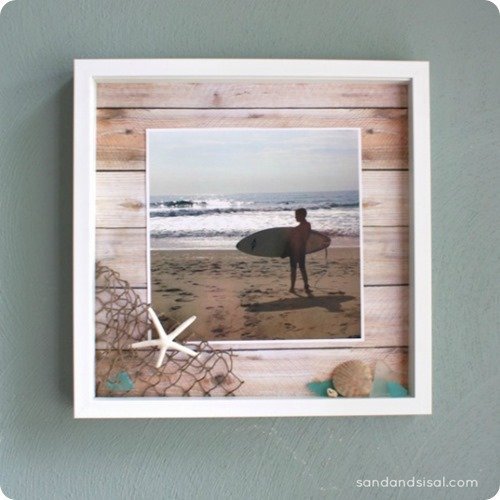 I absolutely adore the aged wood mat on this shadowbox. You would never know by looking that it is made from a piece of scrapbook paper with a wood print. So smart!
Turn your photos into watercolors

Those adorable little watercolor paintings are actually beach photos taken with an iPhone. You can easily use the Waterlogue app to turn your family snapshots into the most beautiful little watercolors. Just print out your photos and display them in a beachy vignette.
Turn your photos into a DIY photo canvas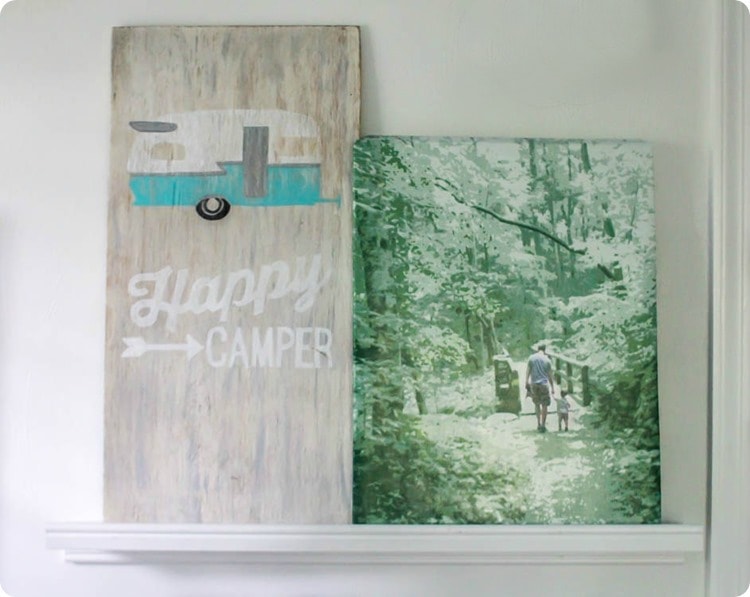 One of my favorite ways to display family photos is a simple photo canvas. You can order photo canvases from sites like Shutterfly or make a DIY wrapped photo canvas for cheap. When I made this canvas of my family's trip to the woods, I used PicMonkey to add a graphic punch to the photo first. Love how it turned out. (Photo canvas tutorial here; turning photos into graphic art tutorial here.)
Travel Gallery Wall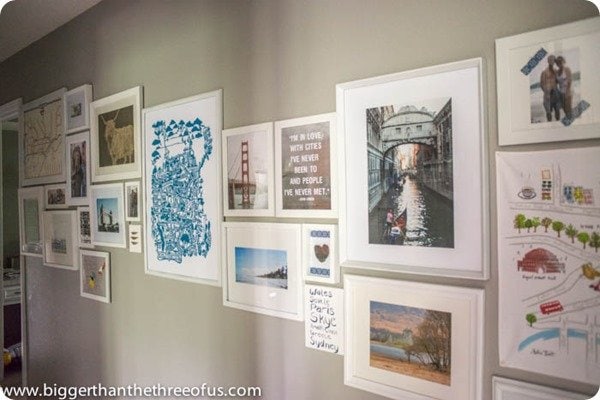 We all know how much impact a beautiful gallery wall can have. Why not gather all of your favorite travel photos together into one meaningful gallery wall? You can mix in maps, travel quotes, postcards, foreign money – anything that takes you back to all of those memories you made. You can find inexpensive frames almost anywhere; just mix and match to create an arrangement you love.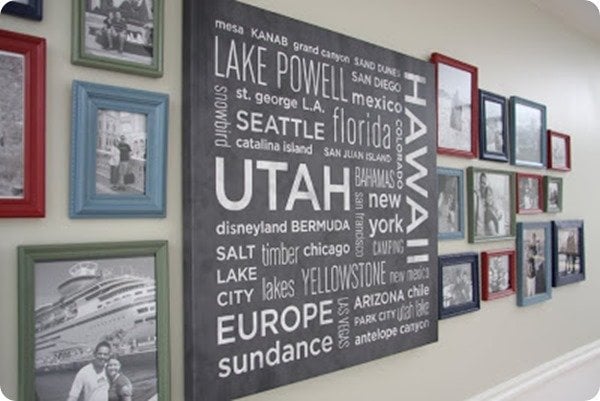 Or gather your gallery wall around one major statement piece. I love this custom piece of subway art naming all of the places documented in the photos. You could create your own using paint, chalk, or even newspaper clippings for a one of a kind art piece.
Make a custom photo map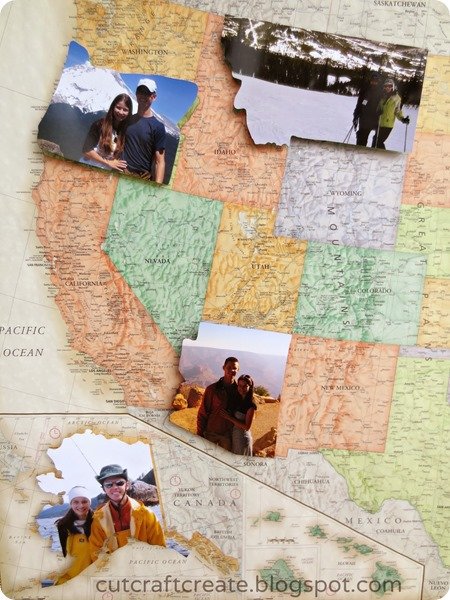 I am in love with this creative photo map. My husband and I would love to eventually visit all fifty states and this is a great way to keep track and remember all of the places we've been.
Update! I love that custom photo map so much, I decided to create my own version with a slight twist. You can check out my own photo travel map right here.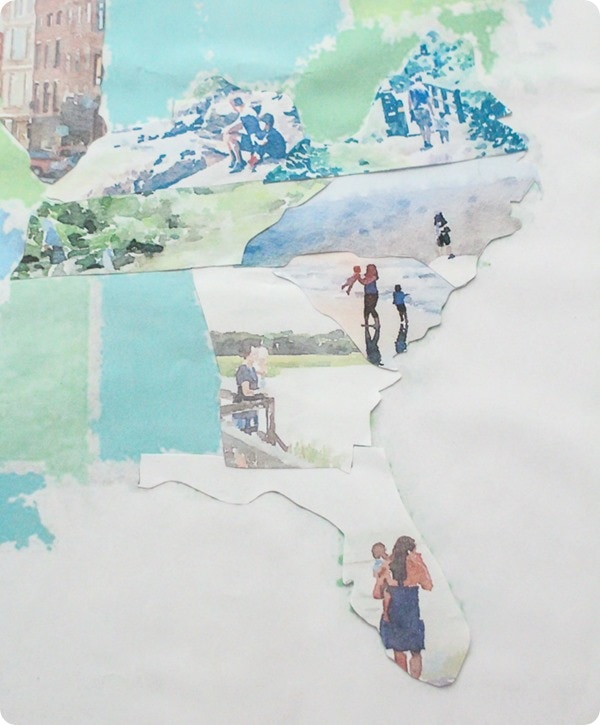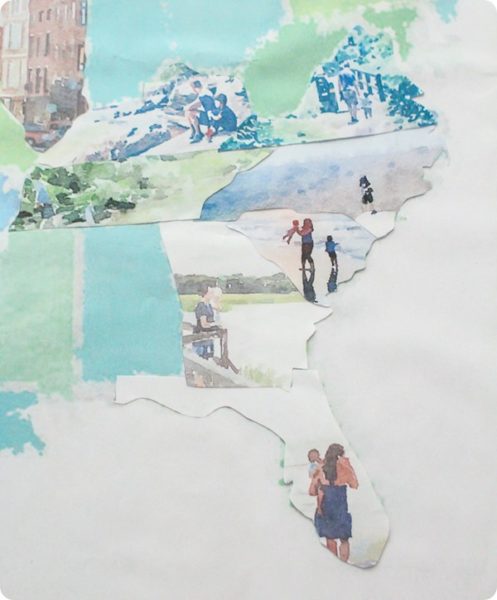 After seeing all of this creative goodness, I can't wait to get started printing out some vacation photos of my own! The problem now is I can't decide which is my favorite idea! What about you? What's your favorite? Or do you have your own unique way to display your vacation photos?