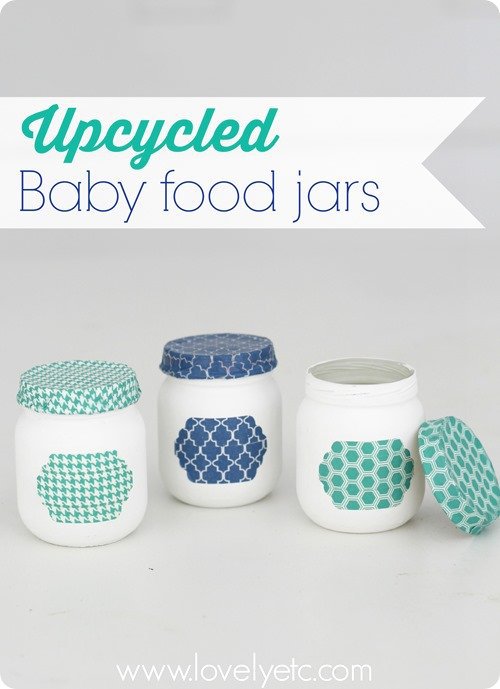 Baby food jars are the perfect little treasure waiting to be upcycled. We all know by now how many amazing things can be done with old jars, so adorable little mini jars – really, what's not to love? (And if you don't happen to be hoarding baby food jars like me, I think these little beauties would look just as fetching using standard grown up sized jars.)
When our son was eating baby food, I hounded my husband to save the jars for me. He threw them out whenever I wasn't looking (to avoid the chore of washing them out) and he questioned me regularly about what in the world I was going to do with a bunch of tiny little jars.
But I was adamant they would be something amazing.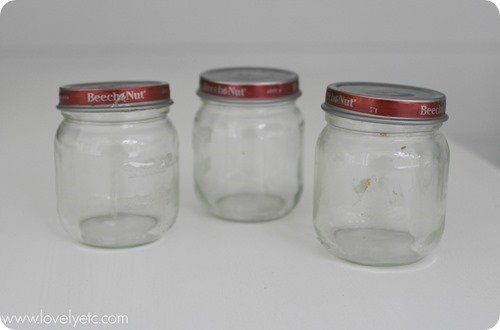 And then they sat in the cabinet for 9 months while I tried to figure out exactly what to do with them.
I love using jars for storage around the house, so in the end I decided to turn these old baby food jars into stylish storage. Even though they are small, they're perfect for storing spice blends, small snacks, paper clips, rubber bands, safety pins, beads, small crafting supplies, random jewelry pieces…
All they needed was a tiny little makeover.
I love the look of painted jars, so I started by painting these with some pure white chalk paint I had on hand. If you don't happen to have any leftover chalk paint, craft paint is also pretty awesome for painting glass. (I used Americana craft paint on my striped aqua mason jar and it worked perfectly.)
After painting several coats of paint, it was time to deal with the lids. I thought about just painting the lids in pretty colors, but wanted to do something a little more special. So I broke out the washi tape.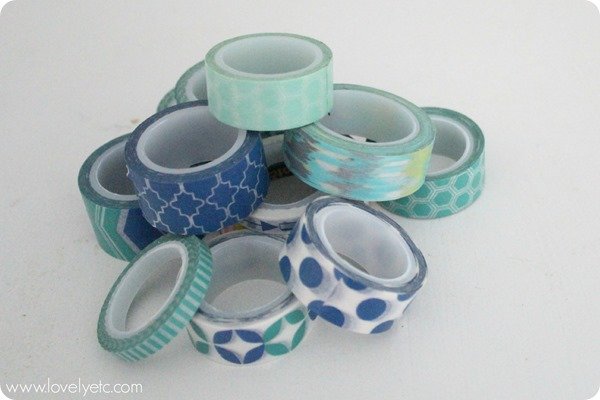 For anyone who doesn't know, washi tape is amazing! It comes in a million and one gorgeous patterns and colors for only a couple of bucks a roll. You can stick it just about anywhere just like regular tape, but it's removable. So if you decide to decorate something with your washi tape but then get tired of it, you can just peel off the tape…without harming most surfaces. Genius!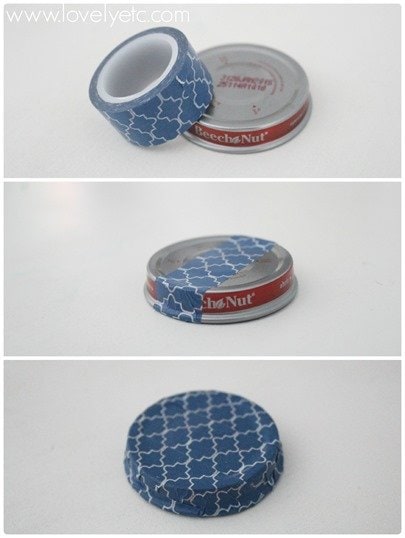 So anyway, I decided to cover my jar lids with washi tape. I basically wrapped the lids in strips of tape and then trimmed off the excess, folding the edges under the lids.
I loved how my jars were looking but they really needed a little something else. So I decided to go with some labels. I made the labels using the same washi tape, some cardstock, and a craft punch. I taped a few strips of each color to the cardstock and then punched it with my craft punch. I don't have a cute label punch but I do have a 'tag' punch. I figured out that I could just punch out a tag and then turn it around and punch the other side as well to make a really cute little shape. (Who knew!)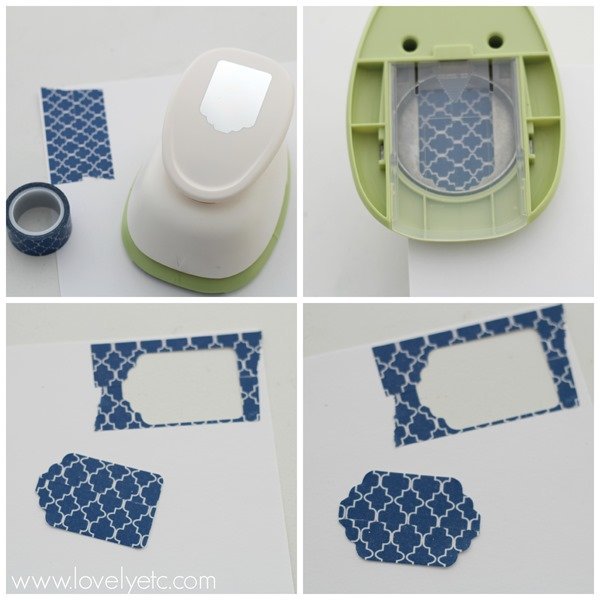 Once the labels were punched out, I just peeled the washi tape off of the cardstock and stuck it onto my jars.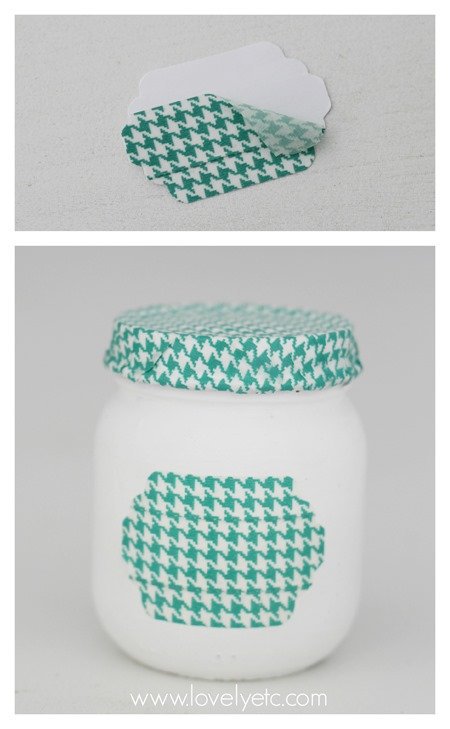 And now I have the absolute cutest little storage jars around. (Plus, just as importantly, I can show my husband just how smart I actually was for saving all those jars!)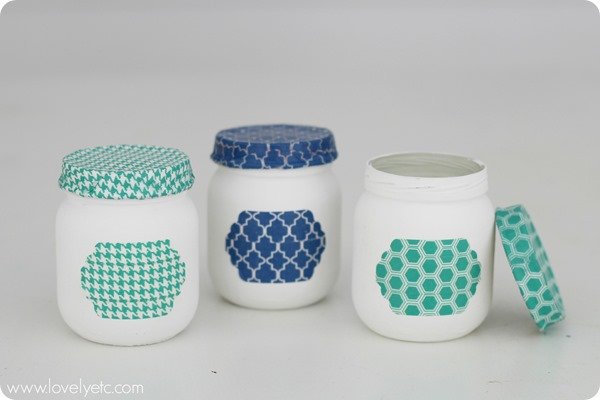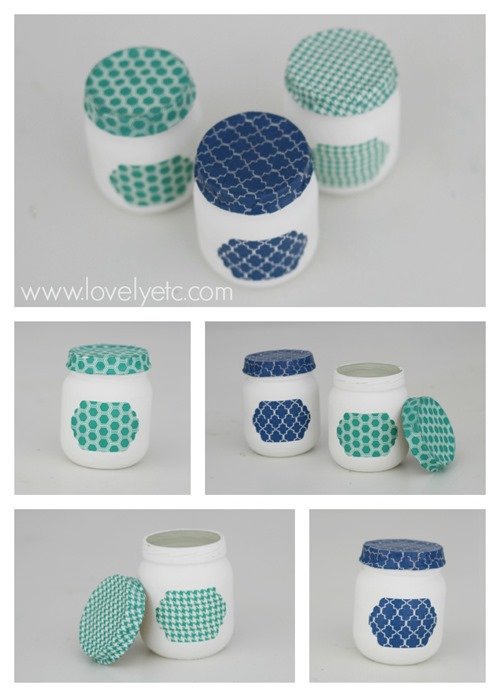 How's that for recycling! Be sure to check out my fellow bloggers' repurpose, recycle, reuse projects as well. As always there are some great ones. (And you know I'm drooling over that turquoise bed!)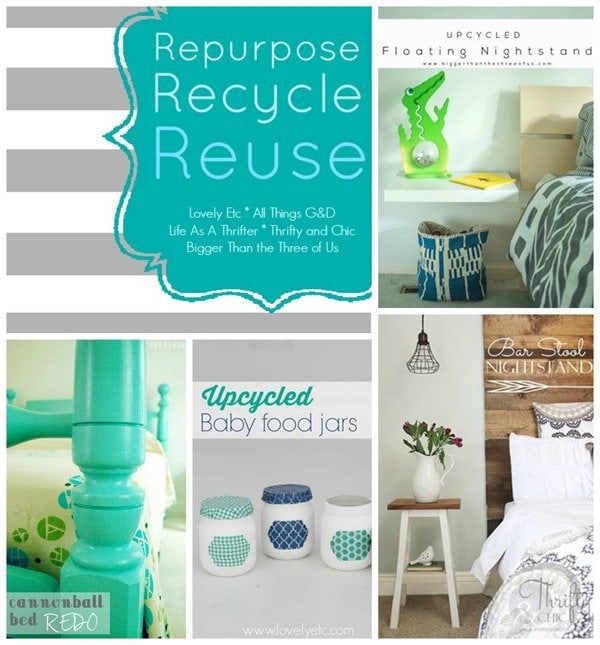 Bar stool nightstand by Thrifty and Chic
Cannonball bed redo by Life as a Thrifter
Upcycled Floating Nightstand by Bigger Than the Three of Us