It's been far too long since I shared one of my project fails with you guys. I'm pretty sure every project I do has at least one moment when it looks like a huge failure, but usually I can turn things back around. Unfortunately there was no saving this one.
I'm a huge fan of displaying family photos in our home. The bigger and more creative the photo display the better. (Want examples? This one is my favorite.) The last few years I've had my eye on transferring some photos to wood. I've actually already made a wood transfer ornament, but to be quite honest, it didn't turn out quite as nicely as I had imagined. So I wanted to try it again, just a bit bigger and better.
Remember the cute pallet photo display I shared a few days ago?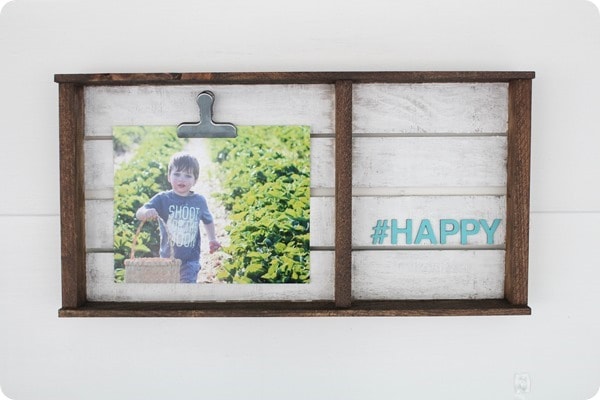 Well, that was actually take two. Originally, I wanted to transfer that cute photo of Griffin picking strawberries directly to the back of the tray. I was really excited about creating an awesome pallet photo; unfortunately, it turned out like this: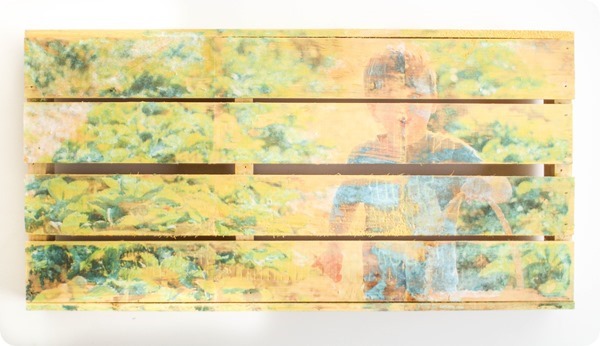 It wasn't awesome. Or even passably good. It was terrible! I was going for a rustic look, but this was ridiculous!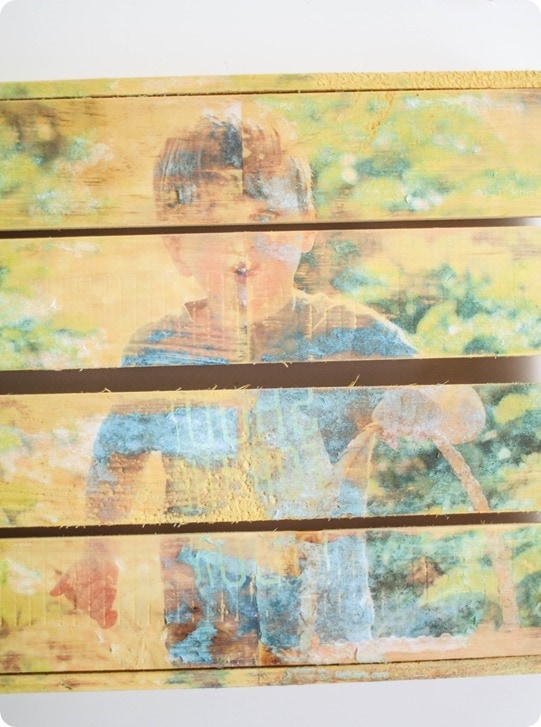 The photo was smudged in places. In other places it completely disappeared. And that poor little face that was supposed to be so cute. One eye unfortunately happened to fall right in the crack between the slats. The two sides of his face didn't quite line up. And overall, the cute all turned into a whole lot of creepy.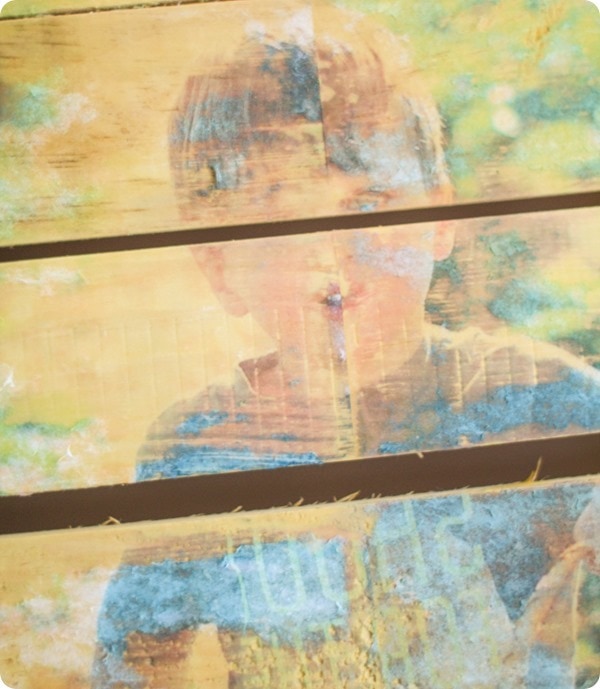 Believe it or not, I did read online tutorials before beginning this project. Several of them! But I found lots of conflicting info – some said you have to use photos printed on a laser printer, some said ink jet was fine, some said you needed to do a photocopy. They also said to let your photo dry for six…or twelve …or twenty four hours. The smart thing would obviously have been to just wait the 24 hours to be safe. But after about 8 hours, both of my boys were in bed and the house was quiet. So of course I had to get busy while I had the chance! Big mistake.
My pallet was much bigger than a standard piece of printer paper, but again, I was impatient, and I didn't want to have to go to a copy center to get a big photo printed. So I resorted to my old trick of printing a large photo on multiple pieces of paper and piecing them together. Hence, the seam in the middle of his face. Not good.
Now, of course, I had to share this colossal fail so that everyone can have a good laugh and feel a little better about their own craft fails. But I'm also going to do better than that – I'm going to figure this one out! I will have my cute wood photo by golly!
Stay tuned because I'm going to be testing all the tutorial advice and figuring out what really is the best way once and for all! And in the meantime, you can check out my photo canvas fail here and the amazing DIY photo canvas that followed here!