Alright guys, we're one week into the $100 room challenge and I've made major progress in the family room: my DIY rustic fireplace mantel is complete!
In case you don't know what the $100 room challenge is, it's a challenge to make over one space in your home in only four weeks with a $100 budget. And let me tell you, it is a major challenge but so far I'm feeling pretty confident I can pull it off. This time around I'm fixing up our family room and you can see the before pictures and my overly ambitious plans right here.
I've never been a huge fan of our brick fireplace. It's really big and awkwardly placed in the room, right up against the kitchen peninsula. I've made lots of improvements to it over the years. First painting the brick white with a wooden mantel. Then painting the brick navy and the mantel white.
Each change has been a big step in the right direction but something was always off about it. I've never loved the glass fireplace doors but they're very functional – both for keeping the heat in and keeping the kids out of the fireplace! So it has to stay, but there was something else that wasn't quite right anyway.
Finally, I figured out the problem! This big, wide hulking brick fireplace was topped off with a dinky little mantel. It didn't look great when it was natural wood and it looked even more nonexistent once I painted it white.

And I just realized I have a whole red, white, and blue thing going on there. Totally unintentional!
Anyway, no more wimpy mantel for me. Now our big fireplace has a mantel with presence. Nobody's going to ignore this guy anymore!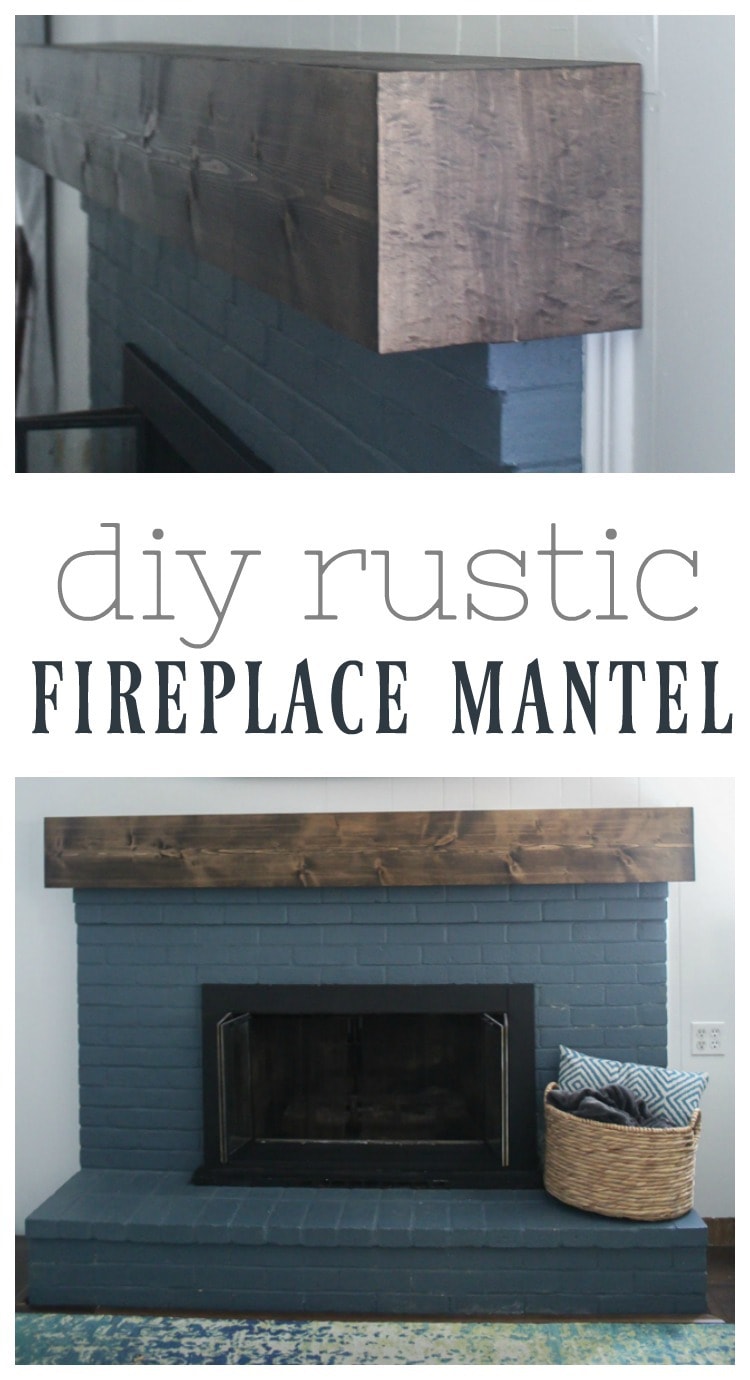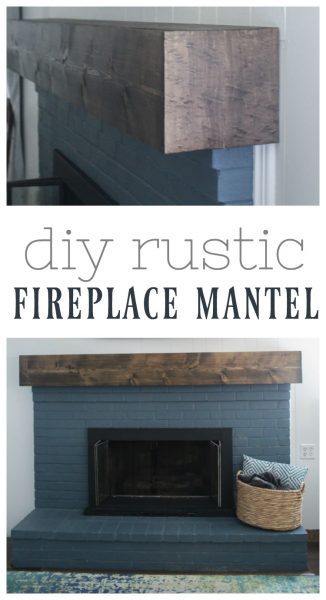 My chunky DIY rustic mantel was inspired by this awesome mantel by Addicted to Decorating. Her instructions are top notch and are perfect for anyone with a flat-faced fireplace, but I did need to change several things to accommodate the style of fireplace I have where the brick doesn't extend above the mantel. So if you're in the same boat, I've got all the info you need right here.
Materials for rustic fireplace mantel
two eight foot long 1" x 10" pine boards for front and top of mantel
one eight foot long 1" x 4" pine board for bottom of mantel
1" x 2" scraps
wood veneer
finishing nails
wood glue
dark walnut stain and rag to apply
sandpaper
How to make a rustic fireplace mantel
This rustic mantel has the fabulous look of a huge old wooden beam, but in reality it's a hollow box with some cutouts to fit around the brick.
I chose to use 10 inch wide boards for my mantel because the top or my fireplace already sticks out pretty far, but if you have a more reasonably sized fireplace, 8 inch boards will probably work great. These two 10" boards are the top and front of the mantel.
First cut them to the appropriate length. I decided to have my mantel extend two inches past the brick on each side so this is the length I cut my boards to. Then use finishing nails to attach the two boards together.
(It would probably be a good idea to apply some wood glue between the boards before nailing them together as well. Of course I didn't think of that until later.)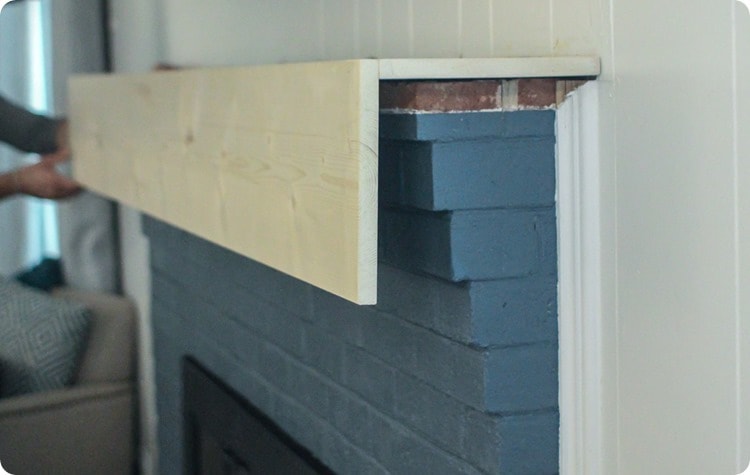 The bottom of the mantel is slightly trickier. You don't want a big gap underneath so you need a board that will extend exactly to the brick fireplace facing.
To find this subtract the thickness of your fireplace from the width of your top board (8 or 10 inches.) I used a 10 inch board for my mantel top and my brick extend 6 inches from the wall at the point where the bottom of my mantel hits so I used a 4 inch wide board.
Cut this board to the length of your mantel and attach it with wood glue and finishing nails as well. It definitely helps to have an extra set of hands to keep everything lined up as you are nailing it together.
For the ends, you can use the scrap wood leftover from your two wide boards. Mark where you need to cut it so that it will fit snugly into the hole at the end. Cut it and then hold it in place with a few finishing nails.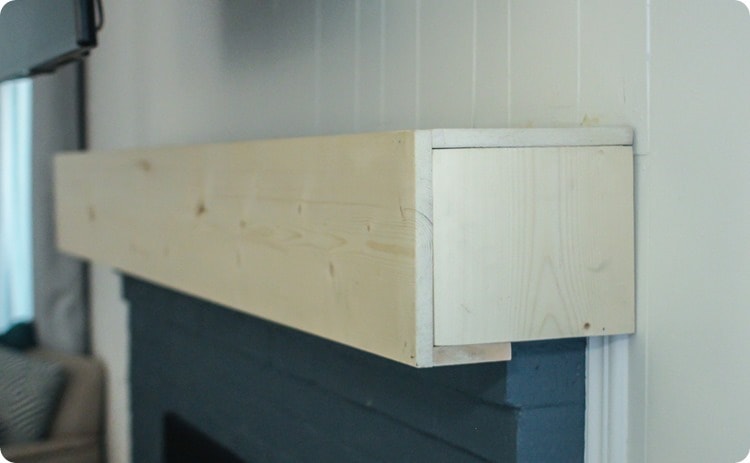 Finally, there will be a small space at the bottom of the mantel on each side. Cut a 1" x2" board to fit this area and attach it with finishing nails.
I stained everything using Minwax Dark Walnut stain. I think the dark color gives that rustic feel I was going for – plus, it's awesome for hiding any imperfections in your work.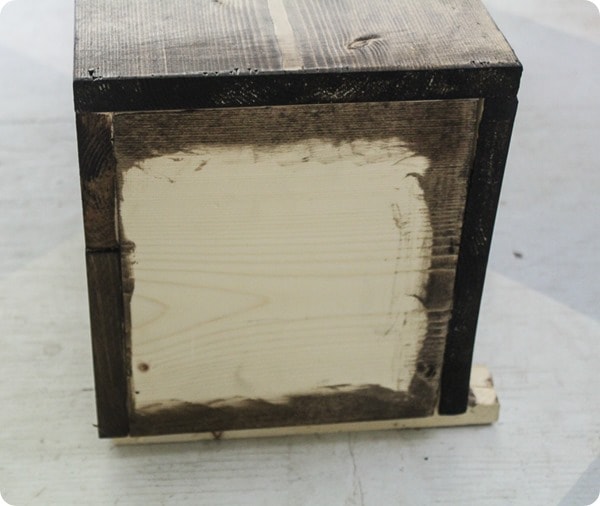 To help the mantel look like one massive slab of wood rather than a bunch of boards nailed together, attach wood veneer to the ends to cover all of the wood cuts. You don't need a huge amount of veneer since this is such a small area. You can buy small sheets of veneer at craft stores like Michaels or at woodworking supply stores like WoodCraft.
I went to WoodCraft for my veneer and the person working there was so helpful. They didn't have small sheets of inexpensive wood veneer in stock. They did have some larger, more expensive sheets but since I'm on a $100 budget for the entire room, that wasn't going to work.
When I explained I was on a tight budget, he pulled a pile of wood veneer scraps from their workshop and sold it to me for $5. Perfect!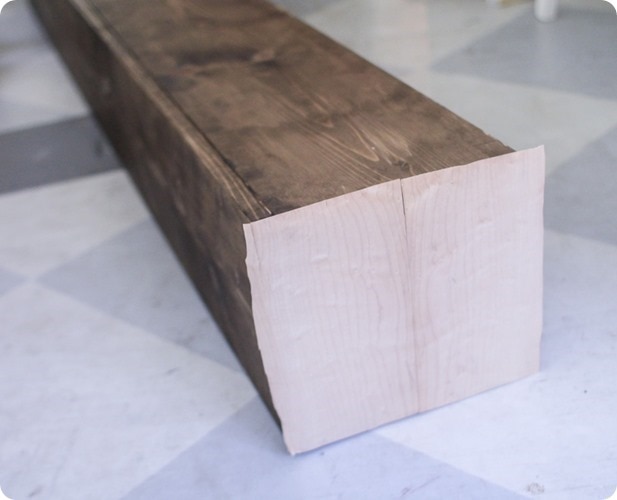 I attached my veneer to the each end of my mantel. I had to use two pieces for each end since I was working with scraps but once it was stained, you would never notice the small seam.
Some veneer comes pre-glued, some needs to be ironed on, and some needs to be glued so attach your veneer in whatever way is recommended for the type you bought. When you attach it, leave at least a 1/2 inch of extra wood along each side. Once the glue is fully dried, use a utility knife to cut away the excess wood.
Then gently sand the edges of the veneer to smooth them out.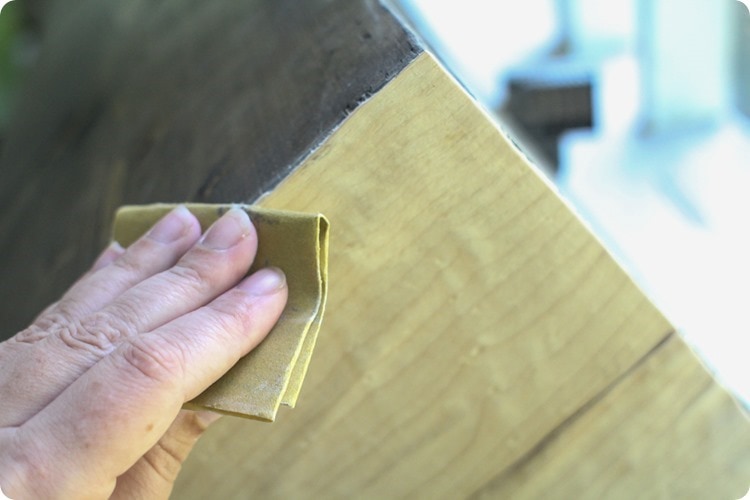 Then you can stain the veneer with the same dark walnut stain.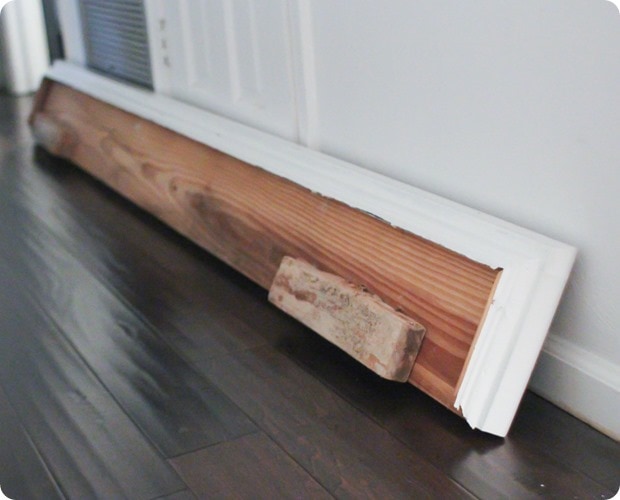 My previous mantel was attached to 2 wood blocks that fit into empty spaces in the brick fireplace so I attached my new mantel to these same two blocks with wood glue and nails.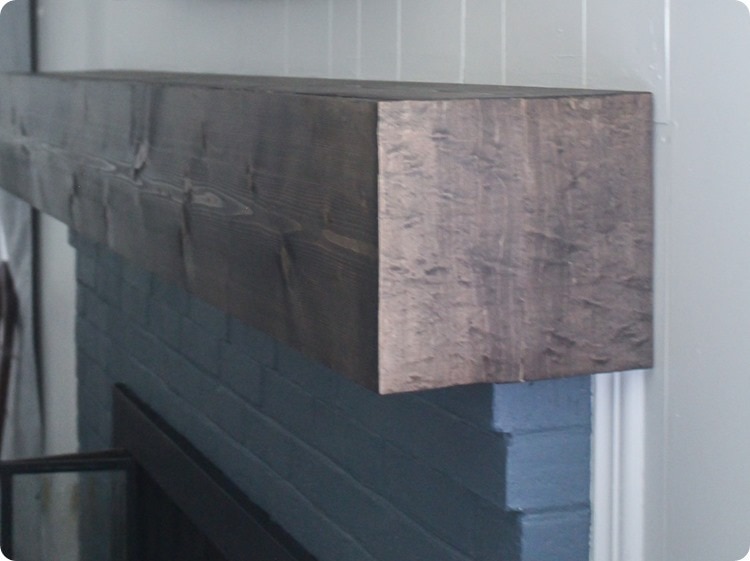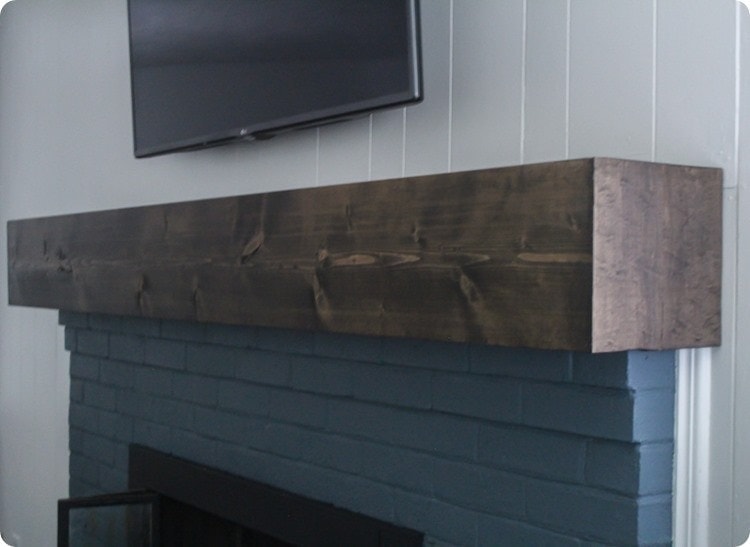 Oh my goodness, so gorgeous. The veneer on the ends really helps the whole think look like one massive chunk of old wood.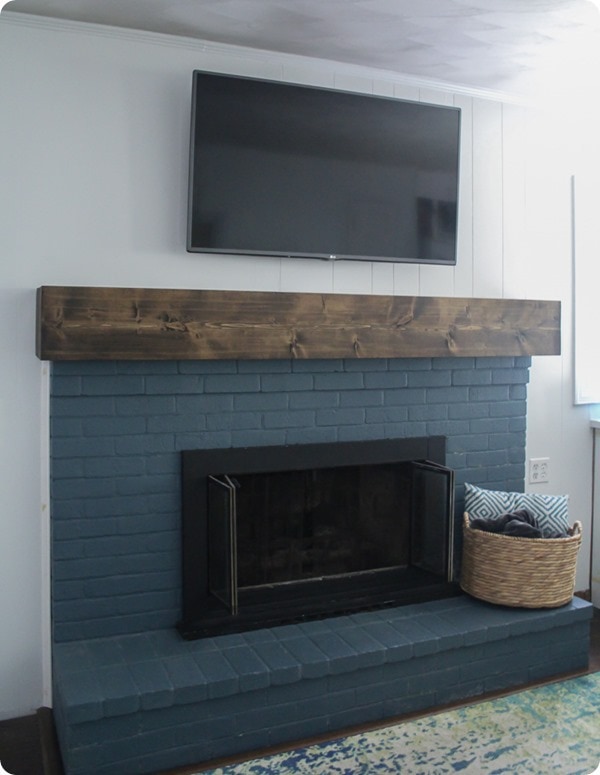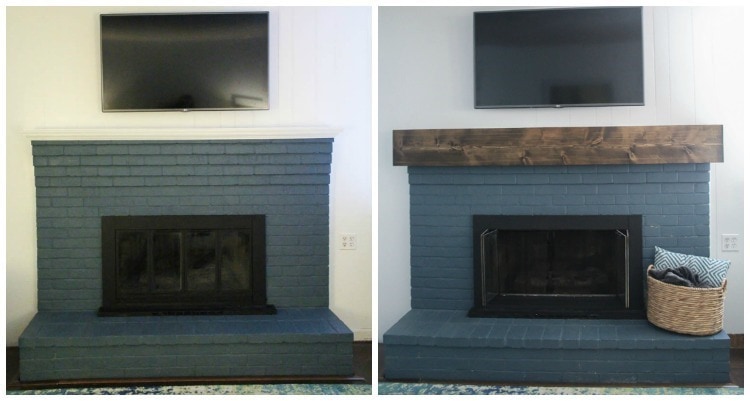 Wow, what a difference! The new DIY mantel just fits the style of the fireplace so much better!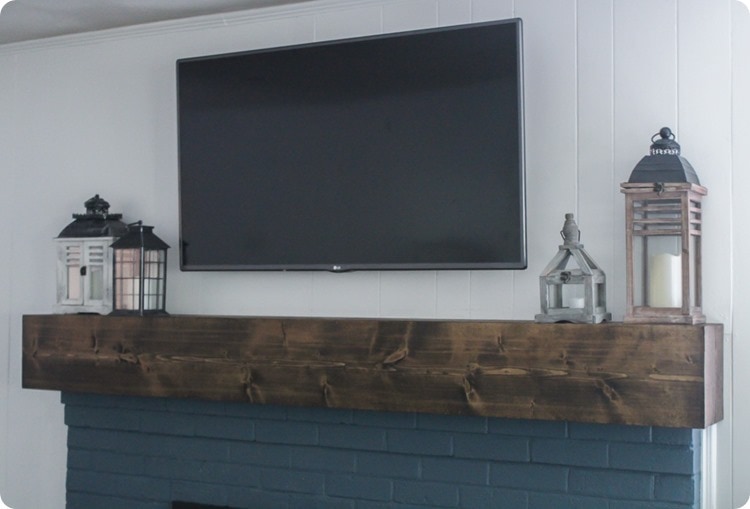 That's one thing off the list!
So how does the new fireplace fit into the $100 budget?
Wood boards: $44
Wood veneer: $5
Wood glue: $4
Total: $53
Already over half the budget spent! But that's ok, because this baby makes a huge impact in the room. Totally worth it.
See everything related to my $100 family room makeover right here:
DIY rustic fireplace mantel (you are here)
Getting rid of the ugly(adding trim to bookshelves and removing an old intercom)
How to make wooden boxes any size
$100 Family room Makeover Reveal
Alright, I will be back next Wednesday with more progress. In the meantime, be sure to visit the other $100 room challenge participants and see what they've gotten accomplished so far.