I used to be really intimidated by the idea of a bathroom renovation. All I heard were people talking about how expensive it is to redo a bathroom. Heck, on HGTV they call a 10,000 bathroom a budget renovation! Not happening! But thankfully I finally stopped listening to other people and went for it. And I realized you can redo an entire bathroom for way less than that – without sacrificing style at all. So in case anyone else is still where I was, thinking bathrooms have to mean big bucks, I'm sharing my top tips for saving money on a bathroom remodel.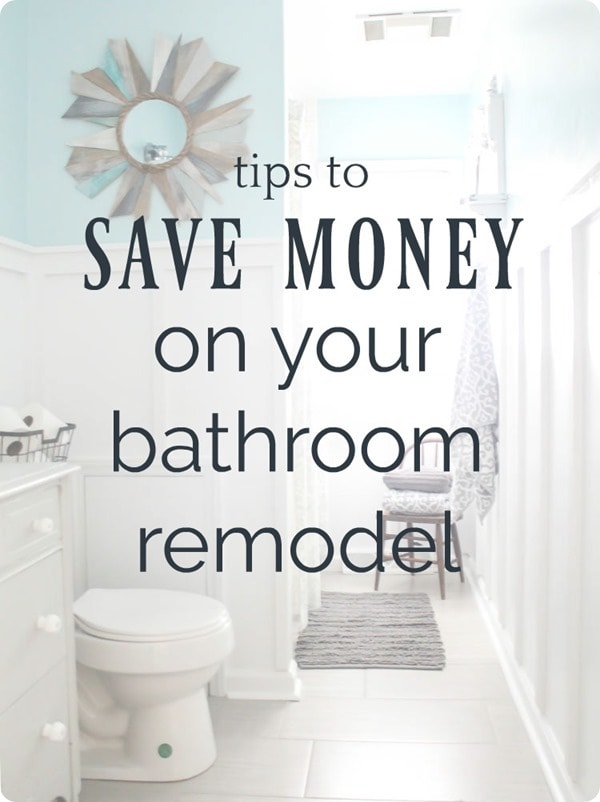 Plus, I'm starting up a new series, DIY for less, with some of my blogging friends. These ladies have serious style and they know how to work a budget. Each month we'll each be sharing a post with ideas for creating a home you love for cheap. Every month we'll be sharing tips about something different and this month it is all about bathrooms. (Because they're intimidating and pricey but everybody's got at least one!)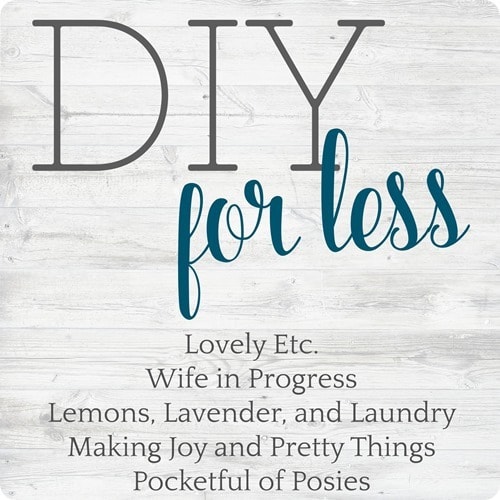 When we moved into our home several years ago, our main bathroom was incredibly dated. It had last been remodeled in the 90s and it showed!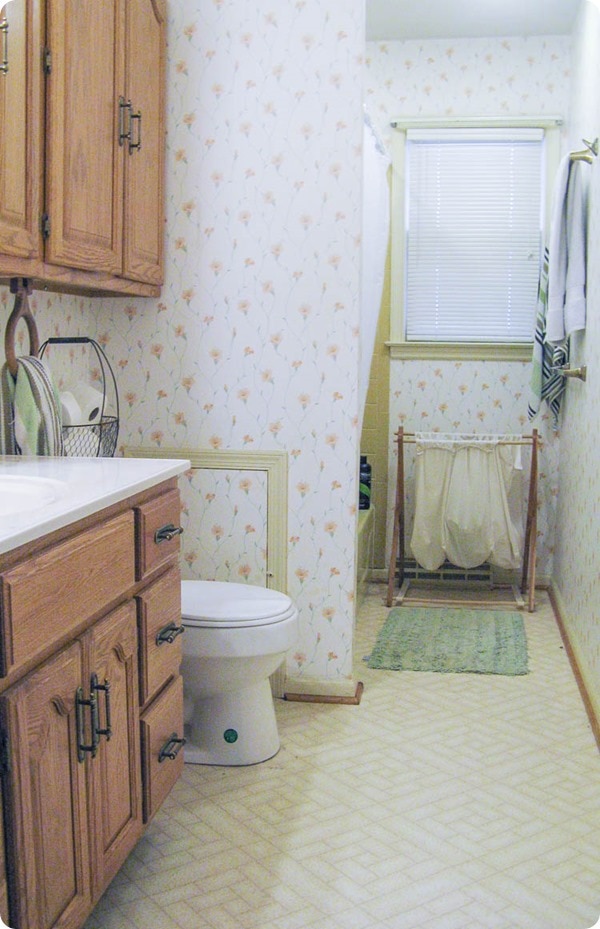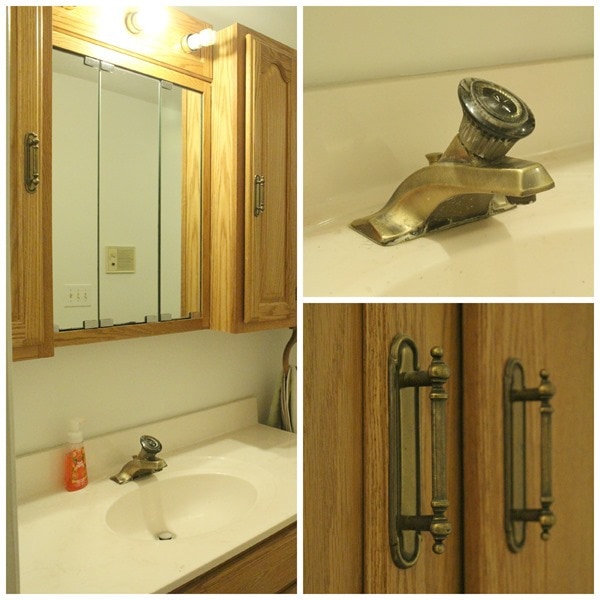 I hated everything from the pukey green tub and tile to the ugly faucets and hardware. But I didn't do anything beyond removing the wallpaper (and saloon doors!) for years because I knew it would be too expensive.
That is until last spring when we had a major leak and had to do something because of extensive water damage. We called in a contractor and sadly they had to replace all of the plumbing on top of replacing the subfloor and tiling the floor. And yes, that part wasn't cheap at all.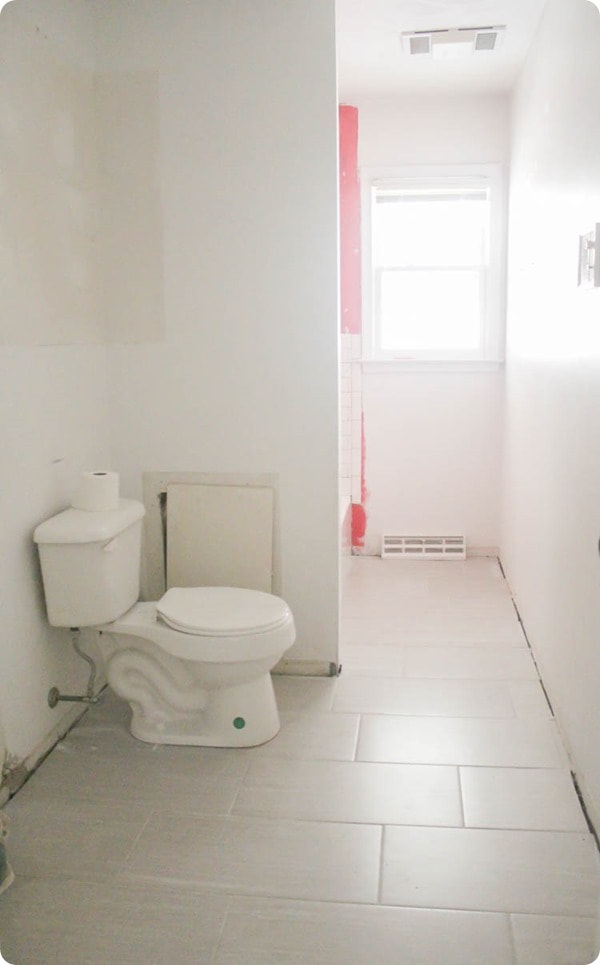 But aside from the repairs, the rest of the room came in at only around $1000. Seriously. Now, that still isn't nothing – but it's a far cry from the 10,000+ I was led to believe was a normal bathroom budget. And that includes almost everything – vanity, sink, faucets, floor and shower tile, grout, tools, paint, wood for board and batten, lighting, mirror, accessories. All of it. (Check out the full room reveal, source lists, and budget here.)
So how did we completely transform our bathroom for cheap? These are my top takeaways.
Do it Yourself
The cost of any renovation basically breaks down into two parts: materials and labor. For everything you are able to do yourself, you knock a few hundred more dollars off the budget. I did all of the shower tile, installed the shower head and faucet, installed the light fixture, created the vanity from a dresser and attached the sink and faucet, plumbed the sink, removed the wallpaper, and added the board and batten all on my own. (I'm the handy one in the family so my husband watched the kids while I worked on the bathroom.)
Now before you start thinking that you don't know how to do that stuff, let me assure you neither did I. I had installed a light fixture and painted before, but everything else was brand new.
Tiling and plumbing are not nearly as difficult as I imagined, but even if you aren't up for all that, you can still save money with DIY. Anyone can paint and you can make a huge difference just by painting the walls and vanity and adding new hardware.
DIYing most of our bathroom definitely trimmed thousands of dollars off the budget.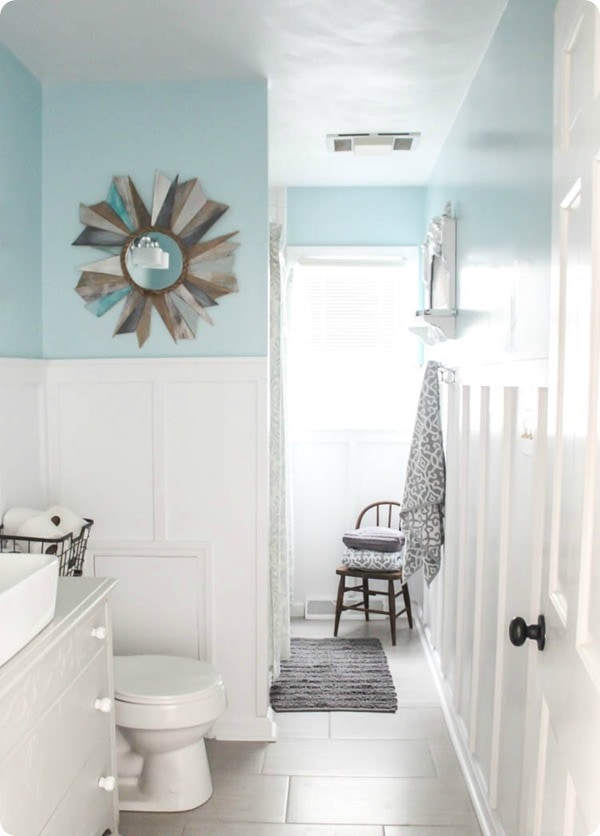 Go for the subway tile
You may have noticed that classic white subway tile is everywhere these days. It's beautiful and classic… and it's incredibly cheap. I was shocked by how much cheaper subway tile is than other tiles so using it to tile our shower was a no-brainer. Plus it's beautiful and won't be going out of style anytime soon. (See my tips for beginner tilers here.)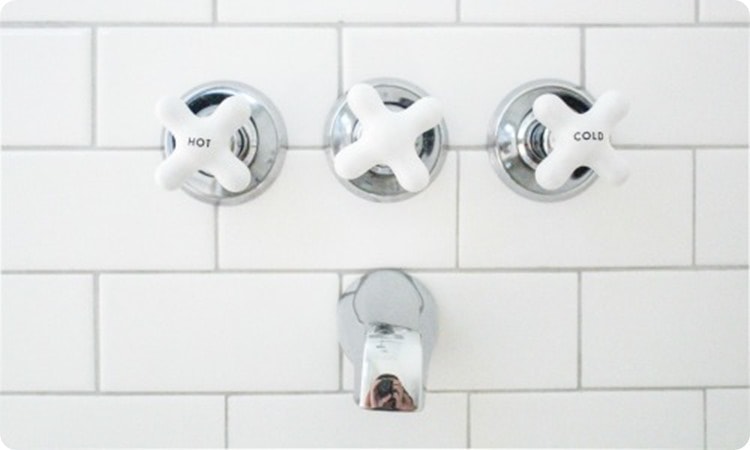 And speaking of tile, the pretty gray tile we used for the flooring was also only $2 per square foot at Lowes – a total steal.
Make your own vanity
I adore the look of a piece of old furniture used as a bathroom vanity. Even better, it's a great way to save money. I was able to buy an old dresser for only $25 and it made the perfect vanity. There are a few steps involved with turning a dresser into a vanity but it is definitely DIY-able. (If you're considering taking it on yourself, I have a post with everything you need to know about adapting the drawers, adding the sink etc. right here.)
Or paint the one you already have
This wasn't an option for us because our old vanity sustained water damage, but a fresh coat of paint can make a major difference to an old, tired vanity.
Find a fantastic mirror secondhand
A stylish mirror is a great way to add some personality in the bathroom. Really beautiful mirrors can be pricey in stores but you can find fabulous mirrors at almost any yard sale or estate sale for cheap. The one I used in our bathroom was only $5!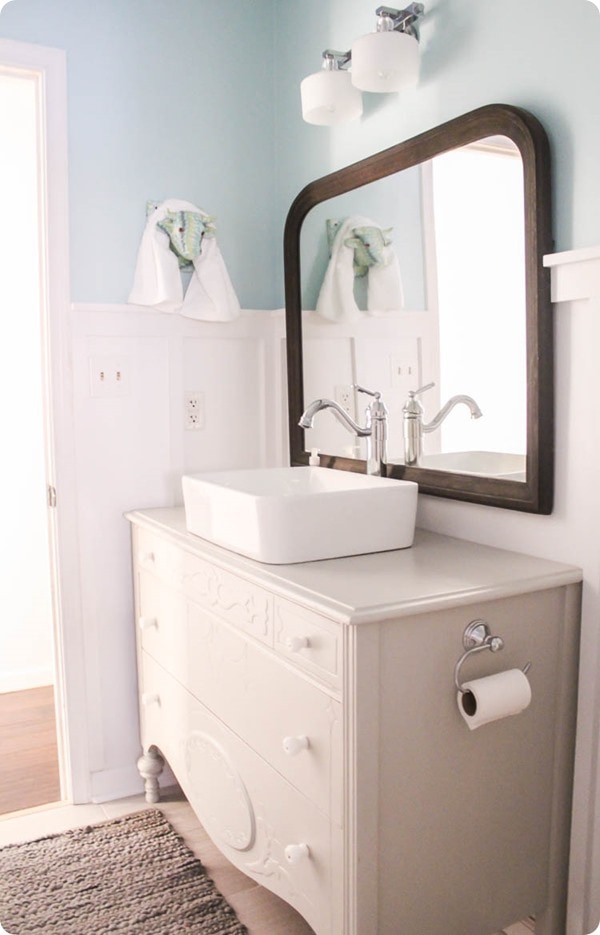 Ready for more tips and inspiration for creating a bathroom on a budget? Check out what the other DIY for less ladies are sharing at the links below.