Our vintage dresser bathroom vanity turned out better than I could have ever dreamed!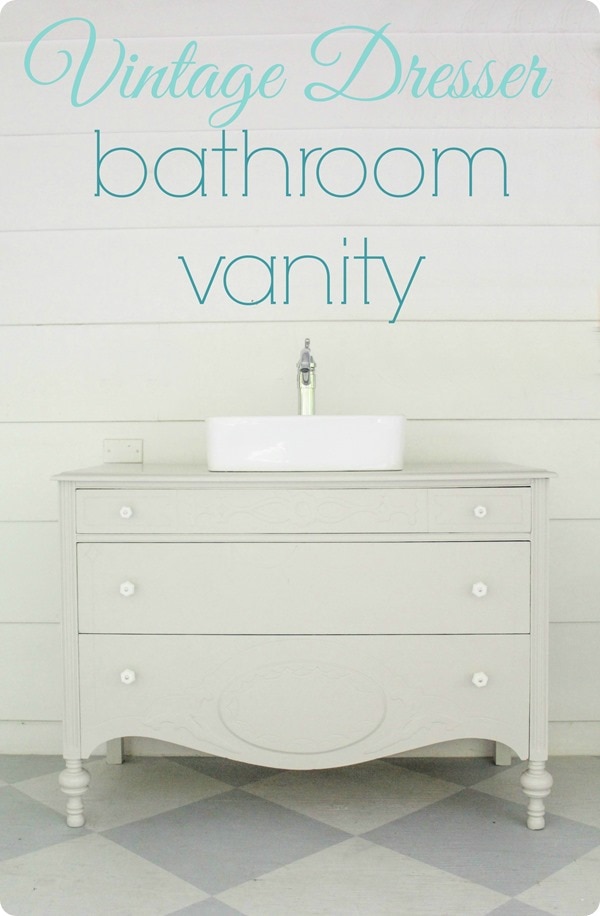 I am so happy that I had the guts to tackle this project on my own because it is gorgeous! There were lots of unexpected challenges along the way though.
I'm going to be sharing all the things I wish I had known before starting this project so that any of you who decide to tackle something similar will have a major head start.
Because this was such a major project and I have lots of tips, I sharing the basics here and more specific tips and tricks in this follow-up post.
This post contains affiliate links – you get to buy stuff you want and support Lovely Etc. at the same time. I was provided paint for this project by Ace Hardware and the drawer pulls were provided by D. Lawless Hardware. The design, opinions, and hours of work are all my own. :) See my full disclosure here.
When we started our bathroom renovation, a new vanity was a necessity because the old vanity had lots of water damage.
It also happened to be pretty outdated and not particularly attractive so I wasn't too sad to see it go.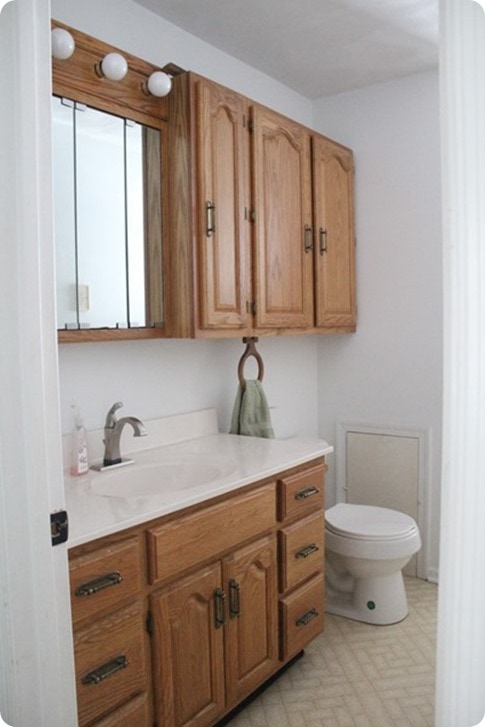 I knew I did not want another builder basic vanity, but something with some personality. I briefly looked into furniture style vanities like this one and this one, but they were way more money than we had budgeted.
Plus, I have a bit of an obsession with repurposing old stuff into something useful and beautiful and this was the perfect opportunity.
Choosing a dresser
The first hurdle was to find a dresser that was the right style and even more importantly, the right size.
We didn't change the layout of our bathroom at all so our new dresser vanity had to fit in the corner between the door and the toilet.
It also needed to be the right height – nobody wants a sink so low they have to bend over to wash their hands or so tall washing your hands is uncomfortable.
The current standard height for a bathroom sink is 34 inches from the floor. In most cases, this means the counter also needs to be that tall, but if you are using a vessel sink like I am, your dresser should be a few inches shorter.
I searched on Craigslist for a few weeks but didn't have any luck. Everything I saw was either the wrong size and shape, the wrong style, or way too expensive.
But as luck would have it, my grandmother's best friend was cleaning out her house and she just happened to have a dresser that was the perfect size.
I was able to score this beautiful dresser from 1932 for only $25. (It makes me feel so knowledgeable to point out it is from 1932, but really I only know that because they stamped 1932 dresser right on the back. So helpful.)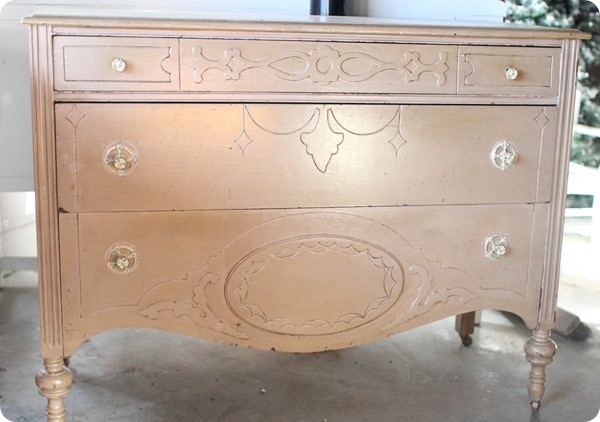 It had been painted and glazed a few times over the years and was in need of some TLC but it was a beautiful piece of furniture.
Choosing a vessel sink and faucet
Once the dresser was chosen, it was time to find a sink. Again, I started by looking on Craigslist and at the Habitat for Humanity Restore but I didn't find anything that would work.
The sink needed to be small enough to fit the top of my dresser with a few inches to spare at the front and back.
Since I was going to have to buy a new sink, I decided to look for an affordable vessel sink. When turning a dresser into a vanity, the biggest drawback is that the sink and plumbing can really end up eating up a lot of your usable drawer space.
A drop-in sink sits below the top of the dresser so the sink itself takes up a huge chunk of the top two drawers and the plumbing takes up even more after that.
A vessel sink sits on top of the dresser so only the drain pipes and water lines to the faucet take away from the drawer space.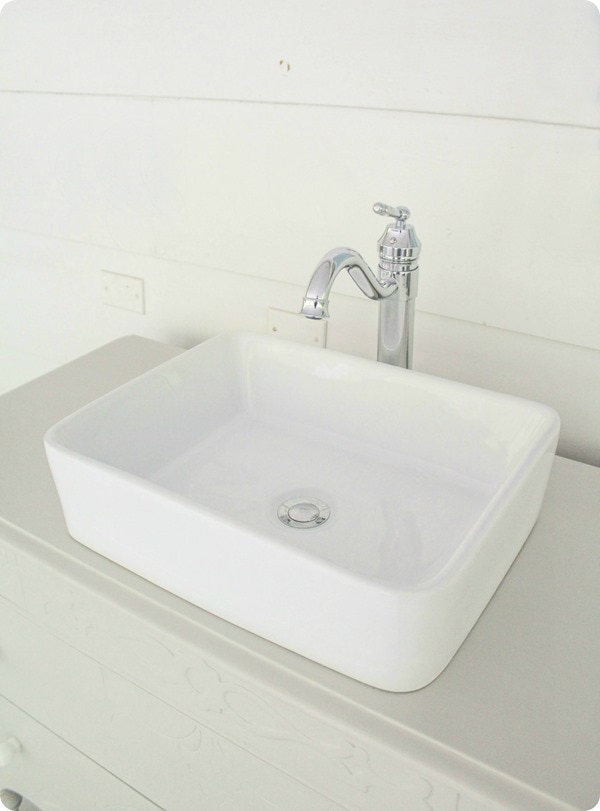 I was pleasantly surprised to find exactly the kind of rectangular porcelain vessel sink I was looking for on Amazon of all places at an really affordable price. It came with a pop up drain included and I also found the gorgeous chrome faucet on Amazon as well.
In the end, the dresser, sink, and faucet all together cost less than $130. A total steal for this custom piece.
Painting the dresser
The first thing I did was paint my dresser. In retrospect, this wasn't a great plan. I ended up having to do tons of touch-ups to the paint later on.
In the process of turning the dresser into a vanity, it got moved around, bumped, and scraped a lot which doesn't mix well with fresh paint.
If I were doing this all over again, I would wait and paint the dresser right before attaching the sink.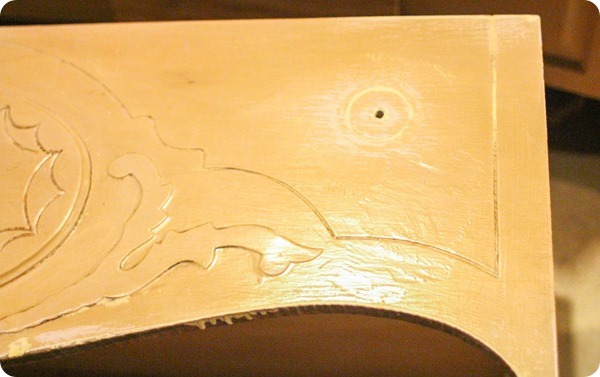 My dresser had been painted a few times with some pretty thick paint, leaving lots of brushstrokes and drips all over the place. The first thing I had to do was sand it down.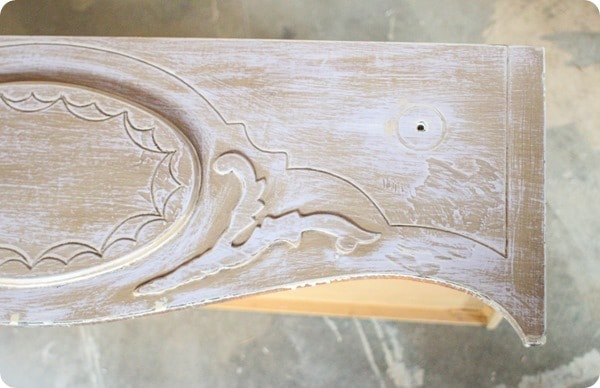 This picture was taken after sanding the paint smooth. All of those light areas are the next layer of lavender paint showing through.
If the paint finish hadn't been so uneven, I probably would have skipped the sanding altogether.
Ace Hardware sent me some Amy Howard One Step Paint to use for this project. This is a fabulous furniture paint that goes on without primer and (usually) without sanding.
It's a chalk-style paint that can adhere to almost any surface and dries to a fabulous matte finish.
Choosing a color was extremely tough because there are so many great shades of gray in her paint line, but in the end, I chose the color, Luxe Gray.
It is a really beautiful light gray that is going to look fantastic with our new tile floors. After sanding the dresser, I gave it a good cleaning and painted everything with two coats of Luxe Gray.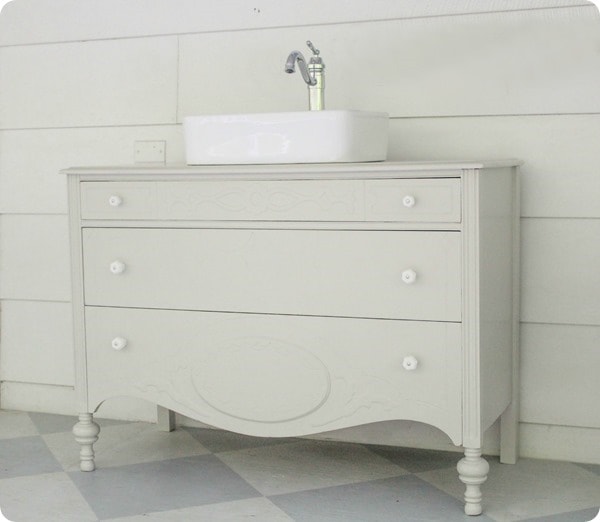 I decided to paint this entire dresser including the top. I love the look of a dresser with a painted body and stained top, but I wanted to keep this vanity from becoming too country/farmhouse look.
For this same reason, I didn't distress the paint job to bring out the details like I usually do. Because this is going to be an actual fixture in our house rather than just another piece of furniture, I wanted to modernize the look a bit so that it is more in keeping with the rest of the house.
As much as I love the farmhouse look that is super popular right now, I just can't fully commit to it when I'm decorating a 1970s brick ranch.
Finally, I brushed on three coats of Minwax Satin Polycrylic to protect the paint finish. I've had a few questions about whether it would have been a better idea to add a stone countertop over the dresser.
That could definitely be a great look, but I don't think it is necessary and it would obviously make this a more expensive project. The painted surface protected with a good topcoat should hold up well. I am planning to stay on top of wiping any splashes of water off the top of the dresser though.
I don't know that there could be any hardware more perfect for this piece than these white glass knobs from D. Lawless Hardware.
These beauties are the perfect modern/antique mix with a classic white glass knob and a shiny chrome center that tie in perfectly with the sink and faucet. (I used the larger 1 1/2 inch size on the larger drawers and the smaller 1 1/4 size on the small drawer.)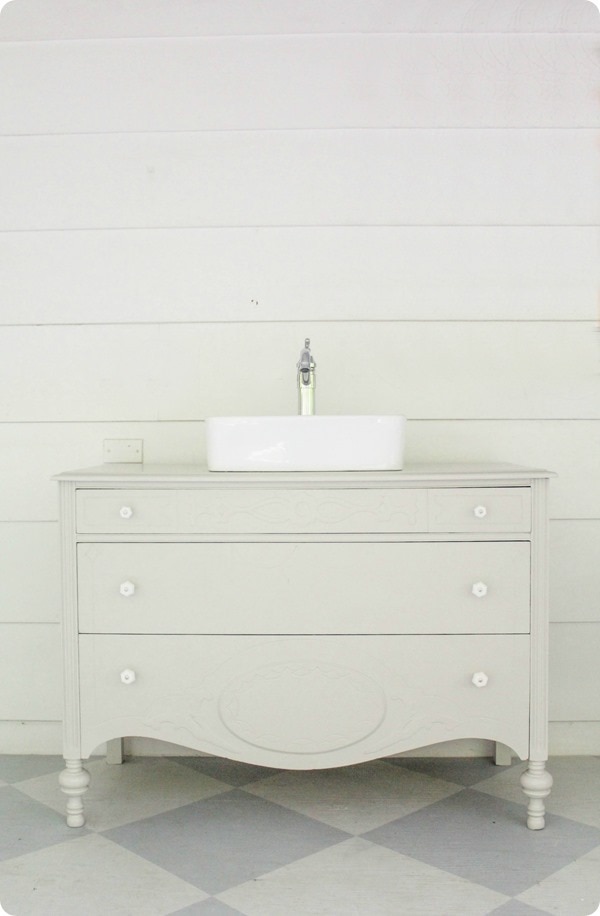 On another note, if you are super observant, you might have noticed that I took these pictures on my back porch instead of in my bathroom.
The vanity is installed in the bathroom and is being used daily now, but our narrow bathroom made it impossible to take decent pictures of it.
And when you finish a project you love this much, you want the pictures to do it justice. The funny thing is that after taking these pictures in front of the porch siding, I'm really wondering if the bathroom needs a white plank wall behind the vanity.
I haven't made any final decisions yet, but I am strongly considering it.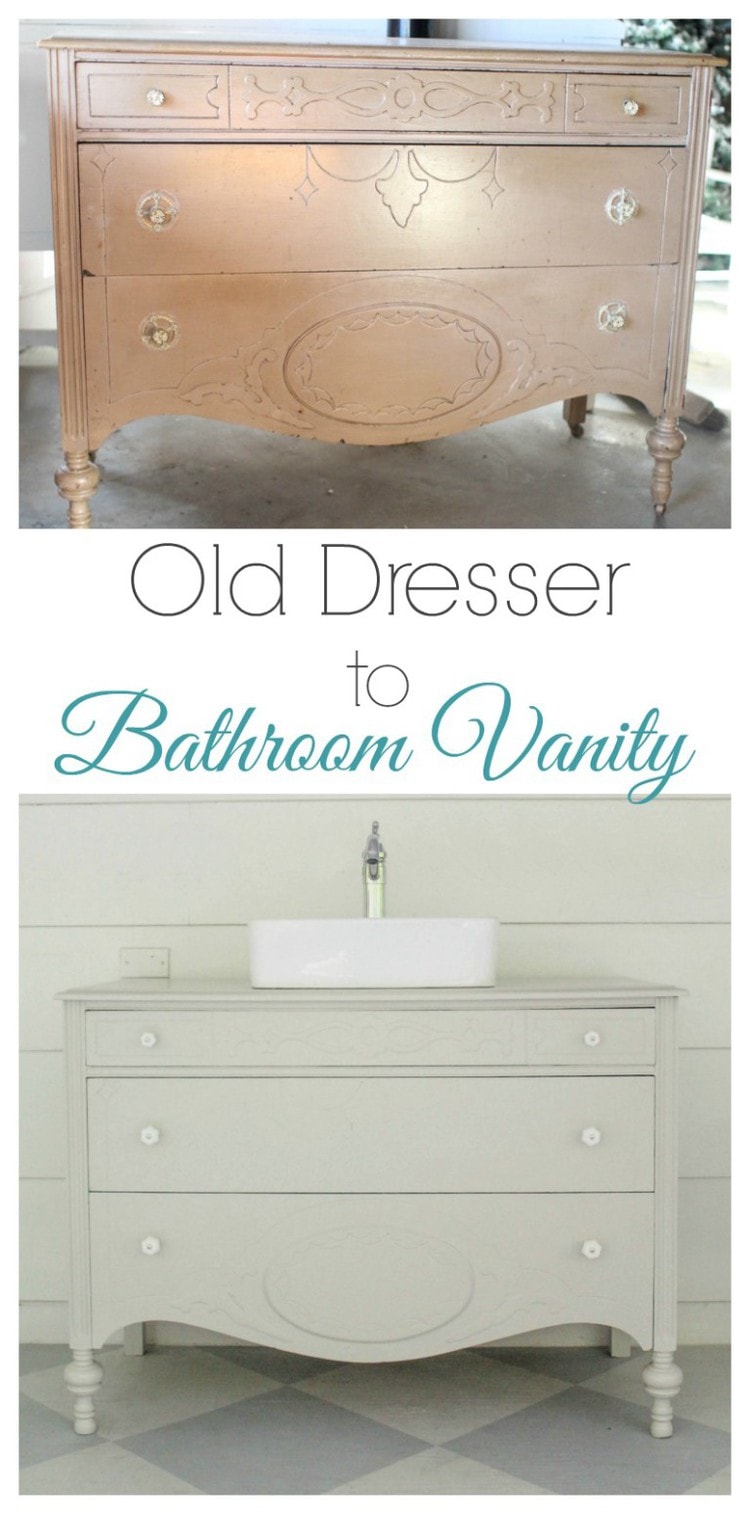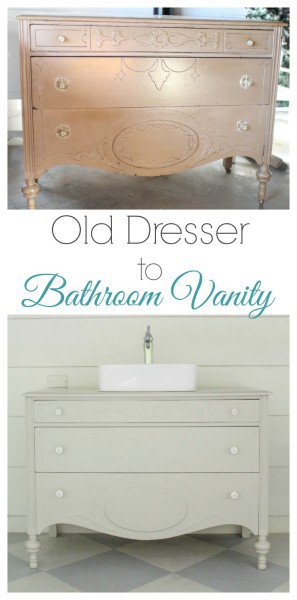 Be sure to check out part two of this project with all the nitty-gritty secrets of adding the plumbing, attaching the sink, adapting the drawers.
Basically all of the practical details of transforming a dresser into a vanity. As always, I'd love to hear any questions you may have about this project and will help in any way I can!
Update: here she is in our new bathroom. Love it!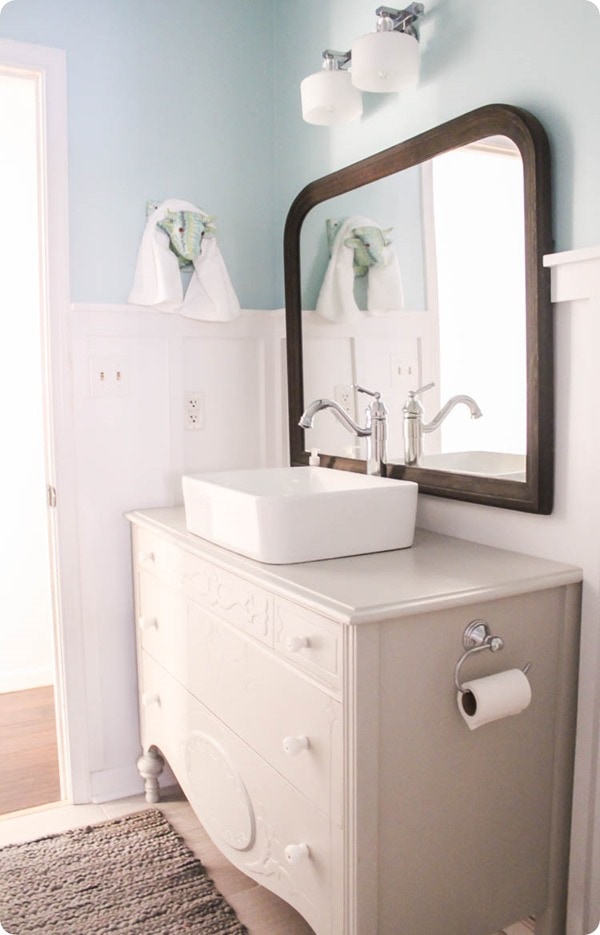 Check out all the posts related to our DIY bathroom renovation below:
Modern Farmhouse Bathroom Reveal with budget and source list
How to make a dresser into a bathroom vanity: the nitty gritty
Cheap and easy board and batten
Working with contractors: A semi DIY bathroom renovation
The cheapest bathroom mirror ever
Installing tile: smart tips for beginners
Choosing the perfect paint color