I'm sharing a full review of my inexpensive machine washable rug from RugsUSA including how it's held up for the last nine months, how the washing process works, and whether I would recommend it.
When it came time to replace our living room rug that was getting dingier by the day, I knew I wanted to get a washable rug.
I have three boys in elementary school, so we deal with a lot of dirt, spills, and general mess in our house. A rug that you can pop into the washing machine sounded absolutely amazing.
I wanted a big 8×10 rug that looked beautiful, could be washed in our home washing machine, would last a long time, and wasn't super expensive.
I realize that's a lot to ask from one rug, but I was determined to find the perfect rug that would meet all of my criteria so I got to work researching my options.
This is not a sponsored post. I purchased my rug with my own money and all opinions are my own. This post contains affiliate links which means if you make a purchase after clicking a link I will earn a small commission but it won't cost you a penny more. Click here to see my full disclosure policy.
Washable Rug Options
Most stores that sell rugs have at least a few washable options these days including Amazon, Home Depot, and Wayfair.
But when I started researching machine washable rugs, I found two sources that stood out above the rest with lots of designs to choose from along with plenty of positive customer reviews: Ruggable and RugsUSA.
Ruggable Rugs
Ruggable was the first company to really make machine washable rugs mainstream. Ruggable rugs come as a two-part system consisting of a lightweight stain-resistant rug cover and a nonslip rug pad.
The top layer can be removed and washed in the washing machine whenever needed. Once it's clean and dry, just reattach it to the rug pad. The cover sticks to the nonslip rug pad sort of like velcro so that it stays in place.
You can also buy new rug covers to use with the same nonslip rug pad whenever you want to change up your style.
Ruggable rugs come in a wide range of styles and designs including several fun collaborations with designers. They carry indoor and outdoor rugs as well as door mats.
I haven't personally owned a Ruggable rug, but I've seen lots of glowing reviews. The only complaint some people have is that the cover can be a pain to line up correctly and reattach to the rug pad after washing.
A few of my favorite Ruggable rugs:
Just click the images below to see some of my favorite washable rug options from Ruggable:

RugsUSA Washable Rugs
RugsUSA has been one of my favorite sources for area rugs for several years now. They have a huge selection of rugs and frequently have big sales.
Recently they started stocking a wide selection of washable rugs.
Right off the bat, their washable rugs seem pretty different from Ruggable rugs.
Instead of being part of a two-part system, their washable rugs are simply a one-piece stain-resistant flat weave rug.
But when you look a bit deeper, the two are more similar than they first seem. RugsUSA recommends that you use a separate rug pad under all of their washable rugs. So in effect once you've bought a nonslip rug pad to go under your washable rug, you have a system that is pretty similar to Ruggable.
Of course, the big difference is the flat carpet and the rug pad do not adhere together the same way a Ruggable rug does, which could be a good or a bad thing. You won't have to worry about lining things up perfectly when you reattach your rug after washing. But you also might find that your rug doesn't stay in place quite as well.
RugsUSA has quite a few different washable rug designs and they are available in a variety of sizes ranging from small 2'x3′ door mats to large 9'x12′ rugs.
A few of my favorite RugsUSA washable rugs:
You can click the images below to see some of my favorite washable rug options from RugsUSA:

The Washable Area Rug I Chose
In the end, I decided to buy my washable rug from RugsUSA.
Both Ruggable and RugsUSA had great rug designs that I loved, but RugsUSA was having a sale that made their rugs quite a bit cheaper.
I did still have to buy a separate rug pad, but even after buying the rug and the rug pad, the total cost was still more than $100 less than the cost of a similar Ruggable rug.
(I've found that RugsUSA has these huge sales pretty frequently, so if you are interested in buying one of their rugs, it's definitely worth waiting a few weeks for the next sale.)
I chose the 8×10 Gray Vintage Medallion Washable Area Rug.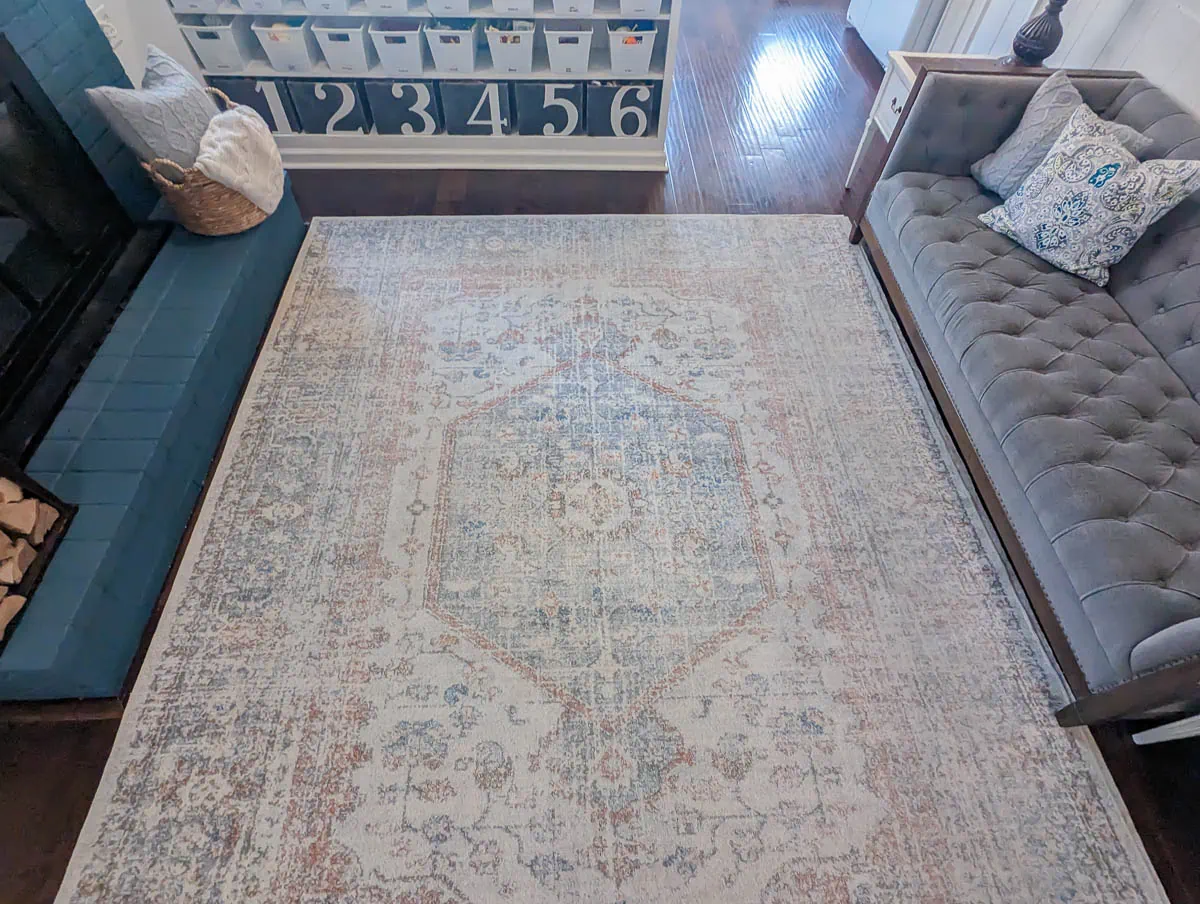 I wanted a light rug that would help brighten my dark living room, but I also wanted one with a bit of a pattern to help hide any future stains.
I've owned several rugs with a similar faded pattern and they tend to be fantastic for camouflaging small crumbs and stains.
I really love this rug; it looks just as beautiful in person as it did on all the photos on their website.
The background is nice and light, while the muted colors in the pattern mean it coordinates with almost any color pallet.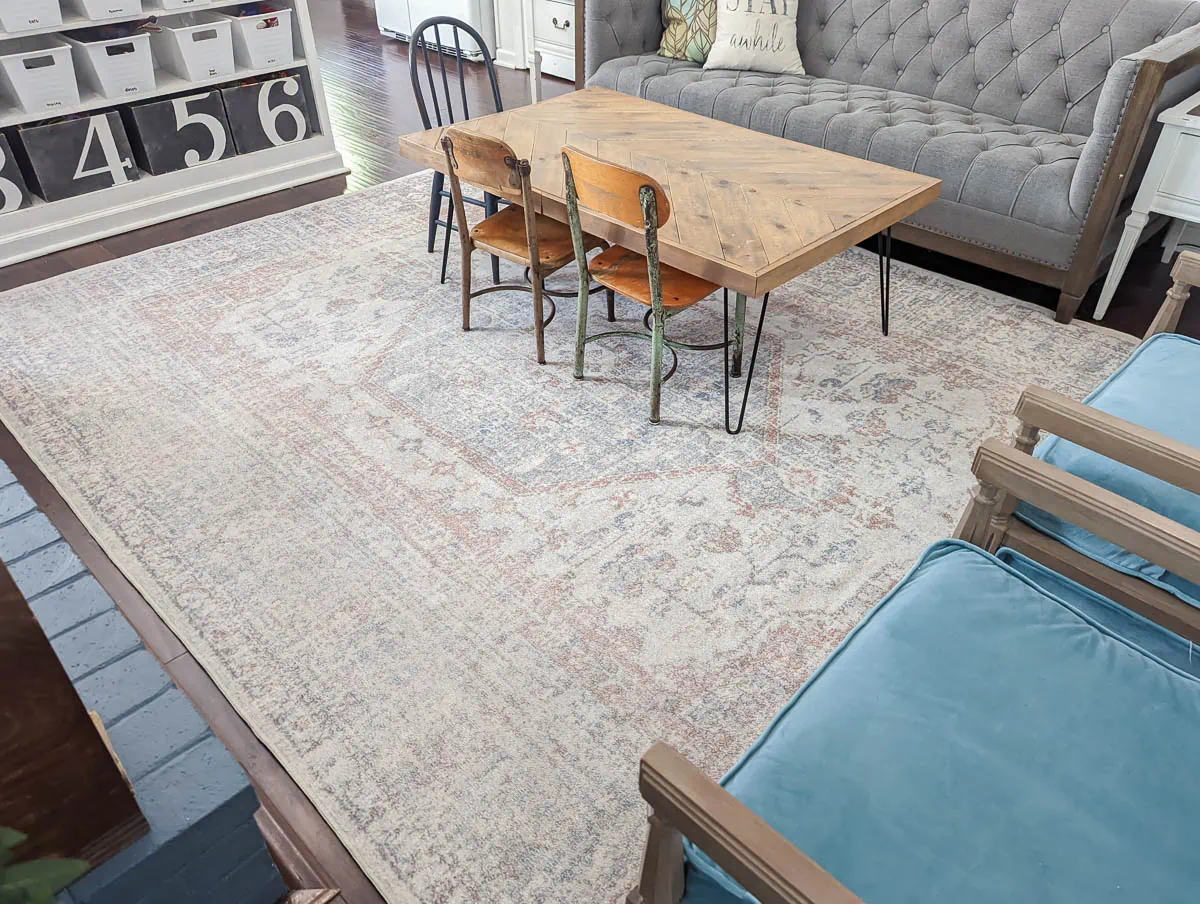 This is a thinner rug; it has to be in order to be machine washable. But it still feels soft to the touch.
And with a nice thick rug pad underneath, it's also quite cushy underfoot.
I ordered this nonslip rug pad from Amazon. While you do need to use a rug pad with this washable rug, it doesn't have to be any particular one. Any nonslip rug pad will work.
I chose this rug pad because it was affordable and had great reviews and I've been very pleased with it. It doesn't slide around at all on our hardwood floors and has a nice cushion to it.
And even though my washable rug doesn't attach to it like a Ruggable rug does, I haven't had any problems with my rug moving around on top of the rug pad. It stays in place nicely.
How my RugsUSA washable rug is holding up
I've now had my washable rug for around nine months. I wanted to use it for a nice long time before reviewing it so I could really test it out.
Overall I've been super pleased with this rug.
It arrived folded up in a surprisingly small box. Once I had my rug pad in place, I simply unfolded the rug on top of it.
The rug smoothed out easily and I didn't have any issues with the corners or edges rolling up. All of the wrinkles where the rug had been folded smoothed out within a few hours.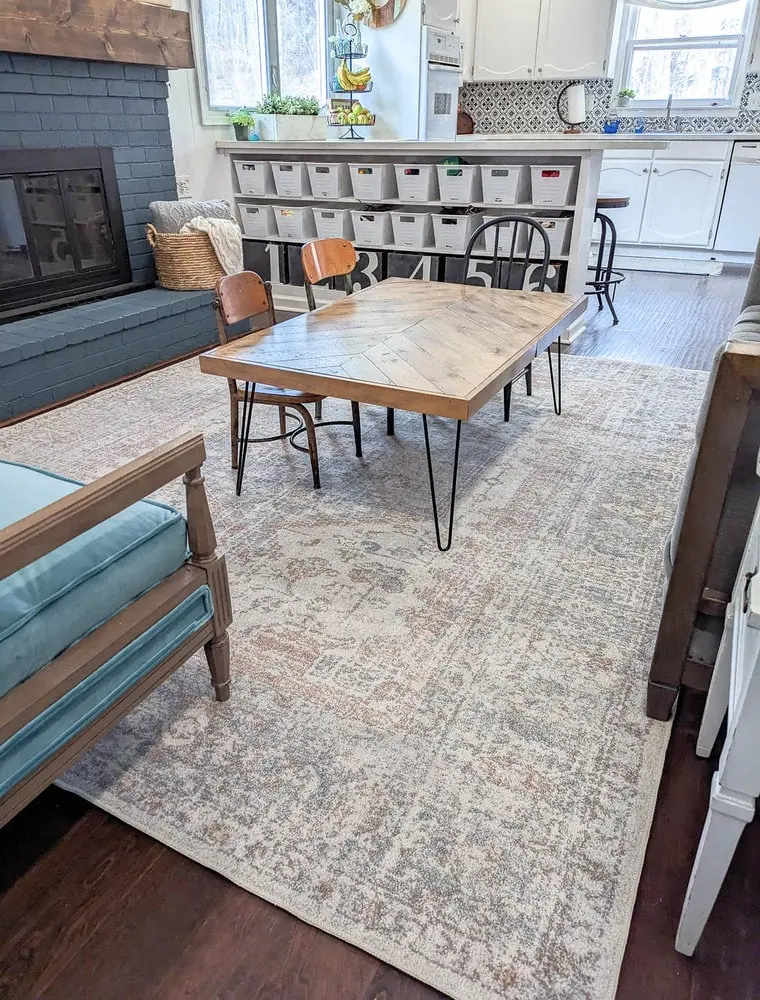 Stain Resistance
This rug is not only washable, it is also supposed to be spill- and stain-resistant.
Over the past nine months, we have put this to the test many times. We've spilled sodas, dark blue paint, and juice on this rug. My five year old has also 'accidentally' drawn on it with marker twice.
Each time I've been able to clean up the spill without much trouble.
The first time one of my kids spilled a drink on this rug, I was super surprised to find that it actually did seem to be spill-resistant. The liquid didn't absorb into the rug nearly as much as I expected which made it much easier to clean up.
Of course, whenever there is a spill, I try to clean it up as quickly as possible. Last year I switched to using this carpet cleaner to spot treat our rugs and it is amazing at getting stains up quickly.
Between the rug cleaner and the rug's resistance to stains, I really didn't have any need to wash it in the washing machine. I was able to get up all of the stains by quickly spot treating them.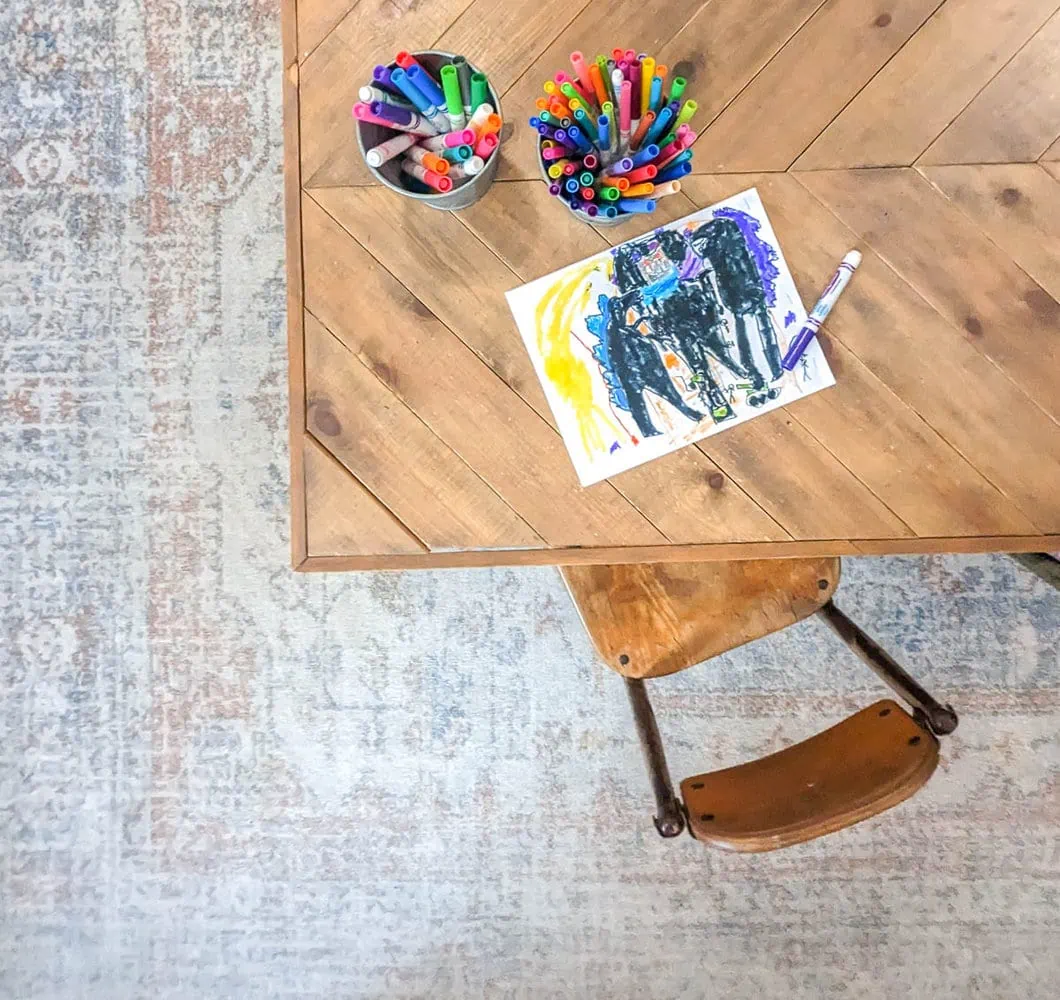 Washing the Rug in the Washing Machine
After nine months, even though there were no real stains, I decided it was time for a good deep clean in the washing machine.
Plus I wanted to see how well machine washing it really worked.
I have a top loader washing machine with 4.5 cubic feet of space inside. This is considered a large washing machine, but certainly not one of the largest on the market.
To be honest, I was definitely concerned about whether my big 8×10 rug would even fit in my washer.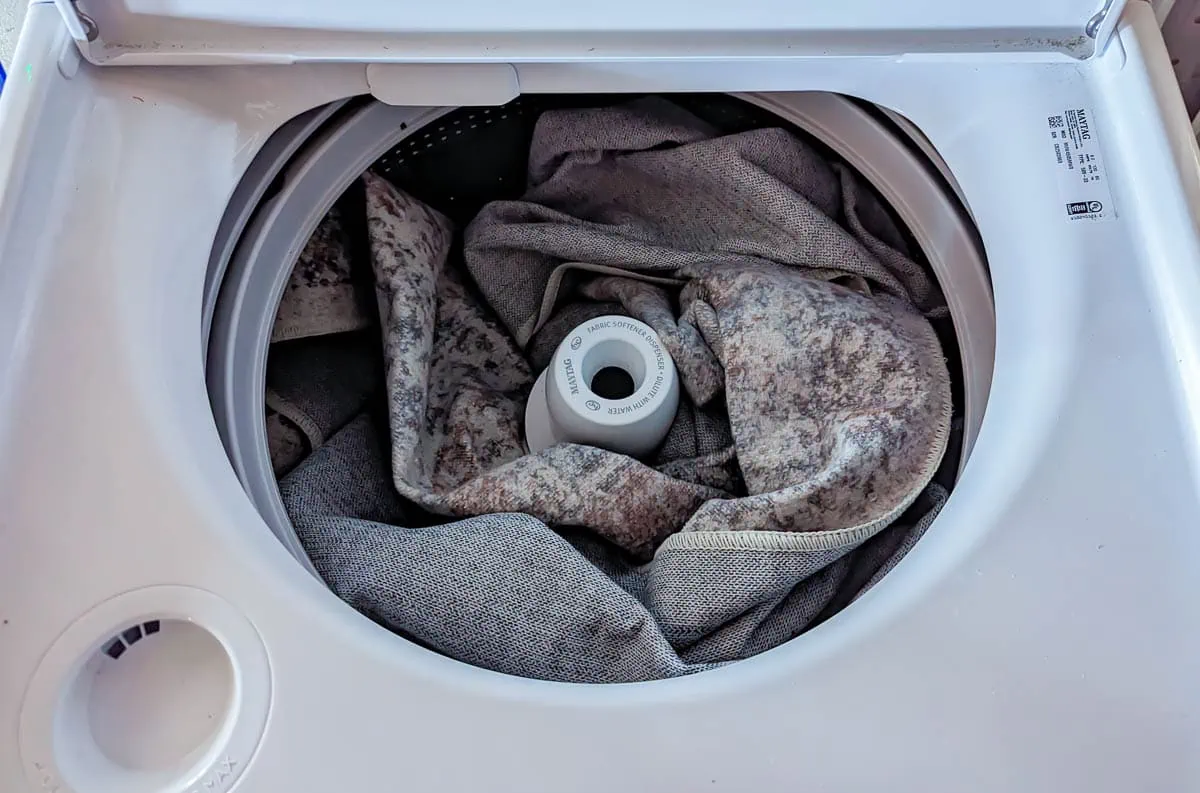 It did fit around the agitator – but barely. I think an 8×10 rug like mine would fit much more easily in a front loading washer.
I washed my rug with cold water using the setting for bulky items. I used the same laundry detergent that I usually use – regular Tide.
Once my rug was clean, I moved it to the dryer and followed the instructions to dry it on low heat.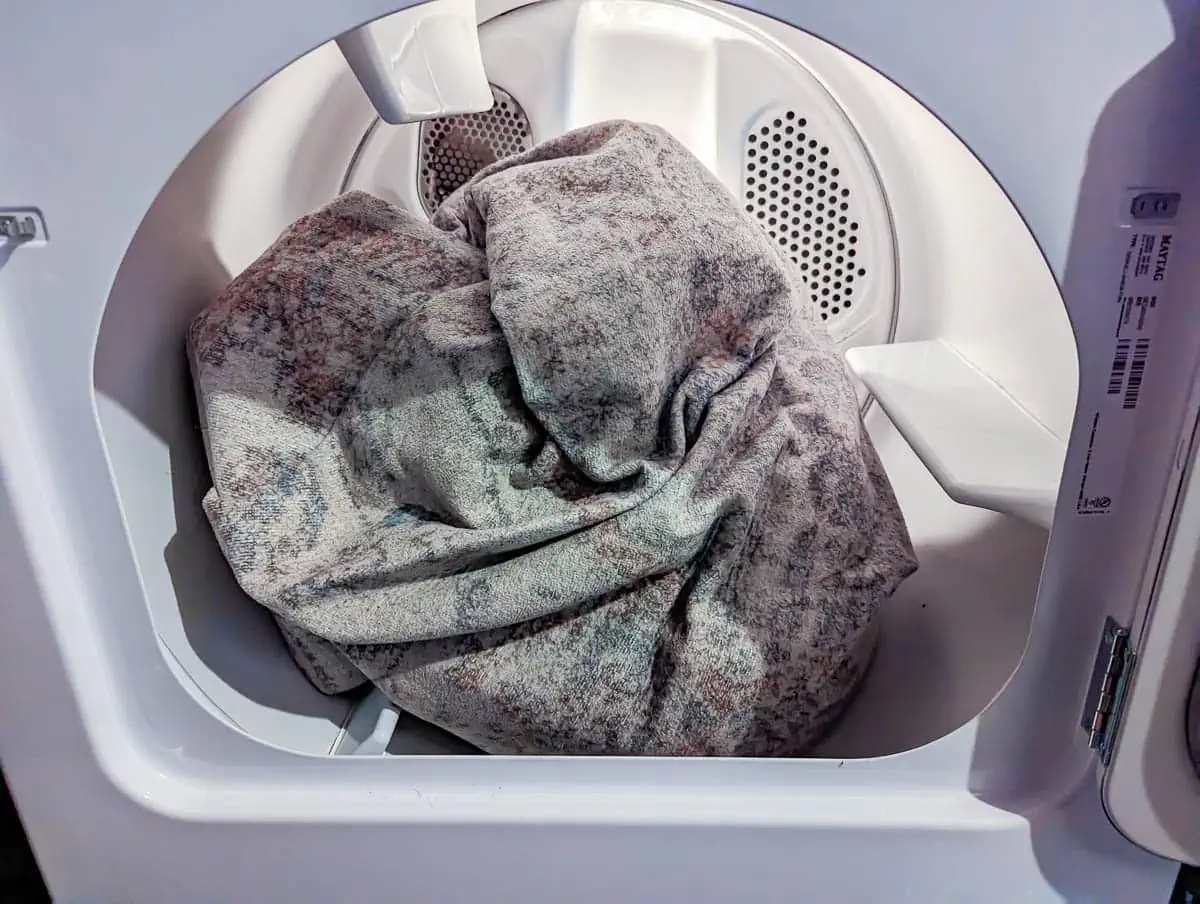 After two full drying cycles, it didn't feel any dryer than when I started. So instead of continuing to dry it in the dryer, I spread it out over the table and chairs on our porch where it could air dry.
This worked much better and it was dry by the end of the day.
How the rug looks after washing
Once my rug was completely dry, I spread it back out over the rug pad. Overall, it seemed to still be in great shape. The corners immediately flattened out and the edges of the rug were still tightly bound.
But I did notice something odd – when I spread my rug back over my rug pad, the rug pad stuck out by about two inches on two sides.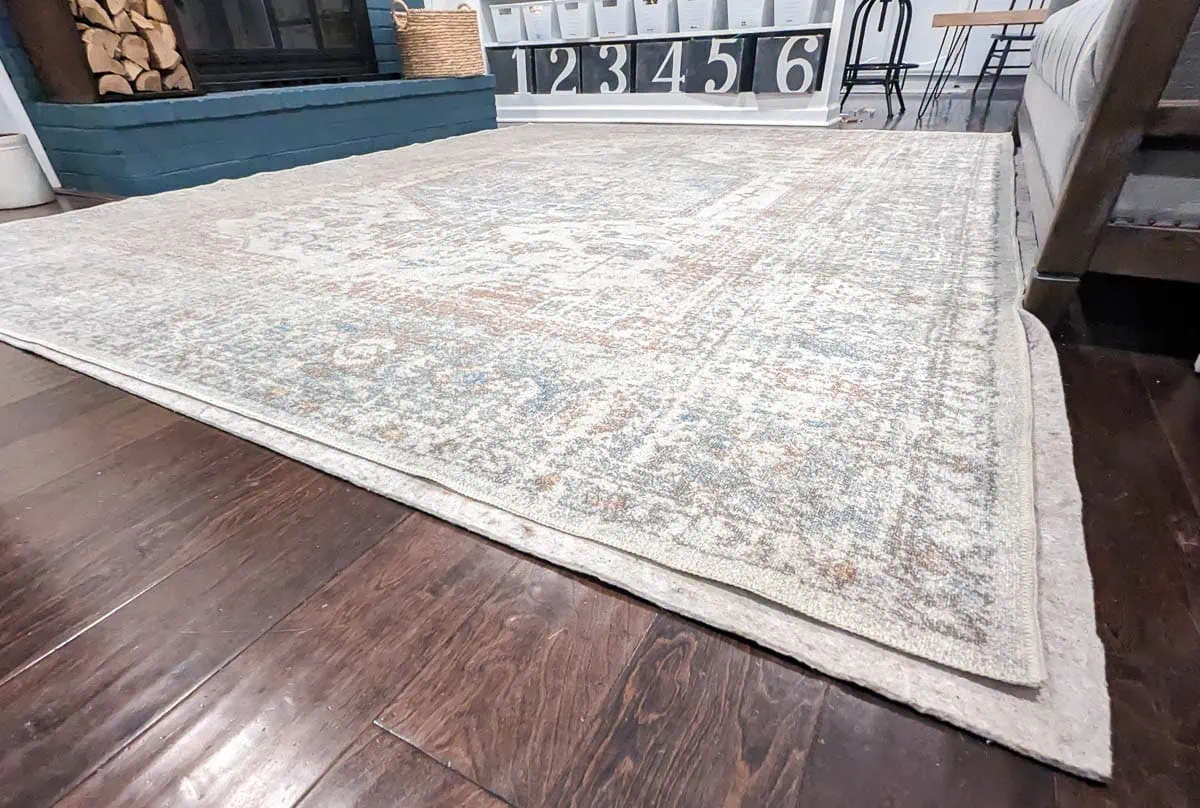 And since the rug pad hadn't been touched or moved while I was washing the rug, I can only conclude the rug must have shrunk slightly.
It makes sense; clothing and curtains often shrink in the wash. It just wasn't something I expected.
The amount it shrunk was quite minor. I wouldn't have been able to tell at all if I didn't have the rug pad to compare to. Luckily, I was able to easily trim off the excess rug pad so that it fits nicely beneath my rug again.
There's a chance it will shrink a bit more during future washings, but I think it probably won't. In my experience, most fabric items shrink during the first wash and then stay that size.
As far as how clean it looks, it looks fantastic! As nice and fresh as the first day it arrived. There were no major stains so I can't report on how they came out, but overall the rug looks amazing.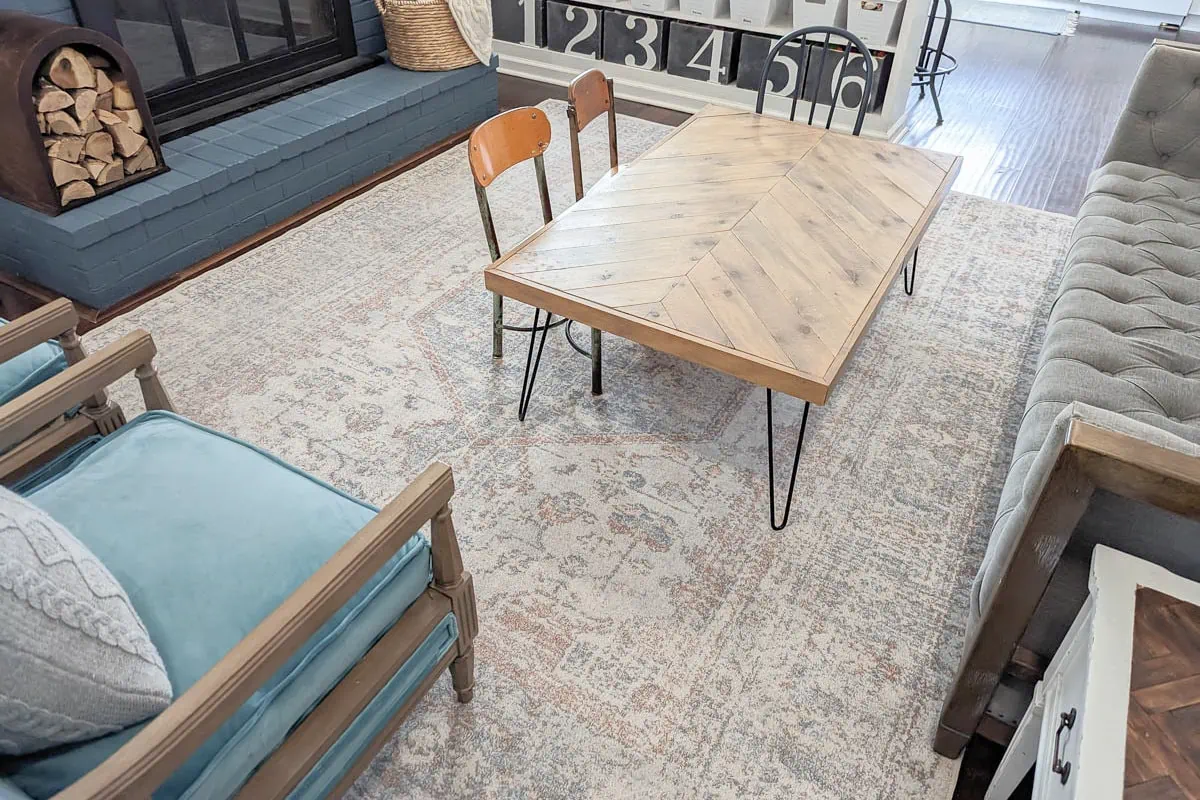 I was actually pretty worried about having such a light rug in the room where we spend most of our time. We don't wear shoes in our house and only eat in the living room during weekly movie nights, but still, my kids love to play in the dirt and keeping things clean can be a struggle.
I've been super pleased that this rug has held up so well and still looks just as beautiful as when I got it.
I will definitely be buying more RugsUSA washable rugs in the future and feel super confident recommending them to other busy households as well.
And if you have another washable rug that you would recommend, I'd love to hear about it! I'm always up for trying new recommendations!
More budget decorating ideas I think you'll like:
I'd love for you to pin this pin on Pinterest!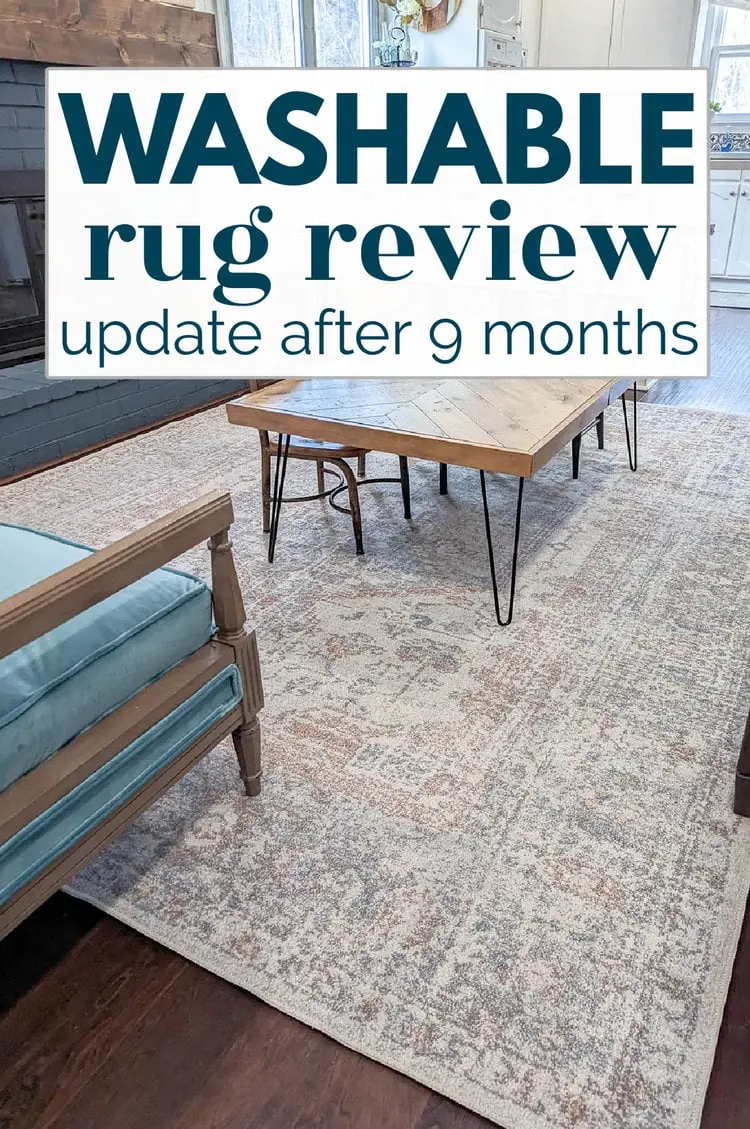 Google Web Story: Washable Rug Update-Does it Last?