Recently I stumbled upon a treasure trove of cheap throw pillow covers that were super cute. I'm talking seriously, seriously cheap. As in some are less than $5! I know, it's absolute crazy talk. But it's true.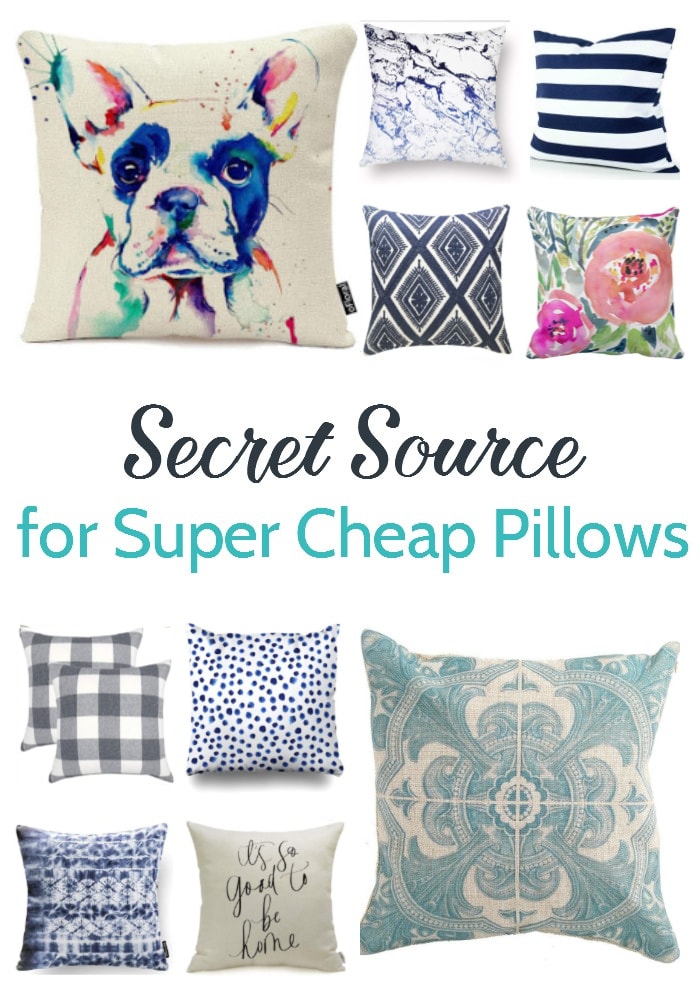 This post contains affiliate links which means if you make a purchase after clicking a link I will earn a small commission but it won't cost you a penny more. Click here to see my full disclosure policy.
I'm a huge fan of using pillow covers to freshen up your decor. Pillow covers are easy to switch up, take up almost no storage space when you aren't using them, and they are incredibly affordable.
In the past, I've done quite a few DIY pillow covers and I've kept costs down in all kinds of creative ways. I turned a pretty thrift store dress became a pillow and a stack of fabric remnants got pillow-ified.
And I love each and every one of those DIY pillows…but I pretty much hate to sew, so a ready-made pillow cover for super cheap is a total win.
And I've definitely found cheap throw pillows in a few different stores, but I hate that you usually have to buy the entire pillow. I don't need a whole new pillow; I just need new covers to jazz up the pillows I already have.
My secret source
So what is this secret source for cheap pillow covers? Amazon. Seriously. Do you know what this means? Dozens of fabulous options at the click of a mouse.
Of course the downside is you can't feel the fabric or see them in person before buying so there is a little risk involved. But, thankfully Amazon's handy dandy reviews help combat the risk. I did see a few options I really liked that only had one star so I passed those right on by.
But tons of my favorites have four or five star reviews. So, yeah, I did a little shopping. And I also rounded up my favorites to share so that you too can give your sofa a whole new look for $10. That is definitely my kind of makeover.
My favorite throw pillow covers
Cheap feather pillow inserts
And if you don't already have a stash of pillows waiting to be made over with a fresh cover, I've also got a few suggestions of places you can pick up really nice down feather pillow inserts for a great deal. (I always prefer down feather pillow inserts; they look better, feel better, and last a LOT longer.)
First, IKEA has some great pillow inserts for really cheap.
Unfortunately for me, my closest IKEA is four hours away so I can't exactly jaunt out whenever I need a pillow. Another fun option is to stalk the clearance section at discount home stores like HomeGoods, Marshalls, and Ross. They often have a few not-so-cute pillow options on the clearance shelves for a good deal. You can just toss the ugly pillow covers and keep the nice pillow insert to use with the cover of your choice.
So that's my secret. Some of you may have already been in on it. Heck, I may be the last to find out. But just in case I'm not, I just had to share.