Here are 15 amazing ideas showing how to redo kitchen cabinets quickly and easily!
Kitchen remodels can get very expensive very quickly, especially if you start to think you need to rip out everything in sight and start fresh.
Luckily, a great kitchen renovation doesn't have to go that way.
Most of the time, it is entirely possible to make a huge change starting with what you already have.
One of the easiest places to start: redoing kitchen cabinets.
There are so many ways to turn your old, outdated kitchen cabinets into something fresh and beautiful.
And yes, paint is amazing, but there are so many other ways to update kitchen cabinets that are just as transformative.
Update your cabinet doors
1. Freshen up your whole kitchen by adding glass panels to a few of your existing cabinet doors like Christy from Confessions of a Serial DIYer.
2. Or if you have plain jane cabinet doors, you can update them by adding some simple molding like Kristen and Vicki from Timeless Creations.
3. If you want a completely different look for your kitchen, you can build your own custom drawer fronts and cabinet doors and add them to your current cabinets like Ashley from Bigger Than the Three of Us.
4. Or create a focal point in your kitchen by getting rid of the cabinet doors altogether and creating custom shelving like Kim from The Kim Six Fix.
Update the cabinet faces
5. There are also amazing ways to update the wood faces of your cabinets.
One of my favorites is using inexpensive beadboard wallpaper to give your cabinets an expensive, custom look like Rhoda from Southern Hospitality.
6. Or add wood planks to get that perfect modern farmhouse kitchen like Kristen from Ella Claire.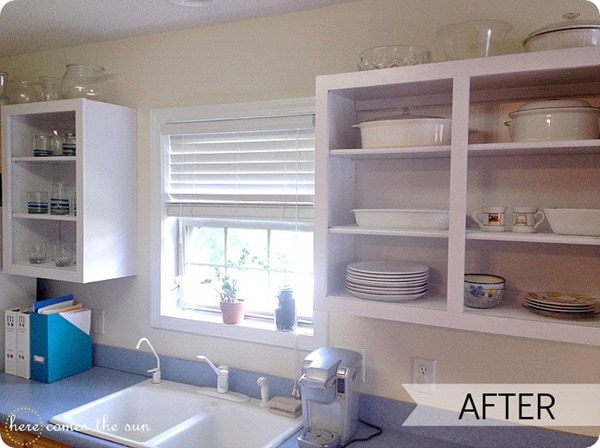 7. And if you are desperate for a cabinet update but rent and don't have the go ahead to paint, you can completely transform your cabinets with simple contact paper like Kelly from Here Comes the Sun.
Best part – it is completely removable.
Add trim to cabinets
8. Adding trim and corbels to a builder basic island is a quick way to completely transform it like Melanie from Lost and Found Decor did.
You could do the same thing on a peninsula or any exposed cabinet boxes.
9. Add some simple crown molding to the top of your cabinetry. Whether they are already at ceiling height like Jeanette's from Snazzy Little Things or lower on the wall, crown molding can make a world of difference.
10. Okay, so clearly this is a bathroom, but Sheila from Plum Doodles added furniture style feet to her cabinetry and it looks amazing.
This would be just as phenomenal in a kitchen.
11. And for an extra special touch, look at this amazing rangehood Carli from Fearfully and Wonderfully Made built.
What I really love about this rangehood, is she built it right over the existing cabinets.
Update the hardware
12. One of the easiest, fastest ways to update kitchen cabinets: just switch out the hardware for something more your taste. So easy.
13. Or, since the cost of new hardware piles up quickly, you can paint your current hardware like Gail from My Repurposed Life.
And finally, paint
Okay, so these days paint is a pretty obvious choice when it comes to updating cabinets.
I thought about not including paint at all, but the reason it is so popular is because it really can work miracles.
14. I have always thought these awful melamine and oak cabinets from the 1980s were beyond redemption but this simple paint makeover by Vineta from The Handyman's Daughter has totally made me a believer.
15. And I also really love this article on the pros and cons of painting cabinets white.
I love a good white cabinet transformation, but there are some downsides.
I think Laura from Duke Manor Farm does a great job of breaking it down.
I'd say that's pretty definitive proof: you most definitely do not have to tear out your cabinets and replace them to get a really great kitchen!
Update: I now have my own kitchen cabinet transformation to share.
You can see how I completely transformed my kitchen for less than $1000 here and then check out my tutorial for painting oak cabinets white (and getting a perfectly smooth texture).
And because I like to keep it real, you can also see how my painted cabinets are holding up after two years of use and abuse.