Nothing ruins an amazing furniture makeover more quickly than sticking the same old boring drawer pulls and knobs back on.
I love unique, attention-getting hardware – but it's hard to find and super expensive.
As always I knew there had to be a way to get gorgeous one-of-a-kind furniture hardware at a tiny cost.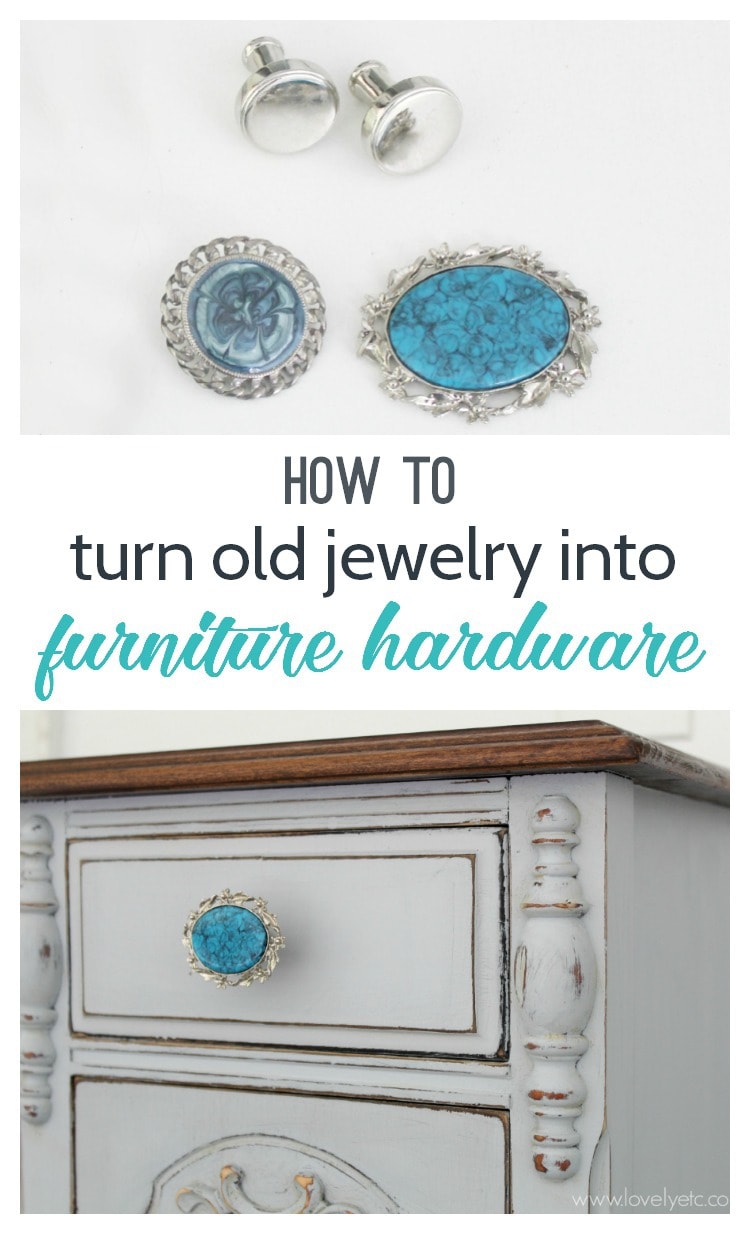 This is a Sponsored post written by me on behalf of Krazy Glue for SocialSpark. All opinions are 100% mine.
Whenever I go to a great yard sale or estate sale, I can't help checking out the costume jewelry.
Even though it is probably about forty years out of style, it is usually only a dollar or two and is awesome for repurposing.
Particularly repurposing into fabulous drawer pulls.
This is one of those projects that takes five minutes but ends up looking like a million bucks.
In other words, one of the very best types of projects.
Materials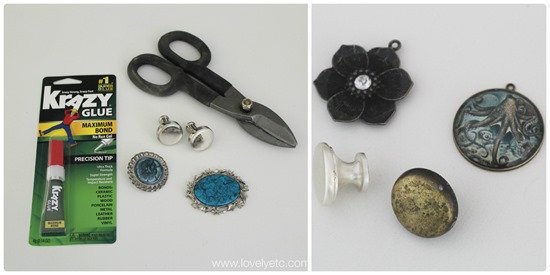 Jewelry – anything really large will work: vintage pendants, those huge vintage earrings, or new pendants from a craft supply store
Plain drawer pulls – the smaller and plainer the better
Krazy glue
Tin snips (optional)
Instructions
This is so simple, I almost feel silly giving instructions.
First, a note about choosing jewelry to use. The best pieces for this project are large and flat – like necklace pendants, brooches, or those huge round earrings ladies used to wear several decades ago.
You want to make sure your jewelry is larger than the drawer pull you are using and that it does not have cut-outs the pull will show through.
If you are using an earring, you will need to snip off the earring post.
You can do this very easily using tin snips. (Tin snips look like scissors but are specifically for cutting metal. They are only a few dollars at any home improvement store).
If you are using a pendant with an attached loop, you will need to carefully snip off the loop.
If you are using a brooch, you will need to remove the pin part.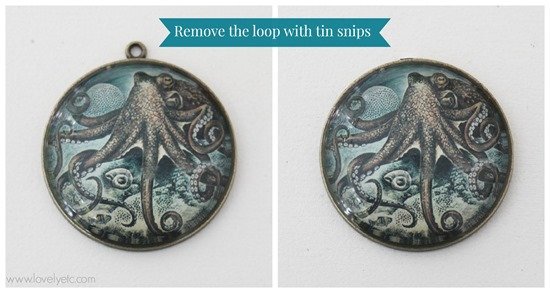 Next you are going to attach your jewelry to your drawer pull. It is really important to use the correct glue for this.
You certainly don't want to be pulling open a drawer and have your hardware come apart in your hands!
Plus, if that happened at my house, my 18-month-old would probably either eat the pieces or flush them down the toilet.
Neither is something I want.
For this project, I pulled out the Krazy Glue. Krazy Glue works super fast and the precision tip keeps the glue where I want it – even when working with tiny, delicate parts.
Krazy glue works on metal, porcelain, pottery, glass, plastic, rubber, vinyl…definitely, any material your jewelry pieces might include.
And I love when one little product can be reused for a bunch of different projects instead of buying new materials every single time.
Plus, the glue itself is a super thick gel – no dripping or getting all over the place, even when you are working on a vertical surface.
And Krazy Glue's special Skin GuardTM formula delays skin bonding, so you'll have plenty of time to work on your project without worrying about your fingers sticking together. :)
Just squeeze some Krazy Glue onto the face of your drawer pull and press it onto the back of your jewelry piece.
It will be dry in less than thirty seconds.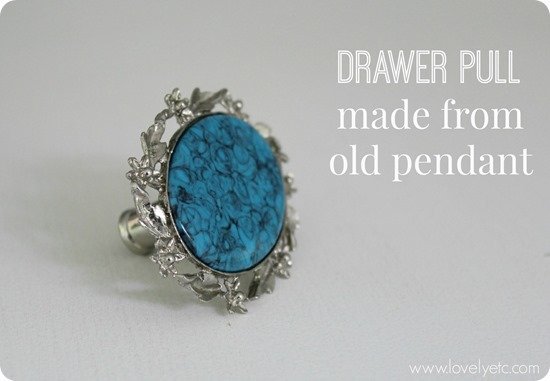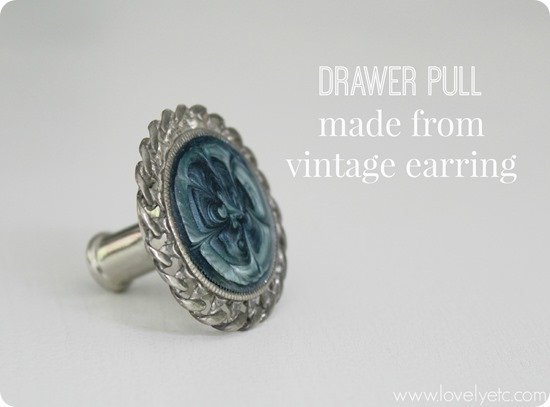 And you're done! Seriously, so simple.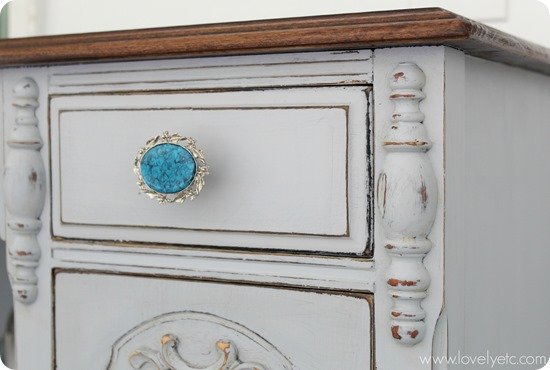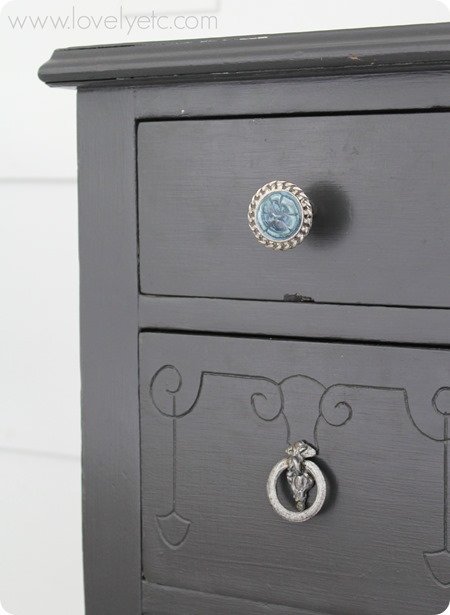 I screwed a few of my freshly made knobs onto some of my favorite pieces of painted furniture and they looked amazing.
These knobs are perfect for adding character to furniture pieces but they are also pretty special all on their own so I decided to try something a little different with my last jewelry knob.
I knew it would make a gorgeous necklace display.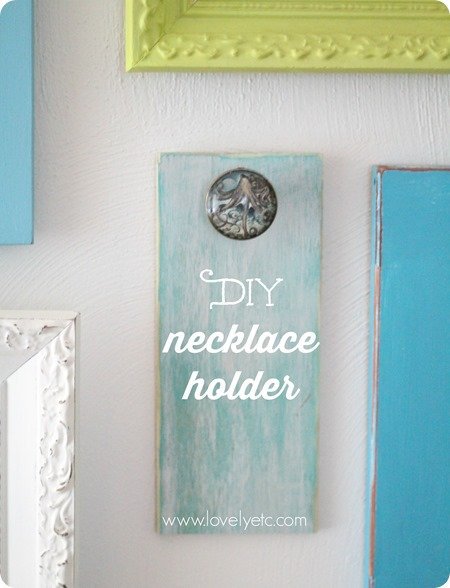 I had some small scraps of wood leftover from the plank wall I installed in our foyer this spring.
I chose a pretty piece that I had painted aqua and then dry-brushed with white paint.
Normally, I would drag out the drill and drill a hole in the wood to screw on the drawer pull.
But I decided to take the easier way this time. I simply used a little Krazy Glue and glued my knob right onto my board.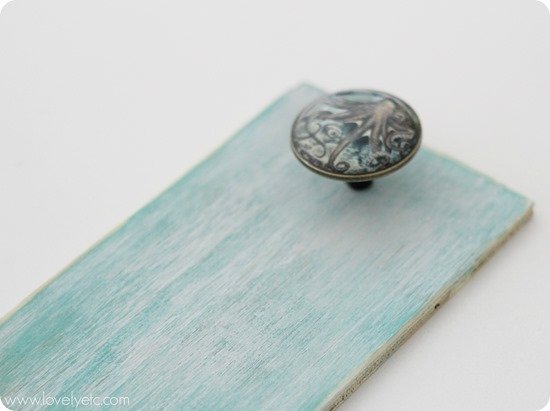 And then when it was time to attach a wall hanger to the back, I decided to just use Krazy Glue for that too instead of messing with those tiny little nails that come with it. (You know – the ones that are way too tiny to actually hold in place while you hammer them. I hate that.)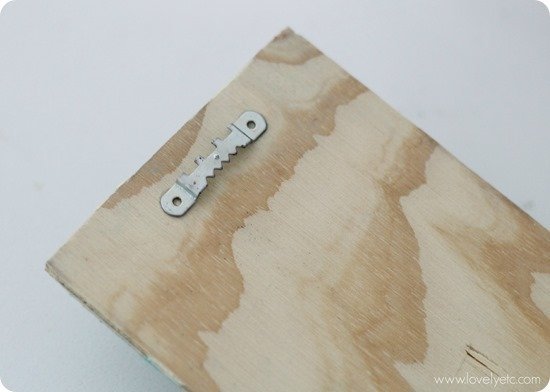 And five minutes later I had a one-of-a-kind necklace holder – without using a single tool to construct it. (Well, other than the tin snips.)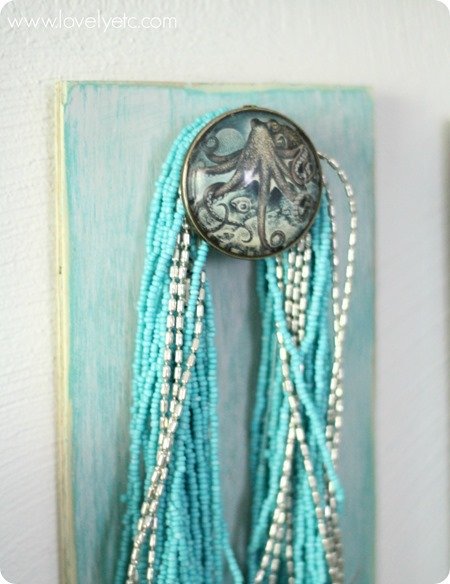 This little necklace holder was the perfect addition to the gallery wall in our master bedroom; it fits in beautifully with the other jewelry display pieces and art.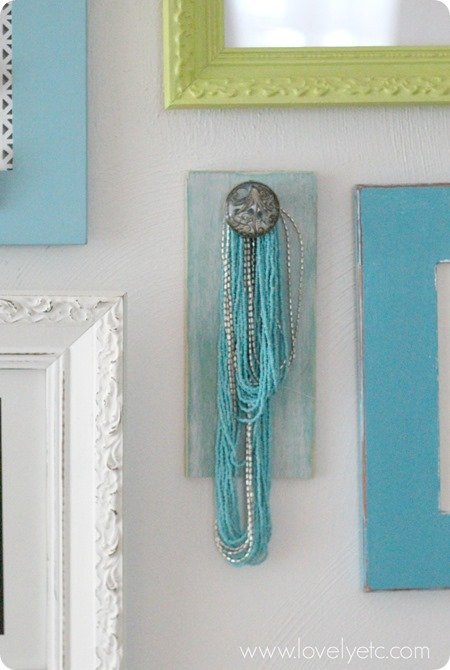 I've gotta admit, my mind is kind of racing with ideas of other things I can turn into unique drawer pulls!
Ready for more fun upcycled projects? I've gathered my top 20 trash-to-treasure upcycles right here.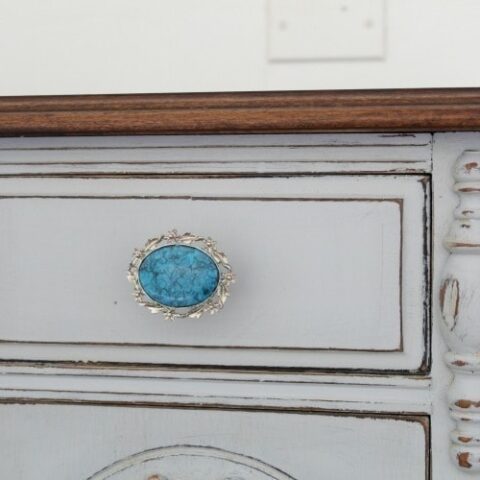 How To Turn Old Jewelry Into Amazing Drawer Pulls
Create unique, one-of-a-kind drawer pulls that are budget-friendly using old jewelry.
Materials
Plain drawer pulls
Krazy glue
Old earrings, brooches, or pendants
Instructions
Snip off the back of the earring post, pendant loop or brooch pin.
Glue your jewelry to the drawer pull with Krazy Glue.
Attach the drawer pulls to your furniture.
Recommended Products
As an Amazon Associate and member of other affiliate programs, I earn from qualifying purchases.