An honest review of how our painted cabinets are holding up after two years, along with tips for what we would do differently next time.
Two and a half years ago, I painted our oak kitchen cabinets white and it completely transformed our kitchen.
I shared all of the details about the process I used to get a perfectly smooth paint finish even with deep wood grain of our oak cabinets.
Painting our kitchen cabinets was time-consuming, but it was so worth it. When I finished, the cabinets looked beautiful and fresh again and the entire room looked lighter and brighter.
Fast forward to today.
Now that a few years have passed, I've been getting tons of questions from readers about how our painted cabinets are holding up, and decided it was definitely time for a full update.
I'll be answering all your questions about how our painted cabinets look today and what I would do differently if I were starting this whole process again.
If you are considering painting your cabinets but are questioning how the painted finish will last, hopefully this post will help.
And yes, I will be sharing a completely honest update so you can have all of the info you need before tackling this project in your own home.
Along those lines, I want to note that all of the photos in this post are current photos of our kitchen, taken just this week. So what you see here, good and bad, is exactly how our cabinets truly look after 2.5 years.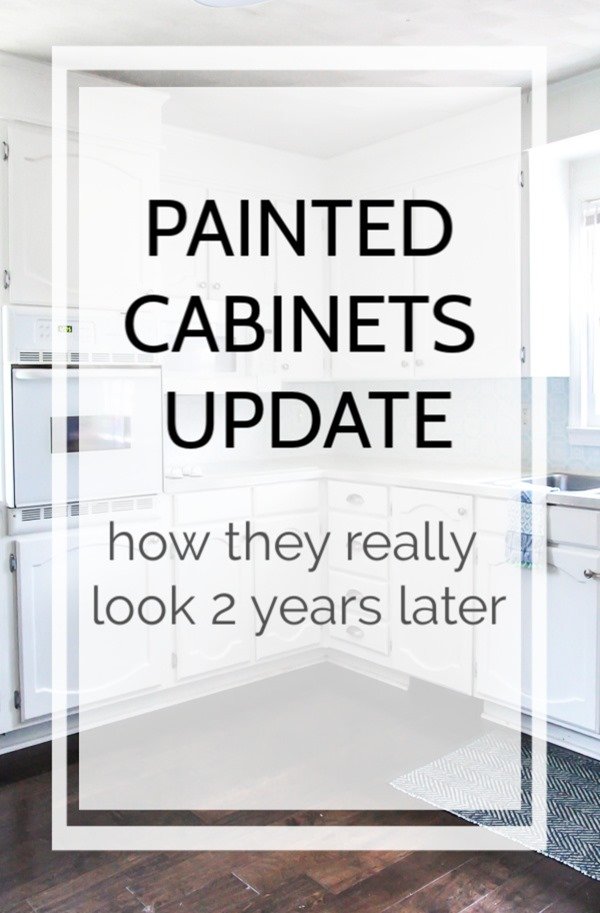 This post contains affiliate links which means if you make a purchase after clicking a link I will earn a small commission but it won't cost you a penny more. Click here to see my full disclosure policy
How have your painted cabinets held up?
Let's be real, this is the big question everyone is wondering about.
Our painted kitchen cabinets looked beautiful when they were finished, but how do they look now?
I know that when anyone paints their cabinets, their biggest fear is that the beautiful paint finish will quickly turn into a peeling, chipping mess.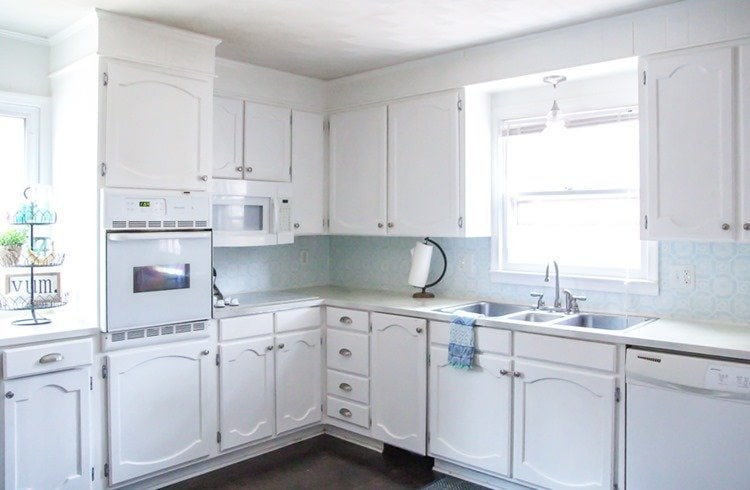 At first glance, our white cabinets still look beautiful and I would love to be able to say that our cabinets look just as flawless as they did when I finished painting them 2.5 years ago.
Sadly that is not the case.
While the cabinets still look great as a whole, when you look a little more closely, you can see there are noticeable flaws in the finish.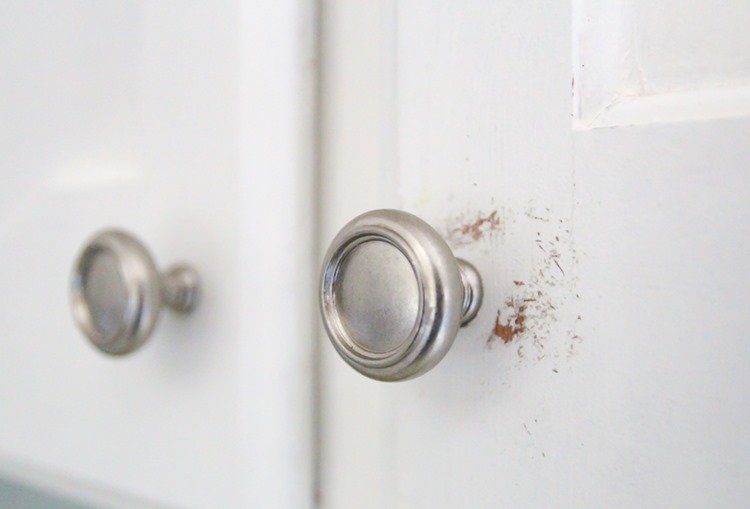 There are several small places where the paint has chipped and the wood beneath can be seen peeking through.
In particular, this seems to have happened around four of the cabinet knobs.
It appears as though when grabbing the knobs, fingernails have lightly scratched away the paint on some of the most used cabinets.
There are also some small chips along the edges of a couple of doors.
Again, it appears as though the paint has been scratched as the cabinets were opened.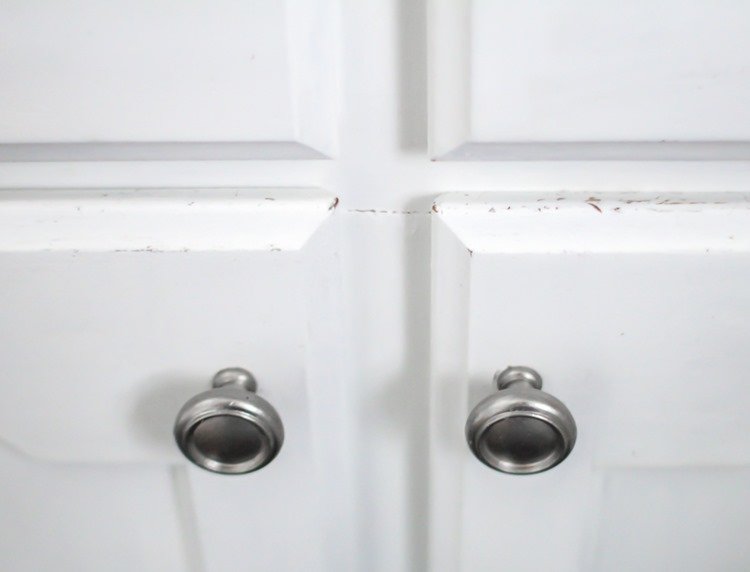 To be fair, it has been over two years since I originally painted these cabinets, so a small amount of wear and tear isn't a total surprise, especially with our active family.
Even so, the cabinets are considerably more dinged up than I had hoped they would be at this point.
What caused the paint to chip?
I've tried to be objective in figuring out why the paint on our cabinets hasn't held up as expected.
Was it the paint itself? Was the spackle I used to smooth the wood grain a problem?
Was my method of cleaning the painted cabinets too abrasive? Is my family just really rough on our home?
I don't believe this was caused by my family being too rough. We do have three small boys and these cabinets have put up with lots of spills and stains and hard knocks from toys and dishes.
But because most of the scratches are centered around the hardware, it doesn't seem like they were caused by hard use.
While my kids do occasionally bang the cabinets and hit them with toys, those small areas are somewhat protected by the hardware sticking out and are really only touched when cabinets are being opened.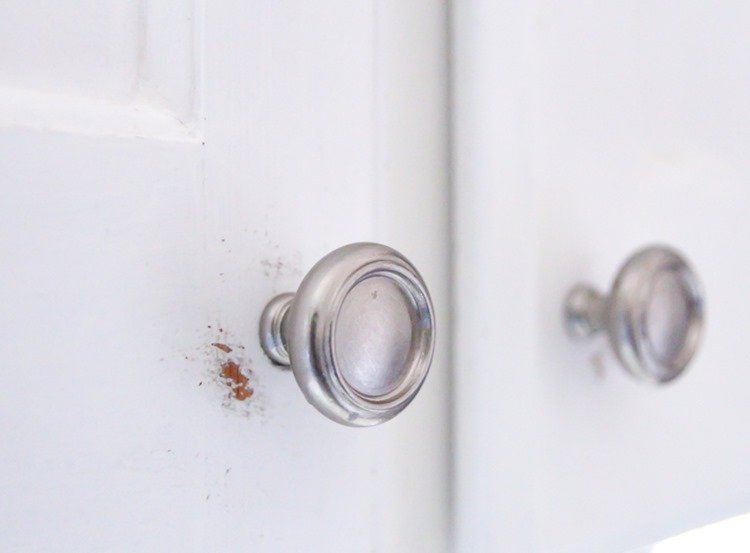 For the same reason, I don't think my cleaning method is to blame.
I wipe these cabinets down often and I certainly don't clean them around the hardware and edges more than anywhere else.
I also don't believe my method of using spackle to fill in the wood grain before painting is to blame.
I didn't use any spackle on the edges of the cabinet doors because I wasn't concerned with the wood grain being perfectly smooth there. Even so, these areas are also scratched.
In the end, I believe the paint itself was probably the weak link. I used DecoArt Satin Enamels paint.
This paint seemed like a great choice for cabinets because it doesn't require primer or sealer, has a beautiful satin sheen, and is supposed to dry to a hard finish.
I have used this same paint on several pieces of furniture with no problems or excessive scratching.
But perhaps it just wasn't quite hard enough to stand up to the wear and tear of a busy family kitchen.
Because of the way the paint appears to have been scratched whenever doors were being opened and closed, I believe the paint just wasn't quite hard enough to withstand the wear and tear of a busy kitchen.
What would you change if you were painting your cabinets all over again?
First, I have to say that even with these chips, painting our cabinets was one of the most worthwhile DIY projects we have done in our home.
A few coats of fresh white paint instantly updated our worn oak cabinets and also made our dark kitchen feel much brighter.
It wasn't exactly a quick DIY but it made a huge impact for a pretty small price tag.
If I had the chance, I would definitely do it all over again.
And even though the chips and dings really bother the perfectionist in me, they are really very small in relation to the kitchen as a whole.
The photo below is a wider view of the cabinet doors shown above.
So, while yes, the paint is definitely not perfect, those scratches really are small when you look at the big picture.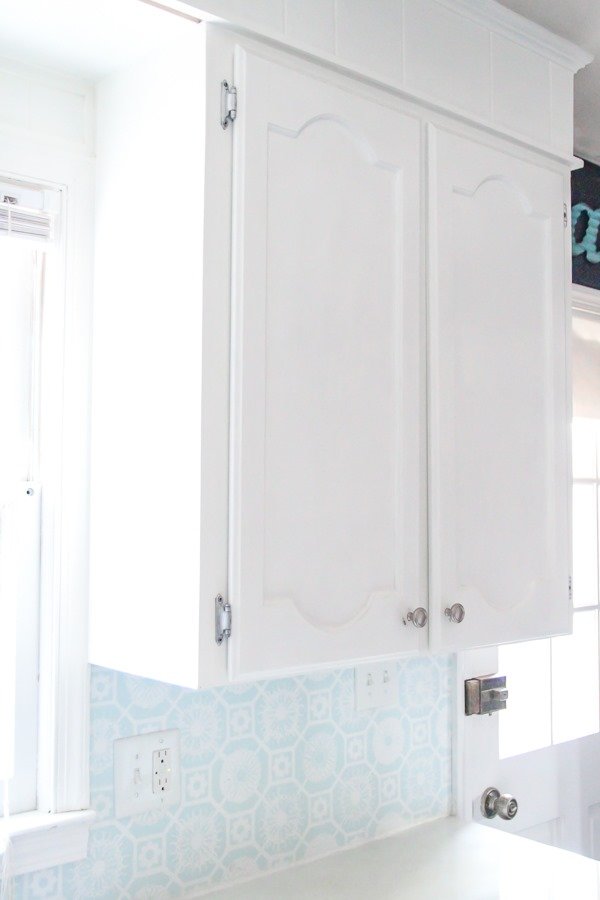 Even so, if I were to paint my cabinets all over again, I would either try a different paint or use a sealer over the paint for added protection.
Better Paints for Painting Cabinets
There are two paints in particular that I would consider.
General Finishes Milk Paint is a popular choice for painting cabinets. General Finishes is actually an acrylic paint, not an actual milk paint, and doesn't always require a primer or a sealer.
I used this paint recently to paint my bathroom vanity and have also used it on several furniture projects and it goes on smoothly and holds up well.
I have also heard great things about Benjamin Moore's Advance paint.
It is a self-leveling, non-yellowing paint that dries to a hard finish and doesn't require a separate sealer. Many painters swear by this paint.
In addition, I would strongly consider finishing my painted cabinets with a couple of coats of sealer.
I know that all of the paints I have mentioned don't require the use of a separate sealer, but General Finishes does recommend using a topcoat over their paint on high-traffic pieces.
When I think about all of the abuse our kitchen cabinets endure, it only makes sense to give them an extra layer of protection.
My favorite sealer for painted furniture is General Finishes High Performance Top Coat and this would also be my first choice for sealing cabinets. It is water-based, non-yellowing, and extremely easy to work with (unlike many other sealers).
I used this sealer when I painted my bathroom cabinets and so far, it is holding up well.
Several people have asked for more info on putting a topcoat over white paint without yellowing.
I have a lot more info about sealing white paint here if you want to do more of a deep dive.
And if you want to know more about furniture sealers, I've got a whole post packed with info about different paint sealers.
What will you do about your cabinets now?
Since taking these photos, I have fixed all of the little imperfections in our painted cabinets and I shared the whole process of how to touch up chipped cabinets in case anyone else is in the same boat.
As much as I hate that the paint didn't hold up as I had hoped, I can also look at these photos and see that our dated kitchen has never looked better.
And that's good enough for me.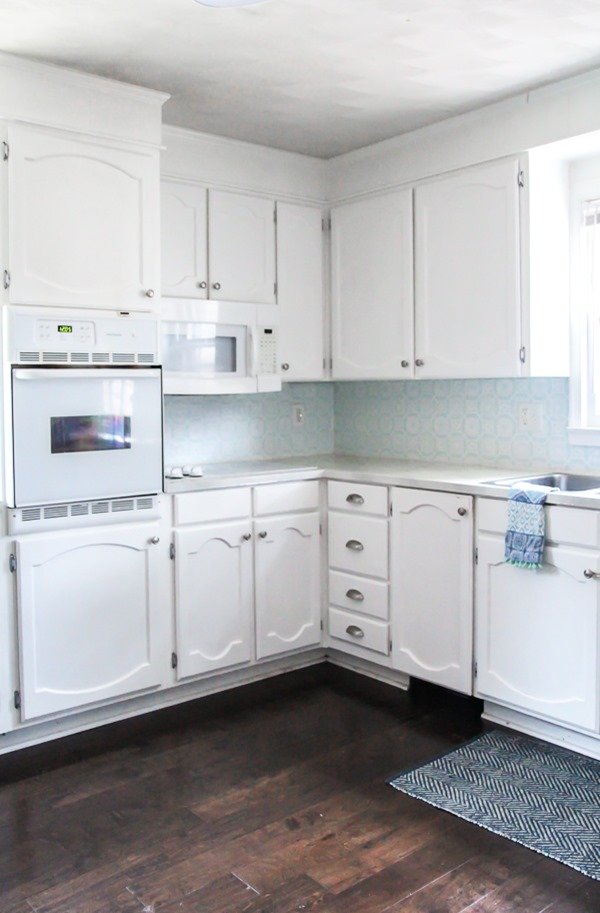 More budget kitchen DIY projects to check out:

Google Web Story: Painted Cabinets Two Years Later