Learn how to easily touch up chipped cabinet paint and make your painted cabinets look brand new again.
I love the clean, smooth look of freshly painted cabinets. I wish they could stay that perfect forever, but inevitably with time, tiny scratches and chips eventually start to show up.
As I shared in my painted cabinet update, after a few years my own cabinets were starting to get pretty scratched up.
They still looked great from afar, but when you got a little closer the paint on some of the frequently-used cabinet doors was looking pretty rough.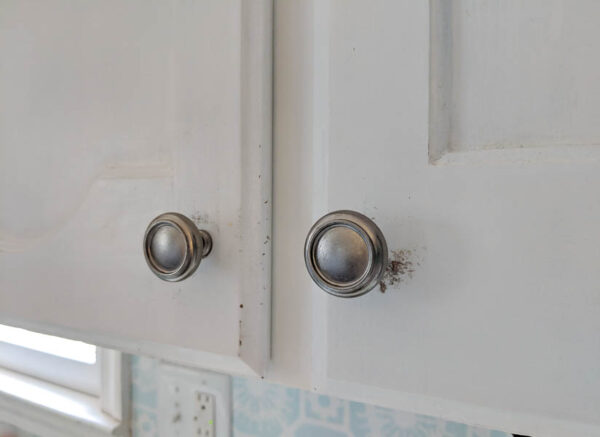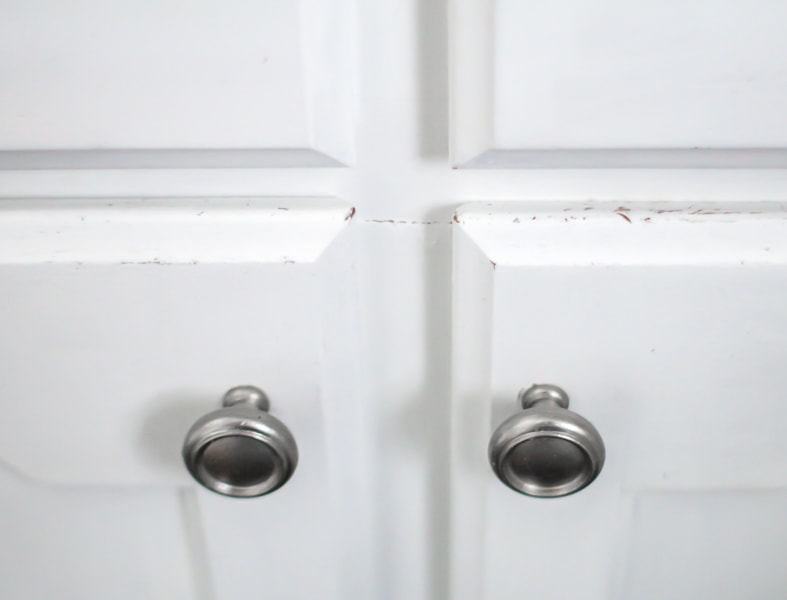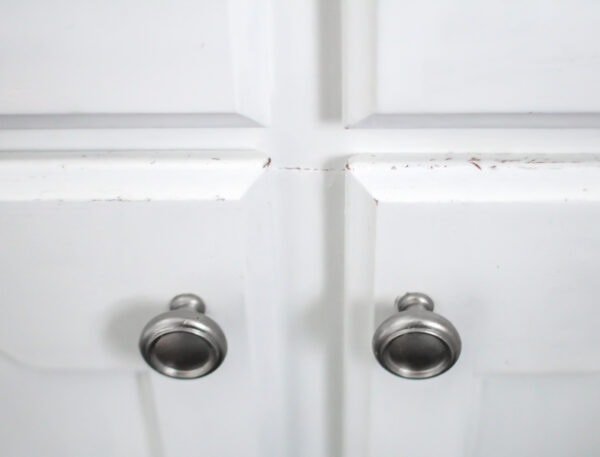 Thankfully you do not have to completely repaint your cabinets if they start showing a bit of wear.
Touching up painted cabinets is a pretty simple task that can easily be completed in an afternoon.
The tricky part is making sure that the newly touched up paint blends exactly with the old paint.
If there's anything worse than chipping cabinet paint, it's painted cabinets with little discolored blobs all over them from a bad touch-up job. Yikes.
I'm sharing my simple process for touching up painted cabinets so that your cabinets end up looking just as good as they did the day they were first painted.
This post contains affiliate links which means if you make a purchase after clicking a link I will earn a small commission but it won't cost you a penny more. Click here to see my full disclosure policy.
Materials
Painted cabinets with chipped, scratched paint (I'm guessing you have this one covered!)
Cleaner – I'm a fan of

this cleaner

, but a

spray bottle

filled with water and Dawn dish soap also works
320 grit sandpaper – you want a high grit sandpaper to get the chipped areas really smooth before painting
Primer – if using a paint that requires primer
Paint – if you have the original paint, that's perfect. But if not, I have some tips for finding a good match below.
A great paintbrush – I love

this one

for getting a really smooth finish
How to Touch Up Painted Cabinets
Choosing the right paint color
If you know exactly what paint your cabinets were originally painted with, you have a huge advantage.
You already know what paint to use to get an exact match and if you're lucky, you even have some leftover paint on hand.
If you didn't paint your cabinets yourself and don't know exactly what paint was used, you can definitely still get a perfect match, but it will take a little more work.
If you bought your cabinets pre-painted from the manufacturer, you can usually contact them to get a paint marker or paint sample that will exactly match the color. (Kim from Exquisitely Unremarkable explains more about this in her post about touching up her cabinets with a paint pen.)
But if your cabinets were painted by a previous owner, it's going to be really tough to find out the exact paint brand and color used.
In that case, your best bet is to have your cabinets color-matched at the paint counter at your local home improvement store.
You can take your smallest cabinet door or drawer face into the store with you and the paint desk attendant can use their color-matching technology to create an exact match. (Or if you don't want to deal with all that, another option is to bring home a ton of paint chips and choose the closest match.)
Choosing the right paint sheen
In addition to the paint color, you also want the paint sheen to be as close a match as possible.
Most painted cabinets have either a satin finish or a semi-gloss finish.
It's important that the sheen matches well or all of your little touch ups will be immediately noticeable any time the light hits your cabinet faces.
You can probably make an educated guess by looking at your cabinets. If they look fairly shiny, you probably need semi-gloss paint.
If they have just a hint of shine, you probably need satin.
If you really aren't sure, just start with a small paint sample in your custom color. Paint samples almost always come in a satin finish.
Paint a small test patch in an out-of-the-way spot on one of your cabinets and let it dry. If it blends in well, you can use the same paint sample for your touch-ups.
If it looks more matte than the rest of the cabinets, you'll need a quart of semi-gloss paint for your touch-ups.
Preparing your cabinets
Depending on what parts of your cabinets are needing a touch-up, you may need to remove drawer pulls or cabinet knobs.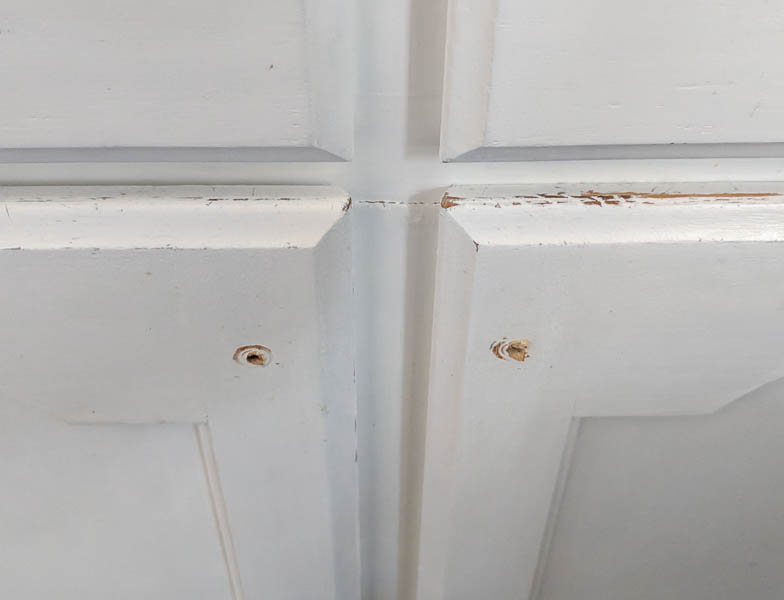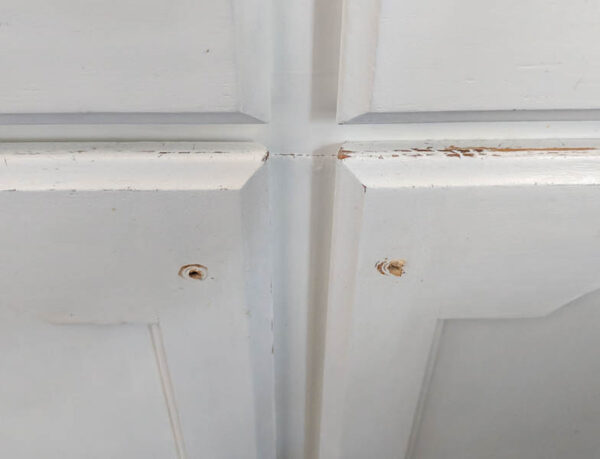 Before you can paint anything, even if you are only doing a tiny touch-up, you have to start by cleaning your surface. Paint will never stick to grease or dust.
Start by thoroughly cleaning your cabinets; I like to use a spray bottle filled with water and dawn dish soap.
Once your cabinets are clean, take a good look at the chipped areas.
Run your fingers lightly over the chips – you can probably feel a slight divot or indention where the scratches and chips are.
The best way to fix this is to lightly sand the chipped areas using a small piece of high-grit sandpaper to lightly sand the chipped areas.
320 grit sandpaper works well for this; it is fine enough to lightly smooth the damaged paint without removing too much extra paint.
You may notice that after sanding, the chipped areas look even larger. That is okay!
The touch-up paint is going to fix that and after sanding, the new paint will blend more seamlessly with the old paint.
If you skip sanding, your new paint will disguise the chips, but you will still be able to see them up close. After sanding, your touch-ups should blend in seamlessly.
After sanding, clean your cabinets one final time to remove the dust.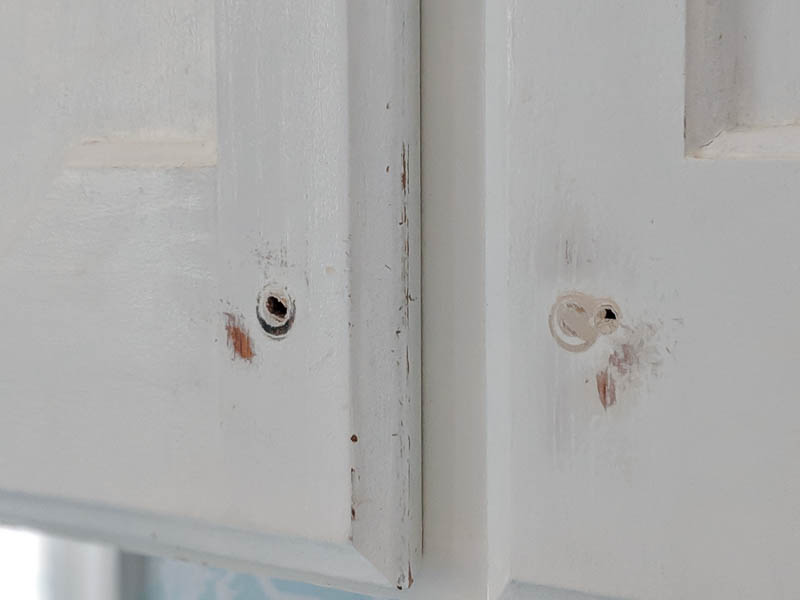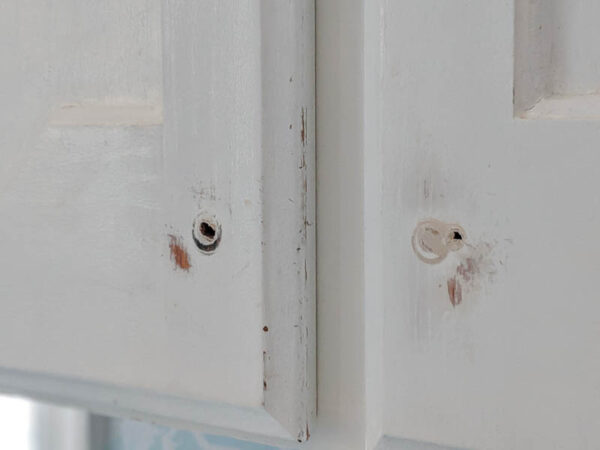 (You might notice in the photo above, I also took this chance to fix one of my cabinet pulls that wasn't quite centered correctly. I just filled in the old hole with wood filler, sanded it smooth, and drilled a new hole.)
Touching up the Paint
If you are using a paint that does not require primer like General Finishes Milk Paint, Fusion Mineral Paint, chalk paint, or other specialty paints, you can skip primer and go straight to painting.
If you are using regular latex wall paint, it may be a good idea to use a primer before painting.
If you are only touching up a couple of tiny scratches, you can probably get away with skipping the primer.
But if you are going to all the trouble of touching up your cabinets, I'm betting you have a more noticeable chipping situation as I did.
In that case, you can simply use a small paintbrush to paint a thin coat of primer only on the places where bare wood is showing through.
Be sure to keep this primer coat thin so that it doesn't cause a weird paint build-up.
Once the primer has dried, you can use a small paintbrush to apply your touch-up paint to your cabinets.
I used these small DecoArt paint brushes for my touchups – I also used these when I originally painted my cabinets because I love the smooth finish they give.
This small brush is also a great choice.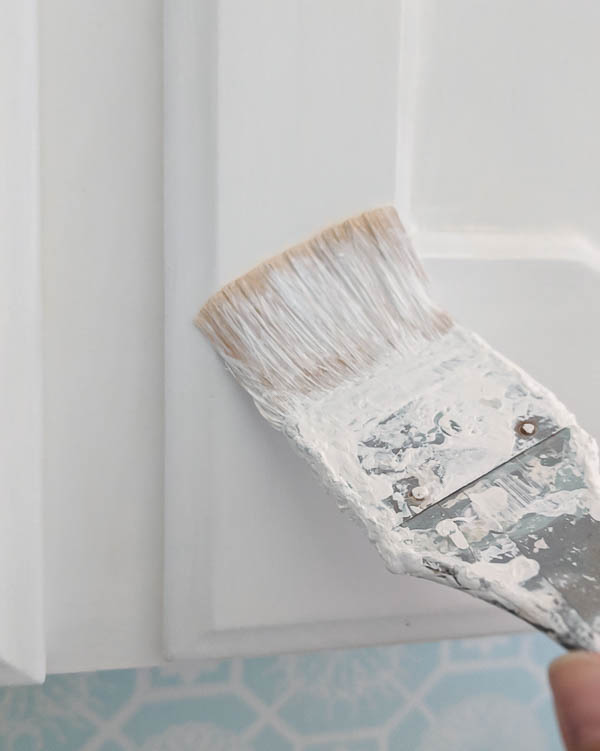 Dip your brush into your paint and then wipe any excess paint off on the lip of the paint can.
In general, it is always best to do several light coats of paint and this is especially true when touching up chipped paint.
Adding very light layers of paint will help the new paint blend well with the old paint.
Add a light coat of paint, allow it to dry, and repeat until your chipped areas are blended seamlessly into the rest of the cabinets.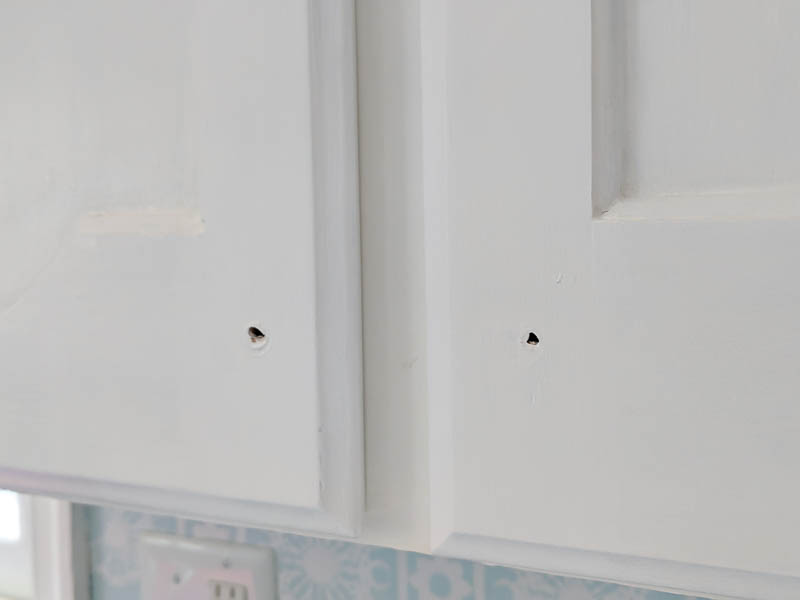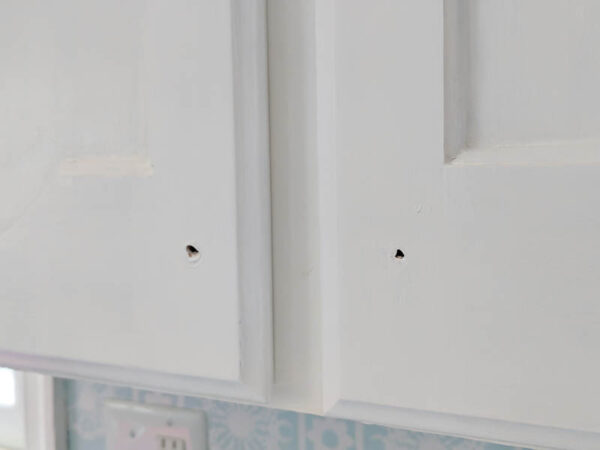 When you are happy with your paint touch-ups, attach any hardware you removed and you are done!
Just remember that it takes many paints up to thirty days to fully harden, so be gentle with your cabinets for the first few weeks.
These first days are the time when your cabinets are most likely to chip and it would be a terrible shame for your freshly touched-up cabinets to become immediately scratched again!
But what about a top coat?
Most cabinets are painted with paints that don't require a sealer, but occasionally painters seal cabinets anyway for added durability.
In most cases, I don't use any kind of top coat when doing small paint touch-ups.
The areas being painted are very small and sealers are best applied using long, even strokes across the entire surface.
Sealers can also be somewhat finicky so perfectly matching the sheen of the old sealer can be very difficult.
If you painted your own cabinets and sealed them, you may want to try to seal the newly touched-up areas. But in general, I think most people will have better results if you skip the sealer.
Ready to see a few before and afters? These photos really show what a difference a few simple paint touch-ups made.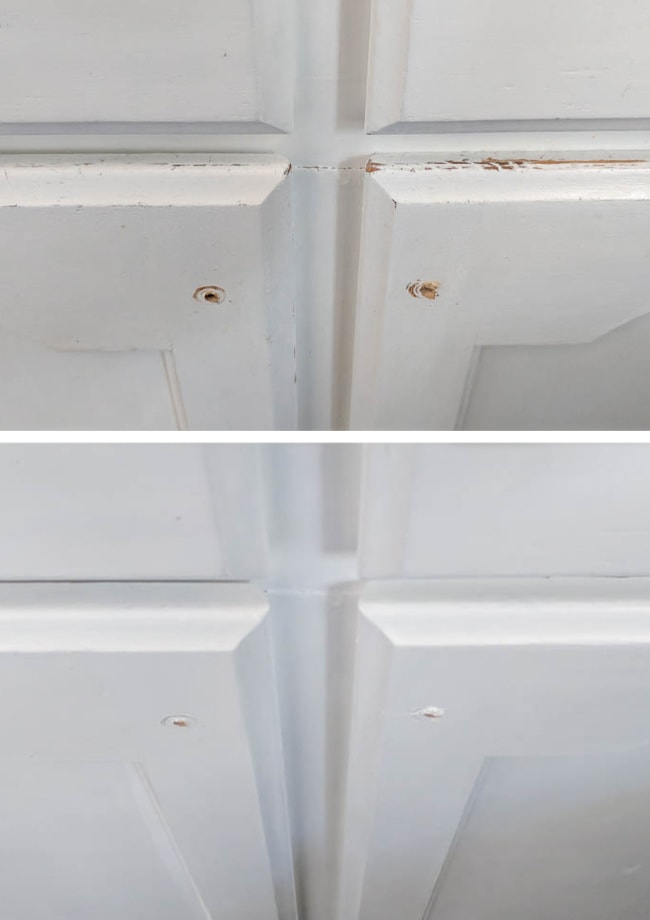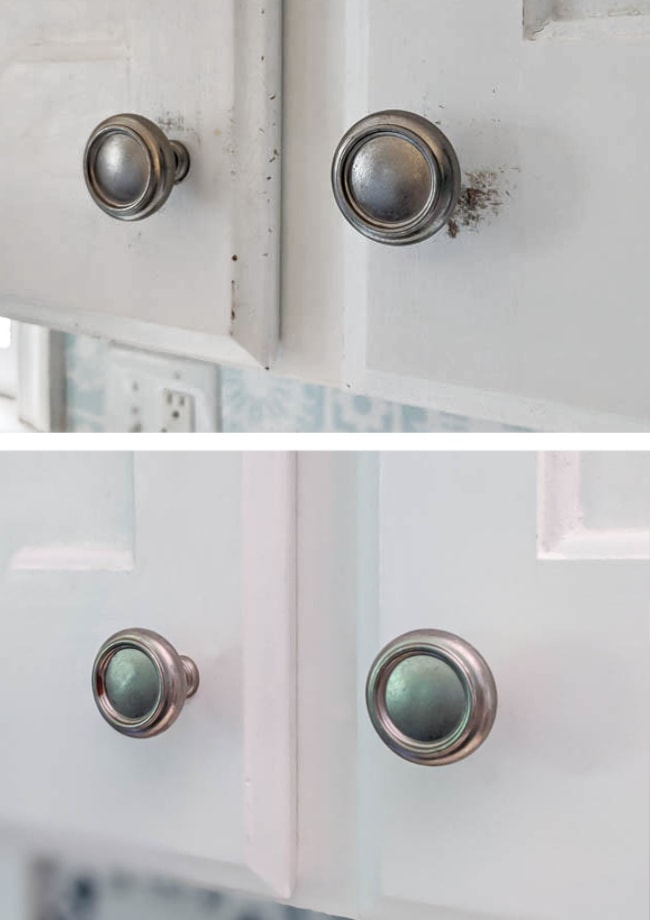 I definitely whined to myself a bit about having to touch up my cabinets. Why can't paint last forever?!
But after a quick afternoon's work, they look as good as new and there's no question this simple paint touch-up was completely worth the effort.
I'd love for you to pin this post on Pinterest!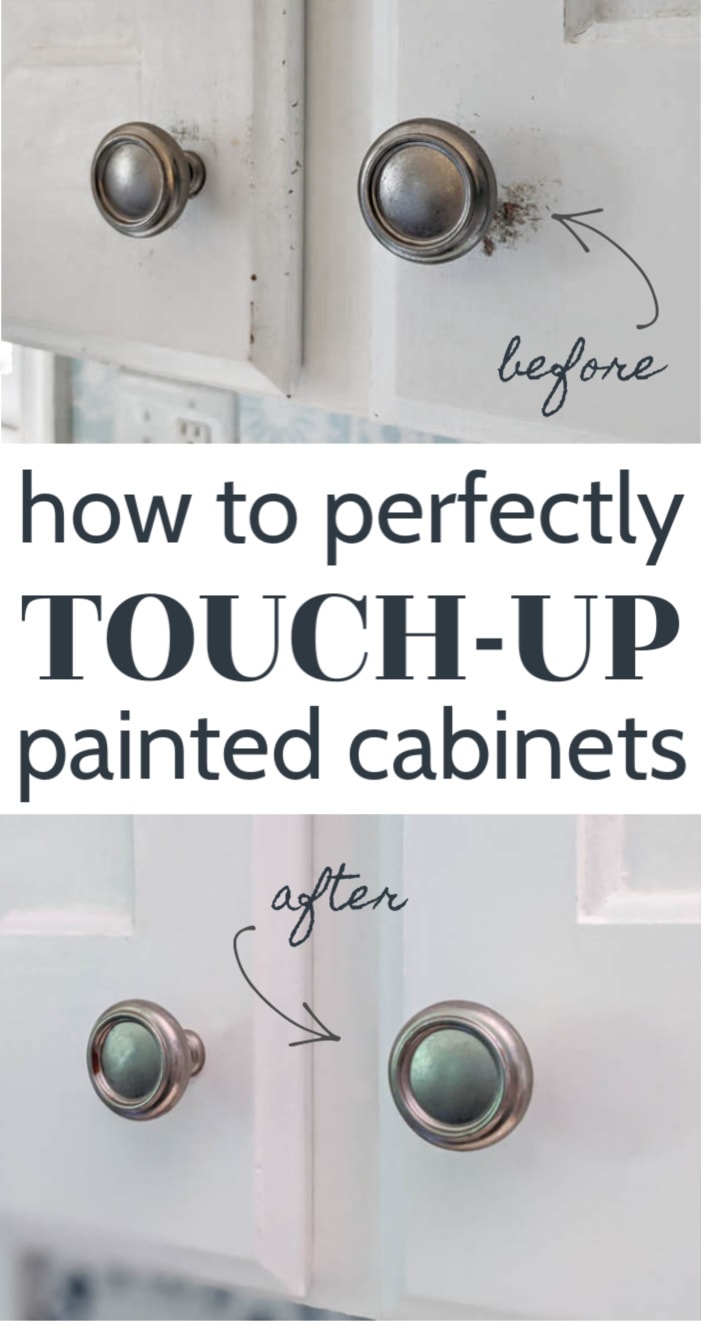 More budget kitchen DIY projects to check out:
Google Web Story: Touch Up Chipped Cabinet Paint