I am thrilled to be sharing our light, bright white kitchen makeover on a budget today! This kitchen makeover reveal has been a LONG time in the making.
This definitely isn't one of those TV-perfect makeovers where everything is completely transformed in a week flat.
I actually did most of the work to transform our dark, dated kitchen two years ago!
But I never shared the finished room here because honestly, it never really felt completely finished.
Something was off. Finally this summer, I figured out which things weren't quite right and got to work finishing the space.
And now I absolutely love it!
This is how our kitchen looked before I started the makeover two years ago.
I had already replaced the dated linoleum floors with hardwoods but the rest of the kitchen was very dark, very dated, and very brown.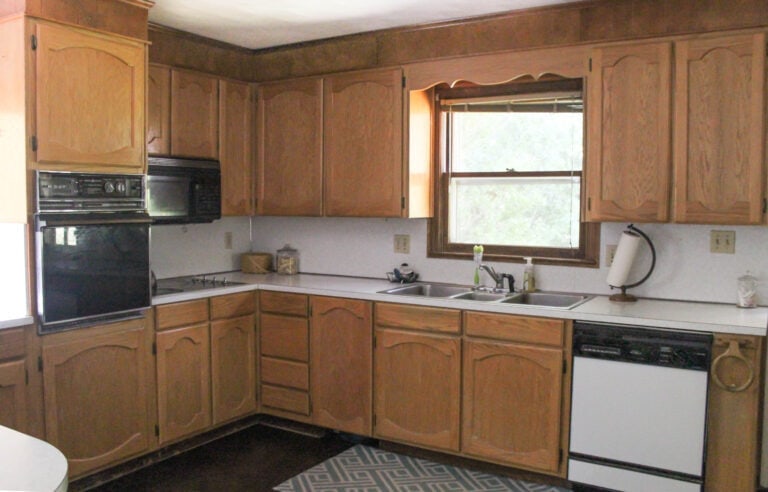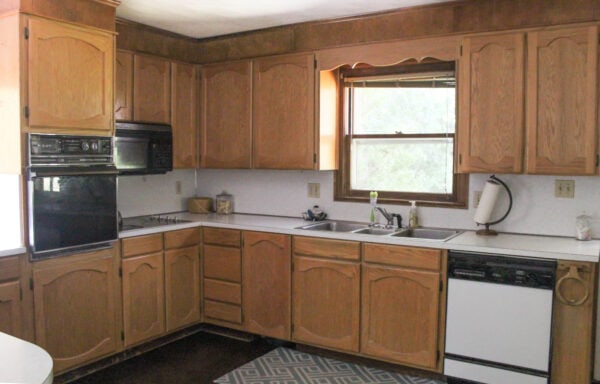 And now, after a LOT of paint, a bit of elbow grease, and some thrifting magic, here's how our bright and cozy kitchen looks now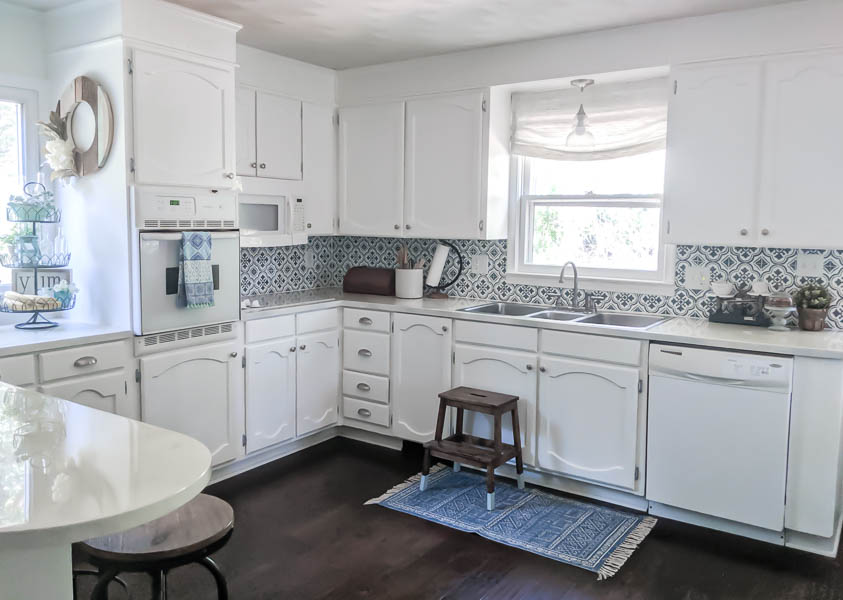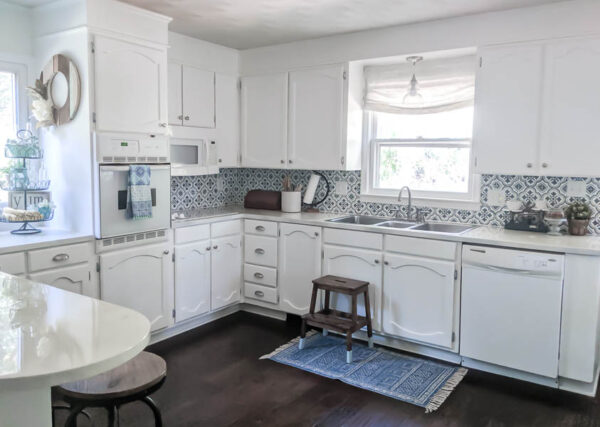 Now that is an amazing transformation if I do say so myself! And knowing that the entire thing including appliances costs less than $950 just makes it that much sweeter.
This post contains affiliate links which means if you make a purchase after clicking a link I will earn a small commission but it won't cost you a penny more. Click here to see my full disclosure policy.
Work with What You Have
I know that the trend these days is to completely gut a kitchen and start over from scratch with a whole new layout, new cabinets, new stainless steel appliances, etc. But that's just not my way.
And also, let's be honest, there's no way that was in the budget!
I think we are far too quick to decide we just need to burn it all down and start all over so we can have everything exactly how we want.
I may be in the minority, but to me, that just seems wasteful and silly.
I have absolutely no desire to spend tens of thousands of dollars to tear out our functional (but outdated) kitchen and replace it with a brand new kitchen that will likely be just as dated in a decade.
The absolute best decision I made with this kitchen remodel was to work with what we already had.
Yes, the cabinet door style was not my favorite. And you aren't going to find this old kitchen layout with a tiny wall oven in any design showrooms.
But the cabinets were in great shape. And once they had a fresh coat of bright white paint, the dated door style really wasn't a big deal.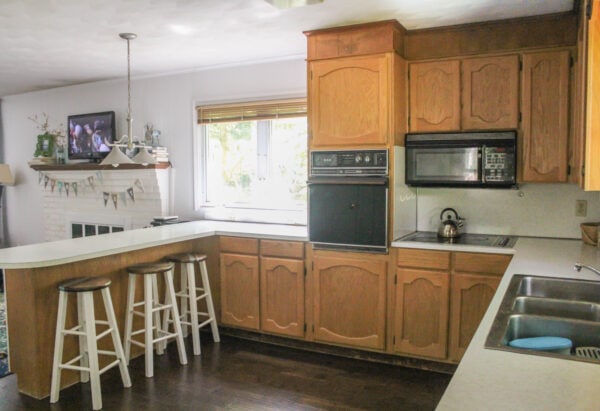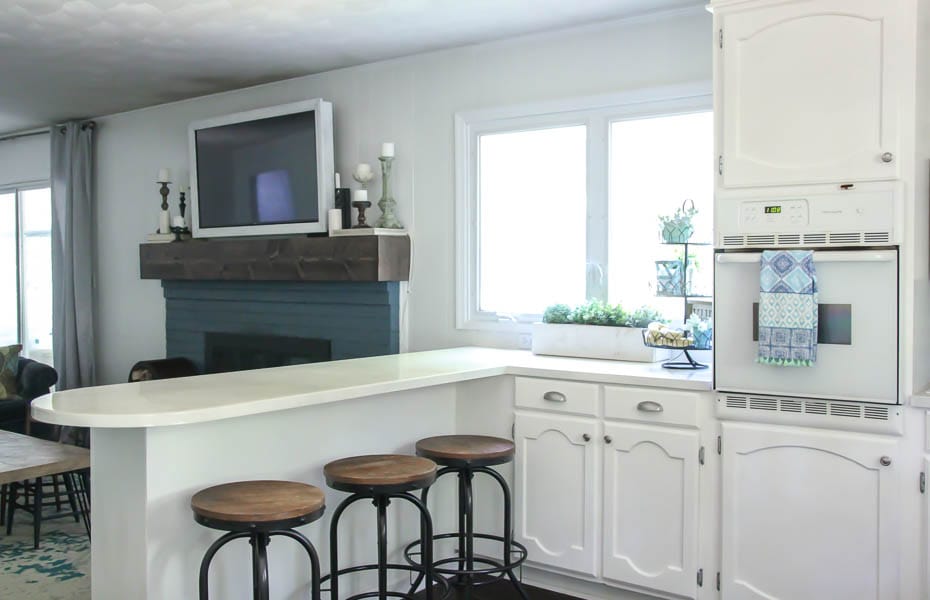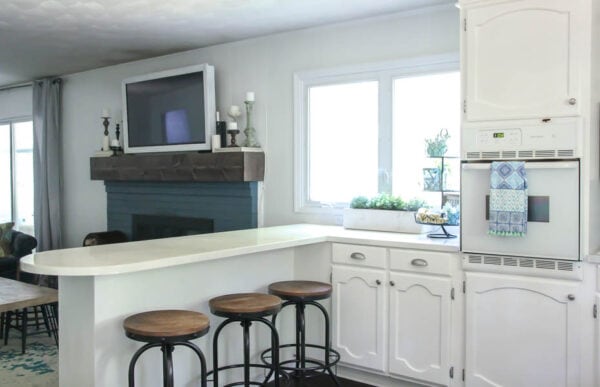 While this kitchen layout may not be the most popular at the moment, it actually works really well.
We're lucky that our house has a pretty open layout for a 1970s ranch with the kitchen looking right into the family room.
That long peninsula is the perfect spot for our three boys to eat breakfast.
And I actually love having our little oven in the wall rather than a more traditional range/oven combo.
It is much easier to keep my two year old away whenever I open the oven door since it's not so low to the ground.
And keeping it in place meant we could reuse our current cabinets rather than redoing the entire room.
Painted Cabinets
The most significant change in the entire kitchen was painting our oak cabinets white.
This room may look bright in photos, but most of the time it is very shadowy thanks to all of the wonderful trees around our home.
The bright white cabinets help reflect the little natural light this room does get.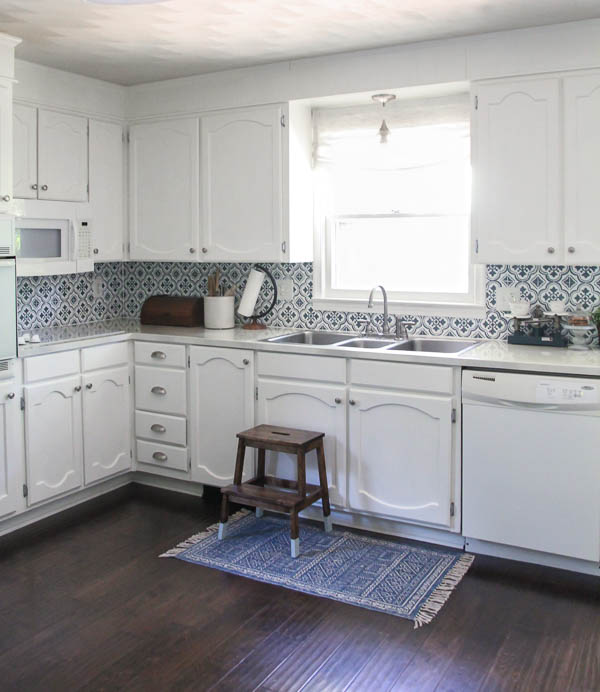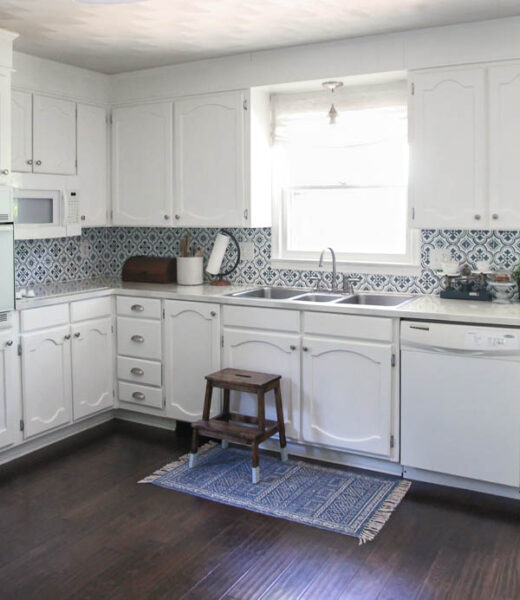 I'm also VERY glad that I took the extra time to do a few extra steps and completely eliminate the heavy wood grain from showing through the white paint.
The smooth paint finish definitely helps everything look more modern and fresh. (There are more details on that whole process here.)
I reused the hinges that were already on the cabinets, simply updating them with a bit of rub 'n' buff.
I also added new drawer pulls and cabinet knobs that I scored for a steal at a yard sale of all places! (I have a list of other great spots for budget hardware right here since I know we all can't be so lucky!)
Painted Countertop
The other thing that was truly dating the kitchen was the old gold speckled laminate countertops and backsplash.
I'm sure you've probably seen similar laminate before – it was very popular at some point many years ago.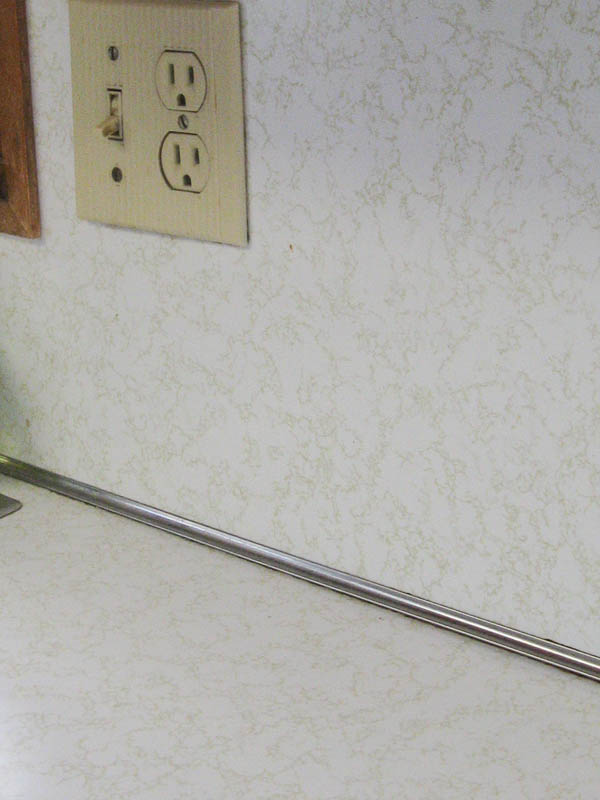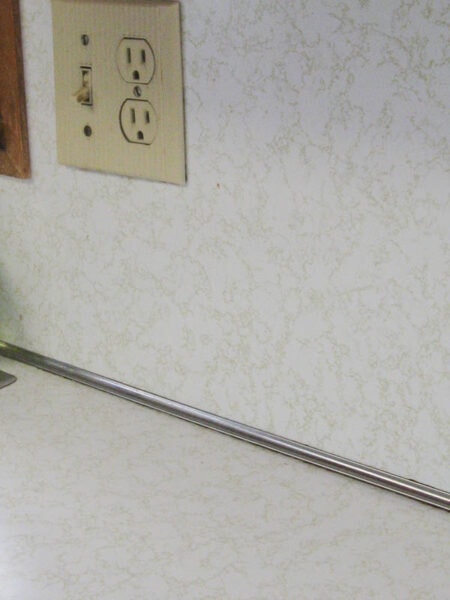 We are lucky enough to have tons of counter space which is wonderful for cooking but also means replacing our old counters would not be cheap.
I considered all kinds of options for replacing our countertops inexpensively: butcher block, new laminate, concrete.
But they were all still going to cost more than I was willing to spend, so I decided to keep things simple with paint.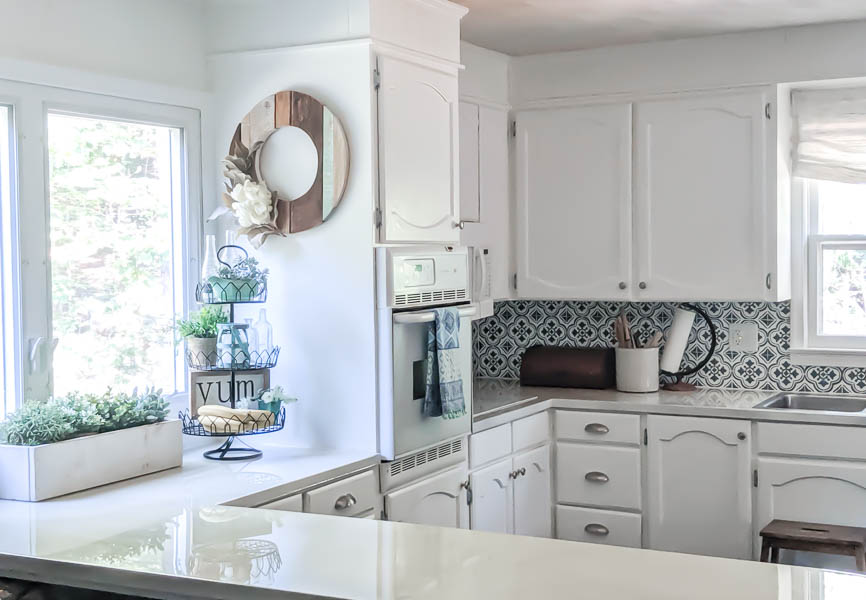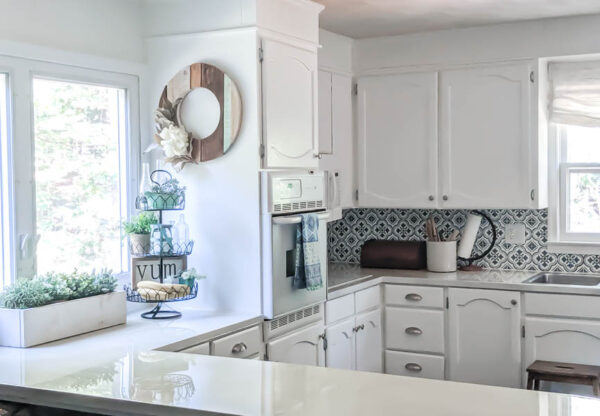 I did get a little fancy using a pour-on topcoat rather than regular old polyurethane.
This topcoat was more expensive than poly and I have some mixed feelings about whether that was the best decision and will be sharing an update on all the pros and cons soon.
But for now, I'll just say that it looks beautiful and fresh and shiny and about a million times better than the old countertops.
It's hard to tell from photos what a huge difference painting the countertops made but in person they look completely different.
The work of painting them was 100% worth it!
Stenciled Backsplash
Even though I kept the old countertops in place, the old backsplash had to go.
It was over an inch thick and was basically swallowing the outlets and window frame in a weird way.
So I pried the old laminate off the wall and was left with plain drywall underneath.
Again, I considered various options including tiling. I may be in the minority, but I actually enjoy tiling – it reminds me of putting a puzzle together. (Yep, in case there was any doubt, I'm a huge nerd and love a good jigsaw puzzle from time to time.)
But I wasn't completely sure how long my painted countertops would last, and I didn't want to install a backsplash that would be ruined if we had to replace the countertops later.
So I decided once again to stick with good old paint.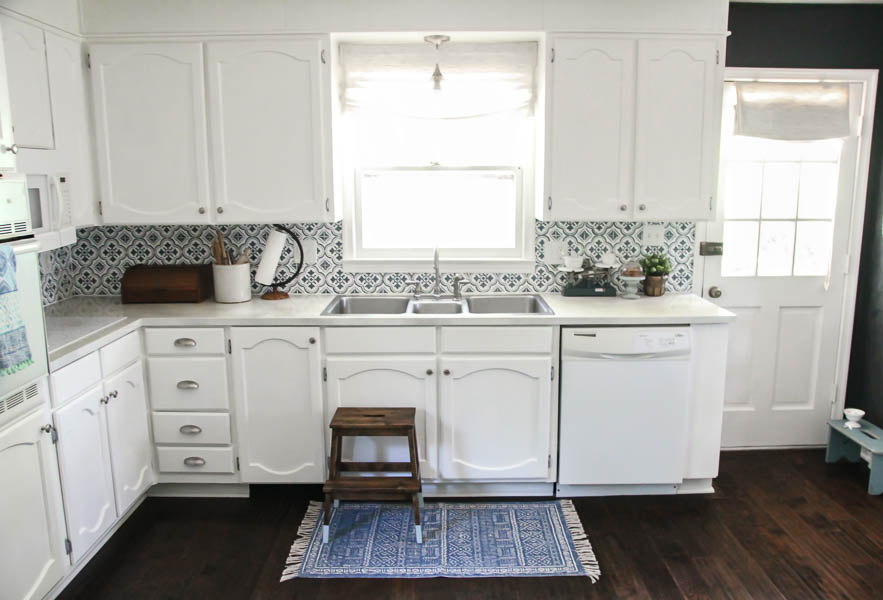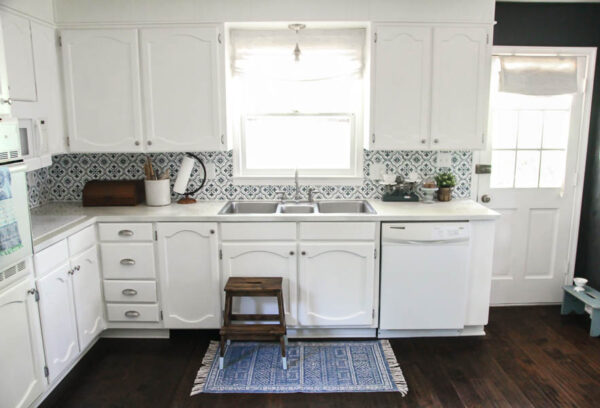 I am loving the patterned concrete tiles that are everywhere right now.
I realize they aren't exactly timeless and will probably look dated in a few years as well.
But I figured that of all the major components of a kitchen, the backsplash is the easiest to change.
And I was right, because I have already changed it! I originally stenciled the backsplash two years ago using a light aqua paint and a floral tile stencil.
And it was really cute, but the kitchen as a whole was just way too white.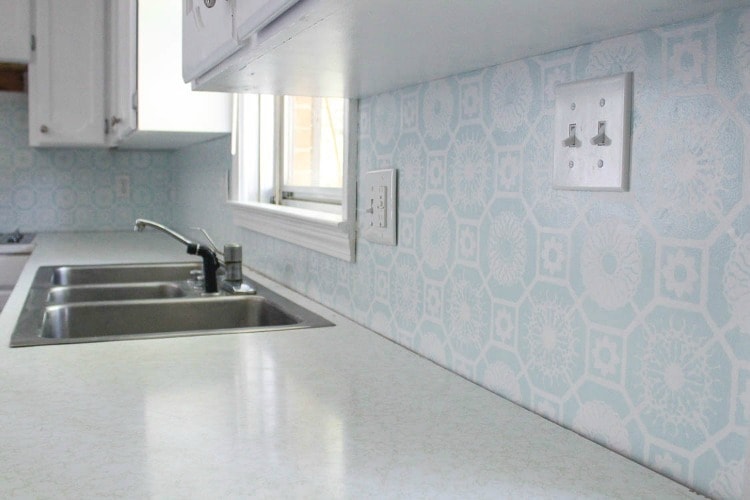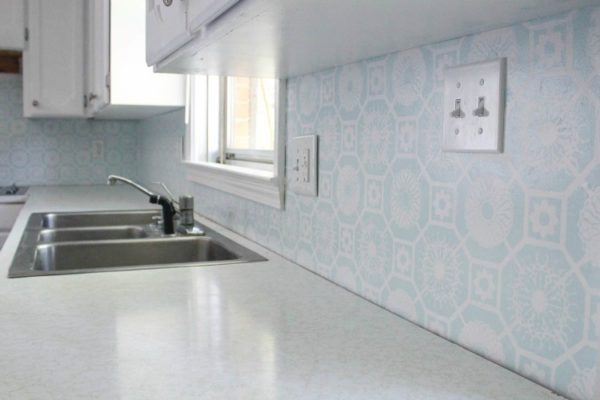 So I decided to repaint it this summer with a new stencil that was a bit more modern and a deeper color to give some contrast to the sea of white.
I used the same deep blue paint color I used for our fireplace and it wasn't exactly a quick and easy project, but I am so glad I did it.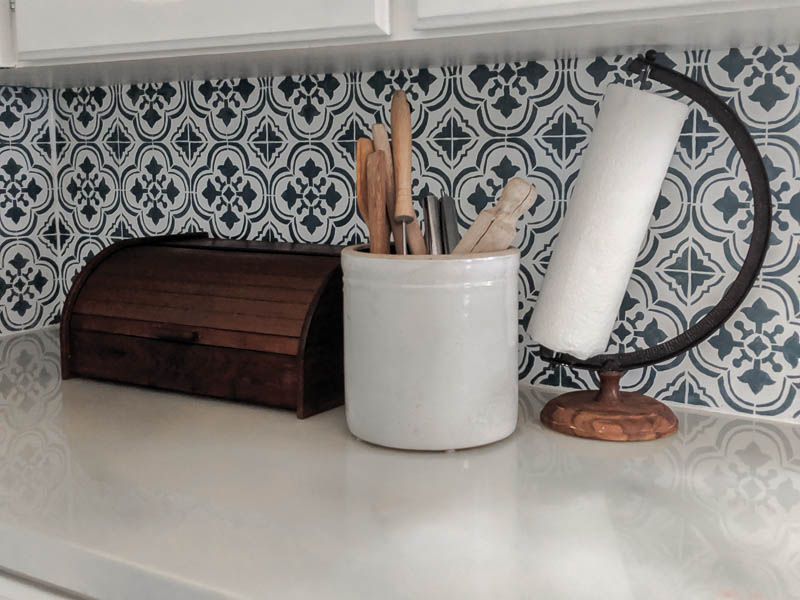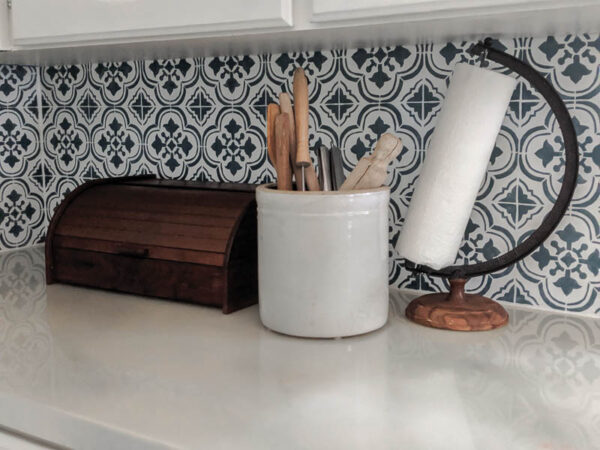 It was just what this room needed to help ground it. You can find my updated post on stenciling a backsplash here.
Simple White Appliances
Our old appliances definitely had to go. They were big black eyesores from the 1970s and 1980s that didn't have a ton of life left in them.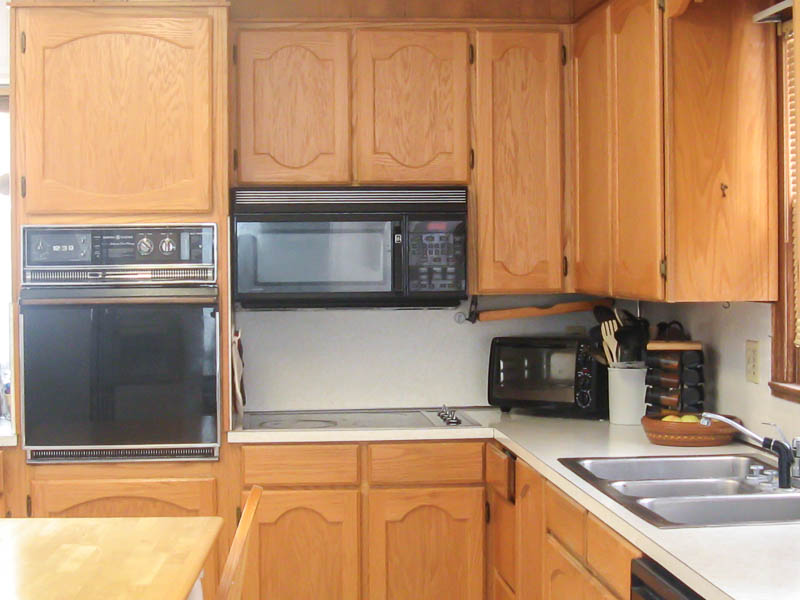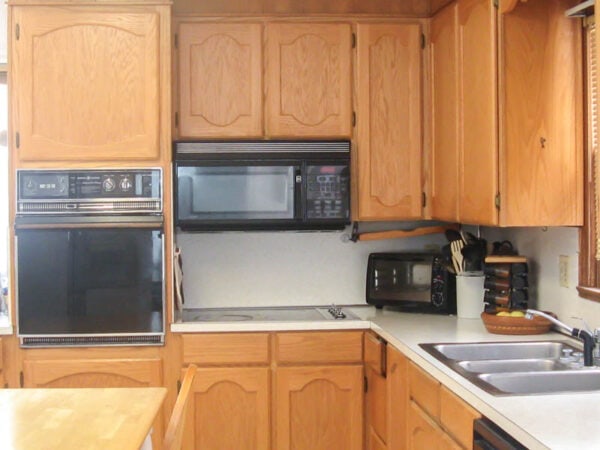 I know that stainless steel appliances are pretty standard these days and couples on House Hunters have been rejecting homes for not having them for years now.
But honestly, I'm just not a huge fan of most stainless steel. And with the layout of our wall oven, stainless steel would literally be right in your face.
Instead, I chose to go with classic white appliances. They blend right in with our white cabinets so your eye goes to the backsplash and other decorative touches instead of the appliances.
I know white appliances aren't for everyone, but I love them.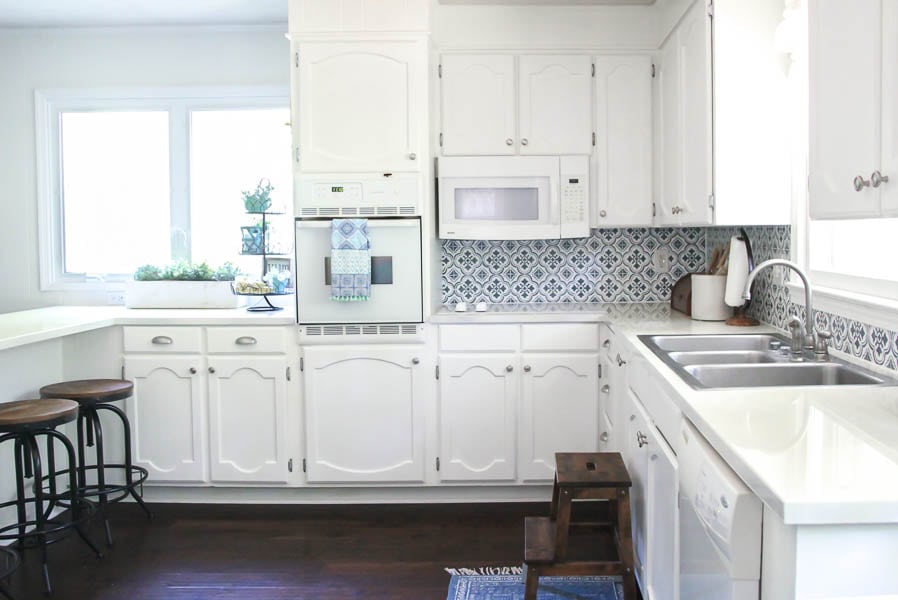 Choosing white appliances also had the added benefit of being much more affordable.
After several weeks of searching for a good deal, I bought our white oven, range, microwave, and dishwasher all from Craigslist for $400 total.
They aren't all a matched brand-name set, but I really don't care. I'm not really a brand name kind of girl and I am just thrilled I was able to find a tiny oven the right size to fit in our existing cabinet!
Kitchen Decor and Other Details
To complete the update, I also painted the door and window bright white, replaced the light switches and outlets with fresh white ones, made new window shades, and replaced the old lighting with inexpensive fixtures.
And then I had fun with accessories! I added lots of beautiful wood tones to warm up all of that white.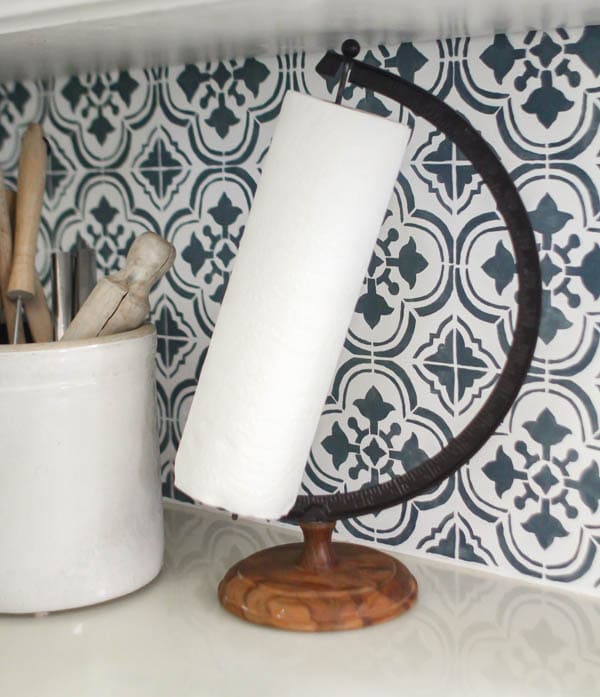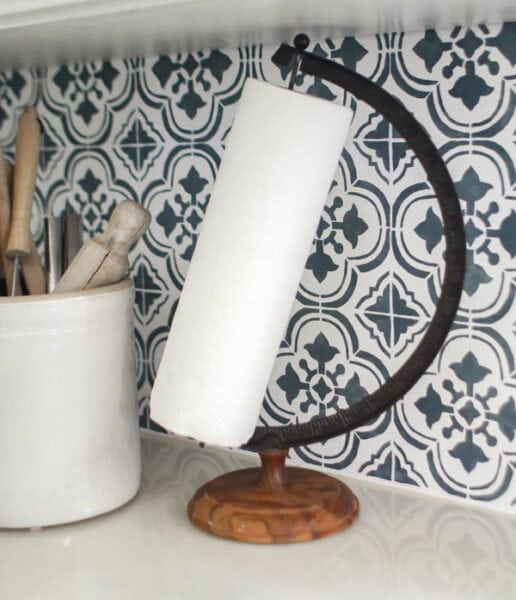 My globe stand paper towel holder has been a favorite for a long time.
And I added a few other favorite vintage finds. An old crock to hold cooking utensils and a bread box.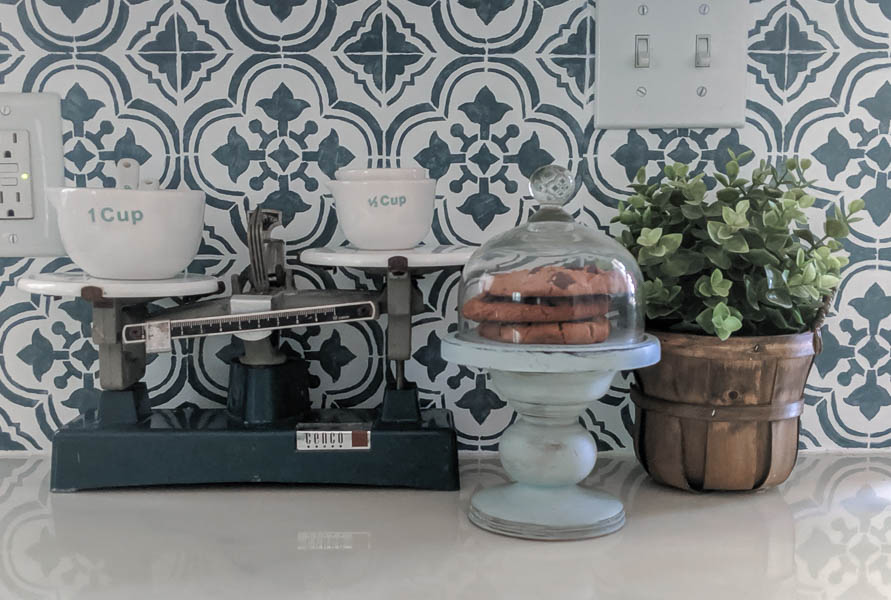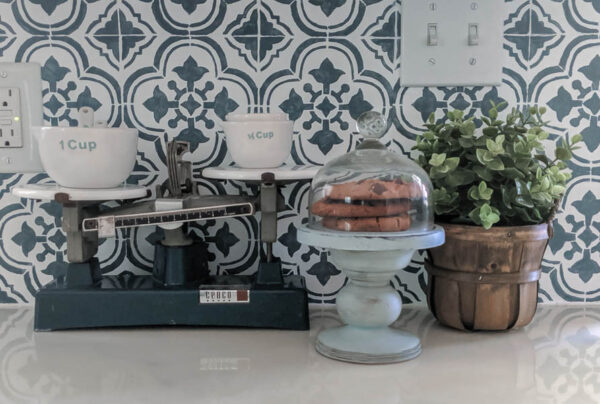 This old scale was one of my favorite thrift finds from this summer and the little cupcake stand was a recent DIY project.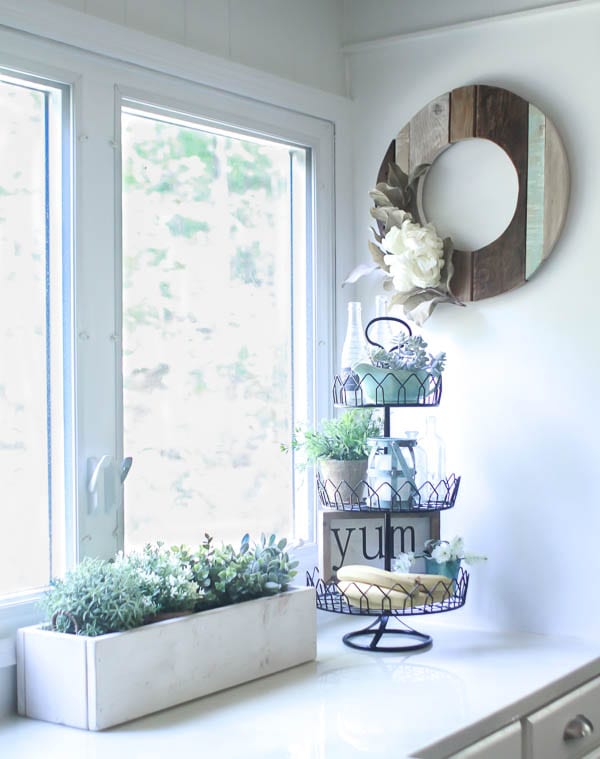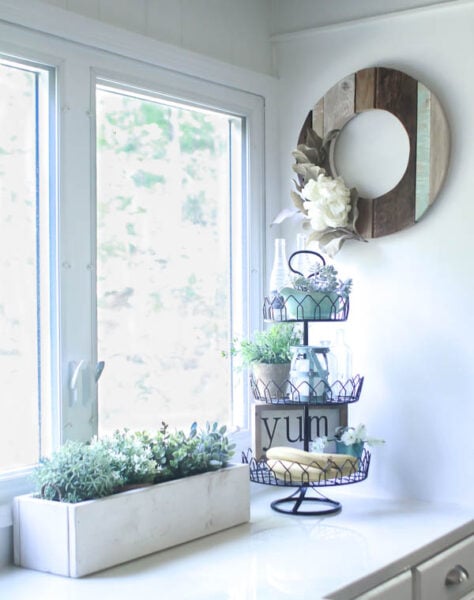 On the other side of the room is a three tiered tray where we keep a lot of our fresh fruit along with some old glassware and small plants.
And next to it is a long planter box I built a few years ago. It used to hold a sweet herb garden, but well, it died.
And in the interest of not harming further plants, I just have some little faux herbs there now. (I'm a plant killer and I've come to accept it.)
Hanging on the wall is one of my favorite DIYs ever, my cute little reclaimed wood wreath.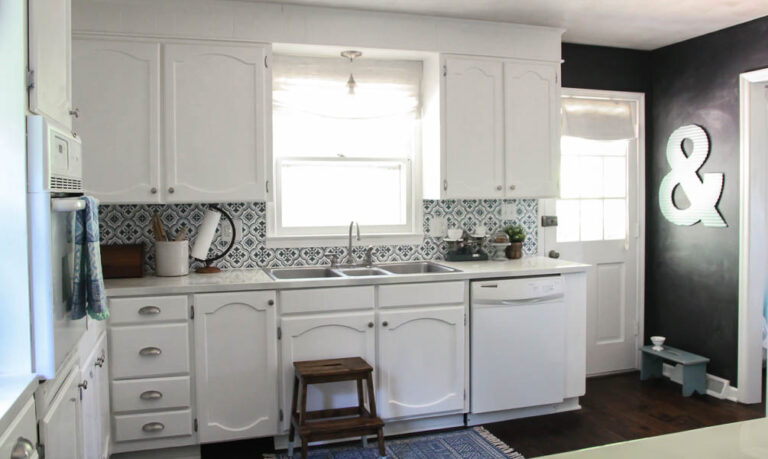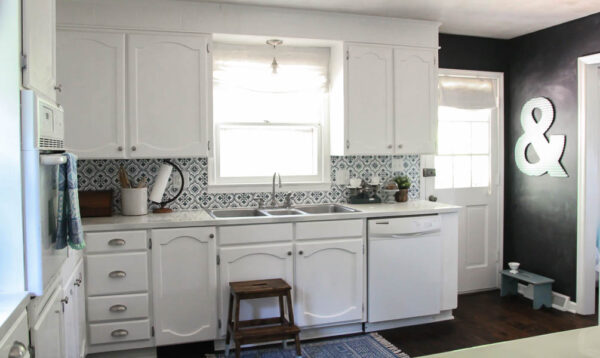 In the corner is a little sliver or a wall that I painted with chalkboard paint a few years ago that my kids adore drawing on.
I used to have our industrial family command center here, but I didn't love how messy the papers always looked.
So I moved it into a closet and hung this big metal ampersand here instead.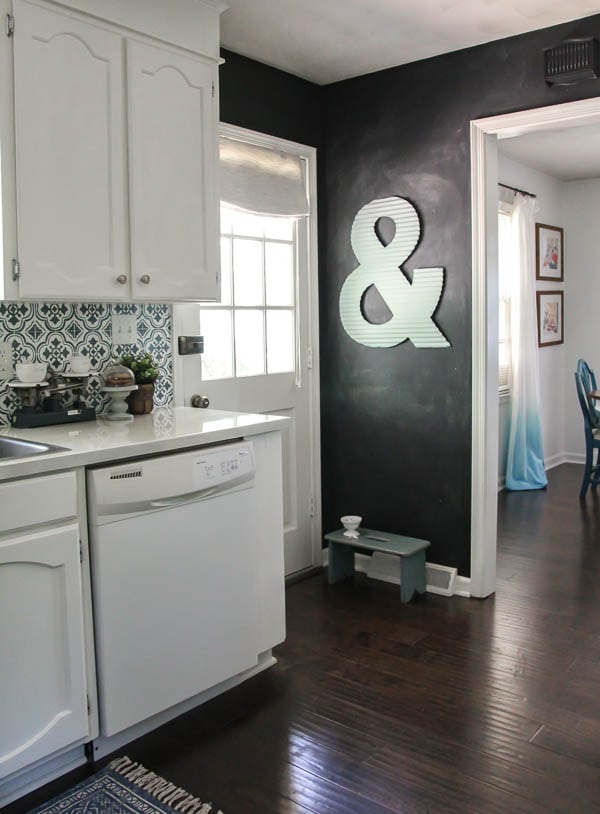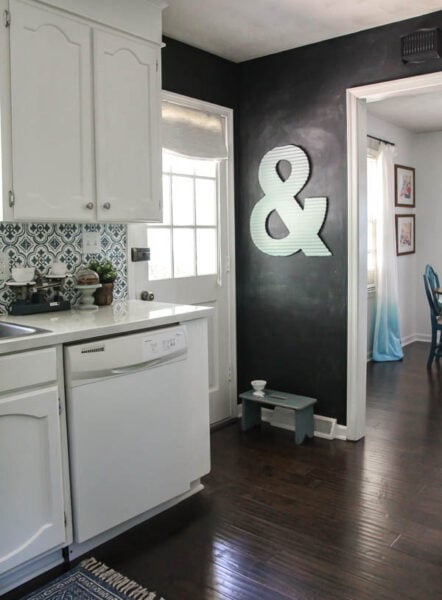 And that's our Budget Kitchen Makeover! It has completely changed the feel of our entire home and looking at these photos reminds me just how far our home has come over the past few years!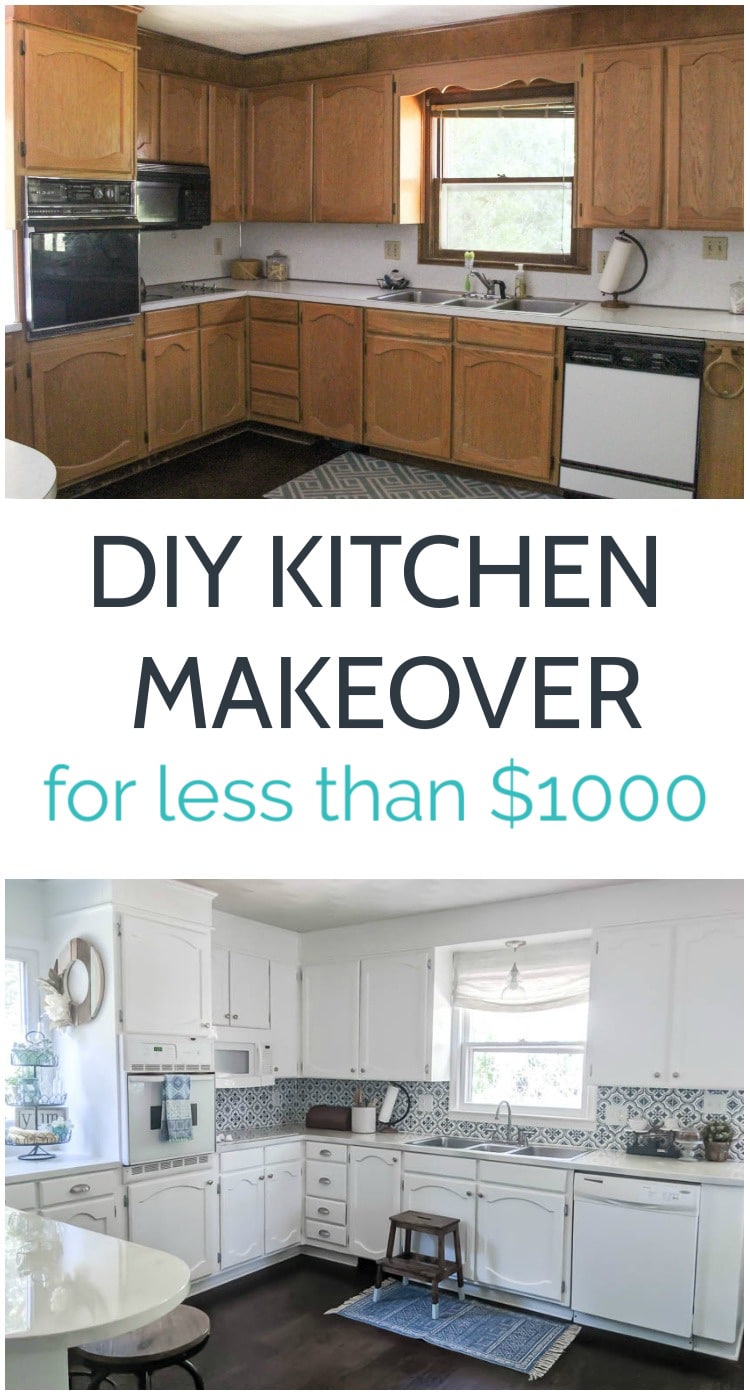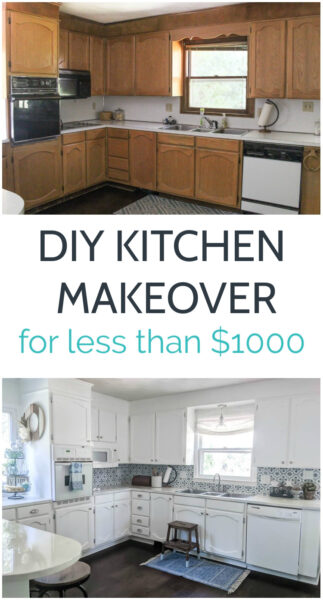 Kitchen Sources and Cost
Cabinets: Painted with DecoArt Satin Enamels paint in Pure White, $40
Cabinet Hardware: I used these Drawer Pulls and Cabinet Knobs bought secondhand, $20
Countertops: sealed with Envirotex Lite pour-on finish, $290
Backsplash: stenciled with Santa Ana Tile Stencil, painted with Valspar Bright White and Sherwin Willaims Blue Mystery (from their line at Lowes), $30
Appliances: bought secondhand, $400
Pendant Light: This basic pendant light kit and this seeded glass globe from Lowes, $32
Stools: These stools from Wayfair, purchased with a gift card, $0
Kitchen Rug: from TJMaxx, $17
Faucet: Delta Standard Faucet with Sprayer, $70
Fabric for window treatments: $20
Stepstool: Bekvam stepstool from IKEA, $20
All accessories: already owned, $0
Total Cost: $939
Since most kitchen remodels cost $10,000 or more, I'm pretty thrilled that I was able to completely transform the room for less than $1000.
And if I had chosen a different counter topcoat and hadn't needed new appliances, the total would have been closer to $350.
Definitely proof that a beautiful kitchen doesn't need to cost a lot!
Kitchen DIY Tutorials
If you have a kitchen that you aren't loving, I hope you feel encouraged that you really can create a beautiful home without spending a lot of money!