You guys probably already know that I love a good yard sale. I love thrift shopping of all kinds, but all of my best finds are from yard sales and estate sales.
Yard sales are my number one source for unique, vintage decor for our home. I love that I can find things in any style, from any time period and everything has a story.
And of course it doesn't hurt that you can find stuff insanely cheap – especially when it needs a bit of TLC to bring it back to life.
I used to head out to shop at yard sales every single weekend, but I've cut way back. I still love the thrill of the hunt, but it's tough to find the right balance between my love of thrifting and my desire for a non-cluttered home. Even so, I did manage to fit in several great yard sale weekends this summer.
It's been a long time since I shared my thrifty finds here on the blog. I used to share my favorite finds all the time but then I started to wonder if anyone actually cares about seeing my yard sale treasures. It's not like you can run out and buy the same thing if you see something you like.
But then I realized that I still love to see other people's thrift scores – especially the fun vintage stuff. It gets me excited about getting back out there and searching for my own treasures and it also gives me new ideas of things I want to keep an eye out for. And if I love it, I figured there's a pretty good chance some of you do as well. So today I am sharing a few of my favorite vintage finds from this summer.
And I also have a great series of posts full of tips for finding the best stuff at yard sales and estate sales if you aren't really sure where to start.
My Favorite Thrifted Finds of the Summer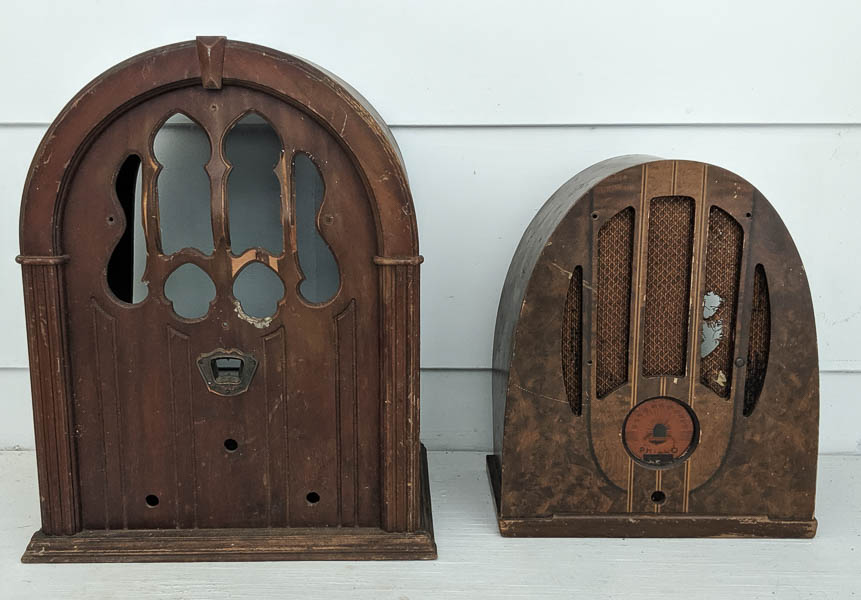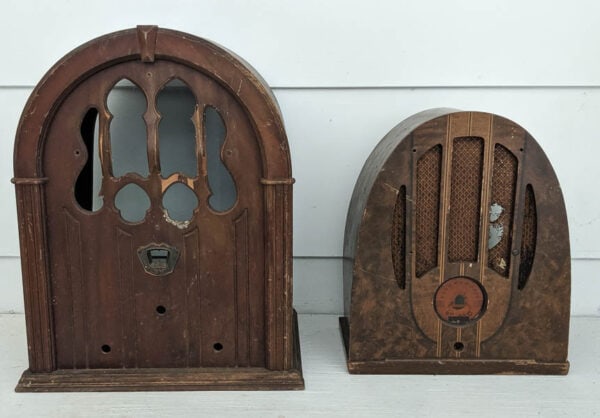 First up, I picked up these two vintage radios for $2 each! They are just empty wooden cases with all of the radio guts removed and they are not in great shape. But I love the shape and details of each of them. I've already found a great repurpose for the larger one – it's super out of the box and I can't wait to share photos this fall. I'm still brainstorming for the smaller radio.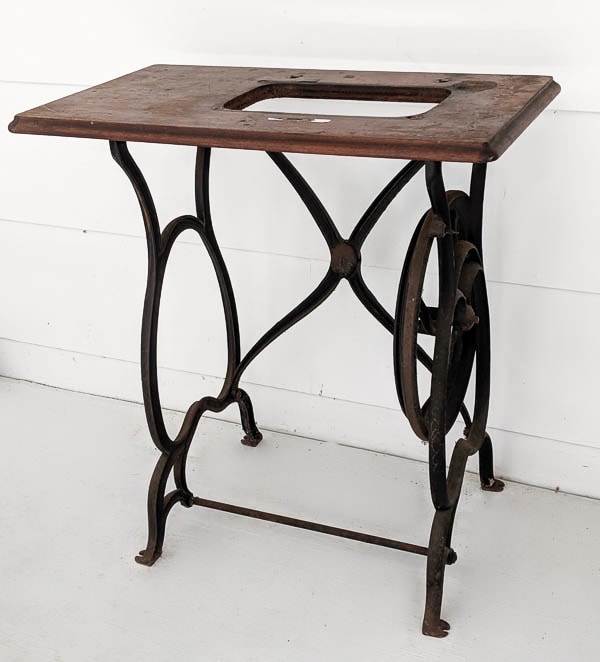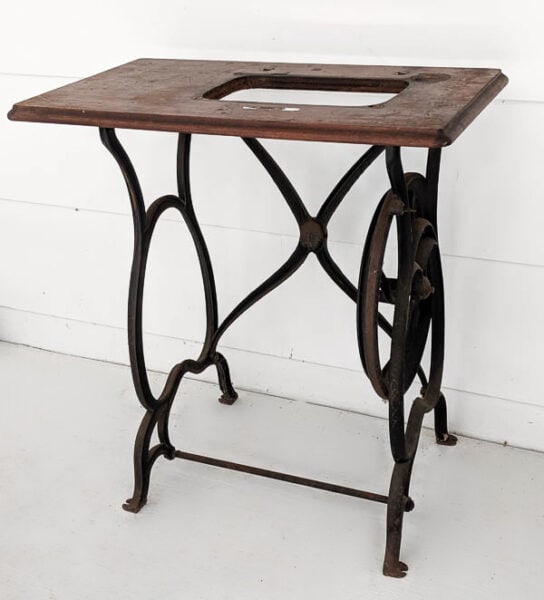 I snagged this old sewing machine table for $15. I love that the legs are a simpler design than most old sewing machines. I'm hoping to take it apart and reuse the legs for a longer console table.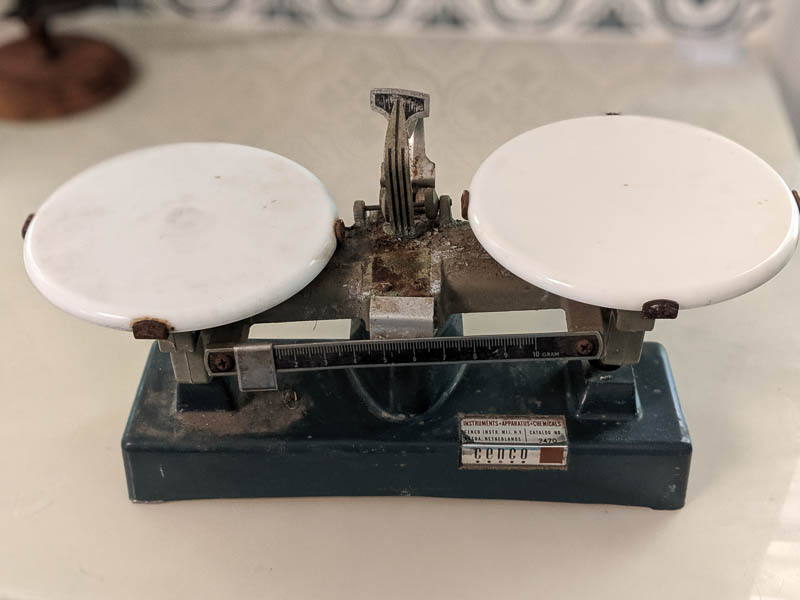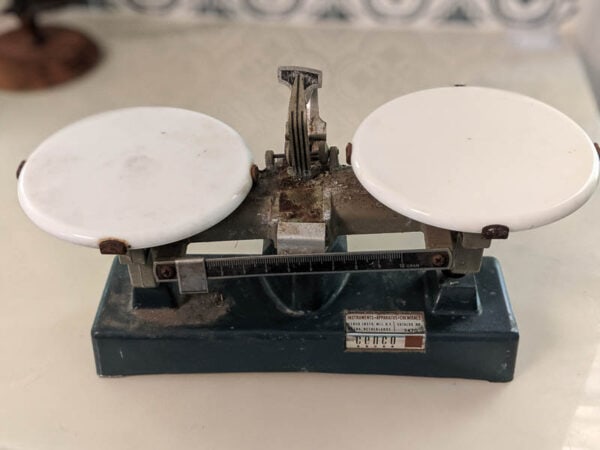 There is something I just love about old scales. I picked this one up for ten dollars. All it really needed was a good cleaning and now it would look fantastic in almost any room in our house. (I've got a whole post on fun ways to decorate with old scales and balances right here.)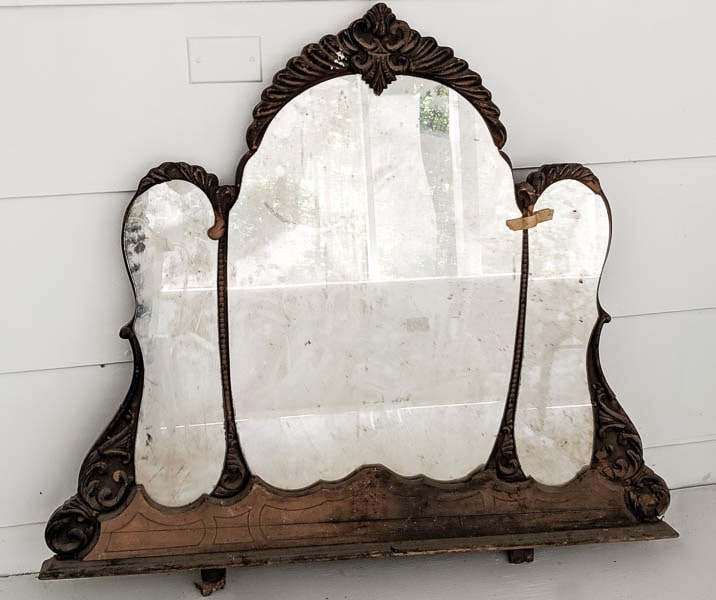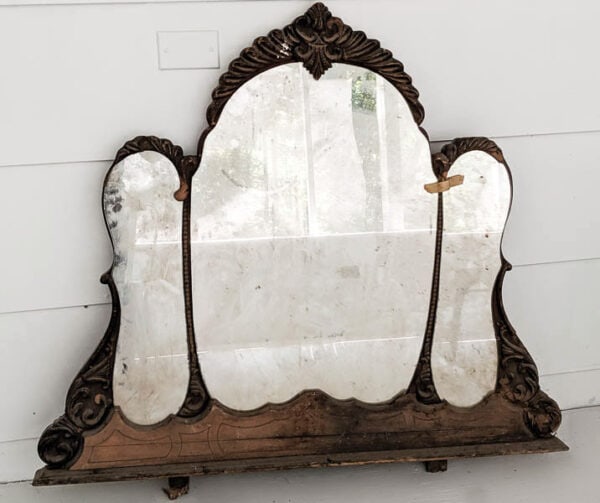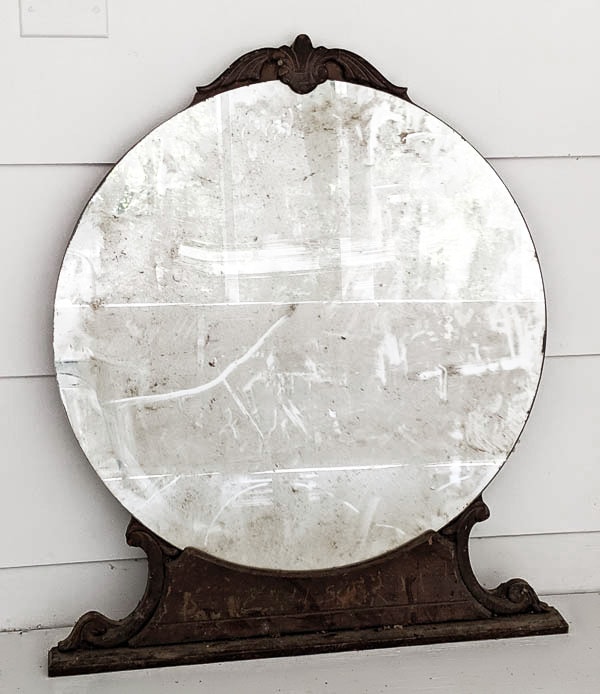 I absolutely love antique mirrors. They have such gorgeous details and they're actually useful! I saw tons of old mirrors and these are the two that came home with me. I got the pair for $12. They are both in rough shape and someone carved Paul Sucks in the wood of the circle mirror. But even so, they both have so much potential! I already have quite a few antique mirrors in our home but I just couldn't pass these up.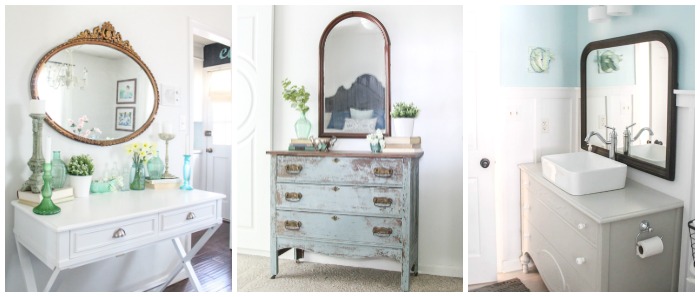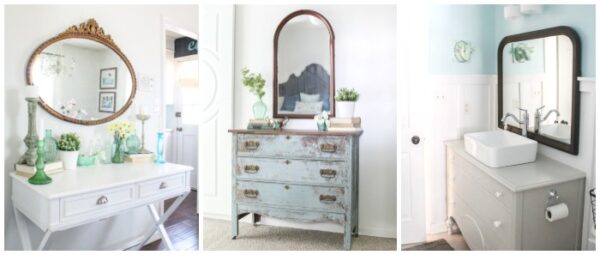 Some of the other old mirrors around our home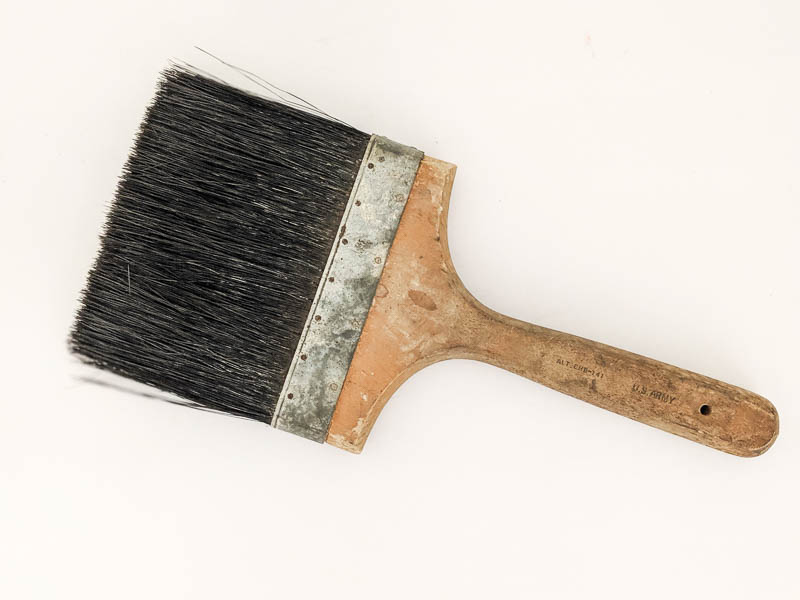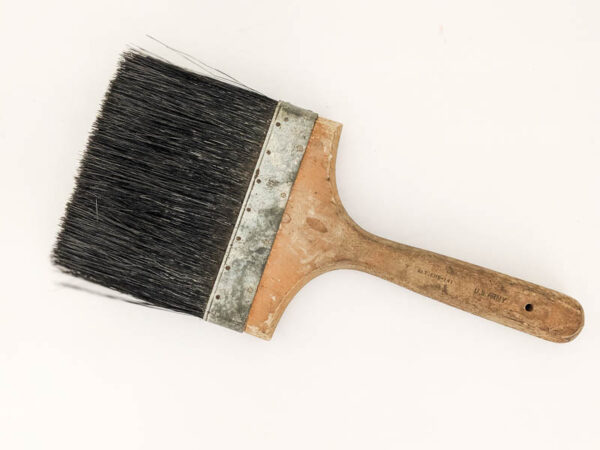 I found this huge old paintbrush stamped US Army at a local yard sale for a dollar. It may just look like a normal old paintbrush, but trust me, it's huge! As in bigger than my head!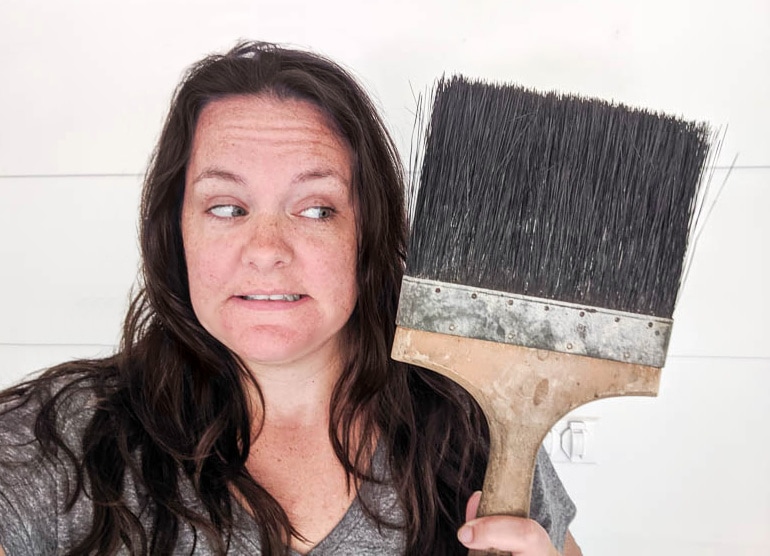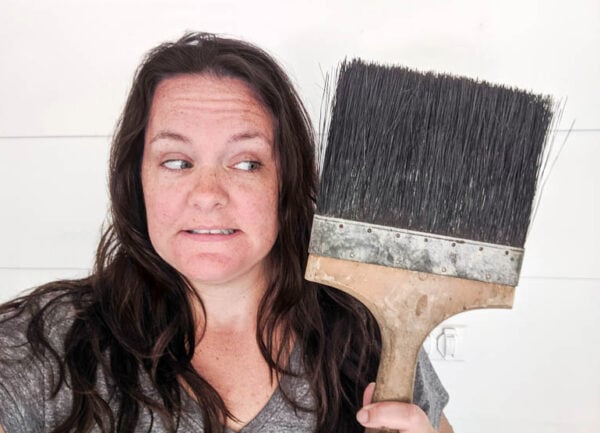 I know it is incredibly random but I love it. I would love to find a great spot to display it on the wall somewhere.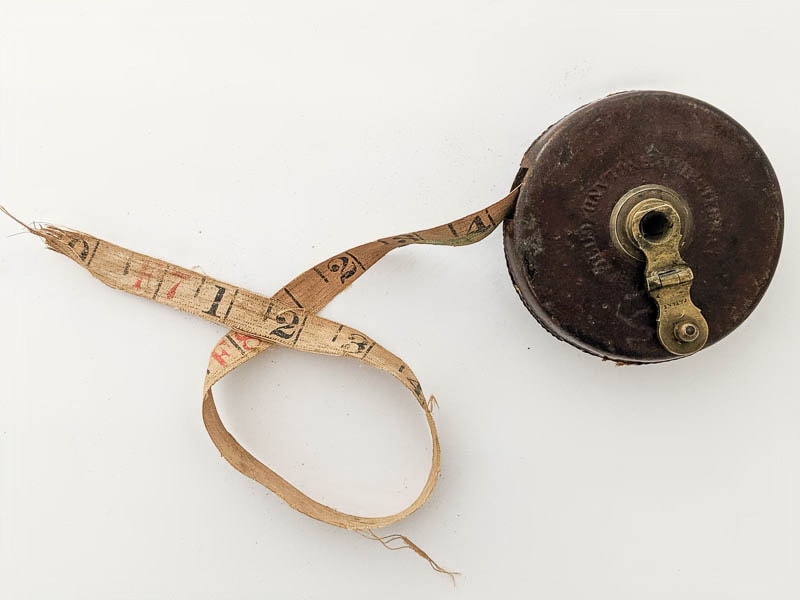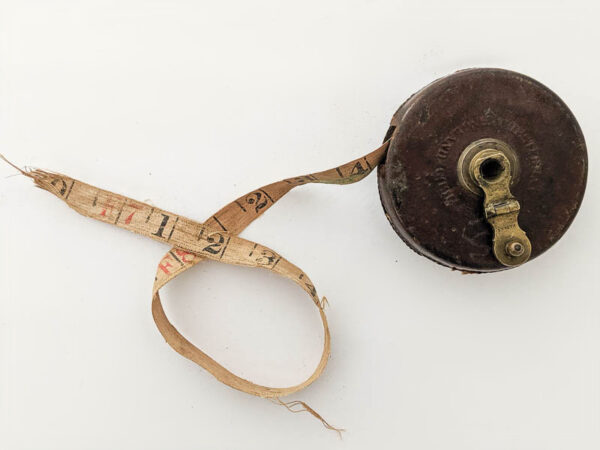 I also picked up this old tape measure for $3. It isn't useful as a tape measure anymore. The tape is made of fabric and the first few feet are missing. Which means I don't have to feel any guilt for dismantling and using the numbered fabric ribbon for some sort of project. I have zero idea what that will be though so if you have any ideas, I'd love to hear them!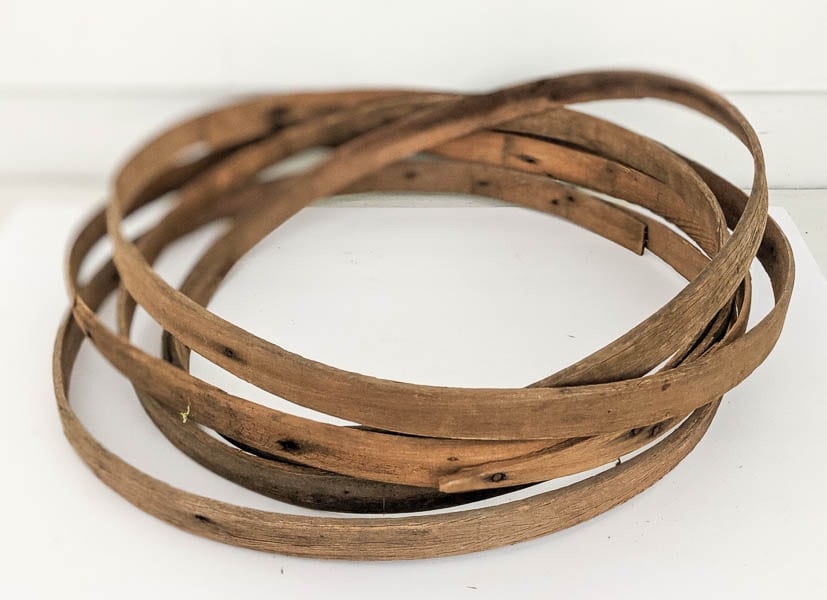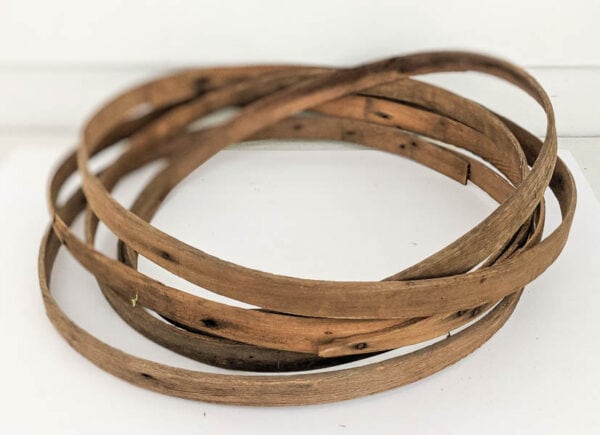 I got a whole set of these old wooden hoops. They are around 18 inches in diameter and I'm assuming maybe they came off old barrels but I don't really know. I see so many possibilities for these: an orb light fixture, a minimalist farmhouse wreath, an interesting feature wall. I'm having a hard time committing to just one idea!
Those are a few of my favorite finds. It was so hard not to buy a million more things, but I really am working hard not to bring home anything I don't completely love.
I'd love to hear about your own favorite thrift finds from this summer. And if you have ideas for any of my finds, I would love to hear them – especially that tape measure! I know it could be something amazing, I just have no idea what!