Take your next furniture makeover to the next level with these ideas for updating furniture hardware and making your own DIY drawer pulls, plus my favorite places to buy replacement hardware and a clever trick for finding free hardware.
Choosing the right hardware for your furniture can make all the difference in how your finished pieces look.
And if you are painting furniture to sell, the right hardware can mean the difference between a piece that sells quickly and one that doesn't sell at all.
Sometimes the furniture you're painting has great vintage hardware that already looks fabulous.
But sometimes it has drawer pulls from the 1980s that just make the whole thing look outdated. And sometimes half the hardware is broken or completely missing.
When the original hardware just isn't going to work for your furniture makeover, you have three choices.
You can give the original hardware a new look.
You can buy new hardware.
You can make new DIY drawer pulls and knobs.
Today I'm sharing ideas for all three choices including tons of creative ways to update furniture hardware, gorgeous DIY drawer pulls, and my favorite sources for buying new hardware.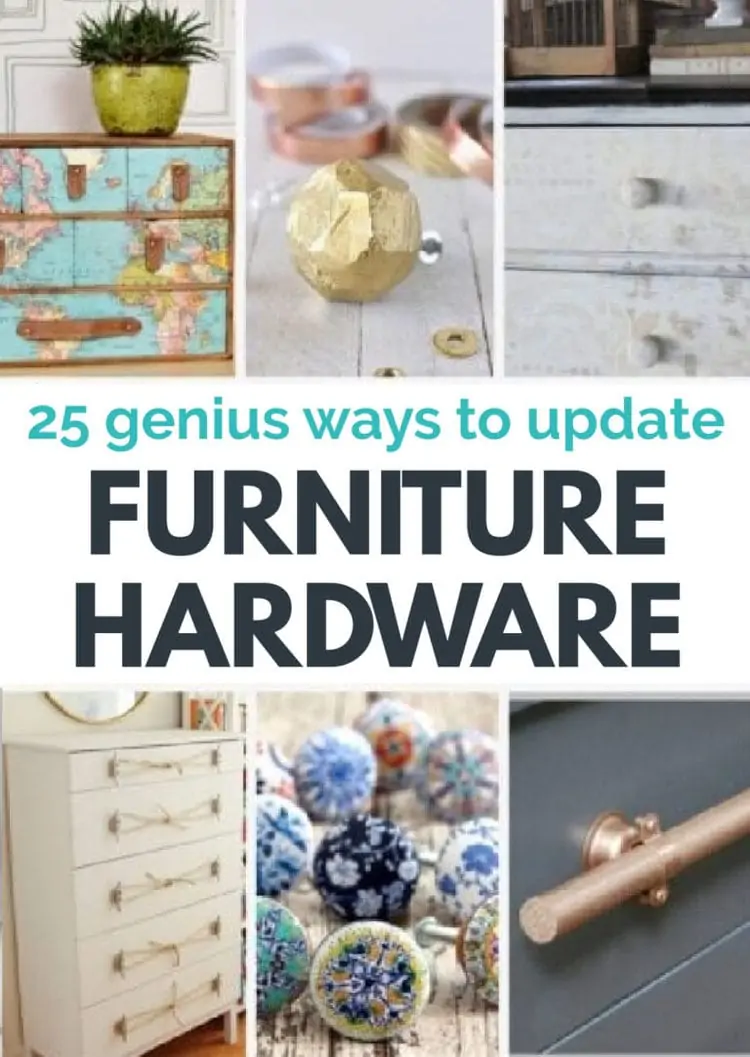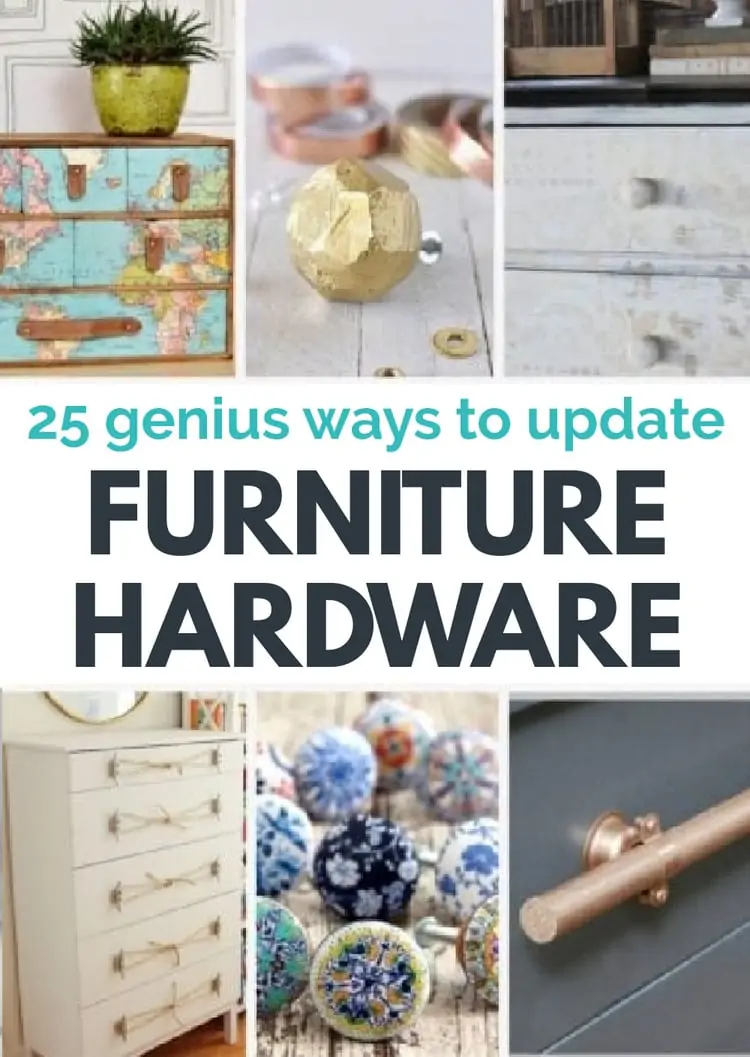 Choose your hardware first
I can't start sharing all of these amazing furniture hardware ideas without a quick reminder not to leave your hardware decisions for the end of your project.
It is so easy to get caught up in a furniture makeover and start worrying about whether you need primer and what paint you should use and forget all about the hardware.
That can turn into a huge problem when you finish painting a gorgeous piece of furniture and then realize the holes for the original drawer pulls aren't in the right spots!
This is actually a pretty common problem because vintage furniture drawer handles can be all kinds of random sizes and sometimes it's hard to find new hardware that exactly fits the old hardware holes.
You can save yourself a lot of grief if you take a few minutes to figure out what type of hardware you want to use before painting your furniture.
That way if you do need to change the hardware placement, you can easily fill the old holes and drill new ones before painting.
25 Ways to Update Furniture Hardware
I've gathered 25 creative ideas for updating old furniture hardware or even making your own DIY drawer pulls. There are gorgeous ideas here for any style of furniture and they're all simple and inexpensive to make.
This post contains affiliate links which means if you make a purchase after clicking a link I will earn a small commission but it won't cost you a penny more. Click here to see my full disclosure policy.
Best Places to Buy Furniture Hardware
Sometimes there just isn't a great DIY solution and you need to buy new hardware for your furniture redo.
Maybe you're missing some of the original hardware or maybe you're just looking for a completely different feel.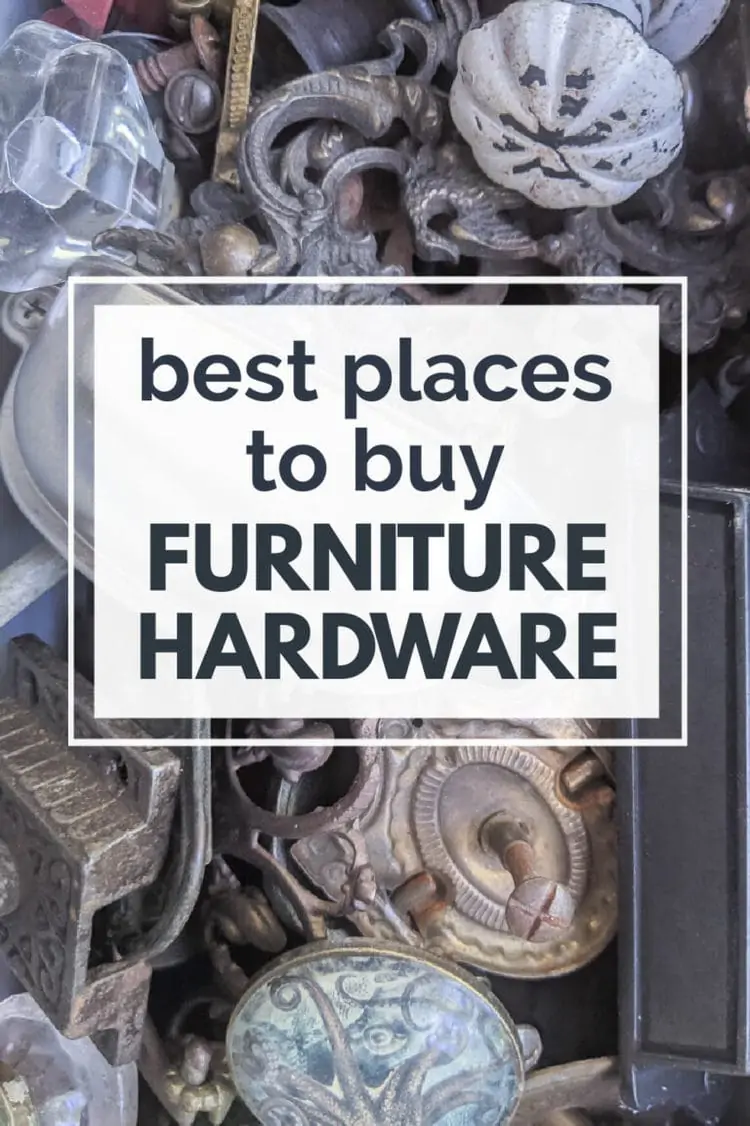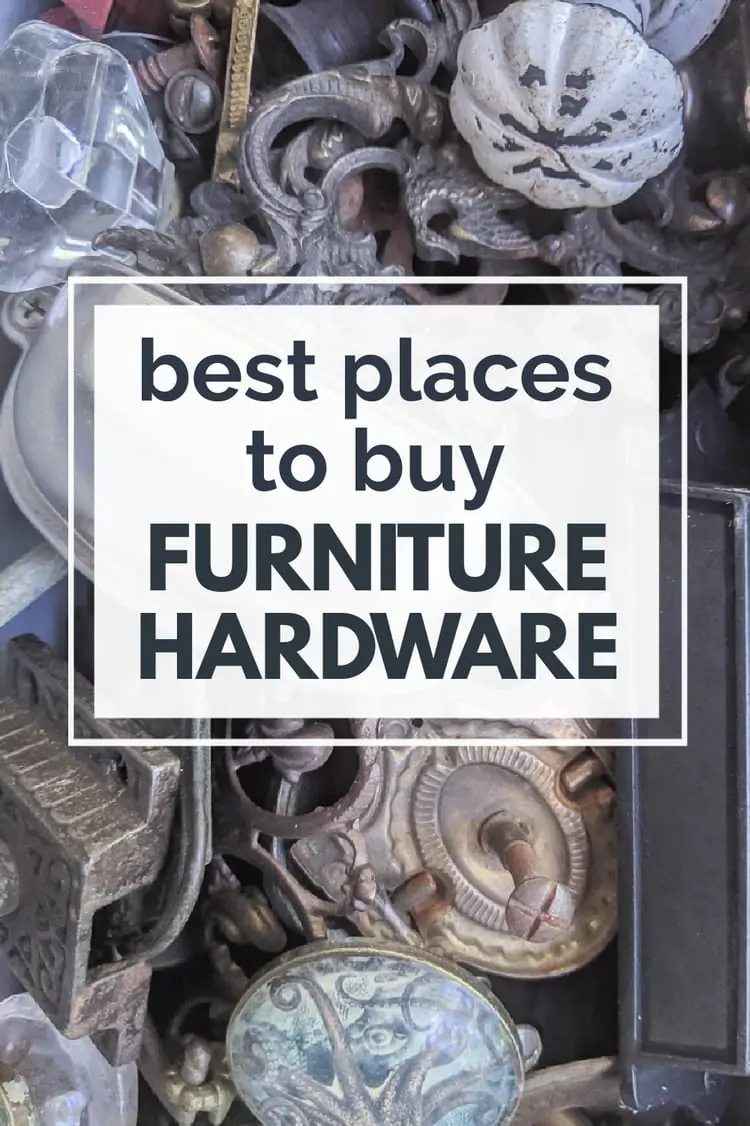 These are my top suggestions for finding the perfect furniture hardware. These stores are filled with amazing hardware choices whether you're planning to completely replace the old hardware or looking for the perfect match to replace a missing pull.
How to Find Free Furniture Hardware
I have one last super unorthodox tip for finding great furniture hardware for super cheap or even free.
People often put busted up dressers and chests out with the trash or sell them for just a few dollars. And while the furniture itself may no longer be usable, the hardware is still just fine.
Even when the furniture isn't salvageable, there's no reason to throw away great hardware. You can easily remove the hardware and give it new life on a different piece of furniture.
Yes, it sounds a bit strange, but if you're keeping usable items out of the landfill and finding great (free) vintage hardware for your furniture projects, I call it a win-win.
Now you know everything you need to find or make the perfect hardware for your next furniture project!
More furniture makeover posts I think you'll like: