This free printable Christmas Planner will help you get organized for a stress-free Christmas. There are 27 pages of organization help including pages to help you stay on top of Christmas shopping, budgeting, decorating, Christmas dinner, and more.
As much as I love Christmas, I'll be the first to admit sometimes it can feel overwhelming staying on top of everything.
I'm the main magic-maker in our house which means I do the majority of the Christmas shopping, cookie baking, meal planning, decorating – basically all of the things that make Christmas happy and celebratory and fun.
And while I truly love doing almost all of those things, it is a lot to keep track of. I usually have a bunch of lists on my phone along with random notes scattered around the house.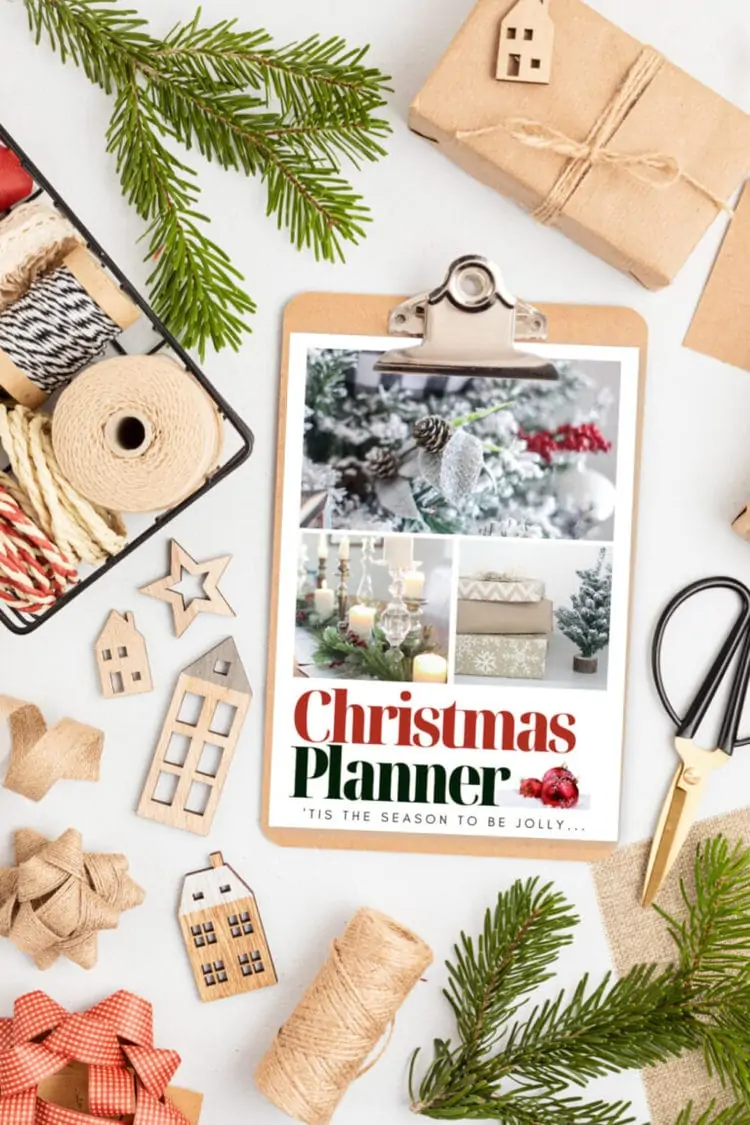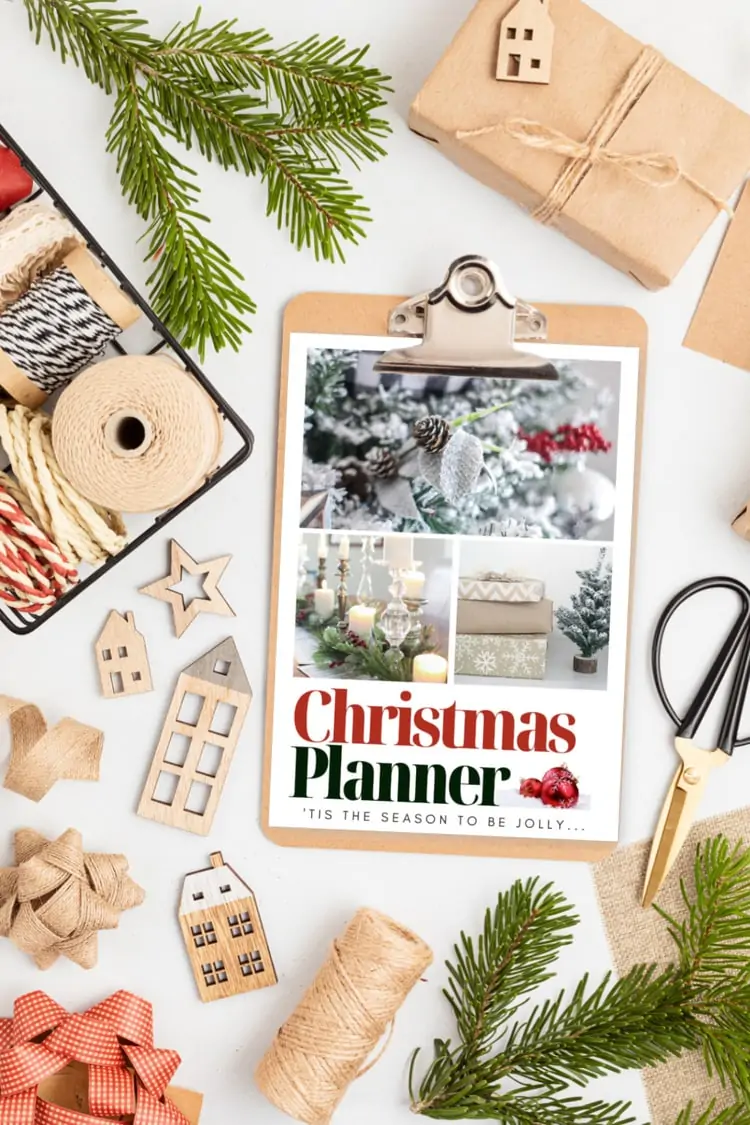 This year I decided to do myself a huge favor and put everything together in one place with a printable Christmas planner. And in the spirit of the season, I'm sharing it for free with you as well.
I'm hoping to spend a lot more time enjoying all the Christmas fun this year and a lot less time stressing about all the things I'm probably forgetting!
What's Inside the Planner
This is not a typical weekly planner with pages to plan out your week. This planner is focused exclusively on Christmas and everything you need to get organized for the holidays.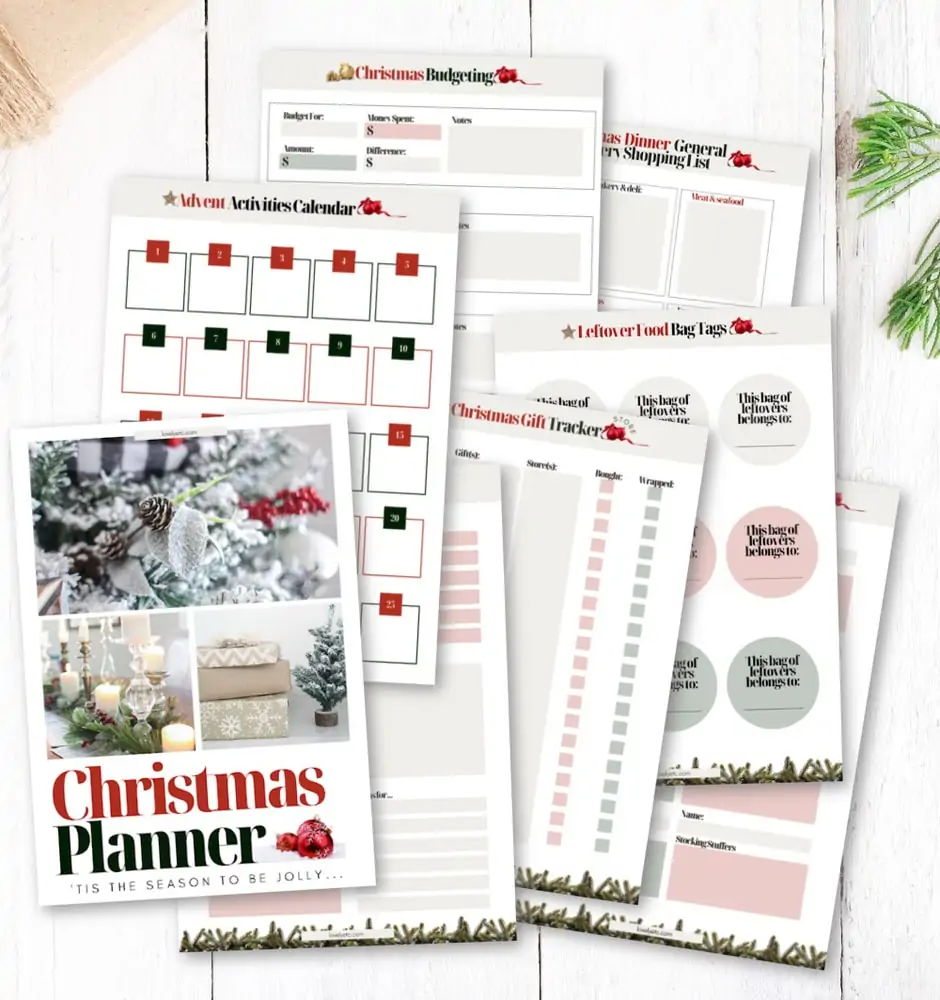 It includes 27 pages of Christmas planning help. Here's a peak at what you'll find inside.
Christmas Budget Tracker
We all know how important sticking to your budget is at Christmas. It is just so easy for things to get out of control fast.
This planner includes budgeting worksheets to help you figure out how much to budget for each part of your Christmas celebration as well as tracking how much you actually spent.
Christmas Gift Planner
Planning Christmas gifts always seems to take up a huge portion of my available brain space around the holidays.
This planner has space to list everyone you need to buy a gift for as well as space to track what you've already bought. There are also pages for brainstorming gift ideas and pages for keeping track of stocking stuffers.
Christmas Menu Planner and Shopping List
I know for many people, cooking is a huge part of your Christmas celebration. This planner includes pages to help organize your guest list (including any eating restrictions), play your menu, and organize your grocery shopping list.
There's even a page where you can plan out your cooking timeline for the day of the big celebration. Whether you like to celebrate with a big breakfast, lunch, or dinner, this planner has you covered.
Plus, this section is also seriously helpful for planning for Thanksgiving. Just print a second copy of these pages and you'll have your Thanksgiving dinner organized in no time.
Christmas Decor Organizer
Decorating for Christmas is one of my personal favorite parts of the holidays. I love pulling out all my Christmas bins and figuring out what's going to go where.
This planner includes a page to help you inventory what you already own as well as a Christmas decor planning page to help you decide what's going to go in which room. You can also use this page to help plan any new decor you may need to buy.
And there is also a sheet of printable labels to help organize your Christmas decor bins so that it is super easy to find what you need next year.
Calendar and Planning Pages
There's a blank December calendar that you can use to help keep track of any upcoming events and deadlines. And there's also a helpful planning page that will help you plan out what things need to be done in the weeks and days leading up to Christmas.
Brainstorming and Notes Pages
There are several pages that you can use for general holiday brainstorming and list-making.
Leftover Food Tags
There is a sheet of printable tags you can use for labeling any Christmas leftovers being sent home with guests. These would also be perfect for using at Thanksgiving. Just print them, add the person's name, and tape them to the containers of leftovers.
Advent Activity Calendar
And finally there is a calendar for mapping out 24 days of Advent activities. You can simply write your activities on this calendar, but I prefer to print two copies. I keep one copy as a master calendar and cut apart the other sheet so I can tuck one activity into each day of our DIY advent calendar. This way I always know what activities are coming up and it's easy to switch some of the days around if needed.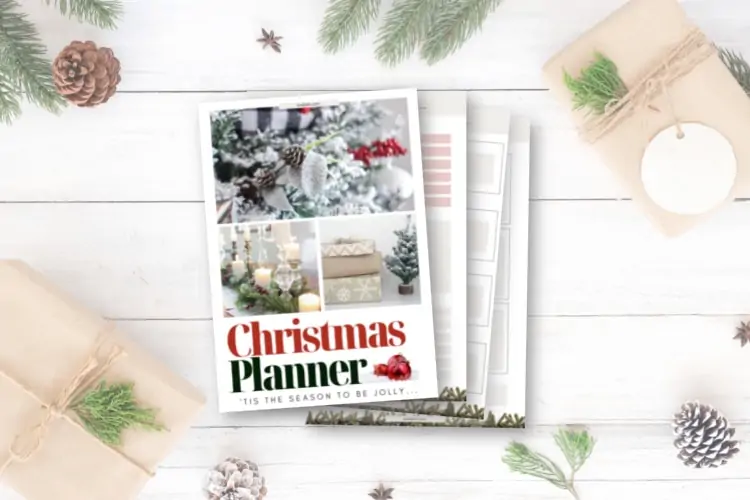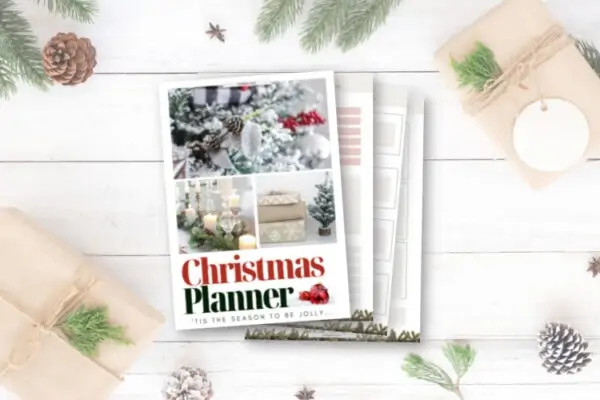 Customizing your planner
The great thing is it's really easy to customize your planner to fit your personal Christmas traditions by only printing the pages you need.
If you have a huge list of people you are buying Christmas gifts for, simply print off extra Christmas gift idea pages.
If hosting a big Christmas dinner isn't your thing, just skip that section.
When you print your planner, you can either print the entire thing or choose just the pages that make the most sense for your own Christmas traditions.
Printing your Christmas planner
This planner is formatted to easily print at home on your home printer.
To keep everything nice and organized, you can put it in a small 3 ring binder, attach it to a clipboard, or simply staple the pages together to make a simple booklet.
Of if you prefer, you can always have it printed at your local copy and print store.
I'm offering this Christmas Planner along with all of my other Christmas printables completely free to all of my email subscribers. If you are already a subscriber, you will receive your copy in this week's email.
If not, just subscribe to my email newsletter in the box below to get the Christmas planner delivered straight to your inbox. The free download will be sent to your email within seconds and you will get access to all of my other free printables as well, along with my weekly email newsletter. (All printables are for personal use only and may not be resold in any form.)
More Christmas ideas I think you'll like:
I'd love for you to pin this post on Pinterest!