Since having kids of my own, I've thought a lot about what Christmas traditions I want to start for our own little family.  An advent calendar quickly joined the list.  I love the idea of celebrating the special time leading up to Christmas.  Plus, let's be honest, my 4 year old was driving me crazy constantly asking how many more days until Christmas!
I knew I wanted to make a reusable advent calendar that we could pull out every year. And I always love a good upcycled project!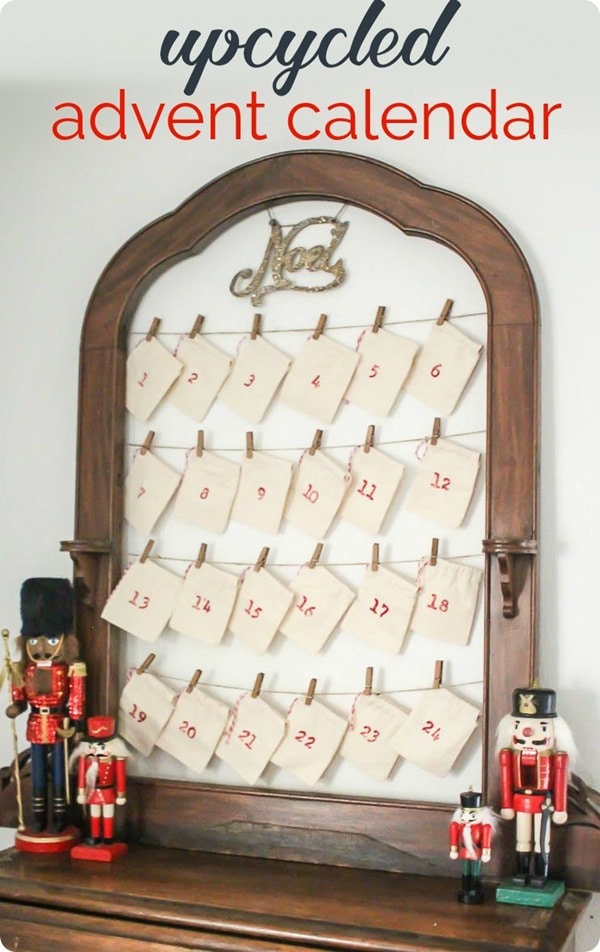 I actually put this cute little advent calendar together last year but it was a last minute project so I didn't have the chance to share it with you guys.  This reusable advent calendar is really easy to make and it's a great way to repurpose a cool frame.
Plus today I'm teaming up with some of my favorite bloggers to share budget-friendly Christmas decorating ideas.  Because nobody needs to spend tons of money to get a beautiful home at Christmas time – this time of year is expensive enough without that!  Be sure to check out the other inexpensive Christmas projects below the tutorial.
This post contains affiliate links.  See my full disclosure here.
Materials for DIY Reusable Advent Calendar
Wood frame
red craft paint
Christmas ornament to hang at top (optional)
How to Make a Reusable Advent Calendar
Okay, so this is one of those projects that is so simple, writing an actual tutorial seems almost silly.  But there are a few little tricks that might help you.  Also, I realize it probably looks like a long materials list for a budget-friendly project but I already had everything on hand except the muslin bags.  And if you are into DIY or crafting, I bet you do too.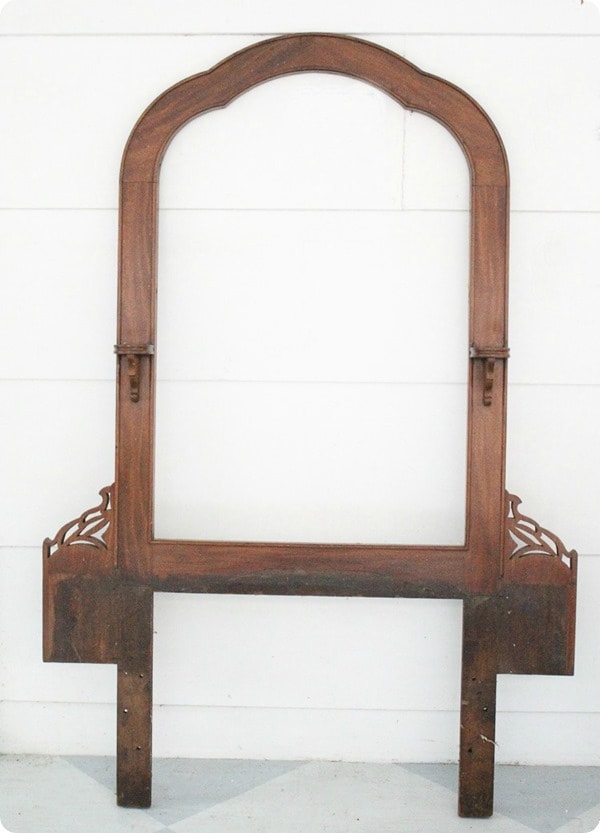 This starts with an old frame.  Any frame will do.  Mine is an old dresser mirror frame I scored at a yard sale for $1!  That's my kind of deal!  You can find all kinds of great frames at yard sales, thrift stores, and estate sales; it's one of the things I'm always looking for.  For reference my frame is 2'x 3′, my bags are 3″x 4″, and my twine is 6 inches apart.  Of course, you can tweak these measurements to work with your own frame.
For my own frame, I used my jigsaw to cut off the bottom where it used to attach to a dresser, but most frames won't require that extra step.
Next, you're going to add four rows of twine.  At first I tried just taping my twine to the back of the frame, but the twine kept slipping out.  So I grabbed my staple gun and stapled each end and it worked much better. Here's how the back of my frame looked after attaching the twine.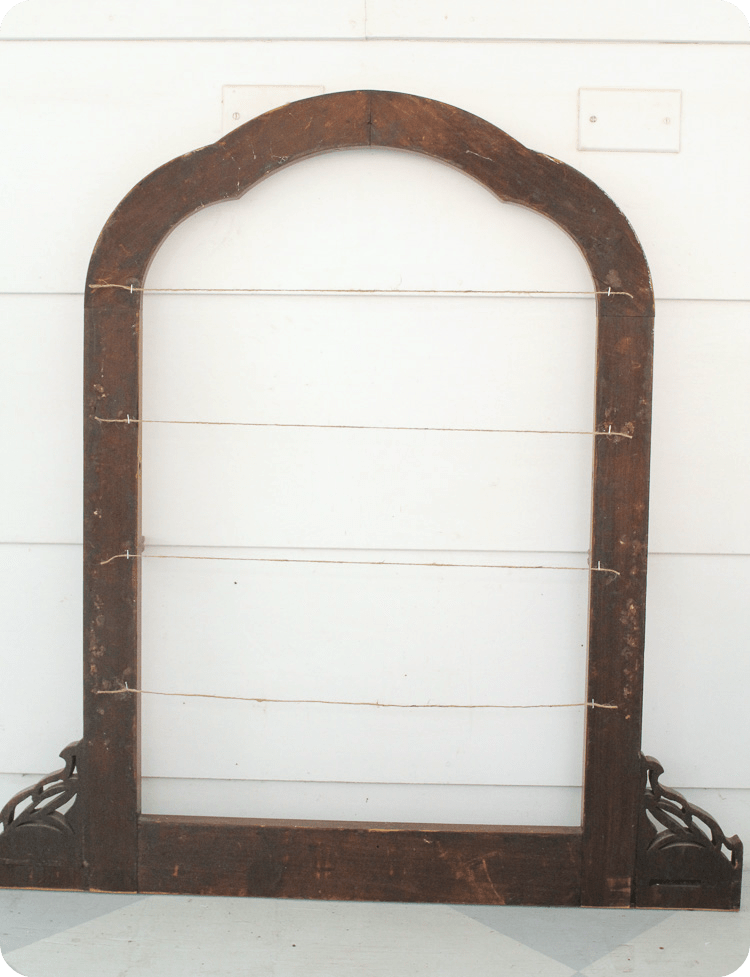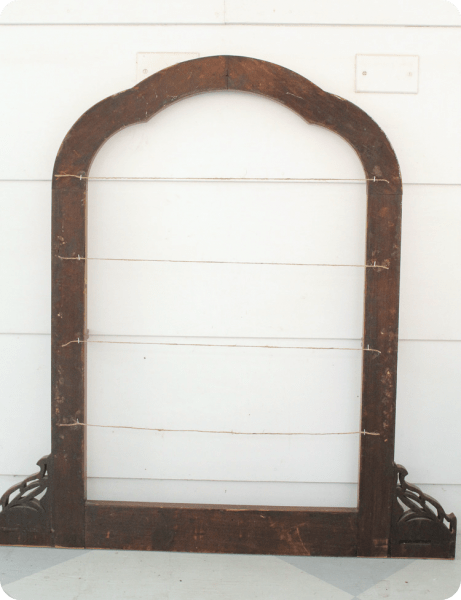 So I'm kind of a stickler for details and I didn't love the original drawstring that came with my little muslin bags.  It was just  bit too short and stubby for me.  I decided to replace it with cute red and white baker's twine.  I love the way it looks, but you can totally skip this step if you don't care.  It probably took a total of 5-10 minutes to replace all of the strings.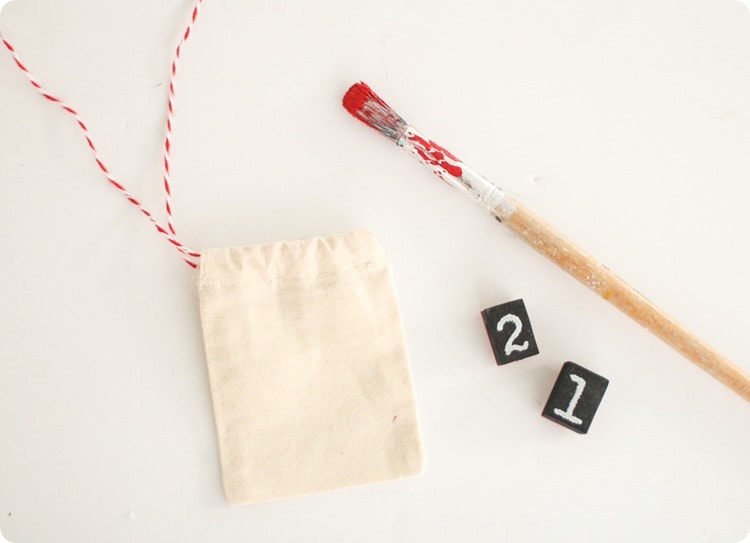 You can decorate the muslin bags however you want, but I chose to simply stamp cute little numbers in the middle of each bag.  You could also add numbered tags if you prefer. I used red paint instead of ink because I think it shows up better on fabric.  Just use a paintbrush to brush a thin layer of paint onto the stamp and then stamp the bag.  (If you've never stamped with paint before, do a few practice runs on a paper towel to get the feel for how much paint you need.)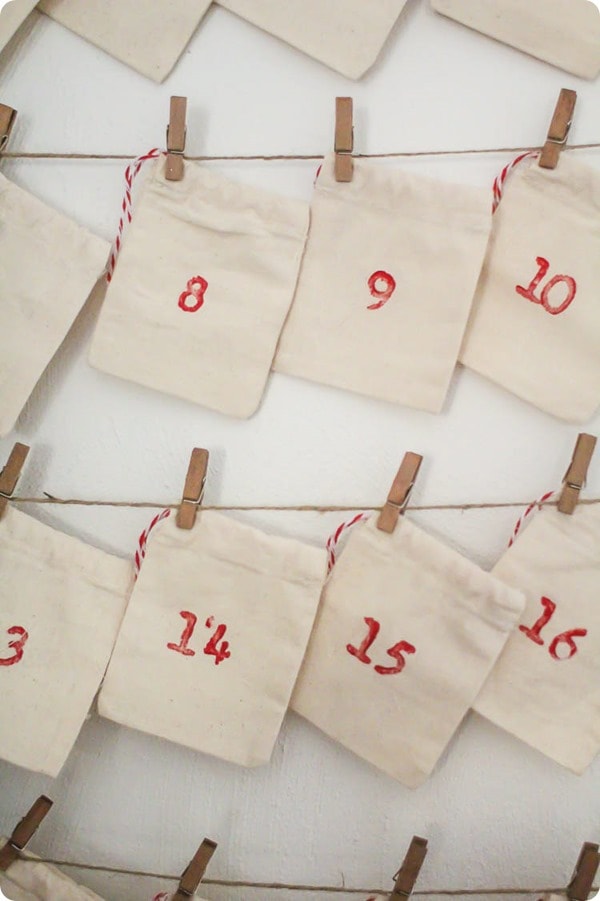 Then you simply use mini clothespins to attach the bags to the twine.  I also used some more twine to add a sparkly Noel ornament to the top of my calendar.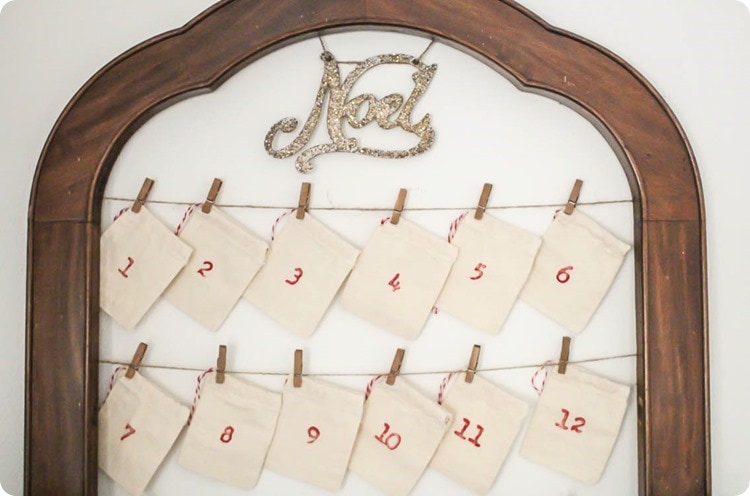 Last year I put a Bible verse and a piece of candy for each child in the little bags.  You could put in whatever you want though – small toys, nail polish, cards with Christmas activities. small ornaments, pretty much anything small.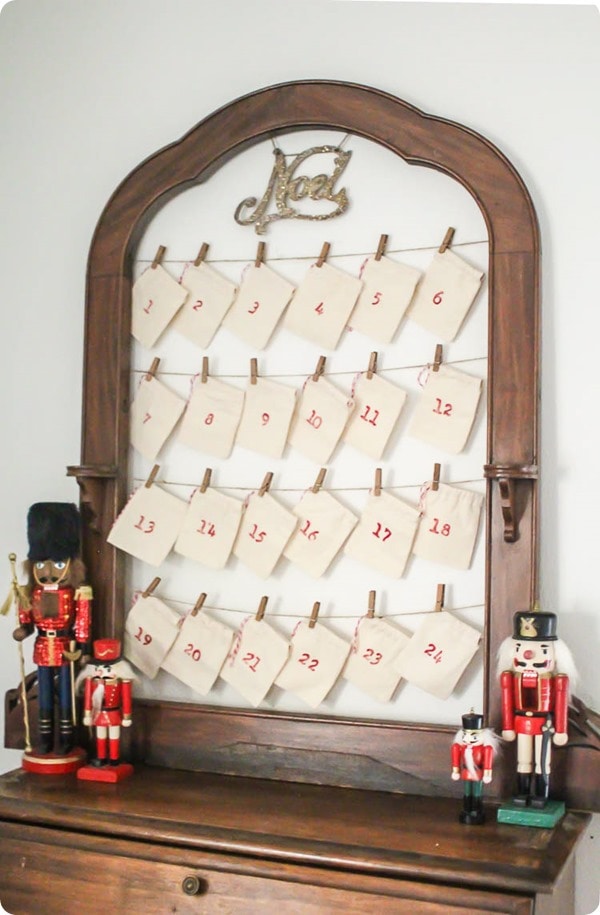 Ready to see some more inexpensive Christmas decor?

And if you like upcycled, repurposed Christmas decor, I've got more fun ideas for you in these posts:
Blue and White Christmas Home Tour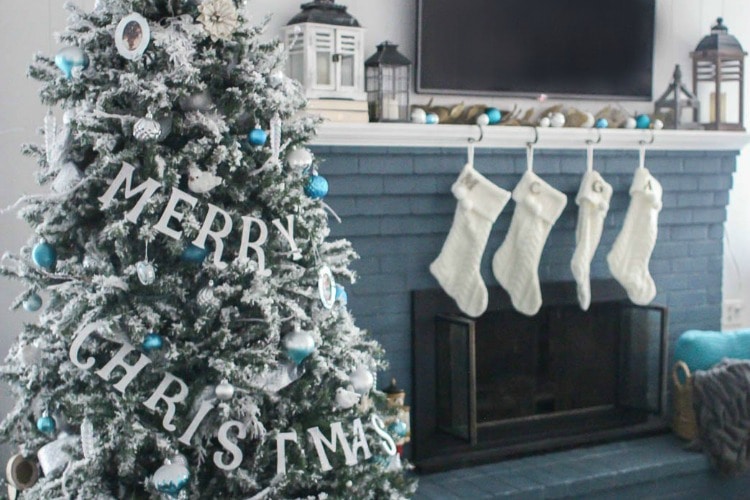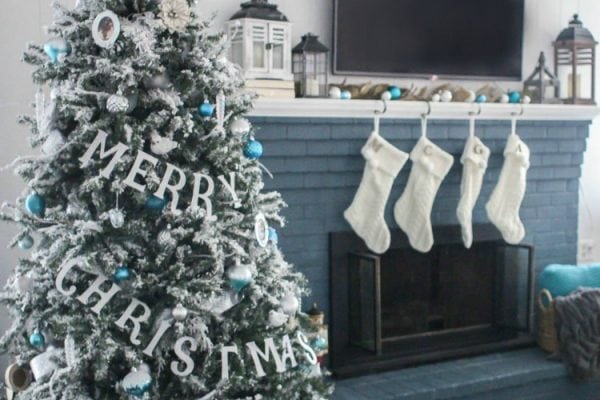 Quick and Easy Christmas Card Display
Christmas Music Wreath Ornament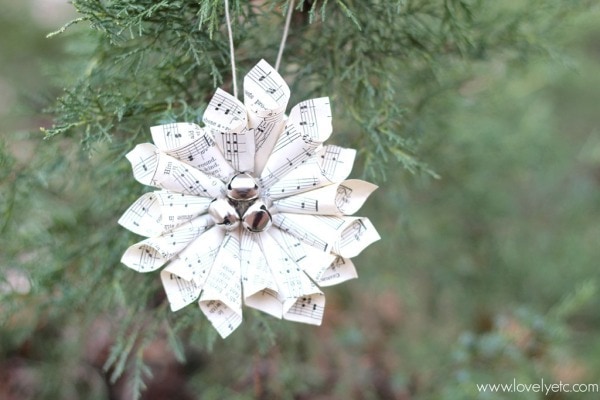 More Christmas posts you're going to love: