This DIY Christmas centerpiece is beautiful and sparkly in gold and silver. And even better, everything you need can easily be found at thrift stores so it is super inexpensive to put together.
Thrifting is my thing. If you read many of the projects I share here, you will quickly see that I absolutely love to use secondhand goods in my home.
I love decorating and beautiful things, but I hate the waste and extravagance of the endless cycle of producing and buying more and more and more.
Especially when there is already so much awesome stuff out there that just needs a bit of an update to be beautiful again.
So just like my regular decor, most of my Christmas decor started it's life in someone else's home. And now that they're done with it, I'm giving it a new life.
I see these little glass Christmas tree jars at thrift stores all the time. Apparently Christmas cookies and candies are sold in these a lot around the holidays.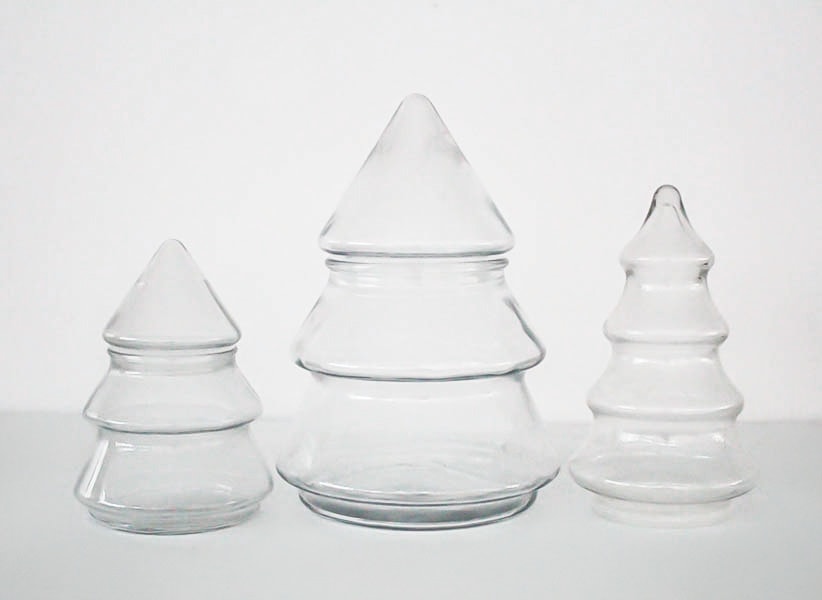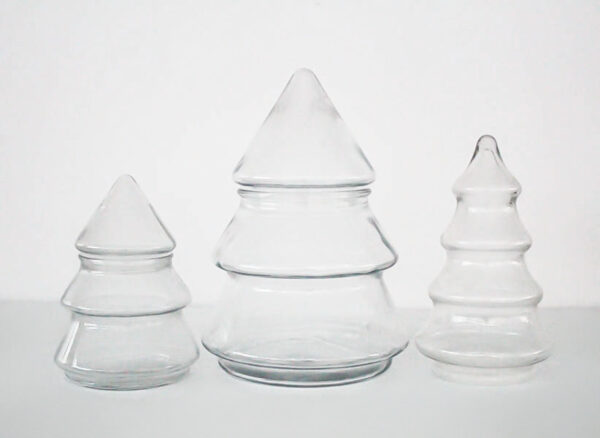 I don't particularly need a bunch of Christmas candy jars, but I knew I could come up with some other idea for them. So whenever I came across one, I scooped it up.
To be completely honest, my original idea was a total fail.
I wanted to transform these cheap glass trees into beautiful mercury glass trees. I found lots of tutorials online for using spray paint to give clear glass jars and vases the look of mercury glass.
But when I tried it myself, I just couldn't get it to work. I'm pretty sure I even attempted this project for two different Christmases because I really wanted to make it happen.
But it just didn't. For anyone out there who feels like they are the only one who can't seem to make a simple project work, you are definitely not alone!
So I came up with a plan B. And thankfully it turned out beautifully.
(Although I still may have to give that mercury glass thing another try next year. I just can't seem to let that one go!)
Since my original idea didn't work out, I decided to try out a couple of different ideas and I ended up loving how they all look together. My motley crew of thrifted Christmas trees is now a gorgeous Christmas centerpiece.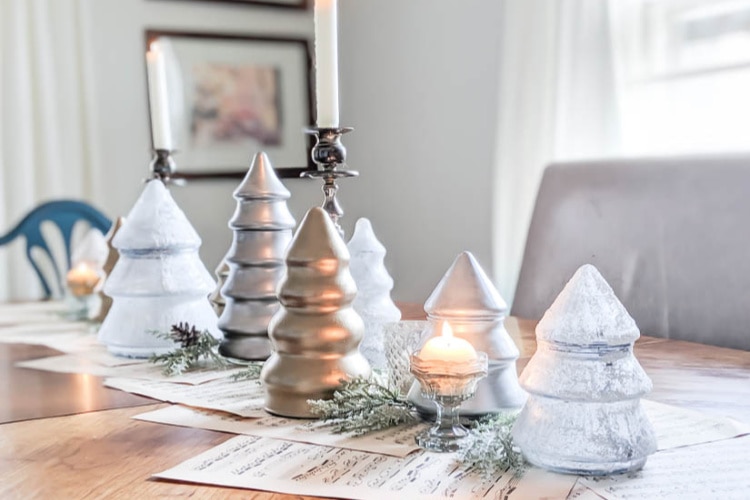 This post contains affiliate links which means if you make a purchase after clicking a link I will earn a small commission but it won't cost you a penny more. Click here to see my full disclosure policy
How to make silver and gold Christmas trees
Materials
Making these is super simple. You don't need to use primer, but you will need to paint several coats of paint. Use a medium paintbrush to brush silver craft paint all around the outside of the tree.
Let the first coat of paint dry thoroughly and then brush a second coat.
I needed three coats total to get good coverage.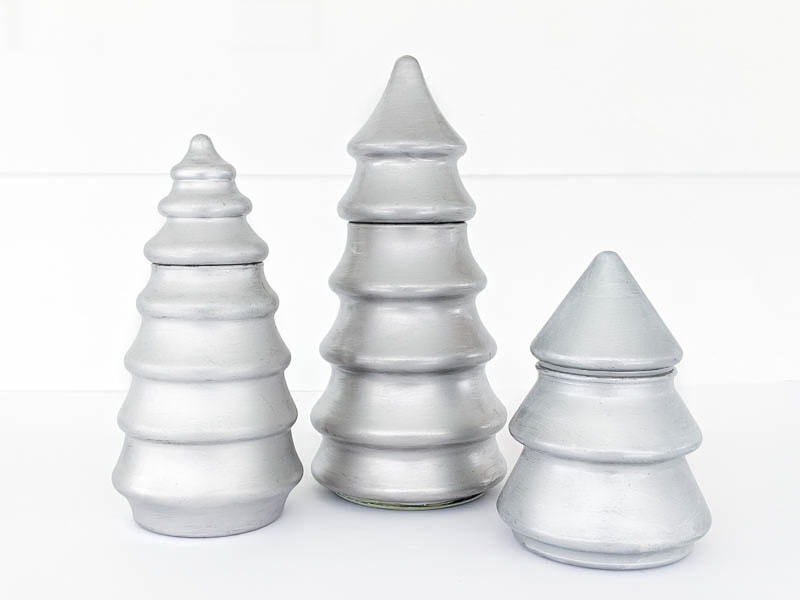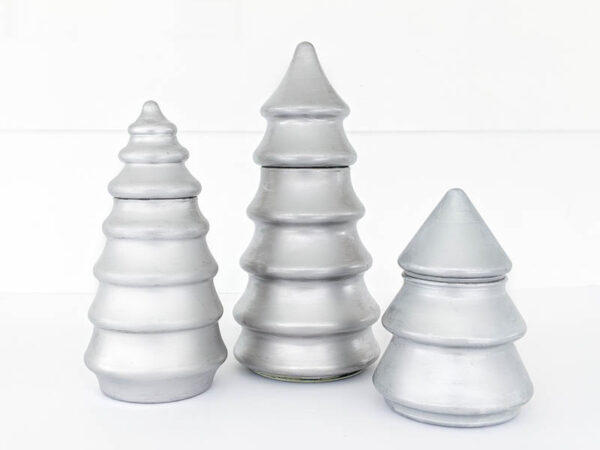 The gold trees were painted using this gold paint. Again, it took three coats of paint.
(I tested quite a few shades of gold craft paint before settling on this one. Gold is the one color of paint that seems to be very hard to get right; a lot of shades were too brassy or too dull).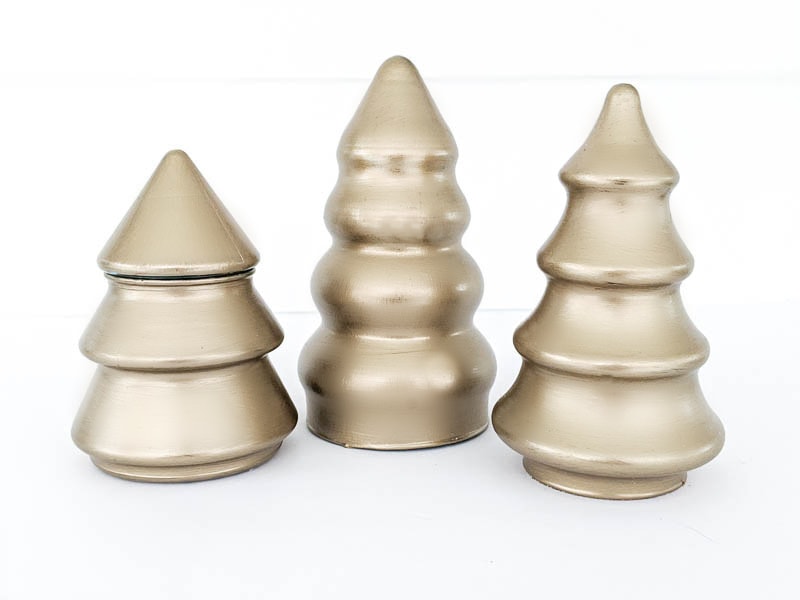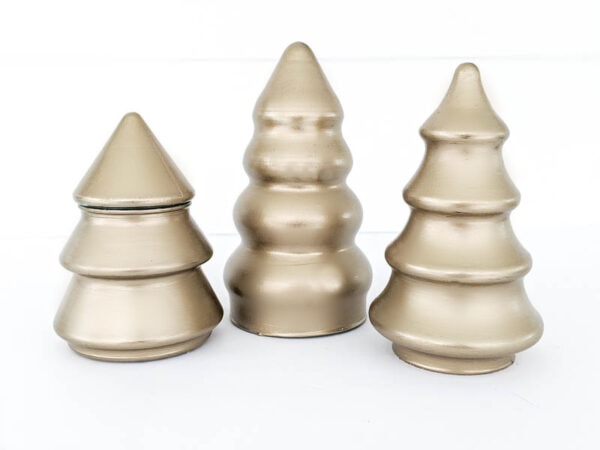 How to Make Snowy Christmas Trees
Materials
glass Christmas tree jars
craft glue or school glue
To make the snowy trees, I didn't use any fancy fake snow – good old Epson Salt. Epson salt actually makes surprisingly realistic icy snow for crafts like this.
Before beginning, you are going to want to protect your work area to prevent a huge mess.
You can simply cover the area with newspaper, but a big tupperware container is even better to catch any excess 'snow'.
Start by using a paintbrush to paint a thin layer of white craft glue all over the jar. (I would recommend not using one of your best paintbrushes for this as glue can be tough to wash out completely.)
While the glue is still wet, gently shake Epson salt all over the tree. Allow the glue to dry thoroughly and then shake any excess snow off, into your tupperware container.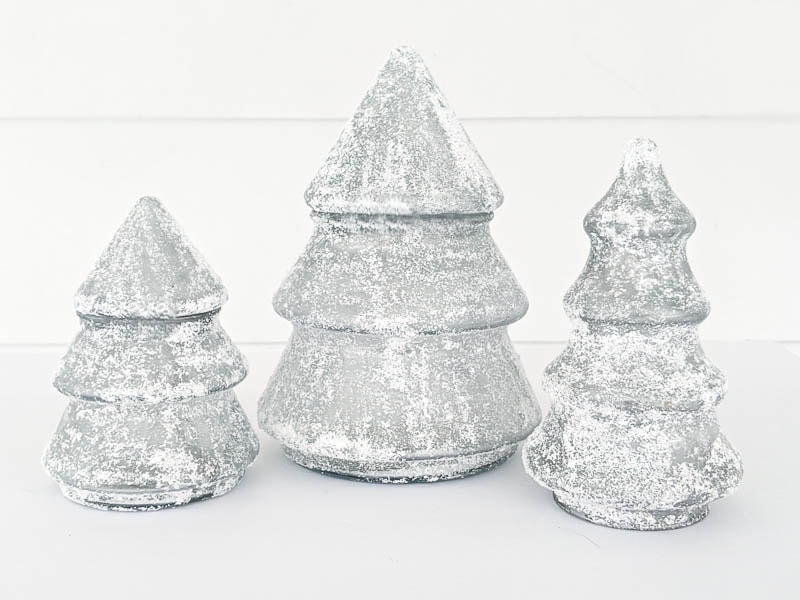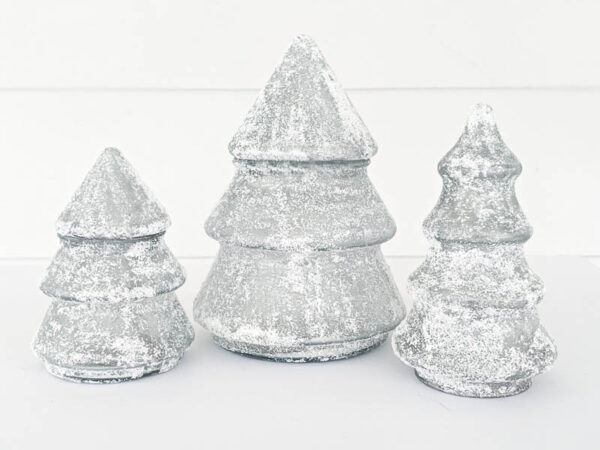 If there are spots where you want more 'snow', you can brush on a bit more glue and use a spoon to sprinkle on extra 'snow'.
I only added a very light coating of snow to my Christmas trees so that if I want to put an LED candle inside, the glow will still shine through.
But if you prefer, you could apply a much thicker layer of epson salt so that the glass underneath isn't visible at all.
Thrifted Christmas Centerpiece
Putting this tablescape together was super simple once I had all my trees ready.
I started with my favorite Christmas 'table runner' made from old sheet music.
(I think printed music is absolutely beautiful so I like to pick up sheet music and music books when I come across them for a good deal secondhand.)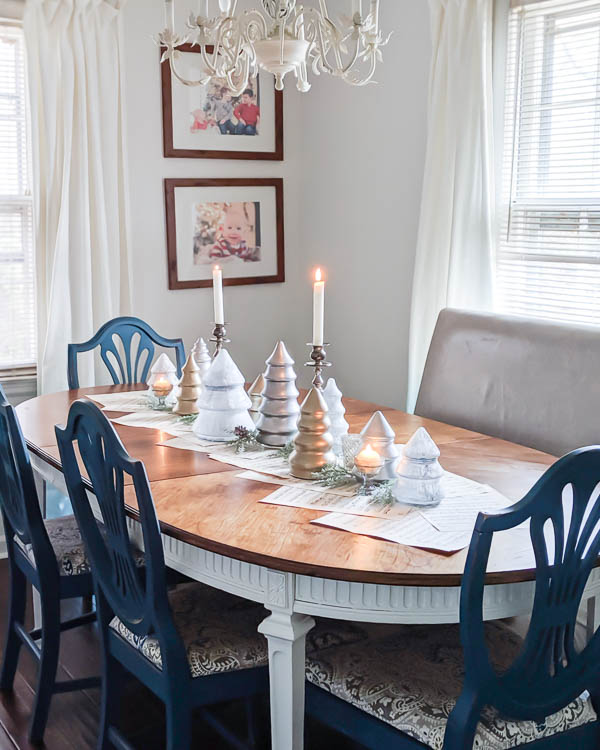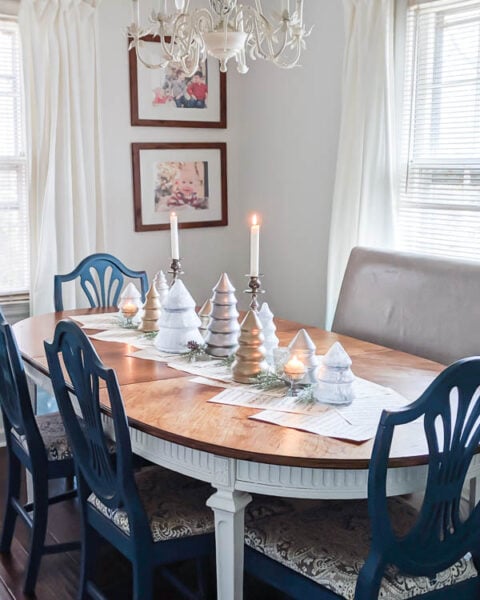 After scattering sheets of sheet music down the center to the table to make the table runner, I added a couple of old silver candlesticks and all of my glass Christmas trees.
Then I finished it off with a few smaller candleholders and little sprigs of evergreen branches.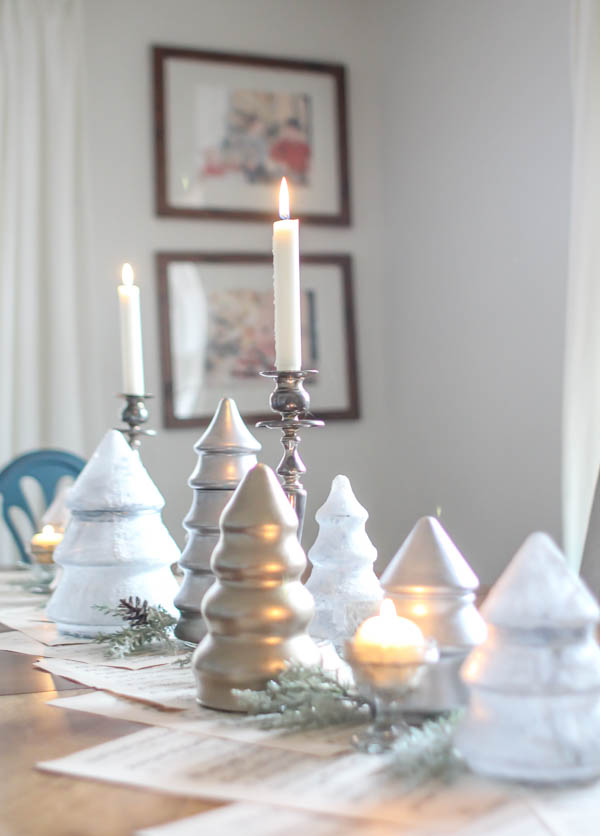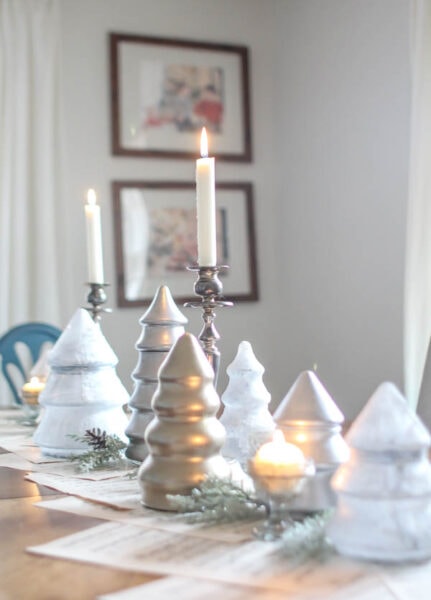 I love the glow of the candles reflected off of the metallic trees. There's really just nothing like candlelight.
On the other side of the dining room, I pulled out a few favorites from our nutcracker collection. And I love that you can see the tree reflected in the mirror.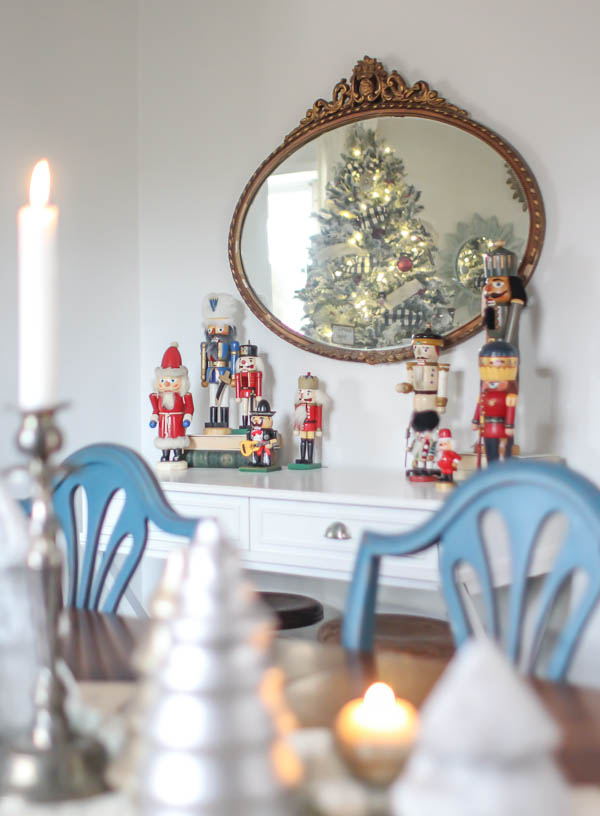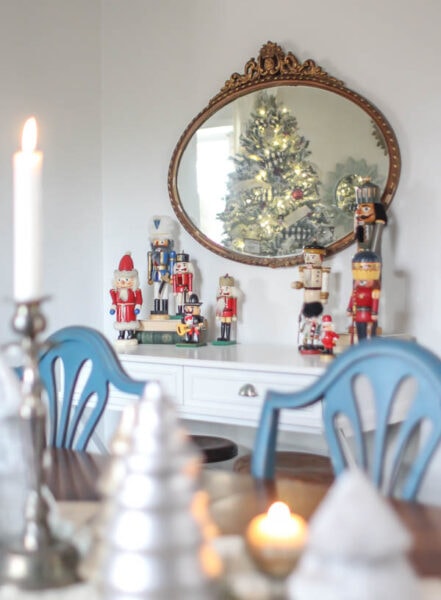 I think this is my favorite Christmas centerpiece yet!
If you'd love a similar look but don't have to time to gather a collection of Christmas tree jars, my Christmas table decor from last year has a similar feel. And all you need are candles and candlesticks (another thrift store favorite!)
And if you missed it, be sure to check out the rest of my Christmas home tour. This year my home is full of neutral colors, flocked greenery, and ideas to make it all happen with inexpensive thrift store finds.
I'd love for you to pin this post!