I absolutely love scoping out other people's Christmas decor. Traditional, modern, farmhouse, vintage, eclectic – I love it all.
So every year I invite some of my favorite bloggers to join me in sharing their homes all decked out for Christmas. You can find my friends' homes linked at the bottom of this post. And if you're coming over from A Brick Home for the first time, welcome! I'm so glad you're here!
When it comes to my own Christmas decorating, I'm all about making the most of what you have.
Instead of buying a bunch of new Christmas decor each year, I love to combine thrifted finds, DIY projects, and everyday items like candles and mirrors to create a beautiful, one-of-a-kind home for cheap.
Today I'm sharing our entryway and our family room decorated for Christmas.
Both of these spaces already have some strong colors in them, so I decided to skip the traditional red and green and keep things neutral. And I am loving how festive things look even with just a few simple touches!
This post contains affiliate links which means if you make a purchase after clicking a link I will earn a small commission but it won't cost you a penny more. Click here to see my full disclosure policy.
Christmas in the Entryway
My entryway is always one of my favorite spots to decorate.
I wanted to keep things neutral in here so the decor wouldn't compete with the colors in the wood wall. And I love how soft and pretty it looks.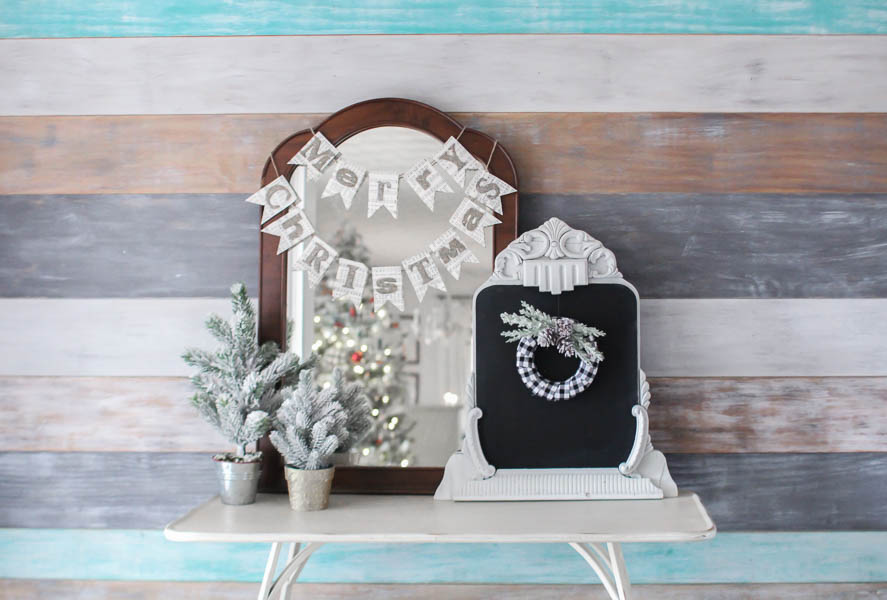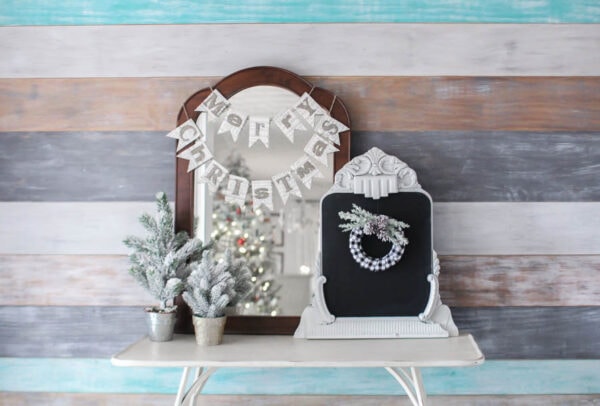 I have a thing for arched mirrors of all shapes and sizes – I can't resist snatching them up every time I find one at a yard sale or thrift shop.
So I started by layering two mirrors from my collection against the wall. (One was already painted with chalkboard paint.)
Then I added a simple Merry Christmas banner I made a few years ago from old sheet music and glittered chipboard letters. The little buffalo plaid wreath is a DIY ornament I made last year.
I love to throw my favorite wrapping paper in a big basket throughout the Christmas season.
It's close at hand when I'm ready to wrap gifts and it looks beautiful the rest of the time as well. There's no reason we can't enjoy the beautiful paper before the gifts are wrapped too!
Cozy Neutral Christmas Mantel
The star of our family room is our big, beautiful blue fireplace.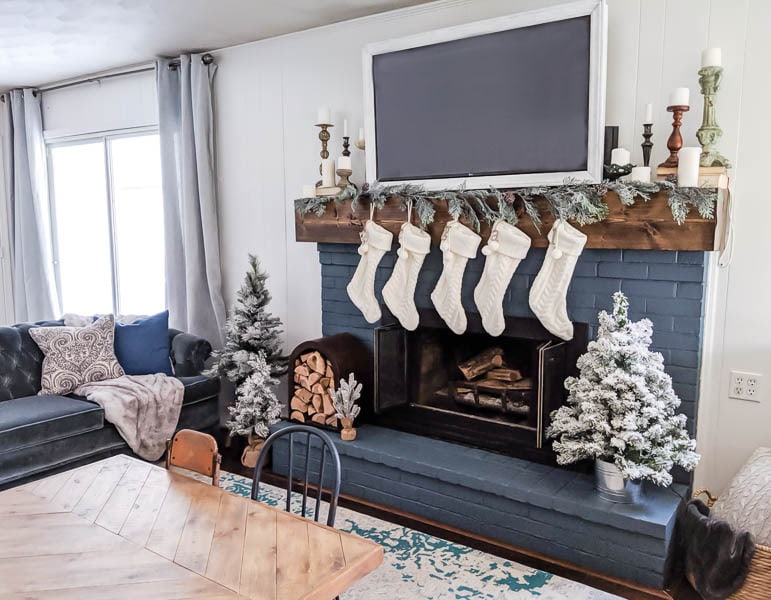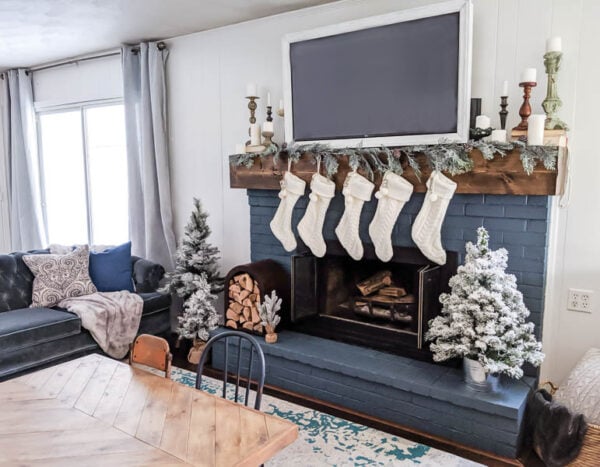 I've slowly updated our fireplace over the past few years, painting the brick and then building the chunky DIY mantel and the TV frame. And I love how it's all come together.
This is the first year we haven't had our Christmas tree beside the fireplace. I switched out some furniture this year and there just wasn't room in the usual spot.
So I moved our Christmas tree into our library. But since this is where we spend the most time, I still wanted to enjoy some Christmas tree goodness in here too.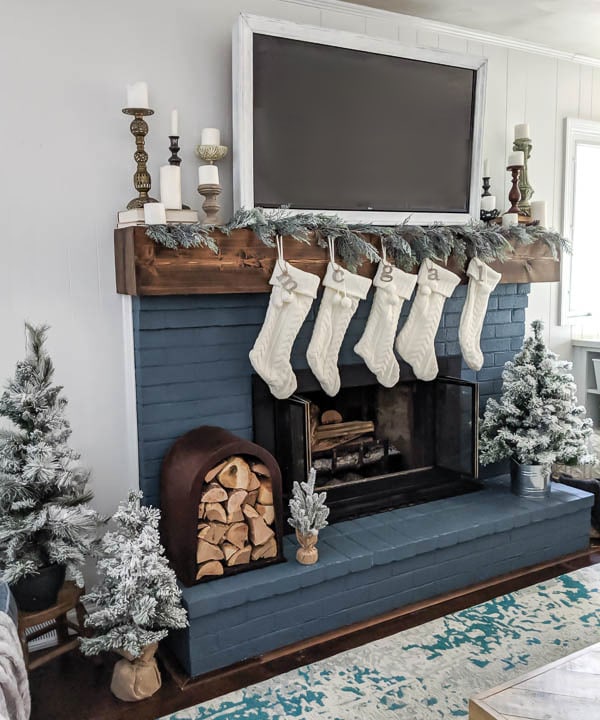 I love the idea of gorgeous little flocked Christmas trees all over the place, but even mini trees can get crazy expensive.
So I headed to a few local thrift stores and found several cute but slightly ragged Christmas trees for less than five bucks each.
Luckily, I still had some flocking powder left from flocking my regular Christmas tree. So I dragged them home along with a few other tiny trees from Target and Dollar General and I flocked my motley crew of trees.
Now they look beautiful! Flocking is a miracle worker when it comes to making ragged Christmas trees look beautiful again.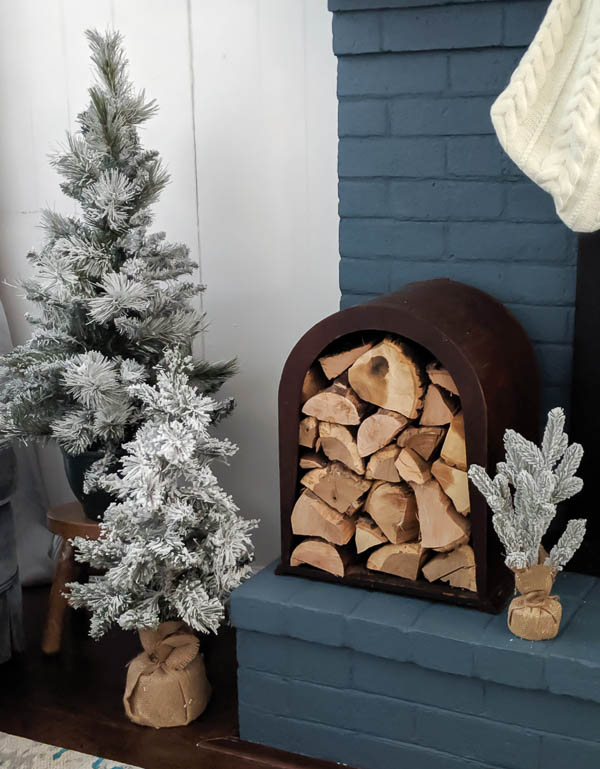 Continuing the thrifted theme, the firewood holder is upcycled from an old radio and the candlesticks were also collected from various thrifting adventures.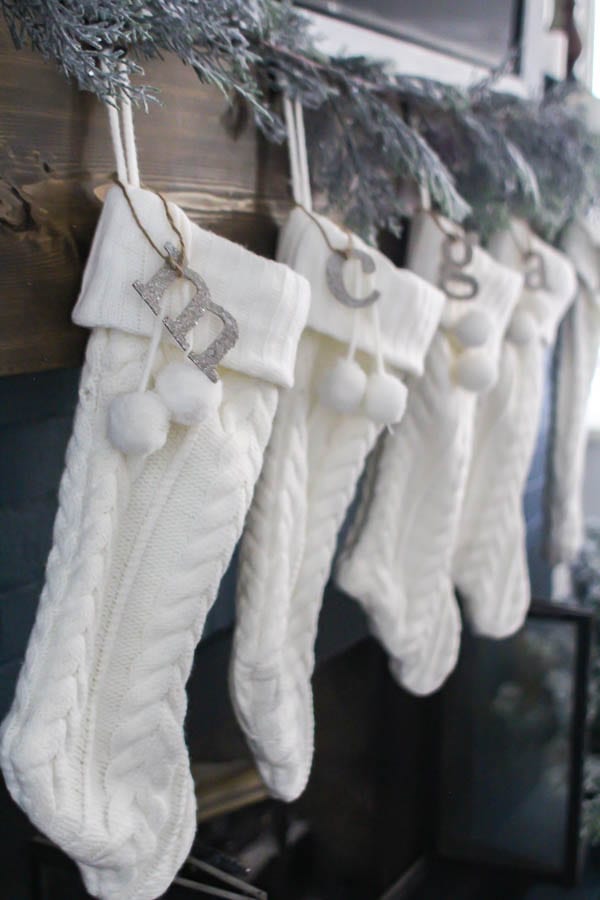 And I love how these simple knit stockings from Target look against the dark fireplace.
The initials on the stockings are simple chipboard letters that I covered with glitter and tied on with twine.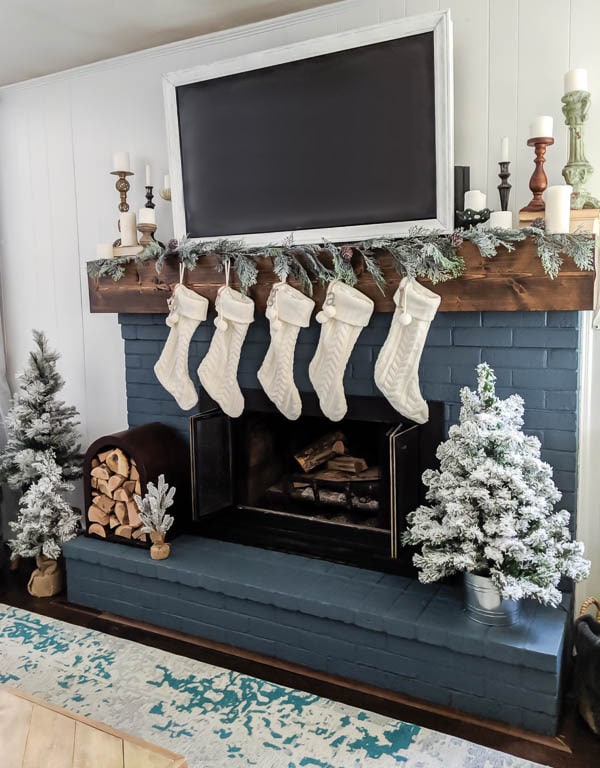 Thanks so much for letting me share my home with you!
Next up be sure to head to Thrifty and Chic to check out her Christmas decor. And then check out the rest of the Christmas decor goodness at the links below.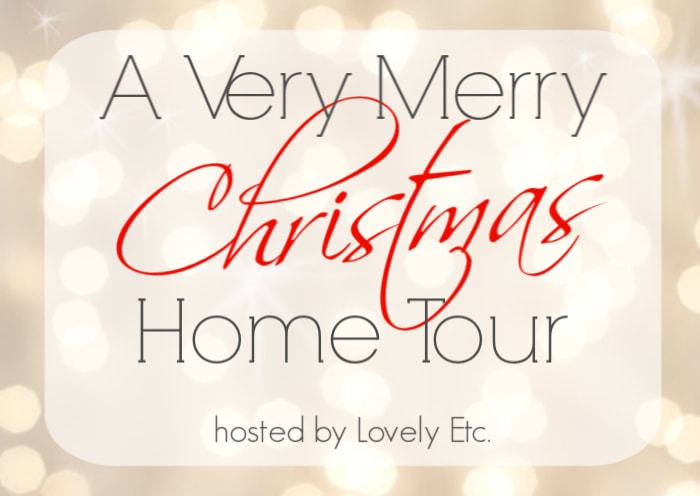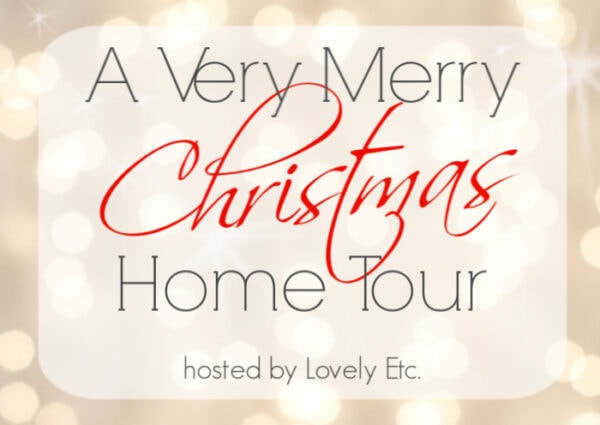 Green With Decor * Lehman Lane * Jonesville * Sweet Pea


DIY Beautify * What Meegan Makes * Sunny Side Design * Bright Green Door