Since sharing my budget kitchen makeover a few weeks ago, the number one question I have been asked is how my painted laminate countertops are holding up. It has been almost three years since I originally painted my countertops and they have definitely been put to the test during that time!
Today I am sharing all of the details about how our countertops look today, the pros and cons of the countertop painting method I used, and what I would do differently if I were starting all over today.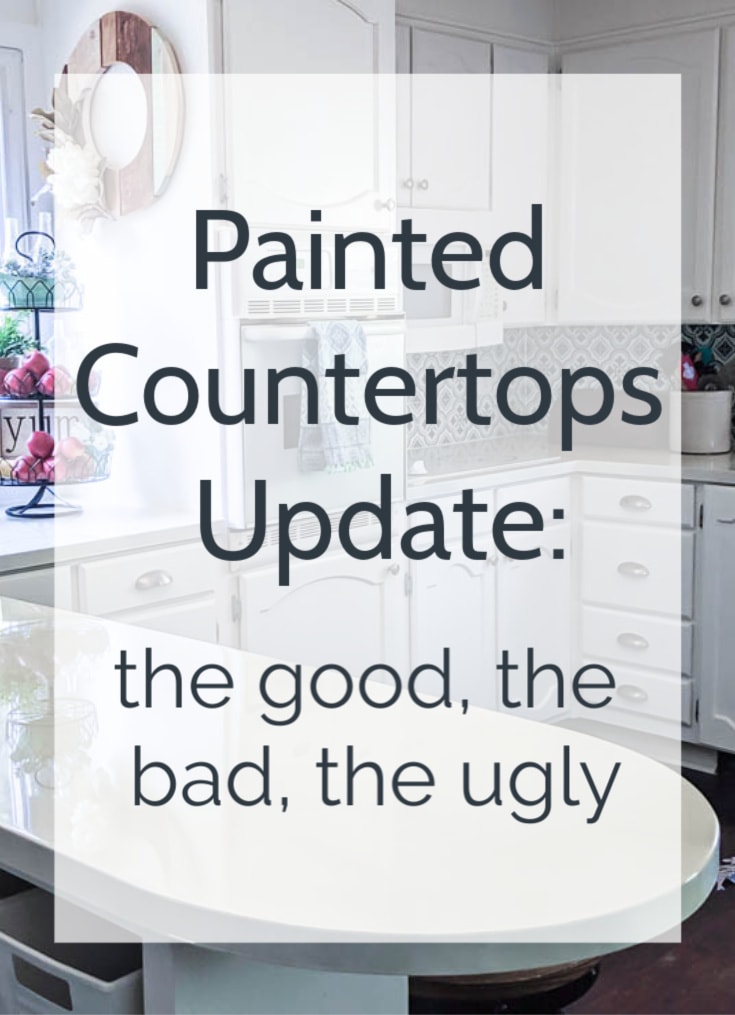 If you haven't yet, be sure to read my tutorial on the actual process of painting laminate countertops including the cost and time involved.
This post contains affiliate links which means if you make a purchase after clicking a link I will earn a small commission but it won't cost you a penny more. Click here to see my full disclosure policy.
Painting Laminate Countertops: The Good
I chose to paint our laminate countertops because they were incredibly ugly and more than ready for an update.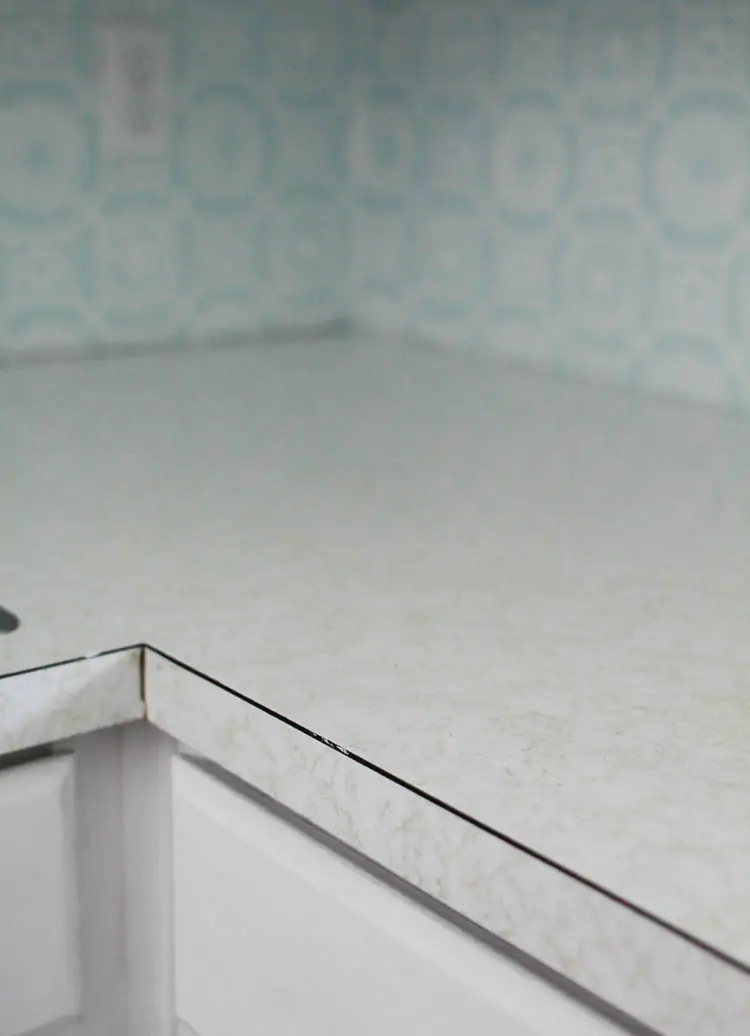 To be honest, I was unsure about painting our laminate countertops. Kitchen countertops get daily use and abuse from water, heat, spills, and constant cleaning.
And in our house, they take an extra hard beating. My three boys are two, four, and six years old and they have definitely put every surface in our home to the test.
The bar stools at our kitchen counter are their favorite spot to eat breakfast and lunch, do homework, play with toys, do art projects, build with Legos. Basically anything the older two don't want the toddler messing with, gets done at the counter.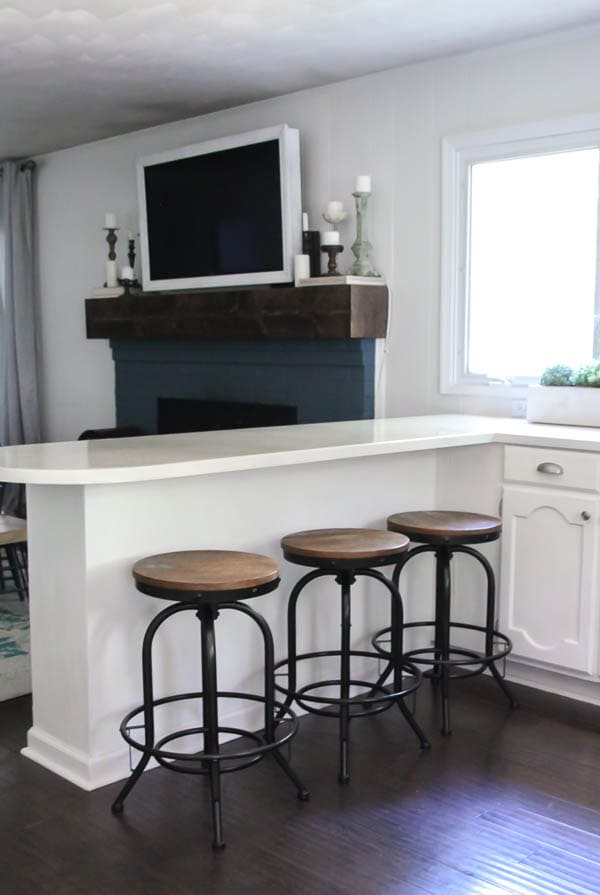 barstools, fireplace painting tutorial, DIY mantel tutorial
I worried that with all of that heavy use, paint was not a very practical solution.
Thankfully, I was wrong and the counters have actually held up very well!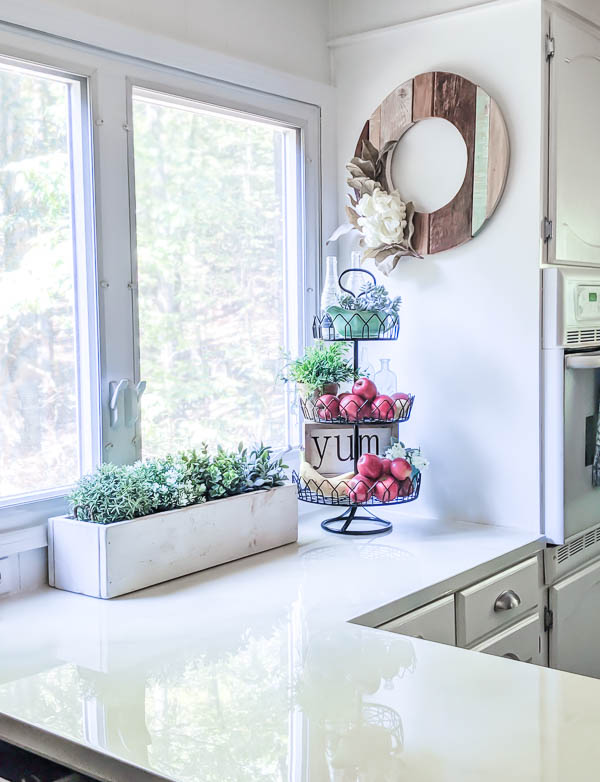 When I finished painting and sealing our countertops, I loved them right away. They were shiny and clean and so much more beautiful than the horrible laminate we had before.
And they still look as shiny and new as they did when I finished painting them. The paint has not faded, chipped, worn away, or scratched off at all. Hallelujah!
Painting Laminate Countertops: The Bad
Even though our countertops overall look amazing and I absolutely continue to love them, they aren't perfect. I'm going to get a bit nit-picky here, but I'm a perfectionist, it's what I do.
Plus I want to share all of the relevant details so you can make the best decision about whether or not this is a project for you.
The biggest issue I have had is some slight yellowing of my countertops, most noticeably in the corner beside our range.
I am not sure what the cause is, but it is something that happened during the initial painting/sealing process. I noticed the yellowing within a few weeks of finishing the countertops and it hasn't gotten worse at all in the months and years since.
The yellowing itself is very slight. There are no yellow, discolored spots; there is simply a more yellow undertone than I would like.
It is very subtle. My husband doesn't see it at all. But I do, especially against the white range, white cabinets, and white backsplash areas. It isn't something that bothers me a lot, but is something to be aware of.
The other issue I have noticed is that there are a few areas where you can see light scratches on the countertop finish when the light hits it. This is primarily an issue in the area where the kids like to do craft projects and is only noticeable when the light hits at a certain angle.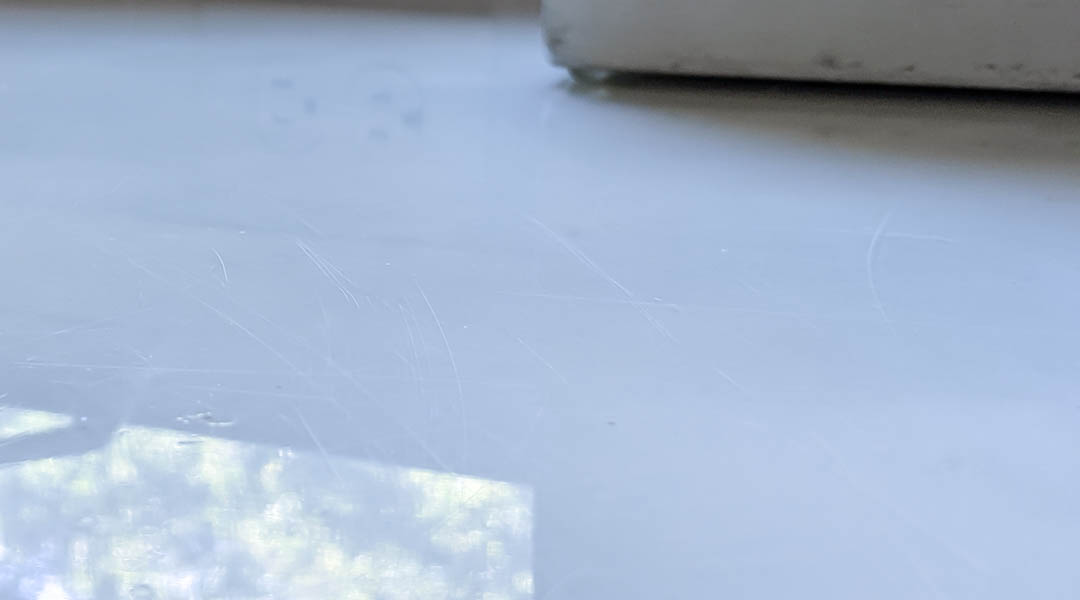 This is an extreme close-up of some of the scratches. They are really hard to capture in a photo but hopefully, you can get the idea.
There may be some way to buff these scratches out, but they are so minor, I really haven't looked into it.
The Best Paint for Countertops
Ok, so here's the thing. It really doesn't matter what kind of paint you use. I know that sounds like a lame answer, but it is true.
Using a certain kind of paint is not the key to painting countertops so they last. I used a combination of leftover wall paint and acrylic craft paint and both were great. You absolutely do not need to buy a special countertop painting kit unless you really want to.
If you use a good primer and a high quality sealer, it doesn't matter what paint you use on your countertops. The paint is simply the color – the sealer is the actual finish that takes all of the abuse. (This is the primer I use for almost everything because it sticks to anything.)
The key to the longevity of our painted countertops is 100% the resin topcoat I used over the paint. Resin is a thick clear finish that you pour on rather than brushing on.
It gives the finished project a glossy, three dimensional look that more closely mimics the look of a true solid countertop. When the light from the window hits the countertop, it shines through the layers of the finish rather than simply bouncing off.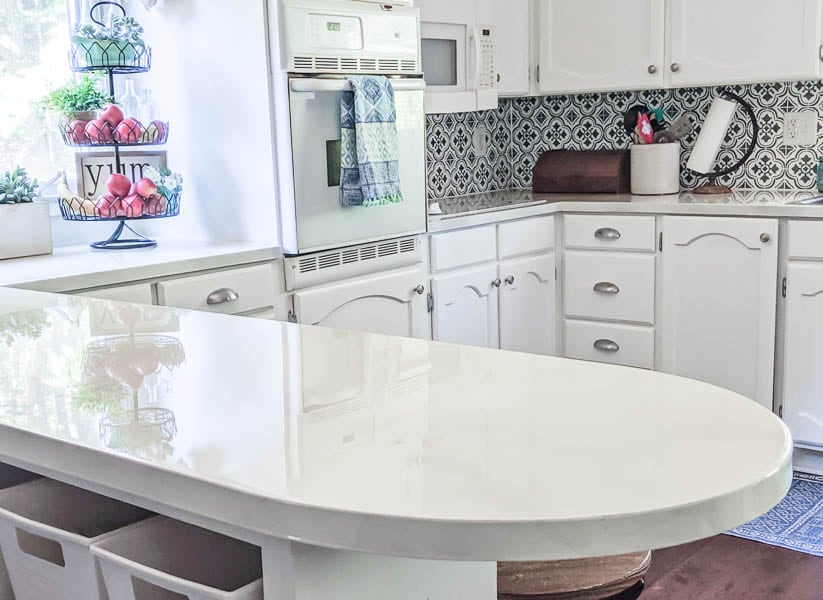 painted cabinets tutorial, stenciled backsplash tutorial
Working with this type of pour-on finish is more difficult than simply painting on a top coat and has a bit of a learning curve, but the finished look is so worth it.
(Several people share their after photos in the product reviews on Amazon if you are looking for more examples and they are all amazing.)
Would I do anything differently?
First of all, if I had it to do all over again, I would most definitely still paint my countertops. Changing the dated laminate without the expense of actually replacing the countertops was completely worth it.
And I would also use the same resin sealer. Even though it hasn't been perfect, it has held up incredibly well and just looks so darn good.
I do, however, wish that I had added a lot more gray graining to my 'marble' countertops. Once the sealer was added, the shine and dimension really softened the color variation in the paint finish.
The marbling of the final countertops is a lot more subtle than I would have liked. In fact they more closely resemble white quartz countertops than marble – but since it's really just paint, I'm pretty happy with that result!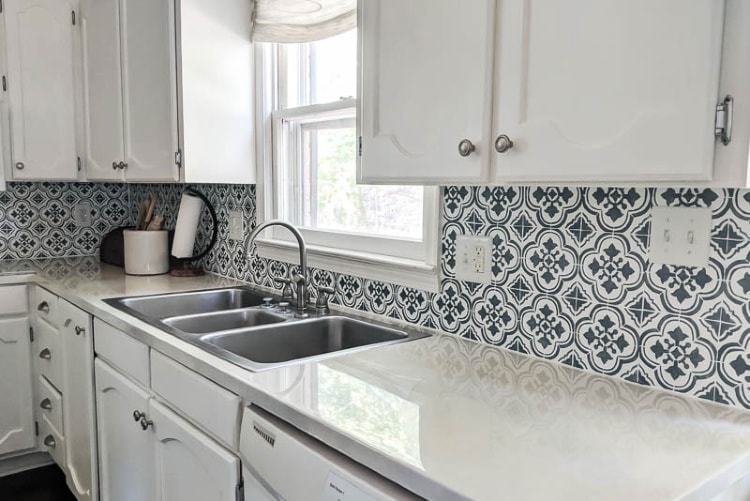 In fact to make things even easier, I would love to try using marble contact paper instead of paint. I know, I know, nothing says classy like a contact paper countertop, but I think it could be a beautiful, inexpensive solution.
There is some really gorgeous contact paper available these days that looks very similar to Carrara marble. I don't think contact paper alone would necessarily make a long-lasting countertop, but you could easily use the same resin finish over the contact paper.
That way the paper does the hard work of mimicking a true marble finish and the resin takes care of making everything durable and shiny.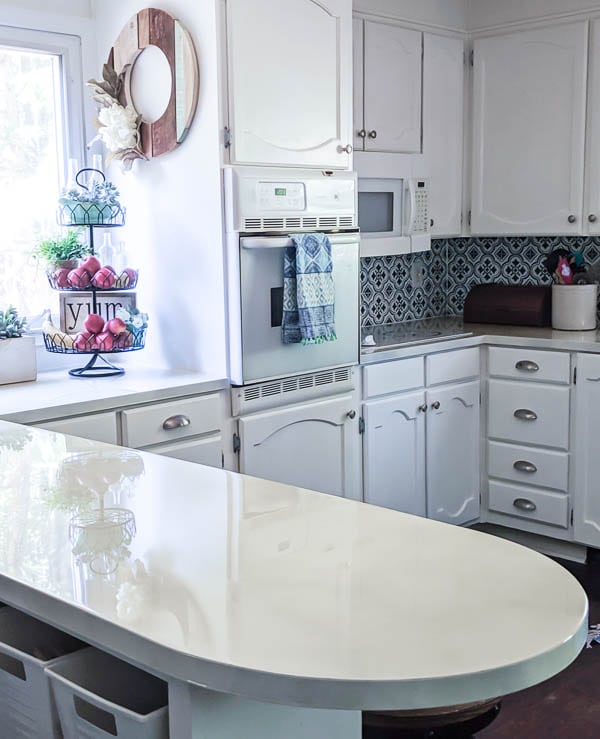 And that's it. The good, the bad, and the ugly of our painted laminate countertops nearly three years later. If you have other questions I did not address, be sure to let me know in the comments.
And if you haven't checked out the rest of our budget kitchen makeover, you are in for a treat! You can see the entire kitchen reveal here including info on all of the DIY projects involved.

Google Web Story: DIY Painted Countertops Three Years Later