I love gorgeous, Christmas trees where all of the ornaments look effortlessly coordinated and the magazine-perfect.
But I also love the eclectic collection of special ornaments we've gathered over the years – photo ornaments, handmade ornaments, even special ornaments from our childhoods.
So every year I try to strike that perfect balance of a Christmas tree that is beautiful but also homey and full of Christmas memories.
I can't say for sure that I perfectly nailed it, but my three little boys think our Christmas tree is completely magical, so I'd say that's a win.
(Also it doesn't hurt that they love having their own mini tree in their bedroom. That's where we hang lots of the super sweet ornaments they've made as toddlers that aren't quite what you'd call beautiful. They're thrilled with this solution and so am I.)
This year I'm describing our tree as a cheerful, classic farmhouse Christmas tree and I had so much fun pulling it all together.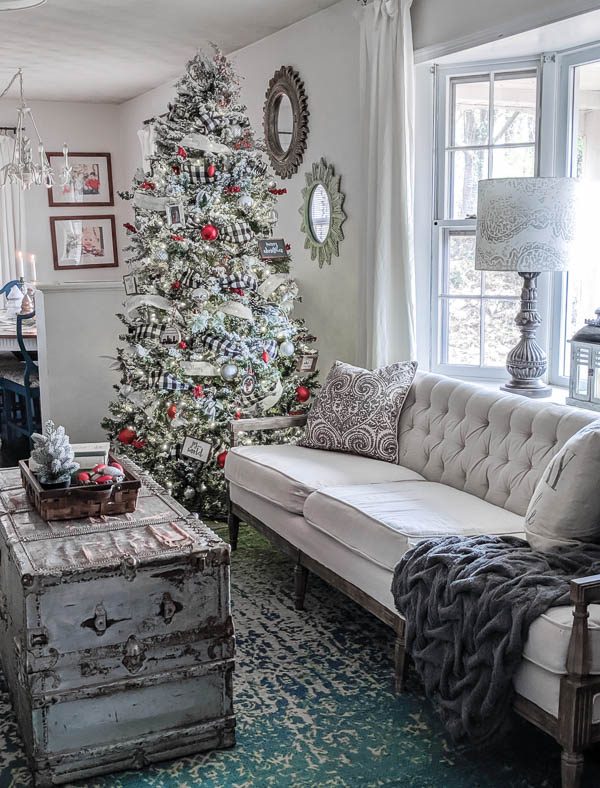 And since I love all kinds of Christmas trees so much, I'm very excited to be joining the Christmas Tree Edition of the My Home Style Blog Hop. 35 bloggers have all joined up to share their own Christmas tree style and you can see them all at the end of this post. A big thanks to Stephanie from Casa Watkins Living for putting this whole thing together.
If you are coming over for the first time from Cherished Bliss, welcome! Here at Lovely Etc, I love to share ideas for working with what you have to create a space you love.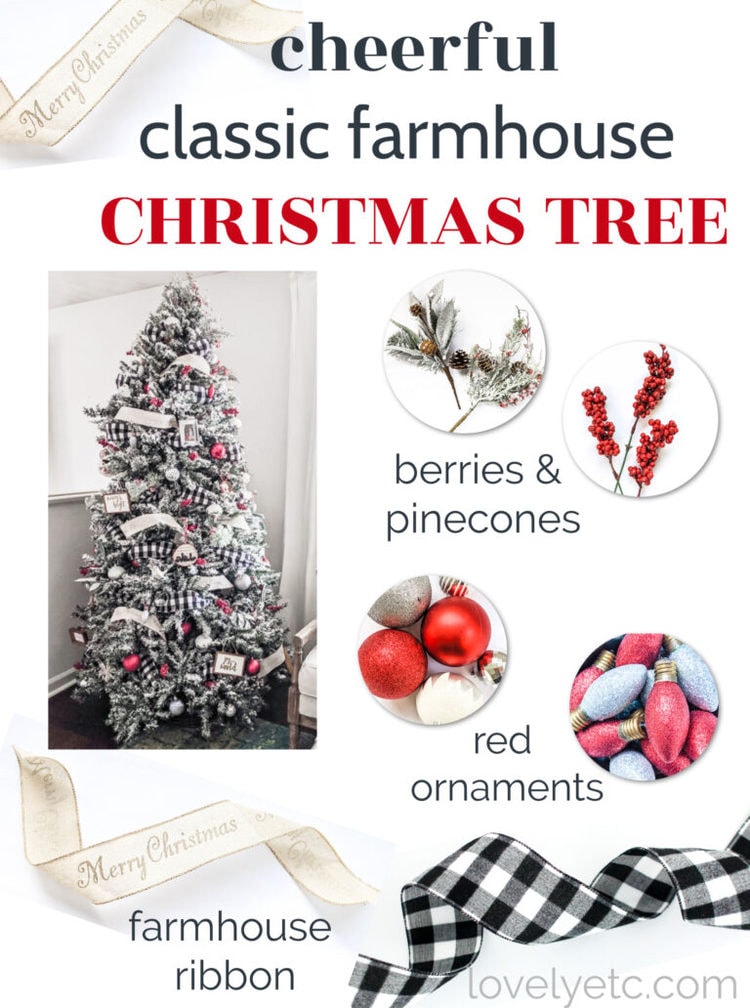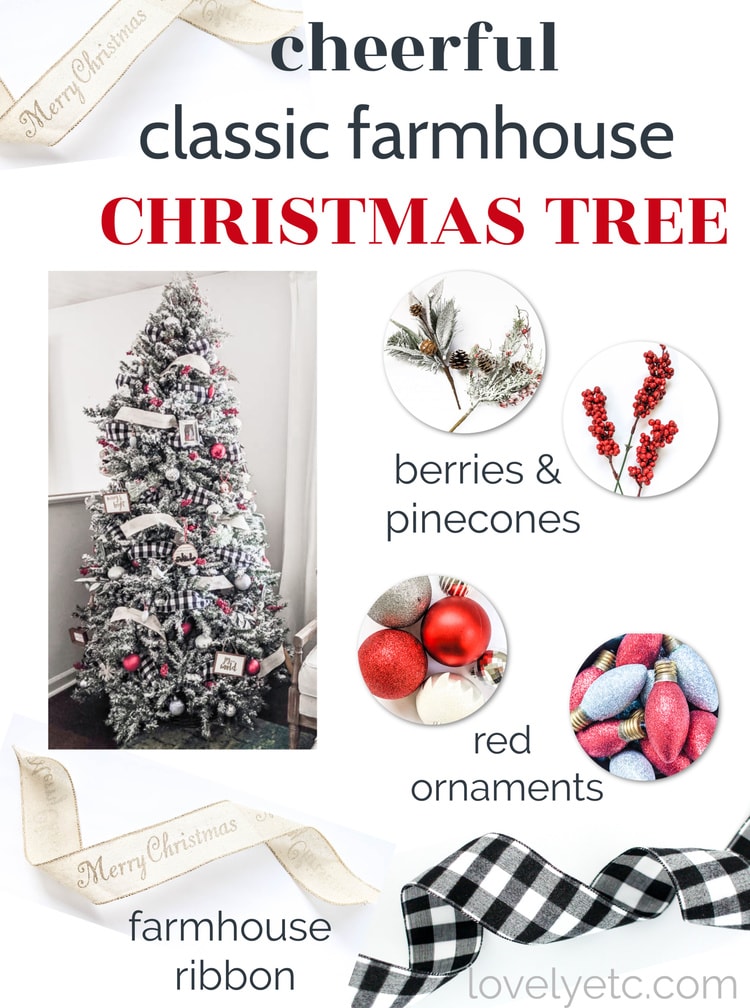 This post contains affiliate links which means if you make a purchase after clicking a link I will earn a small commission but it won't cost you a penny more. Click here to see my full disclosure policy.
Here's what makes up our Cheerful Classic Farmhouse Christmas Tree:
Flocking. We've had the same artificial Christmas tree for nearly a decade now. Several years ago, I fell in love with all of the gorgeous snowy flocked trees I was starting to see everywhere.
But I just couldn't bring myself to go buy a brand new tree when I already had a perfectly good Christmas tree. So instead I bought real flocking powder and flocked the tree we already had. It worked beautifully and still looks beautiful now, more than five years later.
Red Berries and Pinecones. I seriously considered buying a new Christmas tree this year.
Even though I still love our flocked tree, I have seen some really gorgeous flocked trees that I love even more. And the thing they all had in common was they had pretty little red berries and pinecones tucked in among the branches.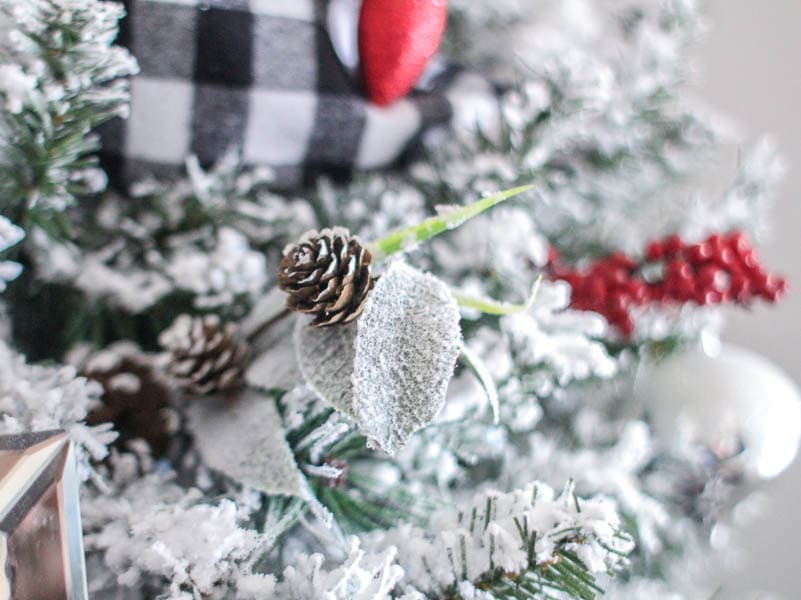 So again, instead of buying a whole new tree, I decided to turn the tree I already had into exactly what I wanted.
I bought a bunch of little Christmas picks on sale and stuck them all over my Christmas tree. That alone made such a difference before I even added any other decorations.
Buffalo Plaid Ribbon. I adore black and white buffalo plaid. I used this ribbon on our tree last year and I still love it just as much this year.
Merry Christmas Ribbon. I also added a gold linen Merry Christmas ribbon. I think it's the perfect balance of farmhouse charm with just a bit of glitz.
Shiny Shatterproof Balls. One day when my kids are older, I'll be able to pull out my beloved collected of vintage Shiny Brite ornaments. But in the meantime, I love to add shatterproof ornaments in a mix of shapes and sizes to help fill out the tree. This year I stuck to shades of silver and white with pops of red.
Glittered Lightbulb Ornaments. Even though these are technically breakable, they aren't quite as fragile as glass ball ornaments and I just can't resist adding them to the tree every year. These are a super easy DIY – just cover old Christmas light bulbs with glue, coat them in glitter, and tie them to the tree using baker's twine.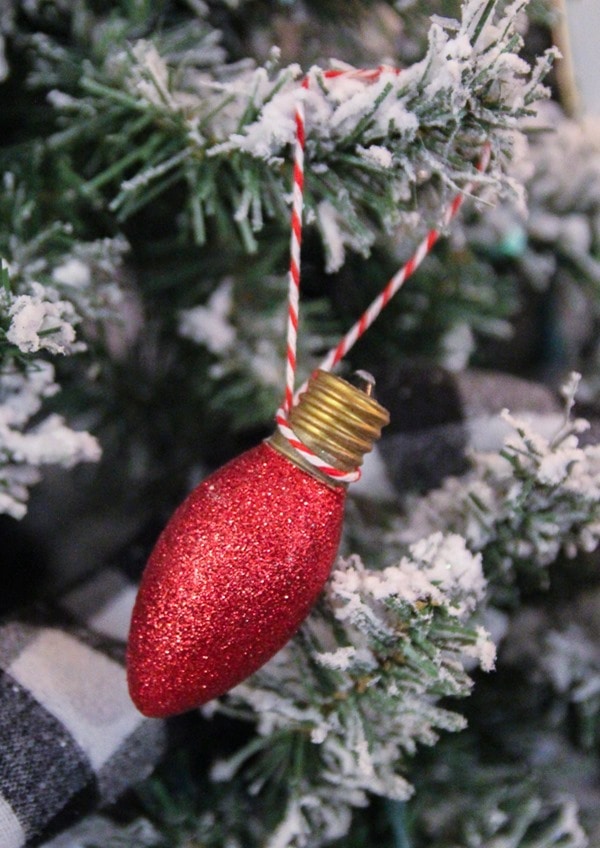 DIY Farmhouse Ornaments. For me no Christmas tree is complete without a few handmade ornaments. (Or even better, a lot of handmade ornaments.)
I've shared a couple dozen DIY Christmas ornament tutorials over the years but these are a few of my favorites with farmhouse flair. I've linked all of the tutorials below the photo.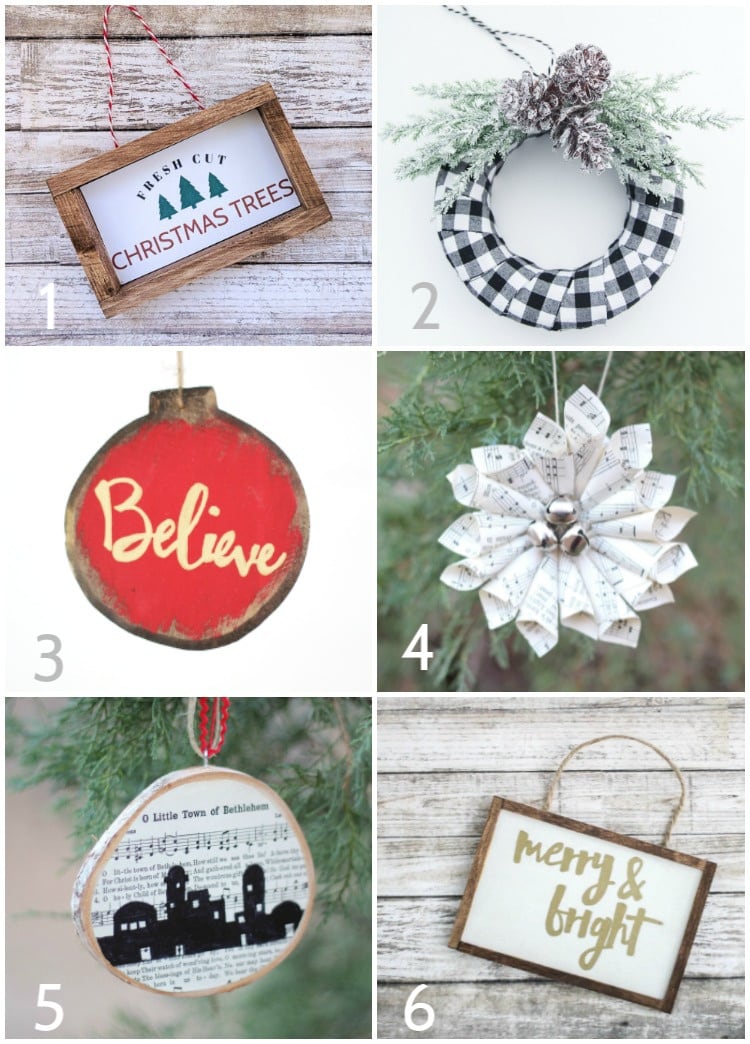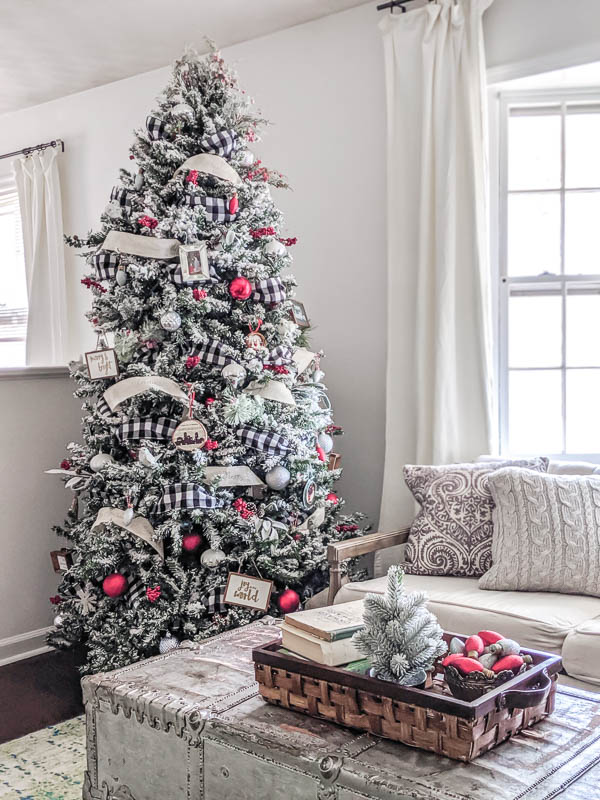 And that's our Christmas tree!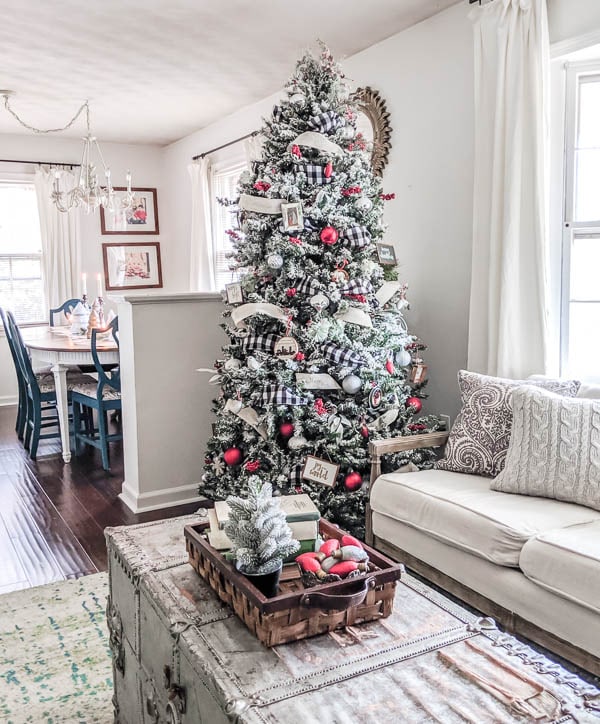 Ok, I know you are going to want to head over to The Honeycomb Home and see her beautiful Christmas tree. And then check out the other trees linked below. There are so many different styles and I feel like this is the perfect place to gather inspiration for decorating your own Christmas tree!
Monday
Casa Watkins Living // Up To Date Interiors // Delineate Your Dwelling // Thou Swell // House Of Hipsters // French & French Interiors // Haneen's Haven
Tuesday
Two Twenty One // Jeweled Interiors // Dimples and Tangles // PMQ For Two // Kaleidoscope Living // Reality Daydream // Heathered Nest
Wednesday
Setting For Four // Monica Wants It // The Happy Housie // Lovely Indeed // Lemon Thistle // Amber Oliver
Thursday
Taryn Whiteaker Designs // Cherished Bliss // Lovely Etc. // The Honeycomb Home // My Sweet Savannah // Cuckoo For Design // Kate Decorates
Friday
Our Fifth House // Kelly Elko // Daly Digs // Tag & Tibby // House Homemade // Lolly Jane // The DIY Mommy
Merry Christmas!