It has been way too long since I shared an updated home tour!
So long in fact, the last time I shared our whole home was before my youngest, Lincoln, was born. And he's 2.5 years old now! So it is definitely time for an update.
I wouldn't exactly say our 1973 brick ranch was my dream home when we moved in. (And if I'm being honest, I still dream of living in a 100 year old farmhouse someday.) But over the past few years I've slowly been working to transform our dark, dated 1970s home into a place we love to be.
Updating everything on a tiny budget, doing one little project at a time has been a huge undertaking. And even though there always seems to be another project waiting to be done, I'm thrilled with how our home has become our happy place.
I'm going to take you on a little tour of our home room by room. Of course, it goes without saying that these photos show our home on it's very best, most tidy day ever. Most of the time the floor is covered with a somewhat horrifying number of tiny toys.
Below each picture, I have linked to as many shopping sources and DIY tutorials as possible. Since our home is filled with secondhand treasures, it isn't possible for me to share links to many of the exact items we own, but I have tried to link to something similar whenever possible.
This post contains affiliate links which means if you make a purchase after clicking a link I will earn a small commission but it won't cost you a penny more. Click here to see my full disclosure policy.
Entryway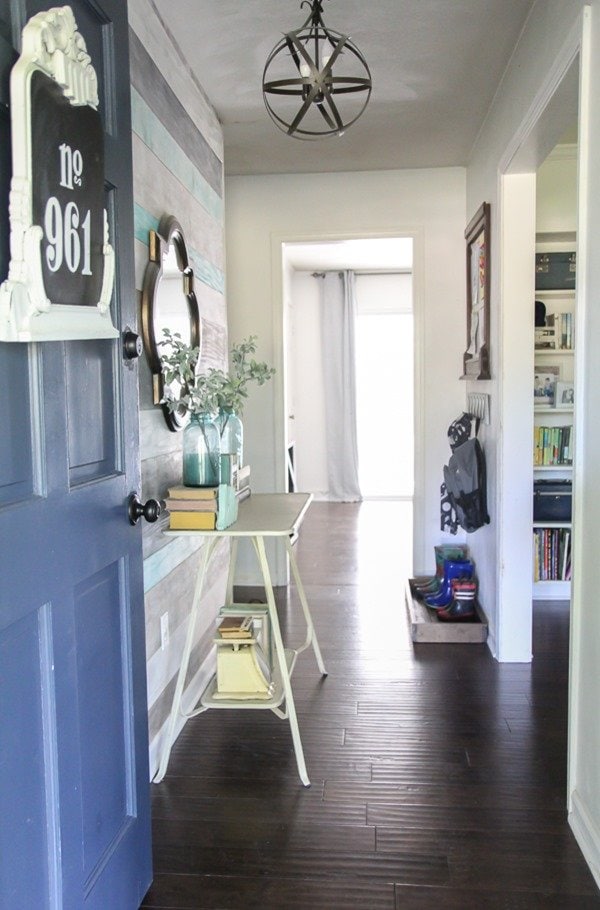 tutorial for DIY house number * tutorial for DIY orb light fixture
For a long time, our foyer was the ugliest room in our whole house, but a colorful wood wall and other personal touches completely brought it to life! You can see more of our entryway here.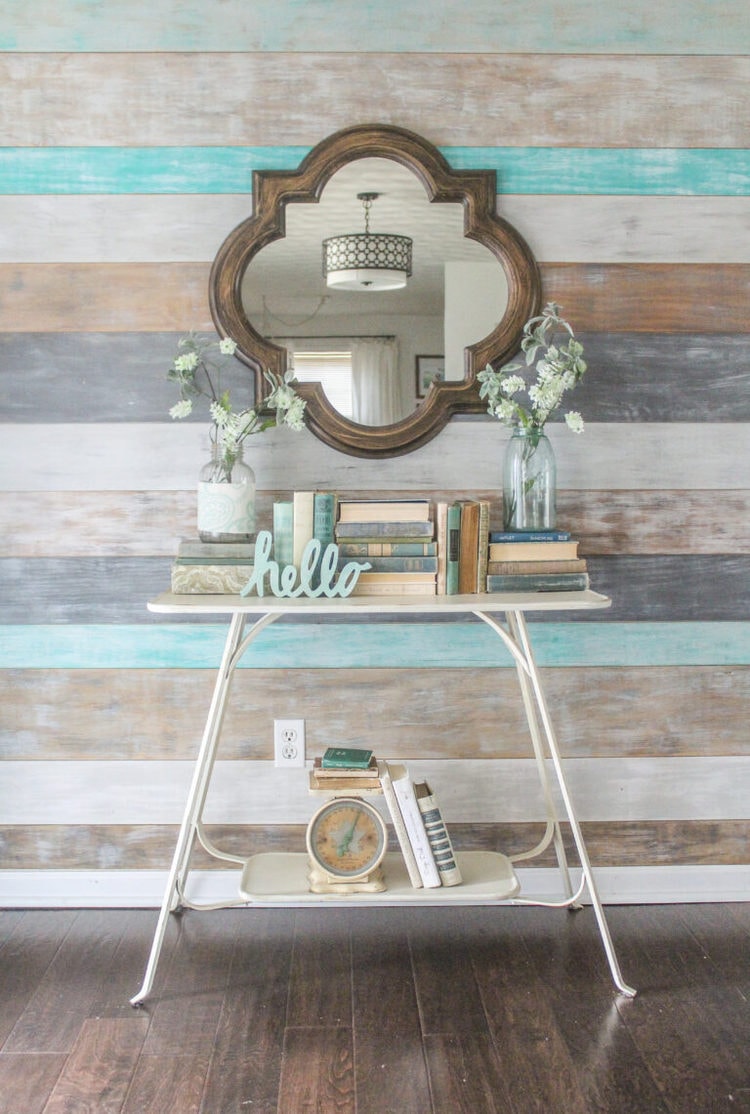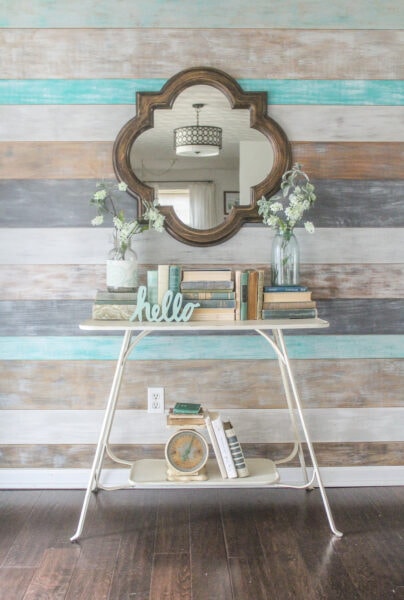 similar mirror * tutorial for DIY wood plank wall * table is no longer available
Library
Similar Rug * tutorial for reupholstered sofa * tutorial for DIY curtain rods * tutorial for DIY lampshades * tutorial for DIY Thankful sign * tutorial for DIY arrow growth chart
My kids call this room the library because of the wall of built-in bookshelves I added. I'm a big reader, so I love the idea of a home library. Plus it sounds so fancy! Our library is full of color and almost everything in here is either a killer yard sale find or a DIY project. (Those green chairs were only $30 for the pair!)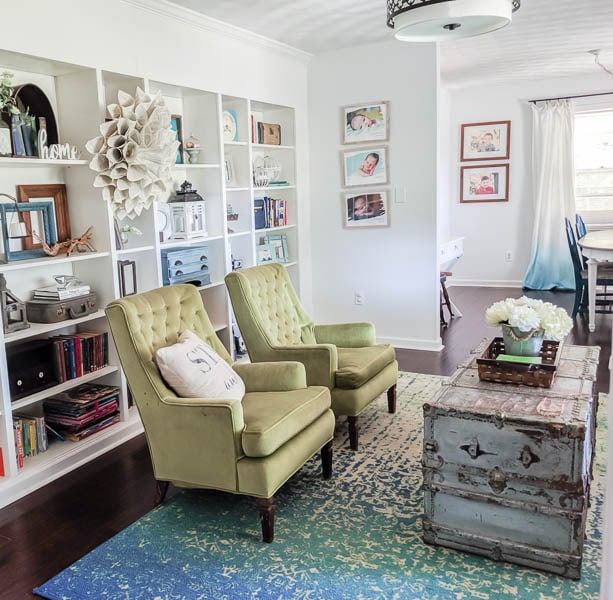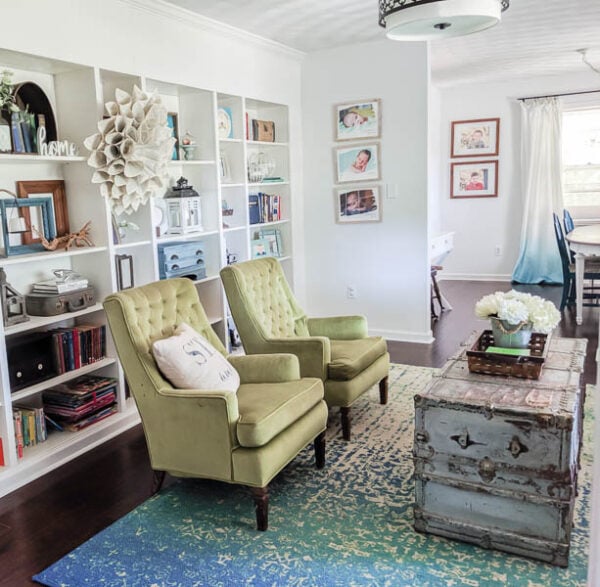 Tutorial for built-in IKEA bookshelves
Dining Room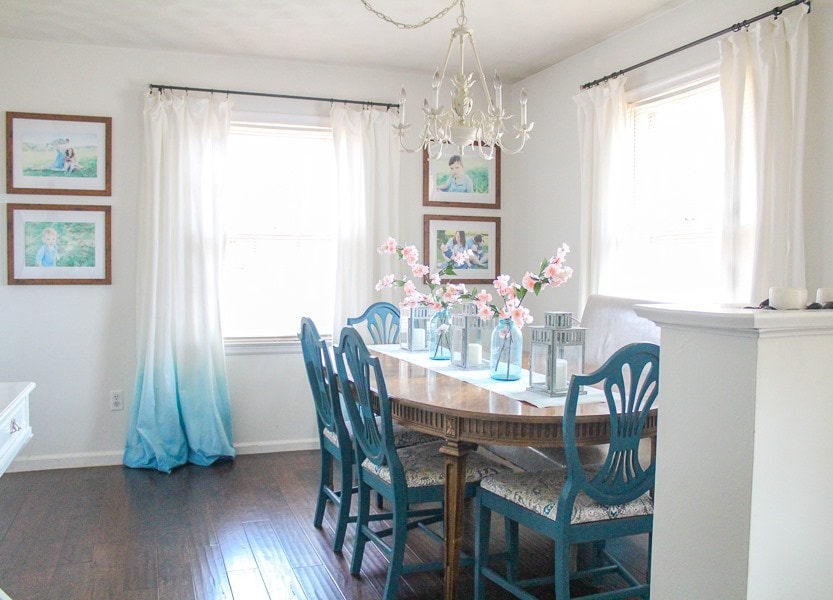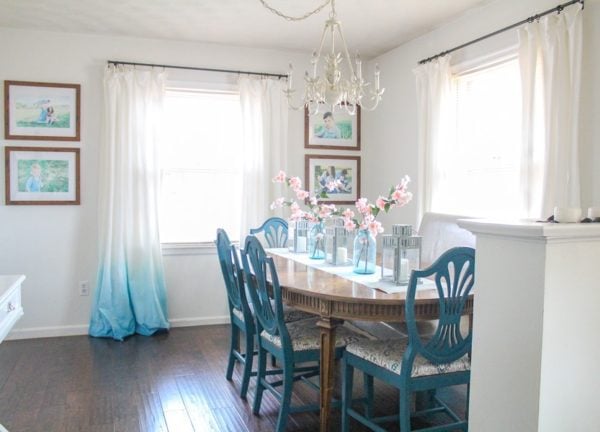 Our dining room is separated from the library by a small half wall. The table is most often covered in legos and crayons, but as our kids get older, we're working on eating more family dinners here as well.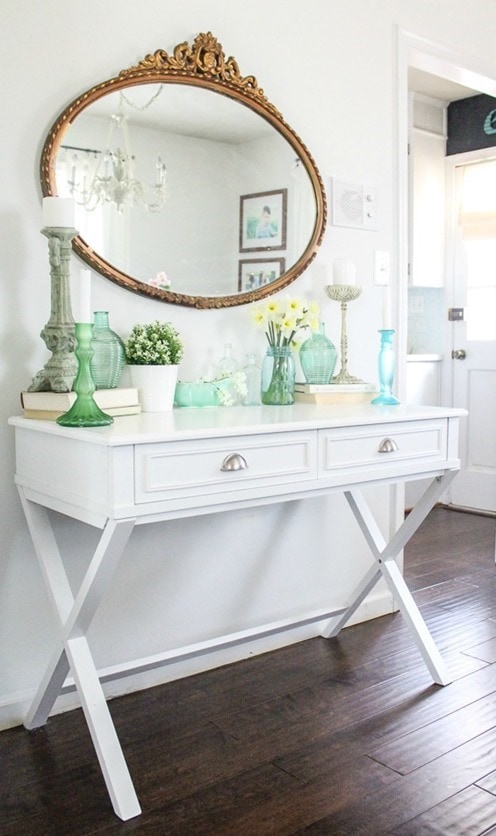 Kitchen
backsplash stencil * tutorial for painted cabinets * tutorial for stenciled backsplash * tutorial for updating hinges * tutorial for updating IKEA stepstool * tutorial for wood plank wreath
This kitchen has come such a long way from the dated beige room it used to be. I was able to completely transform this entire room for less than $1000 including 'new' appliances. Now it's a space I love to be in. You can see the awful before pictures and read more about the whole transformation here.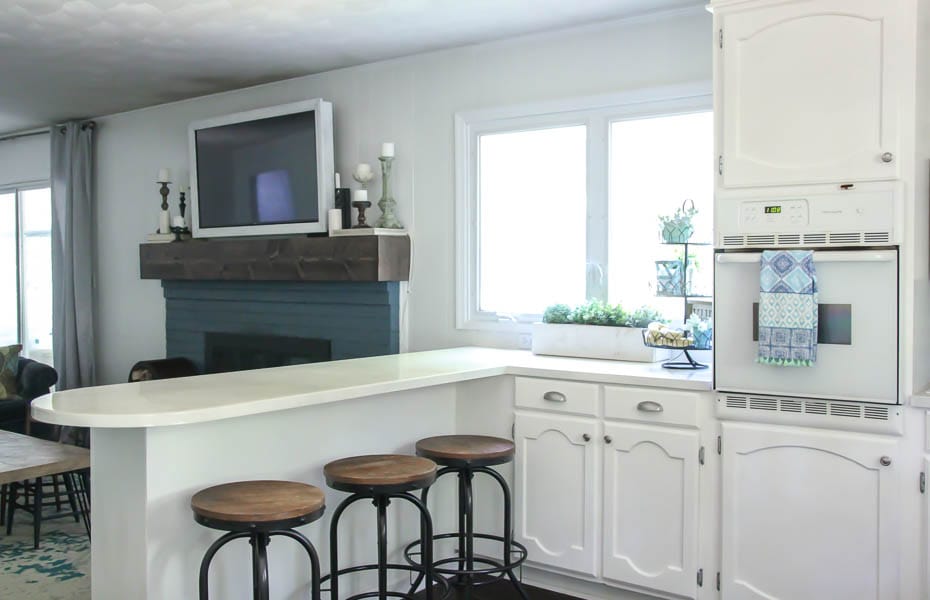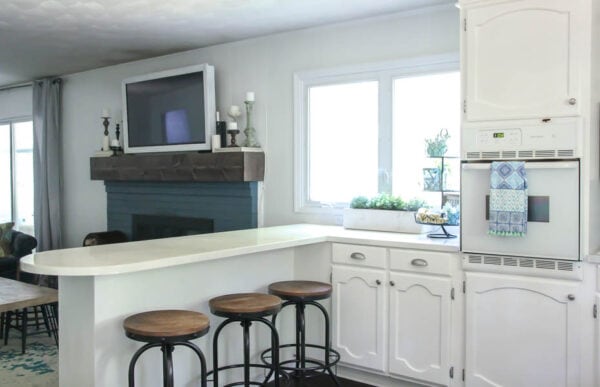 barstools * tutorial for painting countertops * tutorial for DIY planter box
Family Room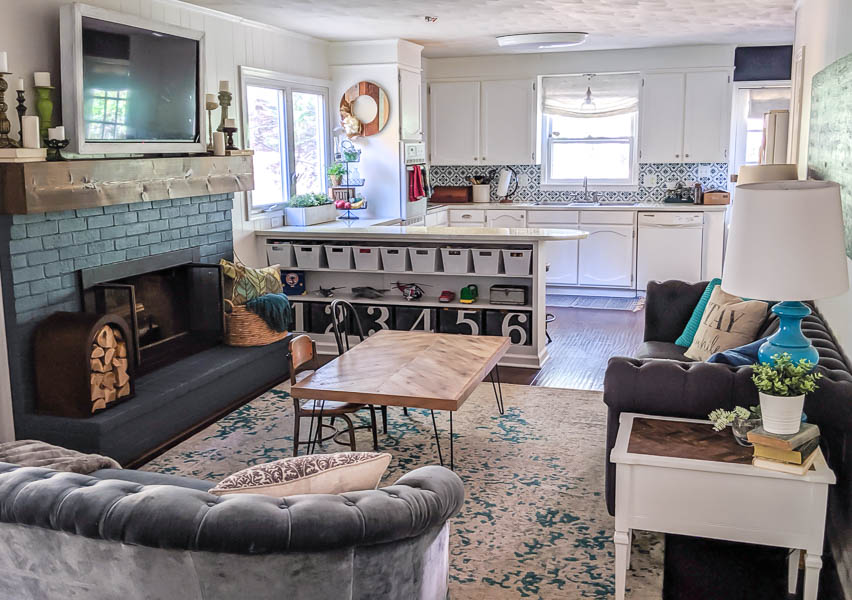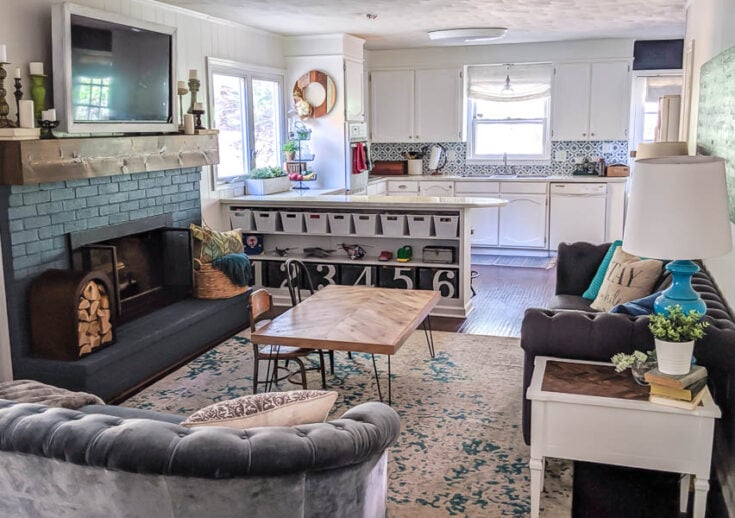 Rug * charcoal chesterfield sofa * turquoise lamps (similar) * tutorial for numbered wooden boxes * tutorial for refinished end tables
This is the room where we spend most of our time; it holds our only TV and most of the kids' toys and it gets lots of use! Painting the fireplace blue was a little risky but it made such a huge difference in making this space feel cozy and welcoming.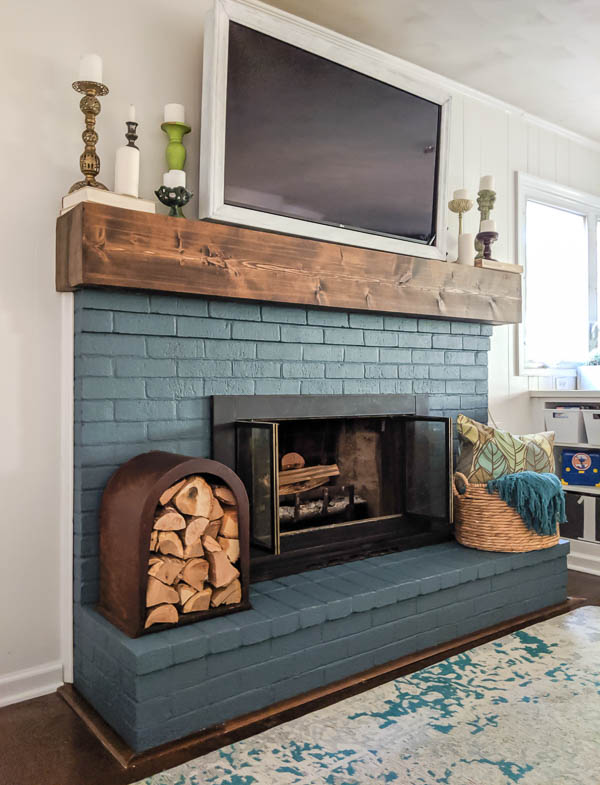 upcycled firewood holder * tutorial for painted fireplace * tutorial for DIY mantel * tutorial for TV frame
Bathroom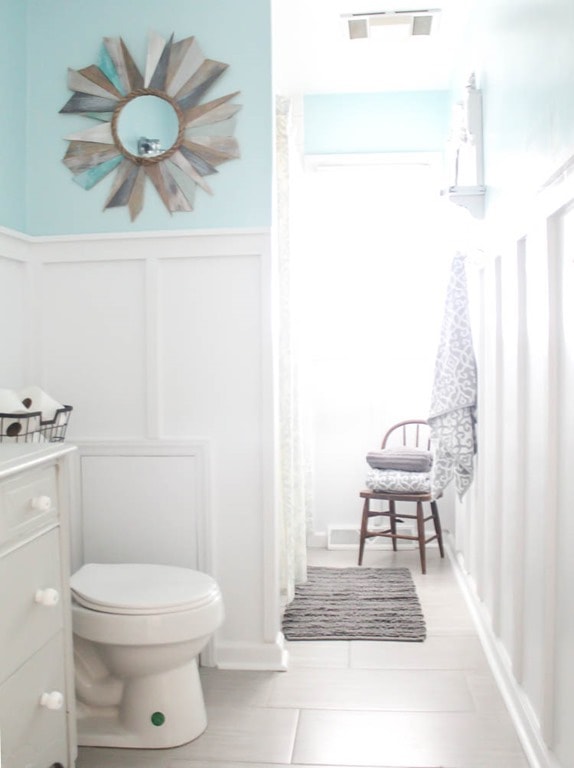 gray bath mats * gray and white towels * tutorial for board and batten walls, tutorial for sunburst mirror * tips for installing tile
Our hall bathroom was another room that was still stuck a few decades in the past. I did most of the work on this room myself from tiling the shower to installing the dresser vanity to adding the board and batten walls. And while it was very time-consuming, it wasn't nearly as difficult as I'd imagined. You can see the horrible before pictures along with all the details of this makeover here.

vessel sink * faucet * tp holder * tutorial for cow hand towel holder * tutorial for turning a dresser into a vanity
Master Bedroom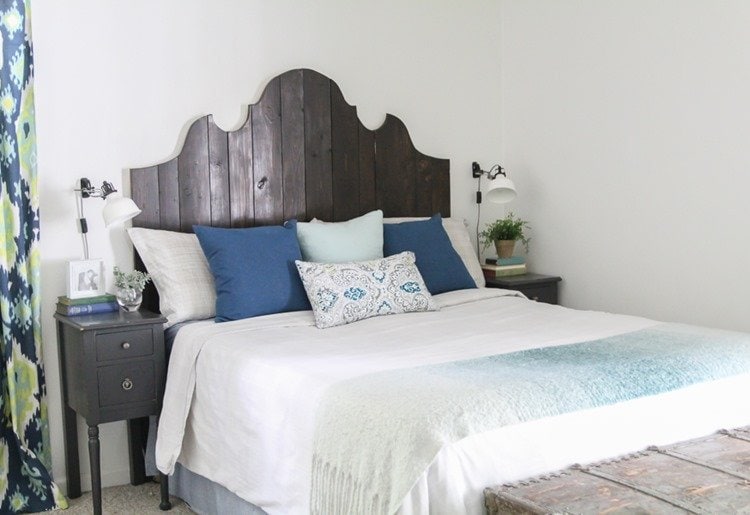 white sconces * fabric for curtains * tutorial for sewing curtains * tutorial for DIY headboard * tutorial for creating nightstands from a vanity
I recently gave our master bedroom a major refresh using for less than $50 using things we already owned along with a bit of DIY. Over the years I've made three different DIY headboards for this room, but this curvy wood plank headboard is by far my favorite. You can see more details and photos of this space here.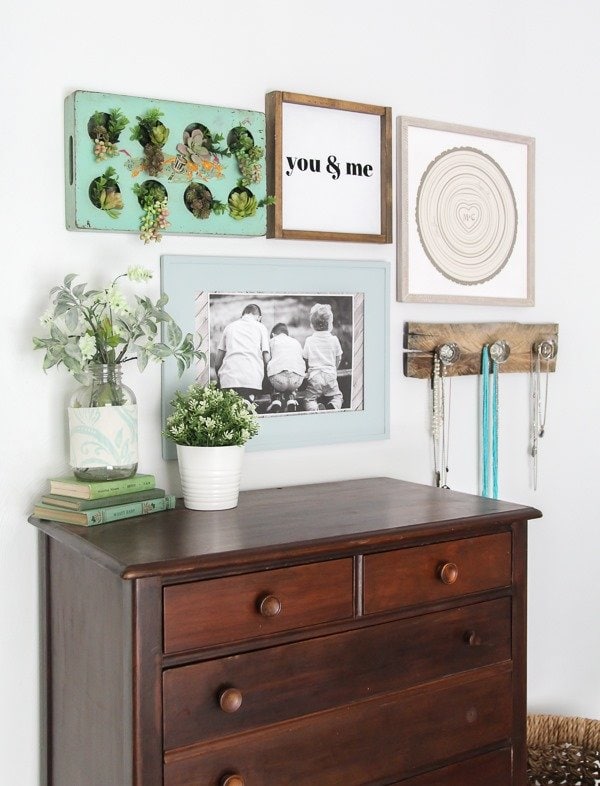 tutorial for succulent wall art * You & me sign and wall hooks – tutorials in my book, Wood Plank Projects
Boys' Shared Room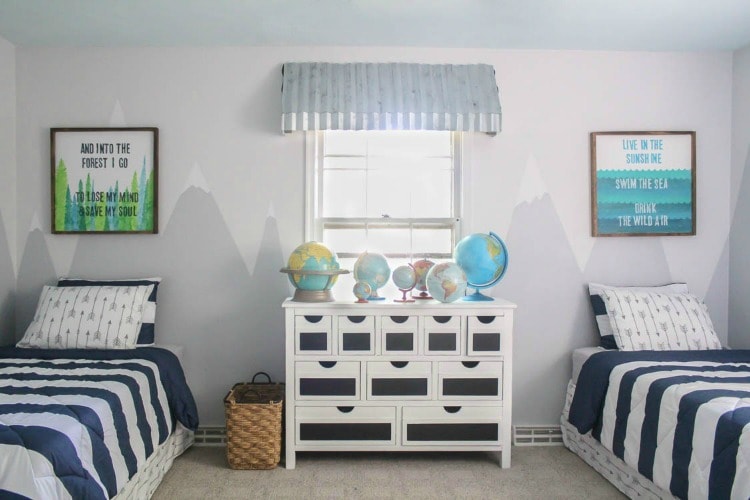 striped bedding * arrow sheets * basket (similar) * tutorial for window awnings * tutorial for mountain mural * tutorial for signs * tutorial for making bedskirt from flat sheet
My 4 and 7 year old sons share this bedroom and it is full of so many fun details from the mountain mural headboards to the vintage globe collection. Kids rooms are definitely the most fun to decorate! You can see more photos and details of this room here.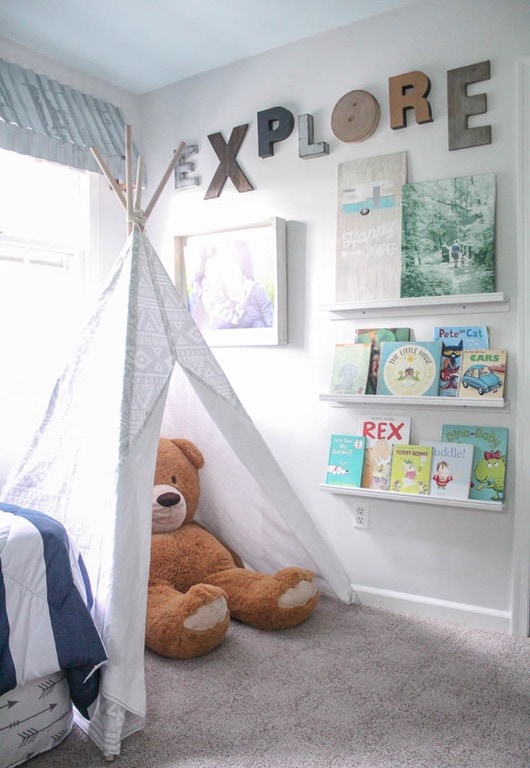 play tent * huge bear * tutorial for explore letters
Nursery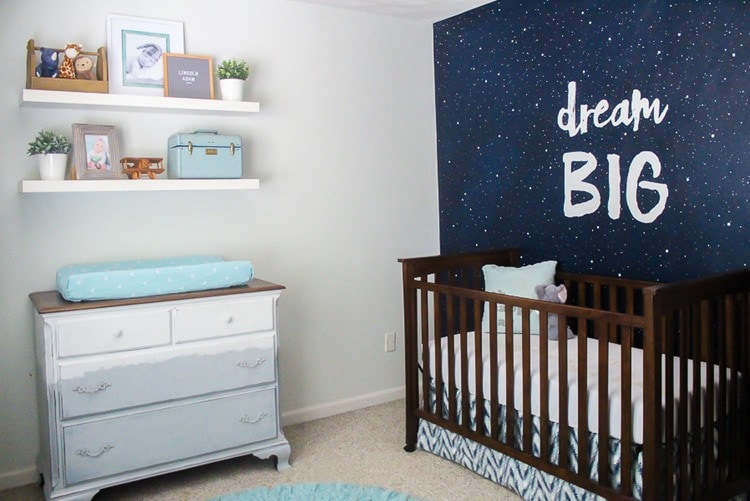 floating shelves * crib (similar) * tutorial for Dream Big mural * tutorial for painted dresser
The nursery is currently my 2.5 year old's bedroom. I know he will be ready for a big boy room soon but for now we're still enjoying this sweet space. You can see all of the details and more photos here.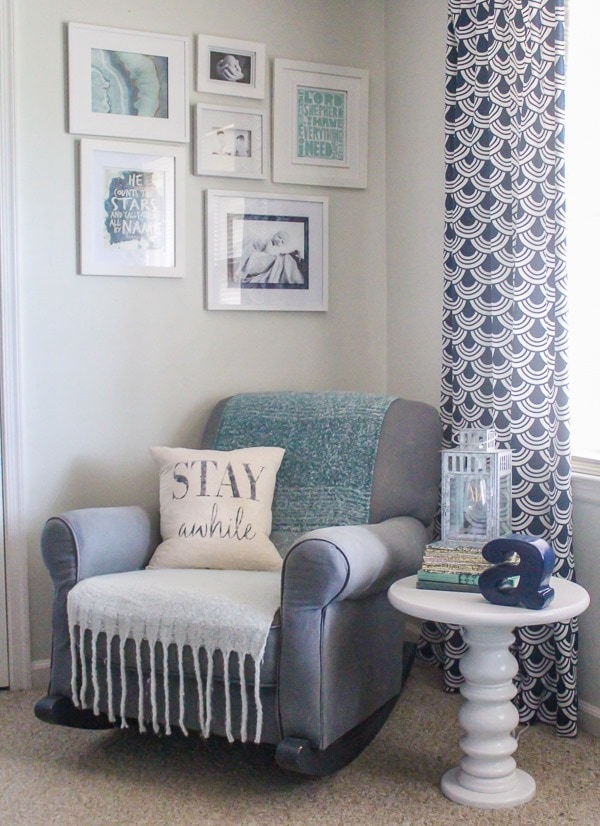 glider (similar) * tutorial for DIY curtains * tutorial for reupholstering glider * tutorial for pedestal table
Thanks so much for visiting our home! I hope you'll follow along here as I continue to make this house our home one step at a time. In the meantime, if you love DIY and thrifty decorating as much as I do, I'd love for you to pin this tour to Pinterest!