Entryways can be so tricky to decorate. Our entryway is the space that welcomes us home everyday and I want it to be beautiful and inviting and uncluttered. But at the same time, it also needs to be organized and functional and have space for coats and bags and keys and shoes and all kinds of not very beautiful things. That's a tall order to pull off in any space, but when you have a small entryway, it's an even bigger challenge.
Our 1970s ranch home has a small entryway that's really more like a narrow hallway which brings plenty of challenges. (Although to be fair, our first home was a tiny 1922 bungalow where the front door opened basically right into our living room couch, so I'm pretty thankful for what we've got!)
I gave our entryway a major upgrade several years ago when I upcycled the lighting and added a pretty painted plank wall which I still absolutely love. But it wasn't until the past year or so that I really figured out how to give the space some function and organization as well.
With three small kids, I found that our little entryway was quickly becoming a dumping ground for jackets, shoes, backpacks, and all kinds of other debris every time we walked in the door. Not exactly the relaxing homecoming I was looking for so I started doing a bit of brainstorming and problem solving. I wanted to give our narrow little entryway the function of a mudroom without taking away it's style. And after a bit of experimenting and some super quick DIY projects, I love how it turned out.
This post contains affiliate links which means if you make a purchase after clicking a link I will earn a small commission but it won't cost you a penny more. Click here to see my full disclosure policy.
When you come in the front door, this is what you see.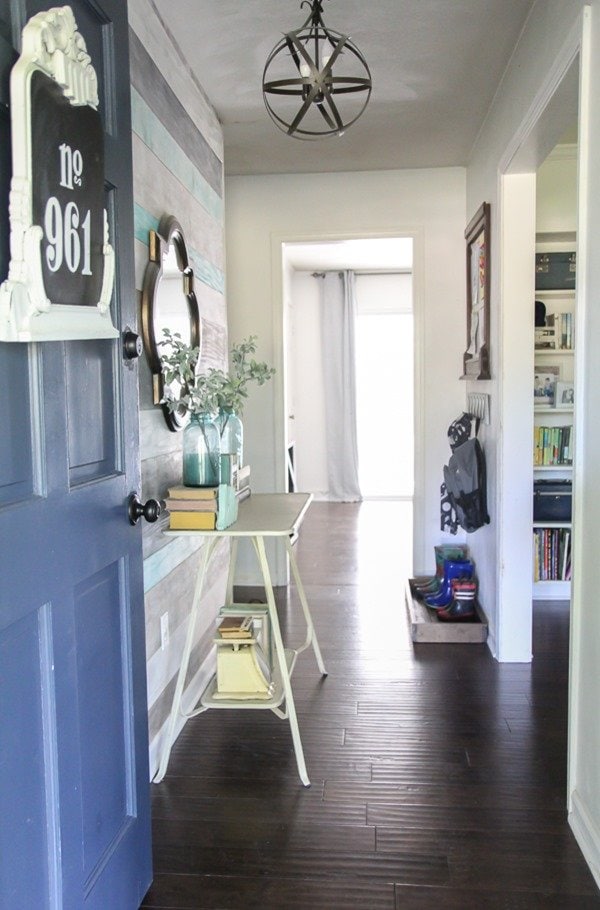 chalkboard house number tutorial, easy orb chandelier tutorial
We still have our beautiful wall and pretty table and mirror but now we also have a spot for our kids to hang up their jackets and bookbags when we come in the door. We have a spot to corral shoes. And we have a super cute spot to display our boys' artwork. Hooray!
On the left is our pretty wood plank wall.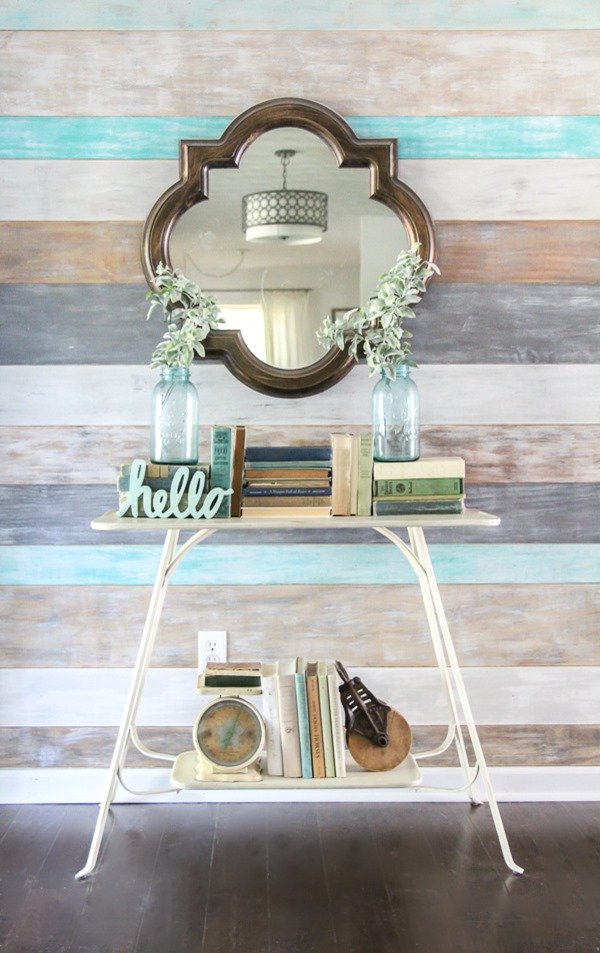 Wood plank wall tutorial, similar quatrefoil mirror
This is the angle I usually share of our entry because it is just so darn pretty and is so fun to photograph. This view is looking into the entry from our library. (My kids started calling our living room the library when I added the wall of built-in bookcases last year and I love it!)
After trying out several different combos here, I keep coming back to this mirror and table. Admittedly the table isn't the most practical with zero hidden storage, but it really helps this small space feel more open and all of the angles are beautiful against the straight lines of the wood wall. I bought this little table from the daily deal site DecorSteals several years ago and I've tried to find something similar to point you to, but so far, I haven't had any luck.
Normally, I would have a pretty basket or tray here for holding our keys and mail and such. But our youngest, Lincoln, is just about to turn two, so currently, we can' t leave anything too valuable here because it will inevitably disappear. So instead it's just a pretty spot to display some of my favorite things: old books and greenery.
Further down the entry hallway, there is a little sliver or wall between two doorways. This is the spot where I created a teeny, tiny little mudroom.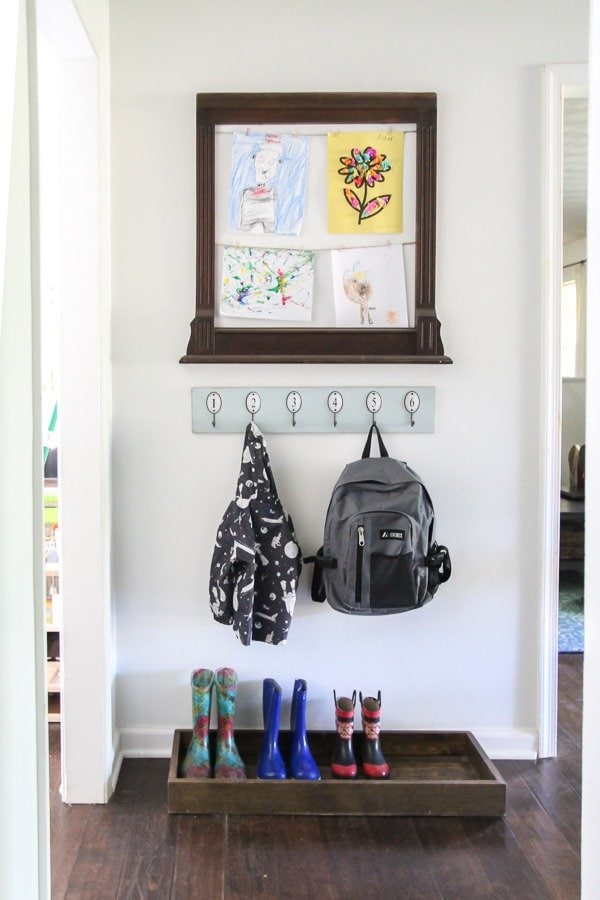 simple DIY boot tray tutorial is in my book Wood Plank Projects
There are low hooks that my boys can reach to hang up their jackets and bookbags during the school year. On the floor is a DIY wooden tray that I made to corral our shoes and boots. We didn't used to be a family who took our shoes off at the door. But our boys could NEVER find their shoes when it was time to go somewhere. They inevitably took them off all over the house and we were constantly going on search missions to find them. This little shoe tray is probably one of the most basic DIY projects I've ever made, but it has seriously made our lives so much easier. Now everyone takes their shoes off as soon as they come in and we always know where they are when it is time to head out the door. And as a major side benefit, there is way less dirt being tracked all over the house. Hallelujah.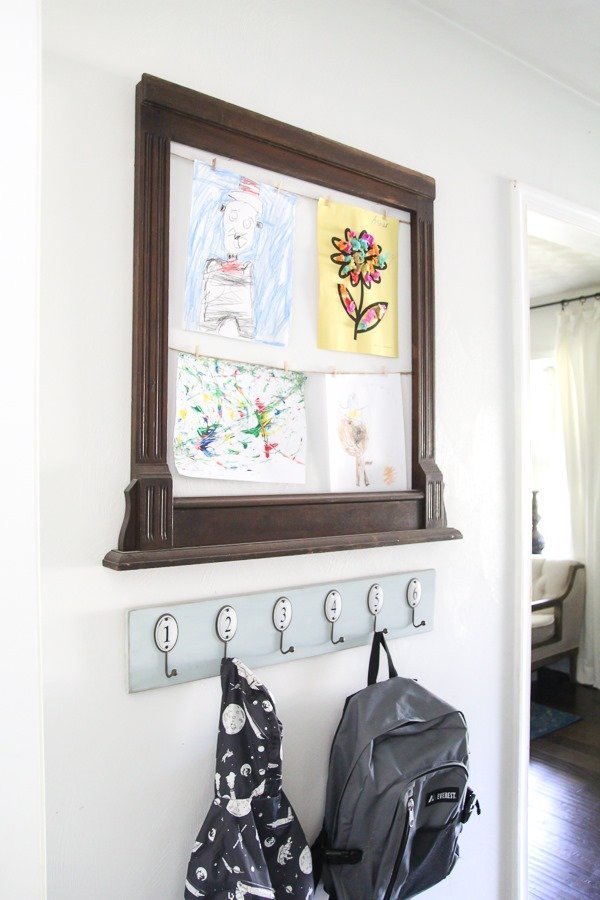 And finally, I've been wanting to display some of my boys' artwork somewhere in the house and this turned out to be the perfect little spot. I wanted to create a cute little art display where I could easily switch out the artwork as new pieces come home from school. This old frame display has been perfect. I used an old dresser mirror frame that I found at a yard sale a few years ago, but absolutely any large frame would work. And if you don't have a frame in the size you need, yard sales and thrift stores are full of great choices, especially since you don't need one with glass for this project.
Once I had my frame, I simply used a staple gun to staple two pieces of twine across the back of the frame.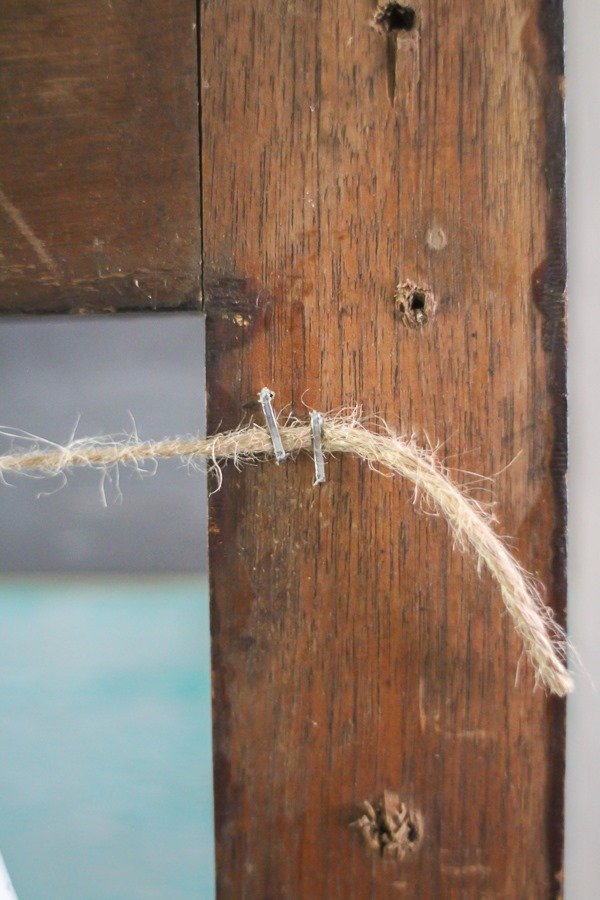 Then I added mini clothespins to attach the art to the twine.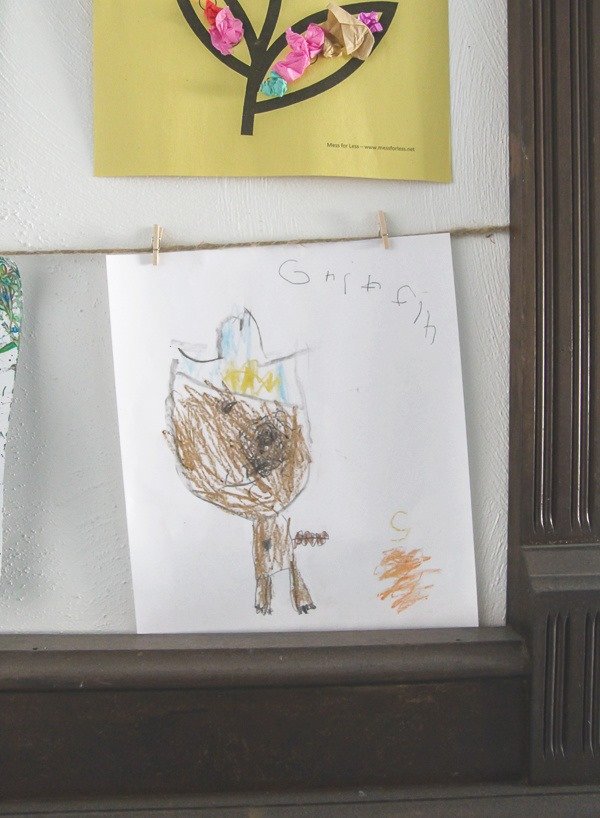 Now it is super easy to switch things out and hang art of all different sizes. I could even hang one giant poster size piece of art if needed.
And of course, my boys absolutely love seeing their work on our walls.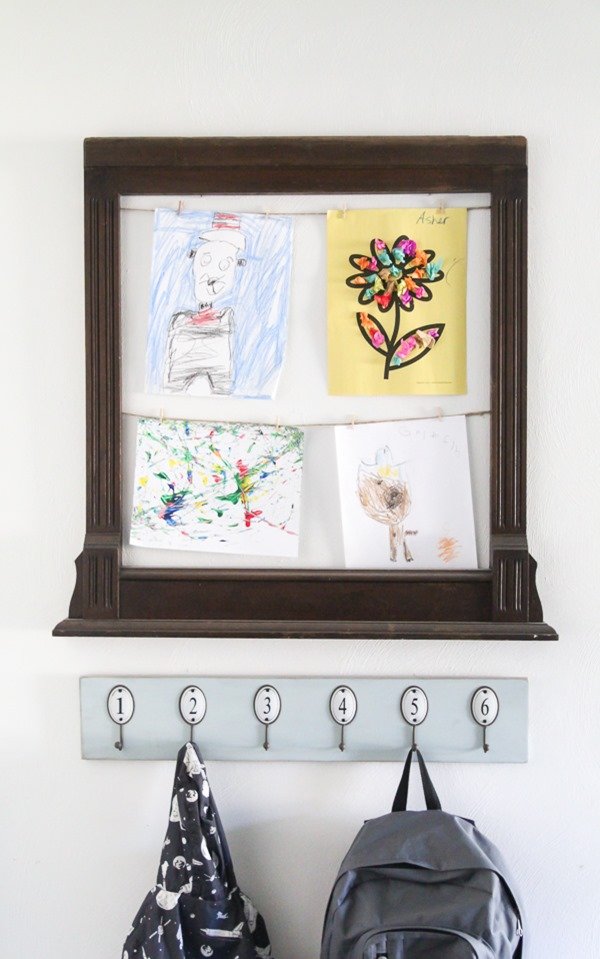 DIY Tutorials for this Space:
Pin it for later!