Decorating for free sounds a bit like magic. You start with a big empty room and somehow, poof, it's filled with gorgeous new furniture and styled perfect.
Wouldn't it be sweet if I could tell you how to make that happen!
Of course, that isn't how it works, but I have figured out some easy ways to bring your space to life without spending a dime.
And that in itself can definitely feel like magic!
I know I'm not the only one who struggles with wanting a beautiful home I love, but not wanting to spend a ton of money to make it happen.
I can vividly remember times I have sat on our couch, looking around the room at all of the things I don't like and would love to change if I only had the money.
Or times when everything looked 'fine' but I was so tired of settling for just fine and couldn't wait another minute to make a change – even if new decor really wasn't in the budget at the time.
So I learned to get creative and shake things up without spending a lot of money. And then I learned to get even more creative and do it without spending ANY money at all. (Which is something my husband can definitely get behind!)
Decorating on the cheap is something that is second nature to me at this point, but I'll be the first to admit decorating for free is a bit trickier.
Nobody can create a beautiful room out of thin air, but what we can do is get creative, find new ways to use what we already have, and then add a few perfect (free) touches to bring it all together.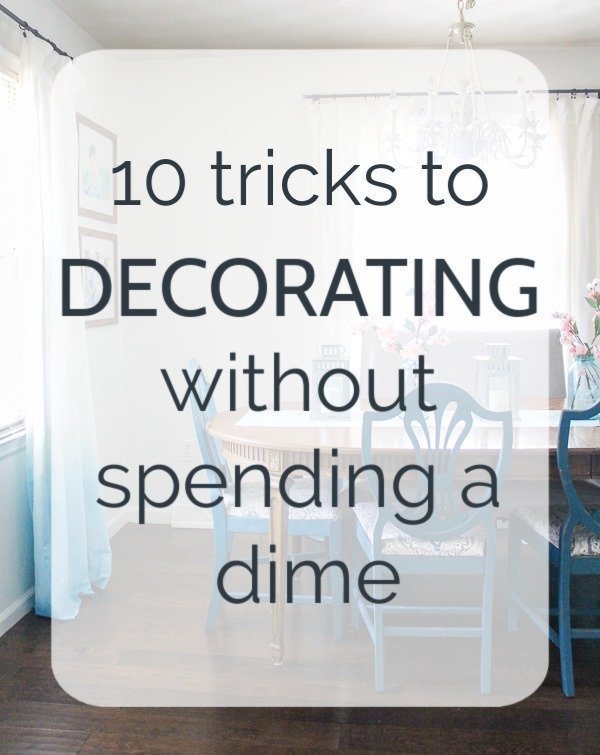 1 – Declutter what you already own
Ok, so decluttering isn't the most fun decorating advice. And it may seem strange to say to get rid of the things you do have when you can't afford to replace them right now.
But I truly think when you have a space you aren't liking, getting rid of everything that isn't working is the best first step.
Even if it seems like there really isn't anything to get rid of, when you really look around with fresh eyes, you can probably find quite a few things that you really don't like or that don't belong.
Of course, there may also be things you don't like that have to stay for practical reasons, like an old, ugly sofa you can't afford to replace.
But if there are things that are meant to be decorative that you don't actually like anymore, get rid of them.
Or if there are furniture pieces that really aren't necessary, move them out. Sometimes it is better to have more clean, open space and less stuff that is really just bringing the room down.
2 – Rearrange the furniture
Once you've decluttered, take a look at what you have left to work with. Sometimes you really don't have to buy a single thing to completely refresh a space.
Instead, what you really need is simply to shake things up and put them back together differently.
Start with the largest piece of furniture in the room – the couch, the table, the bed, etc. Try it in all of the possible spots it could go.
You can try to work this out on paper or in your mind first, but personally, I really just need to get up and physically move things.
There have been so many times I was convinced something wouldn't work in a certain spot because it was too big or would be in the way when in reality that was the perfect spot all along.
Once you have your main furniture piece where it needs to be, start moving everything else around it.
And if you end up with everything exactly back where it started, at least you know for certain that there really isn't a better way to do things!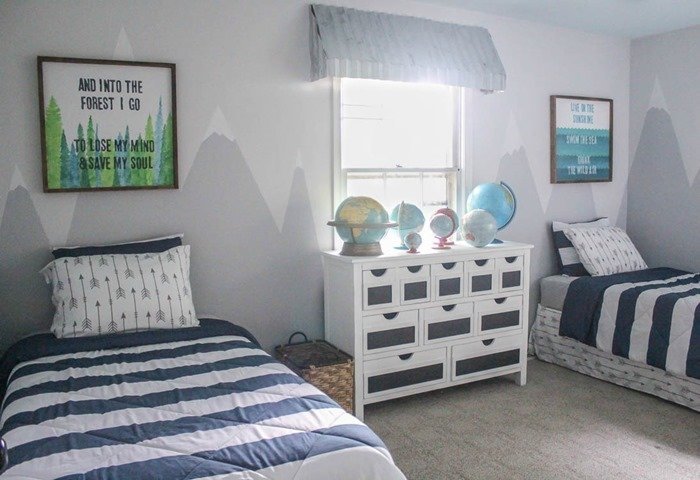 When we moved our two older boys into a shared bedroom, I thought I knew exactly where the beds needed to go. But when I started moving them around, this completely different arrangement worked so much better.
3 – Switch things up between rooms
Along those same lines, get creative and try bringing in a few things from other parts of your home.
We get so used to seeing things in certain spots, we become blind to them and never even consider where else they could work.
Sometimes all you really need to freshen a space up is to switch a few things between rooms.
If you have a living room and a family room, try switching out the sofas or coffee tables between the two rooms. Switch up the dressers between two different bedrooms. Or move some bookcases from a bedroom to a den.
I recently moved an old trunk we've been using as a coffee table for the past ten years to the foot of our bed and I love it it there! It almost feels like having a new piece of furniture.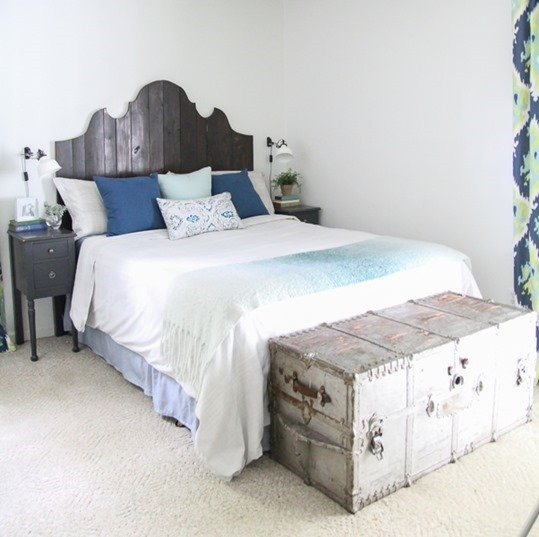 Our master bedroom is full of items gathered from around our house – this entire room makeover came in at only $25!
4 – Give furniture you already own a new purpose
Sometimes you might find you already own something that will work perfectly for what you need.
An old dresser can make a gorgeous buffet for a dining room or TV stand for a family room.
You can cut down the legs of a small dining table you no longer need to make a cute coffee table.
Or turn an old door, tabletop, or even an old gate into a rustic headboard. Try to see the things you own with new eyes; instead of only seeing what it was made to be, imagine all of the other ways it could possibly be used.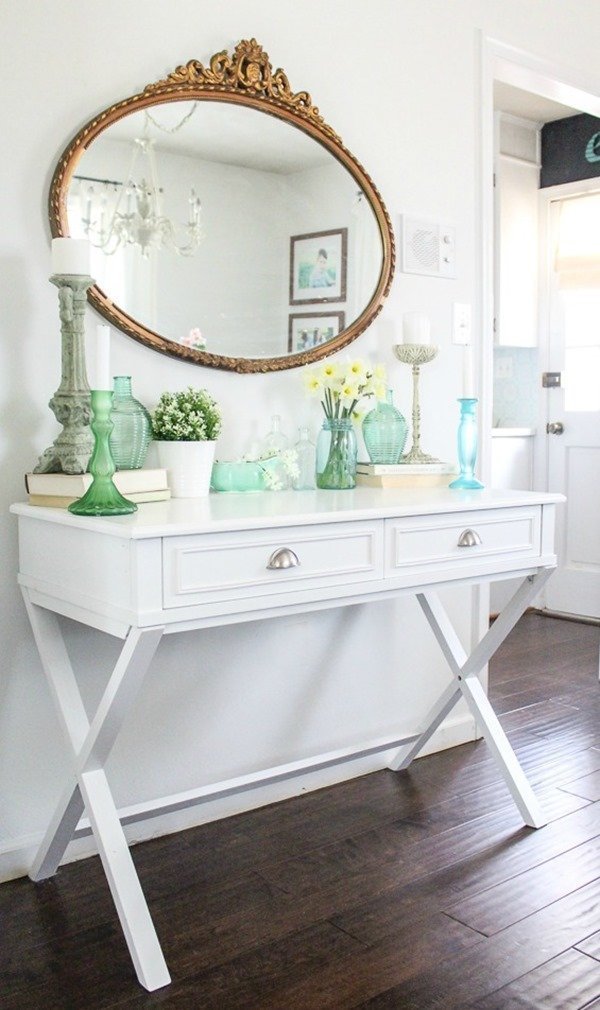 This writing desk works perfectly as a sideboard in our dining room. Before that it served as a little table in our entryway.
5 – Use free printable art
There are so many gorgeous free printables available now that make amazing art for your home. All you have to do is print them at home and pop them in a frame.
Or if you are willing to spend a couple of bucks and need a large art piece, you can print them at Staples or your local copy center as an engineering print. Black and white engineering prints up to 24″ x 36″ cost less than $4.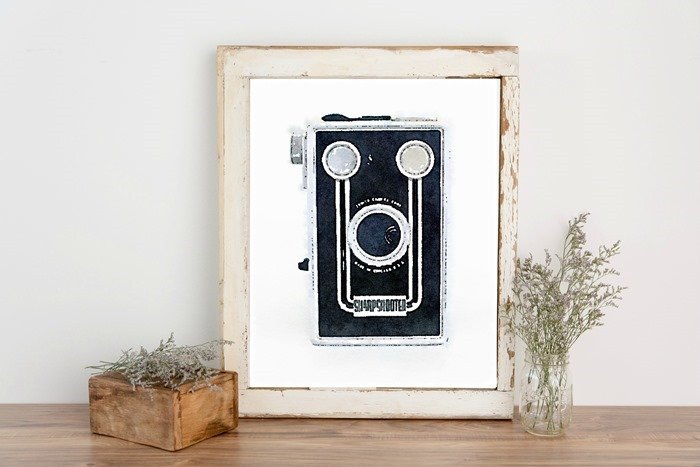 If you aren't sure where to find great printable art, you can also search Pinterest for "watercolor printables", "vintage printable art", or whatever you are looking for.
A few of my personal favorite sources of free printables are Picture Box Blue for vintage maps and illustrations and We Lived Happily Ever After for gorgeous watercolors and farmhouse style printables.
And I also love to share the free printable art I create. These vintage cameras are my most popular pieces.
6 – Print family photos to frame
One of my favorite tricks is to print family photos at home and pop them in frames. I like to print them on cardstock but regular printer paper will also work.
When using a frame that needs a mat, I simply cut a piece of poster board to the correct size, layer the photo on top, and tape the photo in place with clear tape.
Once it is in the frame, behind glass, you can't tell at all.
If you don't have any white poster board, you can also use wrapping paper for this. Most wrapping paper is plain white on the back and can easily be cut to any size.
Or you can always pick up poster board at the dollar store if you are willing to spend a tiny bit of money.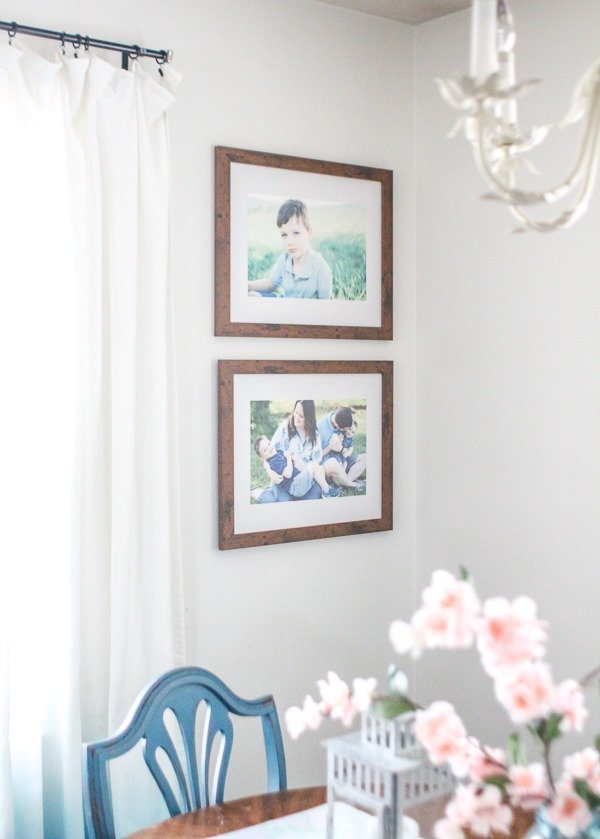 These family photos in our dining room are printed on card stock and matted on poster board.
7 – Frame sentimental items as art
I am a huge fan of filling our home with things that are truly special to us. And it's even better when I can put those things out front and center instead of hiding them away in boxes.
If you are anything like me, you probably have a stash of picture frames just waiting for the perfect art. (And if not, you can pick up frames for a buck or two at yard sales and thrift stores. I know that isn't free but it's close!)
Then instead of framing photos and art, frame something else that holds a lot of meaning – love letters, handwritten recipes, old baby clothes, dried bouquets, tickets, – pretty much anything you have tucked away because it is special to you.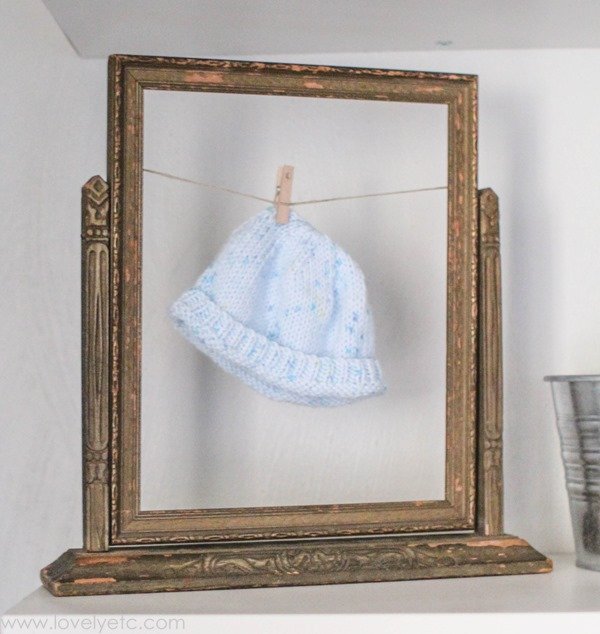 The hat baby Asher wore home from the hospital works perfectly in this vintage frame in the nursery.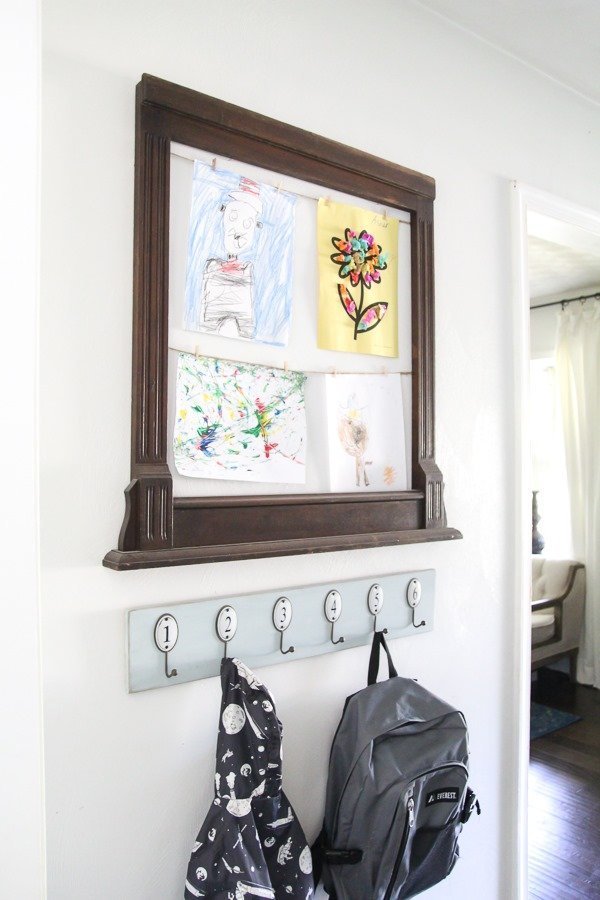 Our simple kids art display makes the perfect art for our entryway.
8 – Decorate with nature
There are often so many beautiful things right outside our doors that can give our homes character and interest.
Just gather whatever is readily available: flowers, seashells, branches, acorns, pinecones, river rocks.
Then add them to pretty jars and bowls around the house. Of course just make sure to clean everything well first!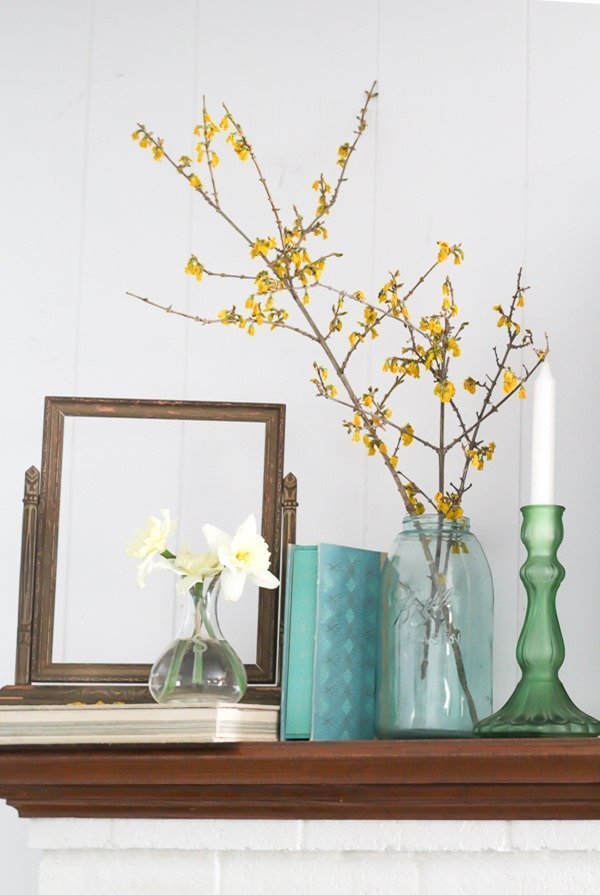 Daffodils and forsythia branches are the perfect addition to the mantel.
9 – Use a blanket to cover an old couch or chair
There's no way around it – new sofas are expensive. Even the 'super cheap' options from stores like IKEA cost several hundred dollars.
And while $500 may be a great price for a sofa, there are plenty of times we don't have an extra $500 to spend to upgrade our ugly sofa.
One easy solution when you can't replace your old sofa is to simply cover it up.
You can use a spare blanket, a tablecloth, or I've even used a spare set of curtains to cover an ugly sofa. You can also just drape the blanket over the back and add throw pillows to help cover the ugly.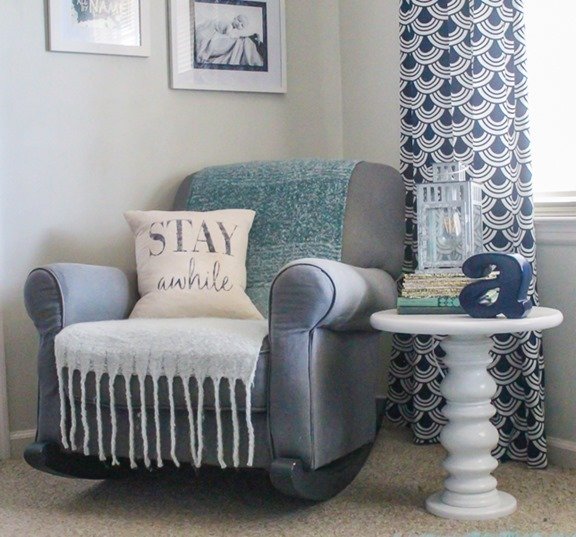 After hours of rocking three babies in this chair, there is a hole worn through the seat cushion. Nothing a cute scarf can't hide!
10 – Make new pillow covers
New pillow covers are one of the easiest ways to make a big statement with just a small change.
Of course, even pillow covers are pricey at $20+ each. Thankfully, it's really easy to make your own from pretty much any fabric.
You can make pillow covers from fabric scraps, placemats, sheets. Once I made an adorable pillow cover from a dress that was in my Goodwill pile.
If you aren't super confident sewing, here is a simple envelope pillow tutorial (no zipper needed) and if you would rather forego the sewing altogether, you can also make a pretty great pillow cover using no-sew hem tape.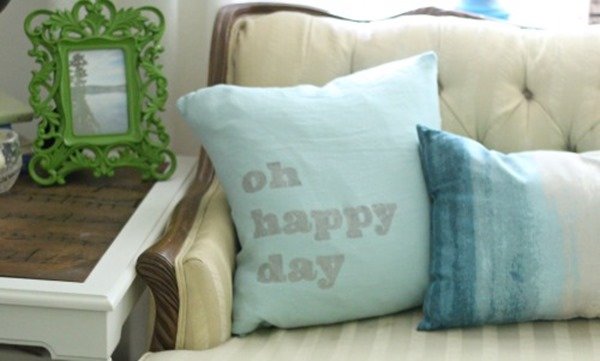 The Oh Happy Day pillow cover was made using scrap fabric and a freezer paper stencil and the ombre pillow cover used to be a placemat.
11 – Sell what you don't love
And a bonus tip number 11. This trick isn't technically about free decorating but I thought I'd throw it in as a bonus tip because it can be a major help.
Sometimes there may be things you really need (or want) for your space that are going to cost money and there is just no way around it.
In that case, an easy way to earn a bit of extra cash to fix up the space is to sell some of the things already in the room that you no longer want or need.
If you are dying to replace the old table that just isn't your style, list it on Craigslist or Facebook Marketplace. You can use the money you earn to buy a new or used table you love.
Even though this technically involves spending money, you are basically using the old items in the room to pay for new items in the room and you don't have to dip into your regular budget at all.
I hope this has helped you come up with a few ideas for creating a space your truly love without spending any money.
Creating a beautiful space for free isn't nearly as easy as just going on a shopping spree, but it does force you to get creative and is so much more rewarding!
More budget decorating posts I think you'll like:
I'd love for you to pin this post on Pinterest!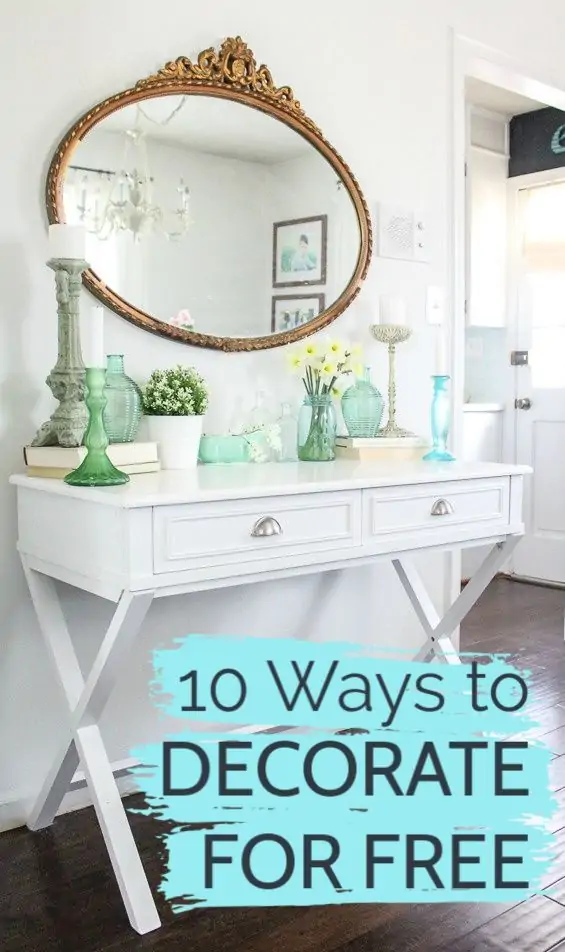 Google Web Story: 10 Ways to Decorate Your Home For Free