This post has been compensated by Collective Bias, Inc. and its advertiser. All opinions are mine alone. #ICantEven #BigLots #CollectiveBias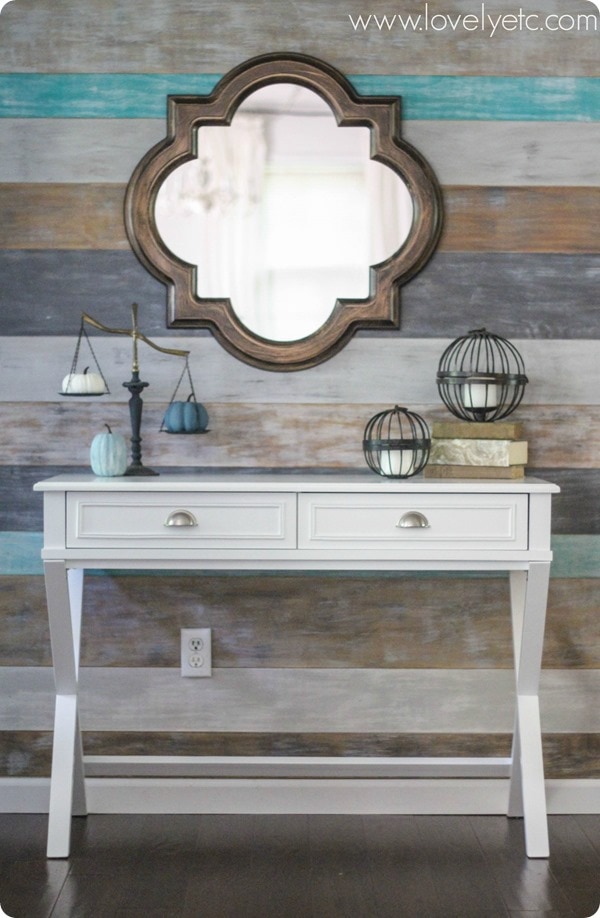 Not that long ago our foyer was the ugliest room in our house.  And it was definitely the most boring!  Our foyer gets very little natural light, had a dated brass light fixture, and the floor was covered in horrible stained black stone. On top of that, it is pretty narrow which makes finding the right furniture and décor a major challenge.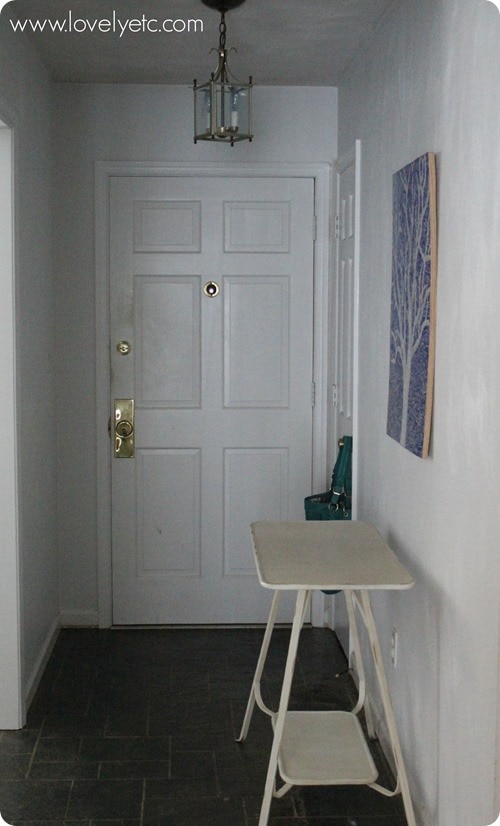 Over the past year, this little room has undergone a major transformation.  I repurposed the dated brass light fixture into a modern orb chandelier (for only $20!), painted the front door gray, replaced the brass doorknobs, installed a colorful plank wall, and most recently replaced those stained stone floors with beautiful hardwoods.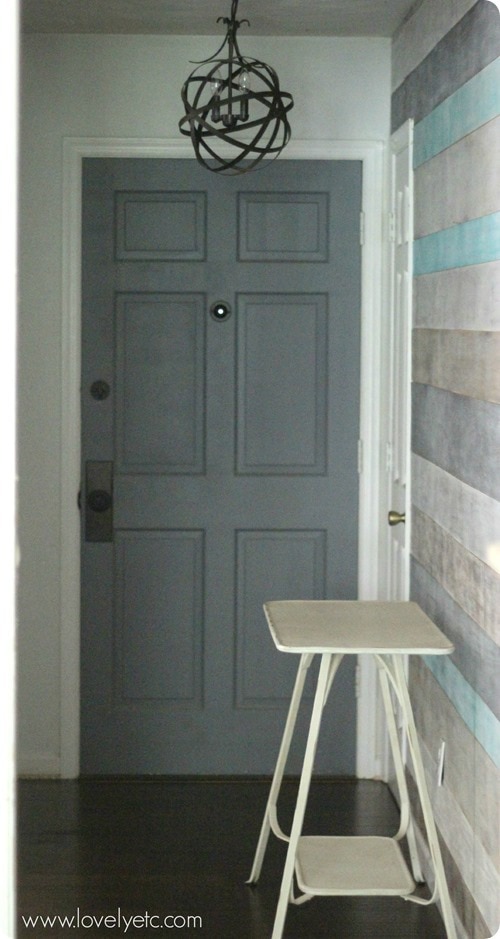 Things were definitely looking better.  I mean, seriously, that wall is gorgeous!  Even so, it still wasn't quite the welcoming foyer I was looking for.  There was something missing.  I knew I needed to find some sort of art or mirror to hang on the plank wall to round things out, but I hadn't found quite the right thing yet.
Sometimes a room refresh is the result of months and months of meticulous planning.  And sometimes a simple afternoon shopping trip turns into a total room redo!
The other day I was shopping at Big Lots when something grabbed my attention.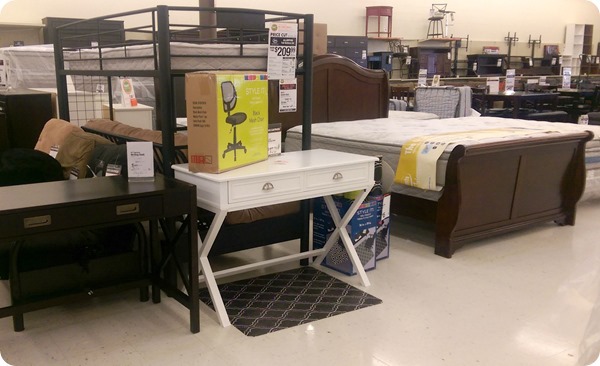 How beautiful is that white table!  It was calling out to me from across the store.
When I got closer, I saw that it is actually a cute little writing desk.  I could definitely picture myself writing up my blog posts there, but I had an even better idea.  This cute desk was going to become my new foyer table.
After nabbing my table, I decided to take a look at the mirrors as well.  I had been on the lookout for the perfect mirror to provide a focal point and break up all the horizontal lines of the plank wall.  Lucky for me they had a quatrefoil beauty that was both the right size and the right price.  Styles and assortment vary by store, so check back often, and check every store in your area!
The Big Lots employees helped me load up my purchases, and with that one shopping trip, the foyer was redecorated!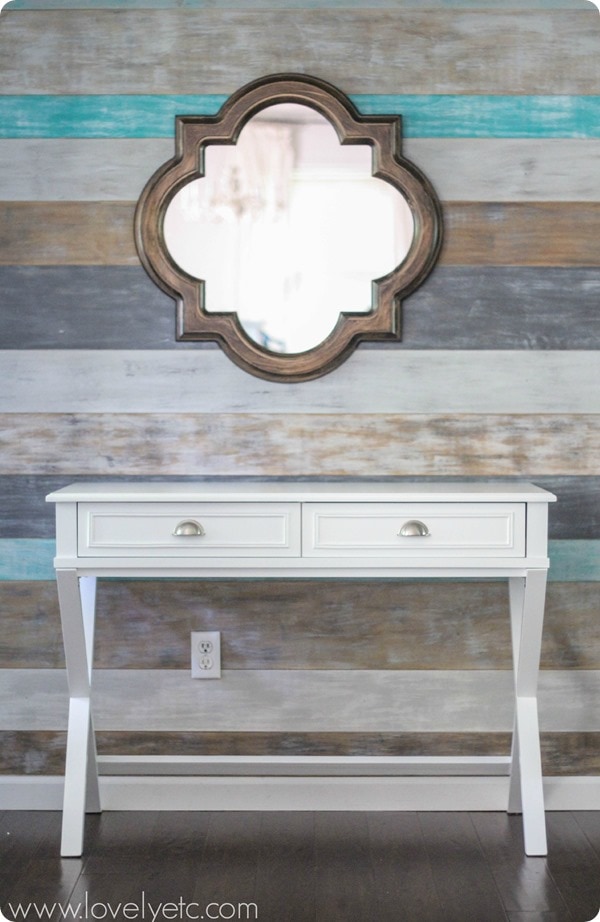 I put the table together that night and then the next day I hung the mirror.  Of course I didn't want to damage my beautiful wall, but all it took was one little nail hammered in the crack between two planks.
I added a few of my thrifted treasures – a vintage balance, some antique books, some candle holders, and a few pumpkins painted with chalk paint and now it's all ready for fall!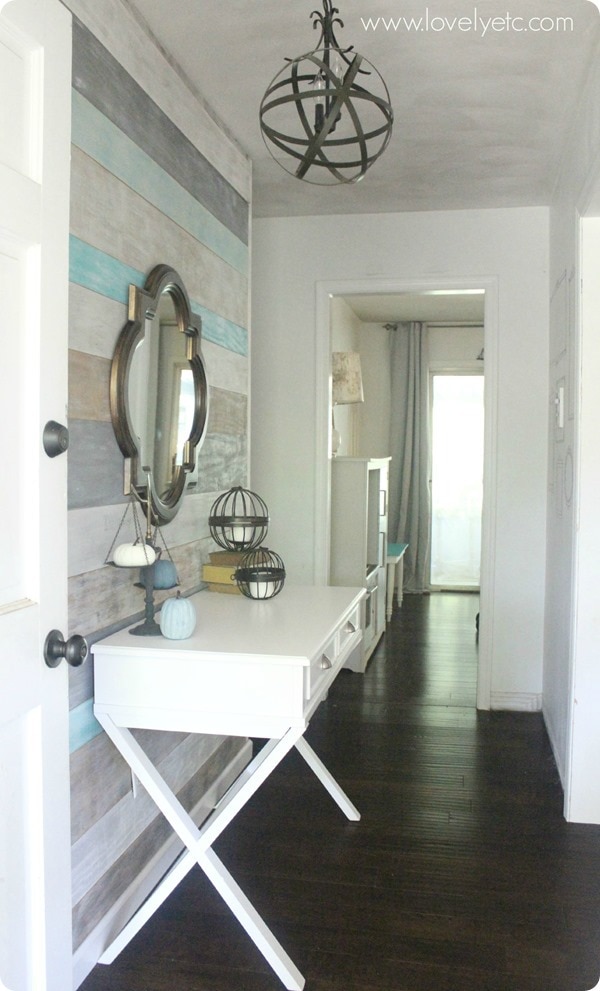 And now I get to be greeted by this gorgeous view whenever I walk in the front door and I'm loving it.
This was definitely the fastest, easiest room refresh I have done in a long time!  Next time you want to refresh a room in your house, make sure you check Big Lots first!
Did you know Big Lots is on social media?  You can follow along on Facebook, Pinterest, and Instagram for lots more affordable decorating ideas.