These simple, step-by-step instructions make it easy to create gorgeous IKEA Billy built-in bookshelves.
These Ikea built ins have been been a long time coming and now that they are finished, I am so happy with them!
Even though the majority of the structure comes from tall IKEA Billy bookcases, you would never guess these built ins were actually inexpensive laminate furniture.
All of the little details that make flat pack furniture look cheap have been removed or covered up including those cheap cardboard backs, the millions of holes for shelf pins, and the ugly toe kick at the bottom.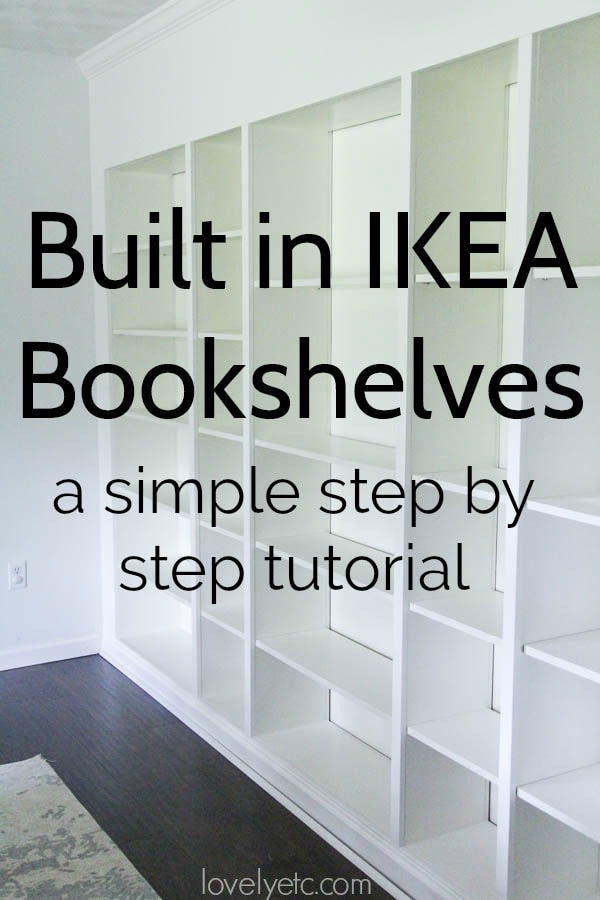 This whole project started way back in 2012 when I decided I wanted a wall of built in bookcases in our living room to add style and storage. Huge built-in bookcases are incredibly expensive, so I decided to save money by using IKEA Billy bookcases and just adding molding to make them look built in.
So I headed off to IKEA, bought a huge pile of IKEA Billys, brought them home and assembled them. The problem was I never quite managed to turn them into the built ins of my dreams.
I read a bunch of blog posts about making IKEA bookcases look built in, but most of them sadly weren't as helpful as I had hoped. They were full of beautiful photos of the end result and then said something like "My husband/father-in-law/dad/neighbor installed them so I can't give a step-by-step tutorial but it isn't that hard." Not terribly helpful for those of us without a handy relative to make our built-in dreams come true!
So back in 2012, I added some trim to connect all of my Billy bookcases together into one unit and hide the ugly toe kick and called it a day. At the same time, I painted the backs this royal blue color.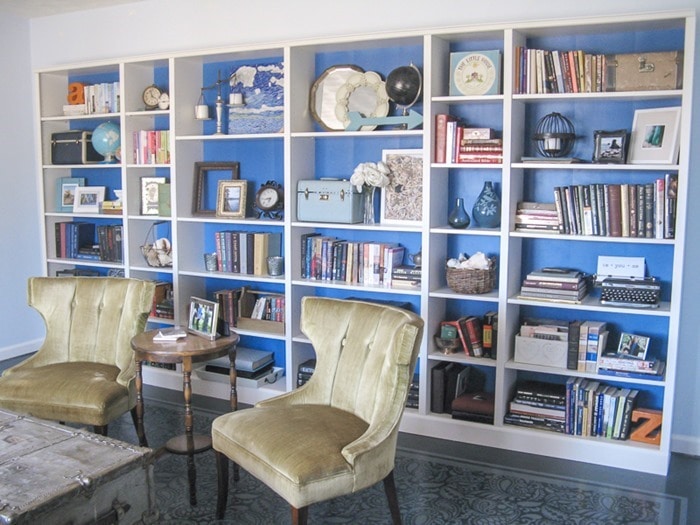 A couple of years later, I was over the blue so I updated the bookcase backs with a stencil. It was a huge pain to do but I think it looked really pretty.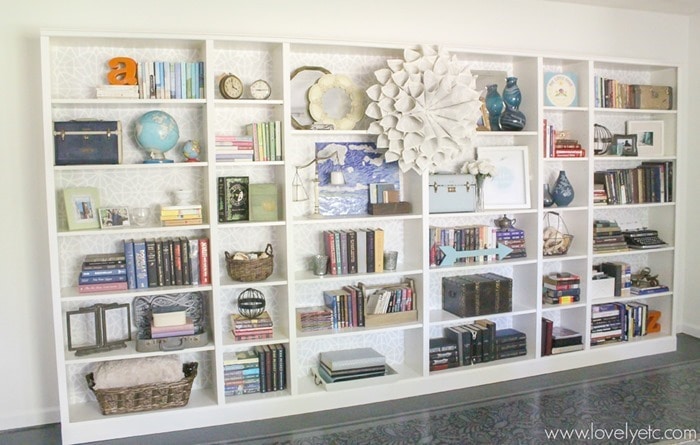 When I installed hardwood floors in this room, I had to move the bookcases out of the way so I could install the new flooring under them. In order to move them, I had to take all of the trim off and never got around to putting it back on so they were back to being basic Billy bookcases with a pretty stenciled back.
And they were fine. They really were. But they just weren't what I had really wanted.
One day I was sitting on the couch looking at those bookcases and I decided it was high time I turn them into the built-ins I had been dreaming about from the beginning.
I may not be a professional cabinetmaker, but I've definitely improved my DIY skills over the years and even more importantly, I'm way more confident. Even though I didn't know exactly how to make it happen, I felt confident I could figure it out.
So I got up off the couch and started ripping off those cardboard backs that very night. And then of course the next morning I wondered if I had just made a big mistake, tearing up part of our house without really having any idea what I was doing.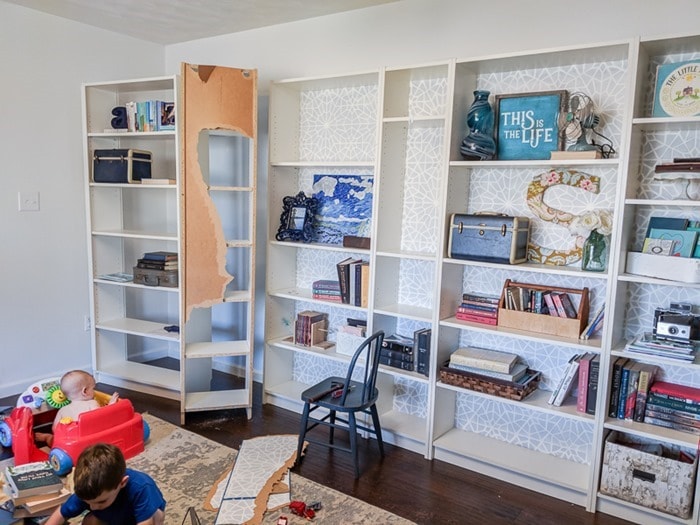 Thankfully, it worked out beautifully in the end and I finally got my real grown up wall of built-in bookcases. And the best part – you would absolutely never guess they were really just IKEA bookcases at heart!
I want this tutorial to be actually helpful to others interested in creating their own Billy built ins, so I'm going to share as much detail as possible. I am not a professional carpenter by any means, but this method worked beautifully for me.
If all you care about are some pretty pictures, feel free to scroll to the end. Also, my fellow Furniture Flippers are also sharing their latest furniture redos, so be sure to check those out below the tutorial as well. They always leave me feeling inspired!
This post contains affiliate links which means if you make a purchase after clicking a link I will earn a small commission but it won't cost you a penny more. Click here to see my full disclosure policy.
Materials for creating IKEA Built-In Bookcases
Basic bookcases of your choice – I used IKEA Billys but any basic flat pack bookcases should work
1/2″ square dowels – you can get these at your local home improvement store
paint that matches your bookcases – I used Valspar Dove White which is a good match for IKEA white
paintbrush –

these are my favorite paintbrushes

for painting furniture
plywood or MDF – the size will depend on how much open space will be around your bookcases
1″x 2″x 8′ boards – one less than the number of bookcases you are using
1″x4″ boards – enough to span the length of your bookcases
base molding
crown molding
Suggested tools
table saw

(for cutting plywood/MDF or you can have your wood cut in the store)
miter saw (for cutting trim and molding)
nail gun or hammer and finishing nails if you don't have one (I highly recommend a nail gun for this project if possible. It will save you so much time.)
hammer and needle nose pliers (if removing old bookcase backs)
How to turn IKEA bookcases into Built-Ins
For my space, I used four 31″ wide white Billy bookcases and three 15 3/4″ wide white Billy bookcases. My bookcases are the standard 79" height and 11" depth but there are lots of options including bookcases that reach almost to the ceiling or are extra deep.
This same method will work with any configuration of multiple bookcases, including other basic bookcases from other stores.
Remove the bookcase backing and prepare the bookcases
I chose to remove the backs from my bookcases and let the wall serve as the back instead. The back panel is basically glorified cardboard and it's obvious.
The stenciling I had done before went a long way in hiding the ugly fold marks on the backing, but I still thought they would look more like true custom built-ins without it.
There are also a couple of outlets along the wall where these shelves are and removing the backing allows them to still be accessible. Since I was taking apart previously assembled bookshelves, I used a hammer to pry off the backing and pulled out any stray tacks with needle-nose pliers.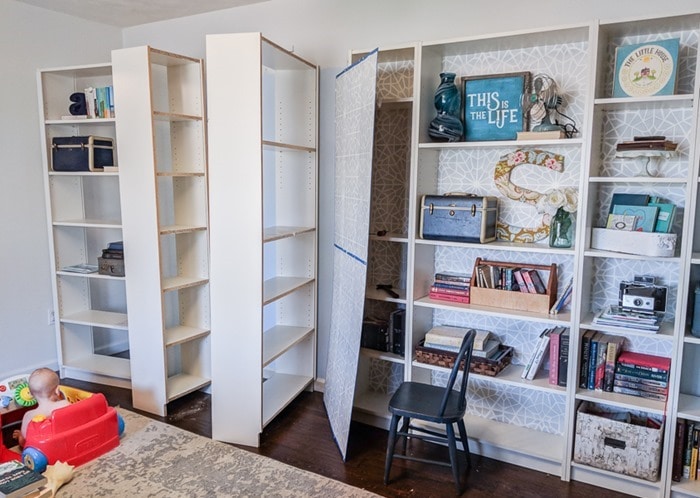 If you are working with brand new IKEA bookcases, you can simply skip the step where you add the backing.
The downside of not using backing is it makes the bookcases much less stable, but we are adding plenty of trim and wood facing so these are still solid as a rock. I wouldn't recommend using an IKEA billy bookcase without the back unless you are planning to reinforce the bookcase somehow.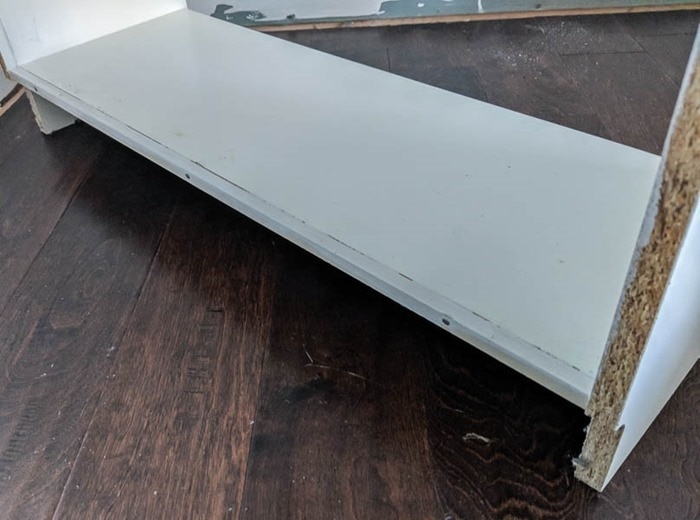 When the backing is removed, there is a groove along both sides that would have held the back in place. I filled this groove in with caulk.
There is also a small gap at the back of the shelves where they meet the wall. I nailed a small 1/2 inch dowel to the back of the bottom shelves of each bookcase so that nothing could fall below and be lost forever. There is still a small gap between the wall and the higher shelves but it isn't very noticeable.
Prepare the wall
Before moving the bookshelves into place, go ahead and paint the wall behind to match. I love the look of crisp white built ins, so I chose to leave my IKEA bookcases their original white color.
I bought Valspar Dove white paint which is a pretty close match to 'IKEA white' and used it to paint the wall. (I believe IKEA may have changed their specific shade of white since I purchased my Billys back in 2012, so you may find a different white to be a better match for newer IKEA furniture.)
I also chose to remove the baseboards from the wall behind the bookcases. This wasn't necessary but it made it a bit easier to fit the bookcases in place and I also wanted to reuse the original baseboards on the front of the bookcases.
Determine the placement of your bookcases
Once the wall was painted, I moved the bookcases into position exactly where I wanted them to be. I chose to push all of my bookcases flush together with a bit of space on either end because this left all of my outlets accessible.
Another option is to space them out evenly throughout the space, leaving a small gap between each bookcase. Once you are happy with the placement, go ahead and secure them to the wall using the hardware that is included with the bookcases.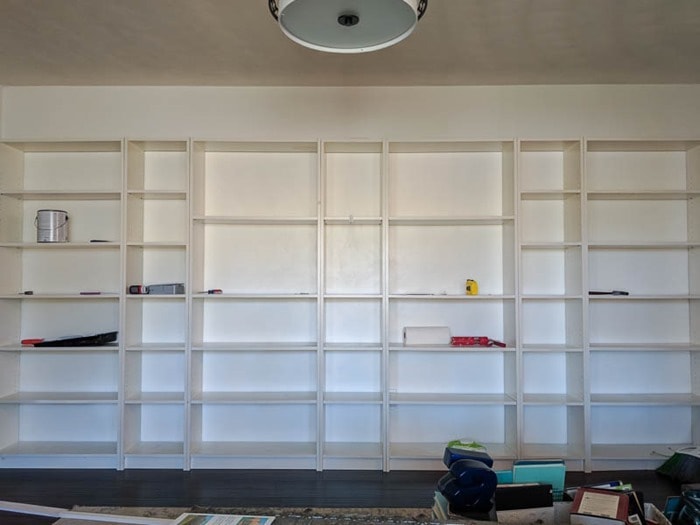 Add trim to connect your bookcases
Next, I attached all of my bookcases together along the bottom by nailing a 1″x4″ board to the bottom shelf. This gives a nice flat surface to attach baseboards to later which really helps give the look of custom built ins. There will be a small gap between this board and the bottom of the shelves that can be filled with caulk.
I also used basic 1″x2" pine boards to attach each bookcase together vertically. A 1″x2″ happens to be a perfect match for the width of two bookcase sides pushed together.
I cut each 1″x2″ to end right below the top edge of the bookcases.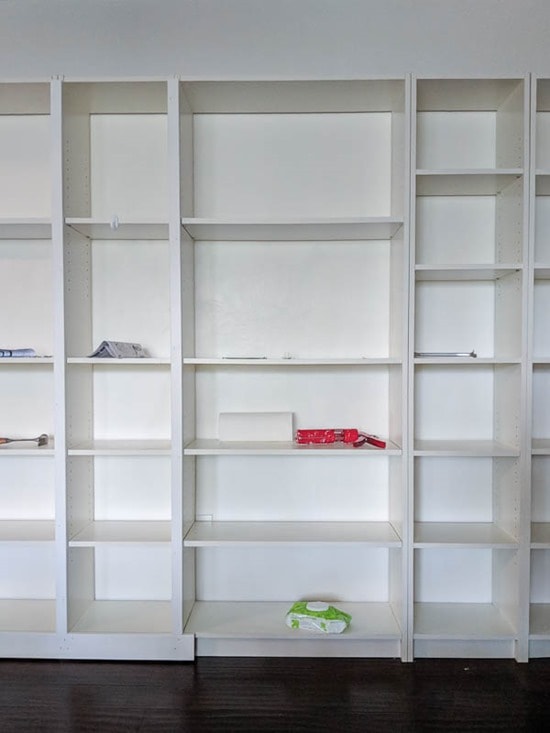 In the photo above that trim has already been added along the bottom and between each bookshelf in the left half of the photo. Just doing this makes the whole thing look so much nicer!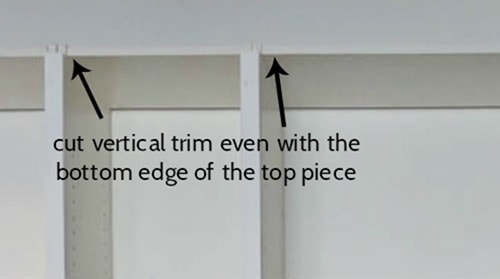 Add wood to encase your bookcases
Then it's time to cover the open space between the ends of the bookcases and the walls to make this a true wall-to-wall built-in.
I measured the distance between the wall and the inner edge of the first bookcase in the row to find out the width of the board I would need. To find the height, I measured from the floor to the lower edge of the top of the bookcases.
You can use a smooth high-quality plywood or MDF for these sides. I chose to use MDF to save money and I also had them cut it for me in the store to save time.
To attach these side boards, you need to add some wood supports to the wall. Measure the distance from the back wall to the front of your bookcase. You will need to cut three or four scrap boards to that length.
Then nail them to the wall, nailing into a stud if possible.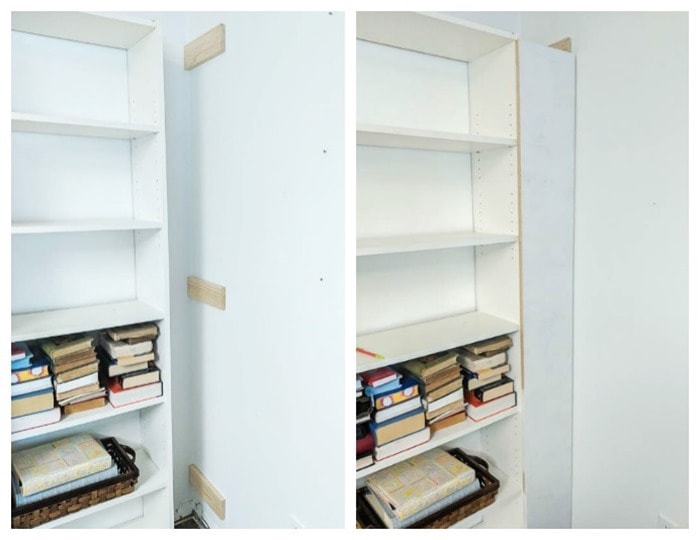 When you nail on your side boards, you will nail one side to the front of your bookcase and the other side to these wood supports.
(Here's a little trick I figured out. When you nail up the side boards, mark the location on the wall with some painter's tape. Once you stick the boards up, the supports will be covered and you won't be able to tell where they are.)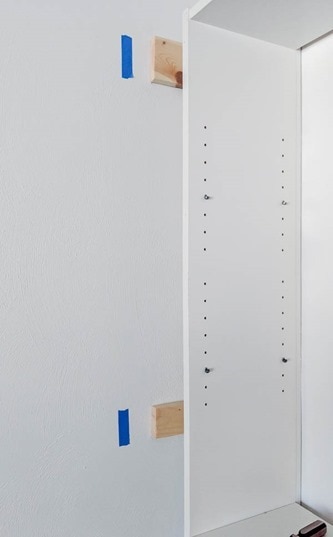 Now to fully enclose the bookcases, it's time to close the open space between the bookcase and the ceiling.
Measure the distance between the ceiling and the tops of your vertical supports. (These should be at the lower edge of the top of the bookcases.)
Cut mdf or plywood to fit this area. If you have a very long wall of bookcases like me, you may need to use a couple of pieces of wood for this. You will need to attach some wood boards to the ceiling for support, similar to how we did the sides.
It would probably be a bit better to simply attach a couple of long boards along the ceiling instead of short pieces like I did, but mine is still quite secure.
You want to be sure to attach these so they are even with the front of the bookcases and give a flat surface to attach the facing to. Your MDF or plywood will rest on top of the vertical supports and be nailed to the tops of the bookcases as well as the top to these wood pieces attached to the ceiling.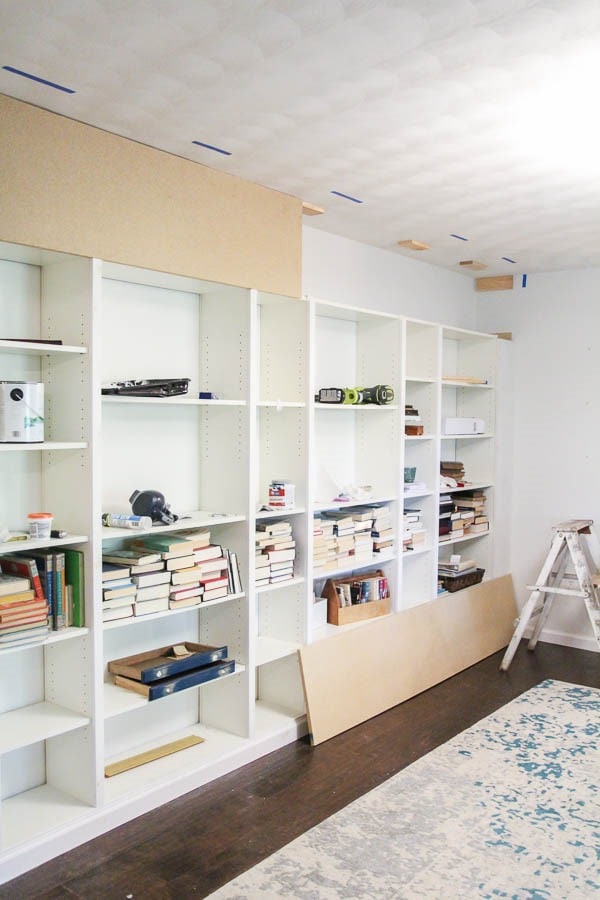 Finish the built ins with molding, caulk, and paint
Now you can add base molding along the bottom of the whole thing and crown molding along the top.
At this point you are so, so close to finishing!
Caulk all of the seams. Caulking can be a major pain, but it really gives such a beautiful finished feel. Luckily, white caulk matches the white IKEA bookcases well enough, so it really doesn't have to be painted over.
Use a bit of wood filler to fill in any nail holes, sand them smooth, and paint everything your 'IKEA white' paint.
(I've got a post all about when to use caulk and when to use wood filler if you're a bit confused.)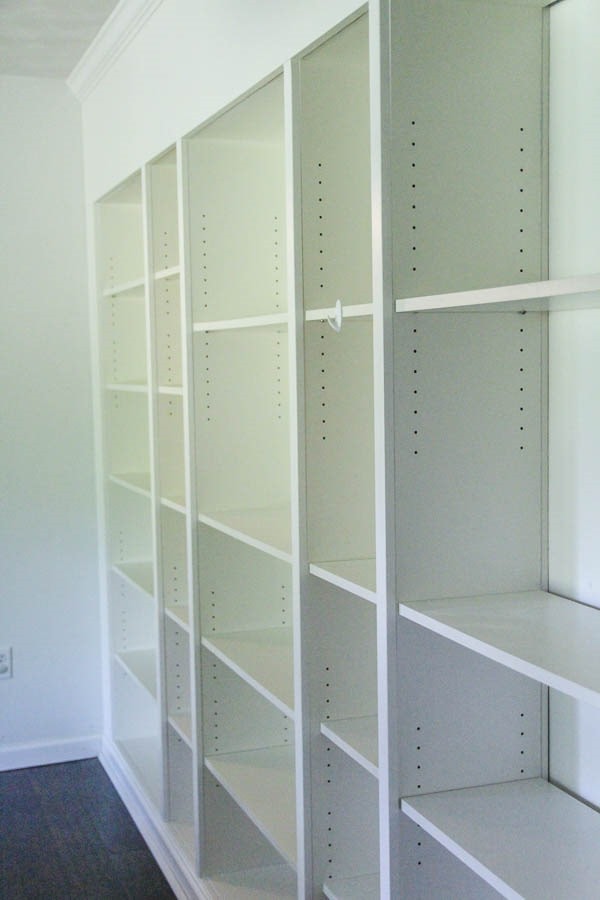 Lastly, I decided on my shelf arrangement and filled all of the spare shelf holes with spackling.
This is such a small thing but it made an enormous difference in making this whole thing look like beautiful custom built ins and not furniture that came out of a box.
(I have more details and photos of the hole-filling process right here if you are interested.)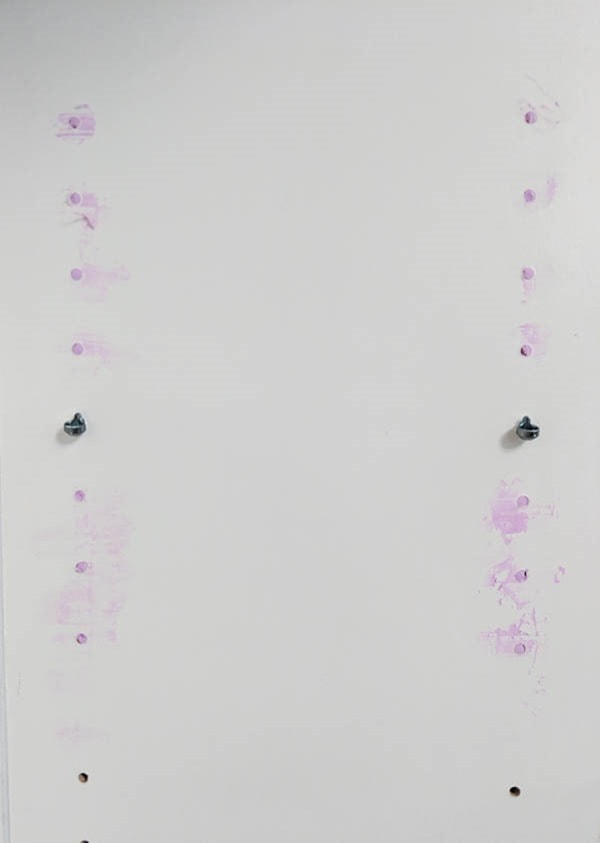 This does mean it won't be as simple to move the shelves around in the future, but if I decide I really want to, it is easy enough to poke out the spackling with a screwdriver.
Seriously, look what a difference it made!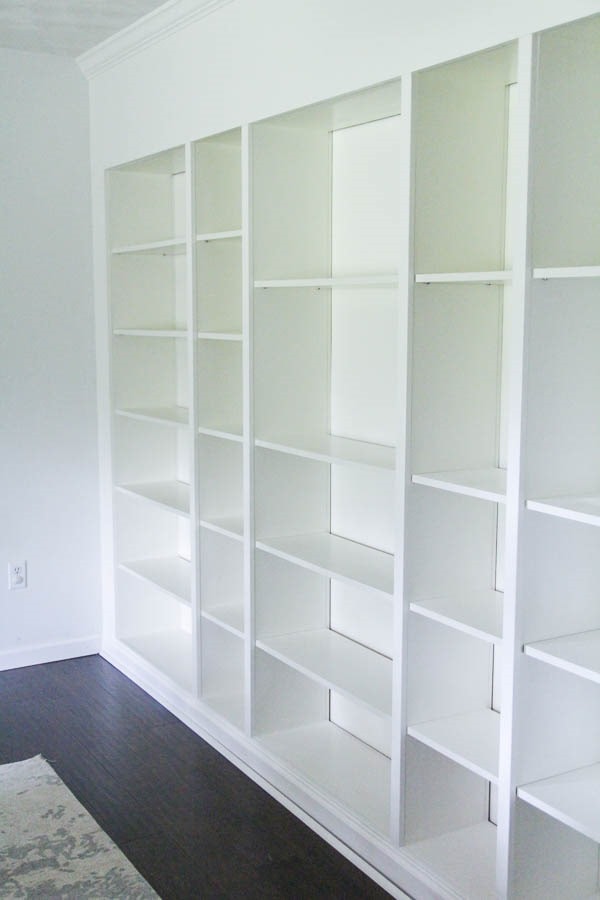 And now, finally, I have the built-in bookshelves that I've been dreaming of.
And I have to say I feel pretty darn proud of myself for doing this 100% on my own.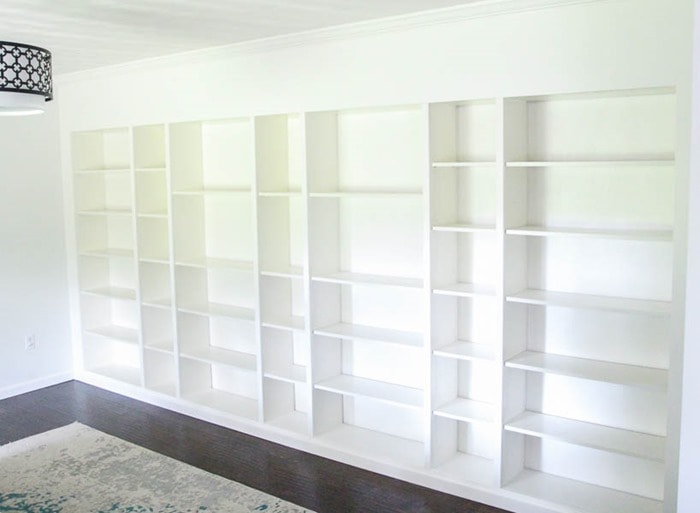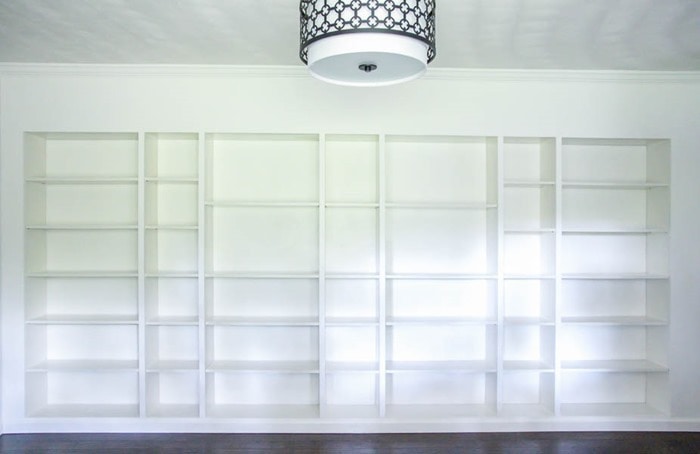 Here they are all loaded up with books and other things I love. I'll have to share more soon about my process for filling these babies up because it can definitely be a daunting task!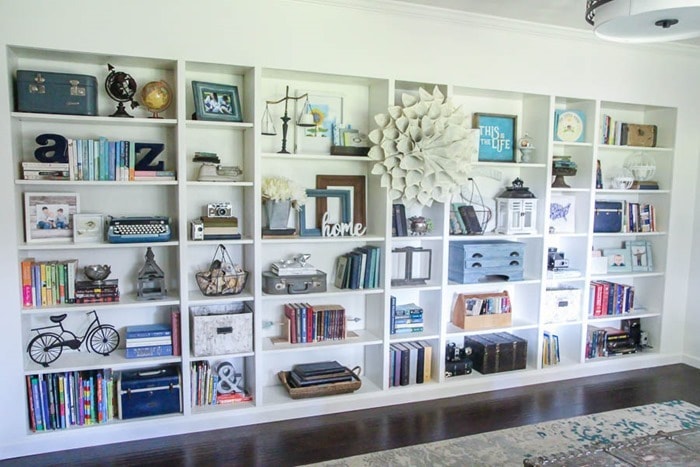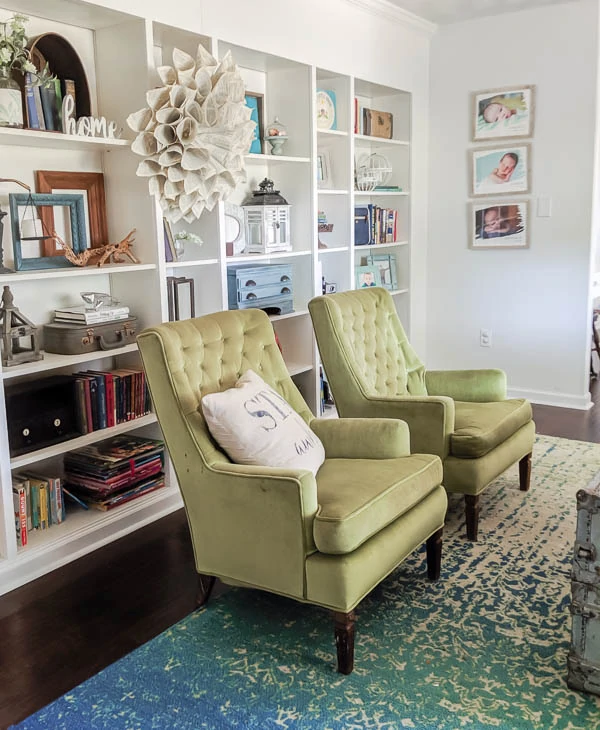 Ready to see some more fabulous furniture flips? Follow the links below to see what the rest of The Furniture Flippers have been up to lately.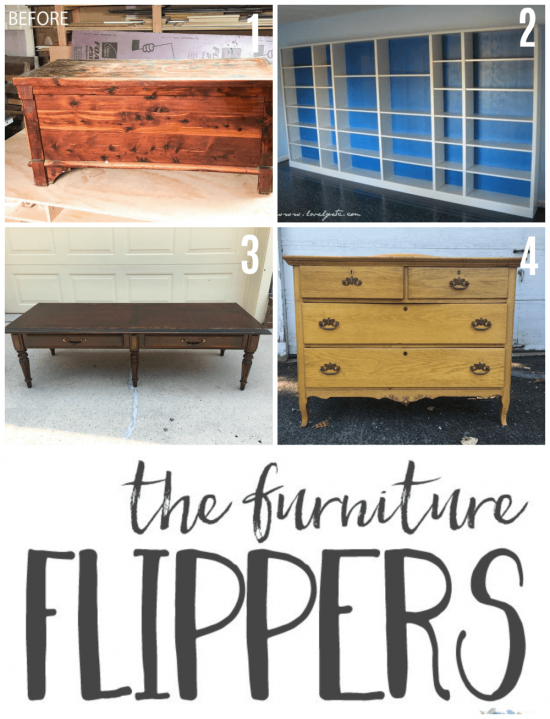 I'd love for you to pin this project on Pinterest!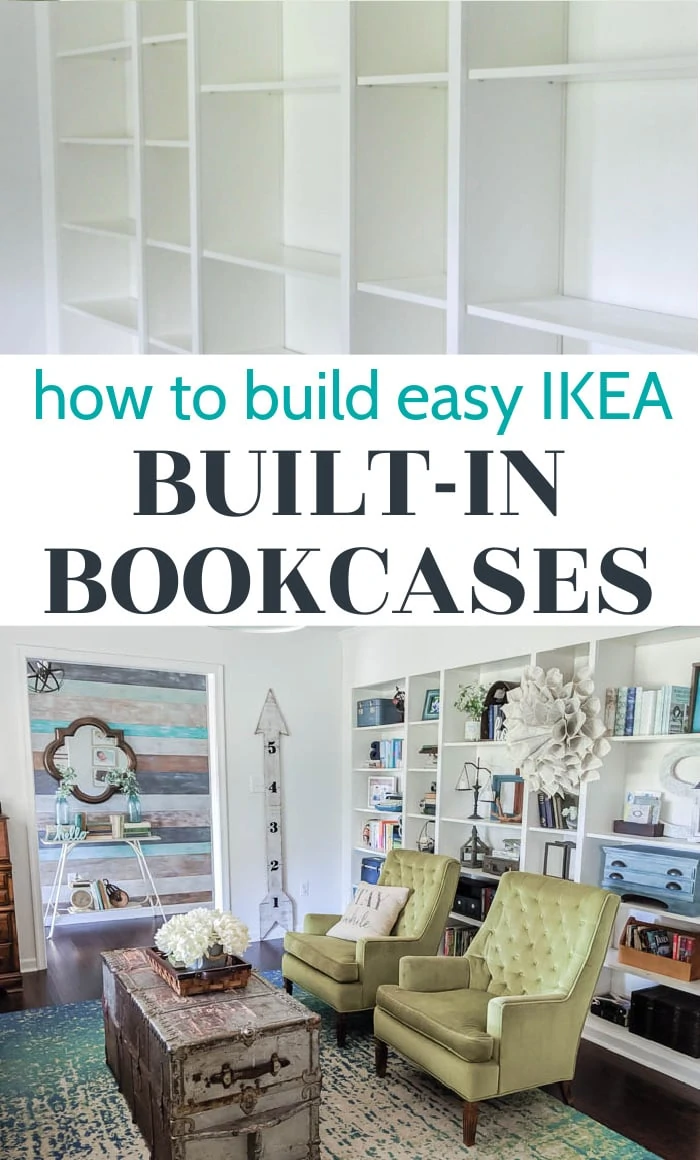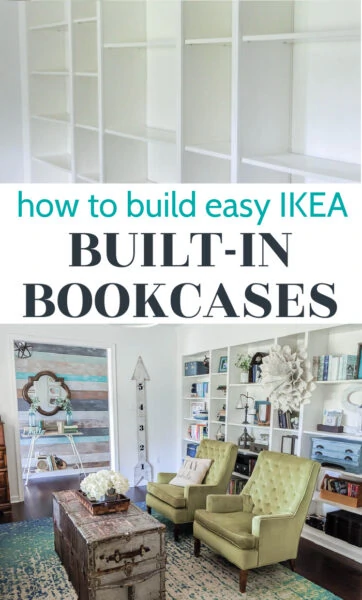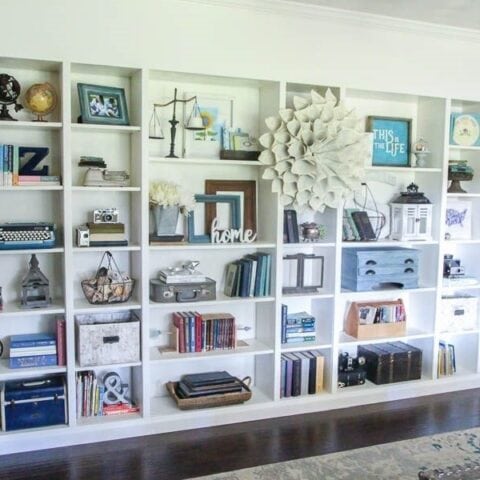 How to Build Easy Built-Ins from IKEA Billy Bookcases
Everything you need to know to add beautiful built-ins to your home using IKEA Billy Bookcases.
Materials
Basic bookcases of your choice
1/2″ square dowels
Caulk and caulk gun
Paint to match your bookcases
Paintbrush
Wood filler
Sandpaper
Plywood or MDF
1″x 2″x 8′ boards
1″x4″ boards
Base molding
Crown molding
Tools
Table saw
Miter saw
Nail gun or hammer and finishing nails
Hammer and needle nose pliers
Instructions
Remove the backing from the bookcases. If using new bookcases, assemble them without the backing.
Fill in the empty groove where the backing would go with caulk.
Nail a small 1/2" dowel to the back of the bottom shelf of each bookcase.
Paint the wall where the bookcases will be installed, the same color as the bookcases.
Move the bookcases into position flush together.
Secure them to the wall using the included hardware.
Attach the bookcases together by nailing a 1″x4″ board to the bottom shelf.
Fill any gaps with caulk.
Attach each bookcase together vertically with 1″x2" pine boards.
Add wood supports to the wall to attach the side boards. Secure into a stud in the wall. Also add wood supports to the ceiling for enclosing the space above the bookcases.
Cover the open space between the ends of the bookcases and the walls with high-quality plywood or MDF, nailing it to the bookcases as well as the wood supports that were added earlier.
Close the open space between the bookcase and the ceiling by adding MDF or plywood. Nail to the tops of the bookcases, as well as the top of the wood pieces that are attached to the ceiling.
Add base molding along the bottom and crown molding along the top.

Google Web Story: How to Build Built-Ins from IKEA Billy Bookcases