I am determined that this time my decluttering is going to make a real difference in the way we live in our home. I'm not just going to cart off a few boxes of stuff to the thrift store and call it a day.
I want to spend less time moving, organizing, and maintaining stuff that we really don't need – which means a lot of things needs to go. And not just any stuff, the right stuff. The stuff we really don't need, use, or love (even though we thought we did).
And since I want my decluttering efforts to produce real results this time around, I've been spending a lot of time thinking about what needs to change.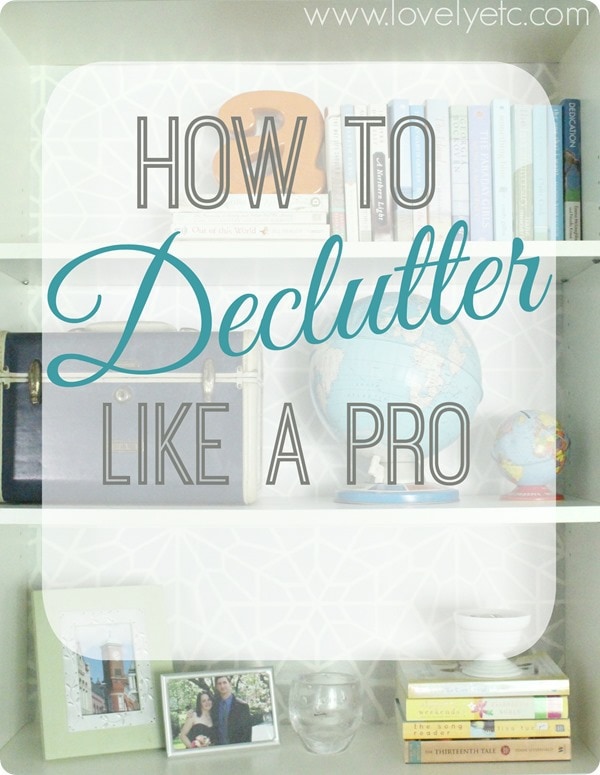 Whenever I start to feel like we are drowning in stuff and feel that itch to declutter, I start cleaning out closets and drawers. And these past few months, thanks to some new standards as far as what stays and what goes, I have actually been making some real progress. Lots of boxes and bags full of DVDs we never watch and toys that are never played with and unnecessary office supplies have been weeded out, ready to head to the Goodwill.
As I was cleaning out closets and drawers, I started asking myself a few questions about each little item: Do I use this? Do I really love this? If I was moving to a new house right now, would I pack this?
And it made a huge difference. I was able to let go of way more stuff and actually feel like I was getting somewhere. And I was feeling pretty good about all those boxes of CDs and toys and clothes that were headed out the door to the Goodwill.
Think Bigger
But then as I was wrapping up our master bedroom makeover, I had a sudden revelation. For some reason, when it comes to decluttering, I've always thought small but wanted big results. I tend to head straight for all the little things crowding our closets and drawers.
But what about when the problem is actually much bigger? What about when the problem is the actual furniture? Had I ever applied those same decluttering questions to our furniture?
Clearning out furniture never even crossed my mind. The whole idea seemed a bit crazy to be honest. I mean, clearly furniture is useful! We sit on our chairs. We eat at our tables. We store stuff in our dressers and desks and buffets.
But then I started to wonder, is it really useful or is that just what I always assumed?
When we installed our gorgeous sliding barn door to the master bathroom, our gallery wall had to be relocated. As I was trying to figure out somewhere, anywhere else in the room it could go, my eyes landed on our antique vanity and mirror.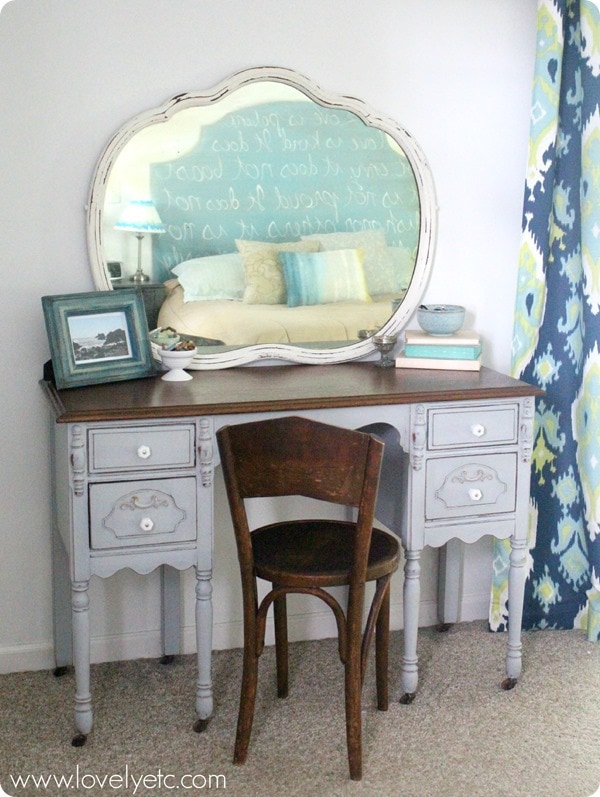 The vanity was a really beautiful curbside find that I spruced up with some chalk paint. It was a great place to keep little bowls for my rings and extra earrings and the little drawers were perfect for corralling my socks and underwear. Plus, it was just super cute.
Furniture Clutter
But…the vanity never actually looked like the picture above. 9 days out of 10, the top of it was absolutely covered with clothes and random stuff pulled out of pockets at the end of the day. Which made it very much not beautiful.
But it was useful right? Well, there was a mirror which is great when I'm getting ready in the morning – if it wasn't always blocked by the piles of clothes. And there was the chair which is perfect for sitting on to put on shoes. Except, well, more clothes there too. And then there was the storage; the perfect storage provided by those tiny little drawers. But as I really thought about it, I realized that it was a little silly to have this entire piece of furniture solely to store what amounts to two shoeboxes full of stuff.
So the vanity headed to the basement. The underwear found a new home in our vintage lockers. And most of the other random stuff in there headed to the Goodwill.
And the gallery wall found a new home.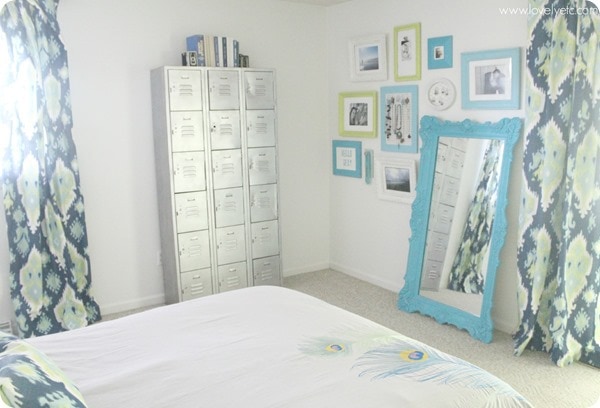 Now the only furniture left in the bedroom is the bed, the nightstands, and the lockers.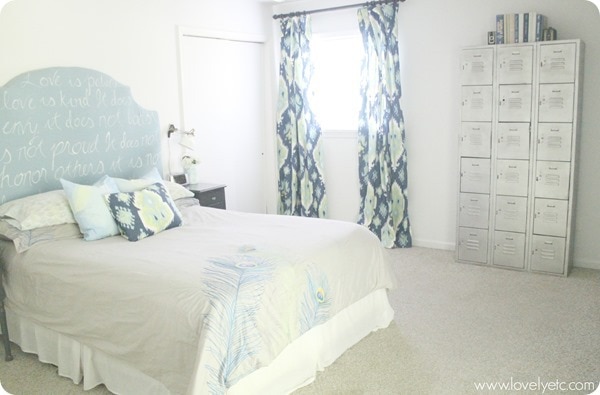 And while there is room to add a chair or a dresser, we are really loving how the room functions without all the extra furniture. There is honestly, nowhere to stack piles of laundry or random receipts or library books. Which means we actually end up putting things where they belong. (Even my notortiously untidy husband).
So now I am looking around the rest of the house with new purpose. And I've got my eye on this white buffet as they next thing to go.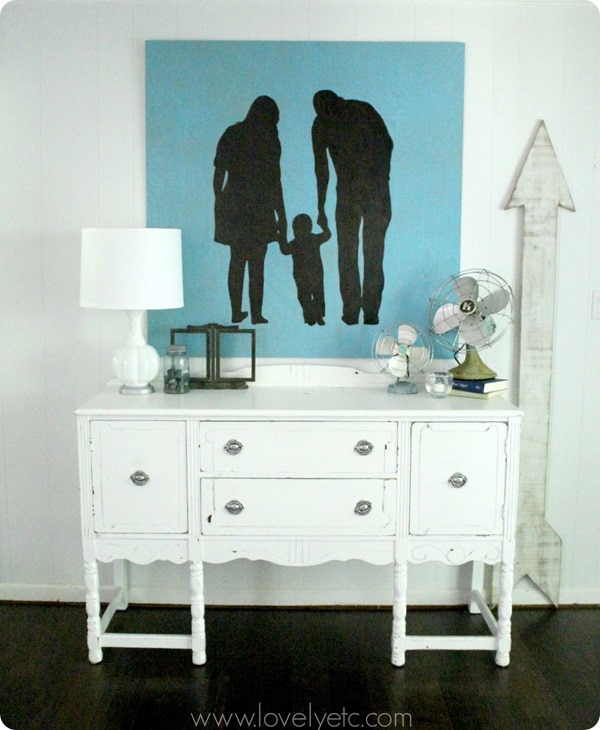 It also looks really cute…but it is yet another clutter collector. The top stays covered with all kinds of junk waiting to be taken to other rooms in our house. And the drawers are home to all kinds of vital things like broken laptops, DVDs we haven't watched in five years, and about fifty sets of return address labels. I can't wait to get it cleared out and see how it transforms the rest of the room!
If you want to join me on this mission to declutter in a brand new way that actually changes how your home functions, don't miss the other posts in this series so far:
Tricks, tips, and the right mindset to actually get rid of clutter once and for all
What to do with the stuff you want to get rid of: