There are plenty of ways to update your old sofa. From quick and easy fixes to more permanent solutions, there is a solution for every old couch.
If you're a regular reader here, you know I've had sofas on my mind lately. We have worn out old sofas in both our family room and our living room that I would love to replace with something shiny, new, and beautiful. I even shared my top picks for inexpensive sofa options a few weeks ago.
And while I still have my eye on a new couch for our family room, I know that there is absolutely no way we are buying two new sofas right now. So I've also been working to figure out how to update at least one of the sofas we already own.
Sofas might seem like one of those things that aren't so DIY-able, but there are actually tons of things you can do to reinvent the less-than-beautiful old couch you already own.
I've rounded up the best updates I could find to help solve all of your sofa woes. (And mine.)
Because let's be real, sometimes buying a brand new sofa simply isn't in the budget!
Just click the links below to get all the details of the sofa transformations.
This post contains affiliate links which means if you make a purchase after clicking a link I will earn a small commission but it won't cost you a penny more. Click here to see my full disclosure policy.
10 Ways to transform your old sofa
Clean it.
Sometimes it is amazing what a good deep cleaning can do for a couch.
I was able to get a few more years out of our old microfiber sofa just by giving it a really good deep cleaning every now and then. You can check out my sofa cleaning method here. (It really works!)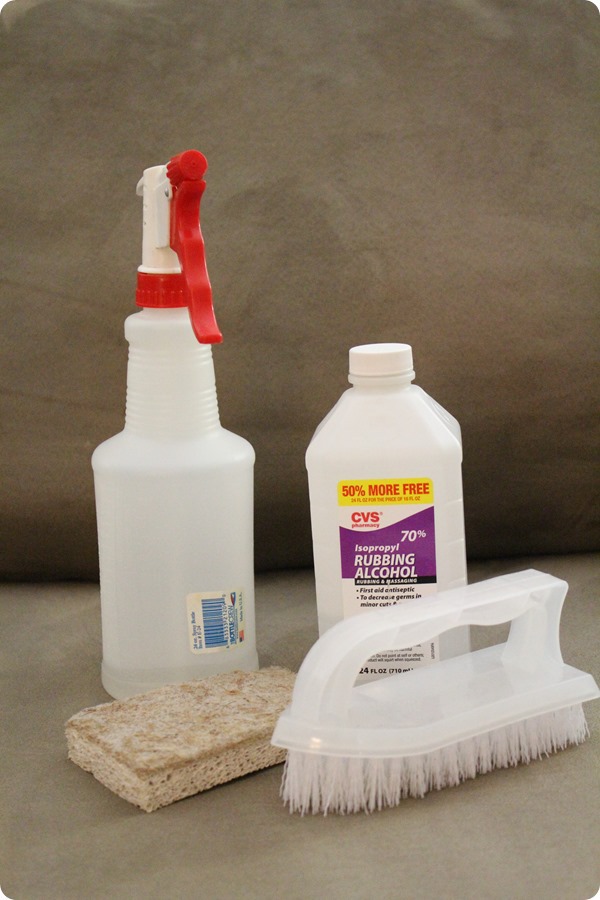 Fix those saggy cushions.
Another thing that can make a good couch look very, very bad is saggy, flat cushions. I love this tutorial from Jen at Fresh Crush for restuffing your sofa and stopping the sag.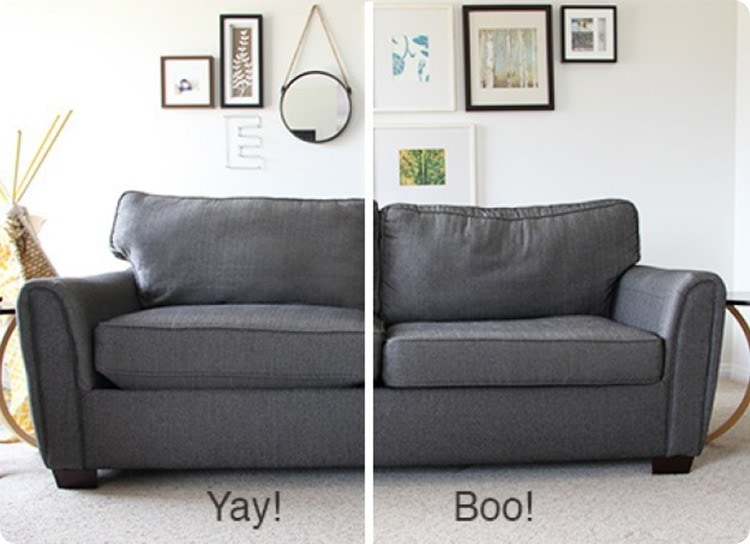 Cover it with pillows.
One of the easiest ways to update a sofa you no longer love – just cover it with gorgeous pillows like Melissa from Polished Habitat did.
It's amazing how new pillows can completely change the look of a couch.
Replace your sofa legs.
Want to make your modern sofa look more traditional? Or help turn your IKEA sofa into something a bit more custom looking? Just add new legs.
You can actually buy replacement sofa legs in all different styles and sizes and quickly switch them out. Rachel from Maison de Pax has a great tutorial for how she added some traditional style to her very modern sofa.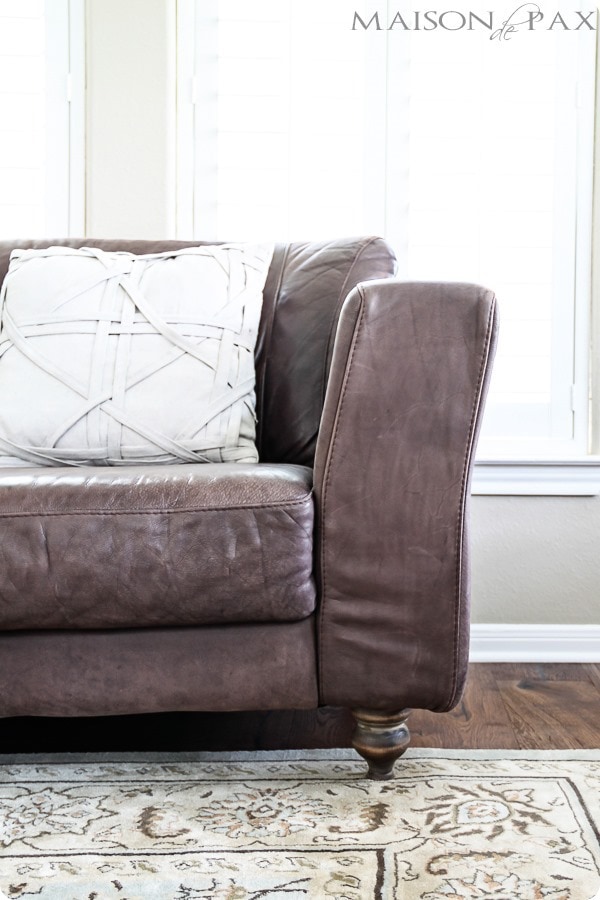 Add tufting.
When Betty from Oh Everything Handmade wanted to give her Ikea Karlstad sofa some pizzazz, she added button tufting to the back cushions. I love how it gives the entire sofa a new, more tailored look.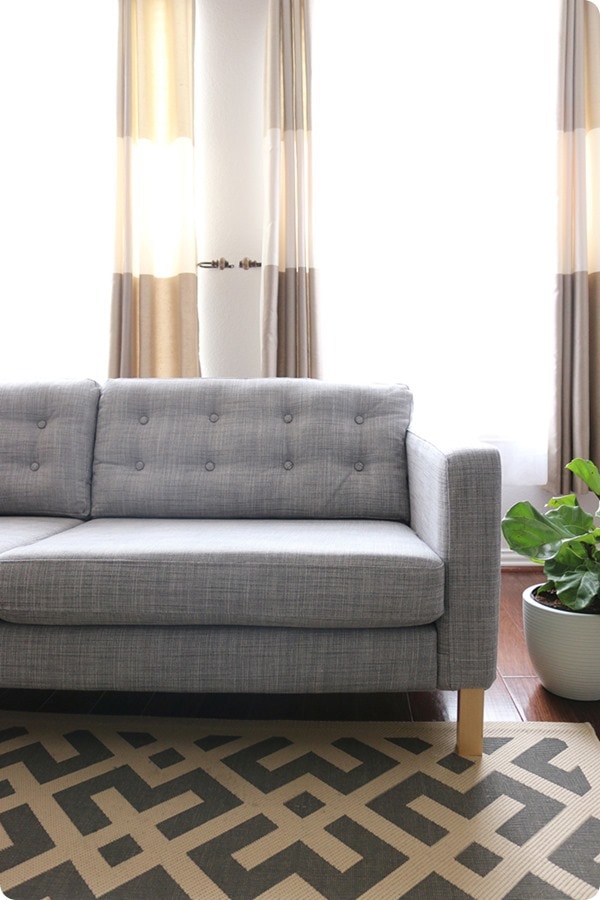 Add nailhead trim.
Sometimes it's all in the details. Rasha from My Champagne Taste upgraded her plain sofa with some DIY nailhead trim. I love how classy it looks now.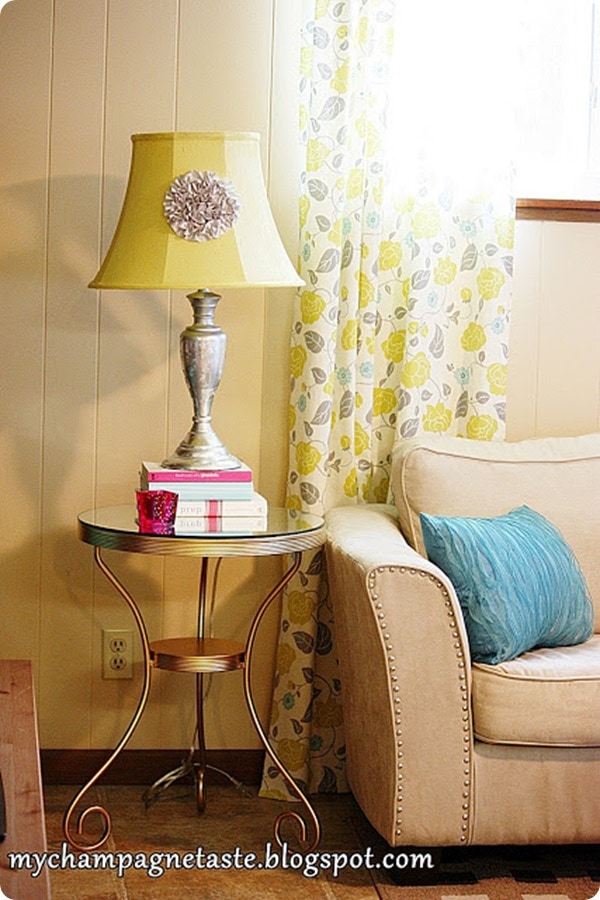 Buy a slipcover.
One of the easiest ways to completely change the look and color of your couch is to add a slipcover. A lot of popular sofa makers like IKEA and Pottery Barn sell special slipcovers that are tailored to fit their sofas exactly.
And even if your sofa doesn't have it's own line of slipcovers, you can find a slipcover to fit pretty much any couch out there. They may not fit quite as perfectly as a custom slipcover would, but they can still make a world of difference to an ugly sofa.
Even better, make your own slipcover,
Buying a slipcover is certainly easier, but you can make a custom slipcover that fits your couch exactly for a lot less money. Plus, when you are making your own, you can choose any fabric you want.
I absolutely adore this custom slipcover Maggie from Maggie Overby Studios made for her couch.
Not only is it so perfectly fitted that it looks like new upholstery, but she also used affordable, easy to wash IKEA curtains as her fabric. So smart!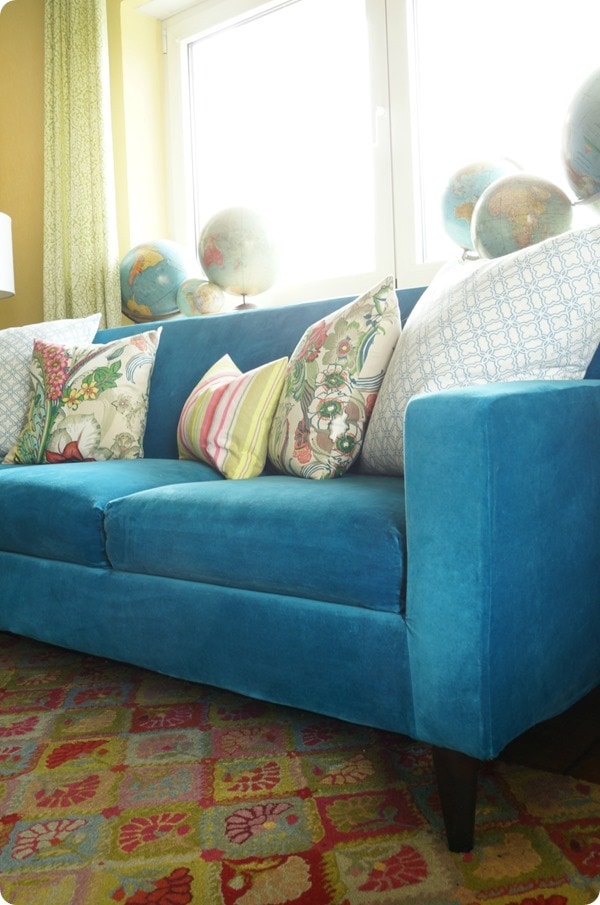 Paint the upholstery.
Okay, so this may be a bit nontraditional, but yes, you can actually paint your sofa's upholstery!
If your couch is a color or pattern that you just can't stand, paint can be a great way to give it new life. Jess from Domicile 37 painted a sofa she picked up for free and the result looks an lot like gorgeous black leather.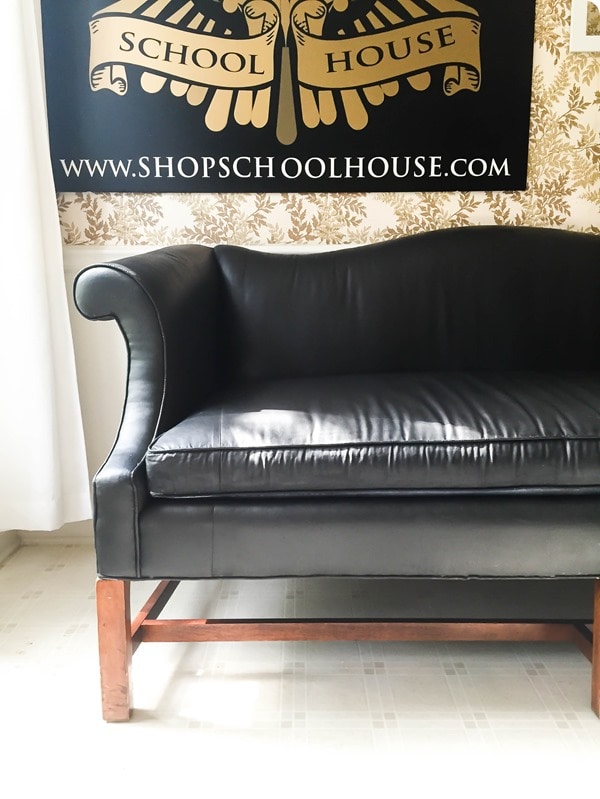 And Sue used a different method to paint her thrifted blue couch and turned it into a great neutral sofa.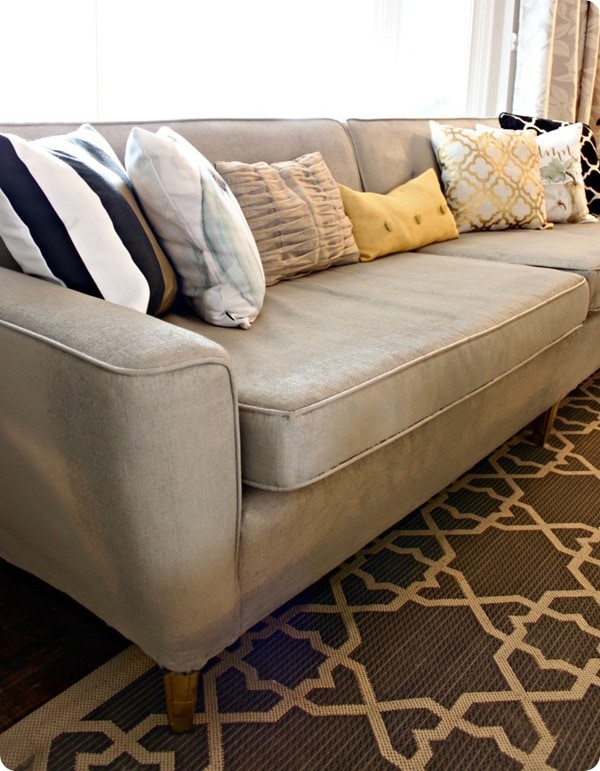 Reupholster it.
And finally, if you are ready to really make a change, you can reupholster that old sofa.
When I found an old sofa on Facebook Marketplace for a steal, I knew I could bring it back to life. After painting the wood frame, I reupholstered the sofa with drop cloths for super cheap. And now it looks like a stunner from Restoration Hardware!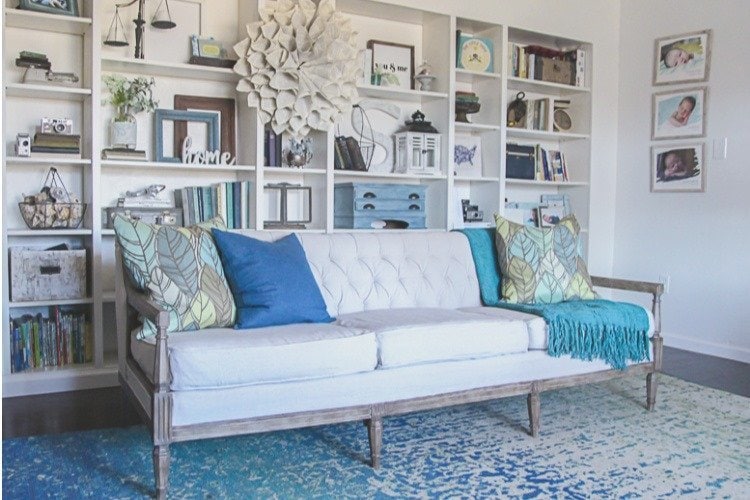 If you've ever updated a sofa, what did you do? And if you have a sad sofa now, do you plan to save it or are you just counting the days until you can buy a brand new one?
If you have furniture on the brain like me, you might also enjoy these posts: