I'm sharing inexpensive, DIY ideas for updating your old sofa when you can't afford to replace it. From easy five-minute fixes to complete overhauls, there's a solution here for every outdated couch.
When you can't afford to replace the sofa you dislike, it's easy to feel trapped. It can feel impossible to create a space you love around a huge piece of furniture you hate.
Over the years, I've had quite a few old sofas that I absolutely couldn't wait to replace with something shiny, new, and beautiful. But buying a new sofa can get very expensive. Not to mention, deciding what kind of sofa to get can take months and then it can take even more months for that new sofa to actually arrive.
So I decided to try my hand at updating the sofas we had rather than waiting years for that new sofa of my dreams.
Sofas might seem like one of those things that aren't so DIY-able, but there are actually tons of things you can do to reinvent the less-than-beautiful old couch you already own.
So I went searching for ideas and rounded up the best updates I could find to help solve all of your sofa woes. (And mine.) Because let's be real, sometimes buying a brand new sofa simply isn't in the budget!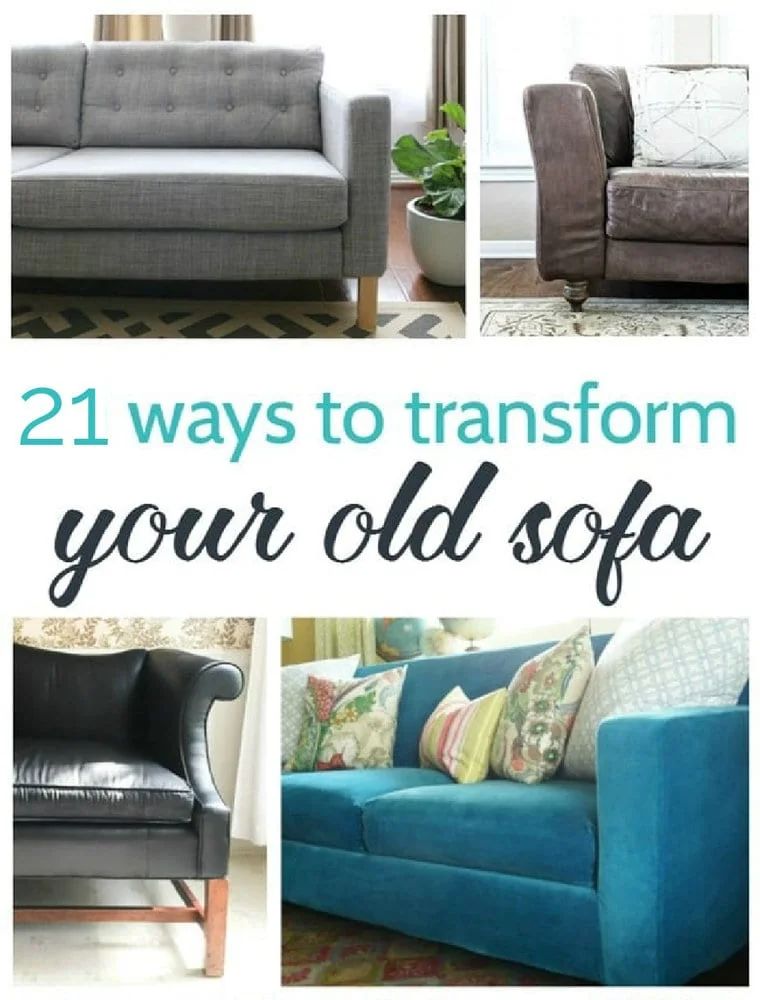 This post contains affiliate links which means if you make a purchase after clicking a link I will earn a small commission but it won't cost you a penny more. Click here to see my full disclosure policy.
21 Ways to transform your old sofa
These DIY sofa ideas are loosely organized from the quickest and easiest updates to the most involved.
Just click the links below to get the full tutorial for each sofa transformation.
Clean it.
Sometimes it is amazing what a good deep cleaning can do for a couch.
I was able to get a few more years out of our old microfiber sofa just by giving it a really good deep cleaning every now and then. You can check out my sofa cleaning method here. (It really works!)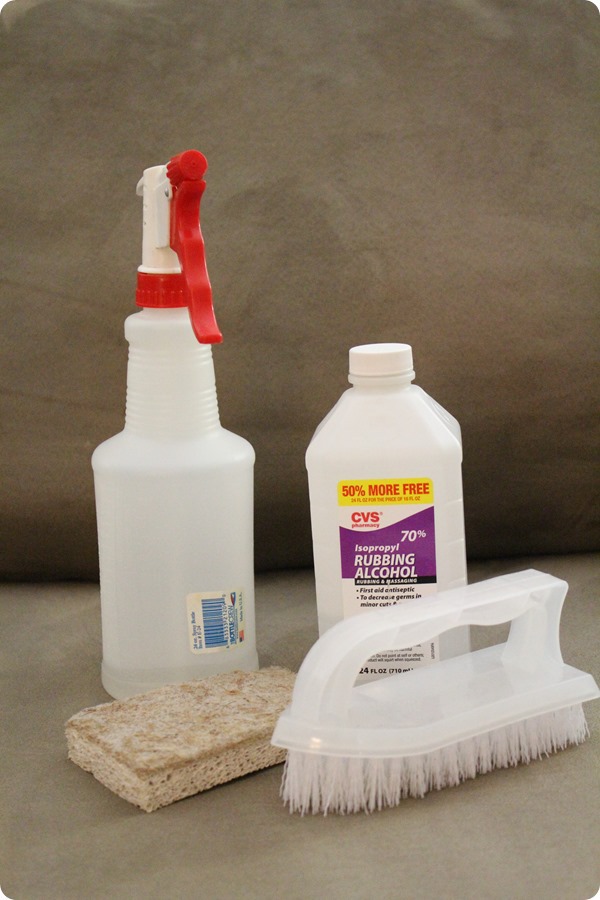 Fix those saggy cushions.
Another thing that can make a good couch look very, very bad is saggy, flat cushions. A lot of times, all you need to give your droopy sofa new life is a bit of fresh stuffing in the cushions.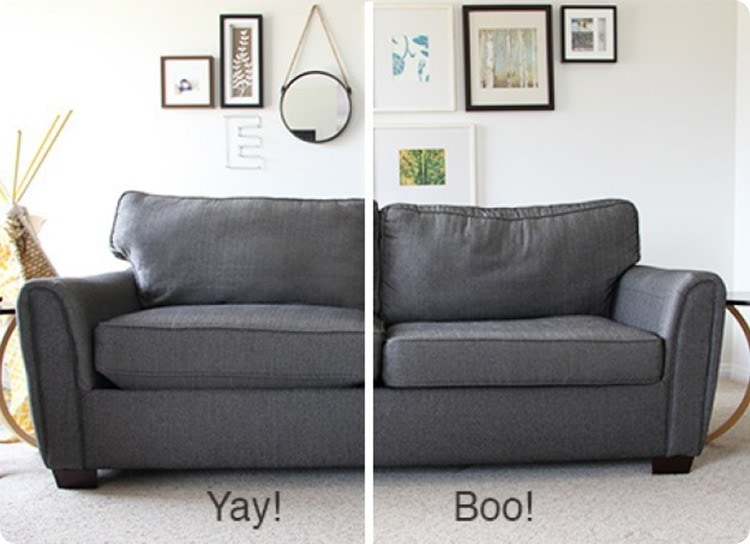 Cover it with pillows.
One of the easiest ways to update a sofa you no longer love – just cover it with gorgeous pillows like Melissa from Polished Habitat did.
It's amazing how new pillows can completely change the look of a couch.
Cover it with a blanket or sheet.
Similarly, you can also throw a pretty blanket over your sofa to cover up the things you don't love about it. You can casually drape your blanket over the side or tuck it in for a more fitted cover.
Sara from Birdz of a Feather took this idea a step further. She uses a pretty fitted sheet to cover her sofa whenever she's washing the original cover. The fitted corners hold the sheet in place perfectly and it adds a nice pop of color.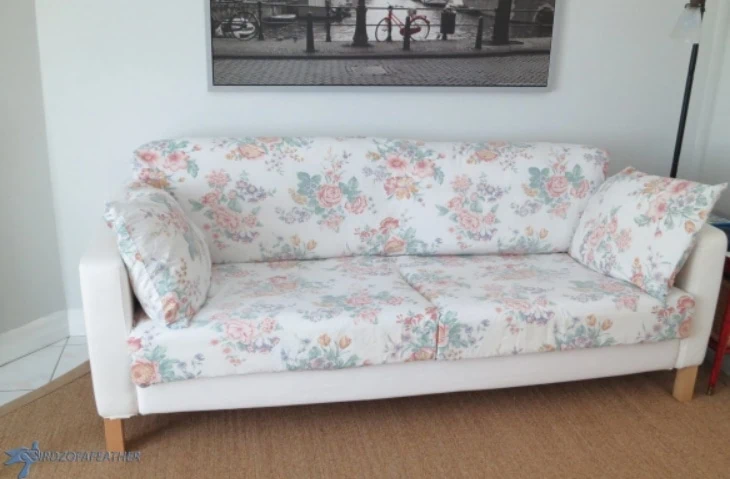 Replace your sofa legs.
Want to make your modern sofa look more traditional? Or help turn your IKEA sofa into something a bit more custom looking? Just add new legs.
You can actually buy replacement sofa legs in all different styles and sizes and quickly switch them out. Rachel from Maison de Pax has a great tutorial for how she added some traditional style to her very modern sofa.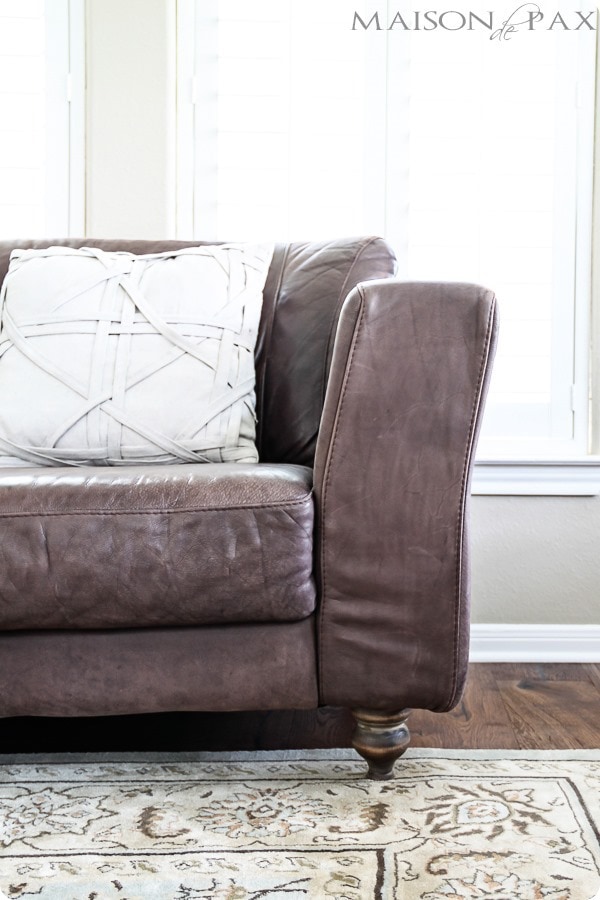 And Jess from Jessica Wellington Interiors also gave her IKEA sectional a major upgrade with some new legs. Even though it was a small change, it made her sofa look so much more modern.
Add tufting.
When Betty from Oh Everything Handmade wanted to give her Ikea Karlstad sofa some pizzazz, she added button tufting to the back cushions. I love how it gives the entire sofa a new, more tailored look.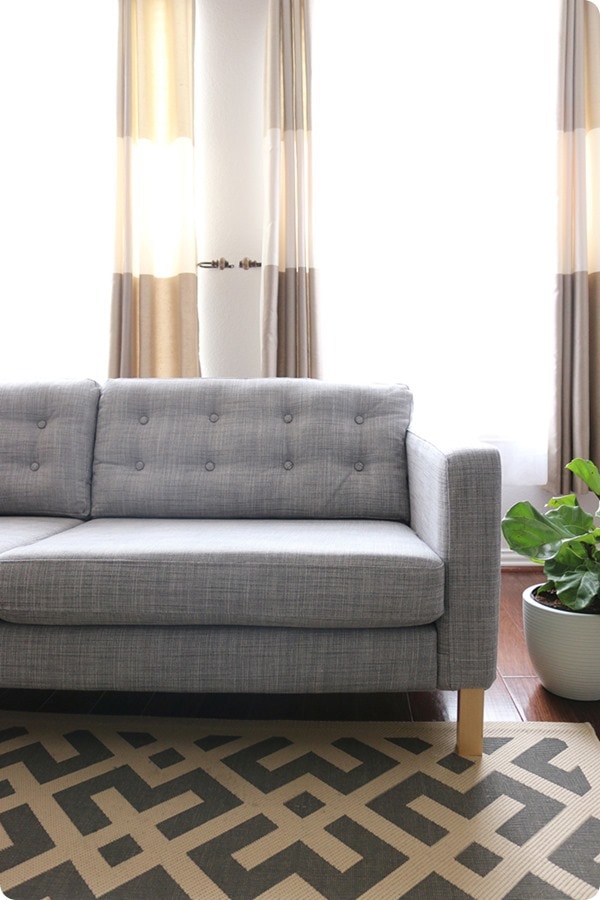 Add nailhead trim.
Sometimes it's all in the details. Rasha from My Champagne Taste upgraded her plain sofa with some DIY nailhead trim. I love how classy it looks now.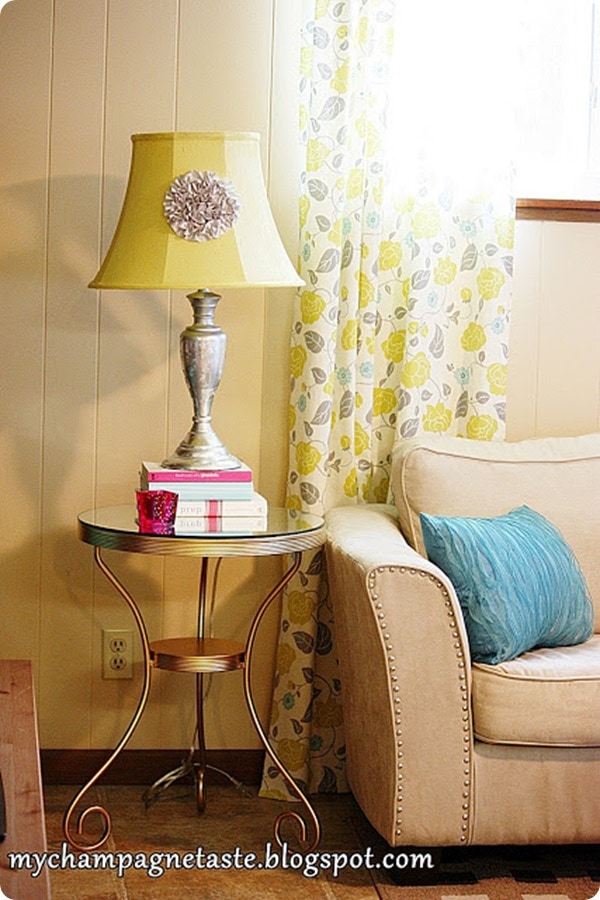 Buy a slipcover.
One of the easiest ways to completely change the look and color of your couch is to add a slipcover. A lot of popular sofa makers like IKEA and Pottery Barn sell special slipcovers that are tailored to fit their sofas exactly.
And even if your sofa doesn't have it's own line of slipcovers, you can find a slipcover to fit pretty much any couch out there. They may not fit quite as perfectly as a custom slipcover would, but they can still make a world of difference to an ugly sofa.
If you're picturing the saggy, beige slipcovers of years' past, things have come a long way since then!
Just look at how beautiful this emerald green velvet slipcover is. Maggie from Maggie Overbay Studios has lots more details about the process of choosing and installing this slipcover on her site.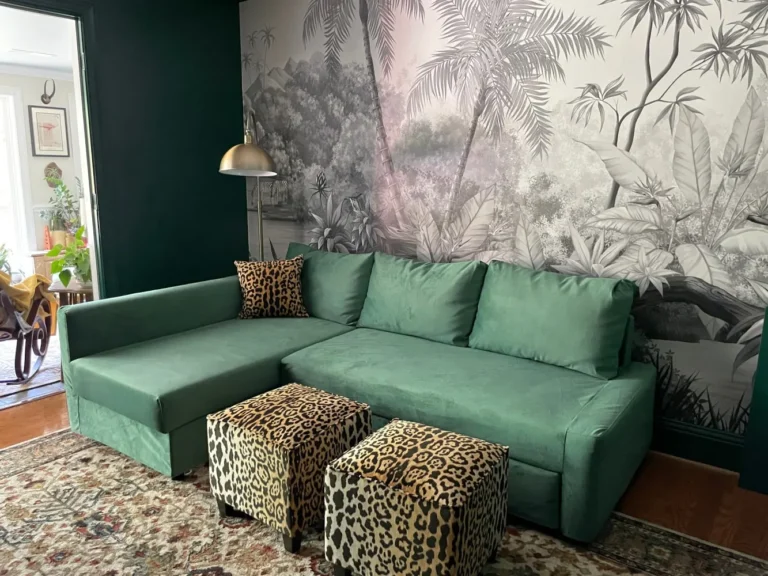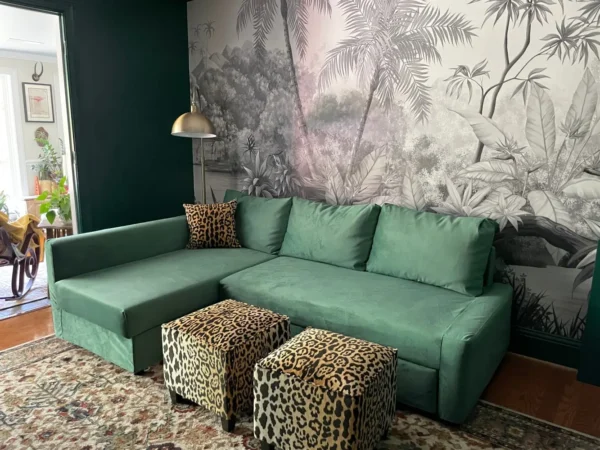 Jennabel from Peony Street gave her dark sofa a light, bright update with a white slipcover. It's a super fast update, but it completely changed the look and feel of her room.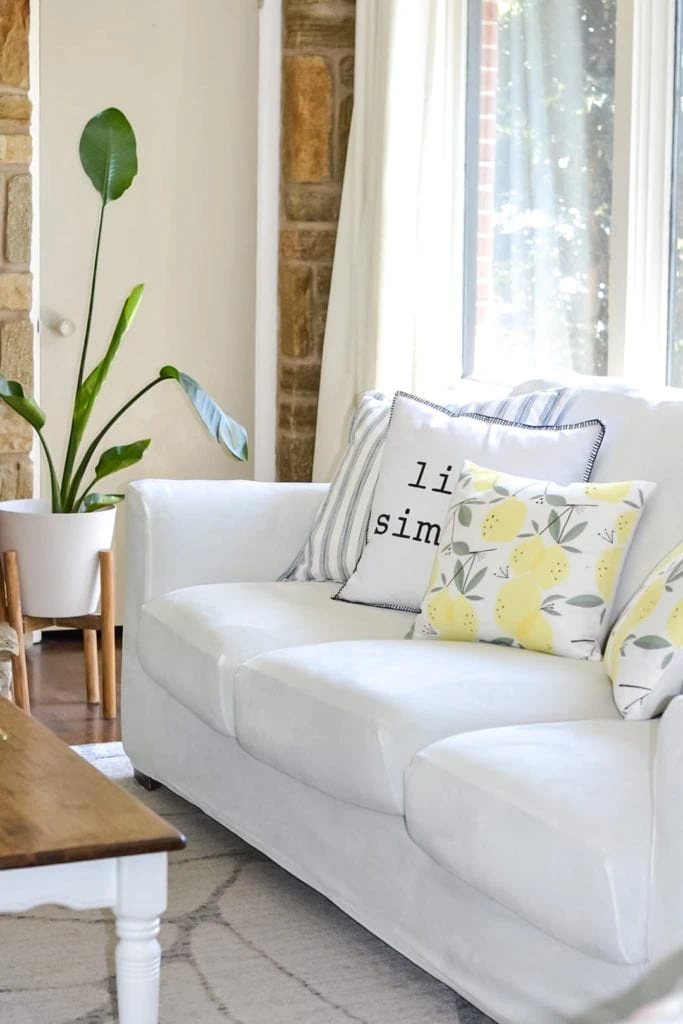 Make your own slipcover.
Buying a slipcover is certainly easier, but you can make a custom slipcover that fits your couch exactly for a lot less money. Plus, when you are making your own, you can choose any fabric and look you want.
This beautiful drapey DIY slipcover Angie of Postcards from the Ridge made is a great example of just how cheap and easy a slipcover can be. It's an inexpensive drop cloth draped over a sofa and held in place with slipcover tuck grips. No sewing needed and it looks beautiful.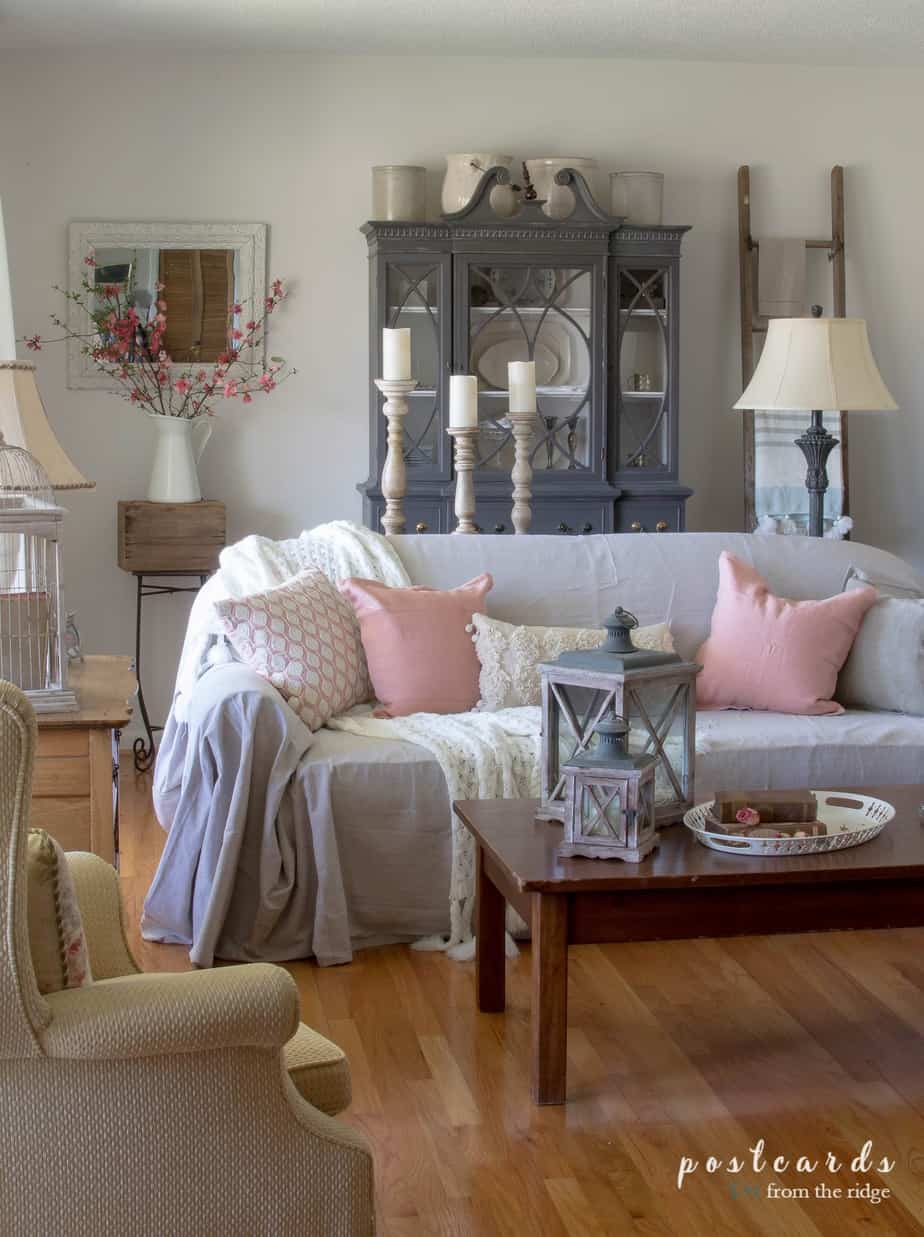 Leanna from Pretty DIY Home also made a custom slipcover for her sofa using a drop cloth. She used a slightly different method to keep everything in place and made extra sure her sofa cover was dog-friendly.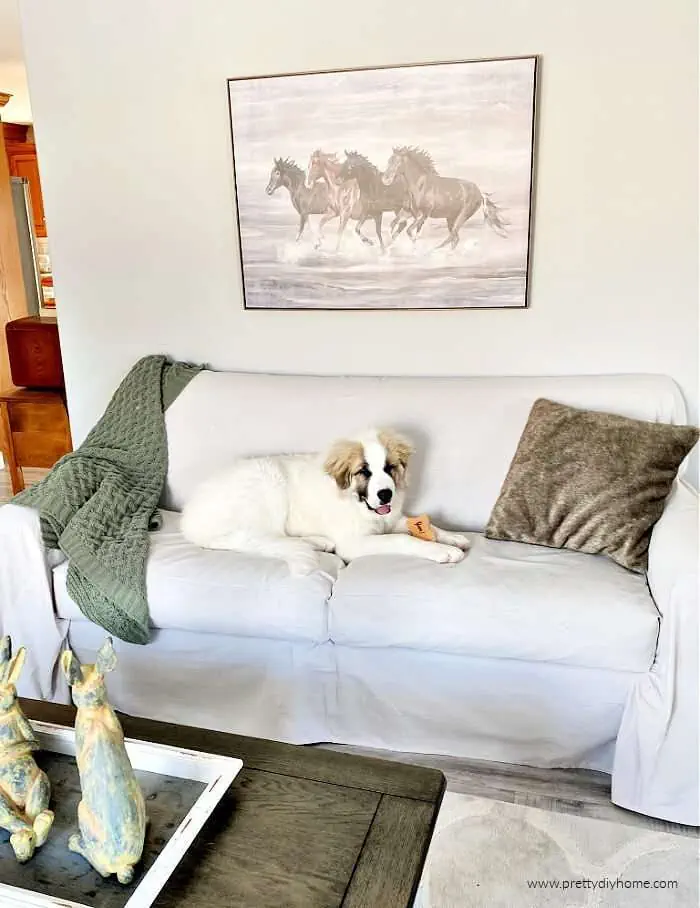 And I absolutely adore this custom slipcover Maggie from Maggie Overby Studios made for her couch.
Not only is it so perfectly fitted that it looks like new upholstery, but she also used affordable, easy to wash IKEA curtains as her fabric. So smart!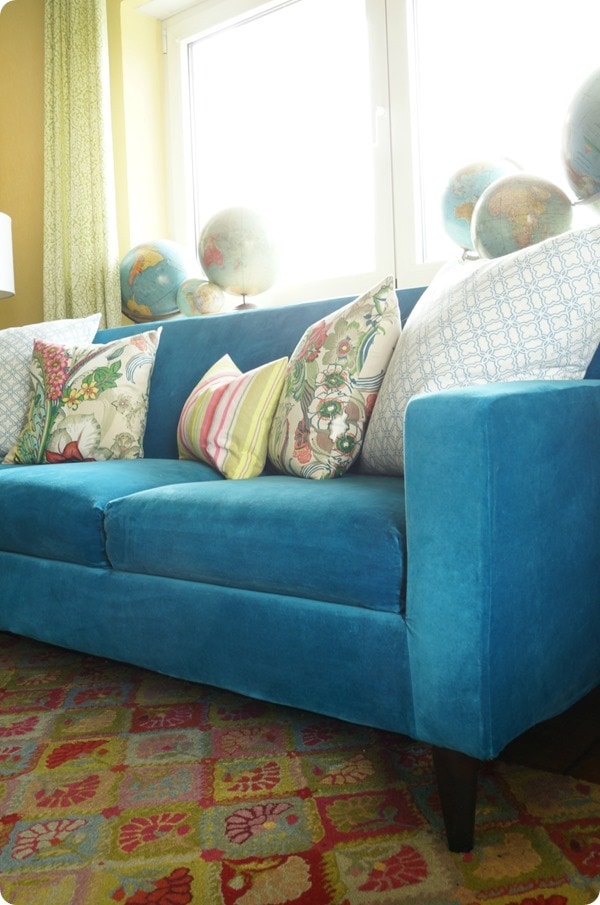 Cover the cushions.
If you have an outdoor couch with ugly, faded or stained cushions, you can give them a major update by sewing new covers. Maria from Simple Nature Decor Blog gave her cushions new life by sewing super simple envelope covers for her cushions.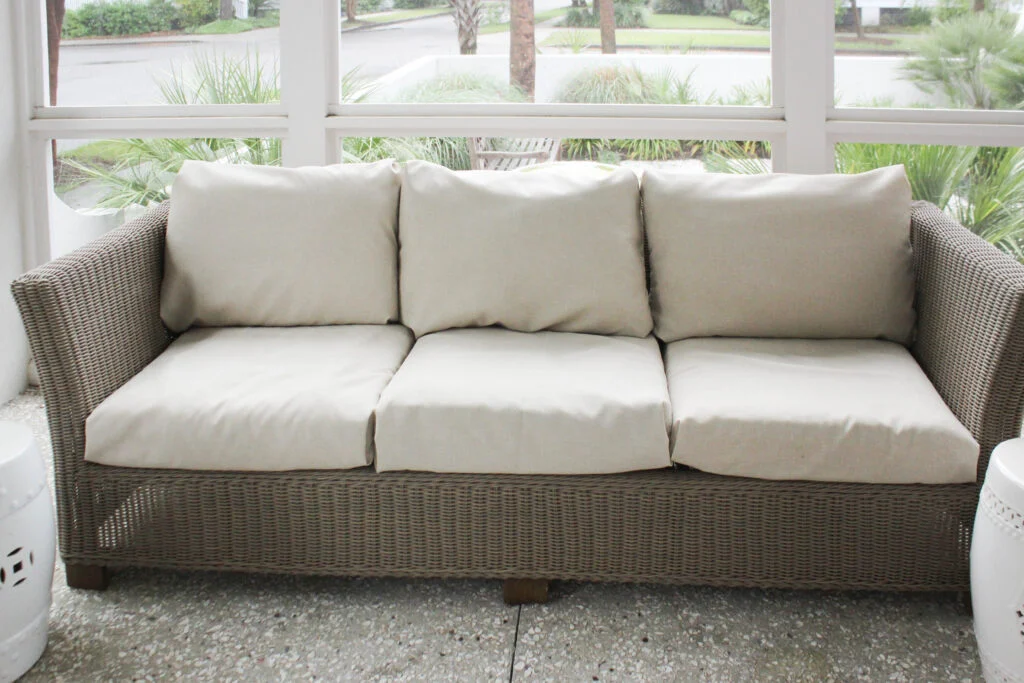 Paint the upholstery.
Okay, so this may be a bit nontraditional, but yes, you can actually paint your sofa's upholstery!
If your couch is a color or pattern that you just can't stand, paint can be a great way to give it new life. Jess from Domicile 37 painted a sofa she picked up for free and the result looks a lot like gorgeous black leather.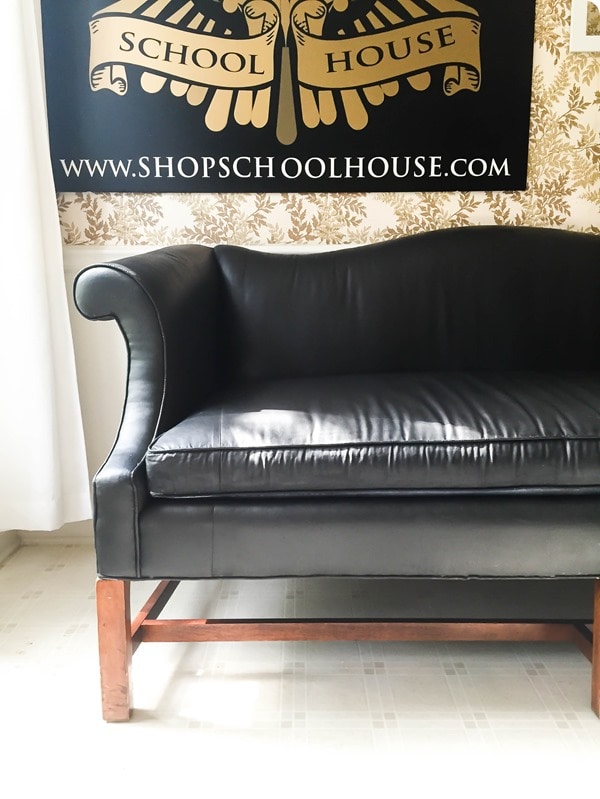 And Sue used a different method to paint her thrifted blue couch and turned it into a great neutral sofa.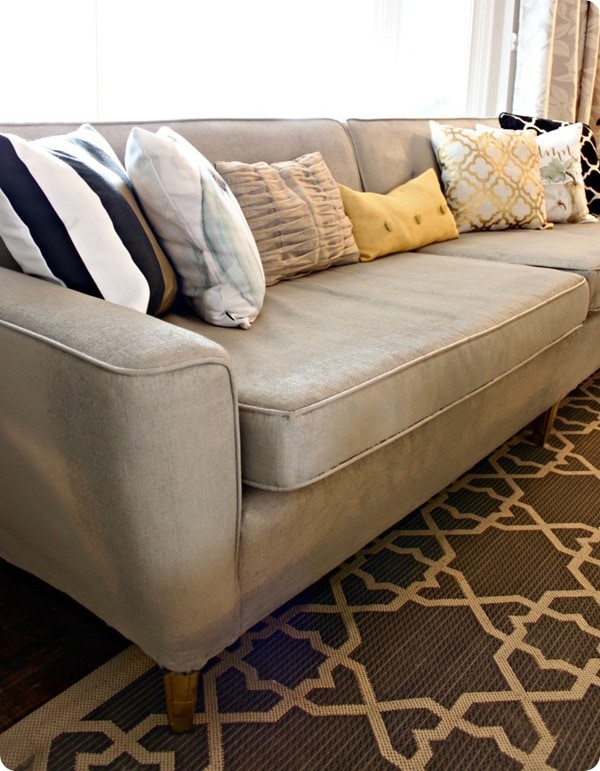 Dye the Upholstery
Another option for completely changing the color of your sofa is to dye it. Robin from Vegan Dollhouse dyed her IKEA sofa to create the statement sofa of her dreams.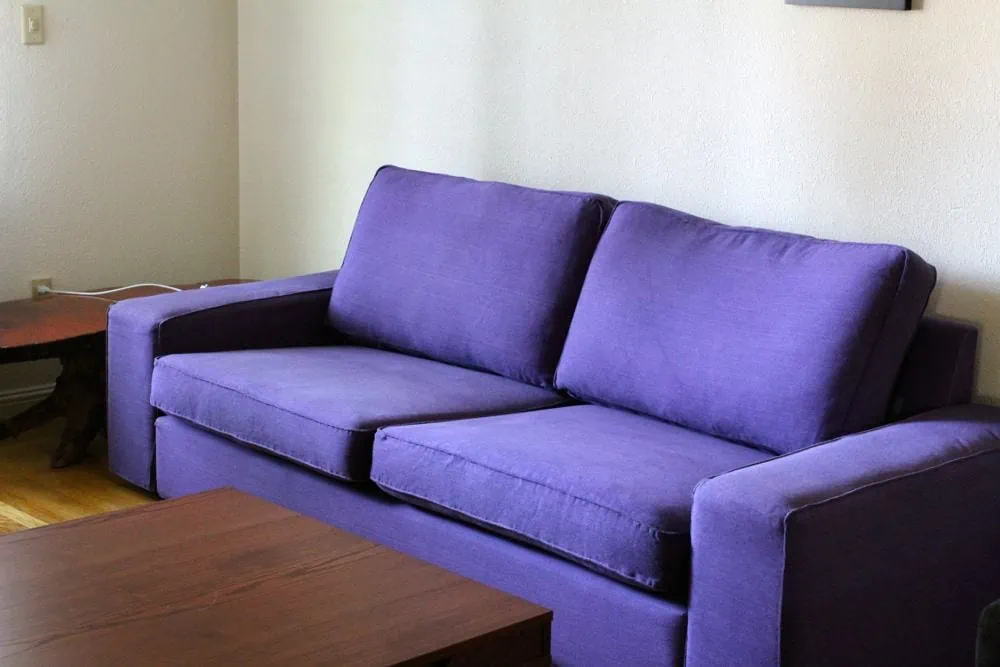 Since her IKEA sofa cover was removable, she was able to dye it in her washing machine. But even if your sofa doesn't have a removable cover, you can still dye it with fabric dye by brushing the dye on with a paintbrush or spraying it on with a spray bottle.
Monica from Monica Wants It has a super thorough tutorial sharing how she dyed this faded sofa a bright, bold green using fabric dye.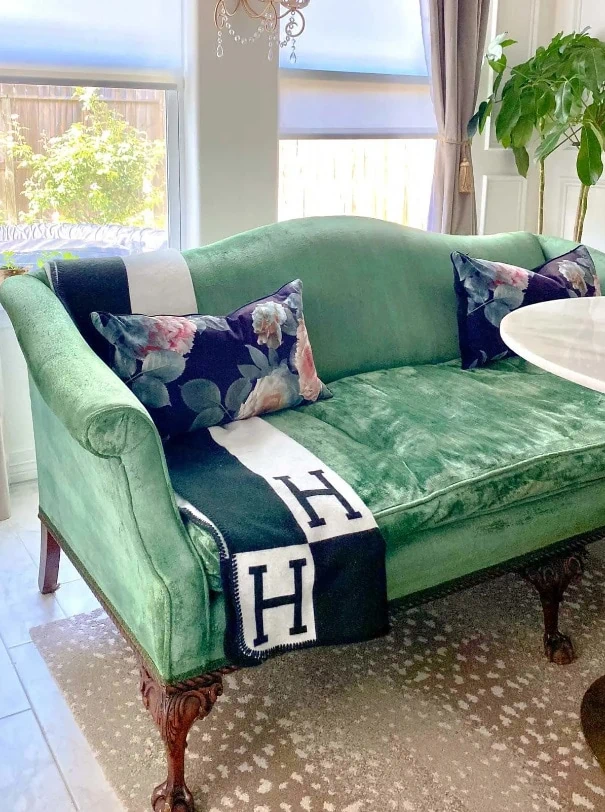 Deconstruct it.
This may not be for everyone, but I love the look of deconstructed furniture. It has a bit of a farmhouse meets industrial feel to it and since it isn't meant to be overly polished, it's perfect for DIYing.
Jen from Jenron Designs shared how she turned a super ordinary thrifted sofa into a beautiful deconstructed sofa.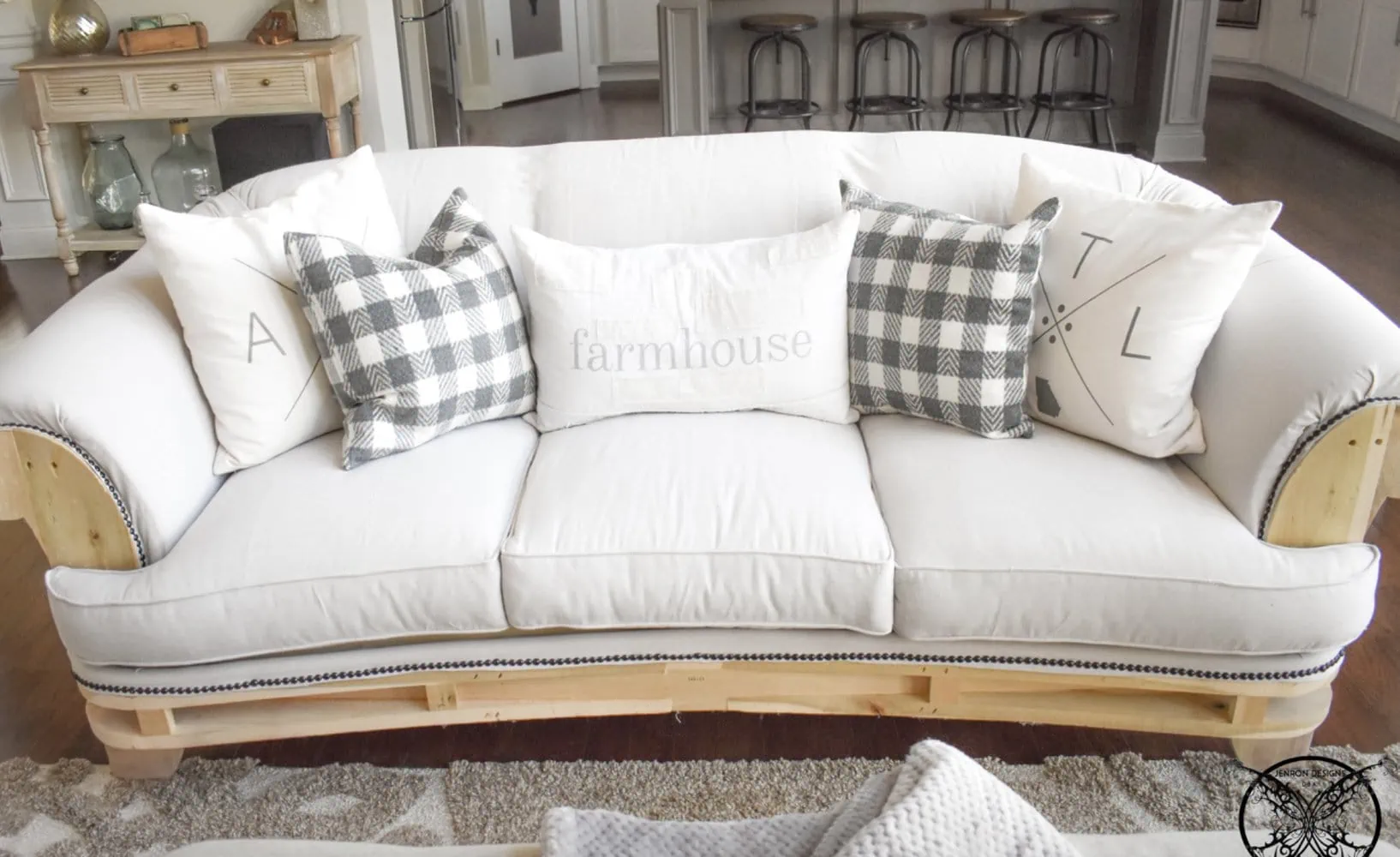 Reupholster it.
And finally, if you are ready to really make a change, you can reupholster that old sofa.
When I found an old sofa on Facebook Marketplace for a steal, I knew I could bring it back to life. After painting the wood frame, I reupholstered the sofa with drop cloths for super cheap. And now it looks like a stunner from Restoration Hardware!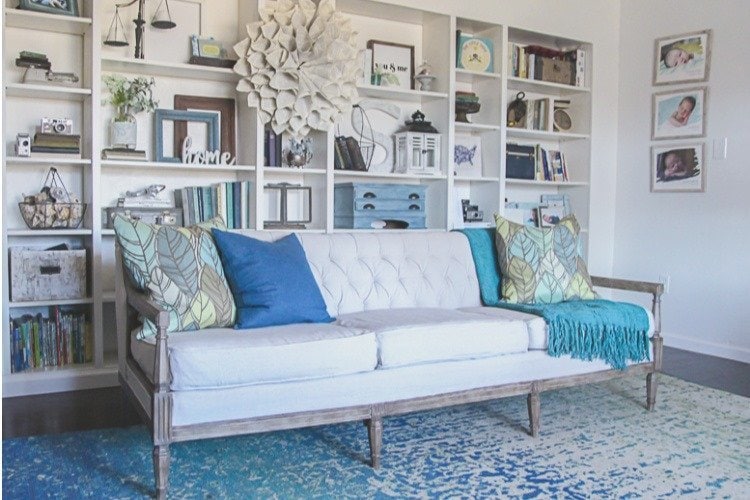 Seam Whisperer also reupholstered an outdated sofa and now it looks incredible. I would never have guessed that was DIY upholstery!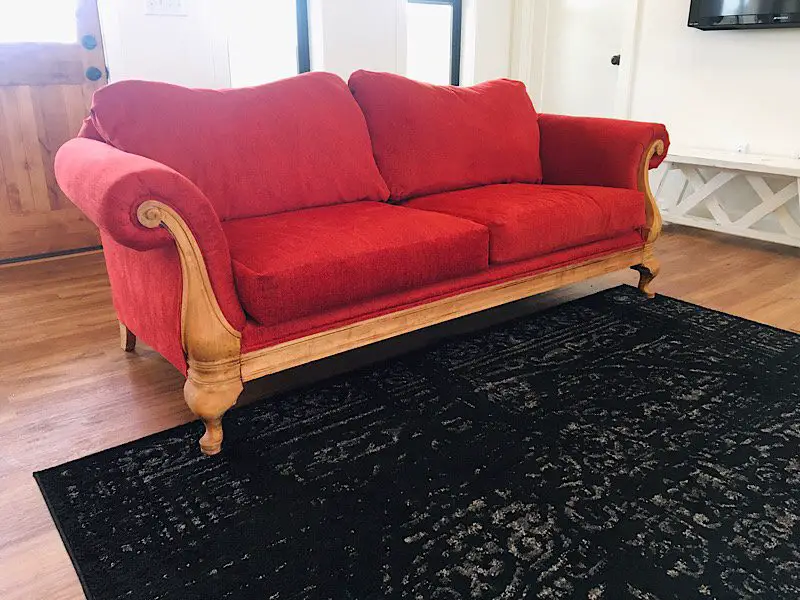 Who knew there were so many ways to completely transform an old ugly sofa! I hope you found the perfect idea to save your own couch.
If you have furniture on the brain like me, you might also enjoy these posts:
I'd love for you to pin this post on Pinterest!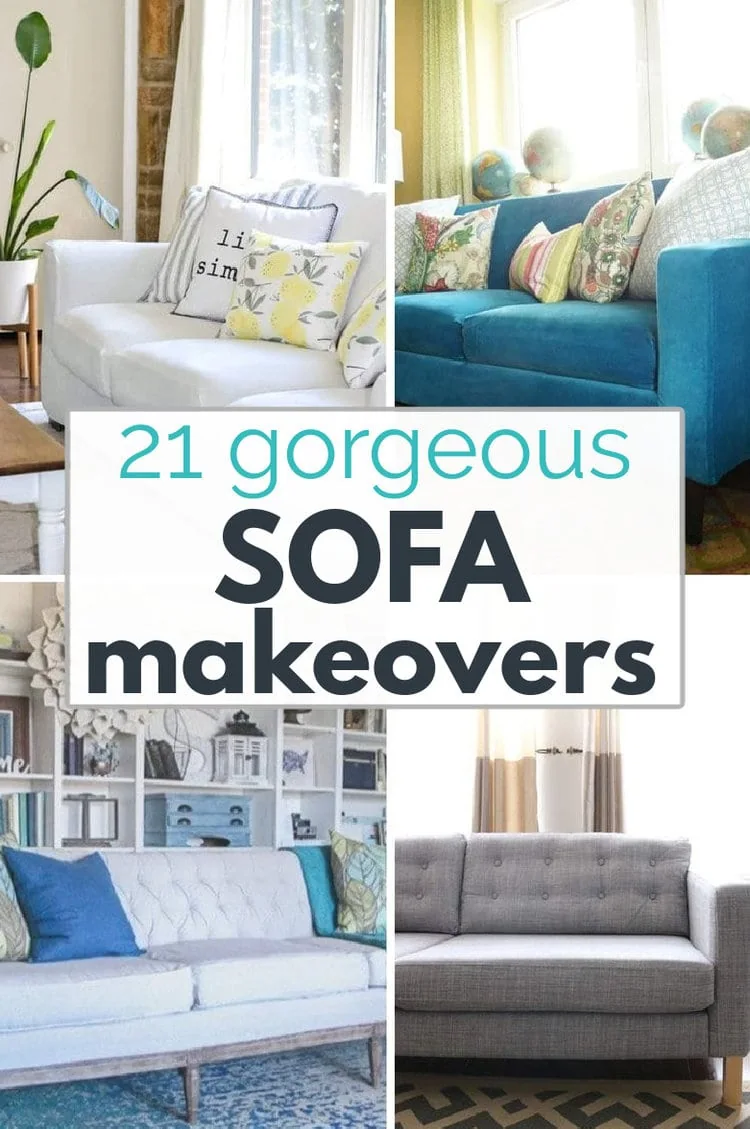 Google Web Story: 21 Creative Ways to Update a Sofa