I'm sharing a full update of how our drop cloth sofa looks four years later along with all the pros and cons of using drop cloth for DIY home projects.
You've probably seen all the drop cloth DIYs floating around the internet the past several years. Drop cloth curtains, slipcovers, pillow covers, and upholstery have all become popular.
DIYers love to use drop cloth for home projects because you can get a ton of fabric yardage that's much, much cheaper than traditional home decor fabrics.
But does drop cloth really work well for projects like slipcovers and upholstery? And how does it hold up over time?
After using canvas drop cloth for a few major DIY projects including reupholstering an entire sofa, I thought it would be helpful to break down the good and the bad of using drop cloth for DIY home decor.
And I'm also sharing an update on how my drop cloth upholstered sofa is holding up after almost four years of use.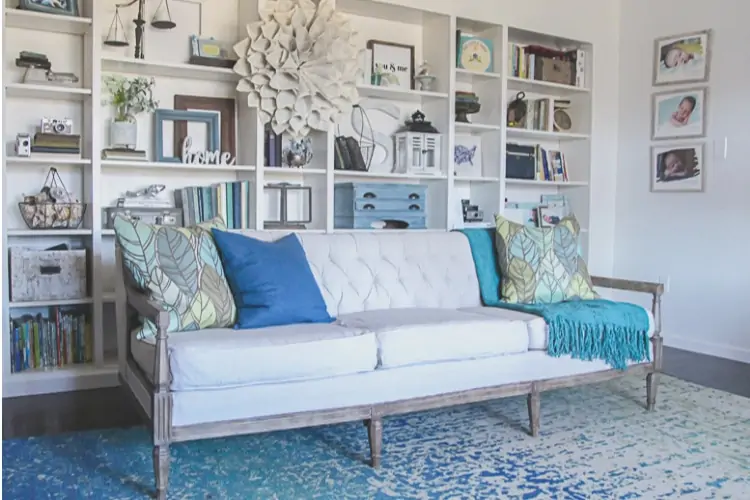 This post contains affiliate links which means if you make a purchase after clicking a link I will earn a small commission but it won't cost you a penny more. Click here to see my full disclosure policy.
Is drop cloth really a great home decor fabric?
First, we have to talk about why people use drop cloth for home decor projects to begin with. I mean, it's manufactured to protect your floor from paint splatters; how did it become a go-to fabric for curtains and slipcovers?
Personally, I'm a big fan of using materials in non-traditional ways. While drop cloth isn't technically meant to be used as a home decor fabric, that doesn't mean it can't get the job done.
People (especially women) have a history of getting smart and creative with their resources, thinking beyond what something is packaged for, to all the things it could actually be.
One of the most well-known examples is women during the Great Depression using empty flour sacks to sew clothing for their families. Just because something wasn't made and marketed for a specific purpose, doesn't mean it won't work well.
There are a lot of reasons drop cloth actually works really well for sewing and upholstery projects. And there are also some reasons it's not always the best choice.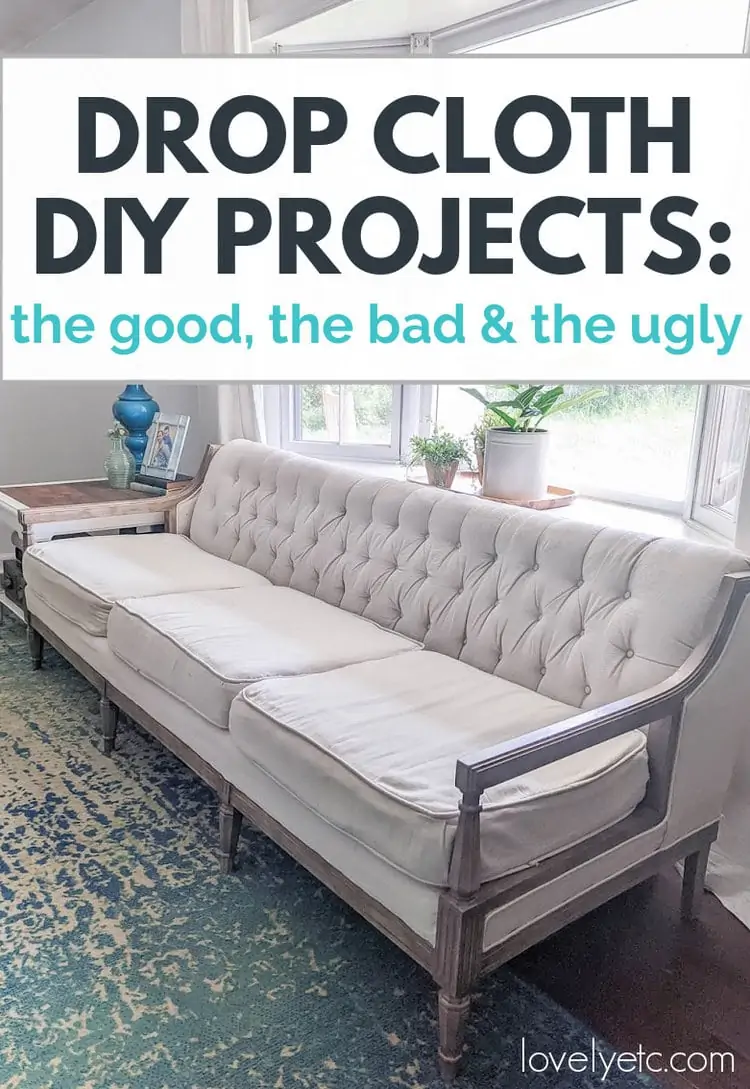 The good
Low cost
The biggest reason people choose to use drop cloth as fabric is simply the price. Drop cloth is usually super cheap.
You can get a 9'x12′ drop cloth for around $15- $20. That is a LOT of fabric. Buying that much fabric yardage in stores would be significantly more expensive.
The cheapest cotton canvas fabric sold by the yard at a fabric store is around $5 per yard. It would take at least 7 yards of fabric to equal the yardage in a 9'x12′ drop cloth, for a total cost of $35. That's around double the price of the drop cloth.
In addition, drop cloth is sometimes just more convenient to buy. Depending on where you live, you may not have a fabric store anywhere nearby, but you can find canvas drop cloths at any hardware store as well as online.
Appearance
Drop cloth has a casual, neutral look that works really well with a lot of home styles. Drop cloth upholstery can look surprisingly beautiful and high end even though it is very inexpensive.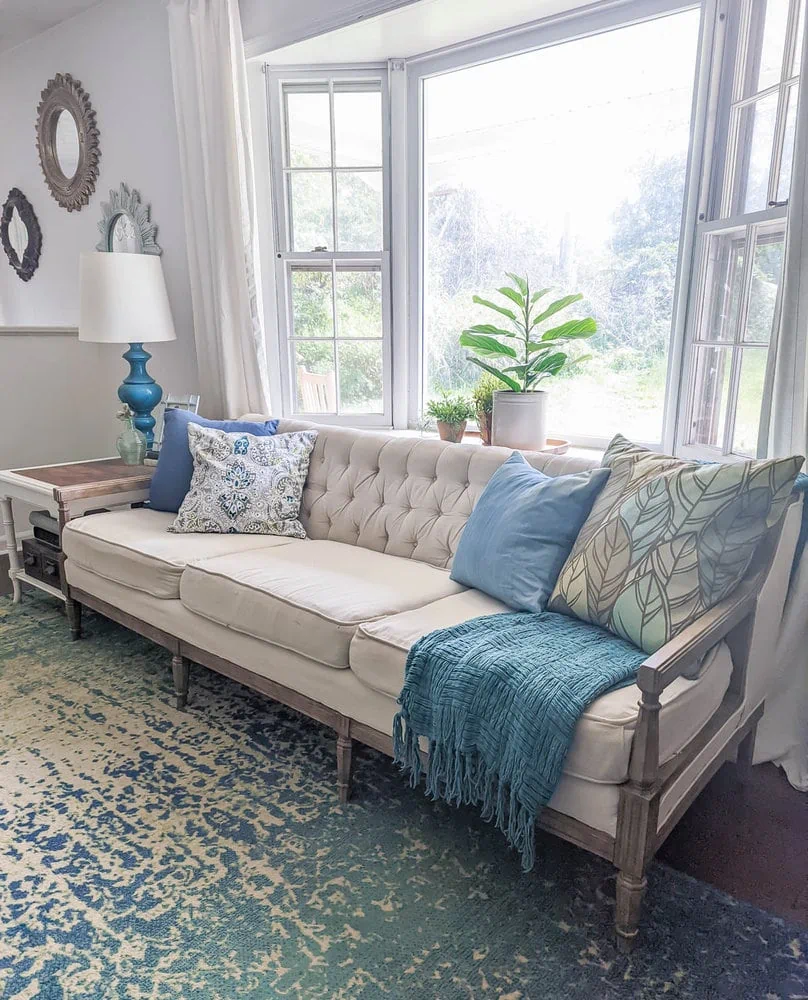 Neutral color
The exact color of canvas drop cloths can vary, but they generally come in a natural, grayish beige shade.
You can also bleach your drop cloth to be a lighter cream shade or even white, but I actually really like the natural shade of most drop cloths.
The bad
Even though there are a lot of positives to using drop cloth for upholstery and other DIY projects, there are also some definite downsides.
Lower quality
Drop cloth is typically made from medium weight cotton canvas. It is considered a second quality fabric and tends to be nubby rather than smooth.
Drop cloth often contains imperfections in the fabric like bare spots, knots, and runs. You can also sometimes see tiny bits of colored threads that have gotten woven into the fabric.
In addition, many drop cloths are prone to pilling.
The seams
Drop cloths come already sewn into a finished product. That means there are seams around all four edges and sometimes there are also seams down the middle of larger drop cloths.
Drop cloths are created to cover a large space and protect it from paint and a lot of times the easiest way for manufacturers to do this is to sew several smaller pieces together.
While this works just find for protecting your floor, it can be a major problem when you need a large piece of untouched fabric for a project.
Inconsistent sizing
You should also be prepared that your drop cloth will probably measure a bit smaller than the size listed on the package. Most drop cloths are measured before the rolled hem is added which makes the final size several inches smaller.
If you are planning to prewash and bleach your drop cloth, be prepared that they often shrink several more inches in the wash as well.
Whether or not drop cloth is right for your project, really depends on what type of fabric you want.
If you are looking for an inexpensive neutral fabric with a natural, imperfect feel, drop cloth is perfect for you. But if you want a flawless piece of high quality fabric for your project, I would definitely choose something else.
How to pick the best drop cloth for DIY projects
There are a few things to keep in mind when picking the right drop cloth for your DIYs. I have some tips for choosing the perfect drop cloth for your projects as well as my top pick for a great all purpose choice.
A Great All Purpose Drop Cloth
I have purchased several different drop cloths for DIY projects from Amazon, Lowes, and Home Depot. And I've found they are all a very similar color, quality, and texture. So if you don't want to put a ton of time and thought into choosing just the right drop cloth, that's okay!
I've used this drop cloth from Amazon for several projects and been very happy with it. If you just want to choose one drop cloth to use for everything, it's the one I would pick.
I do recommend that you pay attention to the prices of different sized drop cloths to get the best deal. Often a 9'x12′ drop cloth is only a dollar or two more than a 6'x9′ drop cloth even though it is double the fabric.
More detailed drop cloth recommendations
For those of you that are more detail-oriented and want to make sure you pick the perfect drop cloth, there are some other factors you'll want to consider.
If you are planning to bleach your drop cloth, you want to double check that the one you purchase is 100% cotton. Most are, but some drop cloths contain a small percentage of synthetic fabric and will not bleach well.
Drop cloths also come in different weights. Drop cloths are available in 6 oz, 8 oz, 10 oz, and 12 oz weights. The higher the weight, the stiffer and more heavy duty the fabric.
For most DIY projects, you really don't need to worry about the weight of your drop cloth. Most drop cloths sold at hardware stores are 8 or 10 oz and will work for many different projects.
But if you want to be a bit more picky, 6 oz or 8 oz drop cloth works best for soft flowing curtains while the more heavy duty 10 oz drop cloth would work better for upholstery.
My specific picks:
Best for drop cloth curtains: This lightweight 9'x12′ drop cloth is 100% cotton, only has seams along the edges, has amazing reviews, and is inexpensive.
Best for drop cloth upholstery: This 10 oz 9'x12′ drop cloth is a great weight for upholstery. It's also seamless and has very high reviews. (However, it is not 100% cotton so not great for bleaching).
How does drop cloth hold up over time?
Okay, so now for the big question.
Drop cloth DIYs look great at first, but how do they hold up over time?
This is something I wondered about myself before choosing to use drop cloth to reupholster my sofa.
That was a huge job and definitely not one I was planning to redo every few years, so I was really hoping that the upholstery fabric would hold up.
It has now been nearly four years since I reupholstered my sofa and I am happy to report so far it is holding up really well.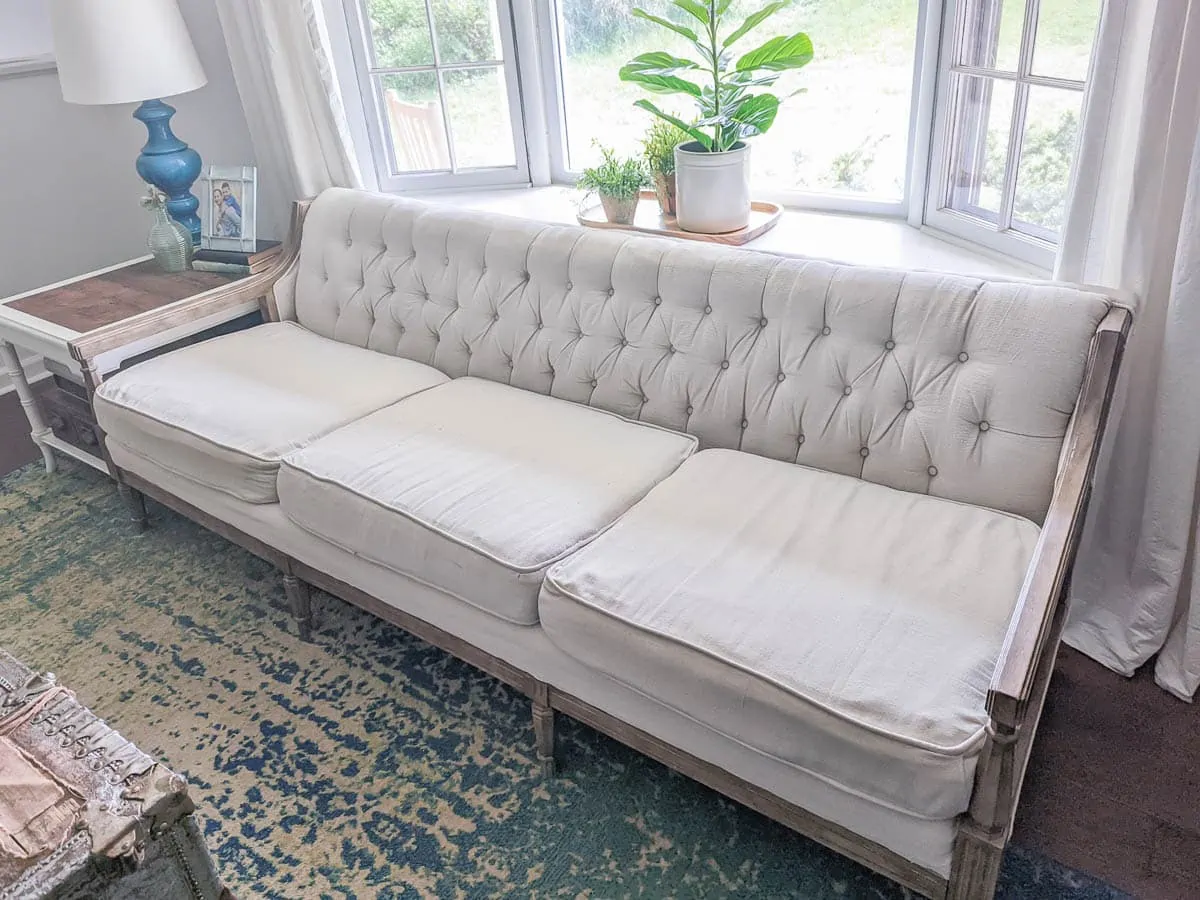 (All of the sofa photos in this post were taken this week other than the very first photo which is from when I first finished the sofa four years ago.)
The fabric has no worn places or tears. It is still clean and stain-free. And while there are a few places where the cushions look a bit slumpy, that is due to my amateur sewing skills, not the fabric I used.
Overall, I would call it a major success!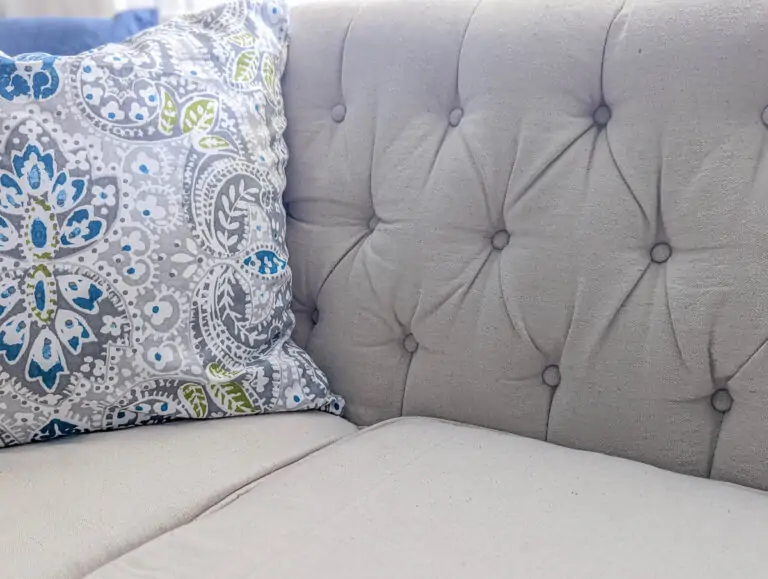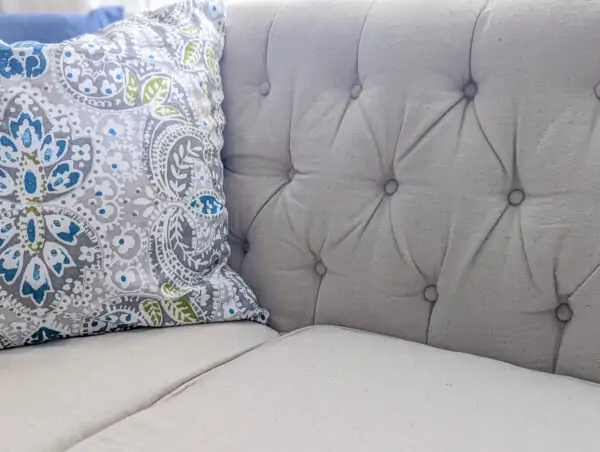 I do want to point out that drop cloth has a very relaxed, soft look that's similar to natural linen. This is not a crisp, stiff fabric; it is prone to looking a bit wrinkly at times.
If you like a more relaxed, cozy vibe, this look is perfect for you. But if you are hoping for something more tailored, you probably won't love drop cloth upholstery.
How to deal with pilling
Even though my drop cloth upholstery has held up really well, there is one major issue I have run into. The drop cloth I used pills like crazy over time.
This may not seem like a big deal, but as time went on, my couch became covered with tiny gray fuzz balls and it really made the entire thing look messy and dirty.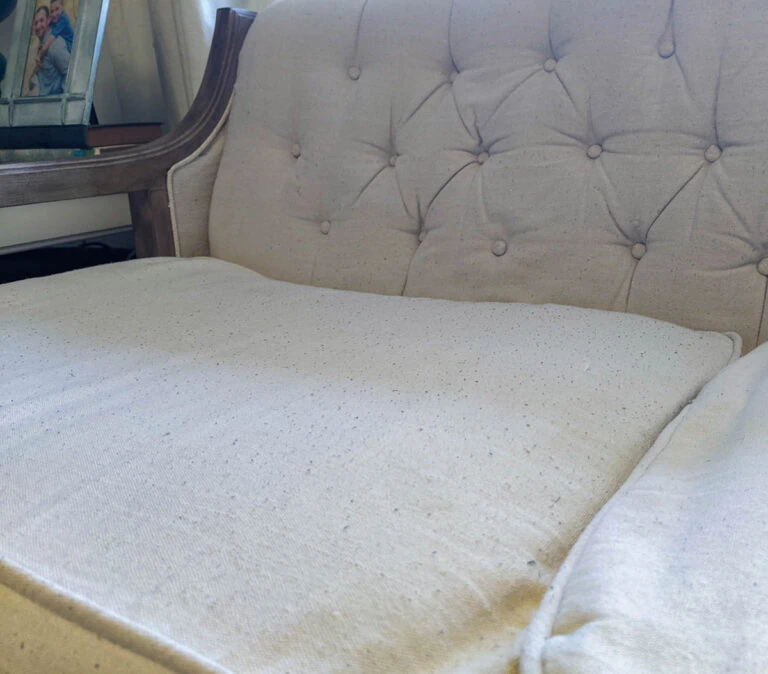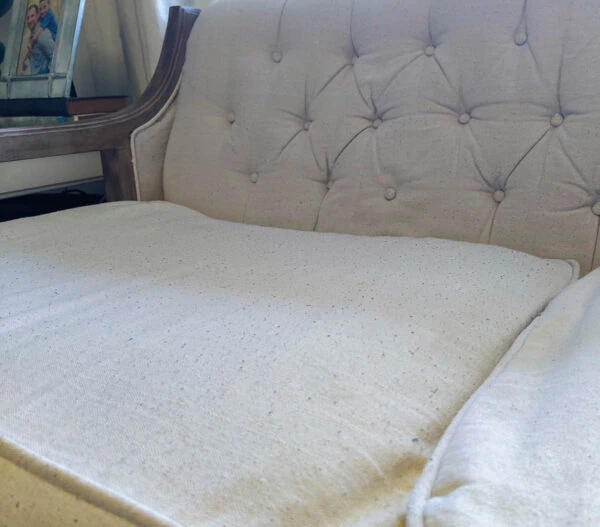 Luckily the little fuzz balls are very easy to remove using a fabric shaver. I used this one from Amazon and it worked really well.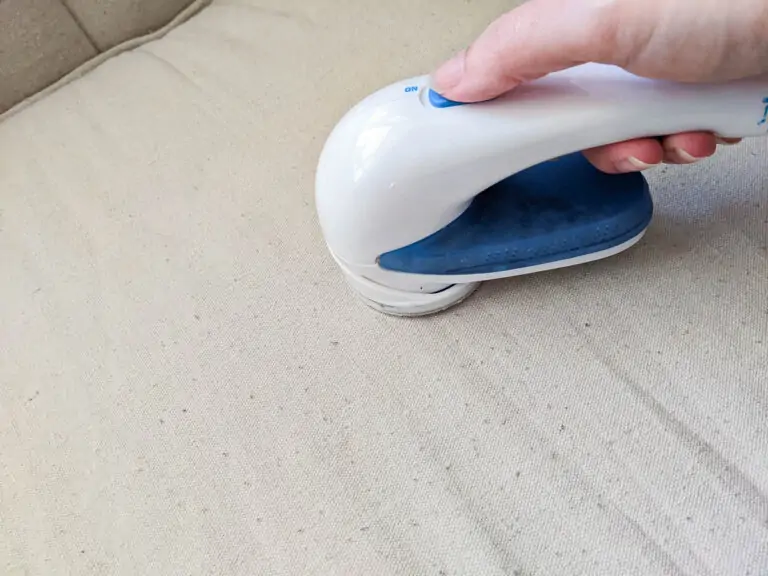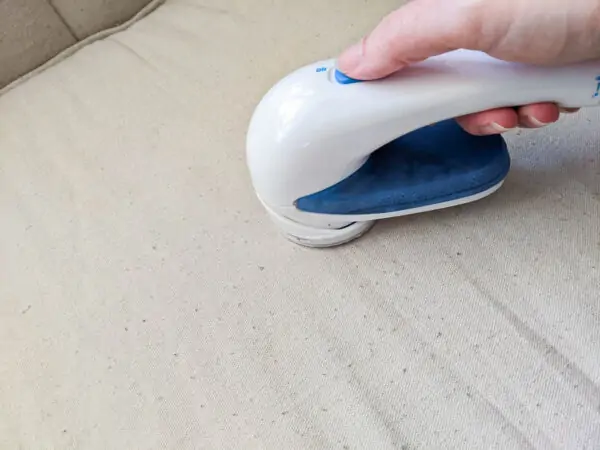 You just run it over the surface of the fabric and it removes all of the little fuzz balls. I was able to shave my entire sofa in about fifteen minutes and that alone really made my sofa look almost new again.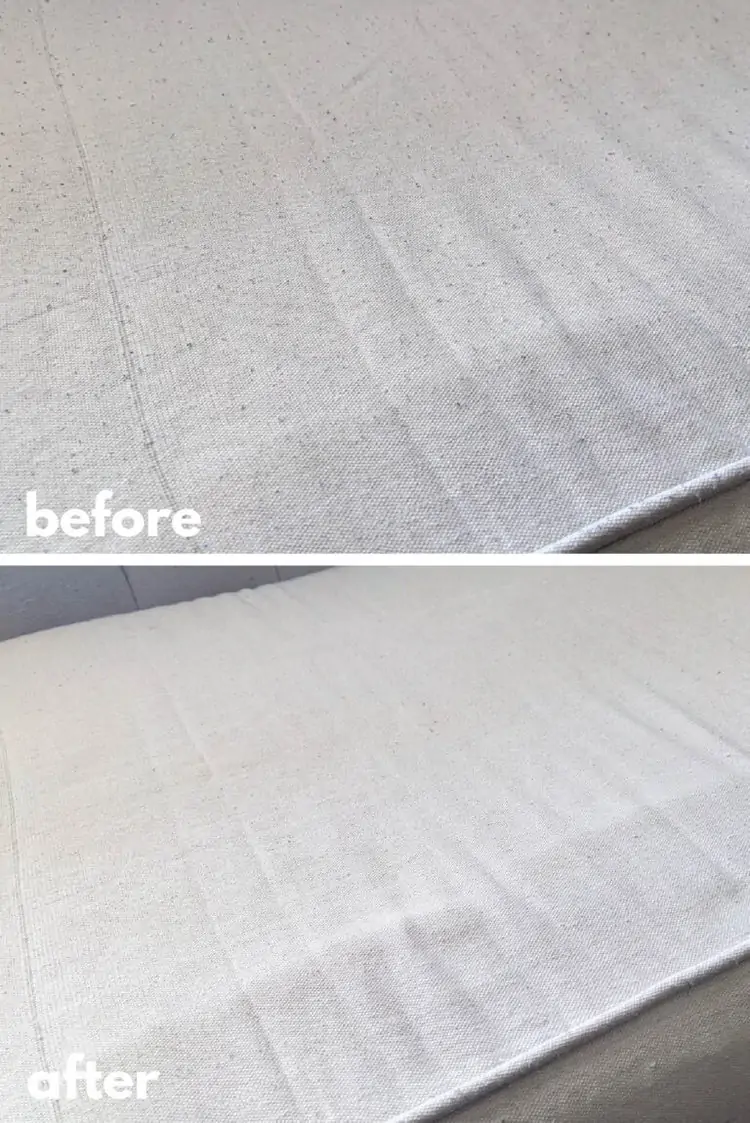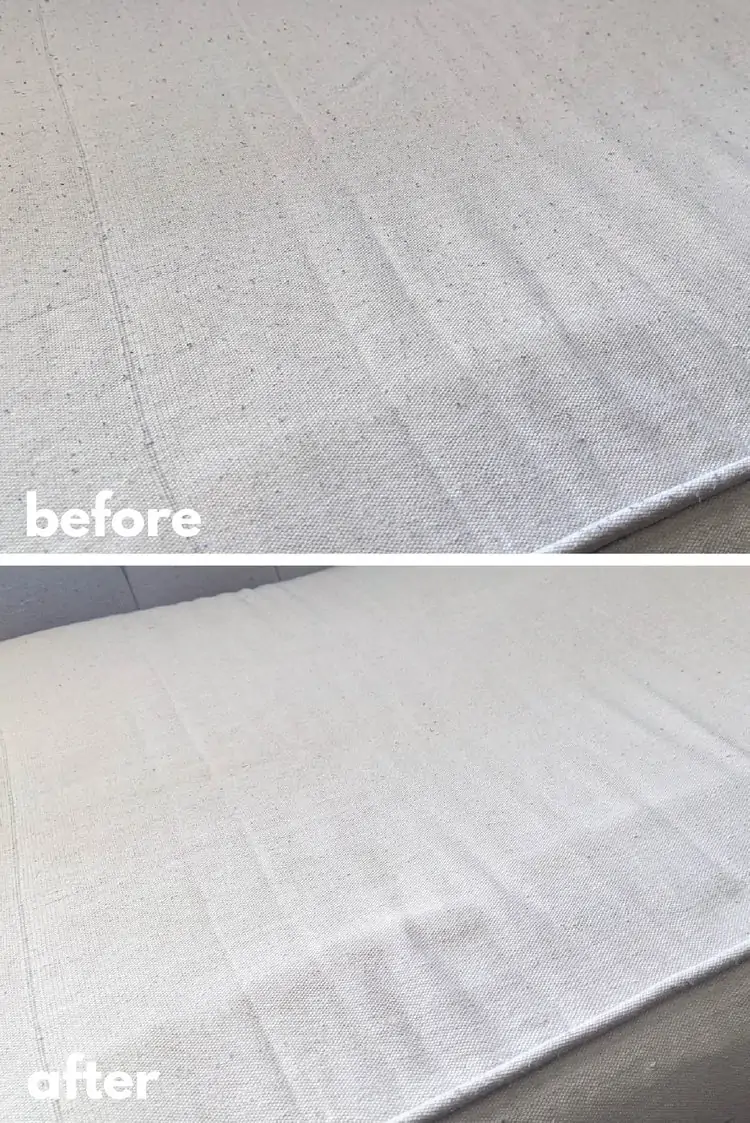 In the future, I think pulling out the fabric shaver every six months or so should be plenty to keep it looking nice.
How to prevent stains on drop cloth
When I first upholstered my sofa, I was very concerned about stains. I have three small boys who love to play outside and sometimes our house can get pretty dirty.
So I was pretty concerned about having such a light colored sofa. Especially because drop cloth is actually meant to absorb liquids and stains so it isn't treated with any type of stain blocker like some other fabrics.
To help prevent major stains and mess, I treated the entire sofa with Scotchgard Fabric Water Shield as soon as the upholstery was finished. It took two cans to do three coats on the entire sofa. I highly recommend that anyone else using drop cloth for upholstery do the same.
I am so glad I Scotchgarded this sofa. Just a couple of weeks after I finished upholstering it, one of my kids spilled red fruit punch all over it. I'm really not even sure how this happened. We don't usually have red drinks – this one was leftover from a birthday party. And my kids aren't allowed to take drinks outside of the kitchen. But somehow, everything aligned for this horrible accident.
Thankfully I saw it right away and was able to clean it up. The Scotchgard definitely helped keep all of that red dye from soaking right into the fabric. And since then we have managed to avoid any other catastrophes.
Can you use drop cloth outdoors?
I know some of you are probably wondering about using drop cloth for outdoor projects. You can use drop cloth outdoors, but it isn't always a great idea.
In addition, to upholstering my sofa with drop cloth, I also used drop cloth to make a cover for the daybed on our screened-in porch.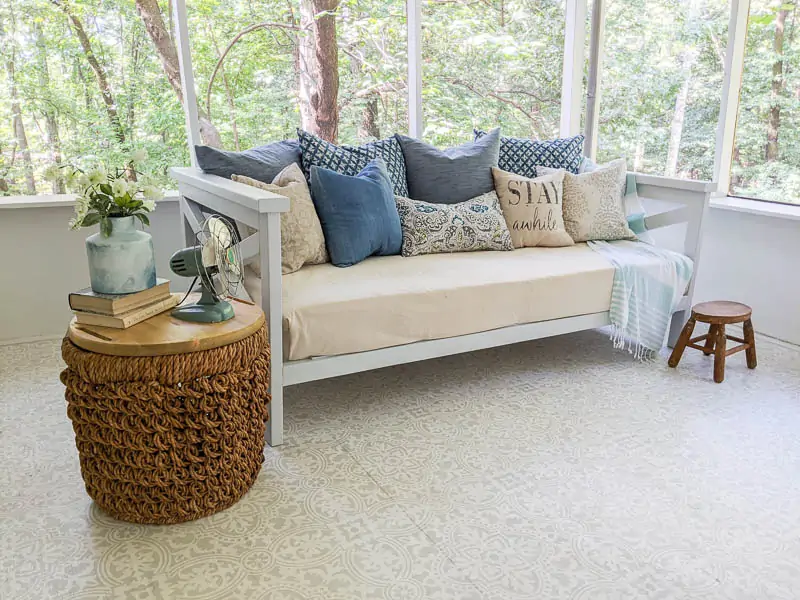 I wasn't sure how it would do outdoors, but I was hoping it would be safe to use since our porch is covered and doesn't receive any direct rain.
Unfortunately after one year on the porch, the fabric started becoming mildewed. I live in Virginia where we get all four seasons along with lots of rain and humidity. It seems all that moisture in the air was just too much for the fabric.
Luckily I had only used half of the huge drop cloth I bought, so I threw out the mildewed drop cloth and started over.
And this time I took extra steps to protect my drop cloth from moisture.
I treated the drop cloth first with several coats of Scotchgard Heavy Duty Water Shield. This is a spray that is used to waterproof backpacks, tarps, and other outdoor gear, so I thought it should work well to protect my fabric from moisture.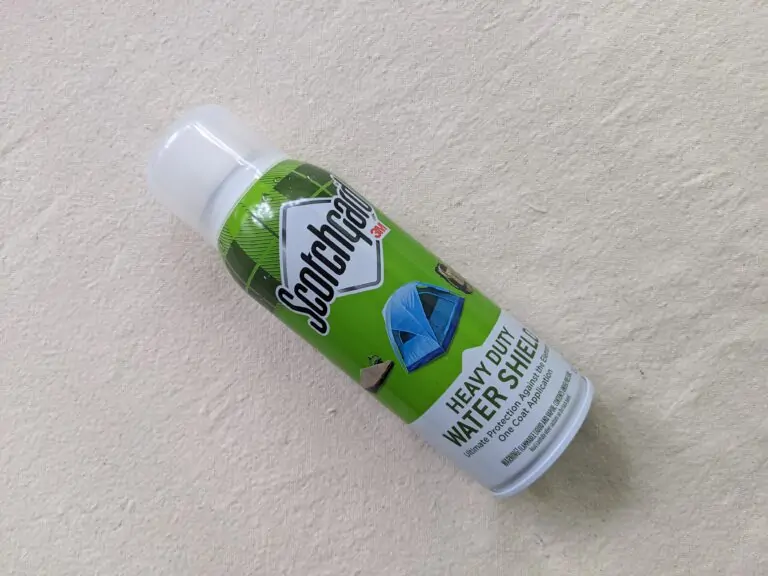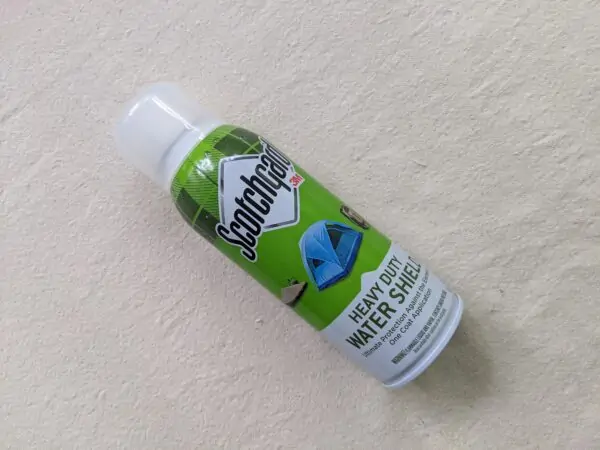 The Water Shield spray did make the fabric very slightly darker and also a tiny bit stiffer, but it didn't make a huge difference to the look and feel of the fabric. And it has worked so well!
The new drop cloth cover has been on the porch for a year and a half and still looks as good as new.
I think drop cloth would also work well in areas that are fully exposed to sun and rain, but like all fabrics, it will not last as long and will need to be replaced more frequently.
Do I recommend drop cloth for upholstery and other DIYs?
I absolutely still recommend drop cloth for all kinds of DIY projects and would have zero qualms about using it for upholstery again. It's affordable, looks beautiful, and has held up well!
And if you love the idea of saving money by finding creative sources for fabric, I recommend you check out my list of 10 secrets to finding incredibly cheap fabric.
More creative fabric DIYs I think you'll like:
I'd love for you to pin this post on Pinterest!