I put Rustoleum's outdoor fabric spray paint to the test and today I'm sharing my honest review including a tutorial on how to use it, all the pros and cons, and how it compares to other outdoor fabric paint options.
But before I dive in to the outdoor fabric spray paint, I need to back up and fill you in on my previous attempts at painting outdoor cushions.
Painting outdoor cushions with latex paint + fabric medium
A few years ago, I painted our faded floral patio furniture cushions. I wasn't really sure how it was going to turn out, but outdoor cushions are crazy expensive and I hated the current fabric so much, I decided to take a chance.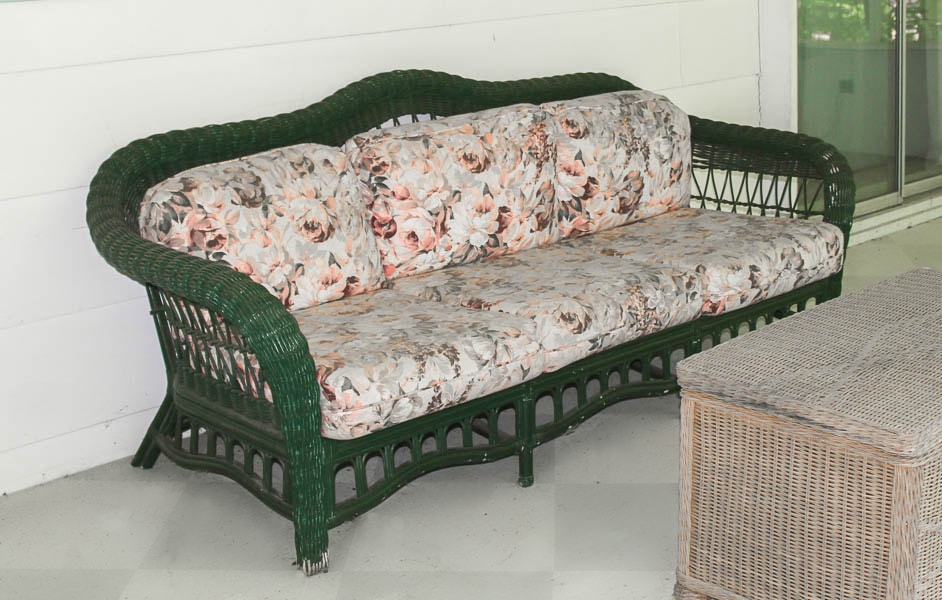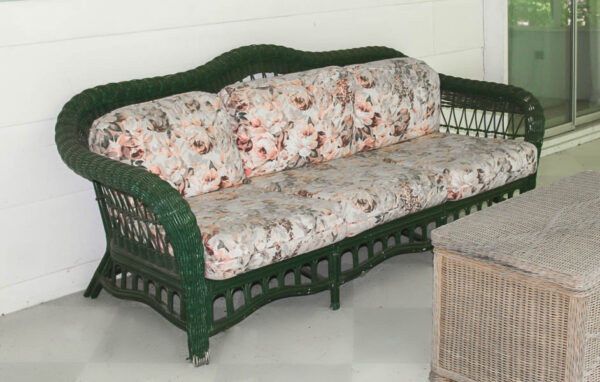 You can read all the details of how I painted the cushions using a mixture of regular latex paint, fabric medium, and water here. But I'll go ahead and tell you, the results were a bit mixed.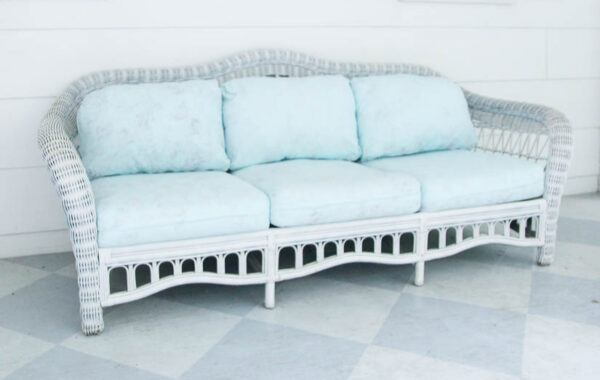 The painted cushions looked so much better than the old faded fabric had. But the texture was a lot more stiff than I would have liked and the paint wasn't able to completely cover the floral pattern.
All in all, I was glad I did it, but the results definitely weren't what I had hoped for.
And as much as I wanted this to be a great inexpensive solution for saving faded outdoor cushions, it just didn't quite hit the mark.
But I wasn't quite ready to give up. I've painted other fabrics over the years with great results, so I had to wonder if maybe the paint I used was the problem.
Outdoor Fabric Paint Options
I went in search of better paint options for painting outdoor cushions. It took a bit of digging, but I did manage to find a few options.
Latex paint + Fabric medium – This is the method I had already tried and not loved.
Chalk paint + Wax – I have seen several positive reviews for painting fabric with chalk paint, but not a lot of information about painting outdoor fabric with it. And the fact that you need to wax it to seal the paint was a big turn off for me. I find wax difficult to work with on painted wood, so I really wasn't interested in attempting to apply it to fabric.
Rustoleum outdoor fabric spray paint – That's right, it turns out there is a specialty spray paint formulated specifically for painting outdoor fabrics!
When I saw that Rustoleum has created an outdoor fabric spray paint, I knew I had to test it out.
I'm sharing everything you need to know to use Rustoleum outdoor fabric spray paint including the good, the bad, and how it compares to my previous attempt at painting outdoor fabric.
And for those who prefer video, there's also a full video review at the end of this post.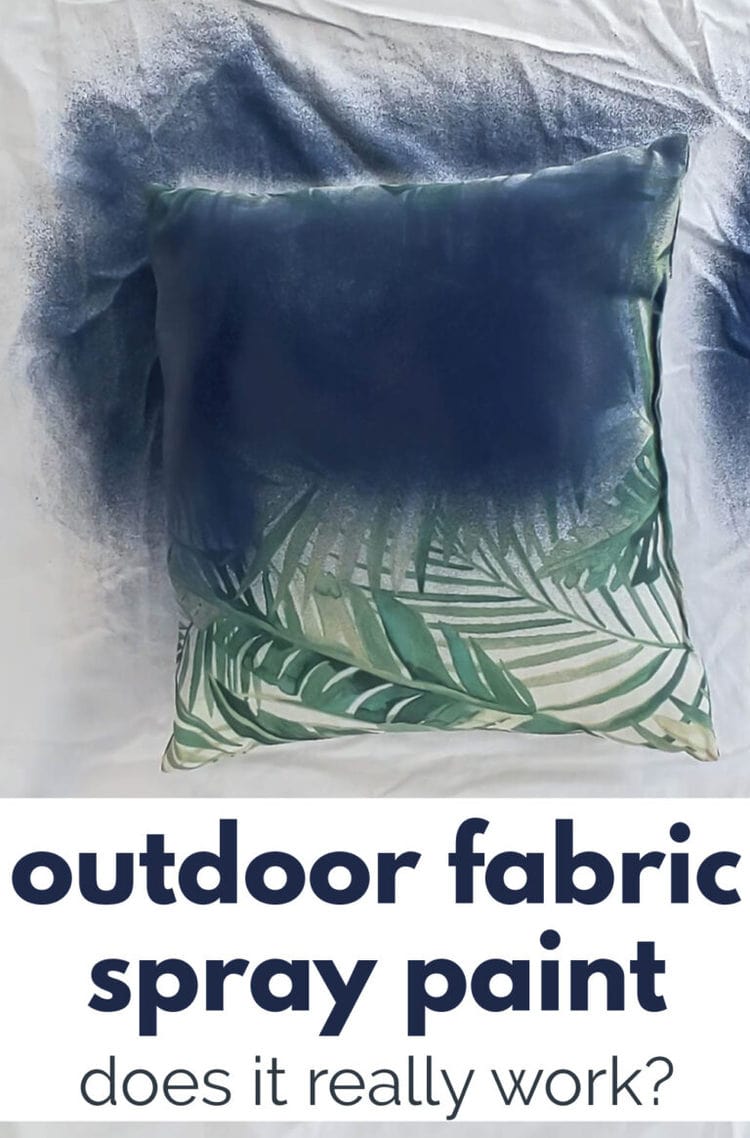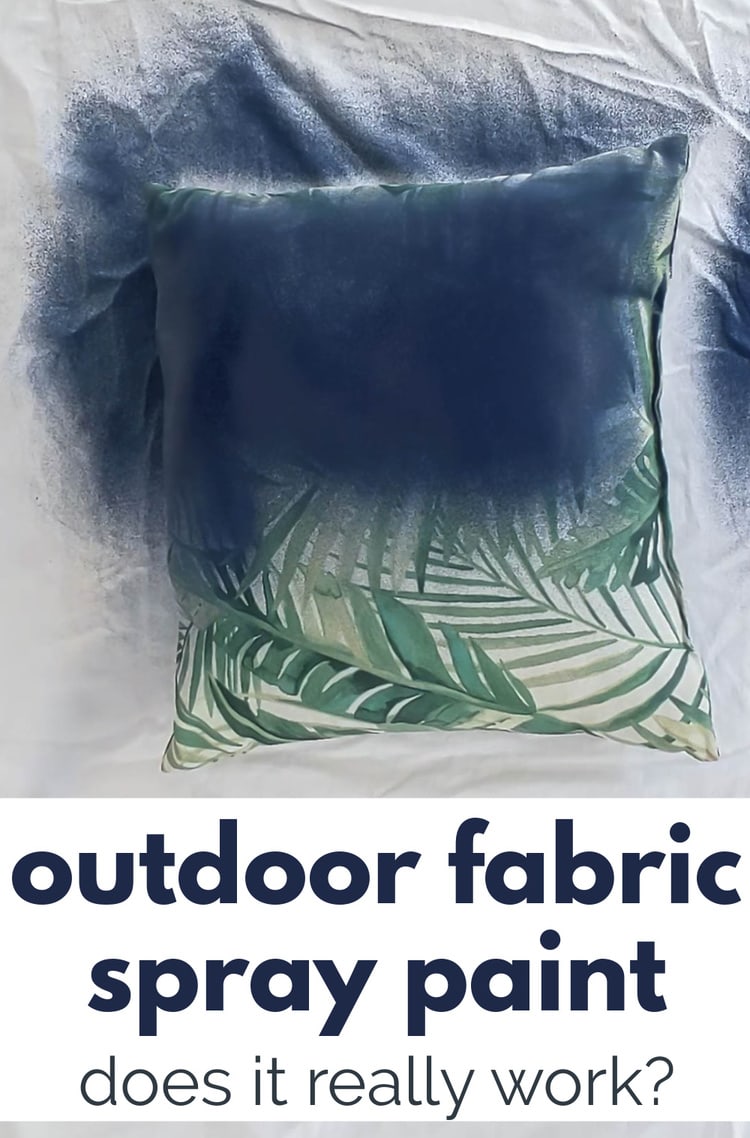 This post contains affiliate links which means if you make a purchase after clicking a link I will earn a small commission but it won't cost you a penny more. Click here to see my full disclosure policy.
How to paint outdoor fabric with spray paint
Materials
Rustoleum Outdoor Fabric Spray Paint – you can find this online at Amazon and it is often available at Lowes and Home Depot as well, it's currently available in nine colors including the navy I used.
Outdoor furniture cushions, pillows, or a porch umbrella to paint
Drop cloth – to protect the surrounding area
I picked up an outdoor cushion at Goodwill for this test. I chose this particular pillow because I thought the high-contrast leaf pattern would be a good test for how well this spray paint actually covers.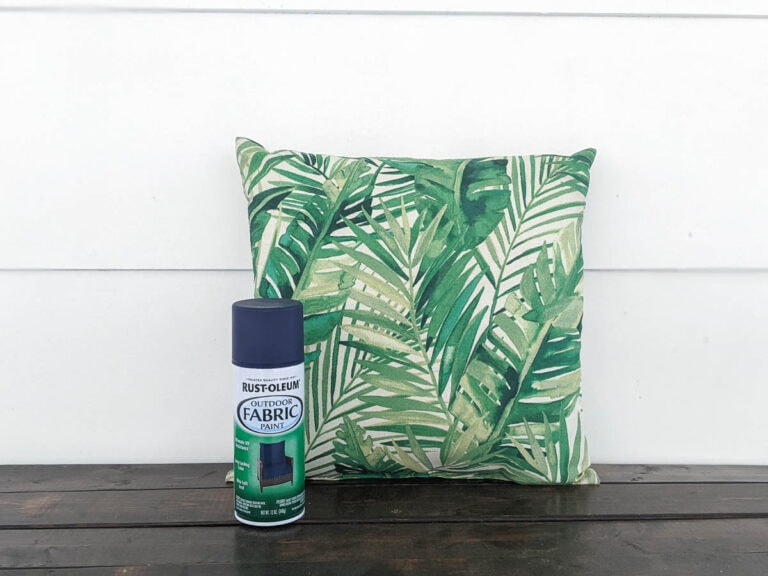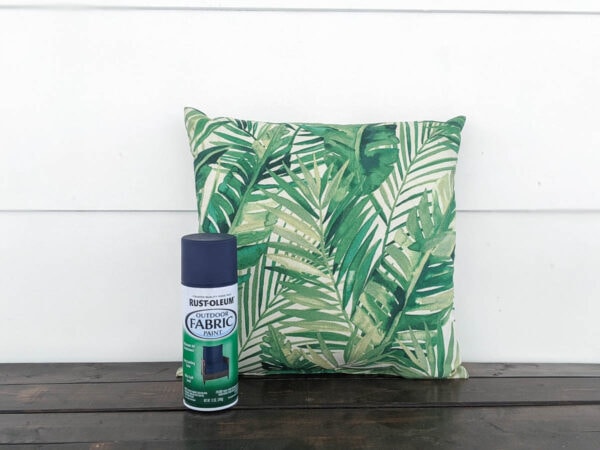 Spray painting an outdoor cushion is surprisingly similar to spray painting anything else.
Be sure to lay down some sort of drop cloth to protect the surrounding area before you start painting. And as with all spray painting projects, it's best to paint outside or in a well-ventilated area and wear a mask to protect yourself from breathing in paint fumes.
Also make sure the fabric you will be painting is clean before starting.
Start by shaking your can of paint for a minute or two to make sure it is mixed well.
The instructions on the paint can recommend holding the spray paint upright, six to eight inches from the surface you are painting. Then spray with a back and forth motion, slightly overlapping each pass.
As with any spray paint, the goal is to do a few thin coats of paint. Trying to rush the process and do one thicker coat will only lead to drips and an uneven finish.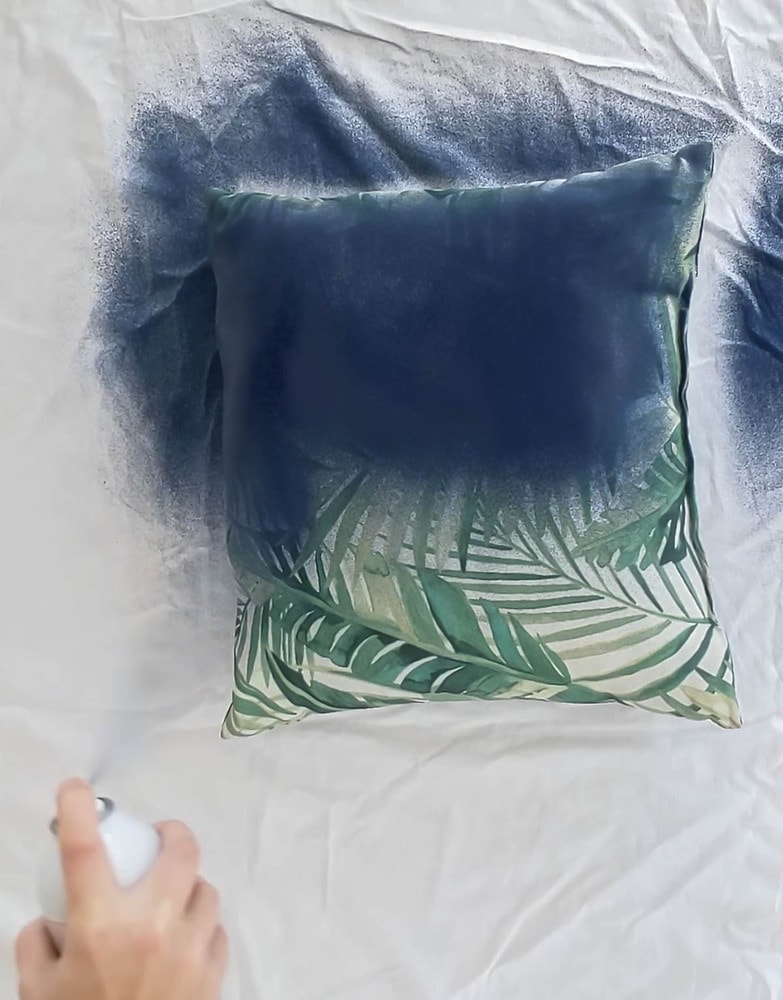 One big difference between this outdoor fabric spray paint and other spray paints is you need to wait 30 minutes between coats to allow the paint to fully dry.
When you are finished, turn the can of spray paint upside down and spray it for a few seconds until it runs clear. This will keep the spray nozzle from clogging so that you can use it again for future projects.
And here is my finished pillow – quite a difference!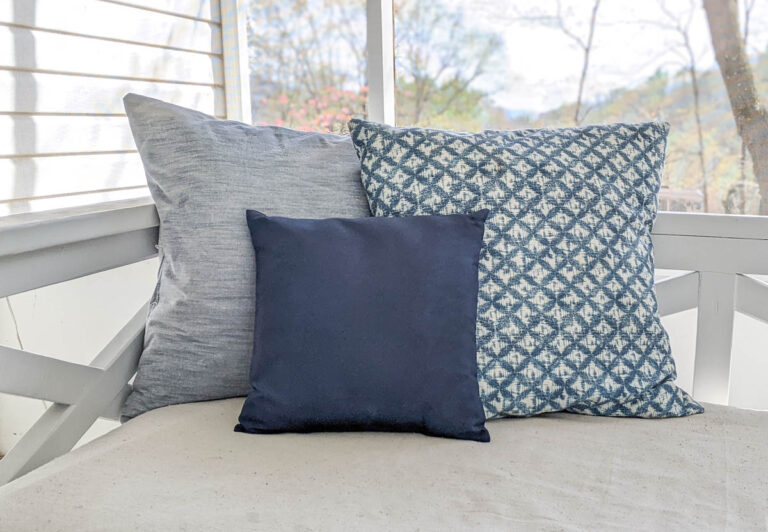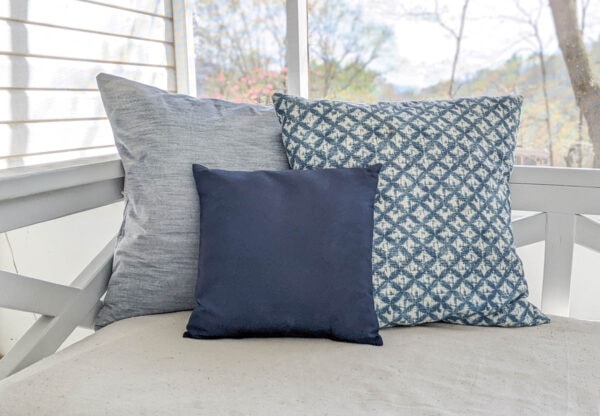 Rustoleum Outdoor Fabric Spray Paint Review
Paint coverage
As you can see from the photo above, this paint covered really well! It was even able to fully cover that bright green and white leaf print and you can't see any trace of the lighter and darker areas of the fabric.
I haven't tested the other colors of this paint yet, but based on my experience with other paints, I would guess the lighter paint colors probably won't cover bright colors and patterns quite as well.
Time
This was also a really quick and easy project.
Even though you do need to let the paint dry for thirty minutes between coats, it only took a few seconds to spray each coat of paint on my small pillow and a larger set of couch cushions could be done in just a few minutes.
So while a project using this paint may take all afternoon to completely finish, the active painting time will only be a few minutes.
Coats of Paint
One downside is I did need to do three full coats of paint plus touch ups around the seams of the cushions to get good enough coverage to cover the bright pattern well.
If you are painting something with a less high-contrast pattern, you could probably get away with two coats of paint.
Amount of Paint
Because I needed to do a full three coats of paint, I did use quite a bit of paint. It is hard to know for sure how much spray paint is left in the can, but it feels like I used around half the can of paint on my small pillow.
If you are painting a larger chair cushion, you might be able to get by with one can of paint, especially if you aren't trying to cover a bright print. But any larger projects would definitely require several cans of paint.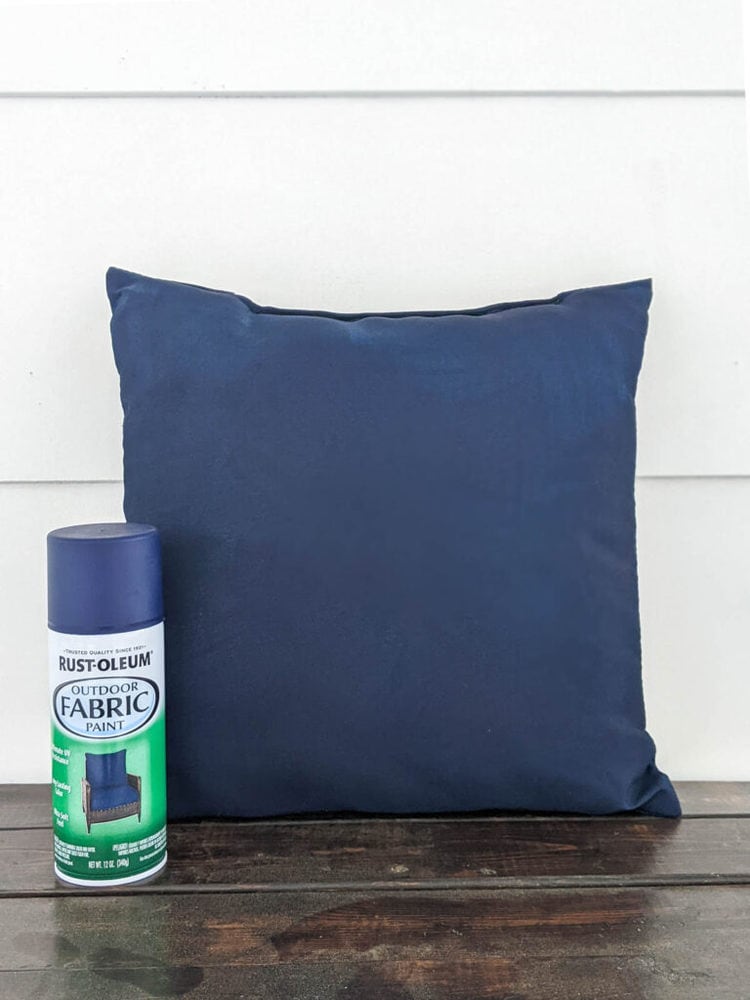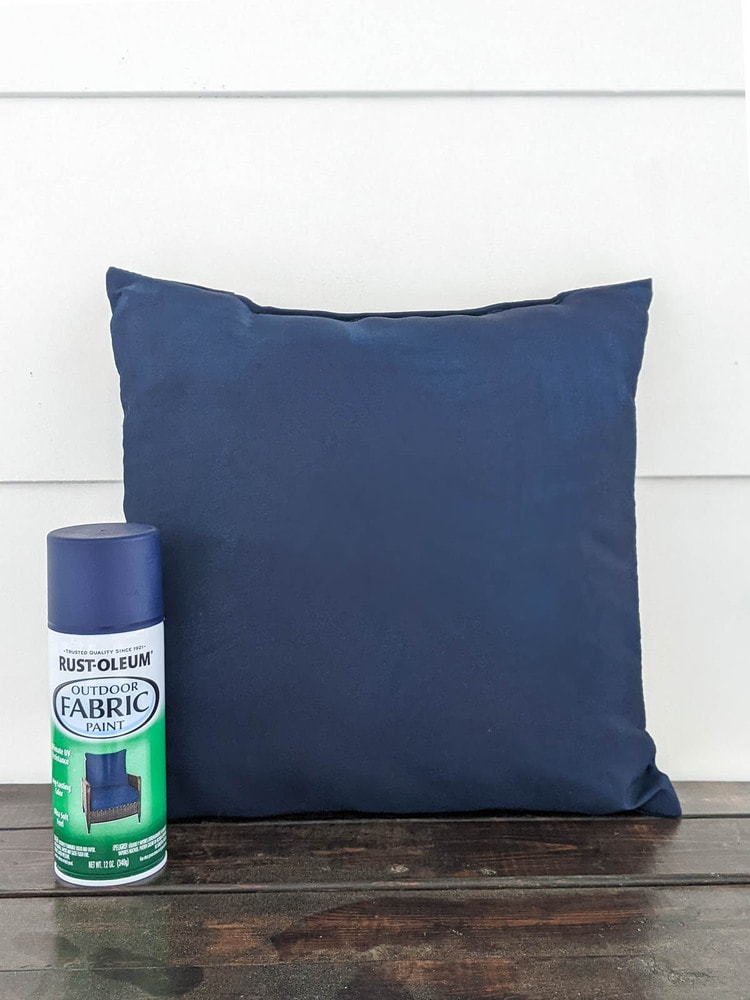 Cost
I purchased my spray paint at Lowes and it cost $15 for one can of this spray paint. That's pretty expensive compared to other types of paint.
(It is a few dollars less on Amazon right now, but the reviews there are not good. A lot of reviewers had problems with their paint not spraying evenly which I did not experience at all. I think in general, buying spray paint online probably isn't a great idea. The conditions and temperature of the warehouses where it is kept can have a huge effect on how well it works. I would recommend buying your paint from a local store if at all possible.)
Because this paint isn't very cheap, buying multiple cans of paint adds up quickly.
It is hard to know for sure, but I would estimate it would have taken me 4-5 cans to paint my wicker couch cushions. That much paint would cost $60-$75, which isn't nothing, but is still significantly cheaper than buying all new cushions.
Texture
And finally, the big question. How does the painted fabric feel – is it crunchy and stiff or soft and fabric-like?
I am actually quite happy with the texture of my painted pillow. It is definitely much softer than the couch cushions I painted with latex paint! In fact, I doubt anyone who touched it would ever guess it had been painted.
It is still a bit stiffer to the touch than most fabrics; it has the feel of a canvas fabric. But most outdoor fabrics are a bit stiffer anyway because they need to be in order to hold up to the elements outdoors. And really, this painted pillow is no stiffer than a lot of outdoor fabrics I have felt.
Even better, it really isn't crunchy at all. It still has a nice, soft fabric feel to it and I would feel comfortable using this pillow for a quick nap.
How it holds up over time
I just finished painting this pillow so I can't say yet how it holds up to damage and fading from sun and rain. But I am planning to test it over the course of this summer to see and I will report back.
The Pros and Cons of Outdoor Fabric Paints
Finally, here's a quick summary of the good and bad of both methods of painting outdoor cushions:
Rustoleum Outdoor Fabric Spray Paint
The Good
Great coverage
Good texture
Quick and easy to do
The Bad
Expensive compared to other paints
Limited colors available
Latex Paint + Fabric Medium (on outdoor cushions)
The Good
Inexpensive
Unlimited color choices
Holds up well over time
The Bad
Stiff, crunchy texture
Time intensive

Poor coverage
There are pros and cons of both methods, but in the end, I think the Rustoleum outdoor fabric paint is the clear winner. It covers well and feels good to the touch, and getting great results really is the most important factor for any DIY project.
Video Tutorial and Review
I'd love for you to subscribe to my Youtube channel!
Next, check out these other helpful painting projects:
I'd love for you to pin this post on Pinterest!