I'm sharing the fastest, easiest way to clean stencils. I put five popular stencil cleaners to the test to find the best cleaners for removing both paint and spray adhesive from stencils.
Over the years I've shared a lot of stencil DIYs and I've gotten a lot of questions about the best way to clean stencils.
And honestly until now, I feel like I haven't had the best answer to give people because I really hate cleaning stencils. I think cleaning the stencil is arguably the worst part of any stenciling project.
So I decided to finally do some research, find the potential best methods, and put them to the test to find out once and for all, what is the best way to clean stencils?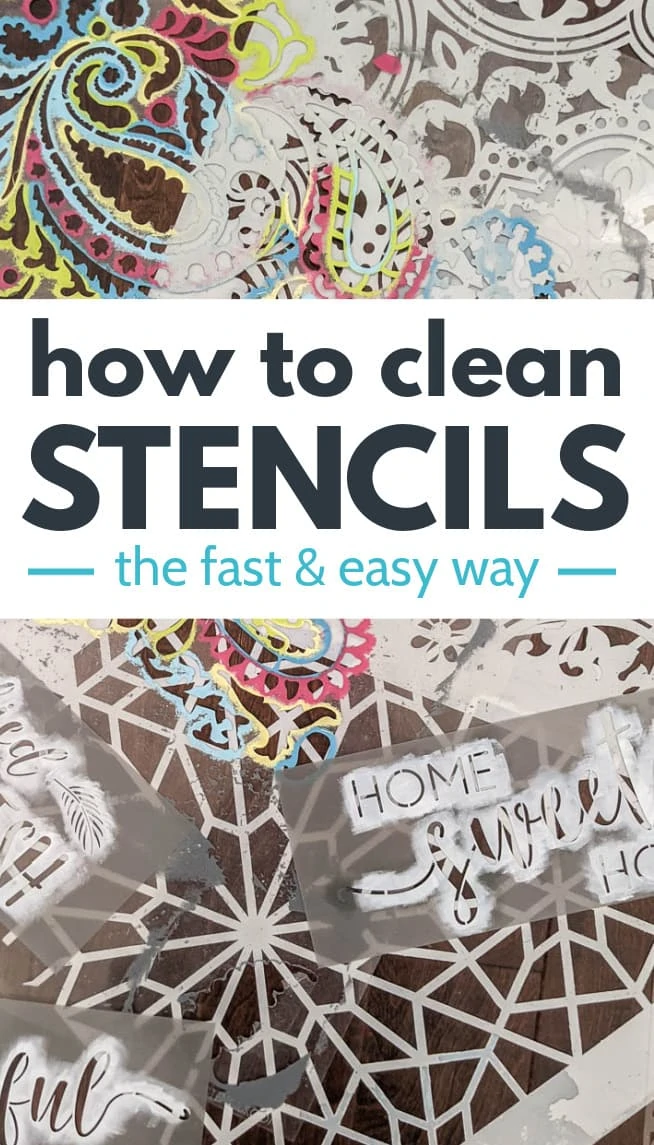 This test is going to have two parts. First, I'm going to test which cleaner cleans paint from stencils the best. Then I'm going to test which cleaner cleans adhesive from stencils the best.
I made a video showing exactly how I tested each cleaner and which were the clear winners. You can watch it below or if you prefer to read, I've also broken down all the important points below with plenty of photos.
Watch the Video
I'd love for you to subscribe to my Youtube channel!
This post contains affiliate links which means if you make a purchase after clicking a link I will earn a small commission but it won't cost you a penny more. Click here to see my full disclosure policy.
How to Clean Paint off Stencils
First I'm going to find the best, easiest way to remove both latex and acrylic craft paints from stencils. These are the two most common types of paint used for stenciling so I wanted to be sure to test them both. (Chalk paint is also used quite a bit, but it is pretty similar to acrylic craft paint so I didn't test it separately.)
The Stencil Cleaners
After doing some research online, I put together a list of cleaners to test.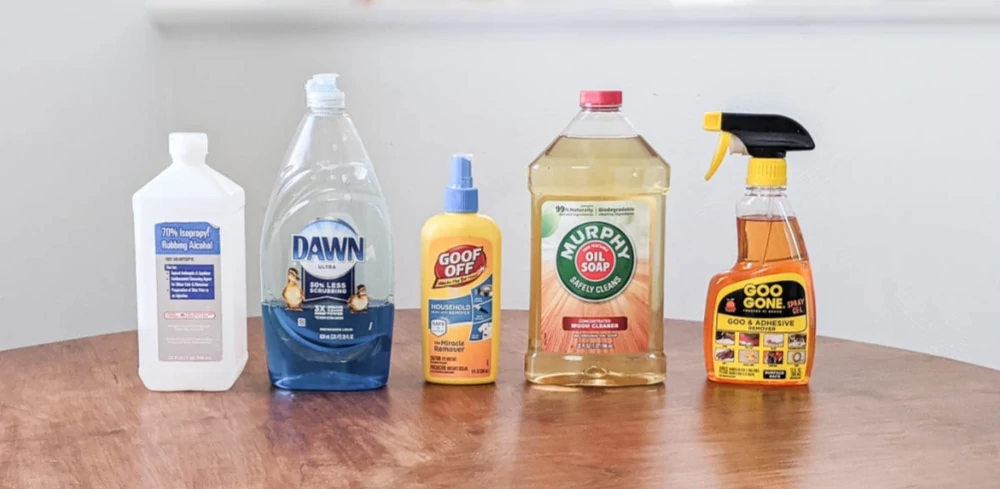 Rubbing Alcohol – I saw this recommended a few places and since we had some on hand, I decided to add it to the mix.
Blue Dawn dish soap – Dawn is one of my go-tos for cleaning all kinds of things including cleaning furniture before painting. This is also what I have used in the past for cleaning stencils. It does work, but isn't particularly fast or easy. I'm hoping to find something better with this test.
Goof Off Household Cleaner – An awesome blog reader sent me a tip that Goof Off works well for getting paint off stencils so I definitely wanted to give it a try.

Murphy Oil Soap

– This one seems a bit random because Murphy oil soap is usually used for cleaning wood furniture and floors. But I watched a Youtube video that recommended using it for cleaning stencils, so I added it to my list.

Goo Gone

– Goo gone is really an adhesive remover, so I'm thinking it is probably going to work better for the second part of the test where I test how to remove adhesive from stencils. But since I already had it on hand, I went ahead and added it the first test as well.
The Method
Even though I don't enjoy cleaning stencils, I have worked on perfecting my cleaning method over the years. I used this method in my stencil cleaning test and once I found the right cleaner, it worked really well.
I find it easiest to clean stencils in the bathtub – there's plenty of room even for large stencils and it helps contain the mess.
Apply whatever cleaner you are using and then scrub it lightly with a cheap scrub brush. The paint should start to fall right off, but if it sticks a bit, these little plastic dish scrapers work great for loosening it.
Finally, use water and a clean cloth to remove any remaining cleaner.
Cleaning latex paint off stencils
I started with a large paisley wall stencil that was still covered in a bunch of brightly colored latex paint. (I used this stencil to stencil my plywood subfloor years ago and also to stencil a cute little kids' table.)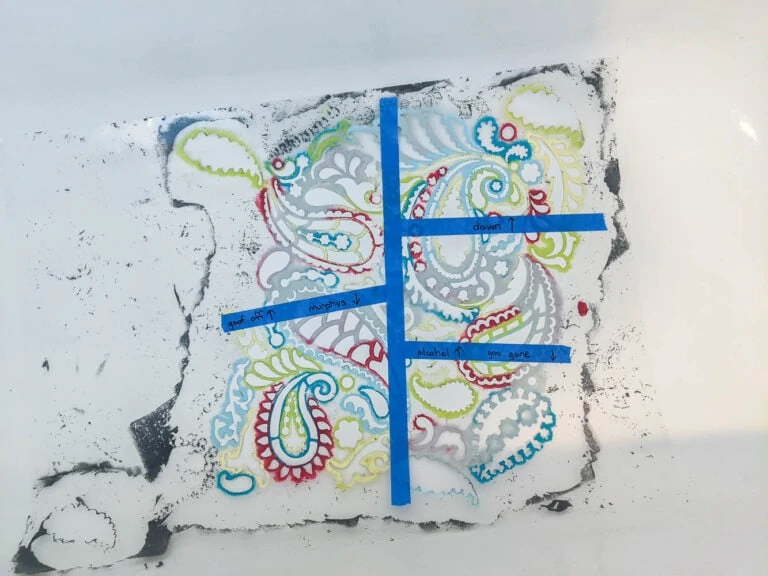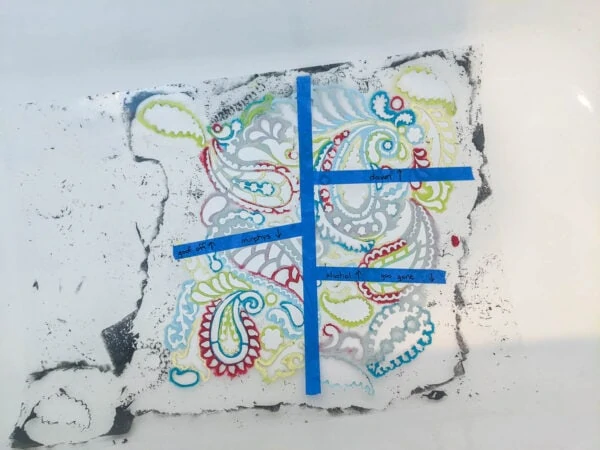 I used painter's tape to divide the stencil into five somewhat equal sections and labeled each section to make it easy to keep them straight.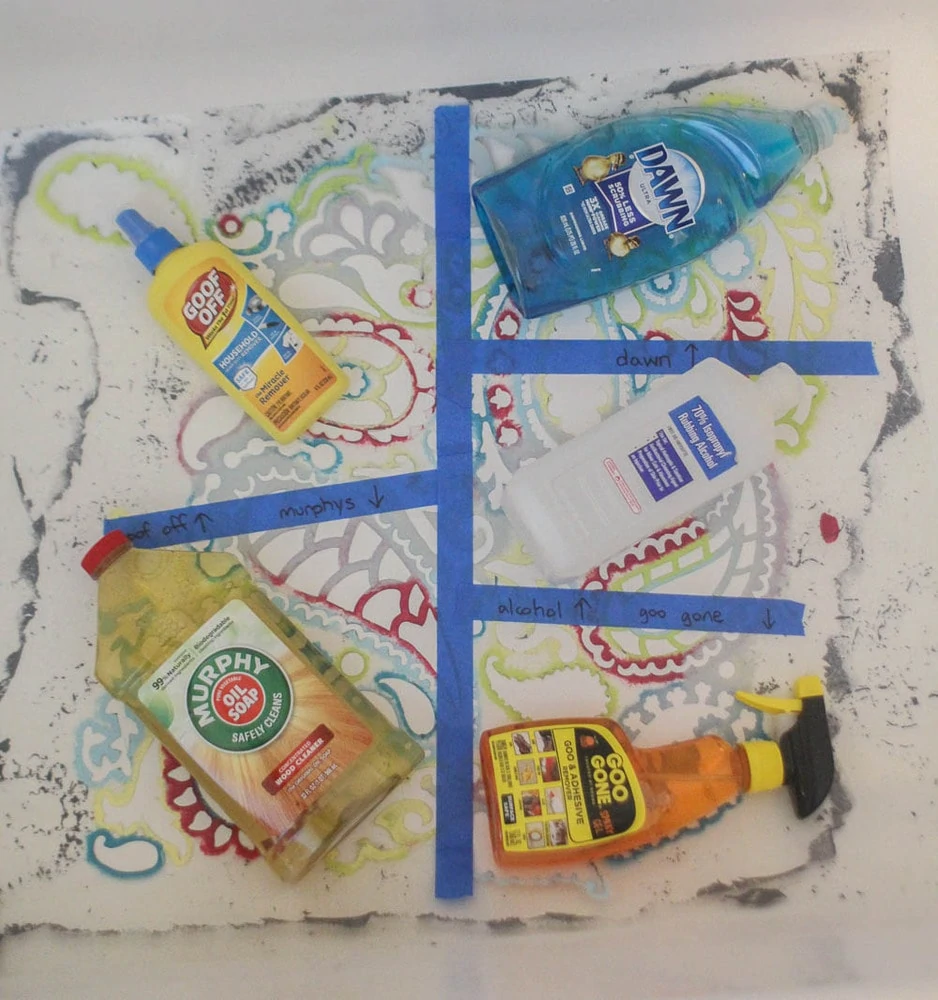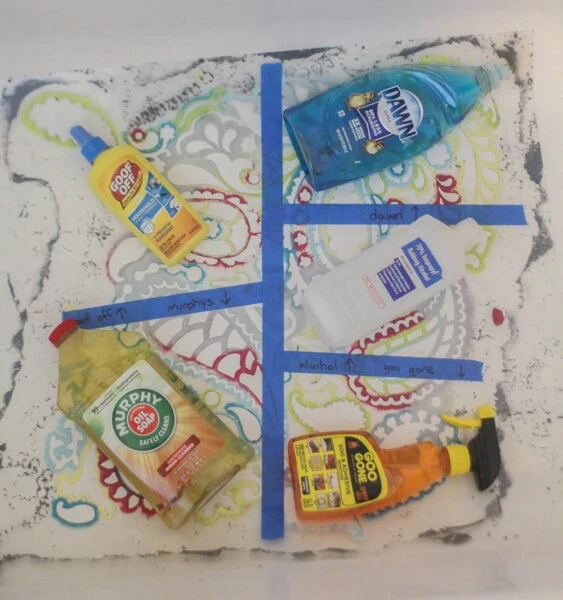 I applied each cleaner to the correct section of the stencil and then used my scrub brush to scrub each section for 10-15 seconds.
The winner was obvious right away, but to make sure each cleaner got a fair chance to show what it can do, I reapplied each cleaner and cleaned each section a second time.
The Winner
I was a little worried the results wouldn't be definitive, but I was happy to find a clear winner and a clear loser.
Sadly the clear loser is the method I've been using all along, Dawn dish soap. I guess it makes sense that I dreaded cleaning my stencils since I was using the worst possible cleaner!
I'm sorry, Dawn. I still trust you for many other things, but not for cleaning stencils.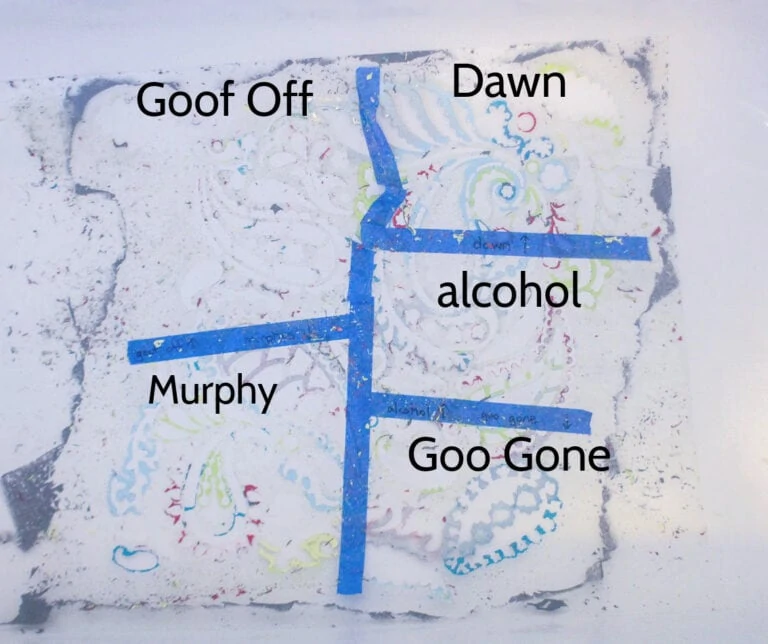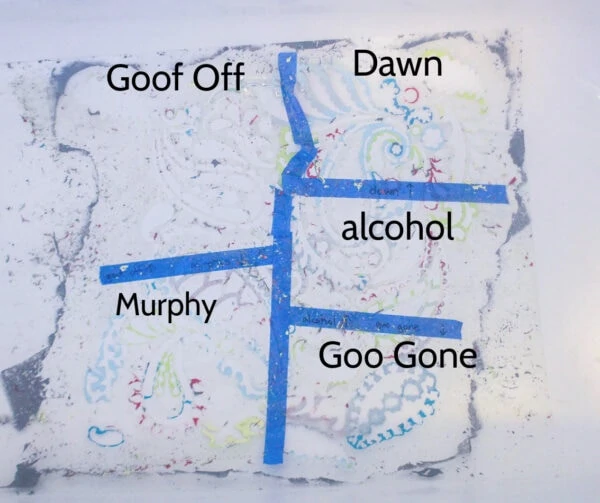 This photo was taken after the first cleaning of the stencil. Dawn dish soap was in the top right corner and really didn't take off much of the paint. Goo Gone was in the lower left and also didn't work that great. The alcohol and Murphy's oil soap were the middle and bottom right. They both worked, but they definitely weren't the best.
And the winner is….Goof Off!
The Goof Off was in the top left and it worked so much better than everything else. As soon as I started lightly scrubbing it, the paint just started falling right off.
Cleaning acrylic paint off stencils
I also did a quick test on a small stencil that I had painted using acrylic craft paint. I did this test the same way, dividing the stencil in five different sections and cleaning it with each of the five cleaners.
The Winner
I did this second test just in case there was a significant difference between cleaning latex paint and acrylic paint from a stencil.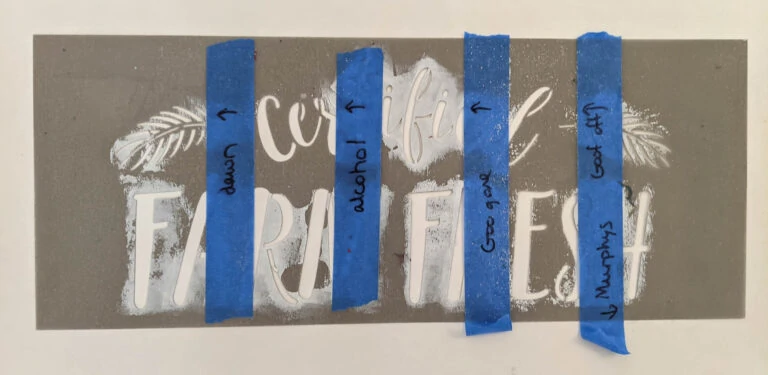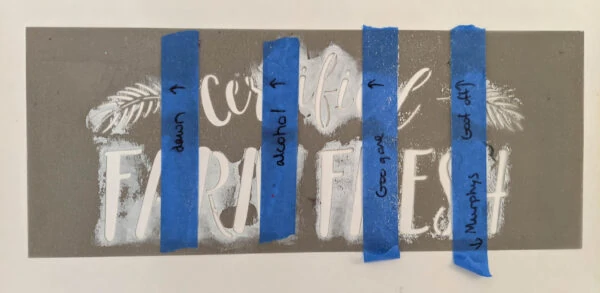 The results of this test were actually pretty similar to the last test, with a few slight differences. Dawn wasn't the absolute worst this time. Goo gone was the worst – which isn't too surprising since it is really for removing adhesives. Dawn was also really bad though.
Alcohol and Murphy's Oil Soap were in the middle again. And once again Good Off was the clear winner.
So I can now say definitively that what I recommend for cleaning stencils – the thing that is the best, the easiest, and requires least elbow grease is Goof Off Household Cleaner.
How to Clean Spray Adhesive from Stencils
Onto the second part of our test – seeing which cleaner is best for removing the sticky adhesive from the backs of stencils.
I recommend using a repositionable spray adhesive when you're stenciling things like signs where you want the lines to be really crisp. (I've got more info on that plus more helpful stenciling tips here.)
I've gotten tons of questions about how you get all the sticky residue off the stencil when you are finished and I haven't really had a great answer until now.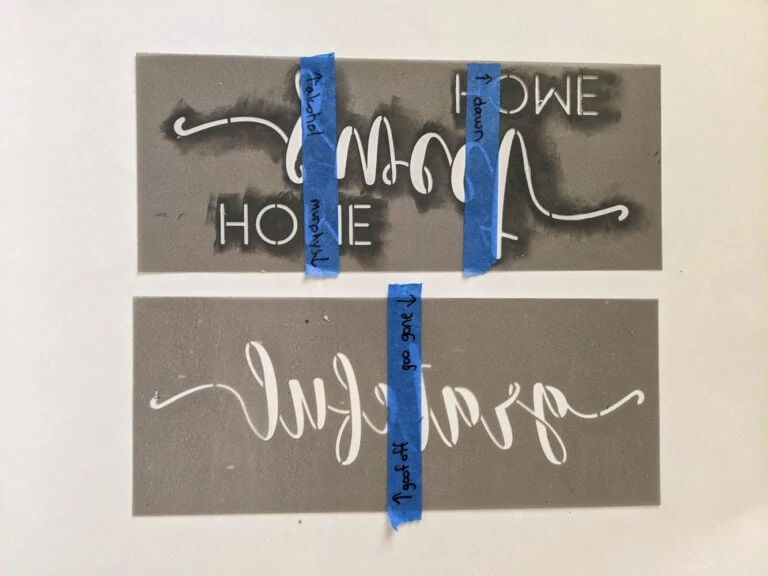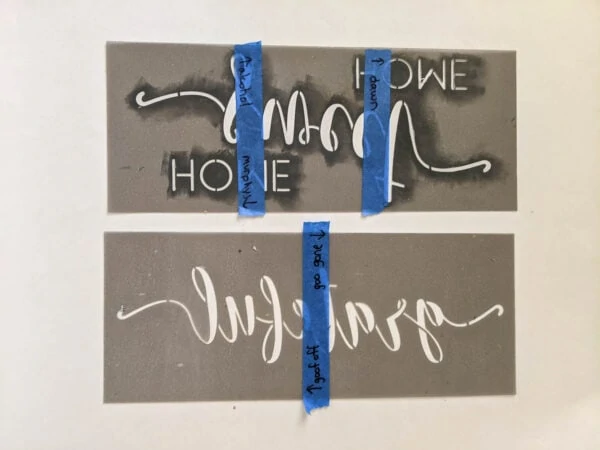 For this test, I used a pair of stencils I had used to make some signs a few months ago and never got around to cleaning. They both still had a sticky adhesive film on the back.
I did this second test the same way as the first, using tape to divide the stencils into five different sections, applying my five cleaners, and seeing which one worked the best.
The Winner
I'm really happy to report there was also a very clear winner in this test.
In fact, there was really only one product that worked at all. Only one of the cleaners actually took all of the adhesive off the stencil and left it feeling completely clean and good as new.
The winner is… Goo Gone.
It's harder to see adhesive in photos, but it's a bit easier to see it where the light hits the stencil back. You can see the rougher texture where the light is reflecting unevenly off the adhesive residue on the left. That is where the Goof Off was used. (The Dawn, alcohol, and Murphy Oil Soap looked very similar.)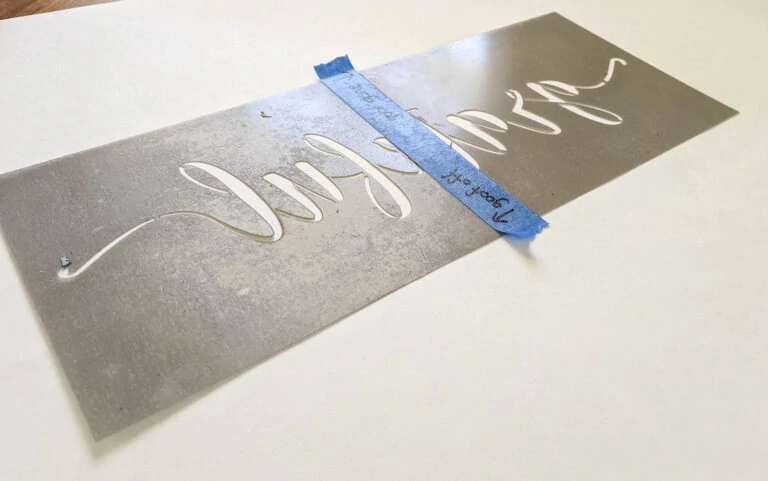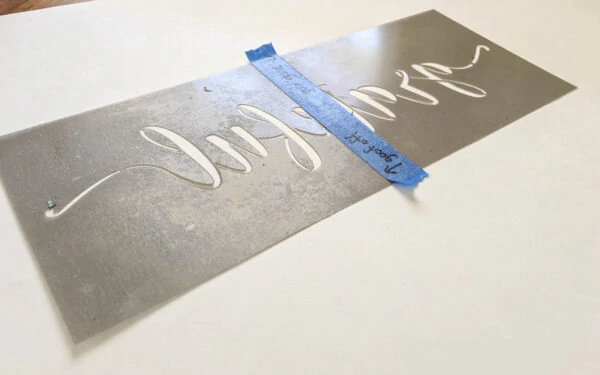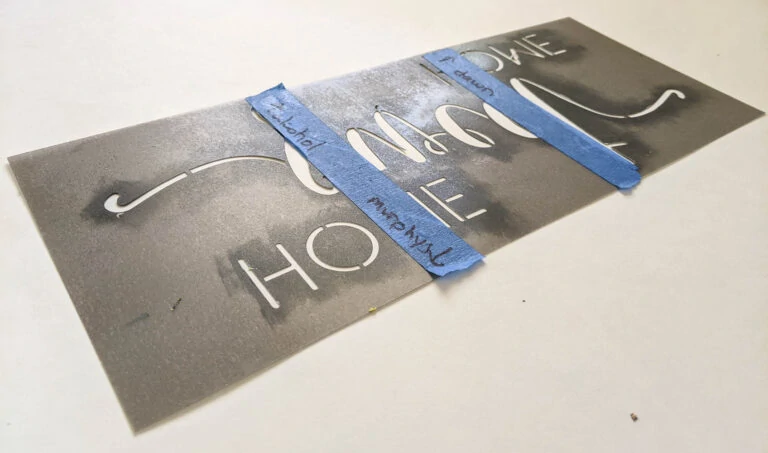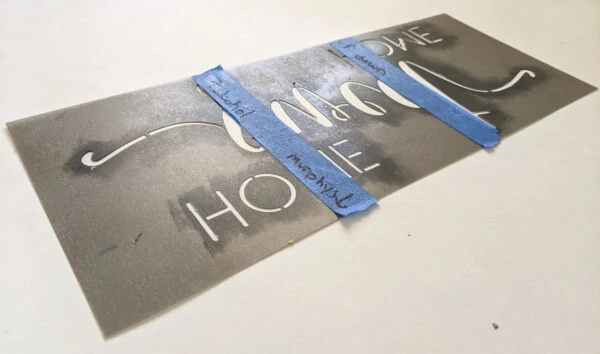 On the right of the top photo you can see how smooth and clean it looks – that is where I used the Goo Gone.
Not only did it work well, it was also super easy to do. I sprayed it on and then it pretty much instantly wiped clean, no scrubbing needed.
So the best cleaner for removing adhesive from stencils is definitely Goo Gone. To be fair, I do want to point out that Goof Off does also make a cleaner specifically for removing adhesive but I didn't have it on hand to test.
So Goo Gone – awesome for removing adhesive. Goof-off Household Cleaner – awesome for removing paint.
And now I know I'm going to dread cleaning my stencils soo much less.
Other stencil tips and projects I think you'll love:
I'd love for you to pin this post on Pinterest!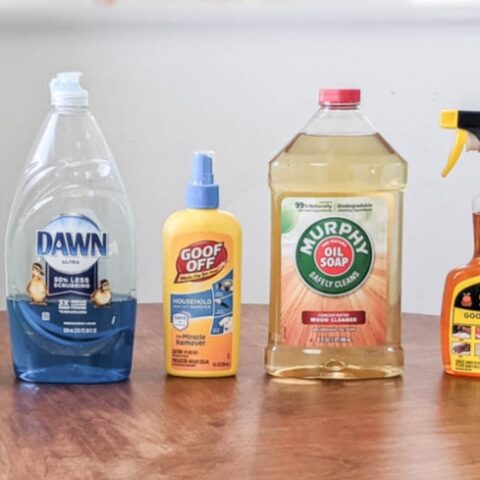 How to Clean Stencils The Fast and Easy Way
I'm sharing the best stencil cleaners. I tested out 5 different products and am happy to share which worked best for cleaning paint and spray adhesive from stencils.
Materials
Goof Off Household Cleaner
Goo Gone
a cheap scrub brush
a plastic dish scraper
Instructions
How To Clean Paint From Stencils
Apply your cleaner - Goof Off Household Cleaner works best for this.
Scrub it lightly with a cheap scrub brush.
If it sticks, use a plastic dish scraper to loosen it.
Use water and a clean cloth to remove any remaining cleaner.

How To Clean Spray Adhesive From Stencils
Apply Goo Gone to your stencil.
Allow it to sit for a few minutes.
Wipe with a clean cloth or paper towel.
Clean off any residue with soap and water.