Choosing wall art can be overwhelming – and expensive! When you're trying to fill a whole house full of boring, blank walls it can be hard to even know where to start. Most wall art options are either way too expensive or obviously generic and mass produced. Yuck. Personally I don't have a ton of money to spend on decorating our walls, but I also don't want to fill our home with blah art that lacks personality. So I searched out the best ways to make or find stylish, personal art pieces for cheap.
Cheap Wall Art Ideas
Free Printable Art
There are thousands and thousands of free pieces of art online that you can print right from your home computer. You can find anything from abstract prints to inspirational quotes to watercolors. Print some off and pop them into a photo frame you already own for instant art. I have a whole Pinterest board dedicated to great free printables right here. I used several free printables to make a gallery wall in our nursery. The Psalm 23 print, Twinkle Twinkle print, and airplane sketch in the photo below were all free.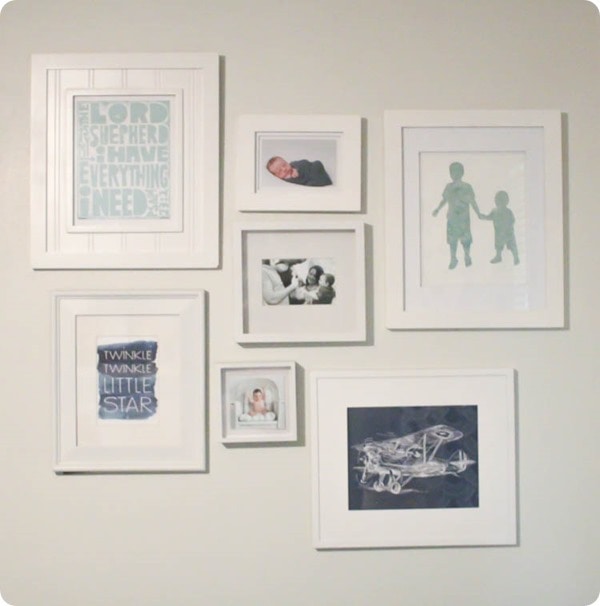 Gallery Walls
Gallery walls have been popular for several years now and I don't see them going away anytime soon. They are awesome because they give you a chance to use all of your frames and art pieces that are just too small to hang alone. Plus you can fill them up with super affordable art options like free printables, family photos, keepsakes, even pretty pictures from magazines. (I know it sounds weird, but you can actually find some really pretty full page pictures in magazines that are well worth framing.) Most of us already have plenty of random picture frames on hand to make into a gallery, but if you don't frames are easy to find at any thrift store. Just give them a quick coat of paint if you want to make a random assortment of frames look more cohesive.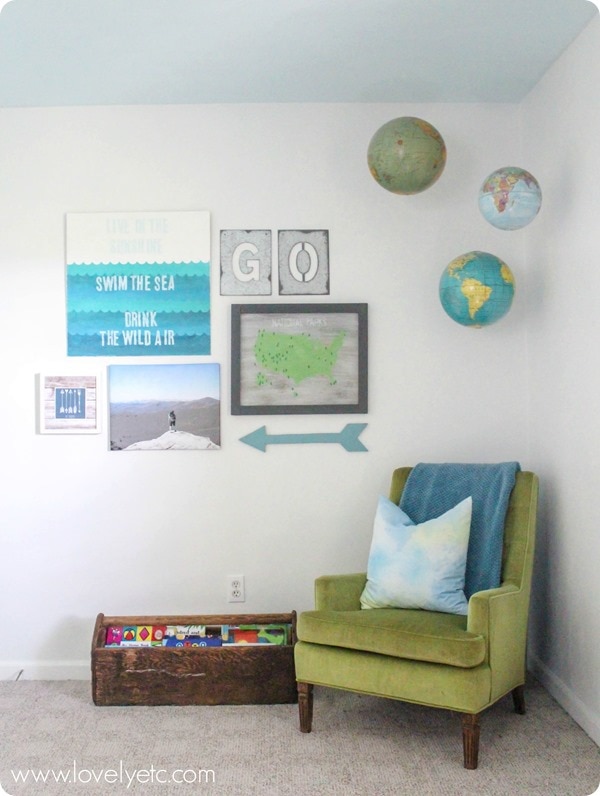 Swim the Sea sign tutorial, National Parks map tutorial, DIY photo canvas tutorial
Painted Wood Signs
I love wooden signs and with farmhouse decor taking off, they are everywhere! There are tons of wooden signs available to buy but you can save lots of money by making your own. I've made tons of signs and there are many methods to make your own signs, but this method is probably my favorite. Plus it is super easy!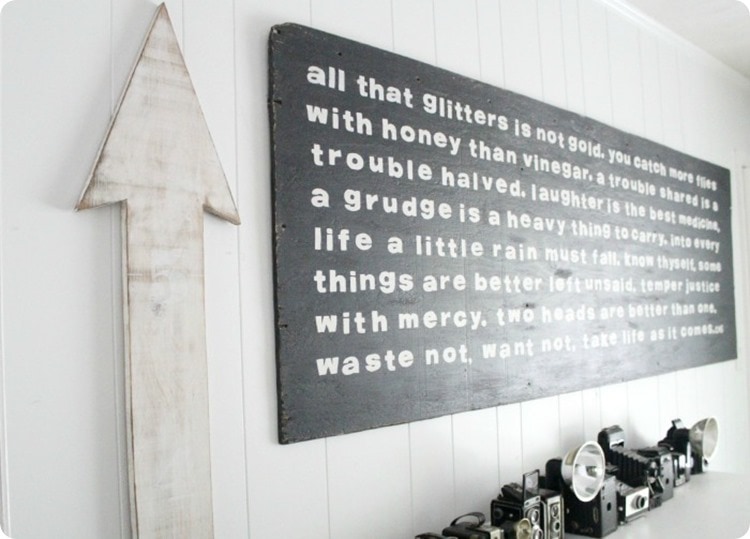 Oversized Sign painted on a Salvaged board – tutorial here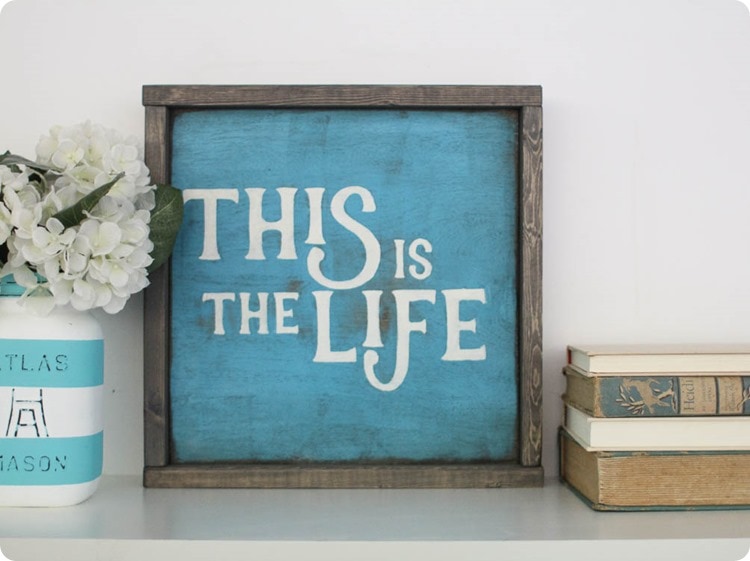 DIY Chalkboards
Transform a large frame into a chalkboard. I found my frames at yard sales and simply painted the cardboard frame backing with chalkboard paint and added my design. The great thing about chalkboards is you can add anything you want and can easily change it up as the mood strikes. I quoted a song lyric on one of my homemade chalkboards and used another to keep track of our summer bucket list. Check out my easy chalkboard art tutorial here.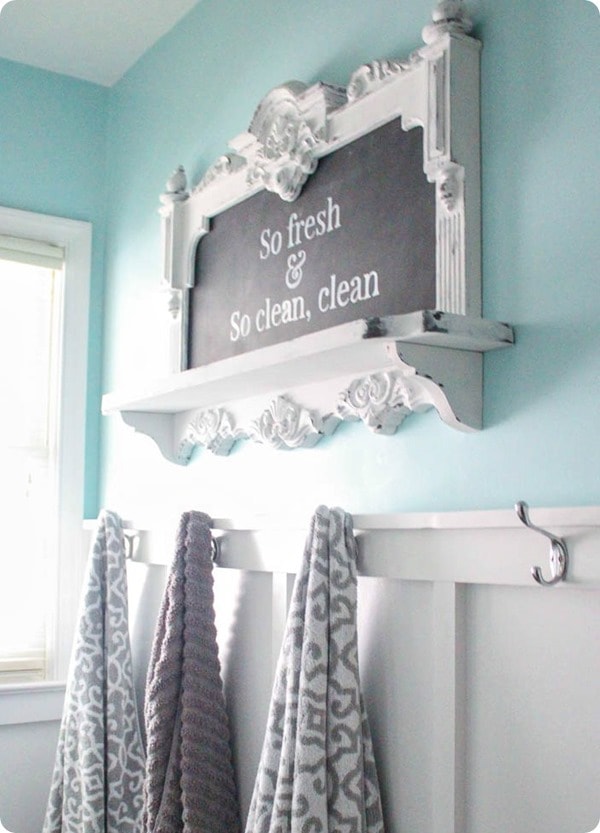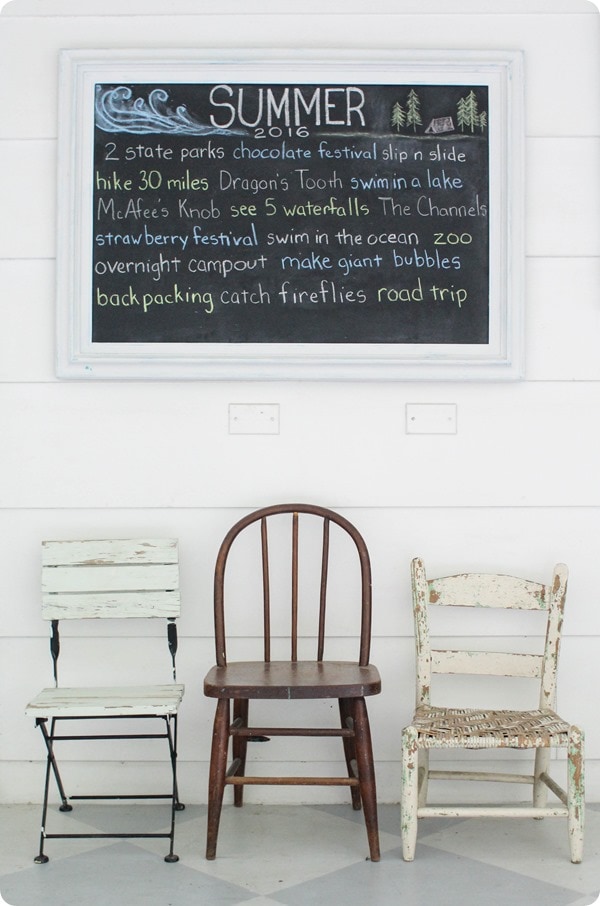 Thrifted Mirrors
I see plenty of mirrors in all shapes and sizes at thrift stores and yard sales. And because there are so many, they are almost always cheap! Sometimes they work great as is, but if not a fresh coat of paint can do wonders. I love how mirrors can brighten a space up and I have thrifted mirrors in almost every room in our house. I found a beautiful vintage dresser mirror for $5 for our recent bathroom renovation, I painted a large gaudy gold-framed mirror turquoise, and I upgraded a simple wood mirror frame with city maps.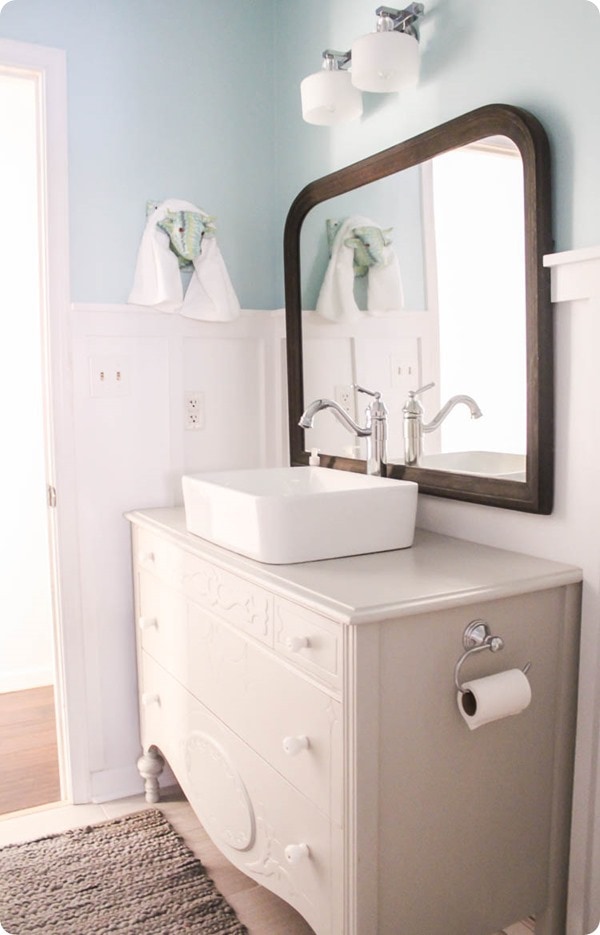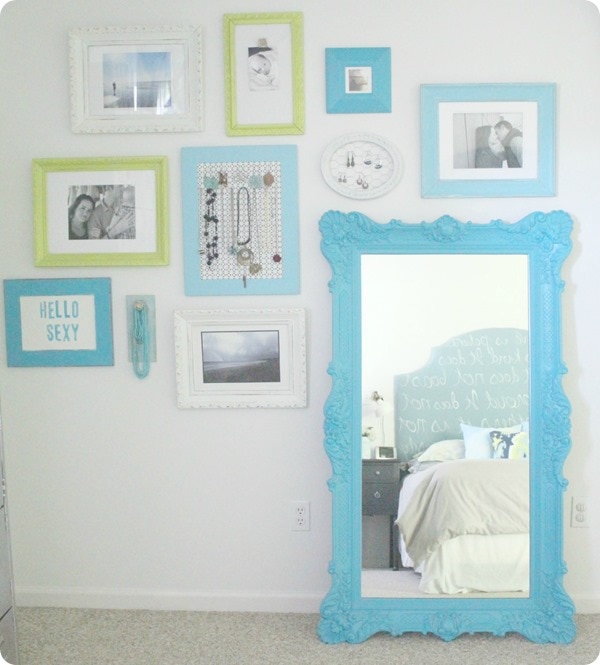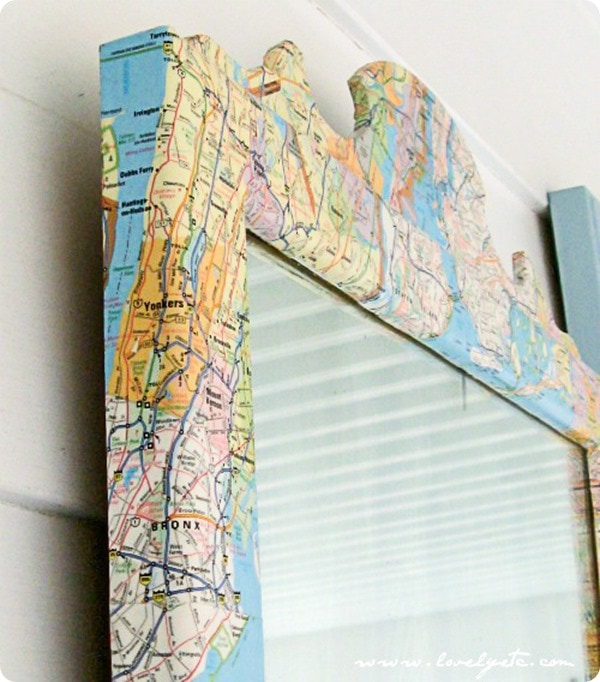 Thrifted Paintings
Ok, so there is plenty of truly hideous art for sale at flea markets and estate sales. But there are also some real gems. You can find really great vintage paint-by-numbers or, my personal favorite, original oil paintings for cheap. You aren't likely to find a piece of art painted by a famous artist, but good art is good art no matter how famous the artist was. Sometimes you might need to reframe a piece or you can simply update the frame with a fresh coat of paint like I did for the painting above my couch.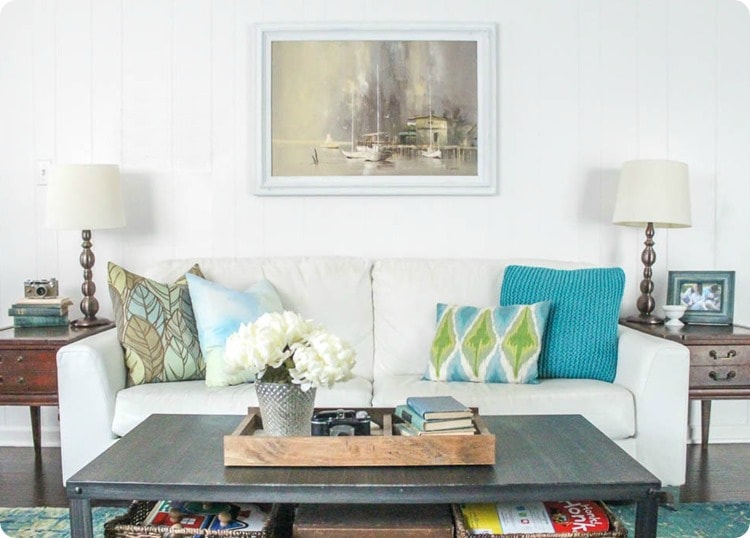 Engineer Prints
Engineer prints are oversized prints you can get for super cheap at places like Staples. They are actually meant to be used by actual engineers for things like blueprints, but you can print anything on them. I have seen other bloggers print photos, book pages, quotes, all kinds of stuff. You can print your art in black and white or color. The color prints are a bit more expensive but still very affordable at around $5-$10 for giant poster sizes. The print quality is not as high as other methods of printing, but I've done a few projects with engineer prints and been pretty satisfied with the quality. I printed these Christmas hymns on engineer prints and then added the gold detail myself. And I also just finished another engineer print project that I'm really excited to share with you later this week.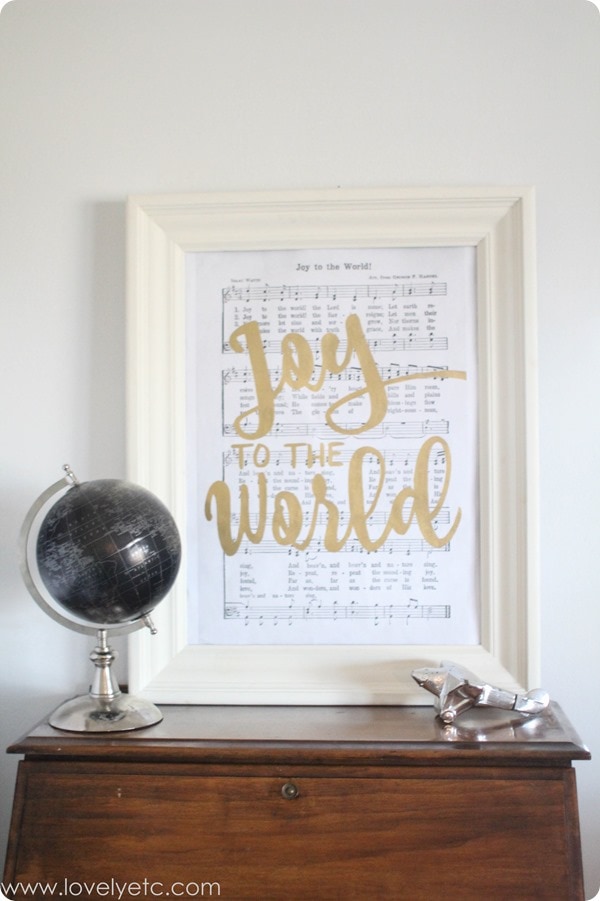 Those are my favorite tips for filling your walls with cheap wall art that you actually love. What would you add to the list? I'm always looking for new, creative ideas!