I recently shared our new and improved master bedroom full of DIY projects and thrifty finds.  Today I'm back with all the little details you could want to know – links to DIY tutorials, sources for bedding and fabric, and best of all, I'm even sharing the full budget breakdown for this room. Enjoy!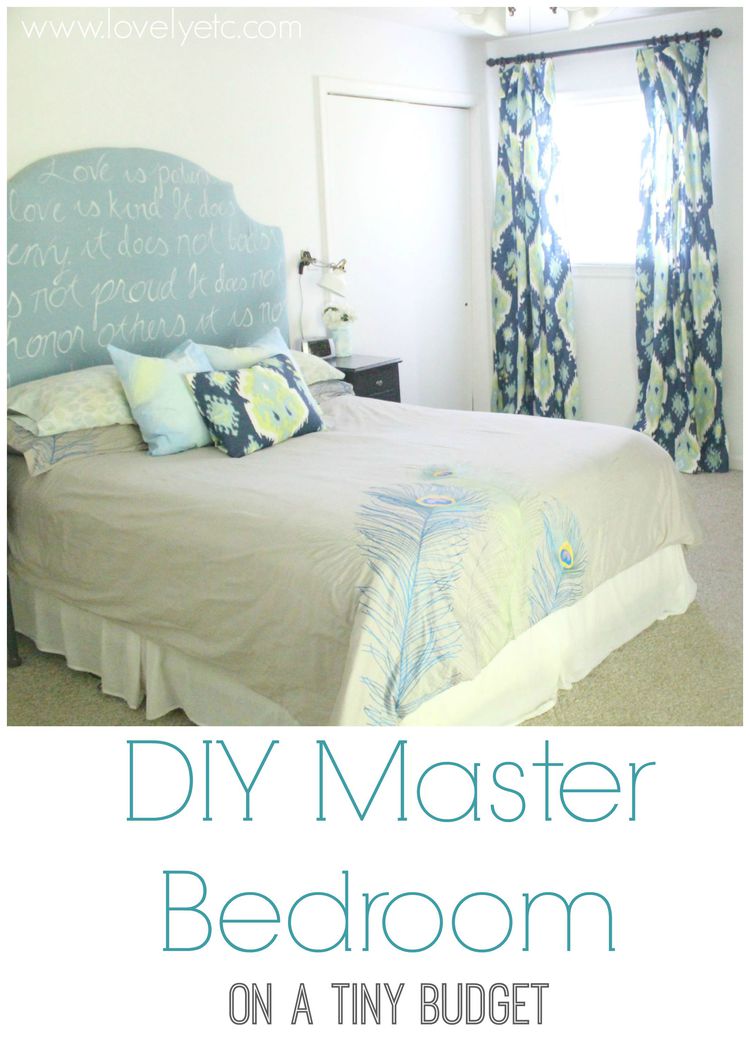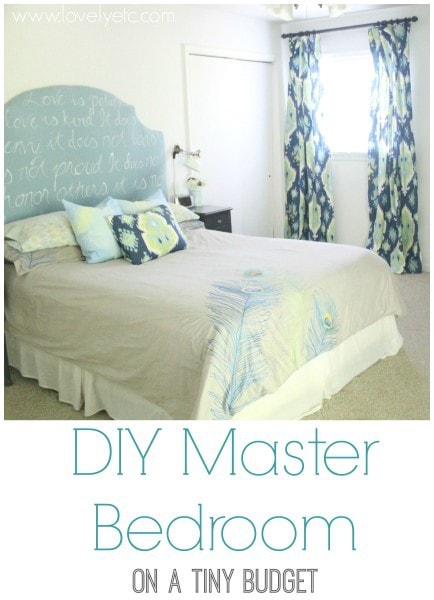 When calculating the cost of DIY projects, I did not include the cost of paint or other materials that I already owned.  I did include the cost of any materials bought specifically for that project.  Also, this post includes some affiliate links; my full disclosure can be found here.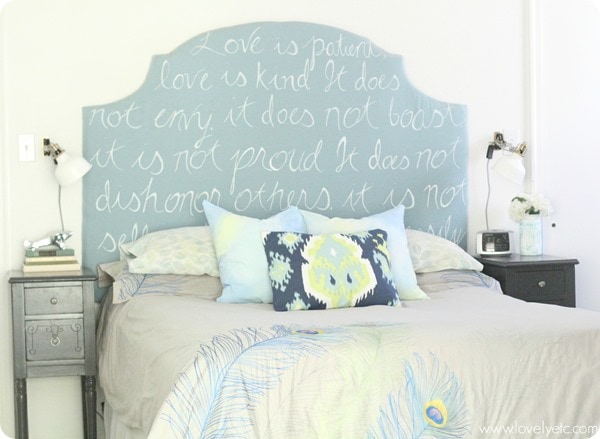 DIY Love Headboard – tutorial: https://www.lovelyetc.com/2013/09/unique-diy-upholstered-headboard/ cost: $11.50
Duvet cover – Peacock 3 piece Duvet cover set from Overstock.com  cost: $81
Sheet set with blue and green leaves – from Ross, cost: $24
DIY watercolor pillows – tutorial: https://www.lovelyetc.com/2015/03/watercolor-pillow-covers/
Ikat pillow – made using leftover fabric from curtains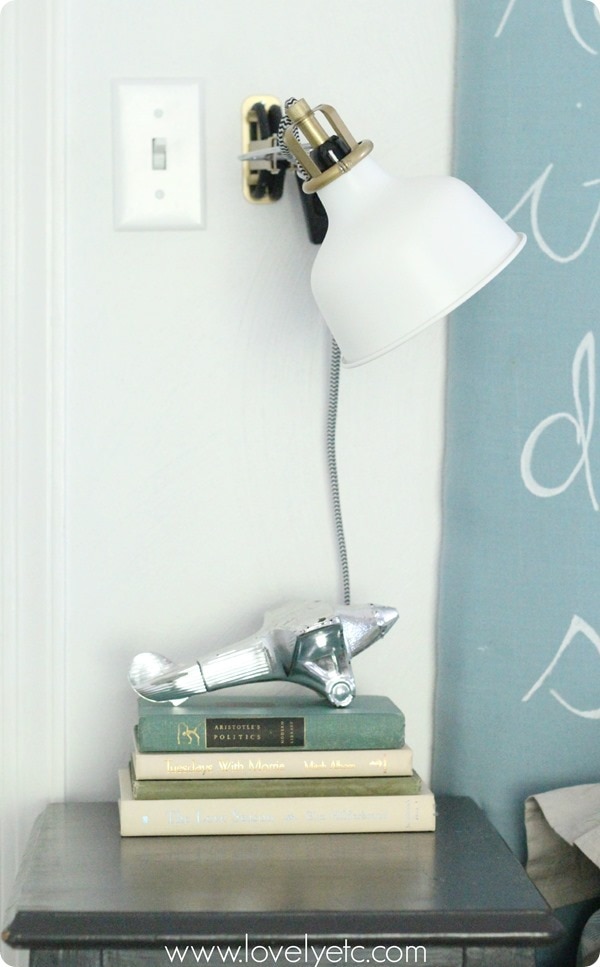 Nightstands – made from an old vanity that I separated into two nightstands, tutorial: https://www.lovelyetc.com/2011/07/1-vanity-1-good-idea-2-nightstands/  cost: $8
Wall sconces – IKEA RANARP wall/clamp spotlights  cost: $19.99 each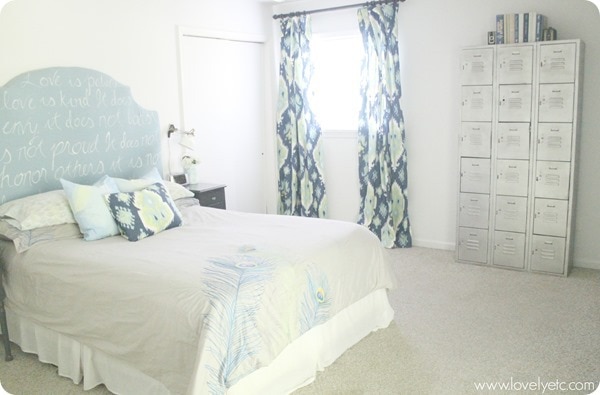 Ikat Curtains – I sewed these using Premiere Prints Premier Ikat Canal Slub Fabric.   Eleven yards of fabric at $9 per yard on sale = $99
Curtain rods – the curtain rods that came with the house, spray painted oil rubbed bronze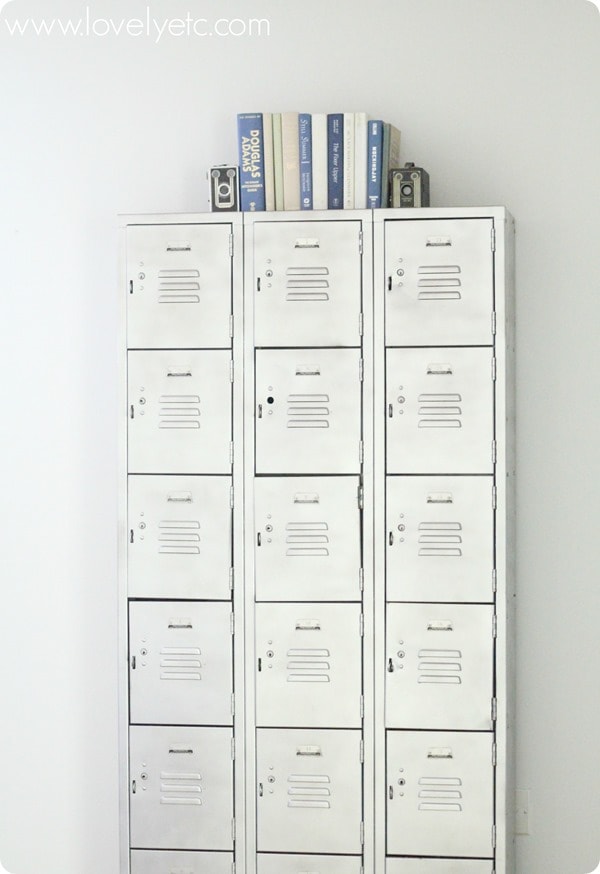 Lockers – a yard sale find updated with paint and a lot of elbow grease, tutorial: https://www.lovelyetc.com/2011/07/meet-me-in-locker-room/ cost: $10
(By the way, if you are wondering how we like having lockers instead of a traditional dresser, I love it!  All those little cubbies make it so easy to keep our stuff organized and neat.)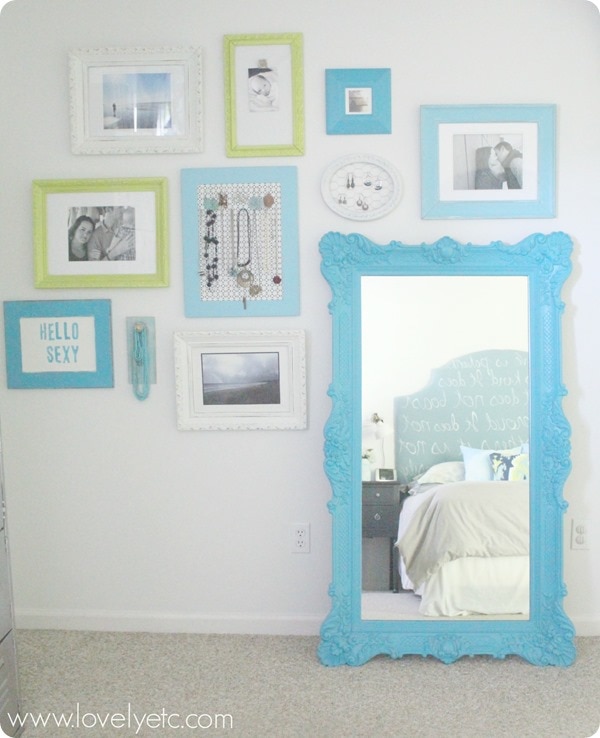 Colorful gallery wall – I already owned all of the frames (previous yard sale finds) and simply painted them to tie everything together.
Leaning mirror – This mirror used to be hanging in our living room.  It was also originally a yard sale find that was a gaudy gold until I painted it turquoise.
Earring frame tutorial: https://www.lovelyetc.com/2013/10/diy-jewelry-holder/
Necklace frame tutorial: https://www.lovelyetc.com/2012/06/super-simple-jewelry-holder/
Necklace holder tutorial: https://www.lovelyetc.com/2014/06/turn-old-jewelry-amazing-drawer-pulls-2/
Magnetic frame tutorial:  https://www.lovelyetc.com/2013/10/framed-magnetic-board/
Painted sign tutorial: https://www.lovelyetc.com/2013/09/hello-sexy-new-sign/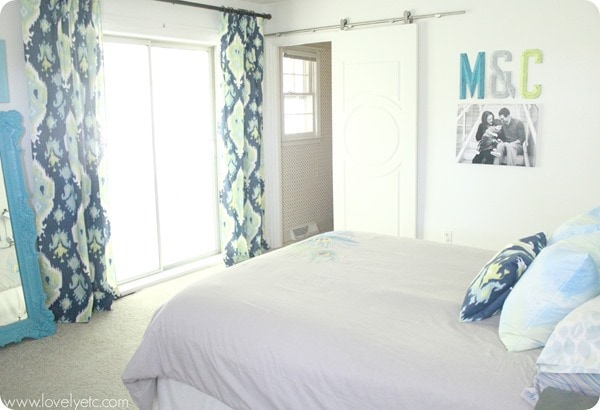 Sliding door – from Habitat for Humanity Restore, cost: $55
Sliding door hardware – 6' Modern Stainless Steel Sliding Door Hardware
from Amazon, cost $100 including shipping.
(You can see more pictures and details of this project here: https://www.lovelyetc.com/2015/03/our-modern-sliding-barn-door/)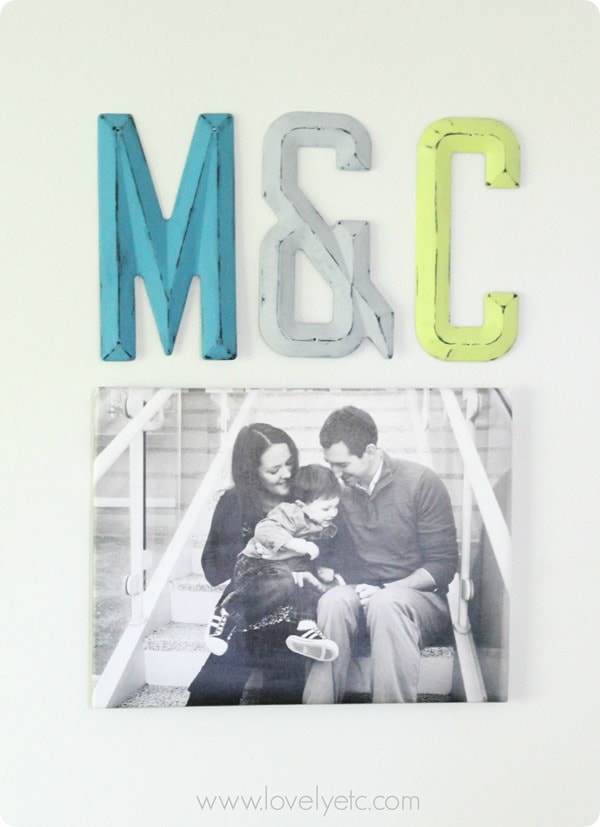 DIY photo canvas – tutorial: https://www.lovelyetc.com/2015/05/diy-wrapped-photo-canvas-with-real-canvas-texture/ cost: $22
Vintage metal letters spelling our initials – from a local vintage fair, cost: $30
All of the small accessories in the room including the vintage cameras, silver airplane Avon bottle, and books are things I already owned.  (And of course, they were originally purchased for super cheap at yard sales.  It's a bit of theme with me.)
Which brings the grand total for this entire room including the bedding, artwork, curtains, furniture, everything to $480.50.
That's right, this entire room cost less than $500.
I don't know about you, but I find that downright amazing.  Especially when you consider that includes a headboard, nightstands, a dresser alternative, and an entire door with hardware along with the usual bedding and accessories.  What an awesome reminder that you really can create a beautiful room for very little money!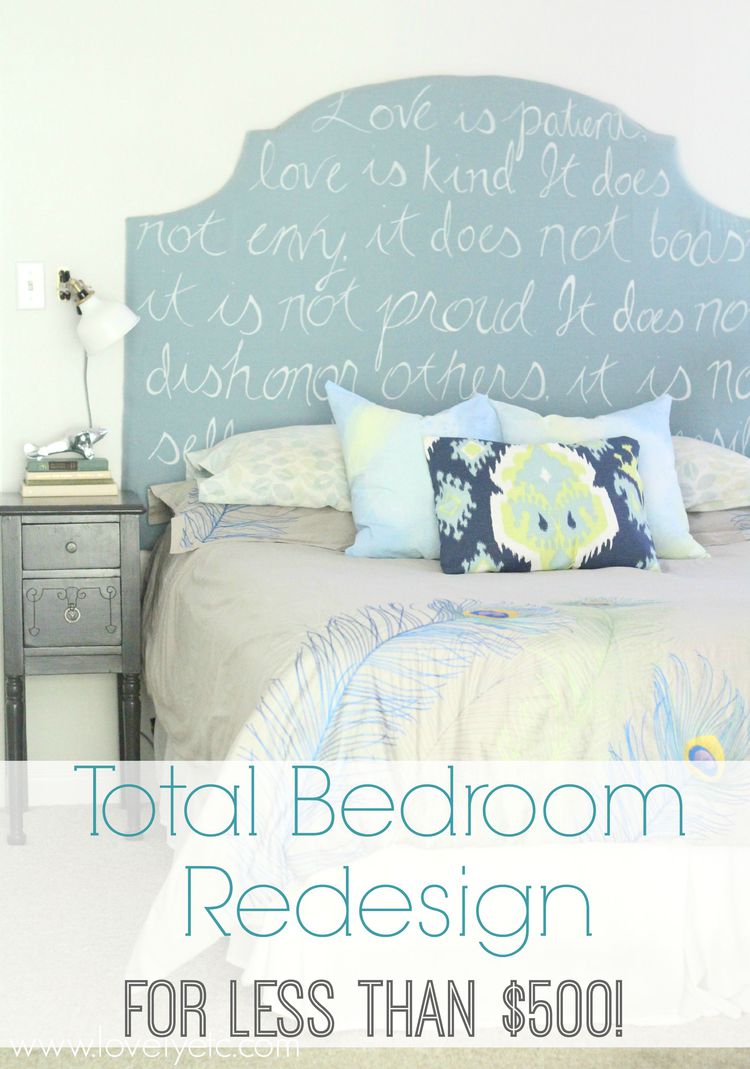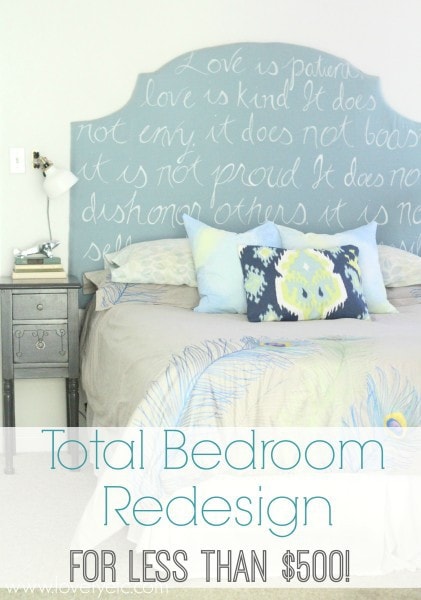 Did I miss anything?  If you still have questions about something in the room, be sure to let me know!
On to the next room!