I am lucky enough to have friends and family who support my obsession with rescuing old worn-out furniture and decor. I love getting a phone call from someone who has some old junk for me to makeover.
My step-grandmother-in-law (say that five times fast) recently gave me this mirror to transform. It had a sweet little shape but many years ago it had been painted the color of a number two pencil – not the best look.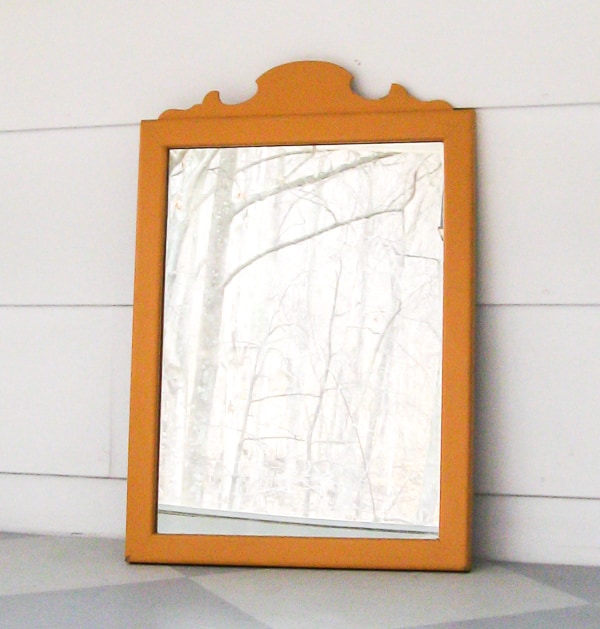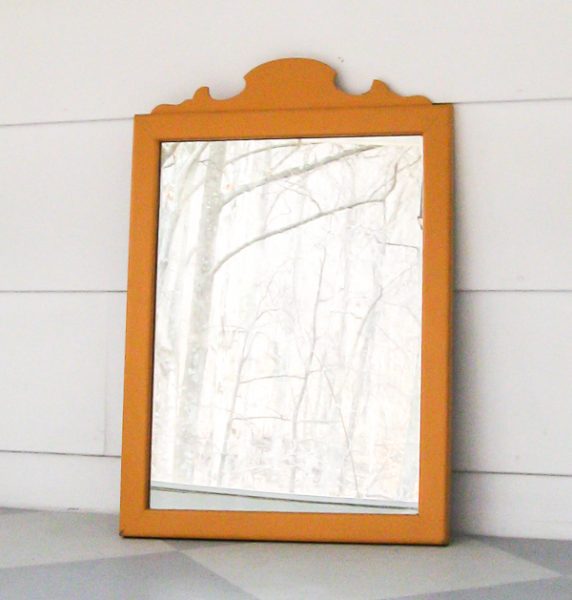 I knew right away this mirror was calling out for more than a fresh coat of paint. It needed something graphic to help keep the curves from looking too country. I knew that maps were the perfect solution.
I adore map projects. One of my very first posts highlighted some amazing map inspiration and one of my favorite projects is my map typewriter stand.
This post contains affiliate links – if you make a purchase using these links, I will receive a small disclosure at no additional cost to you.  See my full disclosure here.
Materials needed for map mirror
old mirror or frame with a mostly flat surface
old paintbrush
scissors
How to make a decoupaged map mirror
I started by using painter's tape to tape off the mirror and spray painting the frame white in case the paint showed through anywhere. Then I broke out the Mod podge and a 1989 atlas from the Goodwill.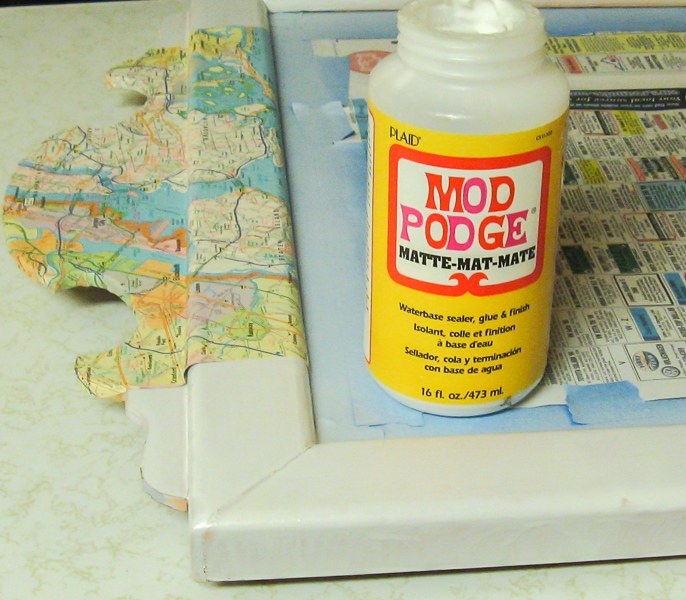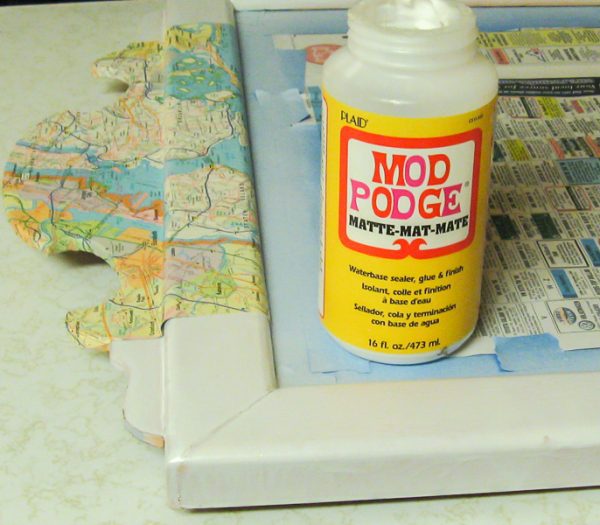 The last time I tried to mod podge a map, it turned into a wrinkly mess. I did not want that happening again, so I followed some tips from Mod Podge Rocks and sprayed both sides of my maps with acrylic sealer first.  It worked like a charm!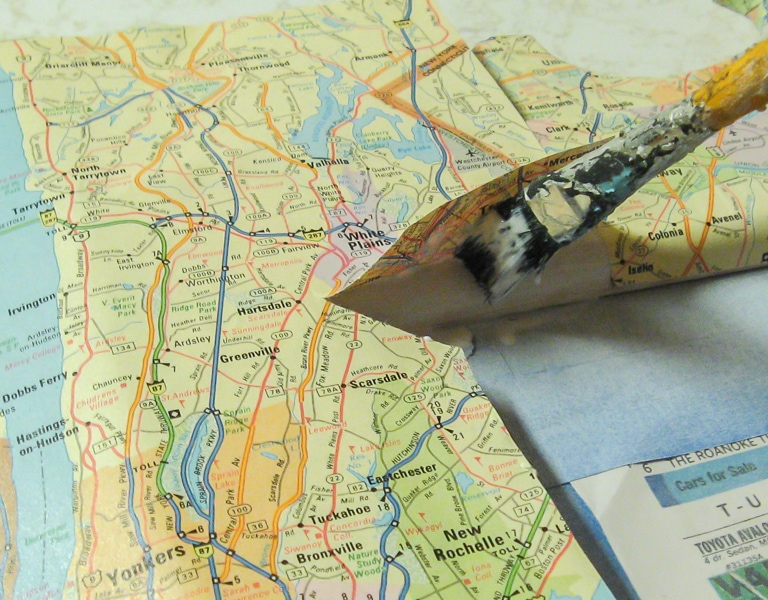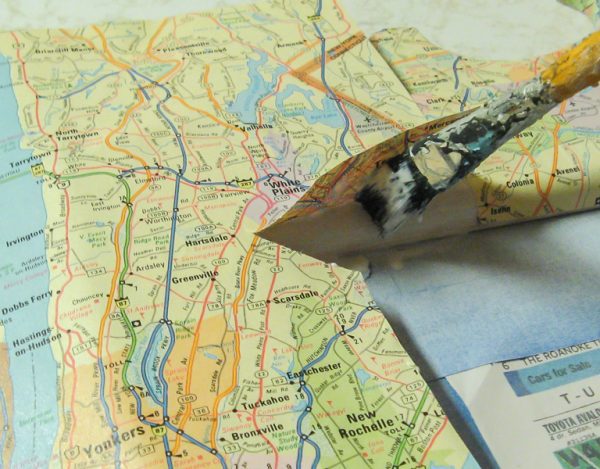 Once the sealer had dried, I mod podged the map to the frame.  Using Mod Podge is incredibly simple.  Just use an old paintbrush to spread an even layer of Mod Podge on your frame and then smooth your map into place. Cut off any excess map and allow the Mod Podge to dry fully.  Once it is dry, brush another layer of Mod Podge on top of the map.  This helps seal everything and protect the map.  I did a total of four coats of mod podge on top to make sure it was well protected.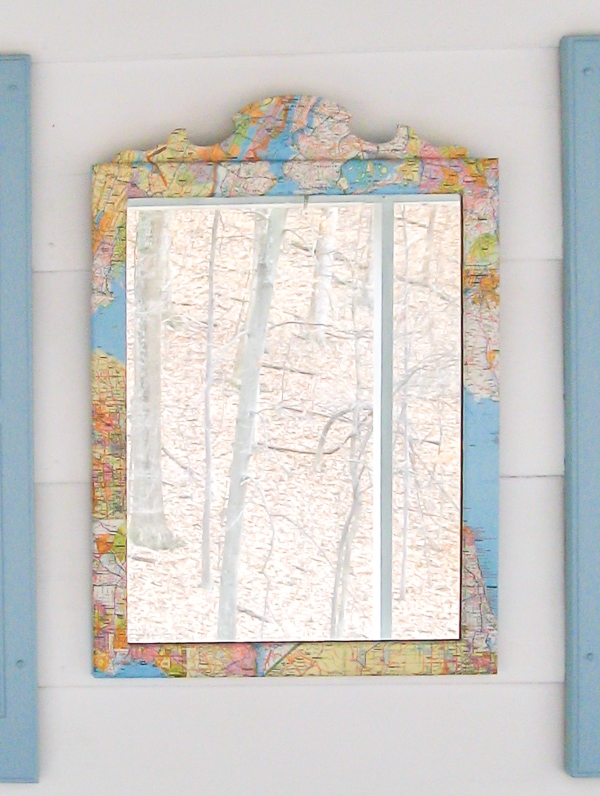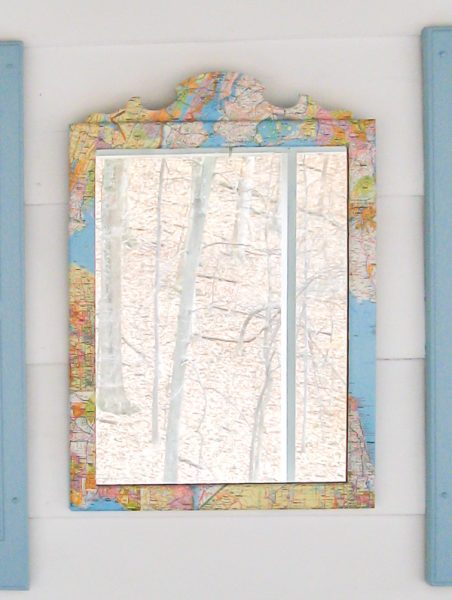 I love how it turned out! Beautiful, graphic, and wrinkle-free.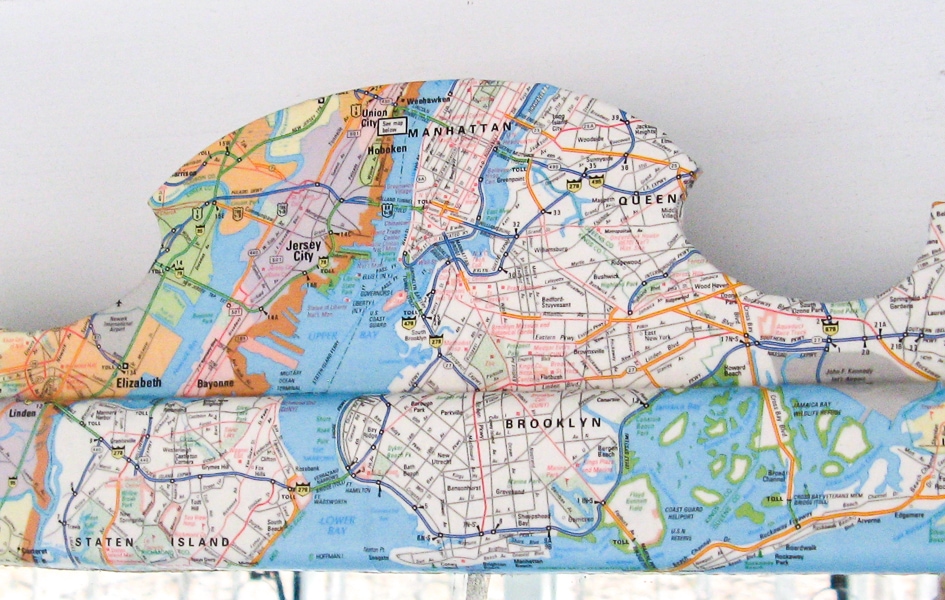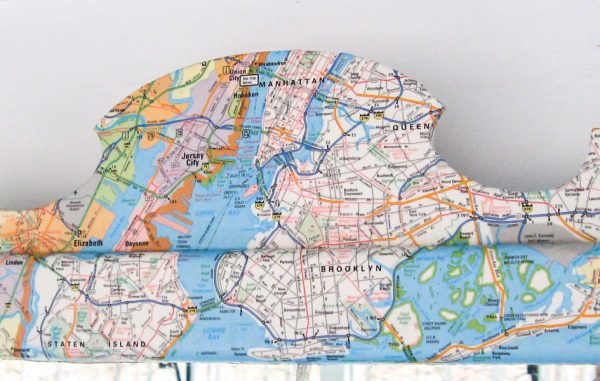 I chose to use the maps of major U.S. cities for this project.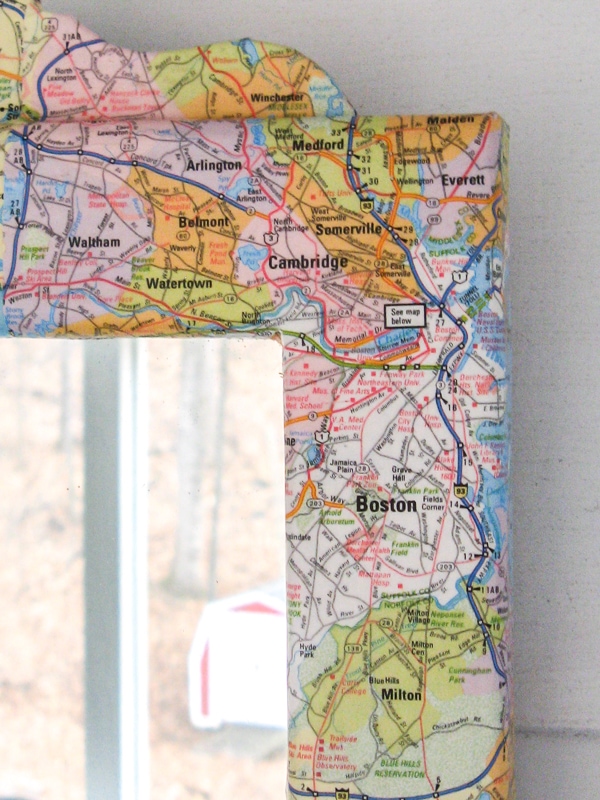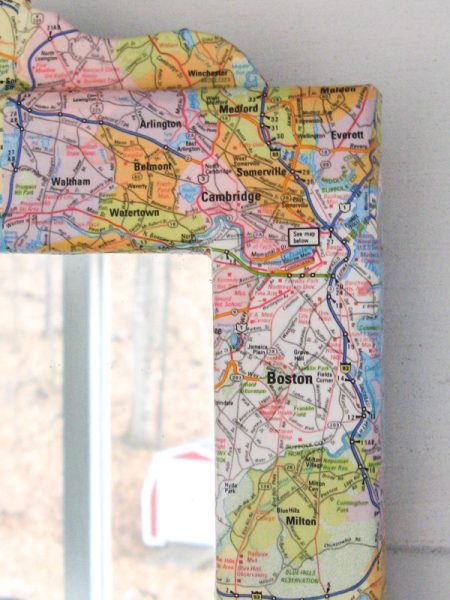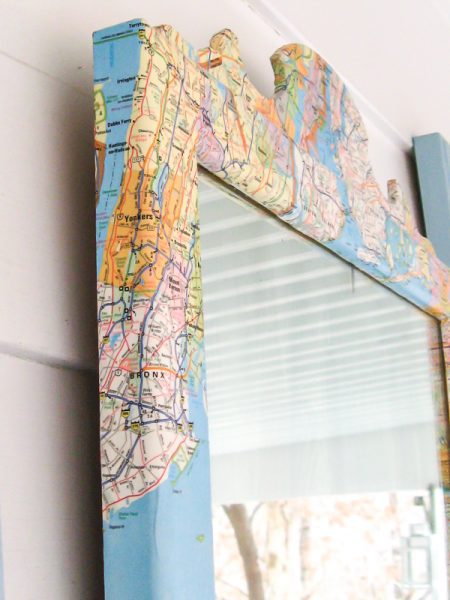 I love how the maps wrap around the chunky sides of the mirror.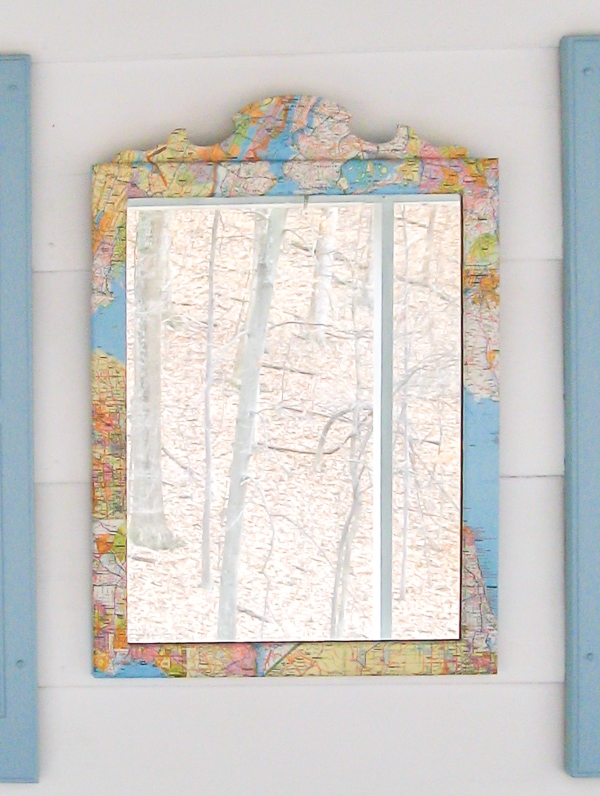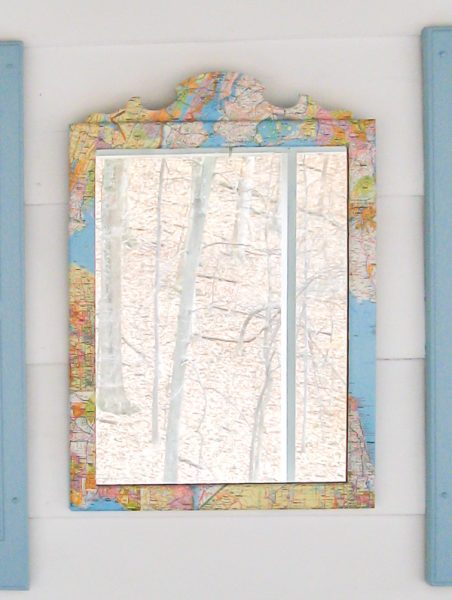 Of course, this would be a great using a map of your own city or state. And the same technique could be used to wrap picture frames. It would be really sweet to cover some frames in maps of your favorite vacation spots and fill them with vacation photos. Hmm…I may just have to try that one myself. Personalized, meaningful home décor is always my favorite.
So, do you love maps as much as me? If so, you're going to love this old typewriter stand I also upcycled using maps.  It turned out amazing!