Every year I love to make a few new Christmas ornaments to add to our tree. I've already shared
one set of DIY ornaments
this year, and today I have a second set to share that complement them perfectly.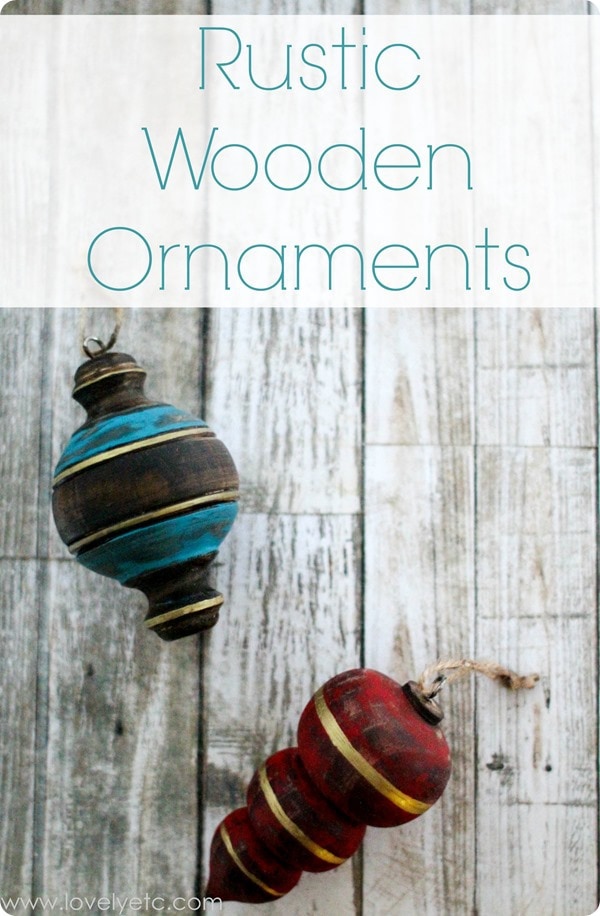 So these ornaments didn't come about in the usual way – they were actually inspired by the dresser I painted for my son's bedroom. You know what they say – inspiration is everywhere!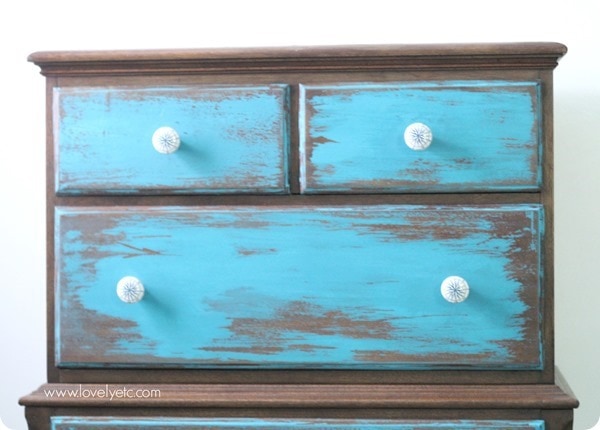 This post contains affiliate links – you get to buy stuff you want and support future DIY projects on Lovely Etc. at the same time. See my full disclosure here.
Materials for Rustic Wood Ornaments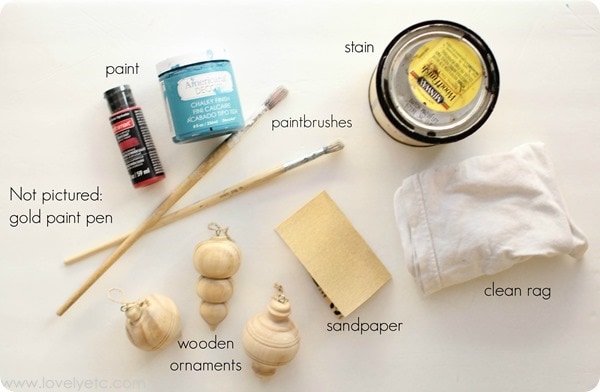 Wooden ornaments – from Michaels
chalk paint – I used Americana Décor Chalky finish paint in Treasure and Craft Smart chalky paint in Scarlet (found at Michaels). Acrylic craft paints will also work.
paintbrushes
dark stain – I used Minwax dark walnut
rag
gold Sharpie oil-based paint pen
optional: Howard Restor-A-Finish – this can help your ornaments look a little nicer, but isn't necessary
Rustic Wooden Christmas Ornaments
I started with these plain wooden ornaments from Michaels – I love the variety of shapes they have.
The first thing I did was stain them using dark walnut stain.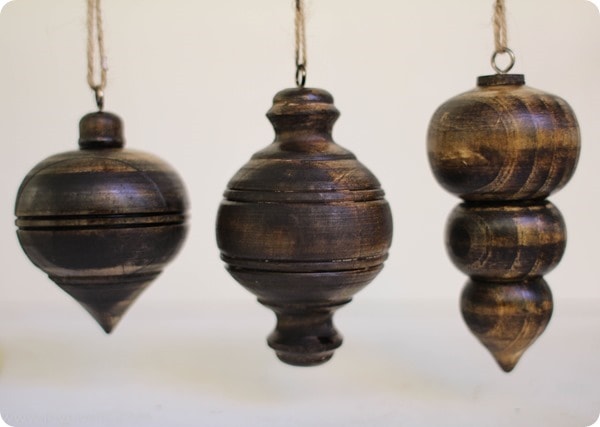 My husband thought they looked amazing just like this. And I had to agree – they look really beautiful just like this with all the wood grain highlighted. But I knew they would be completely lost on the Christmas tree if I left them so dark.
So I carried on and painted them with a thin coat of paint in my Christmas décor colors – red and aqua. (I made sure to leave a few sections stained wood for hubby.)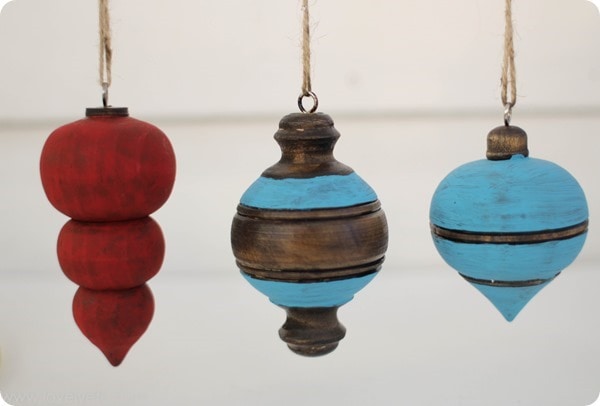 Then I used a wet sanding technique to expose more of the wood. Sounds fancy huh? It really just means I wet the paint with a wet paper towel and then sanded with 180 grit sandpaper while the paint was wet and pliable.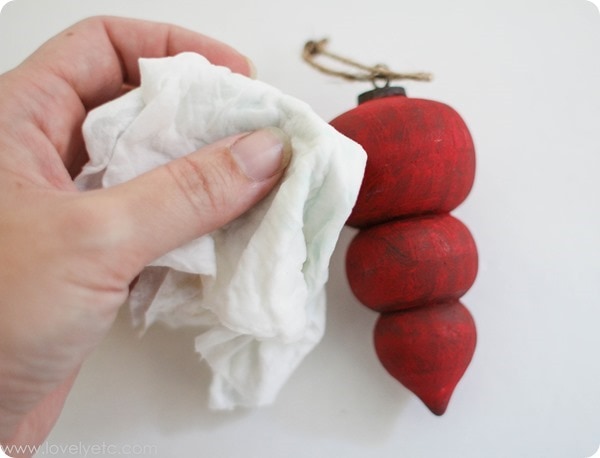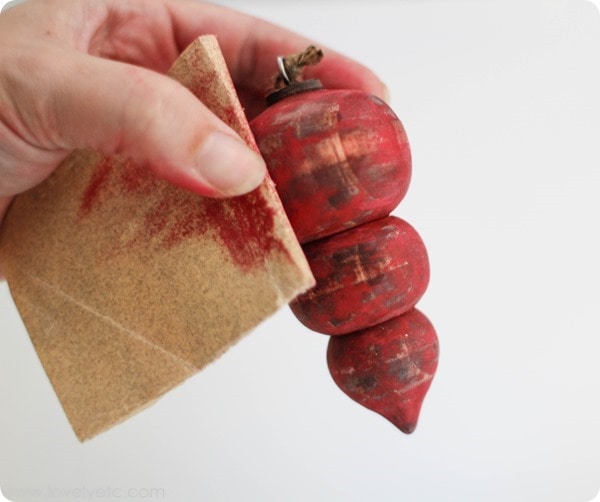 If you choose to, this is when you would rub on a little Howard Restor-A-Finish. It will darken up the stained finish and paint a little. It looks nice, but isn't necessary – I definitely wouldn't but any just for this.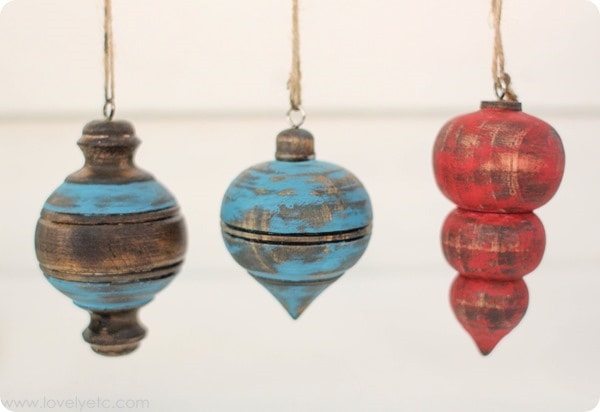 I was liking them at this point but I wasn't loving them. Something was still missing. And since my trusty gold paint pen seems to be my go-to this Christmas (I've got another gold project coming up tomorrow), I added a touch of gilt.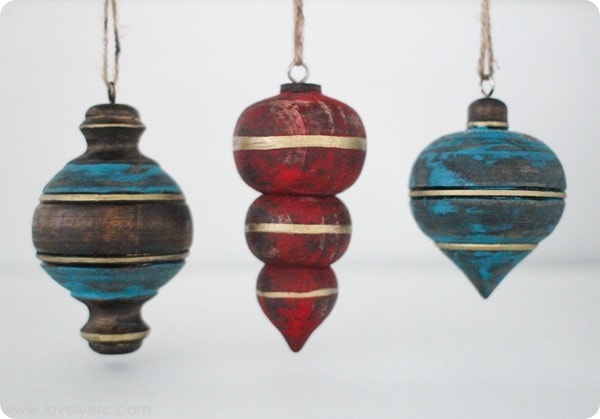 A little bit country, a little bit rock and roll. You can't get much better than that!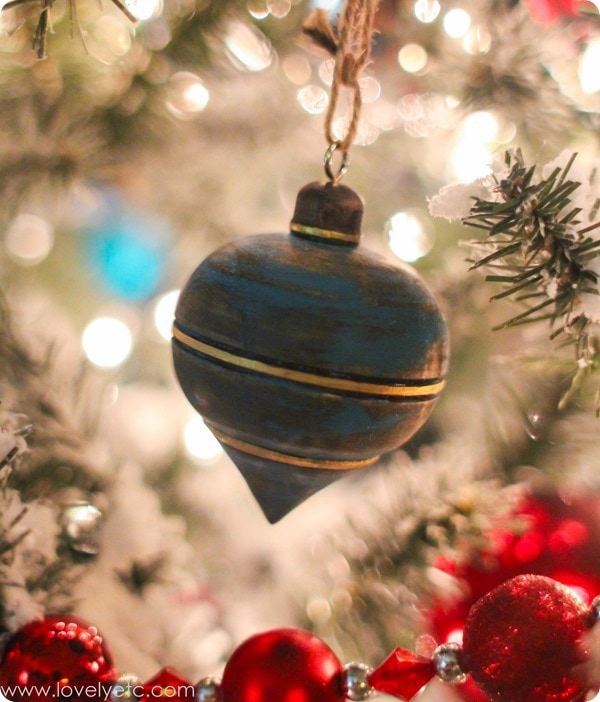 If you're looking for more handmade ornament ideas, I've got more than a dozen for you right here. If nothing else, be sure to check out this rustic glam version.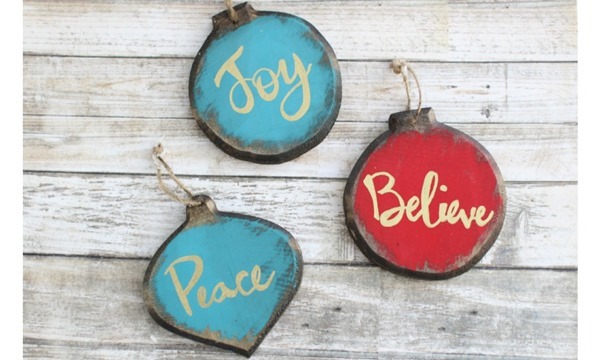 And if you haven't don't forget to enter the $500 giveaway I have going on right now!