These DIY paper Christmas ornaments are super cheap and easy to make, but they'll look beautiful on your Christmas tree.
The most awesome thing about these two DIY ornaments is that they are created almost entirely using scrapbook paper. You can't get much more economic that that!
The first ornament has a bit of sparkle and a whole lot of holiday cheer.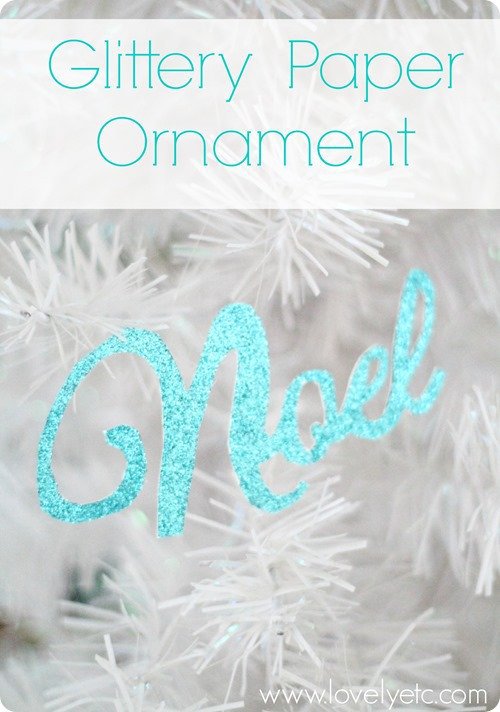 How to Make a DIY Paper Word Christmas Ornament
Materials
This one is pretty much as simple as it looks. It starts with some beautiful glittery card stock.
Choose whatever words you would like to use for your ornaments. You can use traditional Christmas words like Noel, Joy, Merry, or Believe. Or you could personalize them with your family's names.
If you like your handwriting, you can simply draw your word onto your card stock. But if you want to take things up a notch, you can print your words in your favorite font and then trace them onto your card stock.
Then just put your card stock onto a cutting mat and cut around your word with a craft knife.
Of course you could also make these ornaments very quickly using a Cricuit or Silhouette if you have one, but if not, using a craft knife works just fine.
I love these as super inexpensive ornaments but they would also make great gift tags.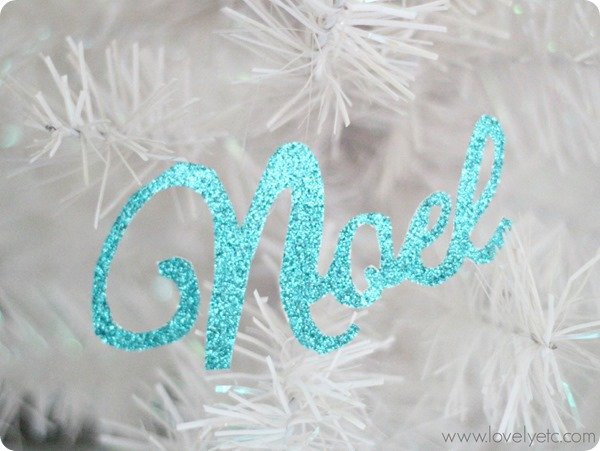 How to Make 3-D Paper Christmas Ornaments
This second set of ornaments are slightly more complicated – but only slightly! And the possibilities are endless which makes these so fun.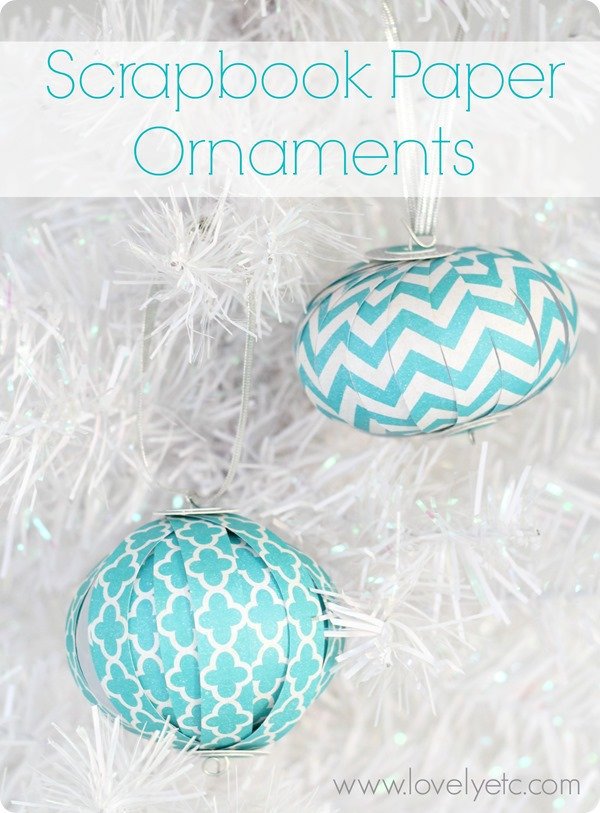 Materials
First, cut four circles out of card stock.
Two circles should be around an inch in diameter and the other two should be half an inch.
Glue each smaller circle on top of one of the larger circles.
Punch a hole through the center of each set of circles with the mini hole punch.
Cut out 18 strips of scrapbook paper.
These should be half an inch wide by four and a half inches long.
If you are using a patterned paper (like the chevron I used) keep these strips in order as you cut them. That way when you put your ornament together, the pattern will flow continuously.
Use your mini hole punch to punch a small hole in each end of the strips.
Take a piece of wire slightly longer than your paper strips.
Bend one end of the wire into a small loop. (Needle nose pliers come in handy for this but aren't strictly necessary.)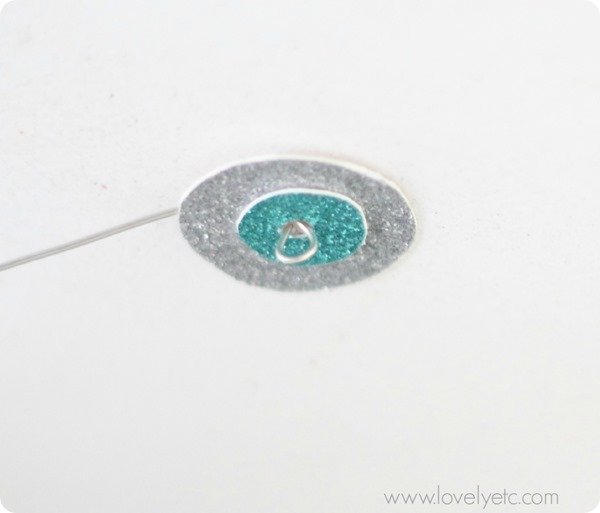 String one set of circles onto the wire with the pretty side facing the loop you made. This will be the bottom of the ornament.
The next step is adding the paper strips which will make the main bulk of the ornament. String one end of each of the strips onto the wire above the card stock circles, also with the pretty side facing down.
If your paper has a repeating pattern, be sure to keep the strips in order.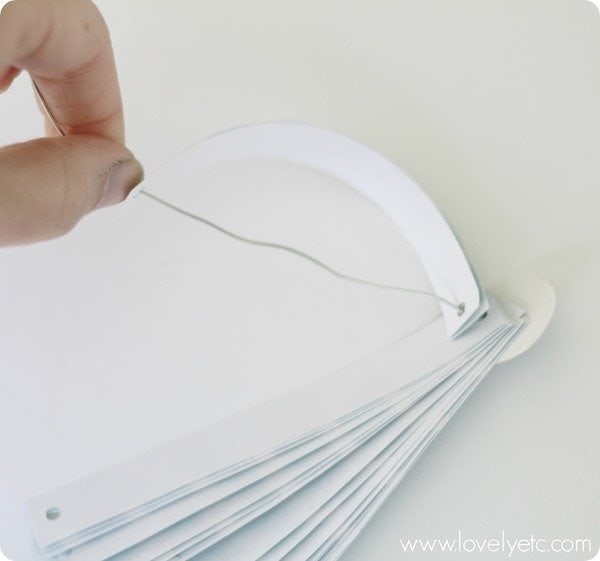 Bend each paper strip so that you can slide the top hole of each paper strip onto the wire.
Once these are all on, add the second set of card stock circles.
Then push the ornament down from the top until it is a sphere with nice fullness.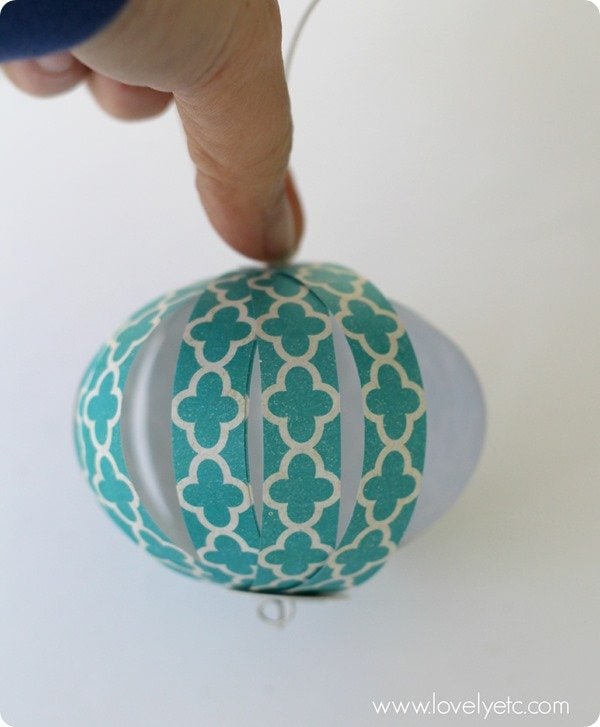 Bend the top wire into a loop right above the top card stock circles to hold the paper in place.
Hang a string or ribbon from the top loop and hang your ornament on your tree!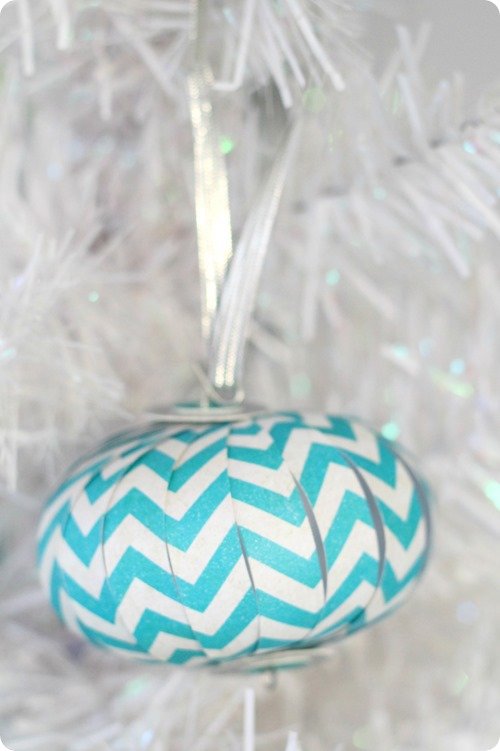 It might sound sort of complicated, but once you make one of these, you can crank out a whole pile in an hour.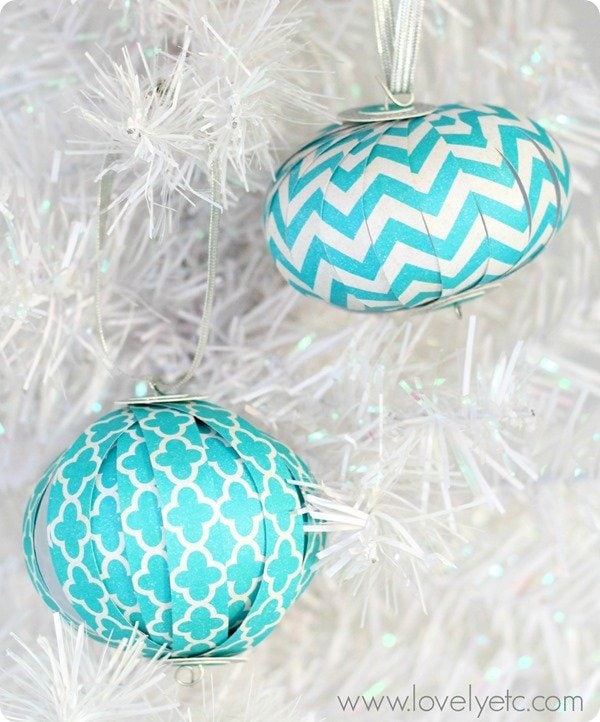 I love how these turned out and I can't wait to make more in more traditional Christmas colors.
You can see all of my handmade Christmas ornament ideas right here.
And I also have tons of gorgeous Christmas ornaments from some of my favorite bloggers below.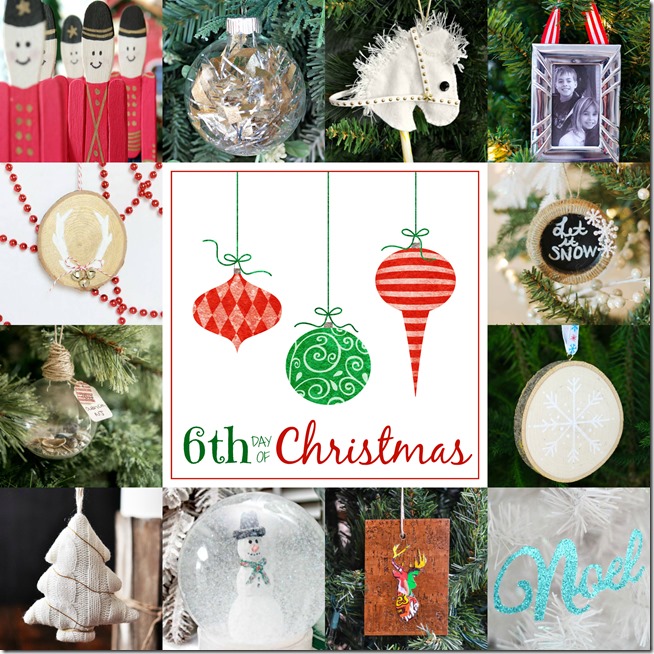 Popsicle Stick Soldier Ornament | Remodelando la Casa * Tinsel Filled Ornament | The Happier Homemaker * No Sew Felt Horse Head Candy Cane Cover | Serendipity Refined * Picture Frame Ornament | It All Started With Paint * Reindeer Antler Wood Slice Ornament | May Richer Fuller Be * Mason Jar Lid Chalkboard and Jute Ornament | Thrifty and Chic * Travel Keepsake Ornament | Bigger Than The Three of Us 8 Painted Snowflake Wood Slice Ornament | All Things G&D * Wire Wrapped Christmas Tree Ornament | Cherished Bliss * Homemade Snow Globe | Mom 4 Real * Woodland Reindeer Ornaments | Whats Ur Home Story * Glitter Noel Ornament | Lovely Etc.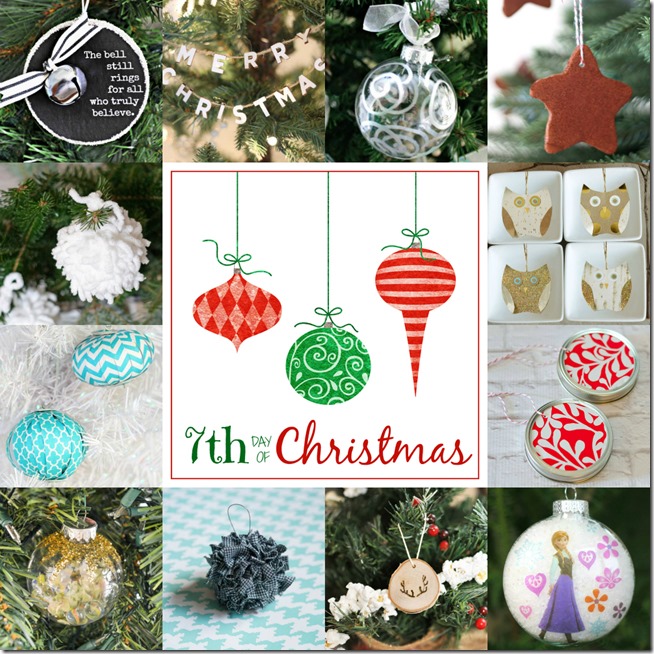 Polar Express Bell Quote Ornament | Serendipity Refined * Merry Christmas Jute Garland | Thrifty and Chic * Silver Painted Ornaments | Mom 4 Real * Cinnamon Dough Ornaments | The Happier Homemaker * Yarn Snowball Ornaments | May Richer Fuller Be * Paper Owl Ornaments | Remodelando la Casa * Scrapbook Paper Ornaments | Lovely Etc. * Mason Jar Lid Ornaments | It All Started With Paint * Marbles Ornament | Whats Ur Home Story * Antler Wood Slice Ornament | Cherished Bliss * Simple Fabric Ornament | Bigger Than The Three of Us * DIY Princess Anna Ornament | All Things G&D