I adore my aqua mason jars.  Adore.
I also happen to love anything tiny.  (Oh how I wish I had a fancy doll house with tiny little furniture as a child!)
So creating a little tiny aqua mason jar to hang on my Christmas tree seemed like the perfect idea.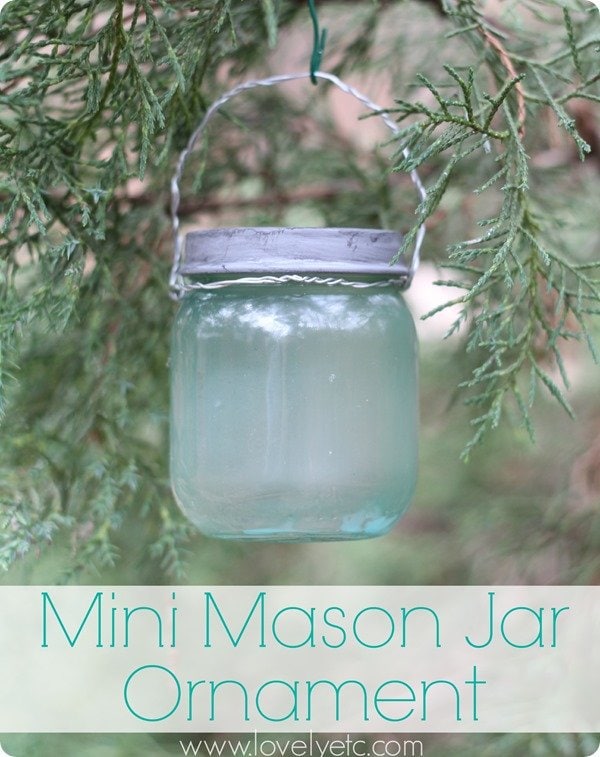 This post contains affiliate links.  See my full disclosure here. 
Materials
clean baby food jar
white school glue
blue and green food color
water
small bowl or plastic cup for mixing
gray and black craft paints
paintbrush
wire
wire cutters
How to Make a Mini Blue Mason Jar
I started out with an empty baby food jar. (Yep, we still have several of those hanging around in the cabinets, waiting for the perfect use!)
The first step was turning it the perfect shade of aqua.  I got some help from this tutorial by Craftberry Bush to create my aqua color.
In a small bowl, mix together one teaspoon of white glue (like school glue), one and a half teaspoons of water, 2 drops of blue food coloring, and 1 drop of green food coloring. Pour a very small amount of this mixture inside your jar and slowly swish it around to coat the inside.  Set your jar upside down on several paper towels and let it dry.  It will take awhile to dry – it took my jars a full day and night to really get dry.  (Which makes me think I may have gone a bit overboard with the amount of coloring I put inside.)
One word of warning – this type of coloring is not permanent.  It will wash out with water.  Which is great news if you mess up and need to start over.  But not great if you want to put flowers or something inside.  If you would prefer a more permanent coloring you can use a transparent aqua glass paint like this.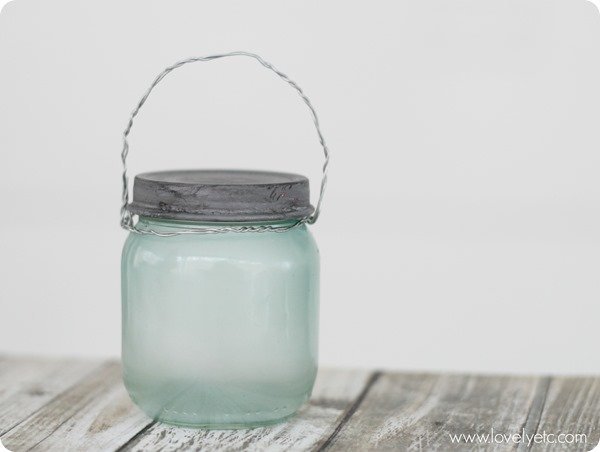 While the jar is drying, paint the lid with a couple coats of matte gray paint.  Either craft paint or chalk paint works well for this. When that dries, dry-brush a little matte black paint onto the lid and then wipe off the excess with a clean cloth.  This gives a beautiful aged metal look.
To make the little handle, I just bent a piece of wire to make a loop around the top of the jar and then bent it over to create the handle, twisting the wires together on the opposite side.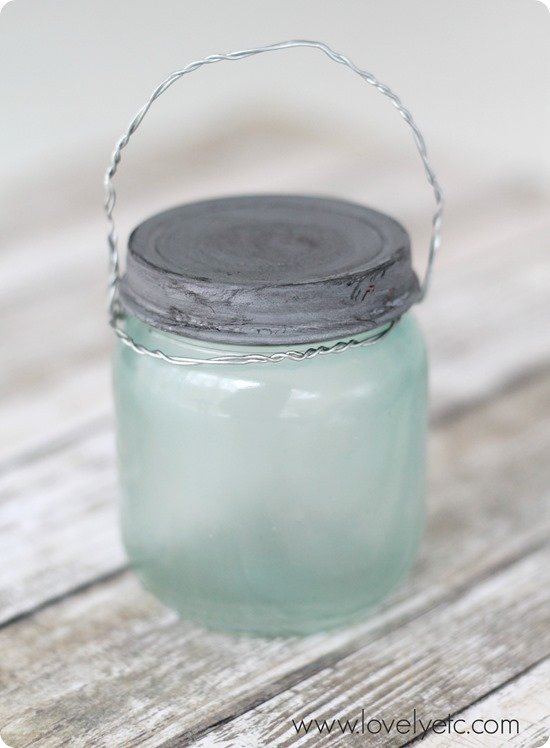 Slip the handle onto the tiny jar and then screw the lid on and you have the perfect little vintage inspired ornament.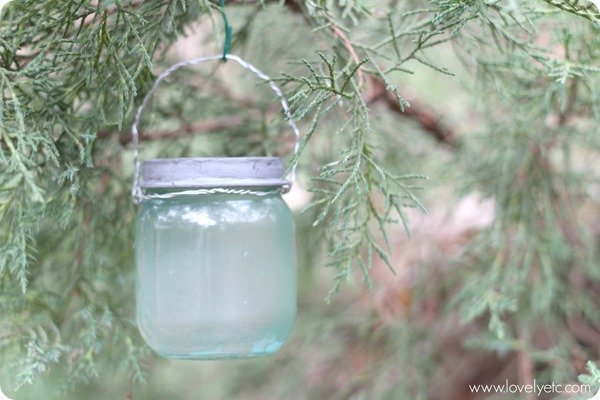 I wanted so badly to add the "Ball" logo to this jar so it would match my real Ball canning jars, but it didn't work out.  I tried several different methods including using hot glue to spell it out, but nothing looked authentic.  So in the end I left it logo-less.
But I still love it anyway – even if it isn't name brand!
And now for my fabulous co-crafters' handmade ornaments. As always, there are some amazing ornaments in this group.  Seriously, that little car snow globe ornament is perfect!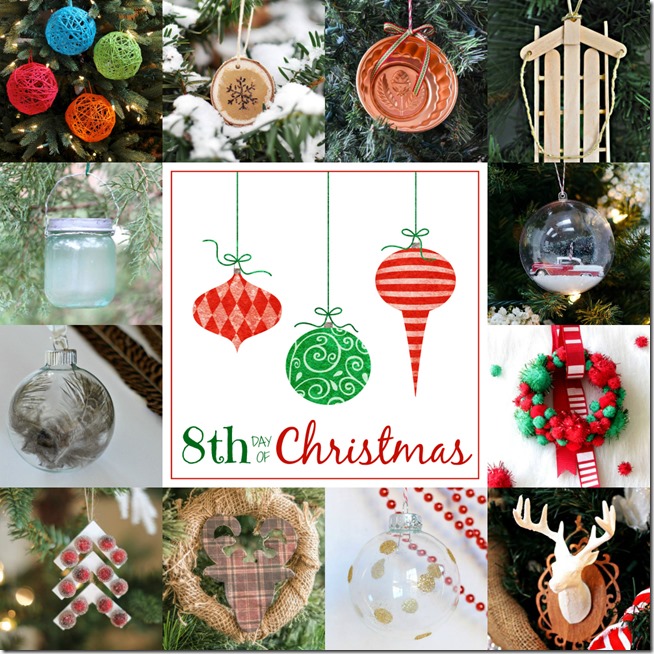 Yarn Ball Ornaments | All Things G&D
Wood Burned Snowflake Ornament | Cherished Bliss
Vintage Jello Mold Ornament | Whats Ur Home Story
Simple Popsicle Stick Sled | Serendipity Refined
Mini Mason Jar Ornament | Lovely Etc.
Snow Globe Ornament | It All Started With Paint
Wispy Feather Ornament | The Happier Homemaker
Pom Pom Wreath Ornament | Remodelando la Casa
Hardware store Christmas Tree Ornament | Thrifty and Chic
Burlap and Reindeer Ornament | Bigger Than The Three of Us
Glitter Polka Dot Glass Ball Ornament | May Richer Fuller Be
Deer Head Ornament | Mom 4 Real
And if anyone has any brilliant ideas about how to add that Ball logo, I'm all ears!
Want even more DIY ornament inspiration?  You can see all of my DIY ornament tutorials right here.

More Christmas posts you're going to love: