I believe that pretty much anything can be painted, and have tested that belief many times. Floors, hardware, curtains, pillows, jars, lampshades, plastic toys … and now duvet covers.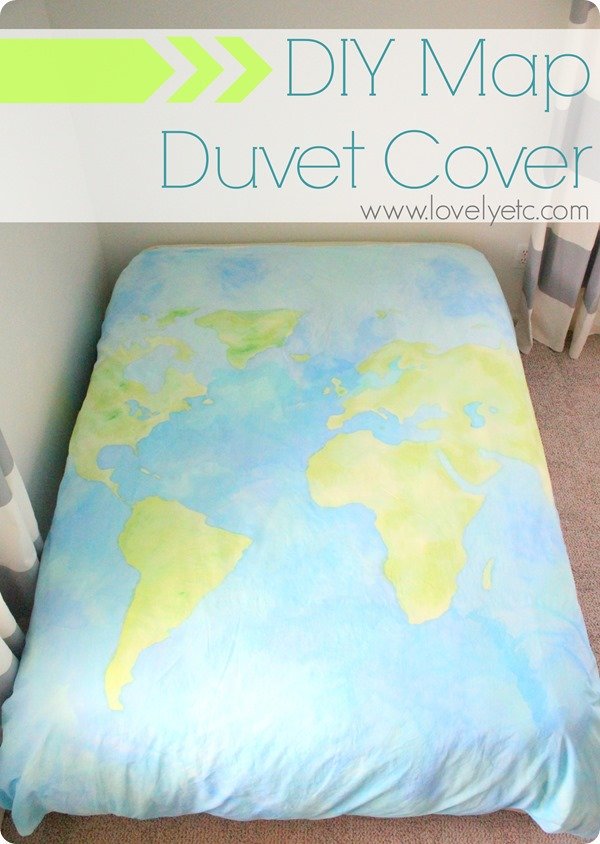 When I started working on Griffin's big boy room, I knew I wanted some kind of graphic bedding. After doing a little searching on Pinterest, I fell in love with the idea of a world map duvet cover. There are a few really amazing map duvet covers out there for around a hundred dollars. That really isn't a bad price for bedding these days…but it is significantly more than I wanted to spend on a two year old's room. So I decided DIY was the way to go.
I bought a plain white Ikea duvet cover and pillow shams to use for this project. You could potentially save even more money by sewing two flat sheets together to make the cover, but that was a little more than I wanted to take on right now. As it is, the cover and other materials cost around $30 which is a pretty major savings.
I decided to use the pillow cases that came with the set for practice to make sure that painting bedding was actually a feasible idea before tackling a whole duvet. I turned the pillow cases into watercolor throw pillow covers and was thrilled with how they turned out. Which meant full steam ahead!
This post contains some affiliate links. See my full disclosure here.
Materials
Projector
colored pencil
3 blue craft paints
3 green craft paints
Fabric medium (you can find small bottles of this with the craft paints)
paintbrushold towels
How to Paint a Duvet Cover
Before you can start painting anything, you have to draw your map outline onto your duvet cover. The easiest way to do this is with a projector. I found a world map I liked online, projected it onto my duvet cover, and then used a blue colored pencil to trace each continent. (I don't own my own projector but was able to use one at my work. If you ask around, there is a good chance someone you know might have one you could borrow. Even an old overhead transparency projector would work.)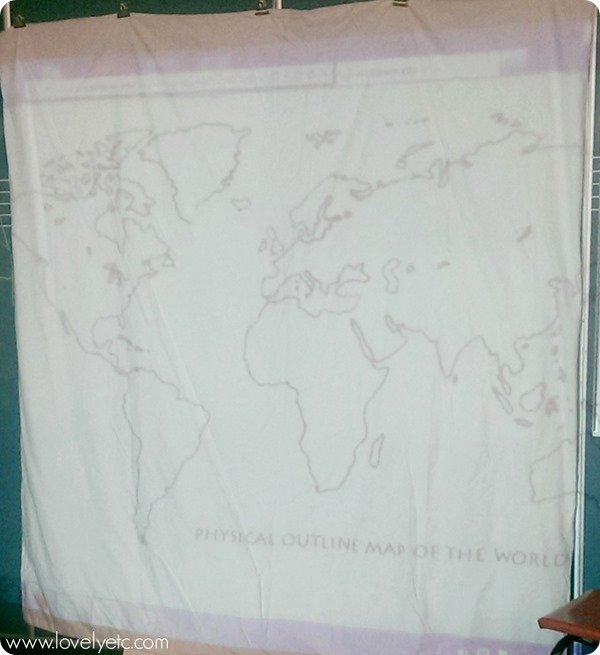 Once I had my outline drawn, it was time to paint! I chose to keep the back of my duvet cover white in case I wanted to do something different on the other side at some point in the future. To keep the paint from seeping through, I spread old towels between the layers of the cover to absorb excess paint and protect the back layer of fabric.
I started by painting the ocean. I mixed each of my 3 blue craft paints in some old plastic containers with fabric medium and water. You will probably need to experiment a little to get the colors to the brightness you want, but my basic mixture was around a tablespoon of paint, 1/2 a tablespoon of fabric medium, and 1/2 a cup of water. Before painting on my duvet, I tested each color on a scrap of fabric.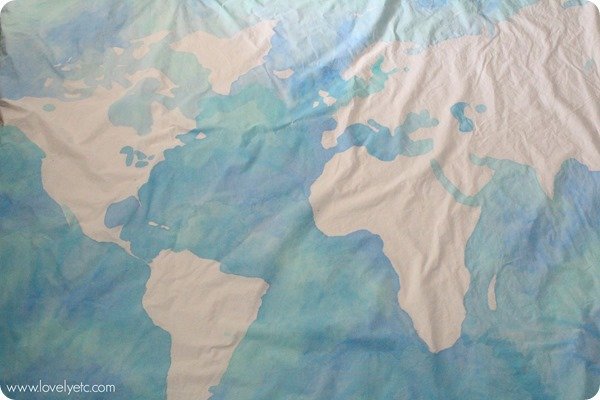 The actual painting is very easy; you can't really mess it up. I started by loading some paint on a largish artist's paintbrush and spreading it around in one corner of the duvet (making sure there were towels under the area I was painting). Then I continued with paint in another blue tone and continued painting with that, overlapping slightly with the color I just used. You don't have to worry about being precise or sticking to a pattern. Just add paint however you want.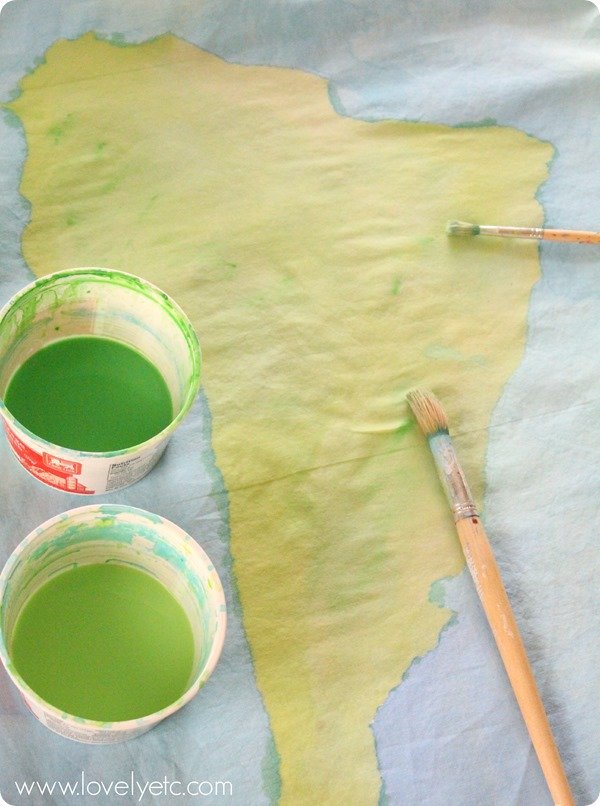 There are only two things to watch out for. 1) Remember to keep an eye on your map outline, so you don't accidentally paint the land blue. As you paint, the paint will spread some as it soaks into the fabric. This isn't really a problem since this isn't a precise style of painting anyway, but it is something to be aware of as you paint near where the land and water meet. 2) Try to keep a wet edge to work with as you paint. If the 'edge' of the paint dries, there will be a noticeable line between the old and new sections. This happened to me a few times and it isn't a big problem once the duvet dries, but it would have looked even better if that had not happened.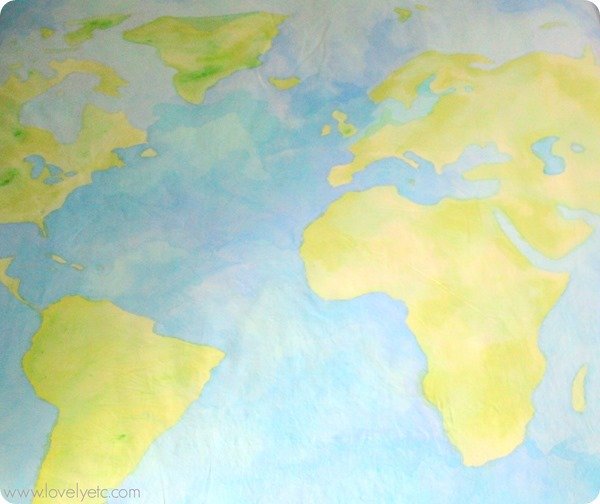 Once the ocean is fully dry, repeat the process with your green paints to fill in the land. Since the land is much smaller and more contained, this goes much faster.
And no, for those of you wondering, the paint does not dry crunchy. The paint medium and water that were added keep it feeling quite soft. I have not washed this cover yet. Based on other fabric I have painted in the past, I don't think washing will cause any problems, but I'll keep you posted!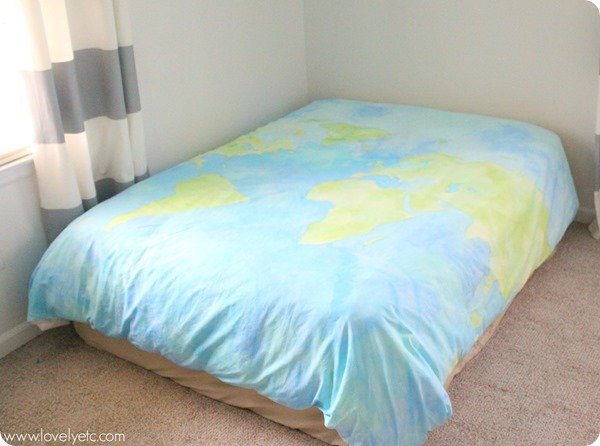 Seeing this on the bed is getting me really excited to get the rest of the room finished.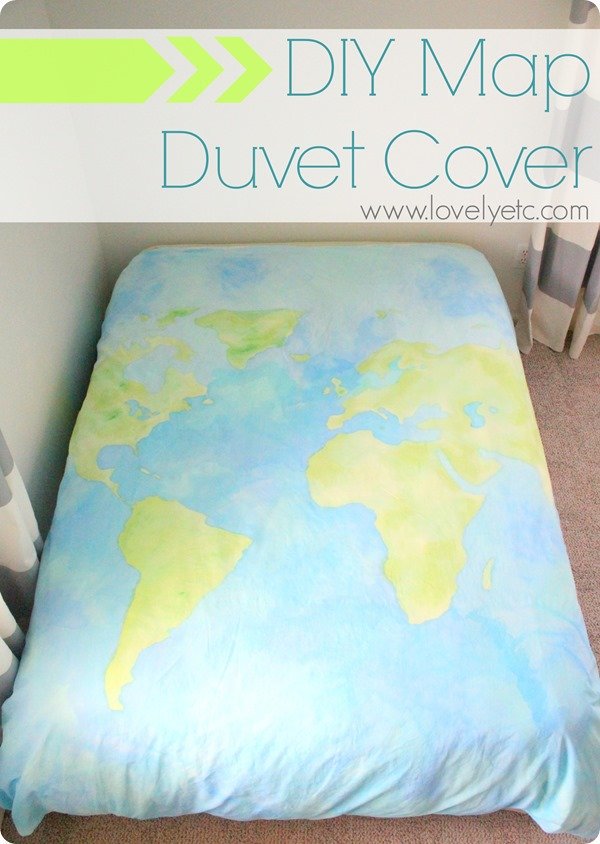 I still haven't decided what kind of pillows to use on the bed. I want it to look cute, but I also don't want to go overboard with decorative pillows in a toddler's room. Especially since this is his idea of how the pillows should work.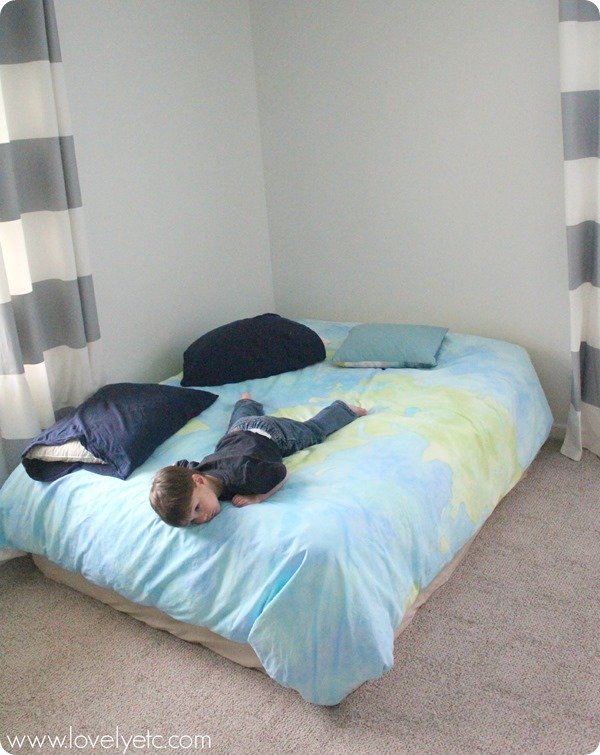 Now to get back to work on the rest of the room!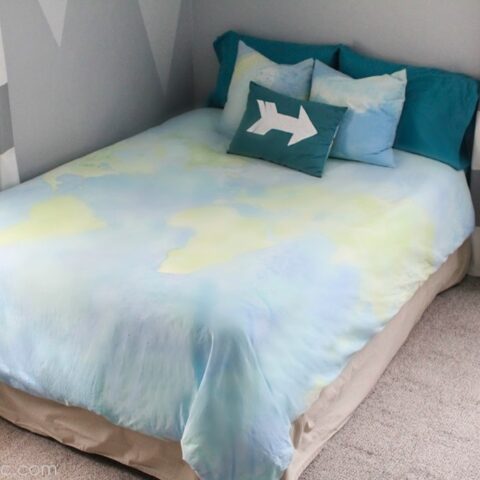 Painted World Map Duvet Cover
Total Time:
1 hour
15 minutes
How to paint any design you want on a duvet cover. Create absolutely any duvet cover design you want with paint including a watercolor world map like this one.
Materials
White duvet cover
pencil
3 blue craft paints and 3 green craft paints (or paint in colors of your choice)
Fabric medium
Old towels
Instructions
Draw your map outline (or other design) onto your duvet cover using a projector.
Spread old towels between the layers of the cover to absorb excess paint before you start.
Mix each paint color with fabric medium and water in a plastic cup.
Paint one color at a time with a large artist's paintbrush. For a watercolor effect with lots of color variation, blend a few similar colors together on the duvet as you paint.
Repeat with your other colors until the entire duvet is painted.
Let dry thoroughly.
Recommended Products
As an Amazon Associate and member of other affiliate programs, I earn from qualifying purchases.