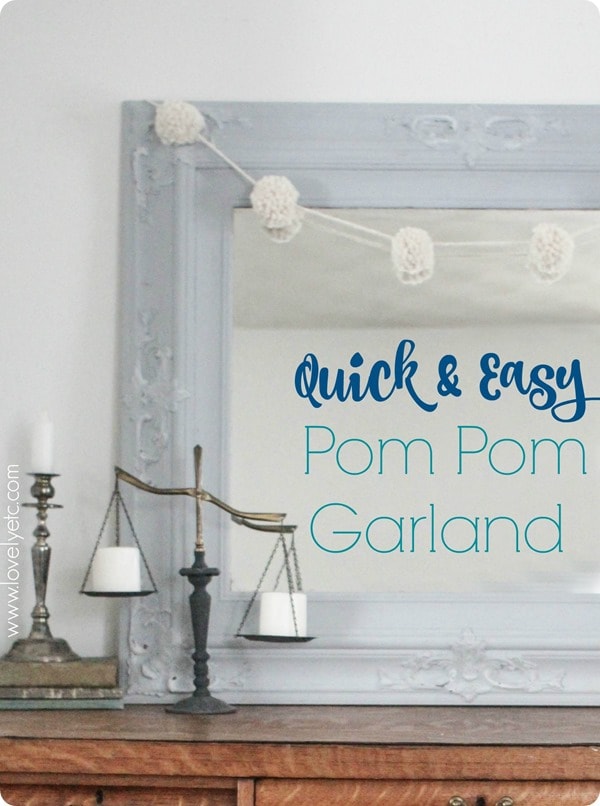 I loved the pom pom garland I made for Christmas this year so much, I decided to make another one to add a bit of coziness to carry us through the rest of winter.  Pom pom garlands look fun, fresh and cozy all at the same time.  And they are super cheap and easy to make.  No special tools needed.  Just some yarn and your hands.  And a yarn needle which costs about $2.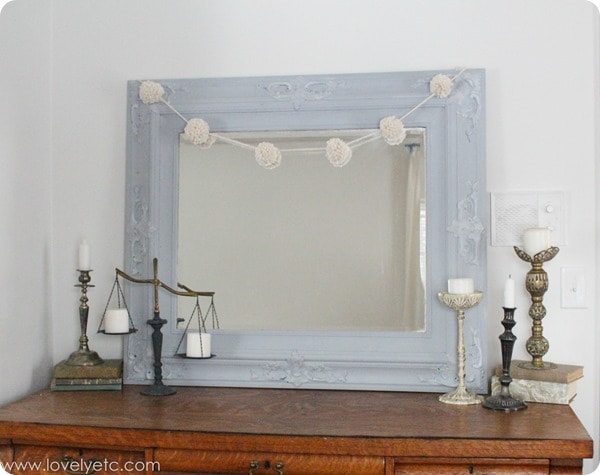 You can also buy a little pom pom maker to use instead of wrapping the yarn around your fingers.  But it is really unneccesary.  You can make a great pom pom garland without it.  (Although if you happen to have carpal tunnel or arthritis or something like that, I can definitely see where the pom pom maker would be handy.)
Use your thumb to hold one end of your yarn and then begin wrapping the yarn around and around your fingers.  When you have a nice full swath of yarn around your fingers, cut the yarn.  Cut another piece of yarn around a foot long and thread it onto your yarn needle.  Push the threaded needle between two of your fingers, below where the yarn is.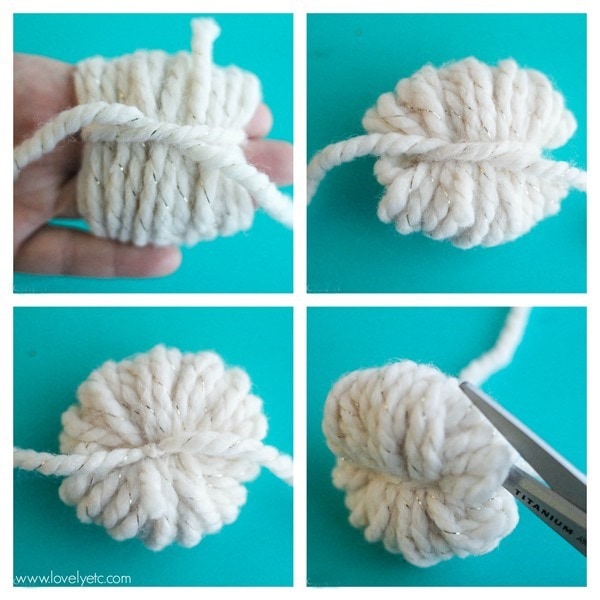 Pull it out the back side and then wrap the two ends of the piece of yarn around the wrapped yarn.  Tie it loosely and slip the whole thing off your fingers.  Pull the tied piece of yarn as tight as possible and tie a double knot.  Use your scissors to cut the loops of yarn all around the pom pom.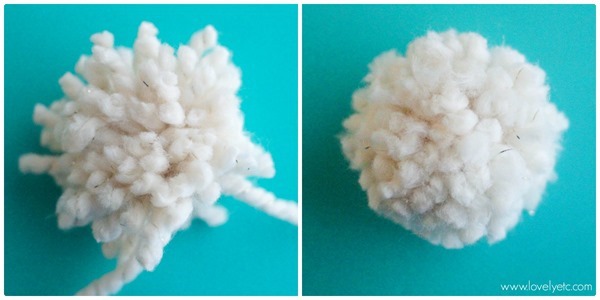 When you fluff it up, it will look super scraggly.  Just use your scissors to trim it into a nice round shape.
Pom pom experimenting
Because I'm sort of a control freak sometimes, I decided to do a little pom pom experimenting.  Using pretty much the same method with a few minor tweaks, you can make your pom poms big, little, shaggy, fluffy, basically whatever you want.
First I experimented with wrapping the yarn around a different number of fingers.  I made pom poms using two, three, and four fingers.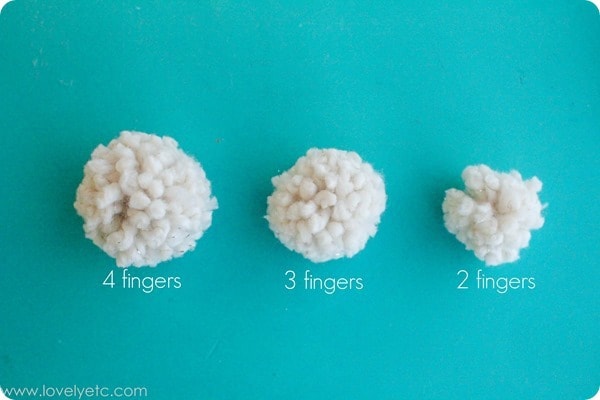 Then I tried wrapping the yarn around my fingers different amounts of times – 20, 30, 0r 40.  (All using three fingers).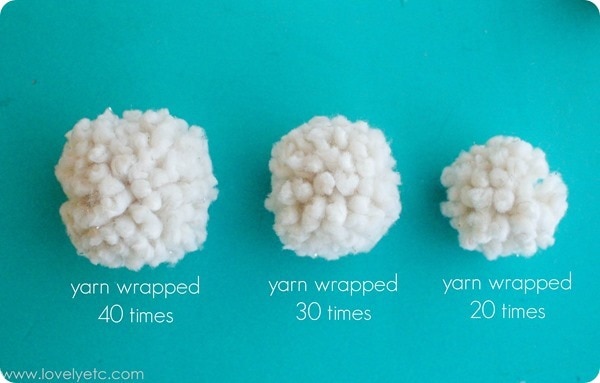 And finally I experimented with trimming the edges different amounts.  Less trimming makes a bigger but shaggier pom pom.  More trimming makes it a bit smaller, but much more uniformly round.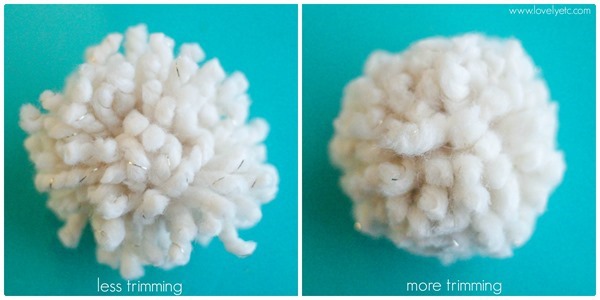 In the end I made my pom poms using three fingers, wrapped 30-40 times.  (No, I'm not crazy enough to count every single time.  I just eyeballed it.)
Turning a pile of pom poms into a garland is super easy.  Just thread the yarn needle with a long piece of yarn.  String the pom poms onto the yarn by sticking the needle through the middle of each pom pom.
I hung my fluffy pom pom garland on a mirror in our dining room.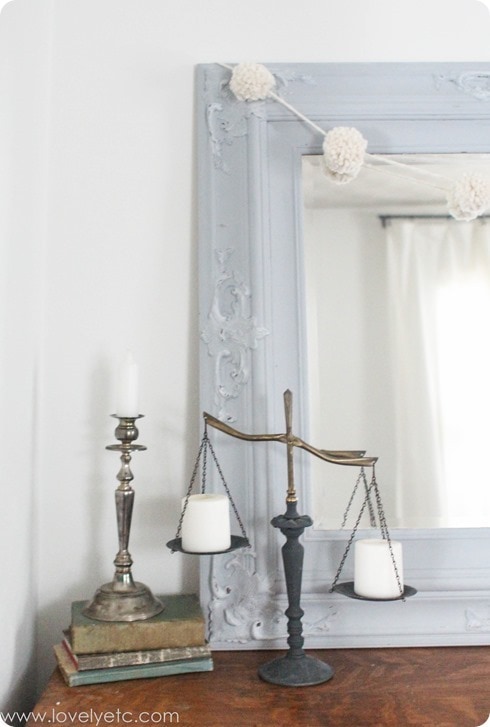 I love the cozy, wintery touch it adds.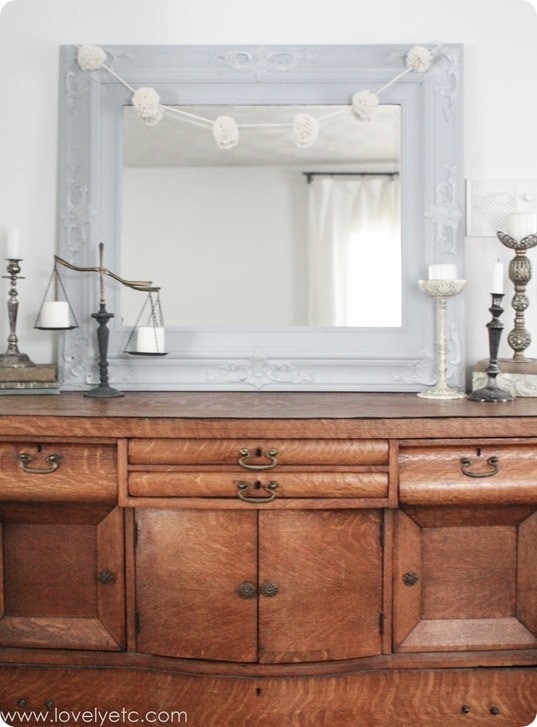 Interested in other quick and easy projects to brighten up your winter?  I've got you covered.