I have a great gift idea to share today: a DIY custom cutting board. My absolute favorite gifts are the ones that are both meaningful and useful and this one checks all the boxes.
This would make a perfect hostess gift, neighbor gift, or wedding gift, but I'm planning to use it as a fun Mother's Day gift.
My mother-in-law is a great cook and she loves cooking. I think cooking might just be her love language.
So a personalized cutting board seemed like the perfect gift that's both practical and meaningful.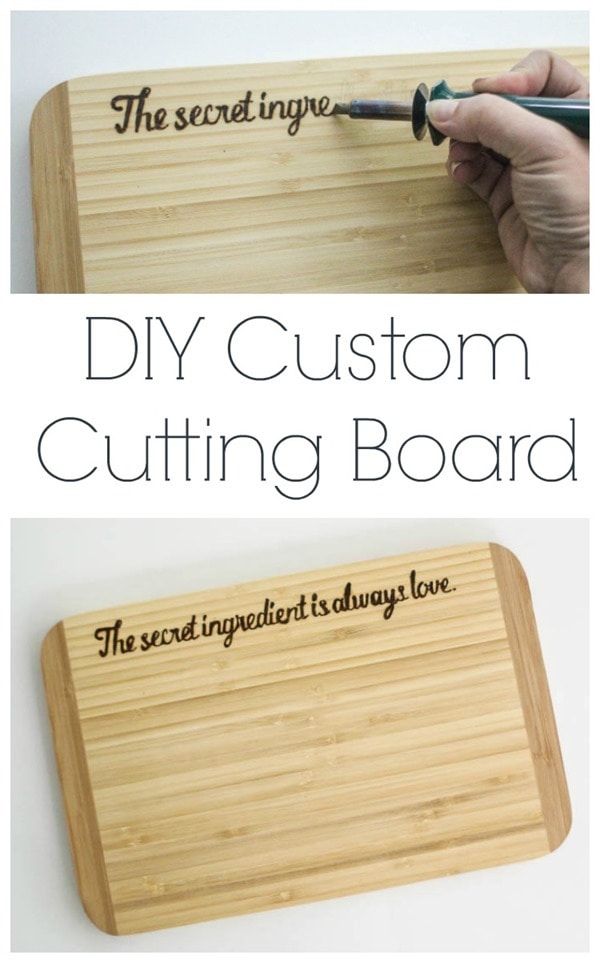 This post contains affiliate links which means if you make a purchase after clicking a link I will earn a small commission but it won't cost you a penny more. Click here to see my full disclosure policy.
How to make a custom cutting board
One of the great things about this project is it requires very few supplies.
You need a cutting board and a basic wood-burning tool. If you've never tried wood burning before, it isn't nearly as hard as it seems.
You may need to practice a bit, but you can definitely do it.
I started with this cute little basic bamboo cutting board.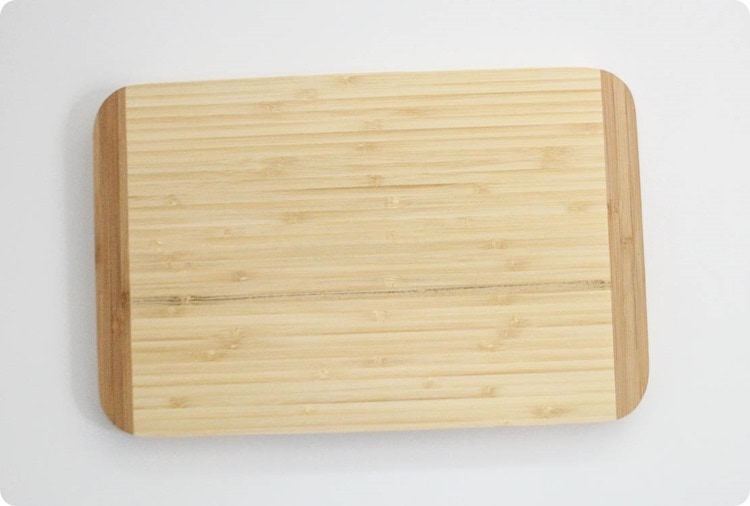 I considered lots of different sayings to personalize my cutting board. I wanted something that speaks to a mother's love but is also related to cooking.
This is a cutting board after all. In the end, I chose "The secret ingredient is always loved".
It brings to mind an image of a mother or grandmother bustling around the kitchen, preparing all of her family's favorite foods.
Of course, you could use any quote you want or the recipient's name or even a child's drawing. (Seriously, how cute would that be!)

I printed out my saying in a cute font and transferred it onto the cutting board using a simple pencil transfer. (Not sure how to do that? I have simple instructions here.)
If you want to use the same saying I did, you can simply print the image above on regular printer paper using the landscape setting.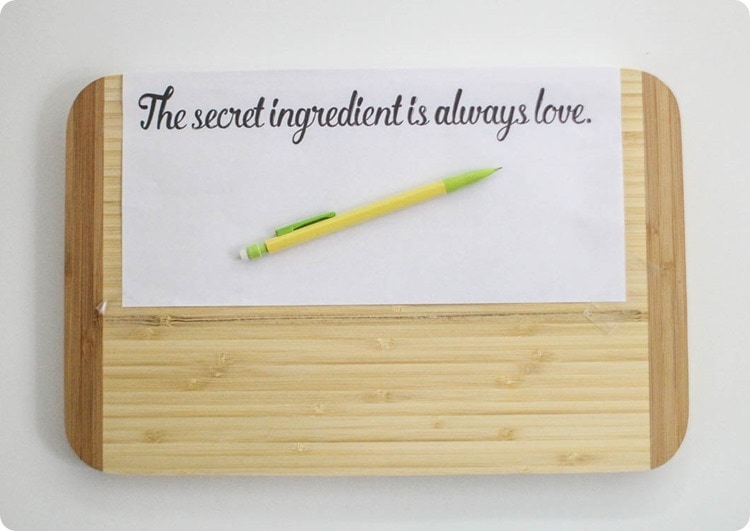 Once the design was transferred, it was time to do some wood burning.
First I practiced a bit on a piece of scrap wood to get a feel for the wood burner.
Then I carefully traced the design I had transferred. It is easiest to turn the cutting board as you work and to pull the tool toward you rather than push it away.
Try to use smooth, even strokes as much as possible.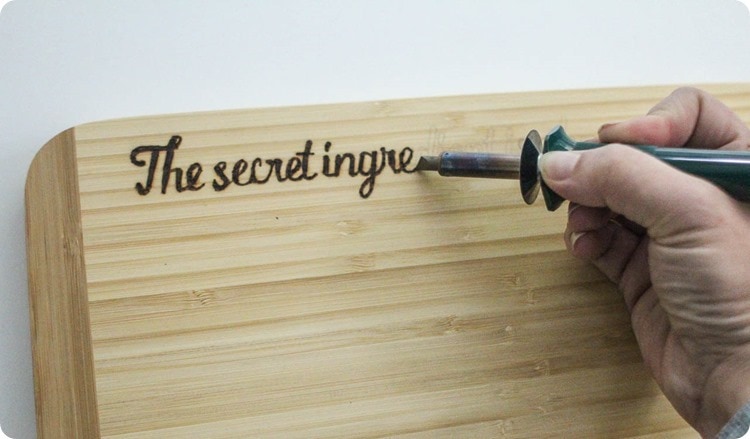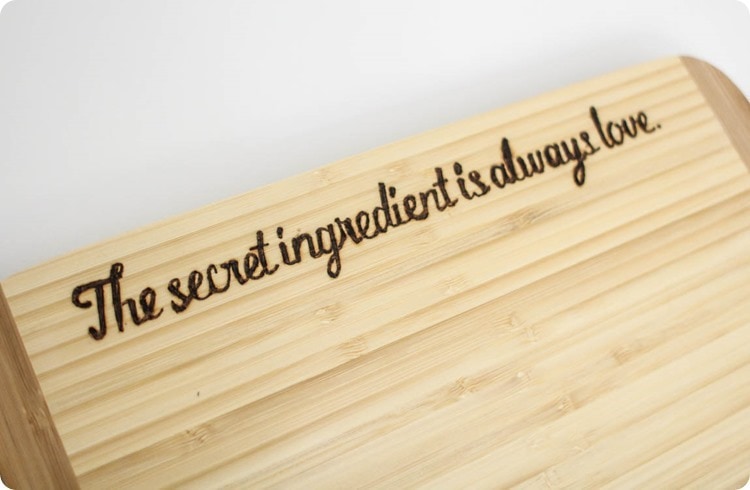 I love how sweet and simple it is.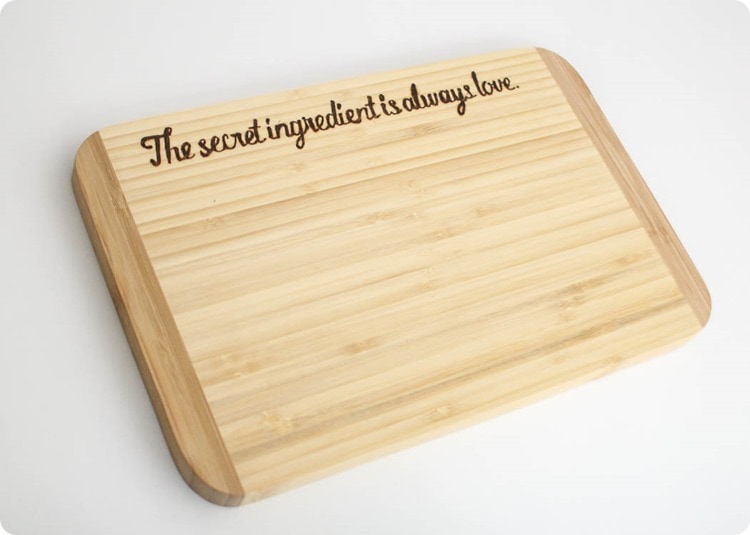 The custom cutting board itself makes a great gift, but I wanted to do a bit more, so I put together a Mother's Day gift basket.
Seriously, you can never go wrong with gift baskets. I filled it up with fun cooking stuff that is practical but also nicer than what we usually buy for ourselves: cute measuring cups, fancy spice blends, high-quality olive oil, a pretty kitchen towel, and of course my custom cutting board.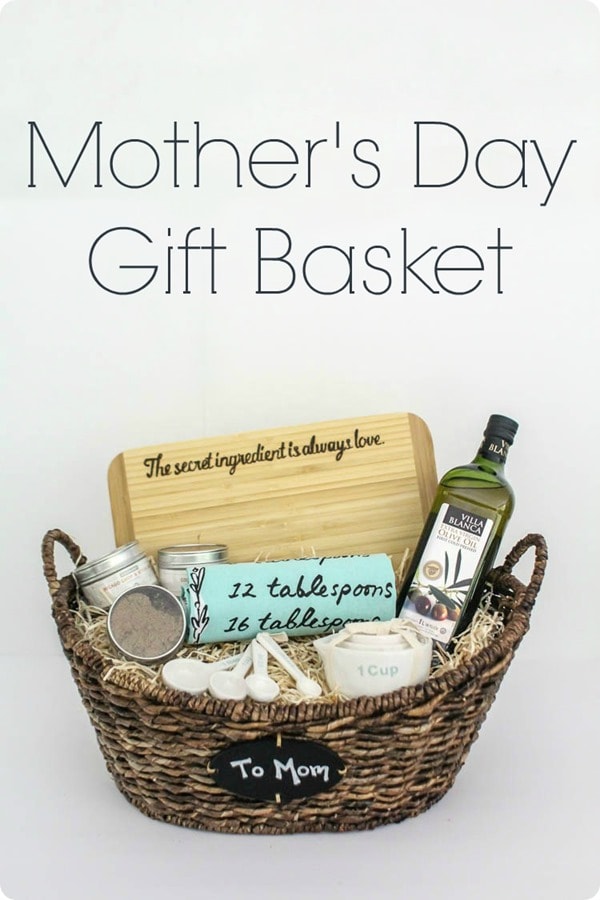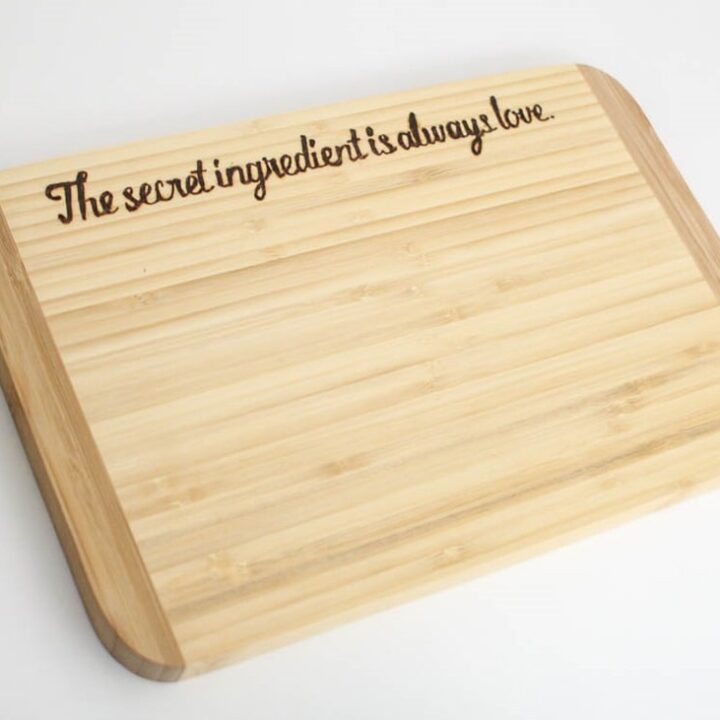 DIY Personalized Cutting Board
Make a custom DIY cutting board using a wood burning tool. This is a perfect gift for Mother's Day!
Instructions
Print out your saying in the font of your choice.
Transfer it onto the cutting board by using a simple pencil transfer.
Trace the design onto the cutting board with the wood burning tool using smooth, even strokes.
Recommended Products
As an Amazon Associate and member of other affiliate programs, I earn from qualifying purchases.