My sons' shared closet is finished and I have never been so excited about a closet before!
The closets in our house aren't anything to write home about; all of our bedroom closets are standard double closets with sliding doors. When I started planning how to make this room work as a shared bedroom for both of my sons, I knew there needed to be way more useable storage in the closet to hold all of their stuff.
So I designed and built custom DIY closet shelves, gave everything a fresh coat of paint, and now it is perfect!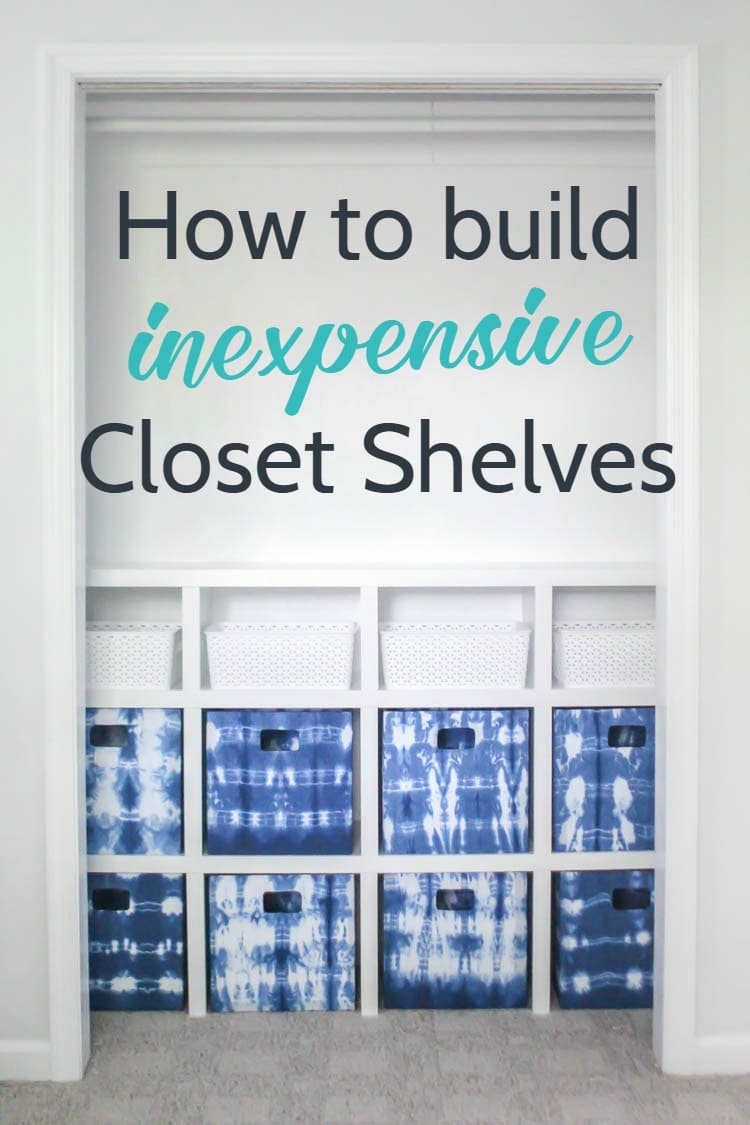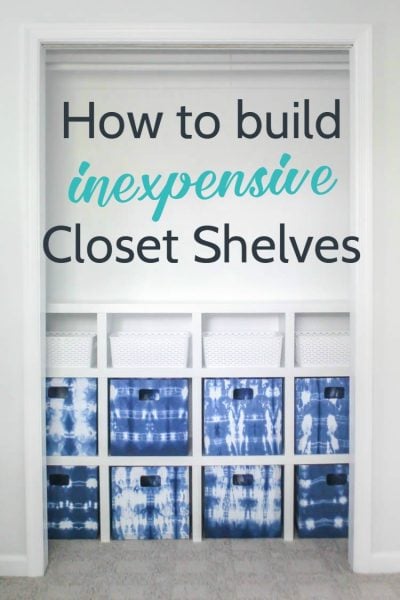 For those who are new here, I am in the middle of a complete redo of my sons' bedroom. I am transforming my 4 year old's bedroom into a shared room for both him and his 2 year old brother. (Because baby boy #3 is coming this summer!)
This is how the closet looked before.

One bar for hanging clothes and one high shelf. Plus a small bookcase I stuck in there to add a bit more storage. Not a great closet for anyone, but considering how few hanging clothes my son has, it was basically just one huge waste of space!
I knew I wanted to create my own custom closet system. That way I could configure it exactly how I want – plus it would be way cheaper!
When I started figuring out the design, I tried to keep several things in mind. It needed to have lots of shelf space for storing toys, shoes, clothes, etc. and my two and four year olds needed to be able to reach as many of the shelves as possible. (I definitely want to encourage them getting out and putting away their own clothing!)
On the other hand, I also wanted it to still make sense several years down the road when they are a bit older. So the area for hanging clothes had to big enough to fit full grown man clothing.
Also, since this is a closet with sliding doors, you can only access one half of the closet at a time. So whatever built-ins I created needed to make sense with only one door open at a time.
I came up with a few ideas and then used painters tape to see how they would actually work in the closet.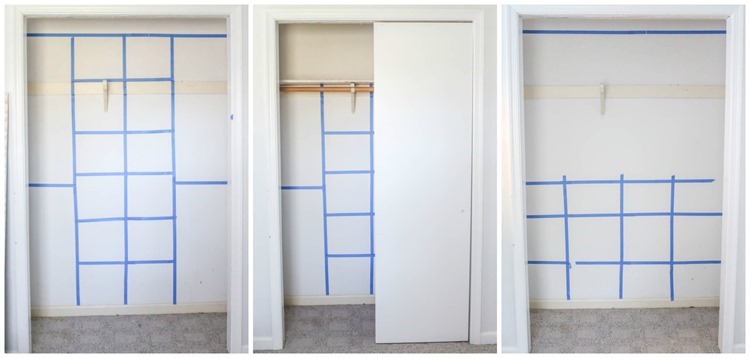 In the end I decided the design on the far right above was the winner. There were plenty of low shelves/cubbies for storing all kinds of stuff, a long hanging bar, and a high shelf above it to use absolutely all of the vertical space.
The boys won't be able to reach the clothes that are hanging up for quite some time, but almost none of their everyday clothing needs to be hung up, so that wasn't a deal breaker.
Then I got to work on my DIY closet shelves!
First step, remove everything that was already in the closet including the closet rod, shelf, and shelf supports that were there before. I patched up the nail holes with spackle and then gave the whole closet including trim a fresh coat of white paint.
To keep things simple, I reinstalled the same shelf and curtain rod that were there before much higher in the closet.
I built the rest of the shelves using MDF. This was actually my first time using MDF instead of plywood and it was perfect. I chose it because it was quite a bit cheaper, but I also love that it is easy to cut and the surface is incredibly smooth.
This post contains affiliate links; see my full disclosure here.
Supplies for DIY closet shelves
A sheet of MDF cut into 14" strips (My cubbies are 14" deep but you can use whatever measurement works best for you)
1″x2″ pine boards to create the shelf supports (two 14" pieces for each shelf)
1″x2″ poplar boards to create a nice thick facing for each cubbie (amount depends on size of your closet and shelves)
nail gun or hammer and finishing nails
wood filler and caulk
level, tape measure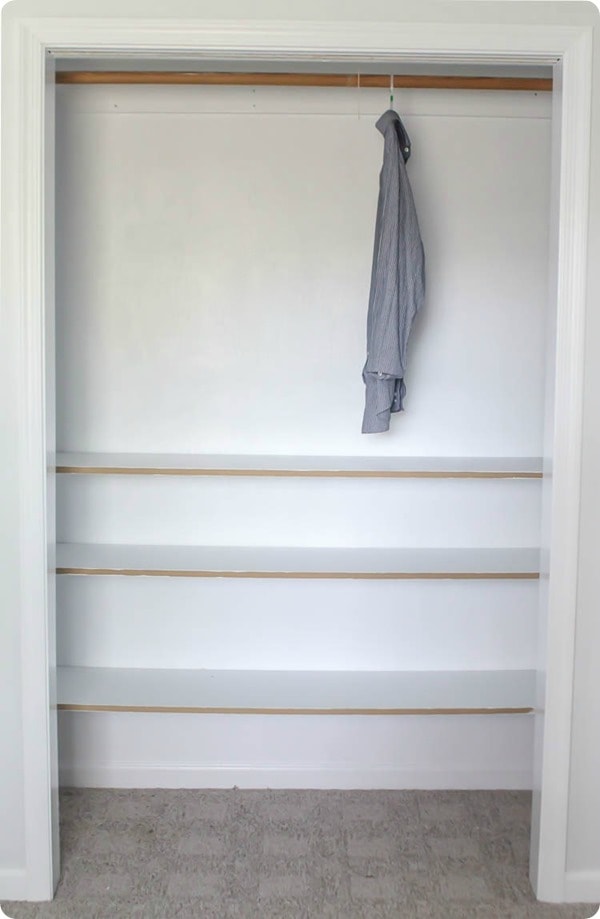 How to Build Closet Shelves
To build the cubbies, first you need to build three simple shelves spanning the closet.
Attaching the shelves to the wall is easy. All you need are some inexpensive 1×2 boards.
Nail each support into the studs on each side wall of the closet and then set the shelf boards in place. (Be sure to use a level when hanging your shelves!)
Personally, I think it is much easier and faster to paint all of the pieces before installing them. You still need to do a quick paint touch up at the end, but painting each piece is so much faster than trying to maneuver in all of those tight corners.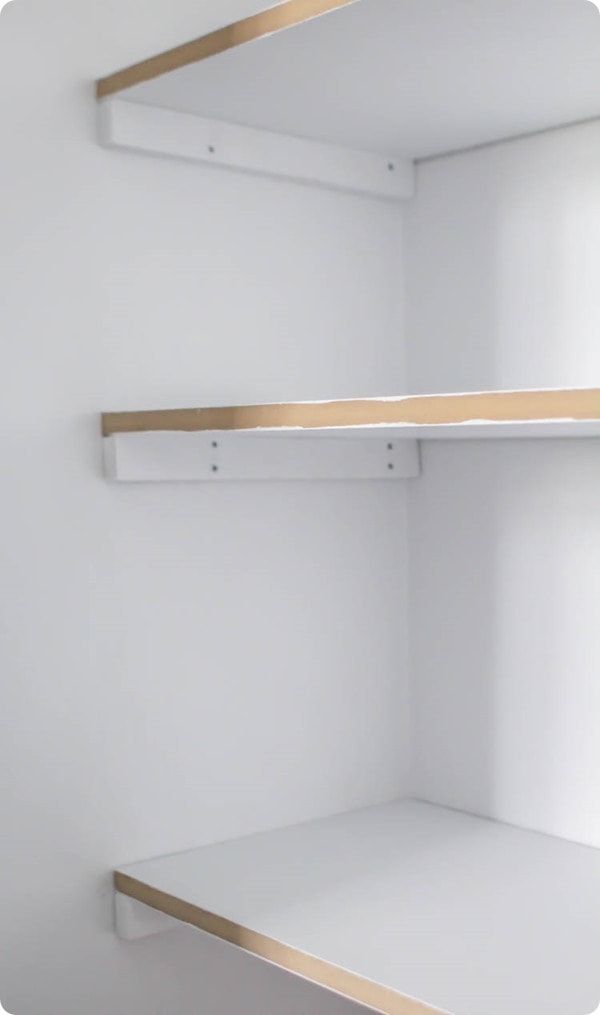 If you were building simple shelves, you would also need to add wood supports along the back wall of the closet. But because we are building cubbies, there will be plenty of vertical support, so that isn't necessary.
To create the cubby dividers, cut more MDF to the size you need. (I used 14"x14").
To install them, I started on the bottom and nailed a few nails through the shelf above to secure the divider. Then I added the middle row of cubbie dividers and the top row the same way.

Then I added the poplar facing. This is completely optional but gives the whole thing such a great, finished look.
The process was pretty similar. I added long strips of poplar to the front of each horizontal shelf and then smaller pieces to each cubbie divider. All you need are a few finishing nails to hold each board in place.

Seriously, that small detail makes such a difference!
The final step is filling all of the nail holes with wood filler and caulking all of the seams. I am always amazed at how beautifully caulk and wood filler fix up any imperfections. (If you aren't so sure when to use wood filler and when to use caulk, I have all the details for you right here.)

And then I added the DIY fabric storage cubes I shared last week as well as a few white plastic baskets I picked up at Target.

I am completely in love with these fabric bins. Can you believe that fabric is regular old cotton fabric from the quilting section of Joann Fabrics! I couldn't believe how much variation there was on one off-the-shelf fabric. It totally looks hand-dyed! (You can find the same fabric online at Fabric.com as well)

And finally, I filled up the closet with all of the boys' things. There are clothes in all of the fabric bins, shoes and accessories in the plastic bins, a large basket to toss clothes in as they outgrow them (on the left), a basket full of puzzles (on the right), and storage on the high shelf for clothes in the upcoming size.

And now for the best part of any DIY post – the before and after photos:

What a change! There is so much less wasted space now, plus it is gorgeous!

I was planning to do something to update the blah sliding doors, but now I'm considering the possibility of simply leaving the doors off altogether. It would make it easier for the boys to access their own stuff and the closet looks so cute now!
My only hesitation is I have to wonder how messy it will end up looking when they are using it on a daily basis. I would like to think it will always look this neat, but I know if there is any way to mess it up, they will find it!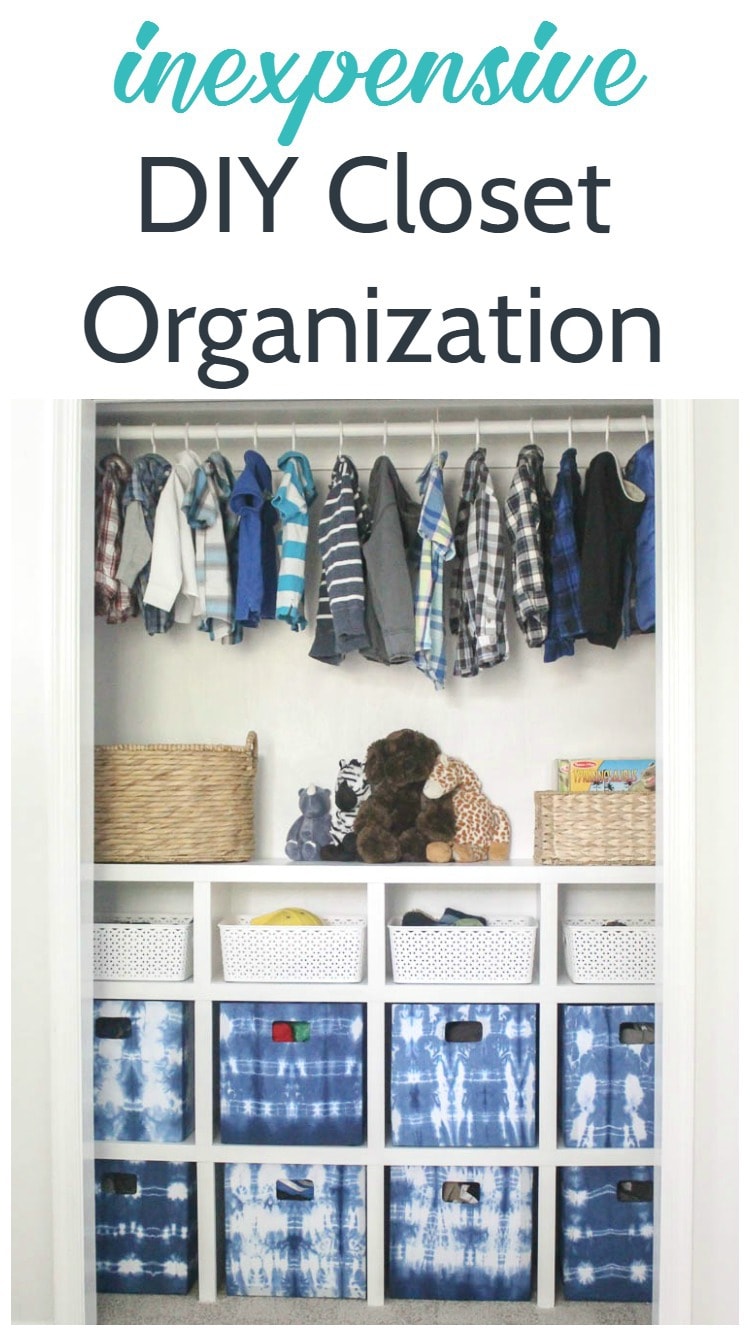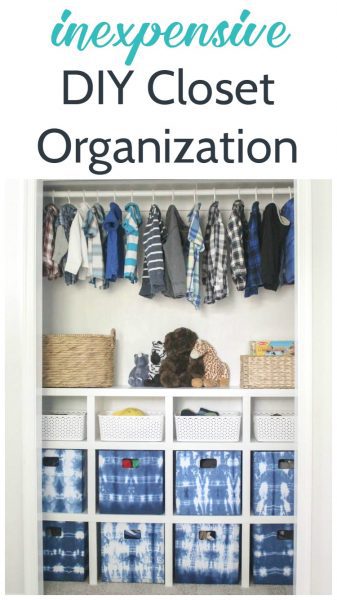 In any case, I am thrilled to mark the closet off the to-do list!
Shared Boys' Room Makeover
In case you missed anything, here are all the rest of the posts about my boys' shared room makeover along with the big reveal!
The Big Room Reveal! Boys' Shared Modern Farmhouse Bedroom
How to Make Fabric Storage Bins
Inexpensive DIY Closet Shelves (you are here)
Painting Furniture White: Secrets to the Perfect Finish
How to Make a Bed Skirt from a Flat Sheet
How to Make Gorgeous Farmhouse Window Awnings