Guys, I have a new painting tool in my arsenal and I'm so excited to share it with you.
I've had these little chairs and child-sized table in our basement for a few years now, waiting for a makeover. I adore pint-size furniture and began collecting little chairs long before I had kids.
I painted quite a few back when I was selling painted furniture, but now that I have my own little kids, my chair collection was wasting away in the basement.
And if you've ever painted wooden chairs with a paintbrush, you know why.
Whether you are painting kids size chairs or regular wooden chairs, getting your paintbrush around all of the little nooks and crevices is incredibly time-consuming.
But not anymore! Finally, I know how to paint chairs without wasting days and days.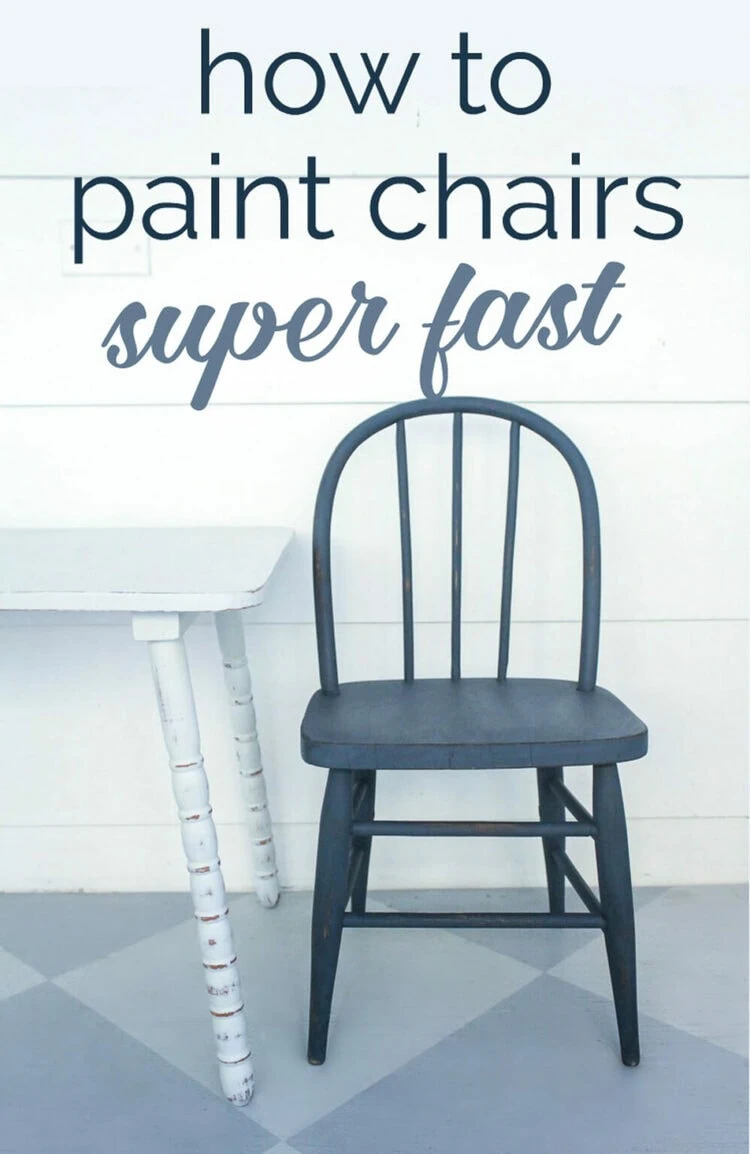 So what is the secret? You've gotta use a paint sprayer.
Ok, so in all fairness, you can 100% paint wooden chairs without a paint sprayer.
But it will take f.o.r.e.v.e.r. And when you are done, you will vow on your firstborn never to do it again.
Of course, regular spray paint in a can is also an option, but I've never found spay paint to leave a nice finish on wood furniture.
I'm sure you've realized by now I love to paint and I'm all about painting all the things. And I consider myself something of a paint expert – if you have something you're thinking about painting and need some advice, I'm your girl.
But I recently realized there was a major hole in my painting experience: I'd never used a paint sprayer. I've always been a brush and roller kind of girl.
I've painted lots and lots of things with my trusty roller and brush combo including plenty of furniture, trim, even my kitchen cabinets.
I'm a bit of a skeptic so I've always questioned if using a paint sprayer is really worth it.
I'd heard you need to thin your paint with water which seemed tricky. I wasn't convinced it would really give a better finish. And I certainly didn't want to spend half the day taping down dropcloths to contain the overspray.
Plus, I've never been a big fan of the finish I get using spray paint that comes in cans and I was a little suspicious a paint sprayer might have the same problem.
But skeptic that I am, I also love to try new things. And I have no problem being proven wrong. (Unless I'm arguing with my husband of course!)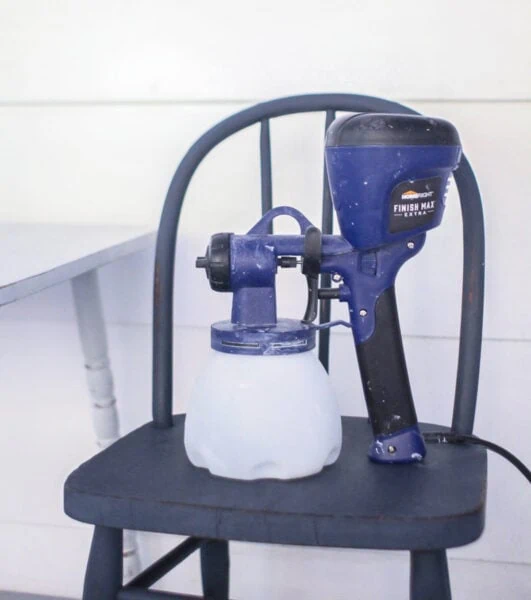 This post contains some affiliate links. I also received my paint sprayer and paint shelter for free. All opinions and projects are my own. See my full disclosure here.
HomeRight was generous enough to send me one of their HomeRight Super Finish Max Extra paint sprayers along with a large spray shelter and when they arrived I could not wait to get painting.
The Super Finish Max paint sprayer is a great sprayer for beginners. It's so much easier to set up and start using than I had imagined. And I love that it plugs right into an extension cord and doesn't need an air compressor.
Using a spray shelter
I set up my spray shelter in my garage. This thing is huge! There was plenty of room in there for some really large pieces of furniture.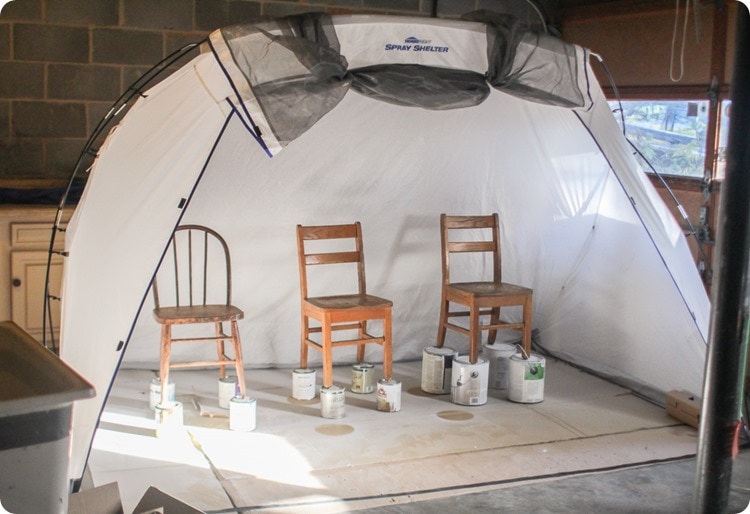 The spray shelter is awesome because it eliminates the need for covering everything with drop cloths. You can use it inside or out and it totally contains the overspray.
It is open on the bottom though so if you don't want your garage/grass covered in paint, you'll need to throw a dropcloth down over the floor. I used some old pieces of cardboard to protect my floor.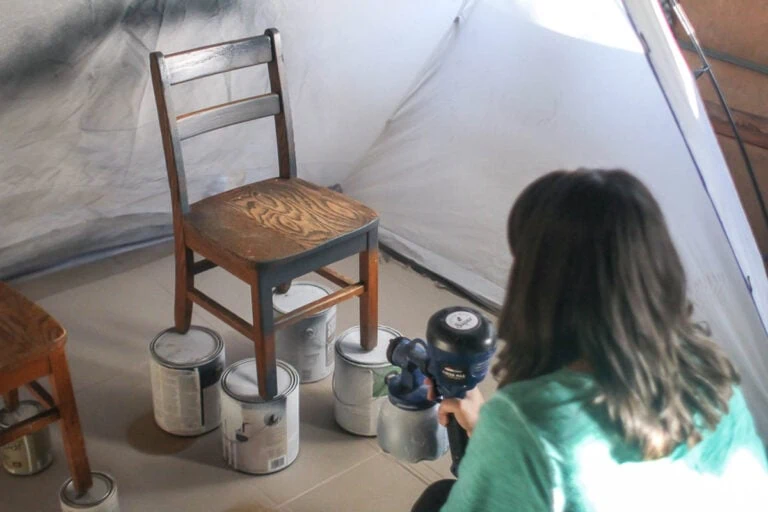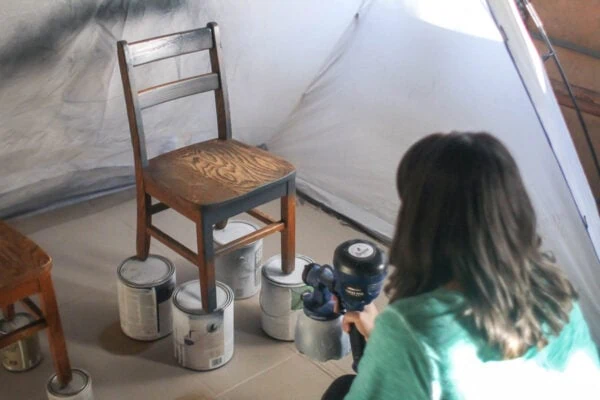 You absolutely do not have to have a spray shelter to use a paint sprayer; you could also cover everything nearby with drop cloths instead. But the spray shelter does make it much easier to protect the surrounding area.
Painting chairs with a paint sprayer
Then I got to painting. Guys, it was so crazy fast my head was spinning!
I started with my little table. It was a yard sale find I picked up for a couple of bucks and it had definitely seen better days.
The wood finish on top was cracking like crazy, so I started by using wood filler to fill in some damaged areas and then sanded the whole thing smooth.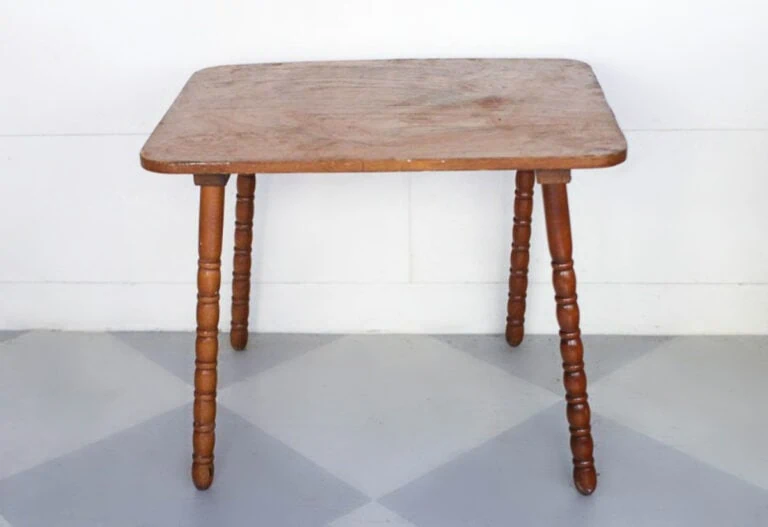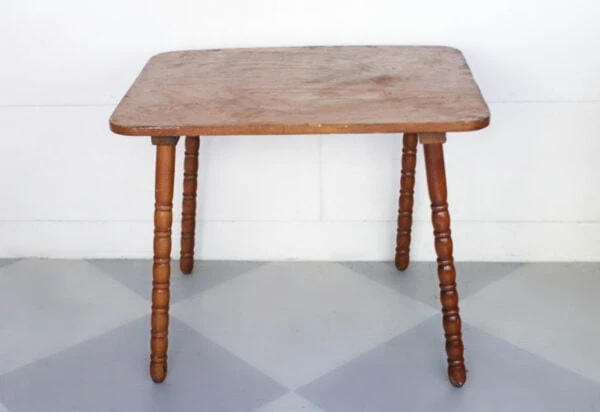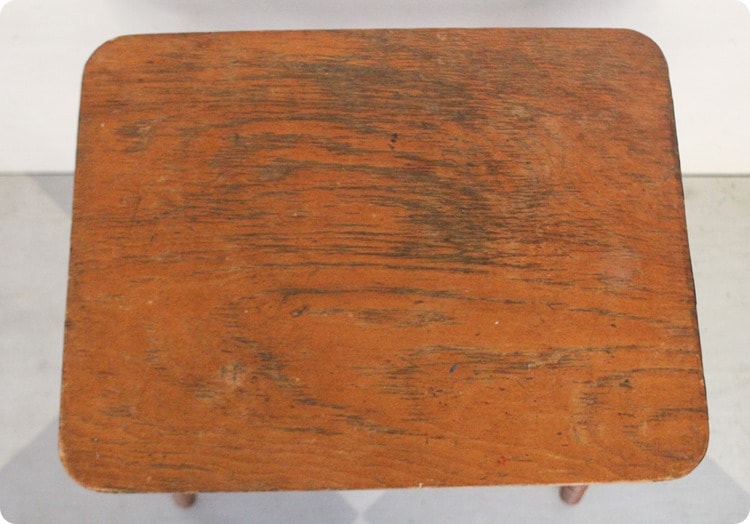 I set it up in my spray shelter, using some old paint cans to lift it off the floor a bit. This isn't a necessity but it makes the painting process a bit easier on the back whether you are using a brush and roller or a sprayer.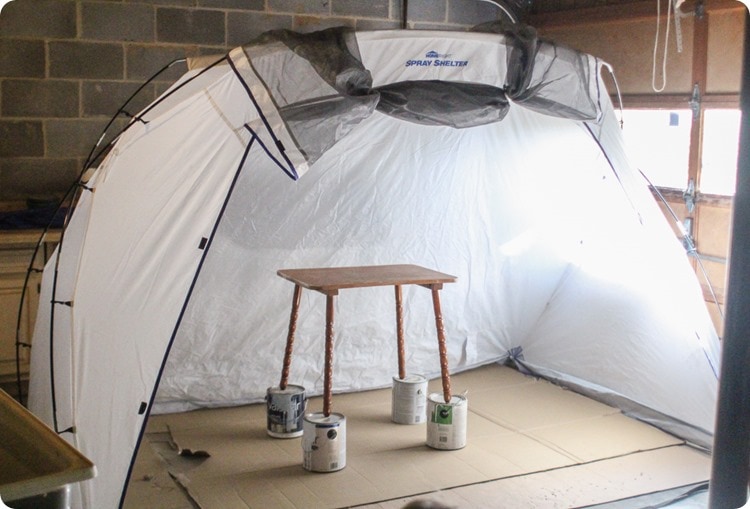 For the table I mixed a custom light gray using some leftover paint I had on hand – Americana Decor Chalky Finish in the colors Lace and Yesteryear.
And no, it turns out I didn't even need to worry about thinning paint and making sure it was the perfect consistency. This paint sprayer can spray most paints without any need to add water! That was a huge relief for sure.
Then I got to work painting. It took three coats of paint to get really good, even coverage since the color is so light.
The awesome part is each coat of paint took literally less than one minute to do. For real!
Same with the chairs. I used another custom color (made by mixing DecoArt Chalky Finish paints in Legacy and Carbon).
Then I gave them each two coats of paint in a matter of minutes. All that fiddly painting on those chairs would have taken hours with a brush!
If you want more details, I have another post with the full breakdown of how to use this paint sprayer to paint furniture.
Painted furniture can last for years without incident. But when you have three little boys running and climbing on everything, it's easier just to embrace the lived-in look right from the start.
So I used some 220 grit sandpaper to distress everything.
I also darkened the finish on the chairs by wiping on some dark stain and then immediately wiping them down with mineral spirits so the stain mainly stayed on the bare wood areas.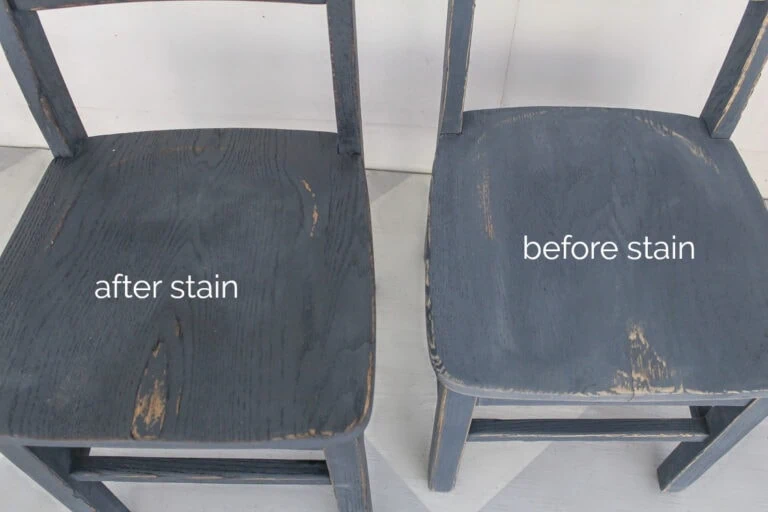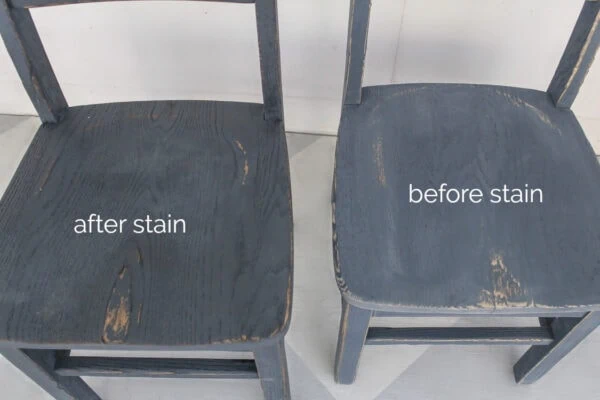 Then I used my HomeRight Finish Max Extra to spray on my topcoat.
I used General Finishes High Performance Water-Based Topcoat and it sprayed on beautifully.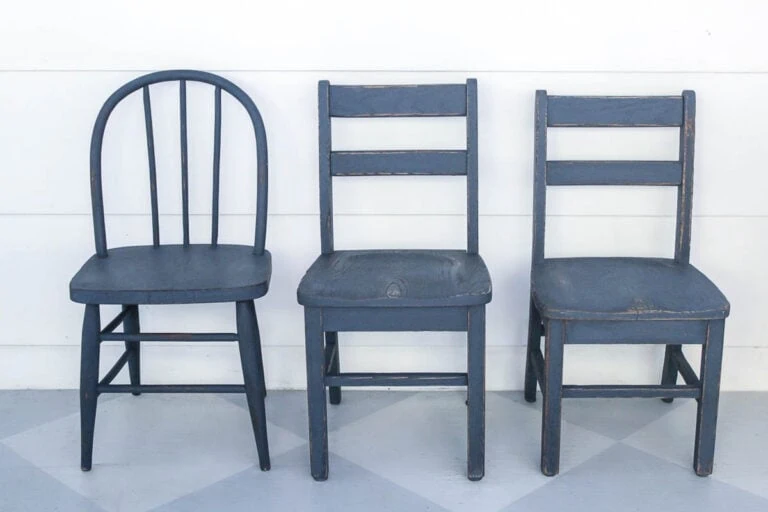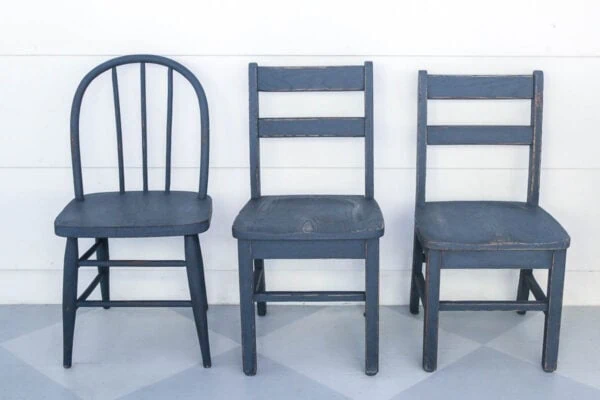 I used to think the main value of a paint sprayer was giving a really smooth finish without brush strokes and it is great at that.
But it was also awesome for giving a rustic, distressed makeover to this old table and chairs simply because it made the whole process 1000 times faster and easier.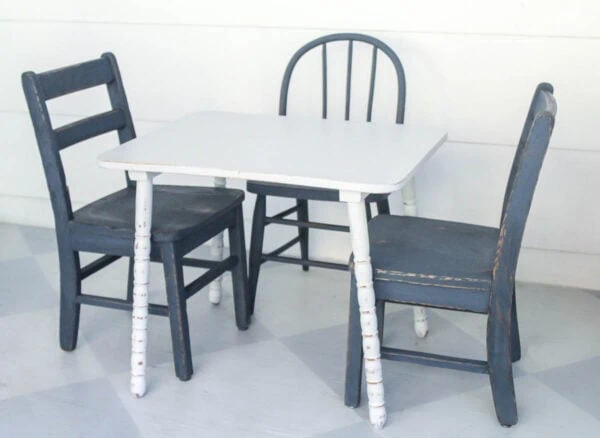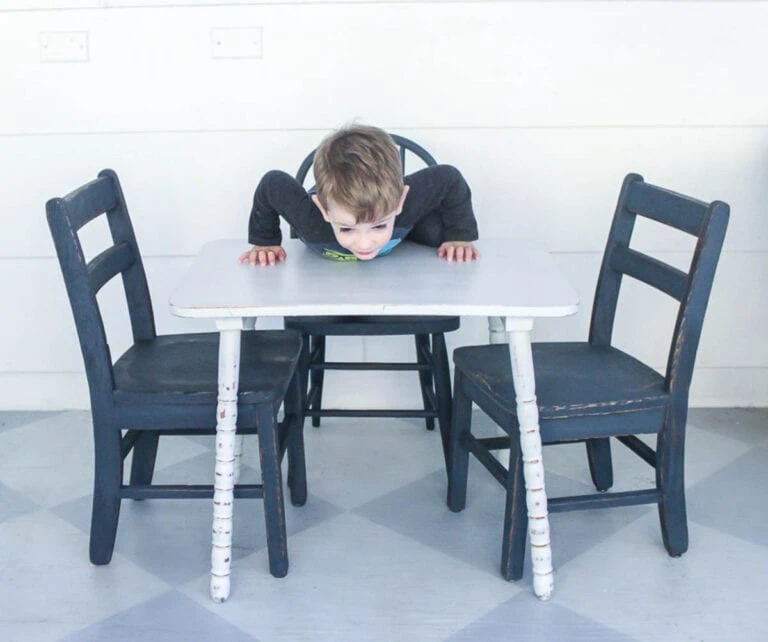 My middle child wandered over while I was taking photos and immediately proved I was right that a distressed finish was the way to go!
In the end, all of my fears about a paint sprayer were unfounded.
The finish is beautiful, the spray shelter made set-up quick and easy, and with the Super Finish Max I didn't even need to worry about thinning my paint.
I'm definitely not getting rid of my brushes and rollers, but I'm planning to work my paint sprayer into the mix for sure.
Especially for painting anything with lots of fiddly spindles!
More furniture painting tips I think you'll like:
I'd love for you to pin this post on Pinterest!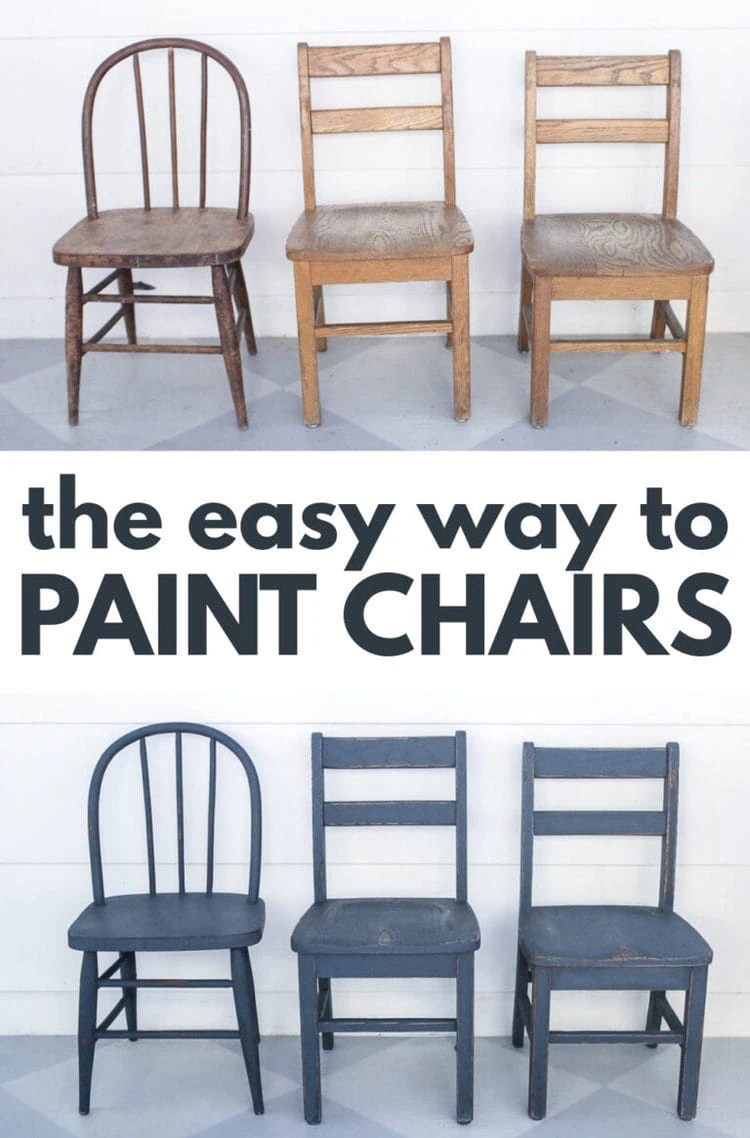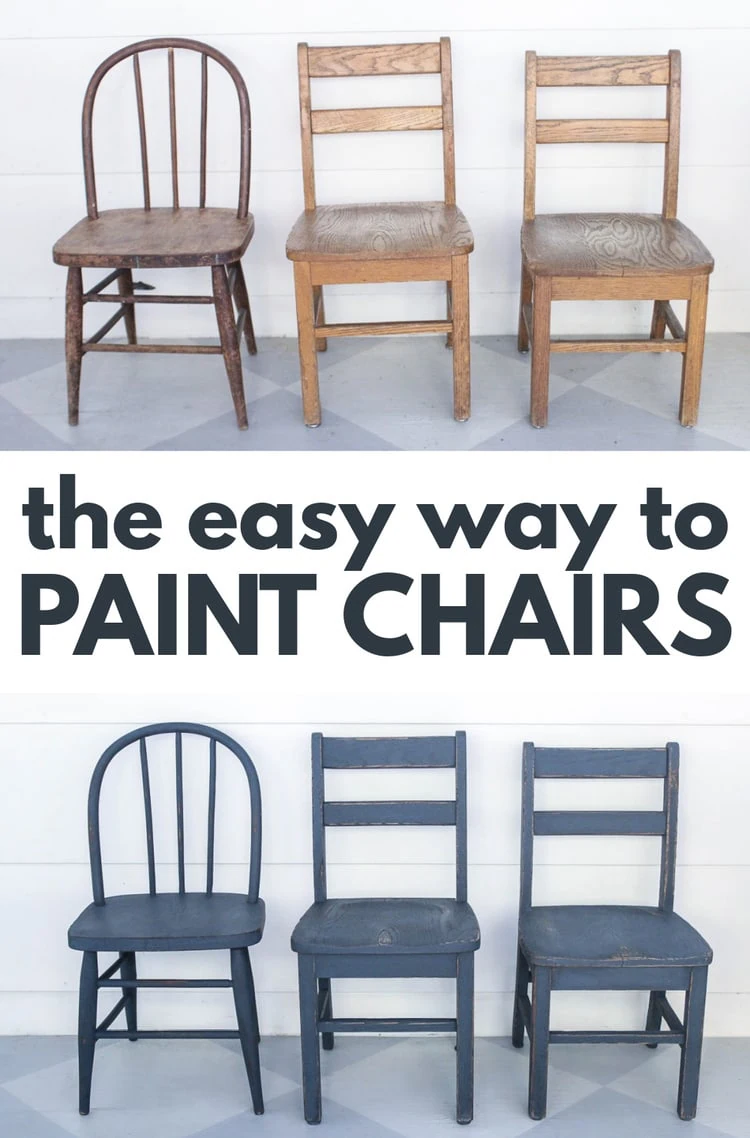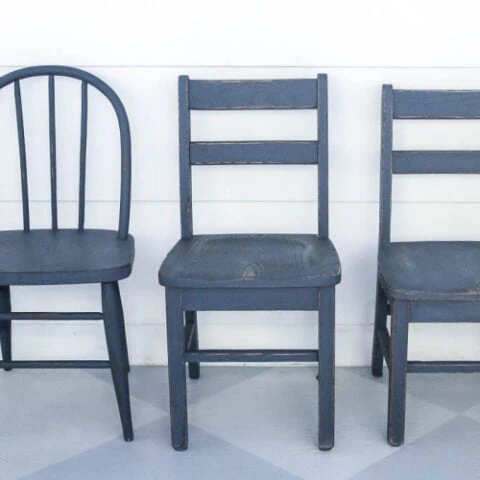 How To Paint Chairs Super Fast
Yield:
1 or more Painted Chairs
Let me show you how to paint chairs super fast, with the least amount of work and a smooth finish.
Materials
HomeRight Super Finish Max Extra paint sprayer
Large spray shelter or drop cloths
Paint - I used DecoArt chalky finish paints
Sealer - I used General Finishes High Performance Top Coat
Instructions
Set up the spray shelter in a well ventilated area.
Add the paint to the paint sprayer.
Spray 2-3 light even coats of paint on each chair, allowing the paint to dry between coats.
Distress with sandpaper if you choose.
Use the paint sprayer to add a topcoat.