I love mason jars. Love them. As a simple vase. As a quick storage solution. As a decorative accent.
I've read a few times this year that decorating with mason jars is one of those trends that is over but I think that is absolutely ridiculous. First of all, I could care less if they are out of style because I personally love them. Second, they've been going strong for more than a hundred years so I'm pretty sure they aren't going to suddenly disappear this year.
Today, I don't just have one pretty spring mason jar to share with you, I've also joined up with 12 other seriously amazing bloggers with gorgeous mason jars of their own. So you are definitely going to want to check out their projects as well.
Spring is going to be making an appearance any day now and I cannot wait to fill our house with gorgeous spring blooms. Every spring we miraculously have tons of gorgeous flowers bloom in our yard…despite the fact that my husband and I are the worst gardeners who ever lived. The. Worst. So each spring I am astounded when forsythias and daffodils and irises start blooming all over the place. And as I am not so patiently waiting for the snow to melt and the flowers to show up, it seemed like a great time for a new spring vase – mason jar style.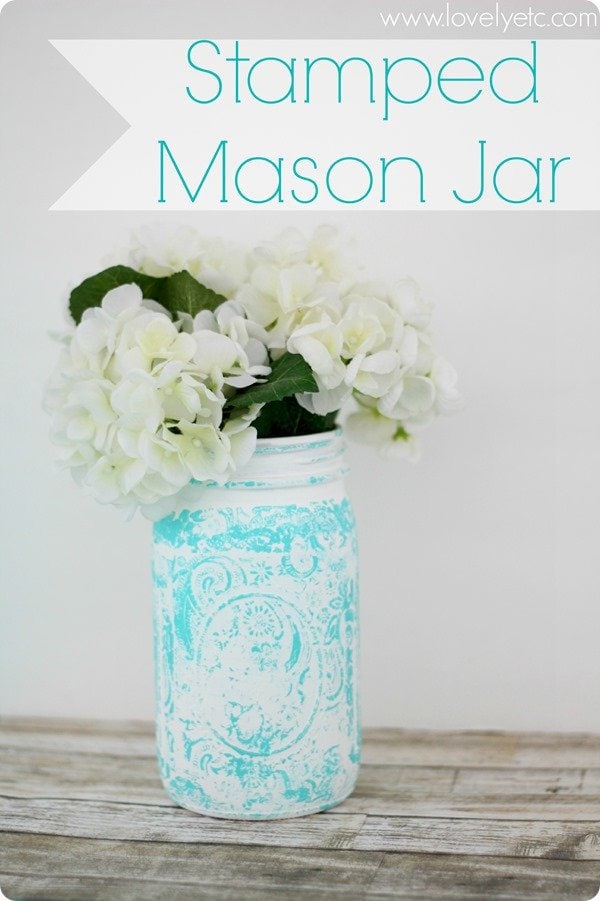 This is one of those projects that I wasn't so sure was going to work until it was finished. But now that it's finished, I love it. And if you like this cute painted jar, you should definitely check out her striped sister. They make a perfect pair!
Materials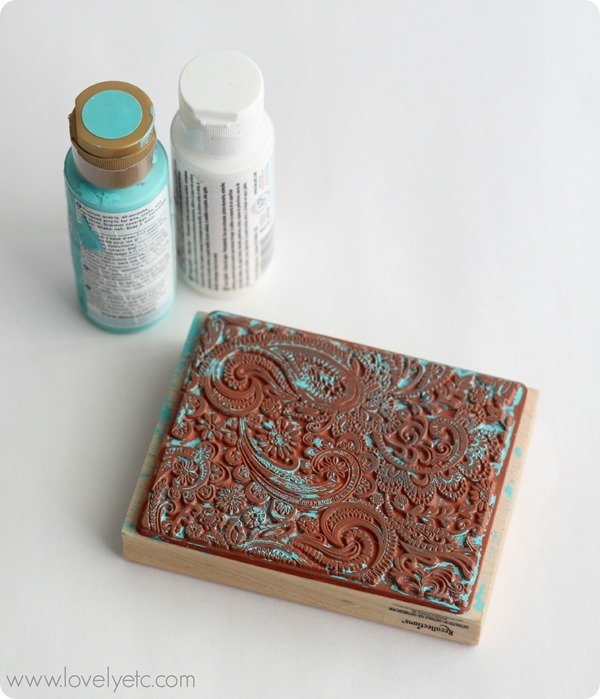 Mason jar
Primer
White and blue craft paint
Stamp (similar to this one on amazon – affiliate link)
Paintbrush
How to Make a Stamped Mason Jar
After you wash your mason jar, prime the outside of it with spray primer. (There are some paints that say you can use them on glass without primer but using primer makes any paint stick better and also covers a lot faster.) Once the primer dries, paint the whole jar with a few coats of white paint. Chalk paint works really well for this but craft paint also works well and is much cheaper.
Brush a thin coat of your second color of paint onto the surface of the stamp and lightly press it onto one of the sides of your jar. Because mason jars are round and also covered with raised logos and lines and such, the stamped design isn't going to look perfect. This isn't going to be one of those perfect projects with crisp, clean lines – it's going to be a free style, beautifully textured project. Just be sure to use a stamp with a free-flowing all over pattern.
Keep stamping around all the sides of the jar, repainting the stamp each time. There will be some parts that still look blank. Just repaint your stamp, angle it to fit the jar, and restamp the blank areas.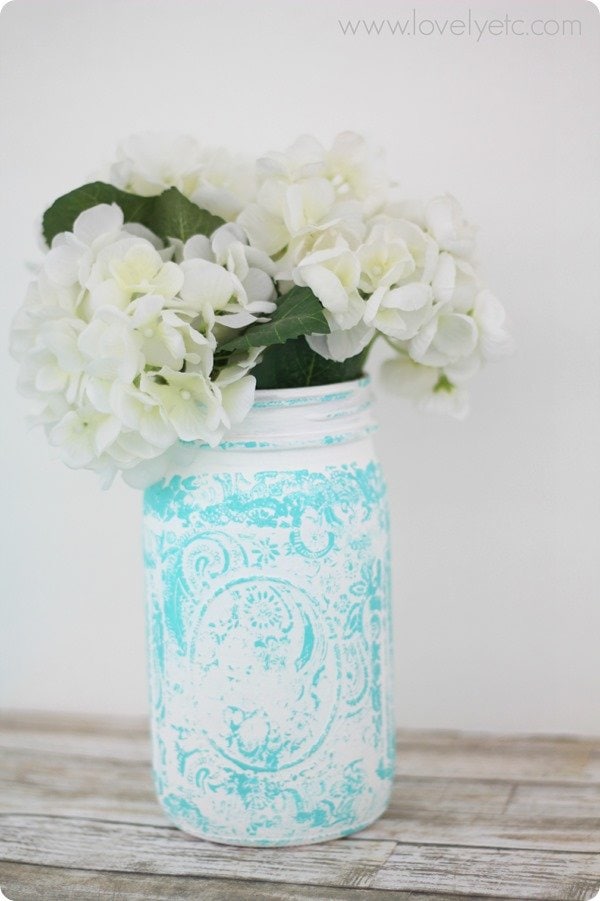 I love how the stamped design highlights the raised designs that were already on the jar – the Ball logo on the front and the oval filled with flowers on the back.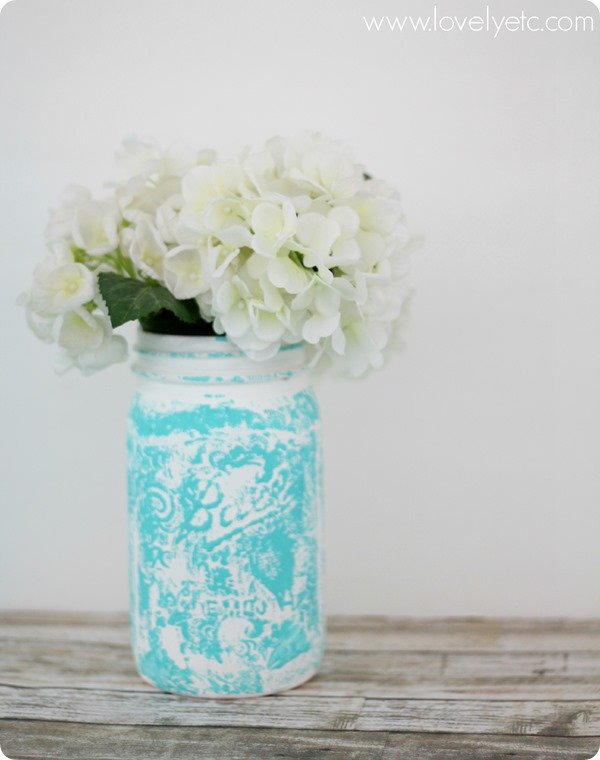 My jar is all ready for some fresh spring blooms – but in the meantime, it's the perfect home for some silk hydrangeas.
Now, you have got to check out these beautiful spring mason jar projects made by some seriously amazing ladies. Links are below the picture.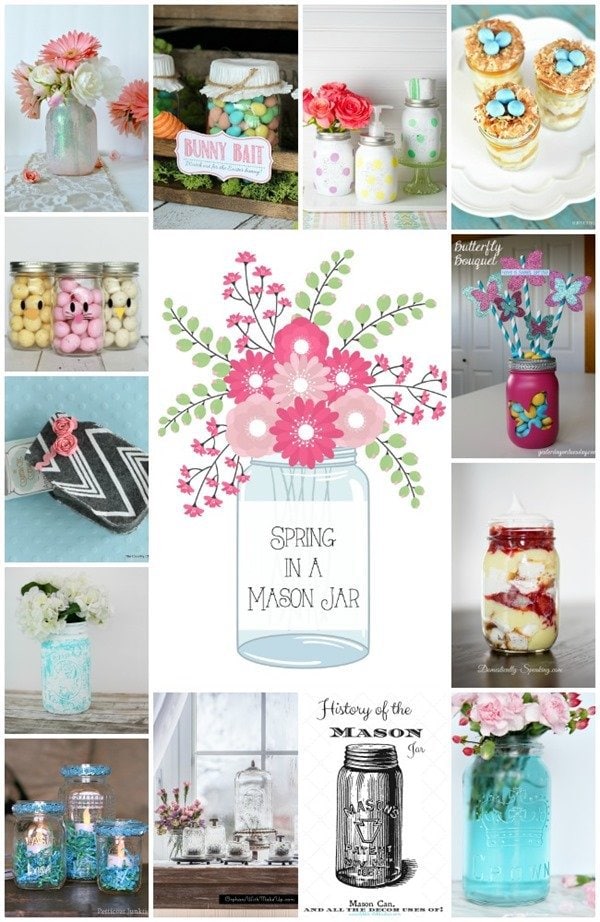 Debbie Doo's
Orphans with Makeup
Enjoy all the inspiration!
I am linking this project at Inspire Me Monday.