Learn how to letter a sign with these simple tips and get the free printable!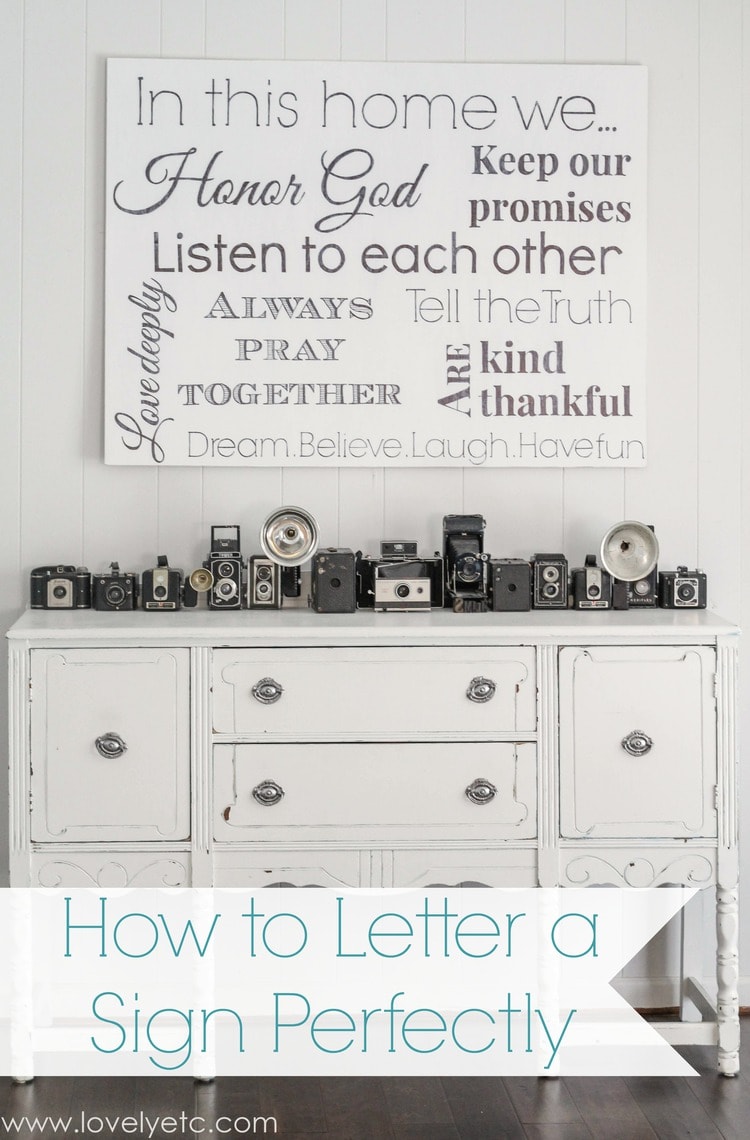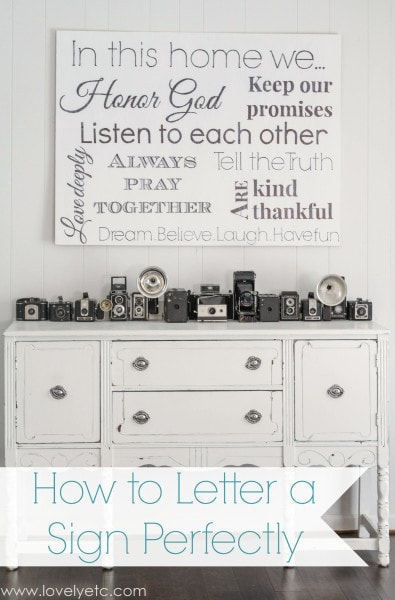 I've got a thing for painted signs. The vintage feel, the meaningful messages; they are pretty much my favorite thing to make. So when my best friend, Hannah, mentioned wanting a custom sign for her foyer, I was all over it.
(Well, I was super excited about it, but didn't actually get it finished until this weekend. Did I mention this was a Christmas present? For last Christmas. Yikes. Luckily she doesn't hold it against me.)
She requested a 'family rules' sign with a list of rules she and her husband came up with together. I wanted it to look perfect, so I started by designing the layout in Picmonkey. (affiliate link)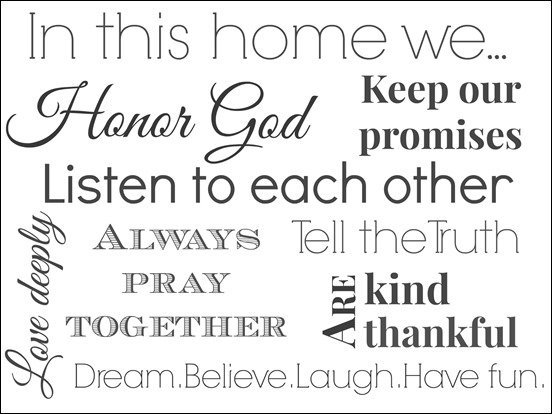 I bought a sheet of birch plywood and primed it with spray primer followed by three coats of white paint.
This is the part where my crazy perfectionism came into play. See, I don't have a Silhouette or Cricut or any other fancy stencil making machine. But I wanted the lettering on Hannah's sign to look just like my design.
So I printed out my design. But as my painted sign is three feet by four feet, I had to change my printer settings for my print to fit five by five sheets of paper. Yes, I printed it out on twenty five sheets of paper.
Sorry, trees. (If you need more info on how to print your design super big, you can find step by step instructions with photos here.)
Then I transferred the design to my plywood using my super old school transfer technique that uses only a pencil. (You can see exactly how to do it in this post).
In the past I have used both small paintbrushes and paint pens to hand-letter signs. But I wanted these letters to be quite precise. Plus, this sign has a ton of words – doing multiple coats with a paintbrush would have taken weeks!
So I went with something that can handle pretty much any job – Sharpie markers. I simply colored in all of my letters with plain old black sharpies.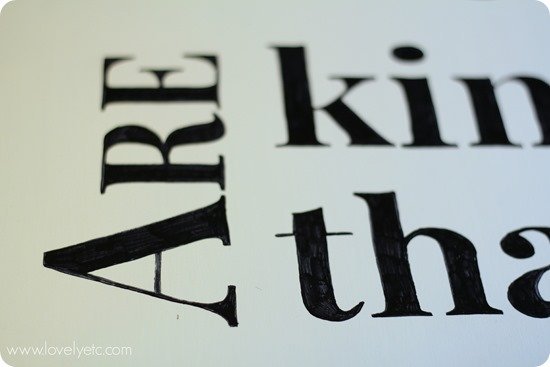 At first, the letters did not look hand-painted. They looked very much like Sharpie letters. But once I had finished the lettering, I lightly sanded the whole sign with 180 grit sandpaper and it knocked the marker look right off.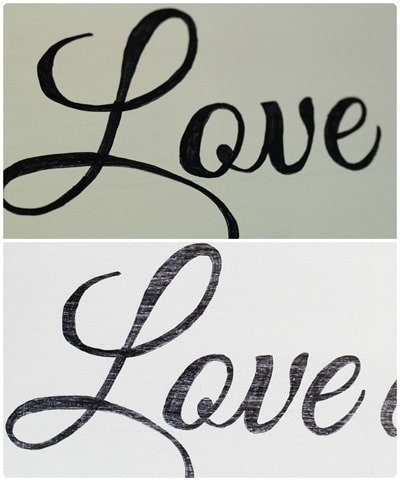 This is now my favorite way to precisely letter a sign in any font you want!
As I said, this sign is a gift, but I just had to hang it up in my house to see how it looks hanging on the wall.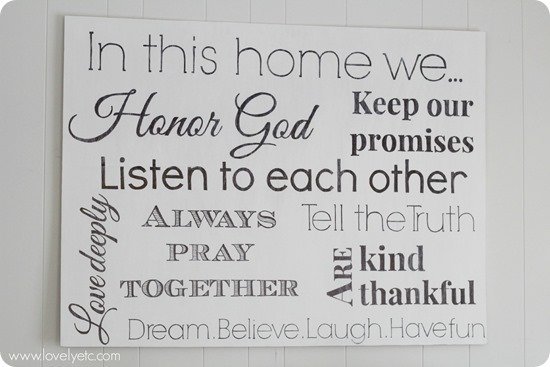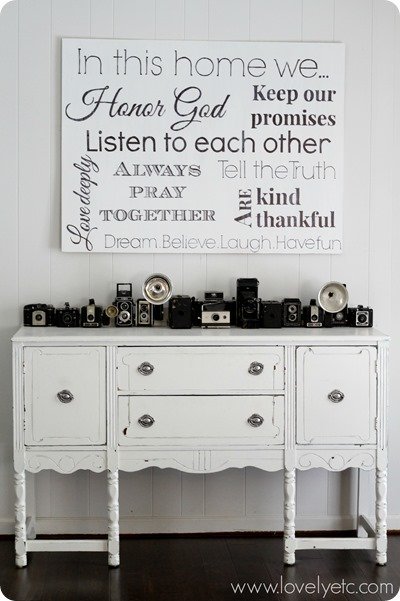 And for those of you who want to hang your own family rules but don't have the patience to paint a sign, here's a free printable version. Just print it out and stick it in a frame – doesn't get much quicker than that!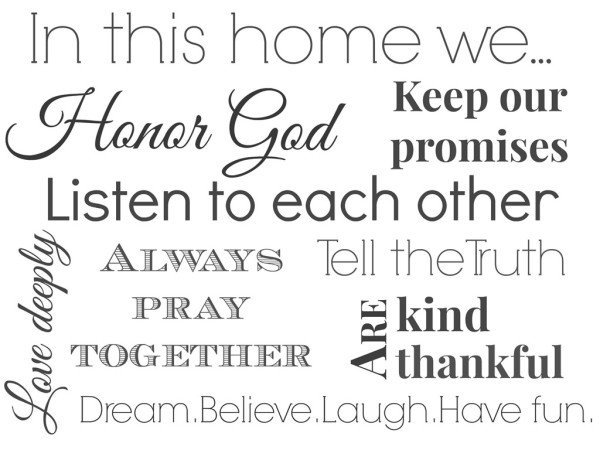 Just click here to download your own. Enjoy!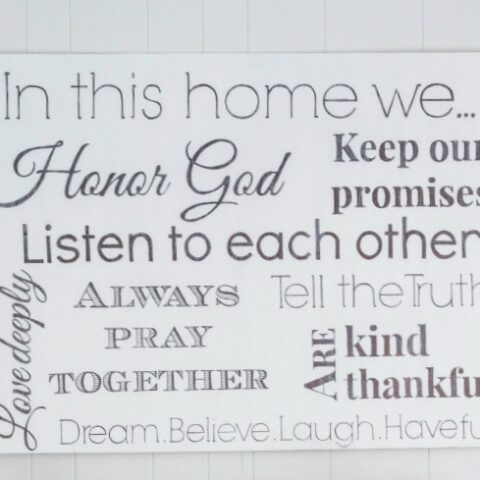 How To Letter A Sign Perfectly
You can easily make a beautiful DIY wood sign for your home using a piece of plywood and inexpensive sharpie paint pens. Just print out the included free printable and follow the tutorial to make your own.
Materials
Plywood
White Paint
Printout of your sign design
Primer
Pencil
Tools
Printer
Sandpaper
Small foam paint roller
Instructions
Paint a coat of primer on the plywood.
Once the primer has dried, paint with 2-3 coats of white paint.
Print out your sign lettering.
Turn the printout over and lightly cover over the back of the design with a pencil.
Tape it to the sign where you want the lettering to be, with the pencil shaded side facing the plywood.
Trace around each letter firmly with a pencil or pen. This will transfer your sign design to the plywood
Go over your sign lettering with a black Sharpie.
Lightly sand the whole sign with 180 grit sandpaper.
Recommended Products
As an Amazon Associate and member of other affiliate programs, I earn from qualifying purchases.